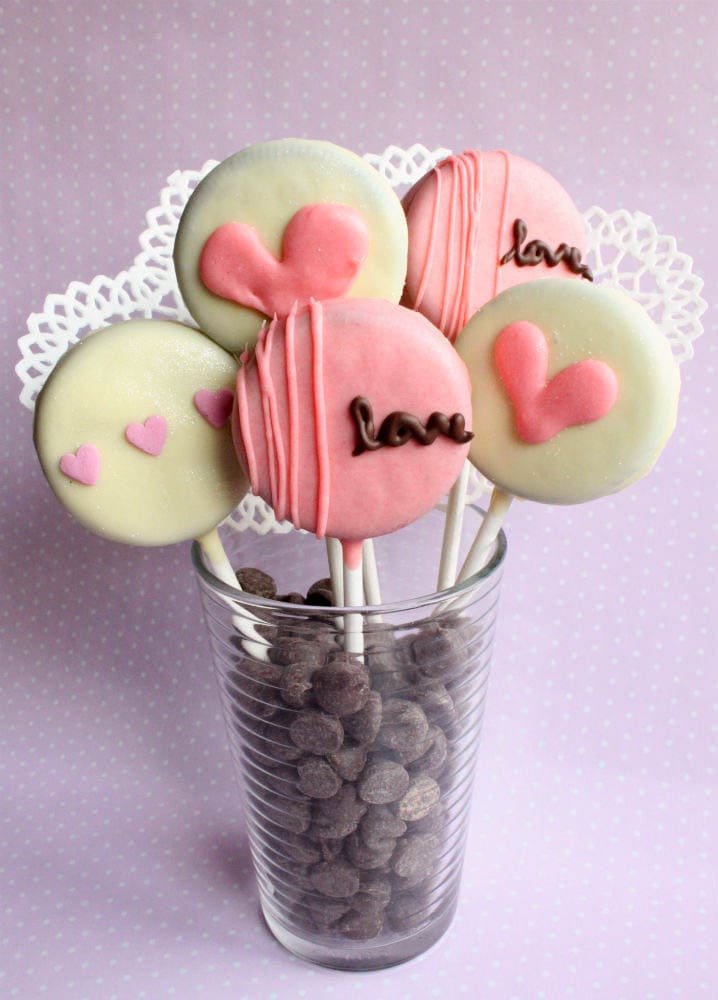 Hello Lil' Luna readers! I'm Claire from The Simple, Sweet Life and I'm SO excited to be guest posting here today! I've been following Kristyn and her group of wonderful bloggers for a while now, and I'm constantly amazed by all the fantastic ideas they come up with! How do these ladies do it?!
Although I was born and raised in the United States, I've been living in beautiful Western Norway for the past 2 years. I've always loved baking, but moving to Norway really forced me to learn how to make everything from scratch. All those wonderful American goodies I took for granted in the States are awfully hard to come by here! This includes Valentine's goodies because the holiday isn't widely celebrated here (at least not like it is in the US). And with Valentine's Day just around the corner, I want to share a sweet and easy recipe with you for Valentine Oreo pops!
MY OTHER RECIPES
Valentine Oreo Pops
Yields 12 Oreo pops
Ingredients:
12 double stuff Oreos (maybe a few extras just in case)
12 lollipop sticks
3 bars white chocolate
1/4 cup dark chocolate chips
Pink food coloring
Heart-shaped sprinkles
A couple of piping bags (or ziploc bags)
Parchment paper
A few teaspoons vegetable oil (to thin the chocolate if it's too thick)
Oreo pops have become a recent favorite of mine. Not only are they easier than cake pops, but they taste even better (I know, doesn't seem possible right?)! Start by melting 2-3 squares of white chocolate in your microwave using 10-20 second increments. This will "glue" the stick to the Oreos, and the Oreos halves back together. Now it's just a matter of twist, dip, stick, cover: twist the Oreos apart, dip your lollipop sticks in your melted white chocolate, stick them into the filling side of the cookie, and cover with the filling-free side. Once you have all your pops made up, give them a good 5 minutes on your counter to let the chocolate harden inside, or a few minutes in the freezer.
While the chocolate sets up, you can prep your work space by lining a few baking sheets with parchment paper and melting the rest of your white chocolate. Once the chocolate inside the pops has hardened, it's time to dip those Oreo pops! Gently dip your Oreo pops into the melted white chocolate, making sure both sides and the underside are covered. Tap the pop on the side of the chocolate container (very, very gently) until most of the excess chocolate has run off. Lay the chocolate covered pops on your parchment paper covered baking sheets, and pop them in the freezer for about 5 minutes (or until the chocolate is hard). I decided to color a few of my pops pink, so I just added a little pink food coloring to my white chocolate once I'd made as many white ones as I wanted.
Once the chocolate has completely hardened, you can gently cut off any excess around the edges. Now it's time to make some designs! For the pink pops, I spooned the rest of the pink chocolate into a piping bag, trimmed a small amount off the tip, and drizzled a few lines over half of the Oreo. I then melted a 1/4 cup dark chocolate chips, spooned that into another piping bag, trimmed a tiny amount off the tip, and piped the word "love." Easy peasy, right?
Using the pink chocolate, I piped large, pink hearts on half of the white pops, and used a small amount of chocolate to "glue" heart shaped sprinkles onto the other half. Pop them back in the freezer for another 5 minutes to harden and voila! I also used a little edible glitter on my white Oreo pops to make them extra festive.
Does your sweet tooth still need satisfying? Check out a few of my other favorites or keep in touch with Facebook and Pinterest!
——————————-
Oh my – my kiddos would love these Valentine's Oreo Pops!!
Thank you, Claire!! Be sure to go to The Simple, Sweet Life for all of Claire's creations. 🙂
For even more great Valentine's sweets, check out: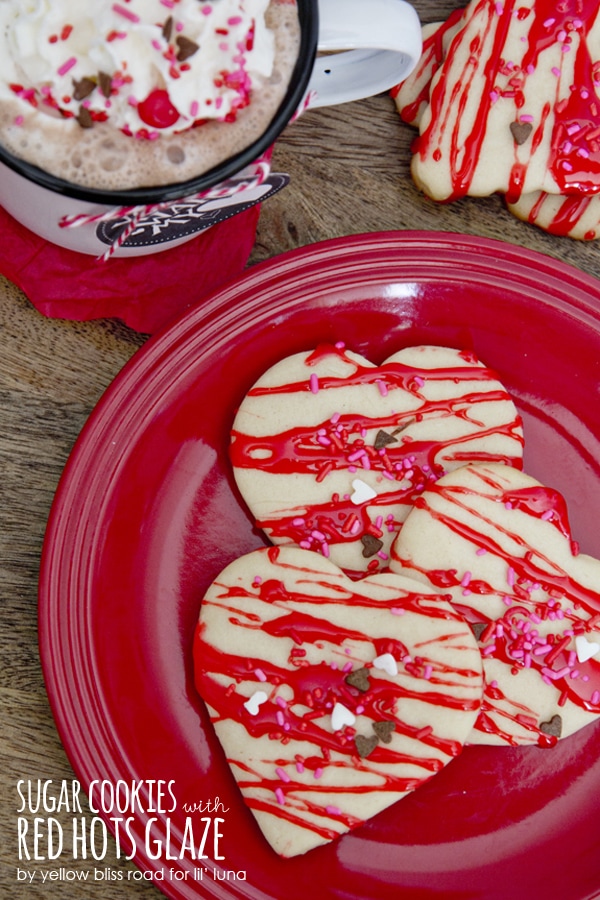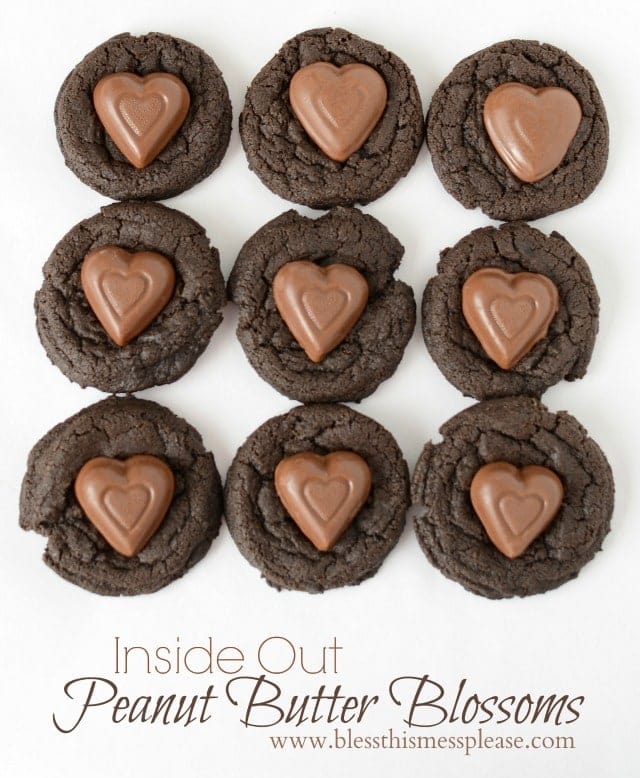 Inside Out Peanut Butter Blossoms
And get weekly emails with monthly freebies by signing up for the Lil' Luna newsletter. 🙂
For even more great ideas follow me on Facebook – Pinterest – Instagram – Twitter – Periscope.
ENJOY!