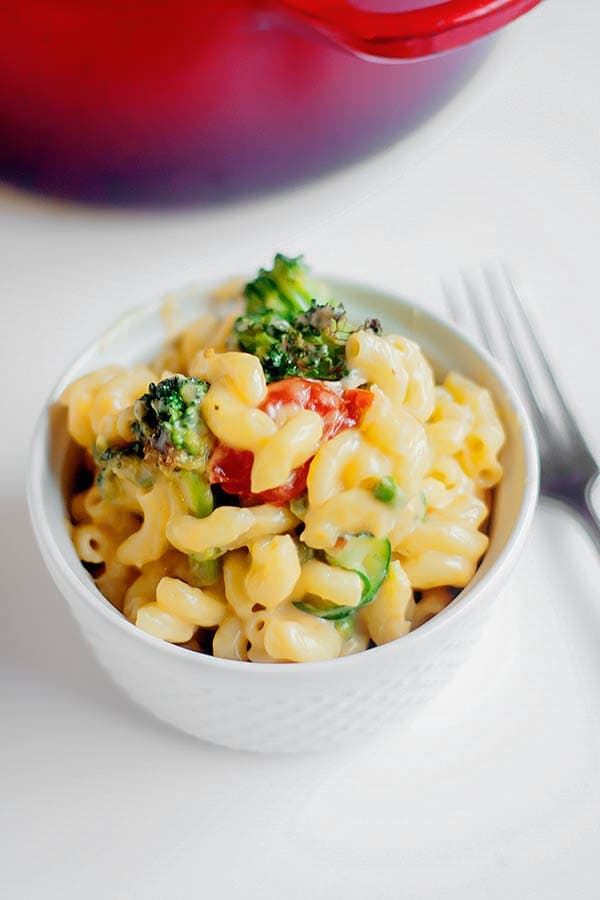 A sure fire way to get your kids to eat more veggies…cover them in cheese.
It is back to school time at our house, and while I am very sad to see this great summer coming to an end, it really is nice to get back to a normal schedule again. Especially when it comes to dinner.
I have a really hard time convincing myself to get up and out of the pool each evening to make dinner, so our summer meals are pretty casual. Chips and guacamole casual.
Now that school is here it is time to get back to our normal meal time routine. I'm sure I am not the only mother trying to get her kids to up their veggie intake. My kids will eat their salad, and there are usually carrots in the lunch boxes, but other than that it can be like pulling teeth the get the veggies in.
That is unless you cover them in delicious cheese sauce, and then the veggies get eaten with no complaints at all.
Roasted veggie mac and cheese is one of the easiest ways I know to add more vegetables into our diet. Plus, it is beyond delicious. Roast up a pan of your favorite veggies. I used broccoli, tomatoes, zucchini, summer squash, and peas, but really any of your faves will work. While the vegetables are roasting, make the easiest one pot mac and cheese ever. Then you simply mix the two together.
Here's the recipe…
roasted vegetable mac and cheese
Ingredients
for the vegetables -
1 head of broccoli, cut into florets
1 summer squash, sliced
1 zucchini, sliced
1 cup of peas
1 cup of cherry or grape tomatoes
1 Tbsp olive oil
salt and pepper
for the mac and cheese -
4 cups of whole milk
3 cups of elbow macaroni
4 cups of shredded sharp cheddar cheese
2 Tbsp butter
½ tsp salt
⅛ - ¼ tsp cayenne pepper
Instructions
heat oven to 400 degrees
toss all of the vegetables with the olive oil and season with salt and pepper
spread them out on a rimmed baking sheet, and roast in the oven for 30 minutes'
while the vegetables are roasting make the mac and cheese
add the milk and macaroni in a saucepan
bring to a boil over medium heat, stirring frequently to prevent the macaroni from sticking
continue to cook until the pasta is tender, and the milk has thickened - this will take about 5 minutes
remove the pan from the heat and stir in the cheese and butter
season with salt and cayenne pepper
stir in the roasted vegetables, and serve hot
Ready in just over 30 minutes, roasted vegetable mac and cheese is easy enough for busy school nights, and the leftovers make terrific lunches the next day.
enjoy!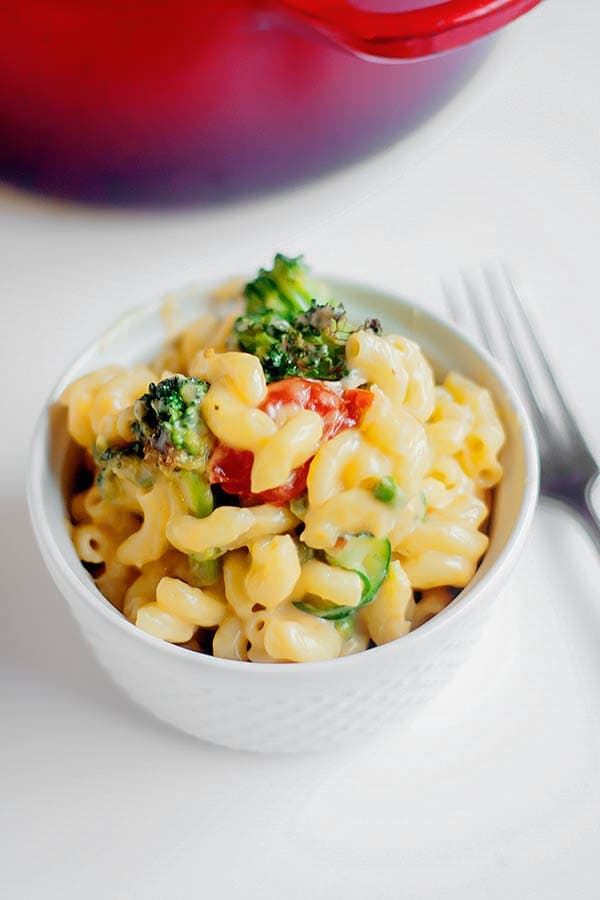 _____________________
Oh my goodness, this seriously looks AMAZING. Let's be honest, I love anything covered in cheese, and I'm pretty sure I could eat this by the bowl full.
I bet my kids would even love this, regardless of all the veggies inside! Thanks so much for sharing, Heather!
For more great recipes, you can visit Heather over at her NEW SITE (yay!!) Well Floured!
And for more easy dinner recipes perfect for busy school nights, you can check out these posts: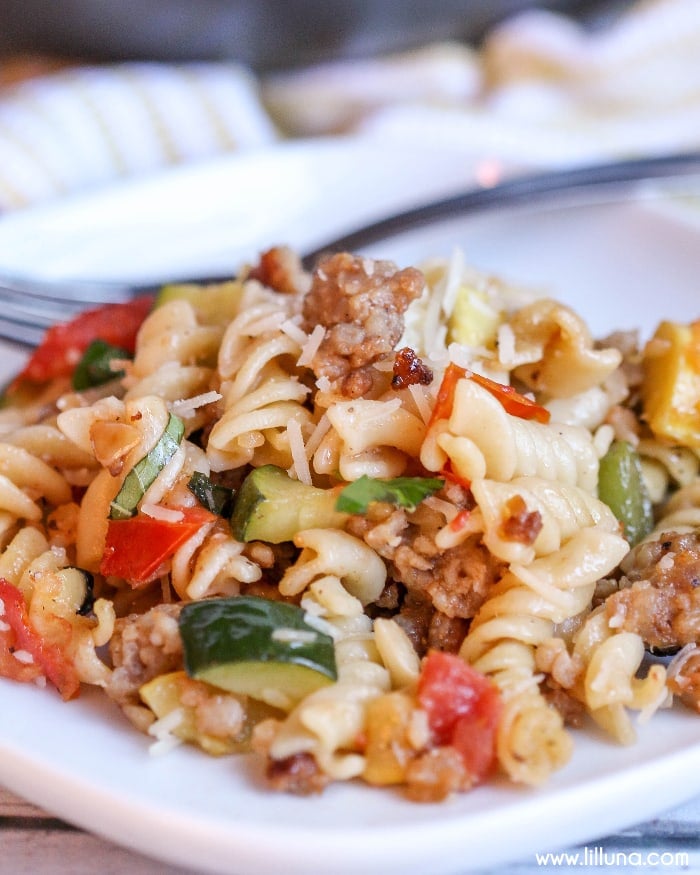 Mini Avocado Grilled Cheese Sandwiches
And get weekly emails with monthly freebies by signing up for the Lil' Luna newsletter. 🙂
For even more great ideas follow me on Facebook – Pinterest – Instagram – Twitter–Periscope–Snapchat.
ENJOY!