This post is sponsored by GoodNites and Sam's Club. As always, all opinions are 100% my own.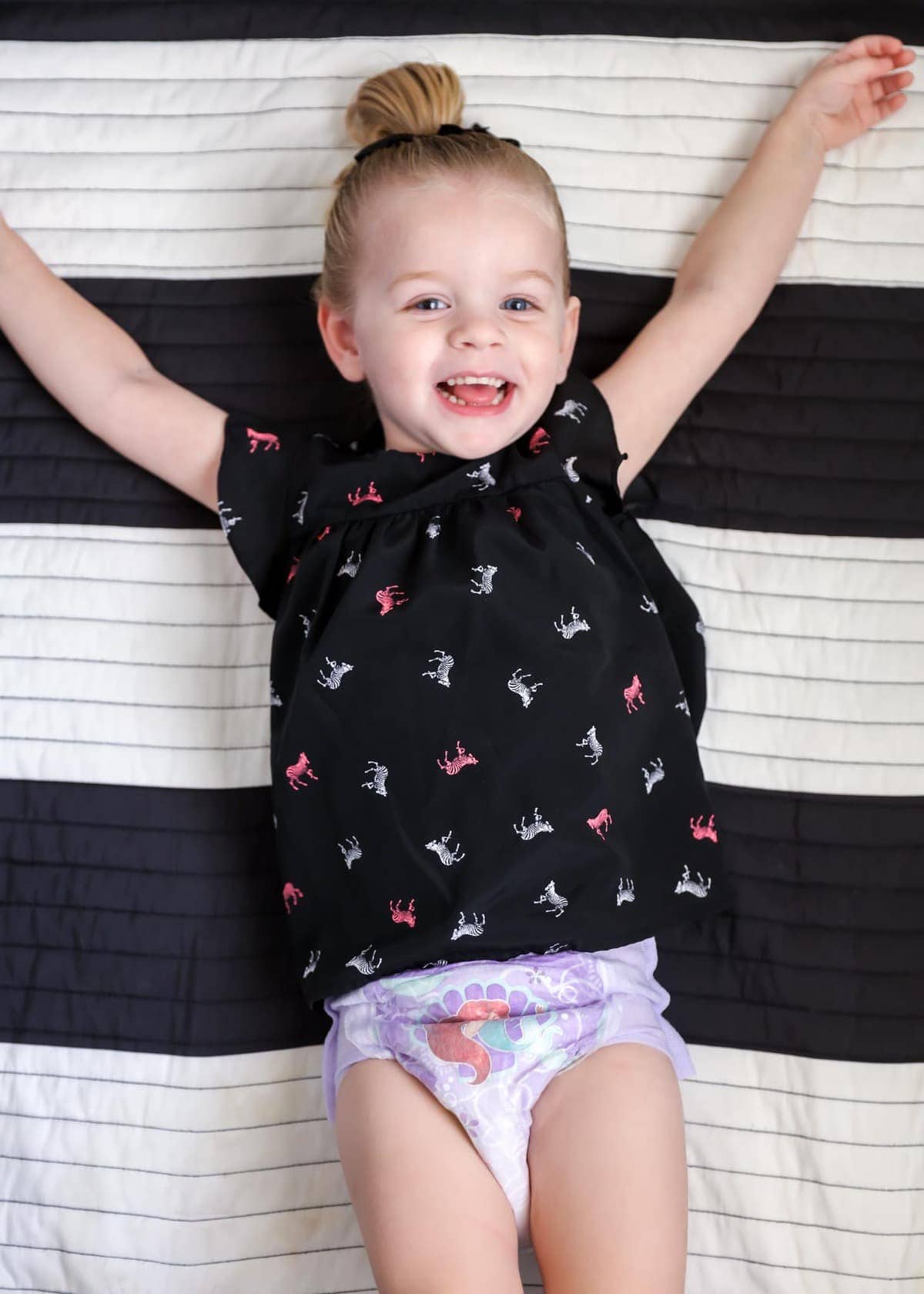 I don't know if anyone else was like me, but I did not truly understand the gravity of becoming a parent, until well after my first child was born. There are so many amazing instances that I did not appreciate or expect. For us, these were our kids' first smiles, when they came running to you the second you walked in the door from an errand, cuddling with them, and watching them play with their siblings and friends. Along with the tender surprises were a myriad of instances that were a lot of work, frustrating, and just plain confusing. There are so many times that I just wish I knew what the right thing was to do. One of these situations was when our child continued to wet the bed at night long after they had been potty trained. Wet sheets and wet clothes were frustrating for them as well as for us. As we worked through this situation, we found several things that really made a difference for us, that I wish we had known before – like how one in six children between the ages of 4 and 12 experience nighttime wetting. It's not uncommon and you are not alone! If we had known this, the frustrating nighttime wetting would have just been white noise, and we could have focused on other things. Because of this, I thought it would be worthwhile to share some of what has that helped us.
**DISCLAIMER: I am a strong believer that every child responds differently, and I am always hesitant when parents are so quick to point out the "Only right way" to do things. Because of this, these are just suggestions that worked for us, and might work for others too.
NIGHTTIME WETTING TIPS:
Relax and realize this is only temporary and out of your child's control – nighttime wetting is most often a developmental issue that will, most of the time, take care of itself as your child grows up. So, no need to worry.
The game changer of managing nighttime wetting is G

oodNites NightTime Underwear, the #1 NightTime Protection Brand*, which has made all the difference for our little one. Once our child began wearing these, the stress of the night disappeared for both of us. Since GoodNites are super stretchy for comfort, 40% more absorbent**, and designed with 5 protection layers and double leg barriers, our child never once woke up with wet sheets or clothes after wearing them.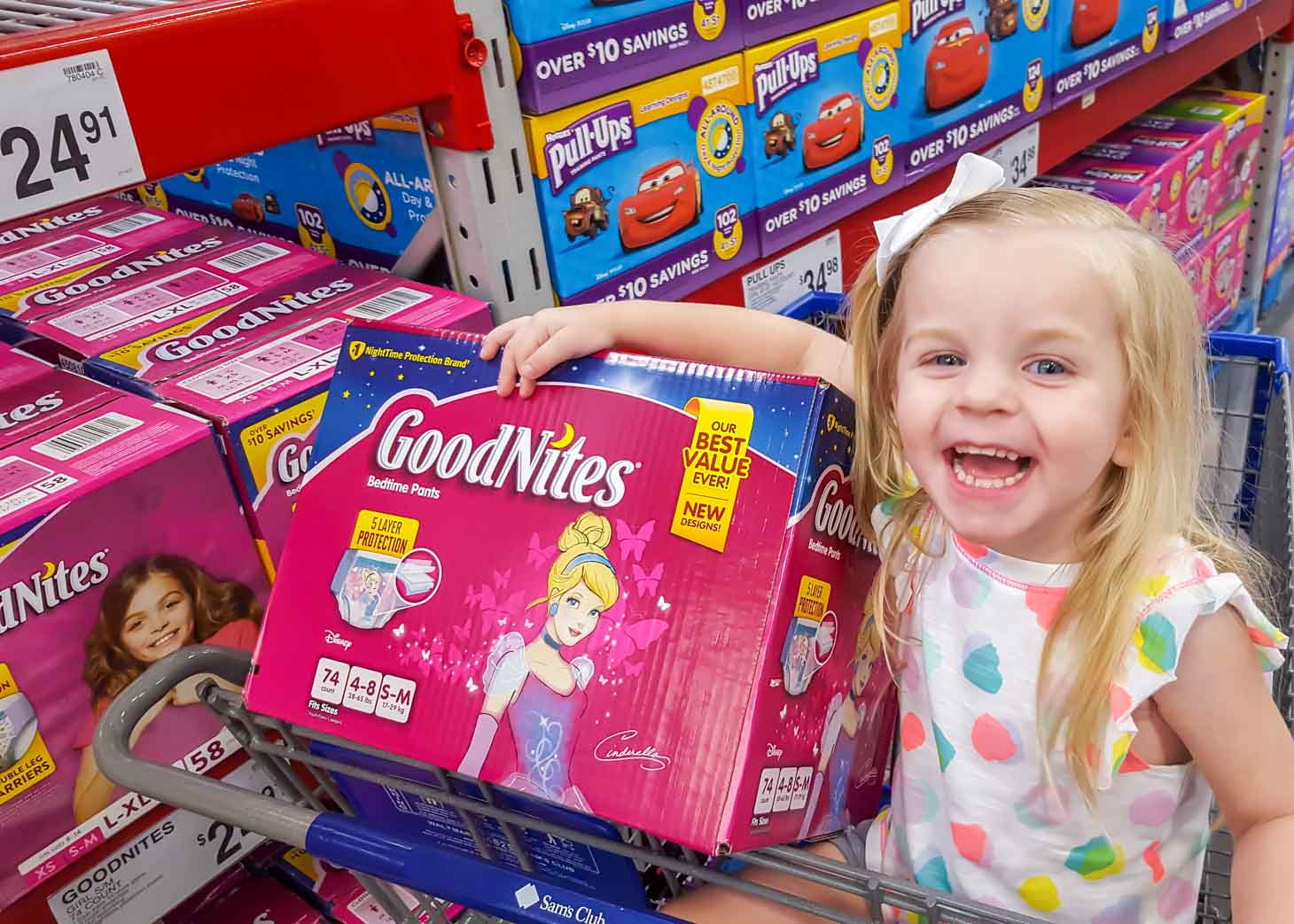 Buy in Bulk – Nothing is worse than all of the sudden realizing right before bedtime that you are out of GoodNites for your child! We learned long ago to buy ours from

Sam's Club at a great value

. One box lasted us over two and a half months, and that is with using them every single night. It's also super convenient – you can ship directly to your house with free shipping online if you're not up for a trip to the store. We often order online and use drive through pick-up too, so that I don't have to haul all the kids out of the car. It's a win win!
Create a bedtime routine, and STICK TO IT! – We always had the same routine that helped make sure that our child remembered to put on their GoodNites, and got a great night's sleep. This also was a game changer in completely stopping the complaining about going to bed, and dragging out the process. Our routine goes like this:

Clean the playroom all together

Take a bath

Brush your teeth

Use the restroom

Put on your GoodNites NightTime Underwear

We say prayers with them at their bed

Hugs and the mandatory "Good night, sleep tight, don't let the bedbugs bite!" (With a tickle for good measure). Sometimes my husband says it in Russian to change things up.
We tried to create a safe and inviting room that our kids like to spend time in. We do not have any toys in our kids room (hence cleaning up the playroom), but we decorate with things that they like, and that we hope to show them that we love them and they are safe there.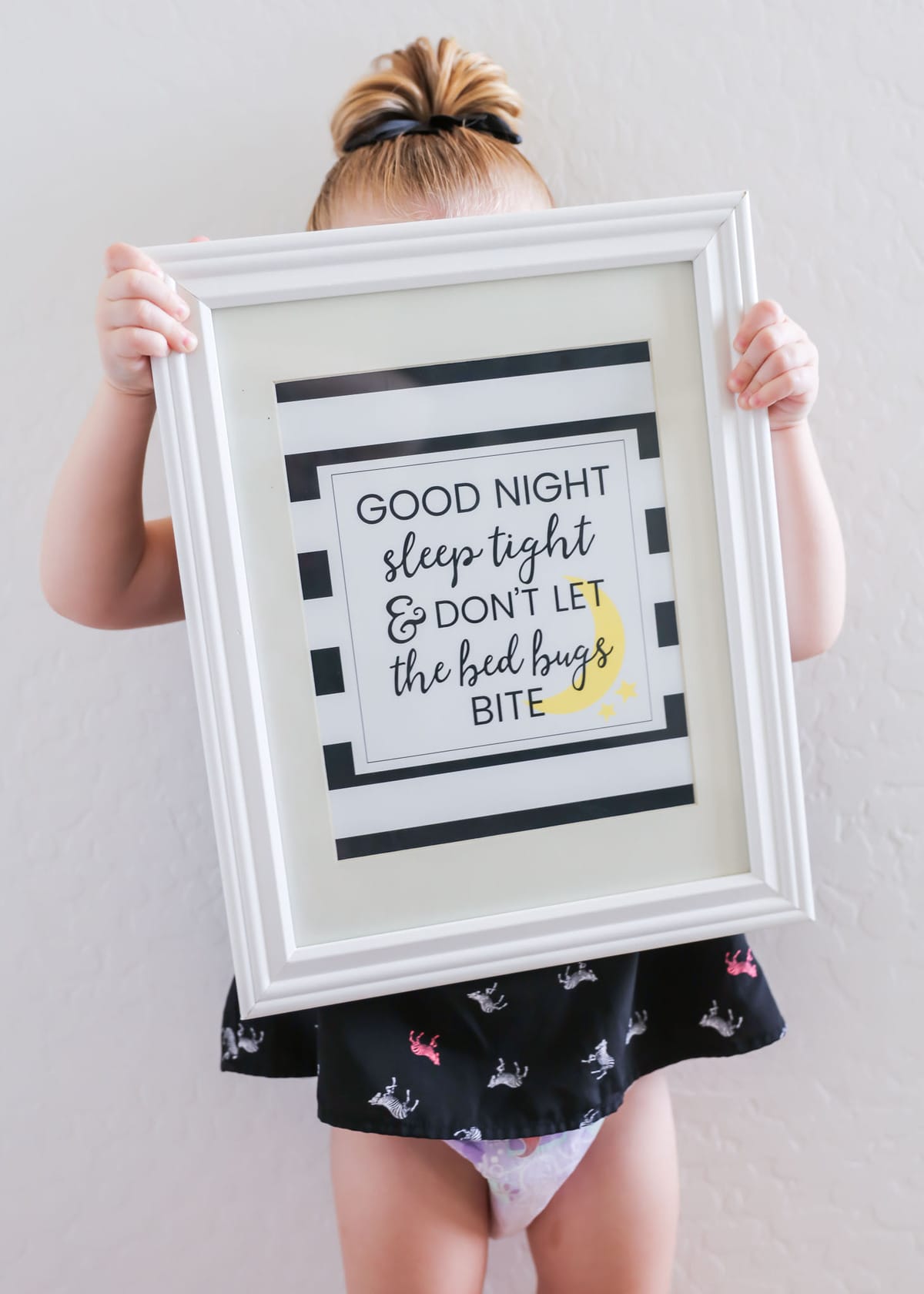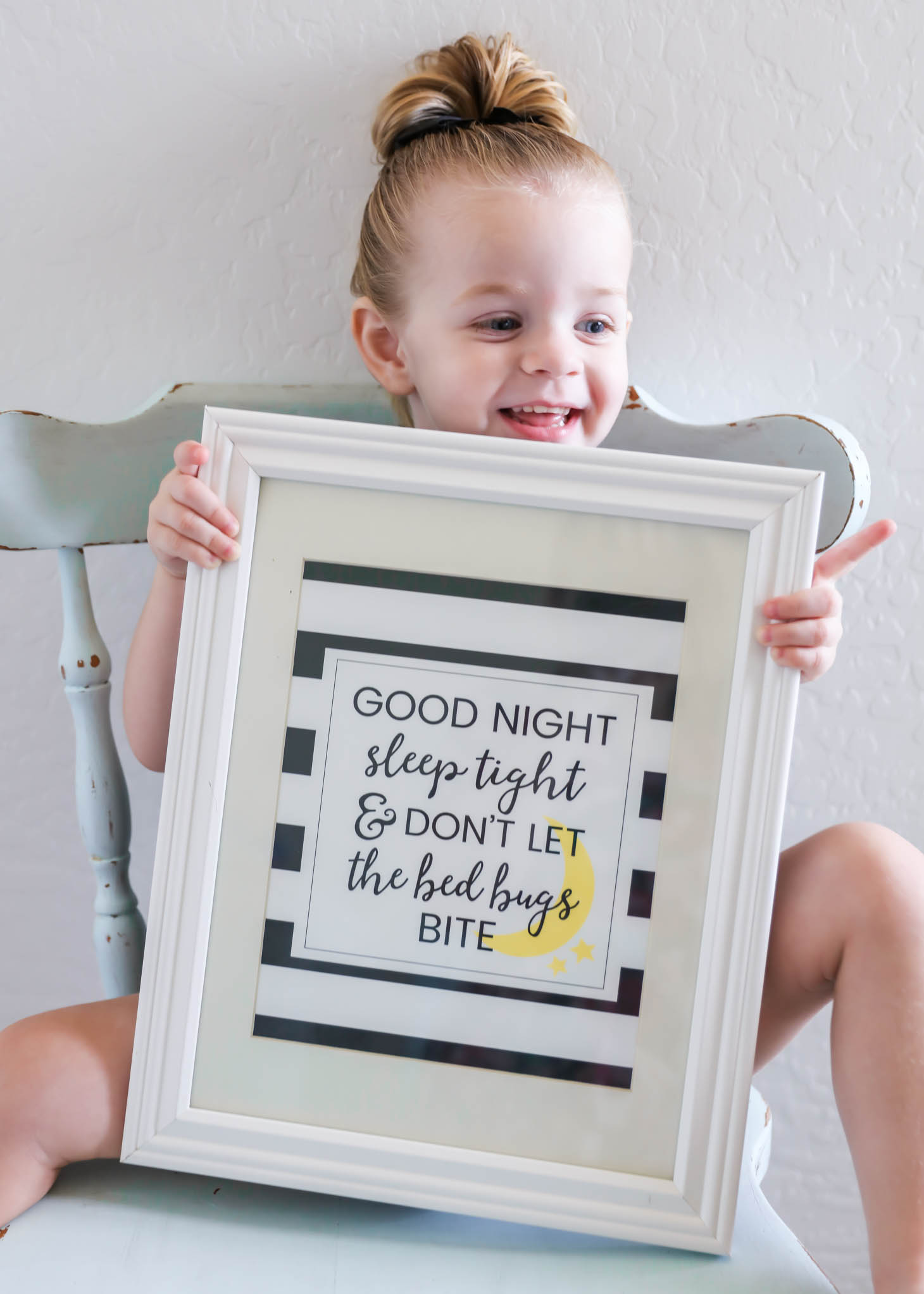 To help with this, we designed this cute free nursery printable. As I said, this saying is part of our routine, and I absolutely love how endearing and motherly it feels to me. I hope you enjoy using this print and adding it to your kids' room.
We made them with several backgrounds (Striped, Floral, Solid & Polka Dot) to match your nursery, so pick your favorite, download and print!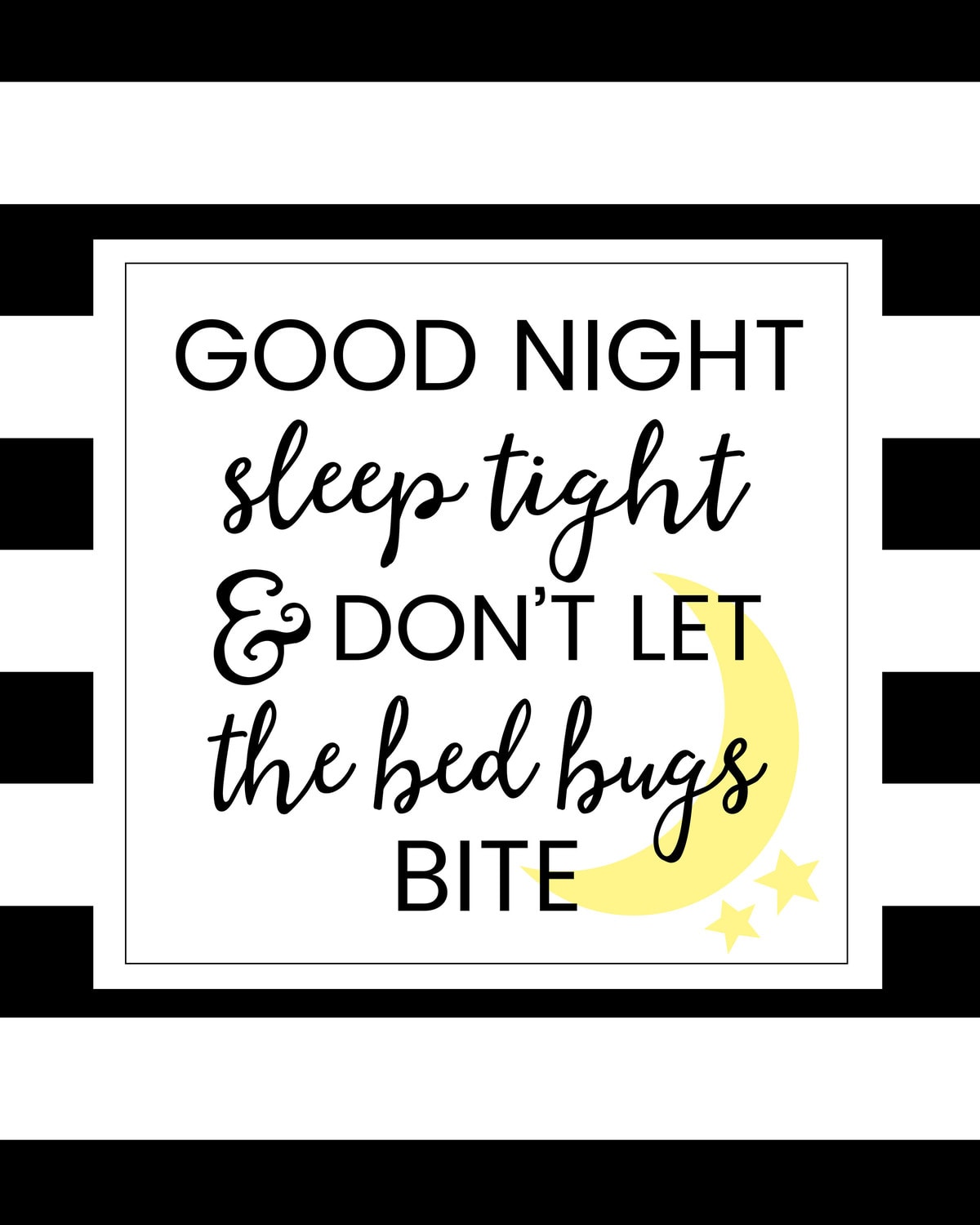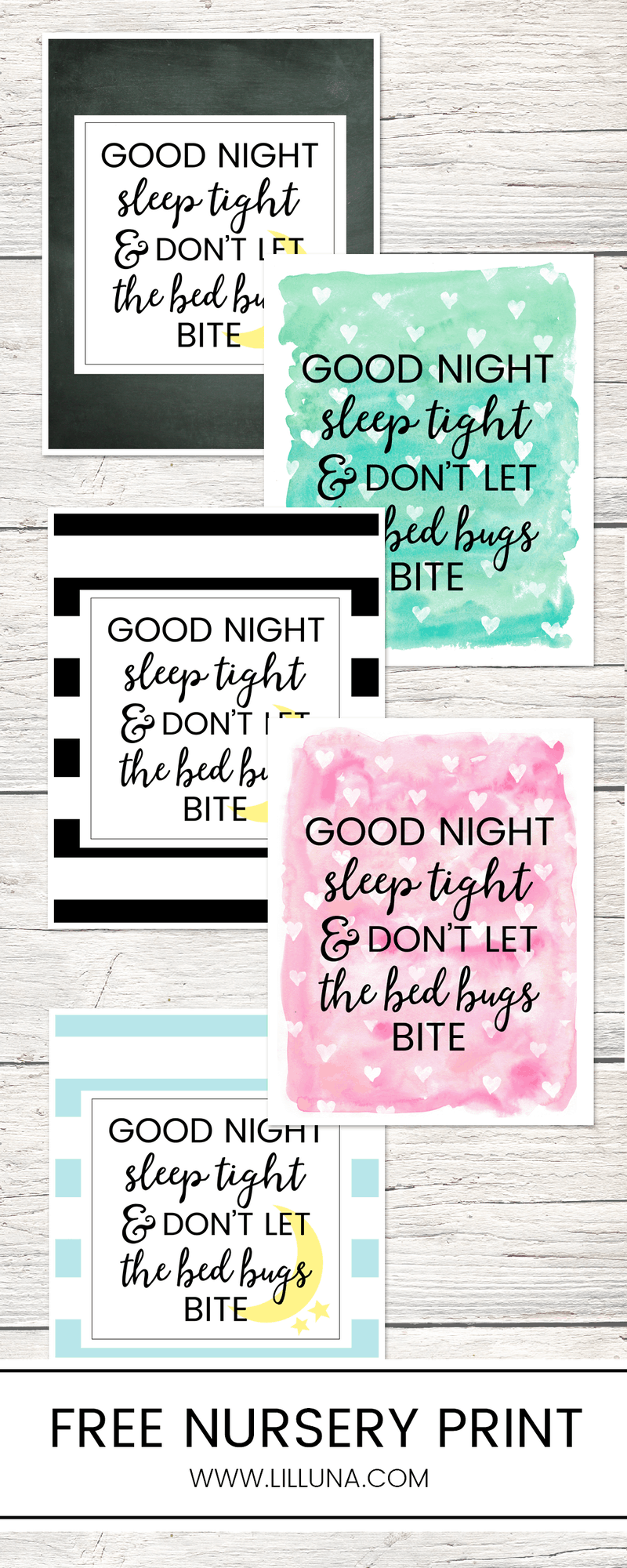 TO DOWNLOAD 8×10 NURSERY PRINTS – CLICK HERE
TO DOWNLOAD 11×14 NURSERY PRINTS – CLICK HERE
I hope some of this proves helpful. We have learned A TON through our five kids, and I know every kid takes some trial and error. I just hope some of this helps reducing the "error" part. 😉
For more information about buying GoodNites at a great value at Sam's Club, go HERE.
ENJOY!
*Youth Pant Category
**vs. leading 4T – 5T training pants