I hope you don't mind, but today I'm going to get a little personal with ya.
As most of you now, I am a member of The Church of Jesus Christ of Latter-Day Saints (aka, Mormon). I've never really tried to hide it. In fact, I talk about it a lot with projects and activities that I do with my kids and family, and have even done several LDS-related tutorials.
With that in mind, though, I haven't really talked about it too often because I believe religion is a very personal topic. Due to recent exposure of our religion in the media because of Mitt Romney running for president and because it has blessed my life so much, I have decided to join a group of my favorite LDS bloggers to share with you a little of what I believe, and perhaps shed some light onto why so many Bloggers are Mormon.
I hope you know that I, in no way, am trying to push my religion onto anyone. Heaven knows how much I hate sales men, but when something has blessed and changed my life as much as my Mormon faith, I want to share it with as many people as I can so it can possibly bless their lives too.
So, here is how this works…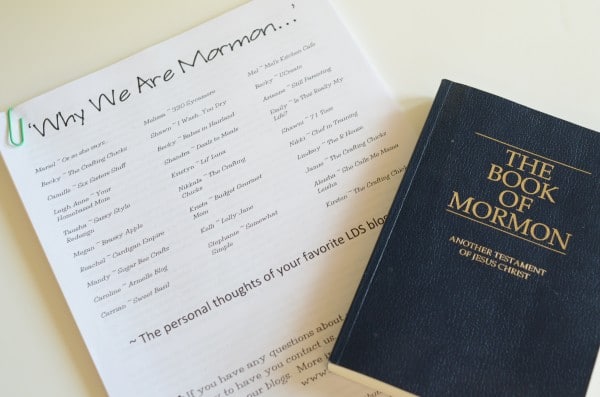 I will personally send you (for free) a packet filled with the personal thoughts of the following "Mormon Mommy Bloggers":
Along with the blogger packet, you will find our favorite scriptures, the ones that have personally touched our lives, along with a free Book of Mormon.
Why the Book of Mormon too?
The Book of Mormon is a major part of our religion, and we believe that it is another testament of Jesus Christ. It doesn't replace the Bible, but it acts as a second witness or reference leading to Jesus Christ. The Bible has sound doctrine, but as you can see with all the religions in the world it can be interpreted so many ways. As in geometry it takes two points to form a line and give you direction. It can't be done with one piece of information alone. That's what I believe the Book of Mormon does with the Bible being one point and the Book of Mormon being another. It helps clarify and give direction to the principles found in the Bible. 🙂
I truly believe that with this packet and a free copy of the Book of Mormon, you will have a better idea of why being Mormon is so special to us. I will be sure to send out these packets at the end of each month. And don't worry – I won't be sending your information to missionaries to track you down. Your information will only be used to send you the packet as promised. 🙂
To request a packet all you need to do is send an email to me at: mylilluna@gmail.com telling me you'd like to receive the packet along with YOUR NAME and MAILING ADDRESS. Pretty easy.
I'm not trying to offend or elicit a debate. I just realized that everyday, through my blog, I try to share some wonderful and helpful things that I've come across. Today I just wanted to share with you the MOST wonderful thing that has blessed my life. To finish this post, I just wanted to create a list of the most important ways that my religion has blessed my life, because, after all, as the Savior said in Matthew 7:20, "By their fruits ye shall know them." 😉
Here are some of the fruits that I have tasted from being a member of the Church of Jesus Christ of Latter day Saints:
~ A knowledge and the ability for me to be together and sealed with my family, not just til death do us part, but for all eternity
~ An understanding of where I came from, why I'm here, and where I'm going
~ A reassurance that I have a Father in Heaven who knows me personally and loves me
~ The ablity to pray to that loving Heavenly Father whenever I need to and the knowledge that he does hear me and does answer these prayers – a two-way communication
~ The reassurance and the blessings of having the third member of the Godhead, the Holy Ghost, be with me at all times
~ The ability to find answers to questions to current problems through prayer and personal revelation, like "Should we take this job?," "Should we move here?," or "Should I marry this tall red-head guy?" (He has never steered me wrong!) 🙂
~ A perfect knowlege of what is true and what is false in a world where no one really knows anymore
~ An understanding of how important families are and how to help our family grow
~ The ability to ask for Priesthood blessings like you find in the Bible when you are struggling with health or personal problems. These truly are miracles!!
~ Having a support group in my church of Christian people, who are not perfect, but are really trying to be
~ Opportunities to serve that teach me charity and selfless-ness
~ In these troubled times, I have guidance from a living prophet of what I should do to prepare my family for the future
~ More peace and harmony between my spouse and myself and our kids in the home
These aren't all of the blessings, but some of my favorites. Now can you see why I'd want to share this with you so much? 🙂
ENJOY!