Hey everyone!
I hope your not getting overwhelmed with all the soup recipes going on. Because today's recipe IS soup, and it's AWESOME! I'll be presenting another soup next week and… I'm not sorry! 😉 Soup warms the soul. And it's always super easy to throw together. You know I love bringing you easy recipes… and warming the soul is an added bonus 🙂
This Zesty Parmesan Soup is creamy and full of broccoli flavor.My mom got this recipe back when we lived in Missouri. It came from one of her favorite restaurants there and she had totally forgotten about it until a few weeks ago when she came upon the recipe. She was excited to give it a try, and we were excited to eat it!
My favorite part about it is the noodles. Its almost like eating pasta, but juicier! It was crazy easy to put together and I was surprised when my kids ate their bowls up, with no complaints. OK, maybe a few questionable looks from the 3 year old, but she still ate it, and that's what counts, right? (We're still working on the veggies with her – she thinks gum is a main meal!)
If you love soups and pasta, then I highly recommend this one. It includes both and is so simple – I'm confident you'll LOVE it!

Zesty Parmesan Soup
Ingredients
¼ cup butter
2 cups cauliflower, broken into small pieces
2 cups of fresh or frozen broccoli, chopped
2-4 oz fettuccini noodles
2-4 oz large macaroni shells
½ tsp. garlic powder
1 TB chicken bouillon
2 TB parmesan cheese
1 lb shredded velveeta cheese
½ pt. half n half
salt and pepper to taste
shredded cheese for garnish
Instructions
Put cauliflower and broccoli in a large stock pot. Add enough water to cover about 1 inch above your vegetables. Bring to boil. Cook until broccoli is bright and tender.
Add both dry pastas and seasonings. Continue to cook on high until pasta is just tender, stirring occasionally.
Lower heat. Stir in cheese, half and half and pepper. Heat through slowly and serve hot.
Check out all that cheesy-noodle goodness!!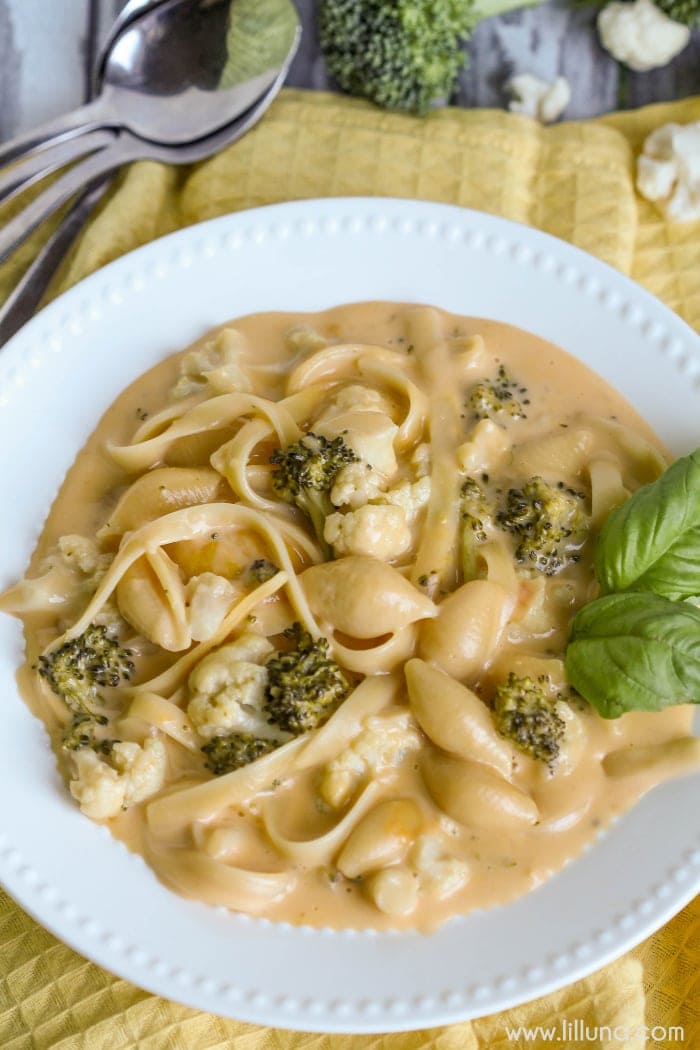 I loved how both the cauliflower and the broccoli turned out to be so soft and tender, fitting in perfectly with the noodles. I felt like this was a soup-form of fettuccine! SO GOOD!!
DIFFICULTY: Simple
HOW MANY DOES IT FEED: 6-8
ANY CHANGES MADE: We removed the mushrooms, and replaced the real onions with onion flakes
ANY SUGGESTIONS FOR NEXT TIME: I really enjoyed that everything in this soup was soft and creamy. I would keep it just like that! Onions would have added an unwanted crunch. But then again, (remember) I eat like a 5 year old and have texture issues. Small chunks of potatoes or hominy might be yummy!
Here are some other soups you might like if you like meat-y soups…
Crock Pot Tortellini Spinach Soup
Loaded Broccoli Cheese and Potato Soup
For all soup recipes go HERE.
For all dinner ideas go HERE.
For even more great ideas follow me on Facebook – Pinterest – Instagram – Twitter – Periscope – Snapchat.
And get weekly emails with monthly freebies by signing up for the Lil' Luna newsletter. 🙂
ENJOY!