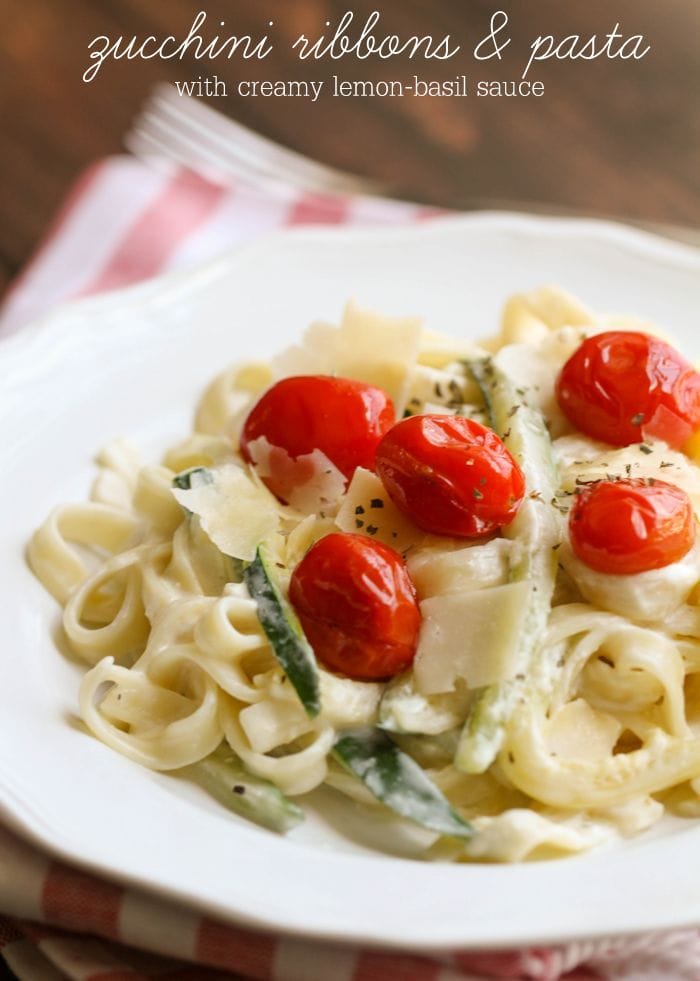 I may have a slight obsession with Cookbooks. One of my all-time favorite things to do when the kiddos are asleep is to sit and go through a new cookbook or magazine, grab some sticky notes and go to town marking all the recipes I want to try. 😉
It's obvious that finding new and delicious recipes is a hobby of mine, and I was so excited to get "400 Calories or Less" from my sweet friends, Sara and Kate of Our Best Bites. I knew before I even opened the book that I'd love the recipes since I've been long-time fans of these ladies. And let me tell you – this book does NOT disappoint! Just a few weeks ago I sat down with my sticky notes and found myself marking almost every single page. ALL the recipes looks amazing (and best of all – healthy!!), and I was so excited to try one out.
The recipe I decided to try last week and the one I'll be sharing with you today is Zucchini Ribbons and Pasta with Creamy Lemon-Basil Sauce. From the list of ingredients I knew it would be simple and delicious, and I'm happy to report that it was! I had never made Zucchin Ribbons but they were the perfect touch to this recipe. In fact, my entire family loved it and the husband declared it his new favorite pasta dish. 😉
Here's the recipe:
Zucchini Ribbons and Pasta Recipe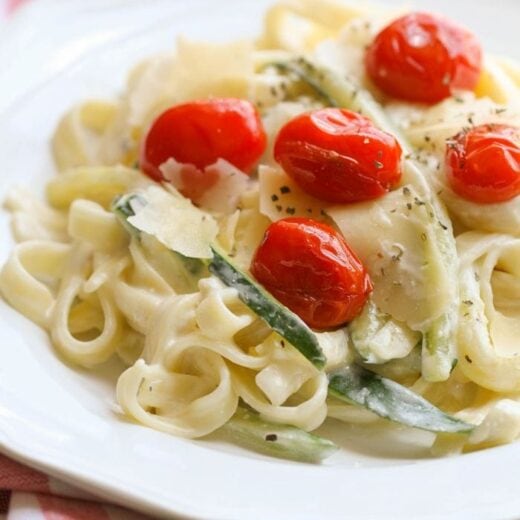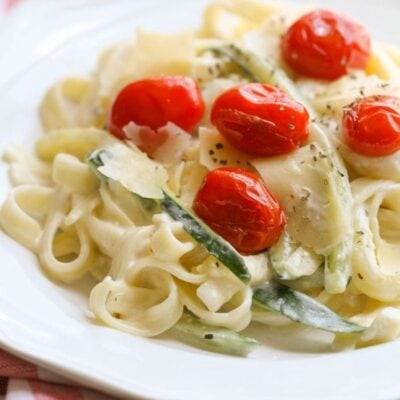 Zucchini Ribbons and Pasta with Creamy Lemon-Basil Pasta - so delicious and under 400 calories!
Ingredients
1/2

lb

fettuccine

or 8 oz

1

medium

zucchini

2

tsp

olive oil

divided

10

oz

grape tomatoes

about 2 cups

kosher salt

black pepper

3-4

cloves

finely minced garlic

1

cup

low sodium chicken broth

3

oz

fat-free cream cheese

1

cup

basil

very loosely packed and chopped

1

tbsp

fresh squeezed lemon juice

more if desired
Instructions
P

repare a pot of water and cook pasta according to package instructions. Cut ends off zucchini and slice along the long direction, cutting the zucchini into about ⅛ inch slices. Cut each of those slices into long pieces, about the same size as the fettuccine (see photos above for explanation). Set zucchini aside.

Heat a medium size skillet to medium heat. When hot, add 1 teaspoon olive oil. Add tomatoes and give them a little sprinkle of kosher salt and a few cracks of black pepper. Cook, stirring frequently, for about 3-4 minutes. Just until they start to burst and look blistered. Remove tomatoes from pan and place in a small dish, covered, and set aside.

Add another 1 teaspoon olive oil to the empty pan and add garlic. Stir constantly on medium-low heat for about 30-60 seconds. Add chicken broth. Bring to a simmer and use a spatula to scrape any browned bits off the bottom of the pan. Simmer for 1-2 minutes and then reduce heat to low.

Place cream cheese in a microwave-safe bowl and soften for 20-30 seconds, until it can be easily stirred smooth. Ladle in a couple spoonfuls of the chicken broth mixture into the cream cheese and stir to combine. Once the mixture is smooth, add it to the pan with the remaining broth mixture and whisk until smooth and creamy. Add chopped basil and lemon juice and stir to combine. Taste sauce and season with salt and pepper to taste. (Lemon lovers can also squeeze in extra lemon juice at this point.)

When pasta is just about done, add zucchini strips to pot (so they're cooking with the pasta). Boil for about 2 minutes, or until tender. Drain zucchini and pasta and combine with sauce. Gently toss in tomatoes, or simply add them on top of each serving. Garnish with additional basil if desired.
From Our Best Bites.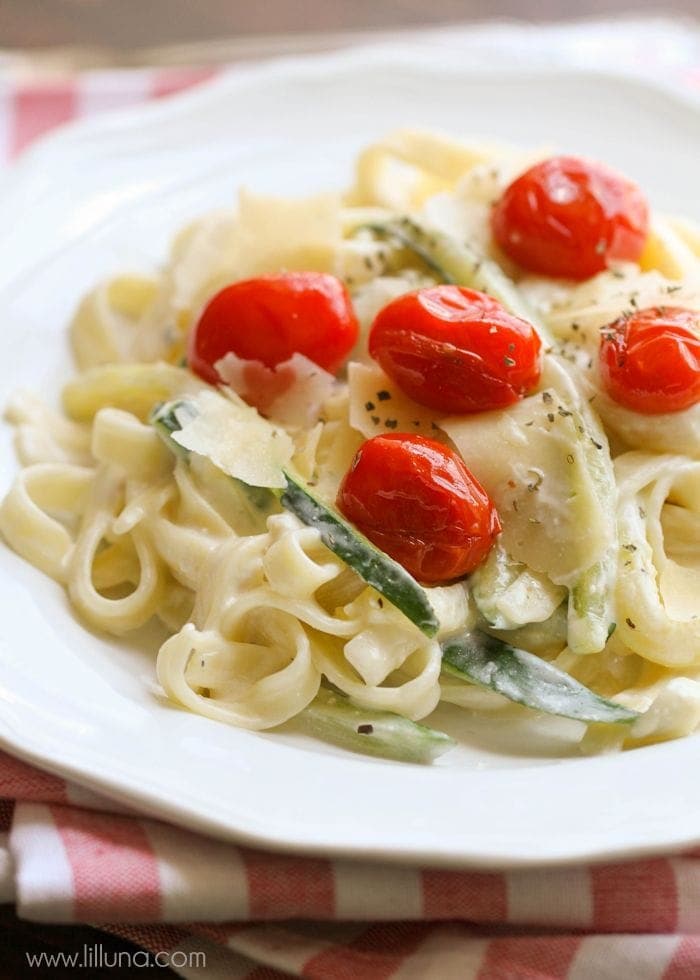 I didn't make any changes to this since I wanted to taste exactly as the recipe called for, and I LOVED it! The only thing I did was add some shaved Parmesan on top. Mmmm!!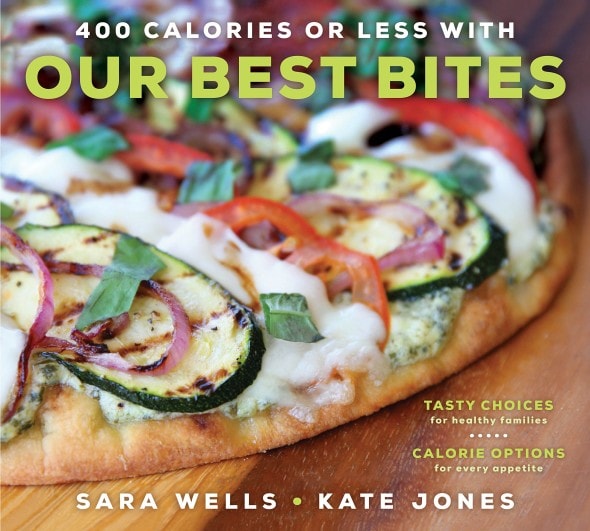 400 Calories or Less is the third published book from Sara and Kate of Our Best Bites. It's filled with tons of delicious and healthy recipes from soups and salads to dinners and desserts.
Here are some items of note:
-Every single recipe has a full page, full color photograph
-Every recipe includes nutritional information
-The book contains healthy favorites from our blog (never before published in books) and also brand new book-exclusive recipes.
-Recipes include "Add-on" options to customize your serving
-There are tags included for gluten free, low-carb, meatless, etc.
I cannot wait to try some more recipes from this book! If you're looking for some healthy recipes that are delicious too, be sure to purchase your own copy of 400 Calories or Less with Our Best Bites
.
ENJOY!
BEHIND THE SCENES AT LILLUNA.COM: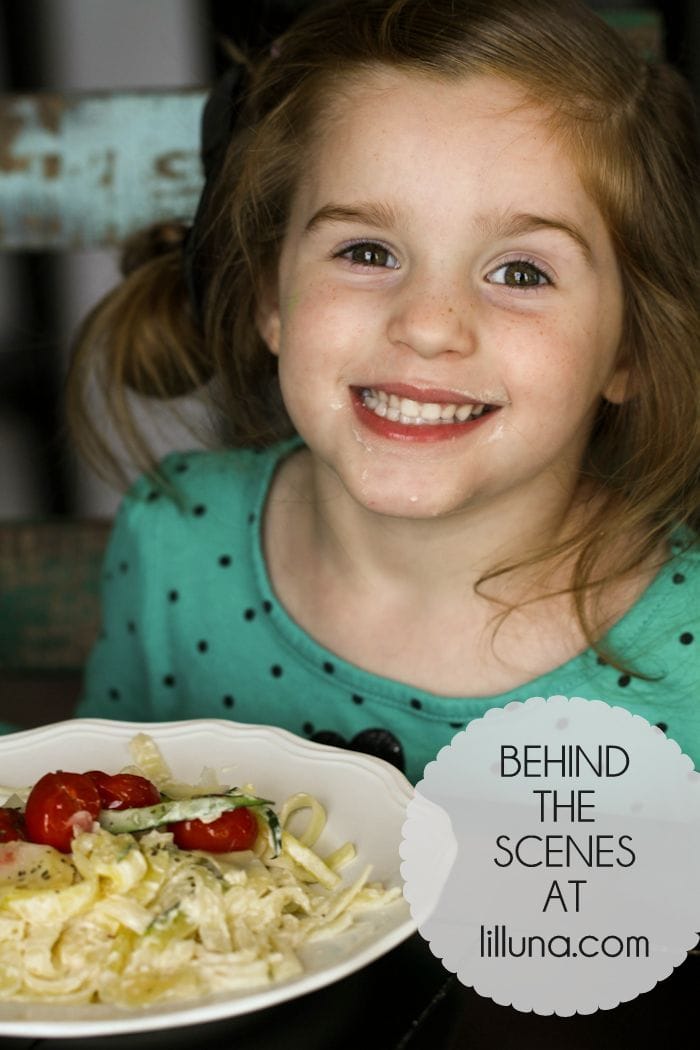 Proof that it was loved by the family!! My little Evie LOVED this dish!
For more Loved pasta dishes try: