———————————-
Hey Everyone! Katheryn here from Katheryn Moran Photography to share a fun styled shoot! I am a lifestyle photographer in the Pacific Northwest, but have always been drawn to stylized shoots. With Valentine's Day just around the corner, I thought a "vintage sweet shoppe" was the perfect theme.
I had a team of fantastic vendors from all over the United States that helped make this shoot possible. Here I plan to share an abundance of photos for you to drool over, some quick tips on how to craft some of the items you will see as well as links to the participating vendors and how they brought this all to life!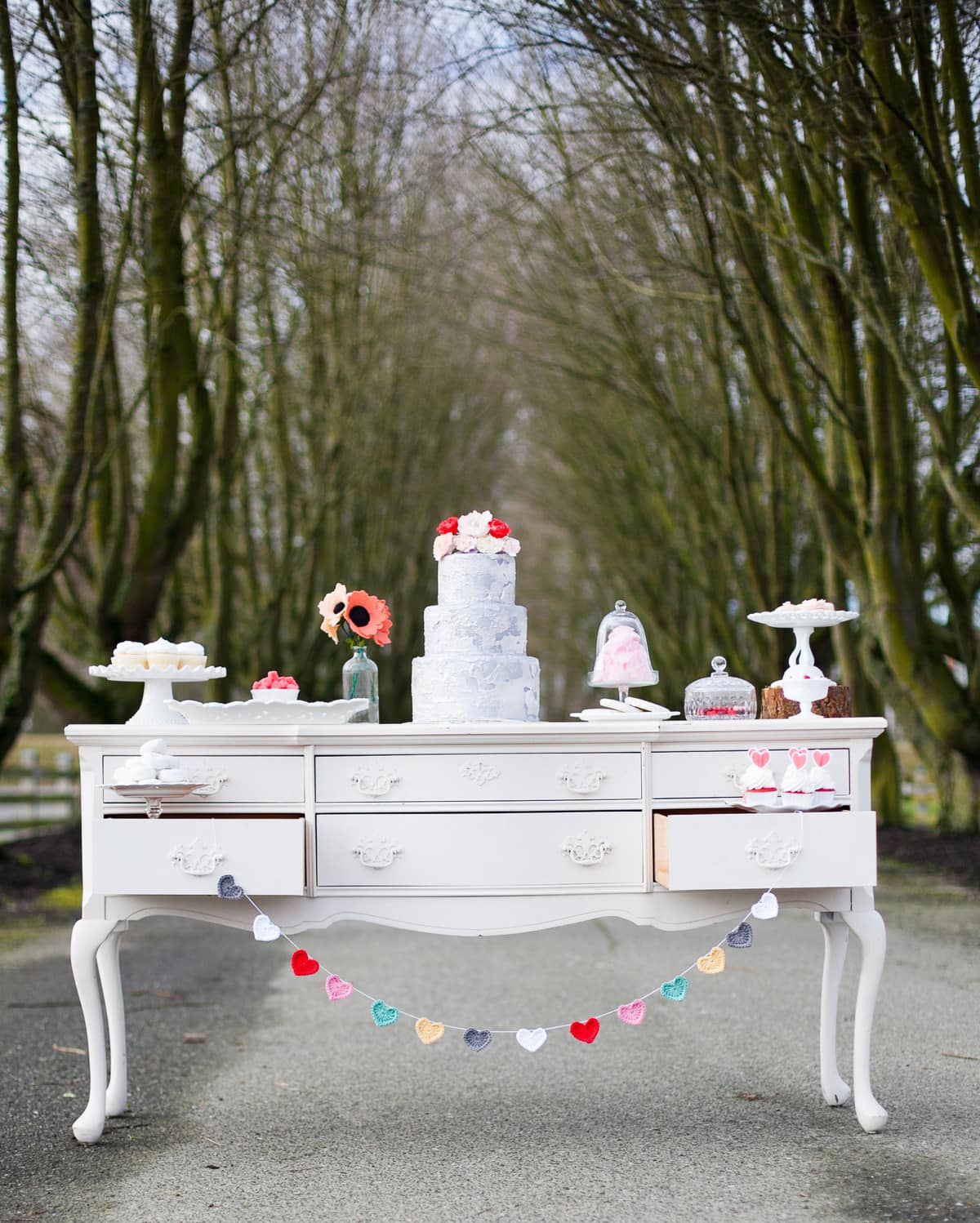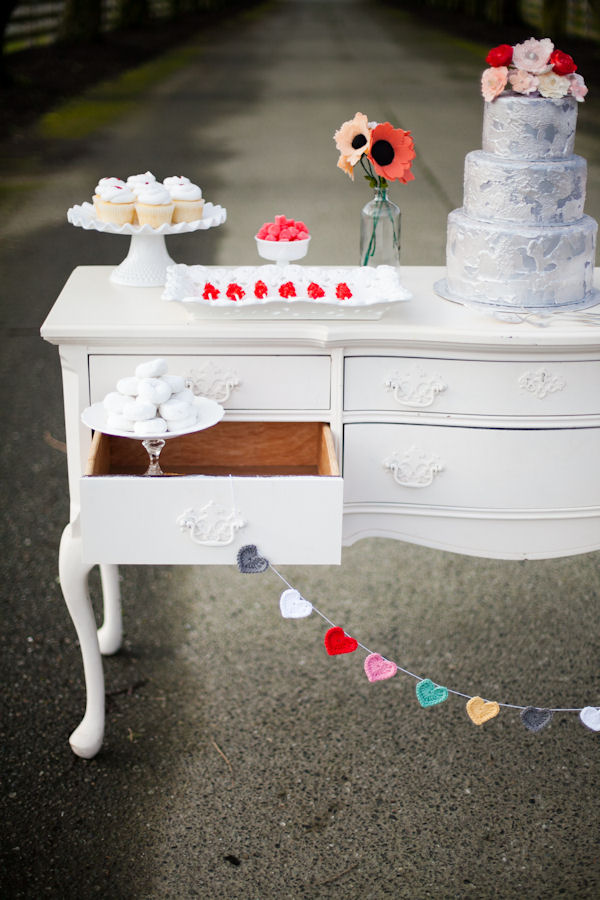 We had the opportunity to use the beautiful Maplehurst Farms venue located in the picturesque Skagit Valley, Washington. Situated along the Skagit River, the 6-acre family estate features views of Mount Baker, a historic mansion and arbor built in 1903. The 5,000 square foot event barn, landscaped gardens and old growth trees were an ideal location. If this isn't enough to convince you, the rustic wooden shelving that displays an eclectic collection of hand picked vintage china dishes, tea cups, milk glass, mason jars and wood rounds will surely make your jaw drop.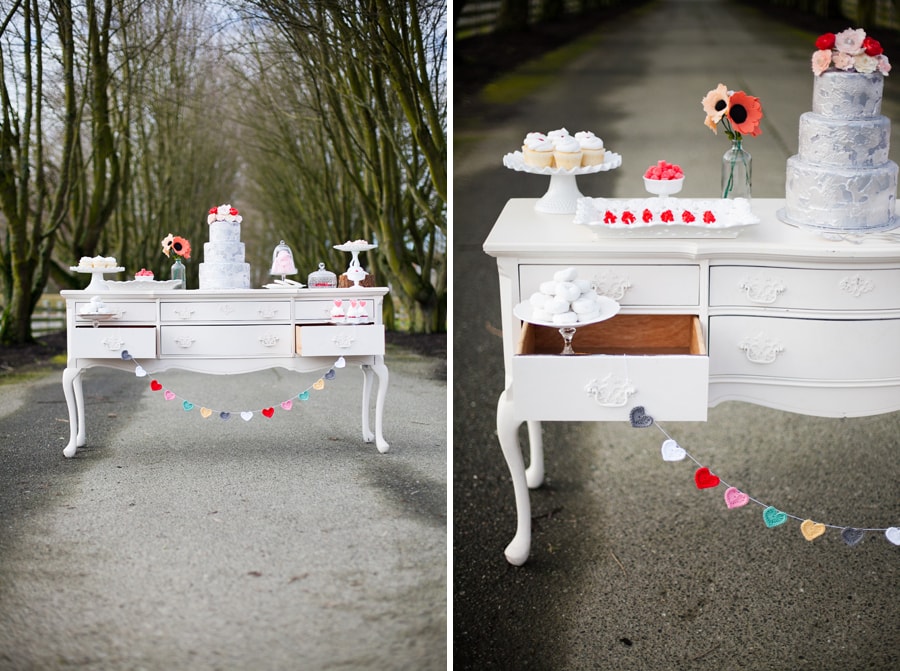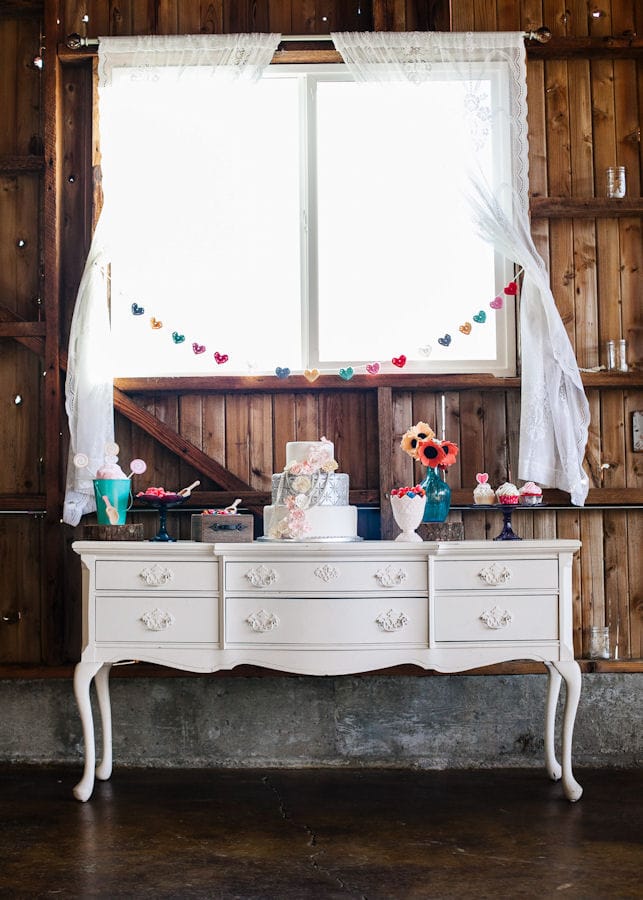 When I came up with this theme, I knew I wanted to pull together a team of local dessert vendors. Boy oh boy, did they ever pull through. Cupcakes Like It Sweet is a gourmet bakery in Bellingham, Washington and I specifically approached them for a treat that was simple and had a fun "pop." The fresh vanilla cupcakes, topped with whipped cream frosting and a cherry-filling garnish were exactly what I was looking for!
Xtra Special Cakes contributed a huge amount of variety to our dessert displays. From three tiered cakes to rock candy, macaroons, cupcakes and personalized cookies, they really helped make this sweet shoppe dream a reality.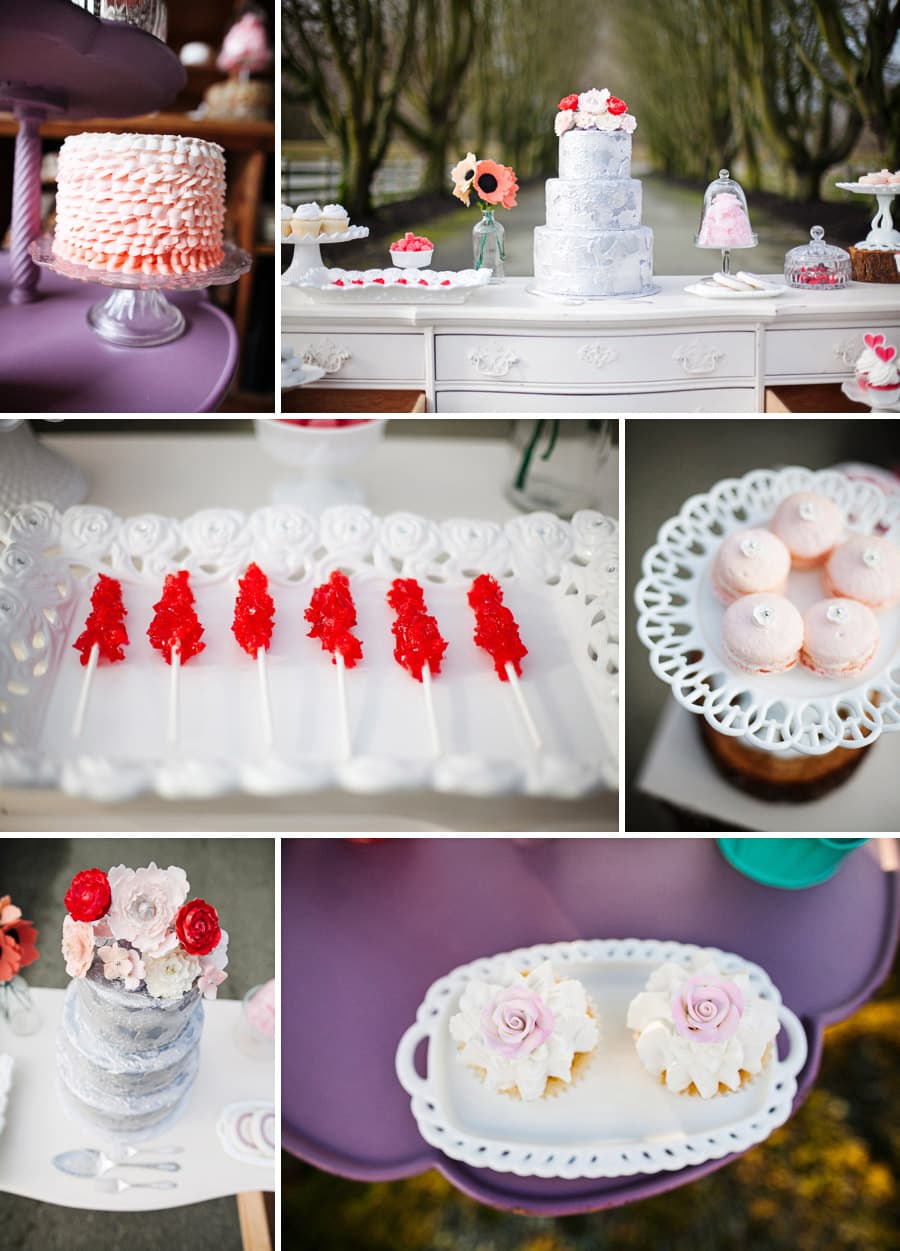 Beautiful desserts called for beautiful displays, so I reached out to the local refurbishing shop, Home to Home. This shop is a vintage furniture, handcrafted gifts and home décor shoppe. The furniture pictured here was painted with Websters Chalk Paint powder and finished with Fiddes & Sons wax.
Here is a step by step to paint bottles at home using chalk paint. It is so simple- no prep necessary and it easily sticks to any surface! Just paint, dry and sand!

I came across The Felt Flower Shop on Etsy and immediately fell in love. Her shop hosts a huge variety of felt flowers for all occasions. This wildflower bouquet accented our color scheme perfectly. We never had to worry about them wilting or becoming discolored in the 35 degree weather!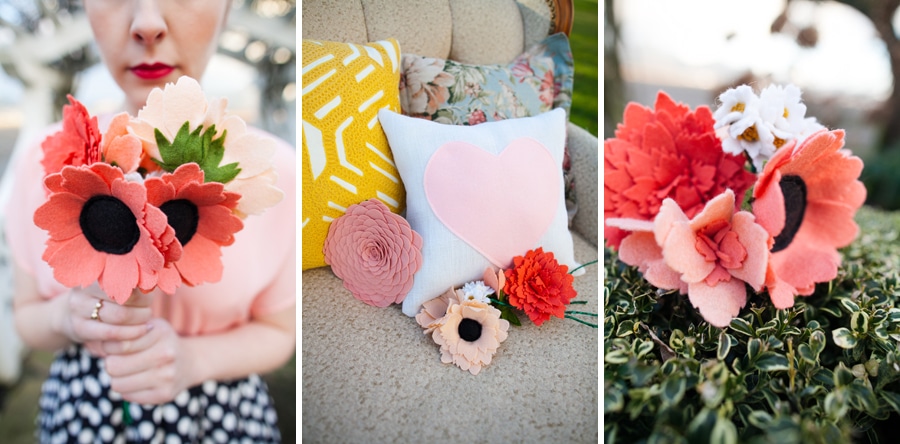 What's a sweet shoppe without some fun food accessories? I found the most fabulous vendors to dress up our treats. The Bakers Confections is an online baking and party supply store. They offer all sorts of fun wooden utensils including these small candy scoops! All designs are hand stamped and unique to you.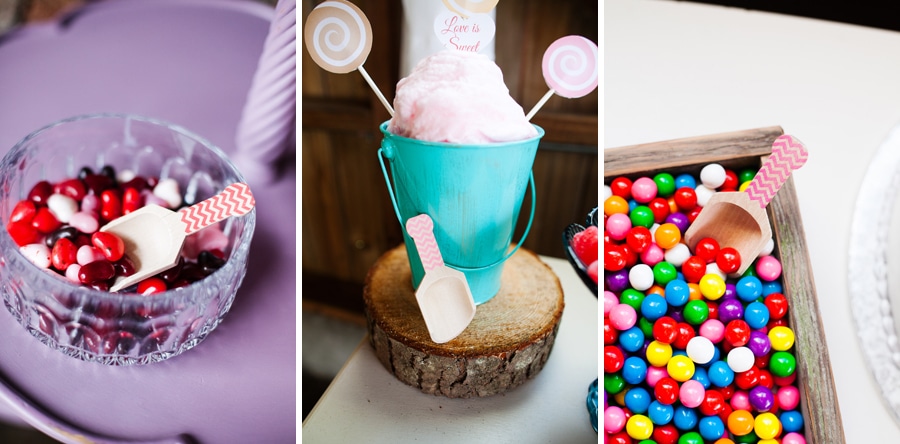 For Such A Time Designs is a fabulous hand stamped silverware shop with a beautiful collection of personalized and pre-designed items. Each piece is cleaned, stamped and packaged by the owner herself. For this shoot I asked her for some of her love collection pieces – just look how gorgeous they are!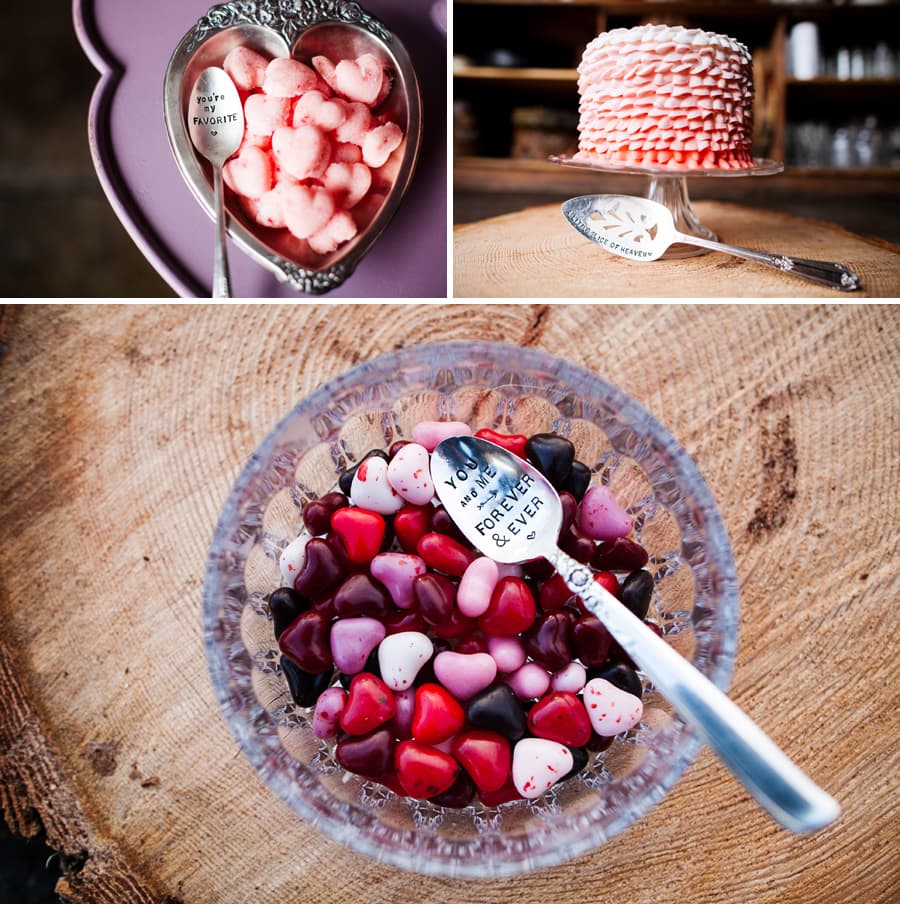 A fun project I completed at home were these cute little heart shaped sugar "cubes." So easy to make at home!
Mix together:
½ cup sugar
1 tsp water
Tiny pinch food coloring paste
Push into molds and let set overnight!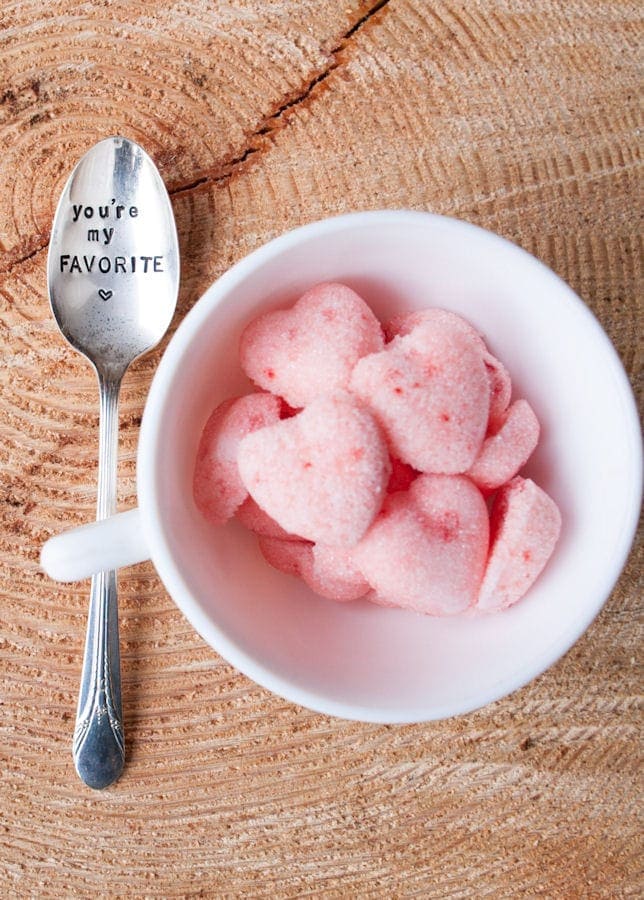 With this Valentines Day quickly approaching, we thought it would be fun to bring in some stationary from Noteworthy Ink. We also used her designs to create these adorable straw flags and had a mini love note session. She even punched us some heart confetti!
Another fun little detail was the heart bunting created by BeautyInBloom. A cheerful addition to any space, I loved that these little hearts tied right into our color scheme.
This charming little heart pillow was created by CariJoy Designs and is made of 100% cream burlap fabric with a soft pink eco-felt heart sewn on.
Naturally the shoot needed a subject and I am lucky enough to have a friend that let me antagonize her with a camera all day. LoveBeauty did her hair and makeup. For this particular makeup application she used an airbrush foundation, a Ben Nye eye shadow palette and Stila's waterproof liquid eyeliner to draw that classic vintage "cat eye" we all know and love. Glitter eyeliner and a dramatic pair of lashes were the final touch. A textured twist was featured in her hair with a fun 50's edge!
Last, but not least – we wanted her nails to host something special, too. Check out these sweet "candy" styled nails done by Sarah of Something Different Salon!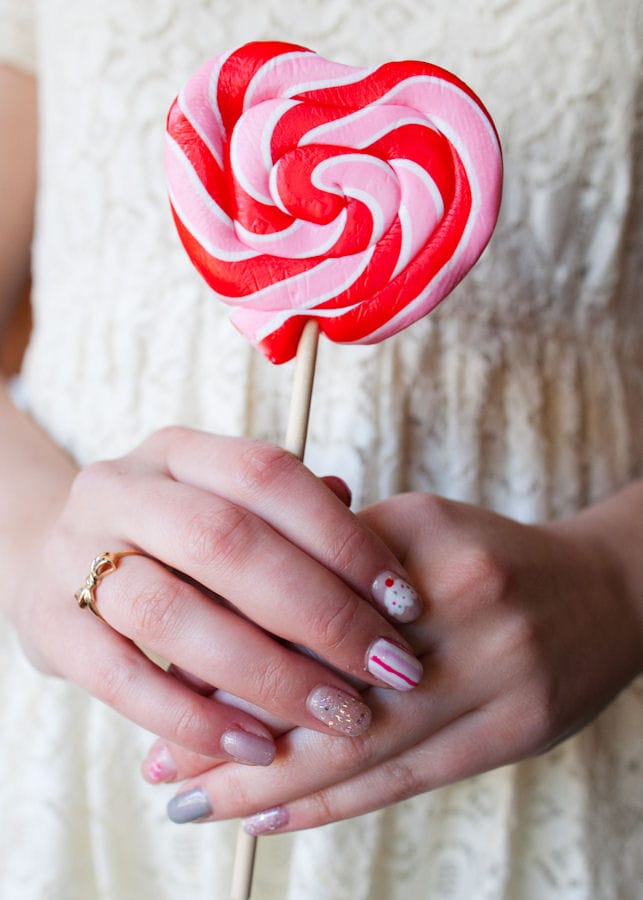 For more Photo Shoots from me, go to my site HERE.
You can also find me on Facebook and Pinterest. 🙂
———————————-
WOW!!! A few things…
1 – This Photo Shoot is so cute and I love every aspect of it!
2 – Katy's pictures are BEAUTIFUL!!!!
3 – So glad Katy was able to say Hi today!
Thank you, Katy!! So much inspiration and beauty in one place!
Be sure to go to Katy's site for even more beautiful pictures. 🙂
ENJOY!