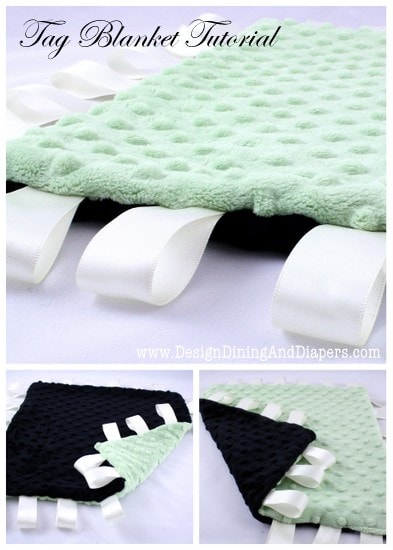 Hi Lil' Luna readers! I'm Taryn from Design, Dining + Diapers and I'm so excited to be here while Kristyn takes some time to be with her new little baby! How adorable is little Wesley?!
I don't know if there is something in the water or if it's just my age, but it seems like almost EVERYONE I know is either pregnant or just had a baby. Babies, Babies, everywhere! It's such a fun time in life. I'm due with baby #2 in September and I have so many expecting friends and so many baby showers to go to. Are you in the same boat?
Today, I'm going to be sharing with you a tutorial on how to make this soft and cozy tag blanket!
These blankets are a perfect little security blanket and the tags provide a lot of entertainment as babies start to discover their fingers. Tag blankets are very easy to make, even for someone who has very little sewing experience. If you own a sewing machine and can sew a semi-straight line, you'll be just fine. These make a great baby shower gift and can be so personal!
Start by choosing a color scheme you want to use. I chose to use two different colors but you could just as easily do a solid colored blanket. In my case, I wanted to match the nursery of the baby I was giving this to, so I chose black, green and cream (I was originally going to alternate the cream and black ribbon pictured above but chose to just use the cream after I got started).
Here is what you need:
– 1/2 yard of fabric
– 3 yards of ribbon
– Corresponding thread to match the fabric
– Sewing machine
Instructions:
Start by cutting two 14 X 14″ pieces of fabric.
Cut 20 pieces of ribbon at 5″ each
Pin the ribbon at equal distances a part. I placed mine at , 3″, 5″, 7″, etc.
I pinned the ribbons on all sides. Later on, I realized I didn't need the end ribbons, so that's why I placed the circles over them. If you follow my pattern, only place 5 ribbons on each side.
After all the pins are in place, lay the second square on top of the first one, keeping right sides together and repin (remove the pins from the inside and place them through all 3 layers).
Check Out My Other Recipes
Leave about a 3″ opening on one side. You'll remove one of the ribbons to do this. Flip the blanket inside out so the right side of the fabric is now on the outside.
Pin the remaining ribbon and use a top stitch to close the seam.
There you have it!
Happy sewing! I guarantee any mom would love one of these personal tag blankets and so will the new baby 🙂
Here are a few more recent projects I've been working on:
Moss Monogram Pallet Sign
Burlap Topiary Tree Tutorial
You can also view more of my projects here.
————————————————-
Thanks so much Taryn!! These look so soft and are so cute!!
Go check Taryn out!!
For more cute Baby tutorials, go check these out:
Recycled Beach Towel Bib Tutorial
And get weekly emails with monthly freebies by signing up for the Lil' Luna newsletter. 🙂
For even more great ideas follow me on Facebook – Pinterest – Instagram – Twitter – Periscope – Snapchat.
Don't miss a thing – Sign up for the Lil' Luna Newsletter today!
ENJOY!!