Welcome to Lil' Luna!
Featured Recipes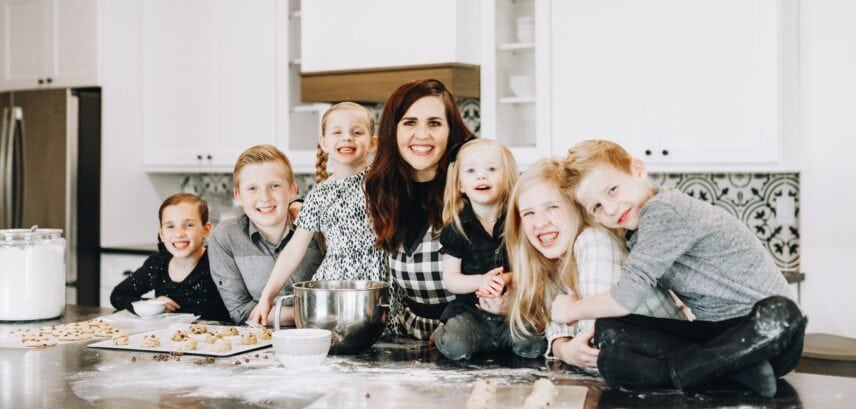 About Me Hi, I'm Kristyn!
I'm the mom of six stinkin' cute kids and the wife to my smokin' hot hubby, Lo. My mom's maiden name is Luna, and I'm one of the many crafty "Lil' Lunas" in the fam.
---
Reader Favorite
Christmas Recipes
Candy
Chocolate Caramel Pecan Turtles Candy – Baked pecans covered in a delicious homemade caramel and topped with with melted chocolate! These treats make perfect neighbor gifts for the holidays! If…
25 minutes
Breakfast
Cinnamon Roll French Toast Bake has all of the ooey gooey goodness of warm cinnamon rolls, with the ease of an overnight breakfast casserole. Combine the delicious comfort of cinnamon…
6 hours 50 minutes
Dips, Dressings, & Sauces
This is such an EASY homemade salsa recipe! All you have to do is throw all the ingredients into your blender, and blend! It tastes just like restaurant salsa, and…
10 minutes
Cookies
Soft Italian Cookies are dipped in a creamy glaze, topped with colorful sprinkles. They are perfect for holidays and special occasions!! These tasty cookies are easy to make, make a…
1 hour 20 minutes
For Holiday Entertaining
FREE Christmas Prints
All your Favorites…
BEST Breakfast Ideas
Cakes & Cupcakes
10 minutes
Most Popular
Dinner Recipes
Pasta
Easy and delicious Cheesy Chicken Tetrazzini – Chicken and pasta in a creamy sauce with lots of flavor. It's a family favorite dinner meal and one that gets rave reviews!…
55 minutes
Pasta
When you need an easy dinner recipe that will please the whole family, try whipping up some old fashioned goulash! Everyone loves this hodgepodge of macaroni noodles, ground beef, tomatoes,…
1 hour
Main Dishes
Delicious Creamy Swiss Chicken Bake – a simple and delicious dinner recipe that includes Swiss and Parmesan cheeses and baked to perfection. It's one of our favorite chicken recipes, and…
1 hour 7 minutes
Main Dishes
Restaurant-Style Red Cheese Enchiladas are an old family favorite recipe that is simply the best!! They are cheesy, saucy, and so yummy. These are the BEST red cheese enchiladas. Serve…
47 minutes
The Latest from Lil' Luna
Newest Recipes
Brownies & Bars
40 minutes
From our Kitchen to Yours
BEST Soup Recipes
Soups
Thick and creamy loaded broccoli potato cheese soup is full of delicious vegetables and delicious seasonings. If you love flavorful soups then you'll definitely love loaded broccoli potato soup! Rolls…
40 minutes
Soups
Crock Pot Green Chile Enchilada Soup is a new favorite soup packed with chicken, green chiles, corn, rice, and mixed with lots of spices and cheeses. Since the crockpot does…
3 hours 35 minutes
Soups
If you're looking for a hearty soup recipe, look no further than this delicious White Chicken Chili Recipe! Loaded with chicken, beans, cheese, and lots of spices, this white chili…
25 minutes
Soups
Easy Crock Pot Tortellini and Spinach Soup is a hearty soup filled with cheese tortellini, spinach, tomatoes, and lots of spices!! Crock pot spinach tortellini soup is a dump and…
3 hours 5 minutes
---
Just download + print!
FREE Meal Plans
Most Popular
Mexican Recipes
Sides
How to make Homemade Spanish Rice/Mexican Rice. whatever you call it, we've got the best and Easiest Spanish Rice Recipe you can find. It tastes like it came straight from…
45 minutes
Main Dishes
Restaurant-Style Red Cheese Enchiladas are an old family favorite recipe that is simply the best!! They are cheesy, saucy, and so yummy. These are the BEST red cheese enchiladas. Serve…
47 minutes
Main Dishes
One of our favorite Mexican dishes – Green Chile Chicken Enchiladas recipe!! Corn tortillas stuffed with chicken, cheese, green chile enchilada sauce, sour cream, and green chiles, topped with more…
40 minutes
Main Dishes
Everyone loves these cheesy taquitos! They're filled with chicken, cream cheese, salsa, and spinach and are great as appetizers or even a main dish. Also known as flautas, these chicken…
15 minutes
Our Most Popular
Slow Cooker Recipes
THE BEST
Appetizer Recipes
Main Dishes
Everyone loves these cheesy taquitos! They're filled with chicken, cream cheese, salsa, and spinach and are great as appetizers or even a main dish. Also known as flautas, these chicken…
15 minutes
Dips, Dressings, & Sauces
This is the BEST Spinach Artichoke Dip recipe, and the ultimate dip for any get together! Filled with spinach, artichoke hearts, cheese, sour cream, cream cheese, and mayo – this…
30 minutes
Dips, Dressings, & Sauces
This Cream Cheese Bean Dip recipe is our new favorite Mexican dip! With sour cream, cream cheese, Mexican cheese, refried beans, and salsa, it is the perfect dip to eat…
30 minutes
Appetizers
Whether you serve it as a side or an appetizer, this restaurant style Fried Zucchini is a family favorite. Fried to perfection, this dish is simply addicting, especially dipped in…
10 minutes
MOST POPULAR
Breakfast Recipe Collections
---