These are our ALL-TIME FAVORITE Dinner Rolls! They are soft, butter-y and always the hit for any dinner or holiday get together. It's so hard to eat just one!
Whether it's for a holiday meal or for a Sunday dinner, these rolls can't be beat! We love to make them with soup, but especially for holidays with other sides like creamed corn, green bean casserole and roasted brussel sprouts.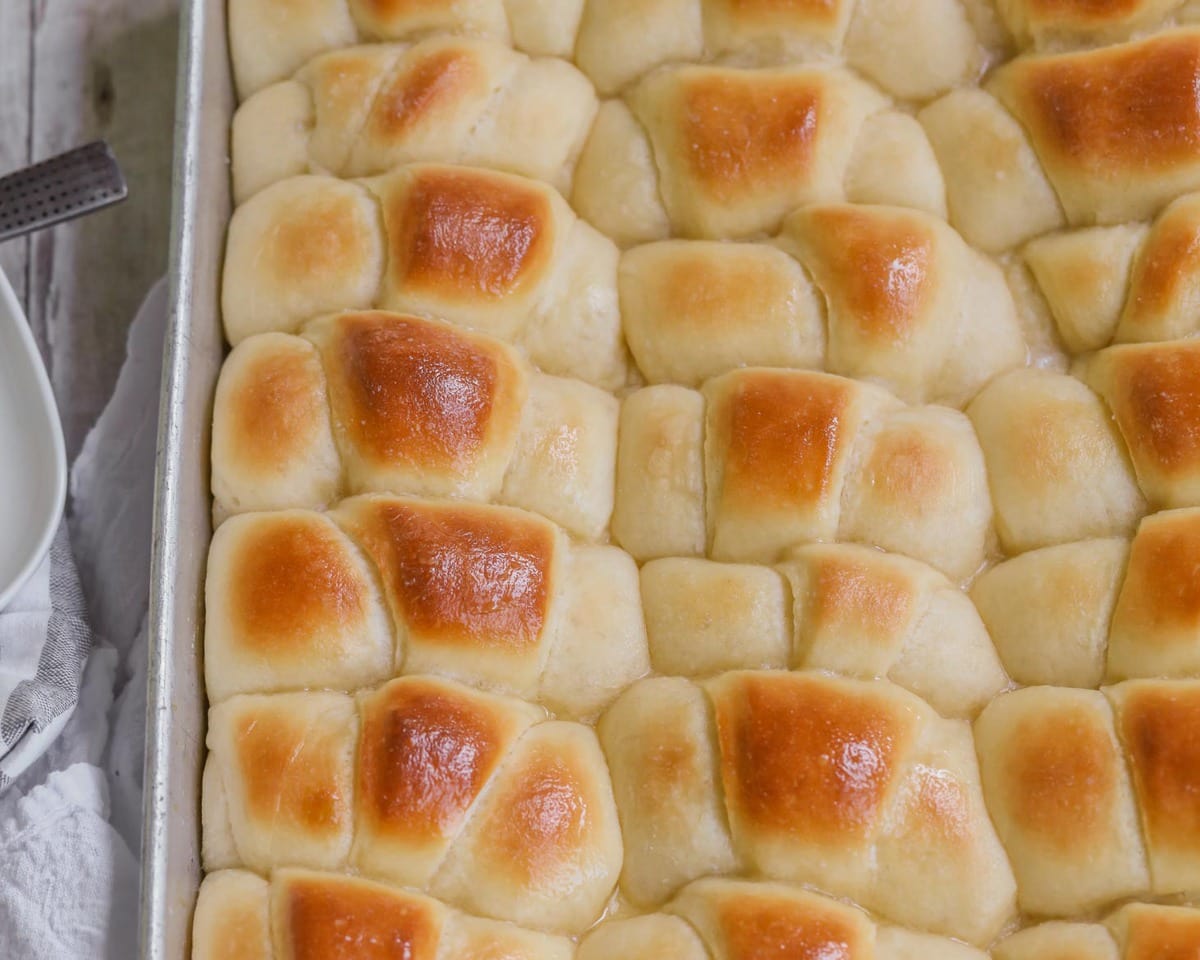 favorite homemade dinner rolls
Nothing can beat the smell of homemade bread or dinner rolls being made. My mom has mastered her rolls recipe, and they have become a holiday dinner MUST-HAVE.
In fact, I think it's safe to say that they are always the first thing gone whenever they are made. These rolls are so good that they're called Heavenly Dinner Rolls (pretty much describes what they are – heavenly). They are soft, melt in your mouth and are actually easier to make than you'd think!
If you are like me, it may seem intimidating to make Homemade Dinner Rolls. They usually require yeast which can often be a little fickle to work with if you haven't used it before. Fortunately, this recipe really isn't that complicated. I was nervous to try it on my own, at first, but realized they were quite easy.
We even have a video down below to show you just how easy they are to make. Watch it a few times and hopefully you'll realize just how easy they are. 😉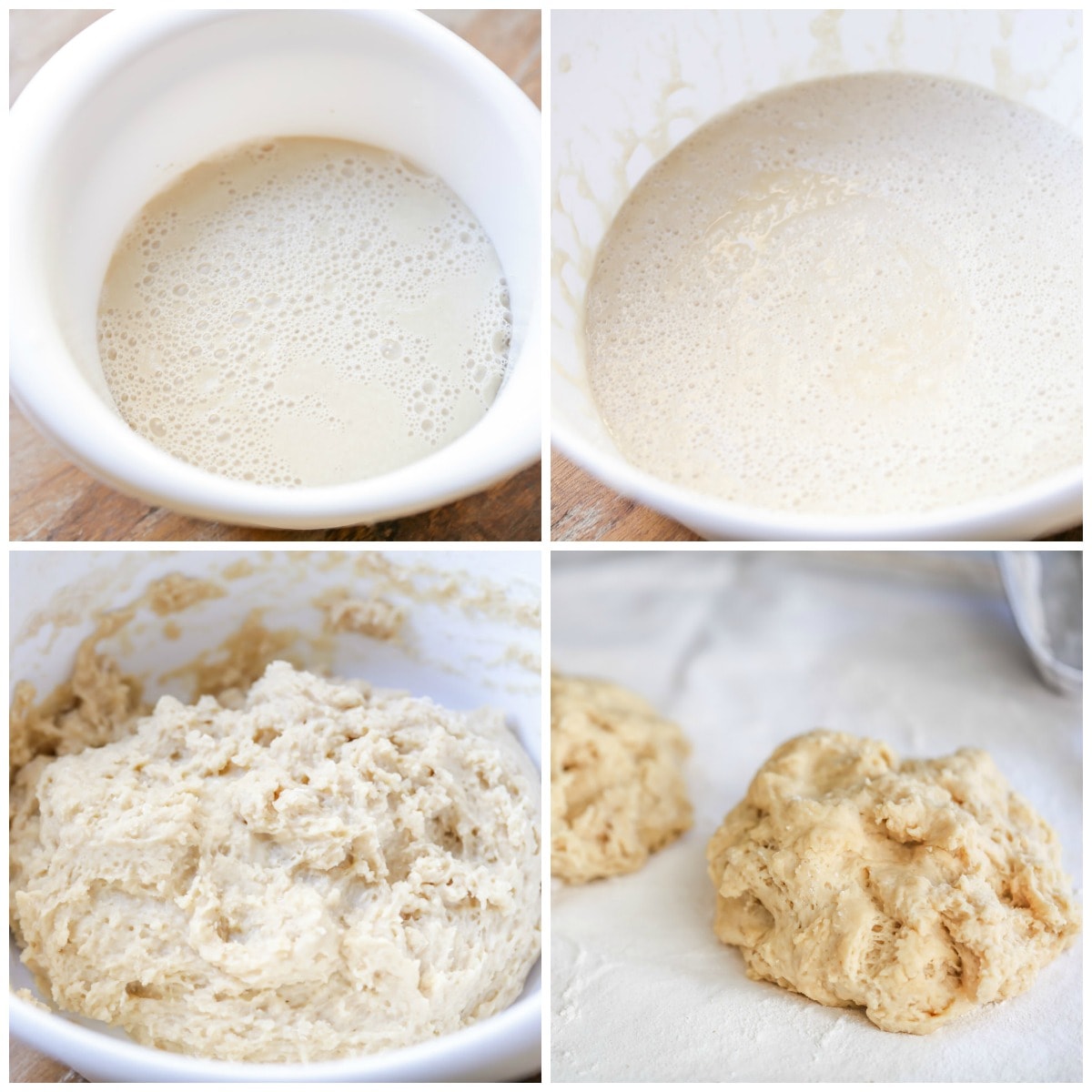 How to make Dinner Rolls
YEAST. You'll begin by mixing your yeast in warm water and sugar. This will get bubbly after a bit. From there, you will mix warm milk (we just microwave or heat in a pot until warm – not scalding), oil, sugar and salt with a wooden spoon. One cup of all-purpose flour will be added, followed by 2 eggs and the yeast mixture.
FLOUR. From there, you will add 3-4 more cups of flour. At this point, the dough should be sticky. This gets put into a large bowl that will be covered by a tea towel. The dough will rise for a few hours until it has doubled in size.
DIVIDE DOUGH. + CUT Once the dough has doubled in size, it will be punched down and divided in half. The dough will be rolled into TWO 12 inch circles on a floured surface. It will be brushed with melted butter and then cut into 12 pieces, like a pizza.
From there, each triangle piece will be rolled from the round edge to the point to make a crescent roll.
LET RISE. The rolls get placed in a pan (we do 8 rows of 3). Then, we cover them with a tea towel and let them rise AGAIN (Yes – they will rise two times total).
Yes, there are lots of steps but they are all simple – they just take some time. 😉
Keep scrolling because we have some FAQ below to help you make these delicious dinner rolls.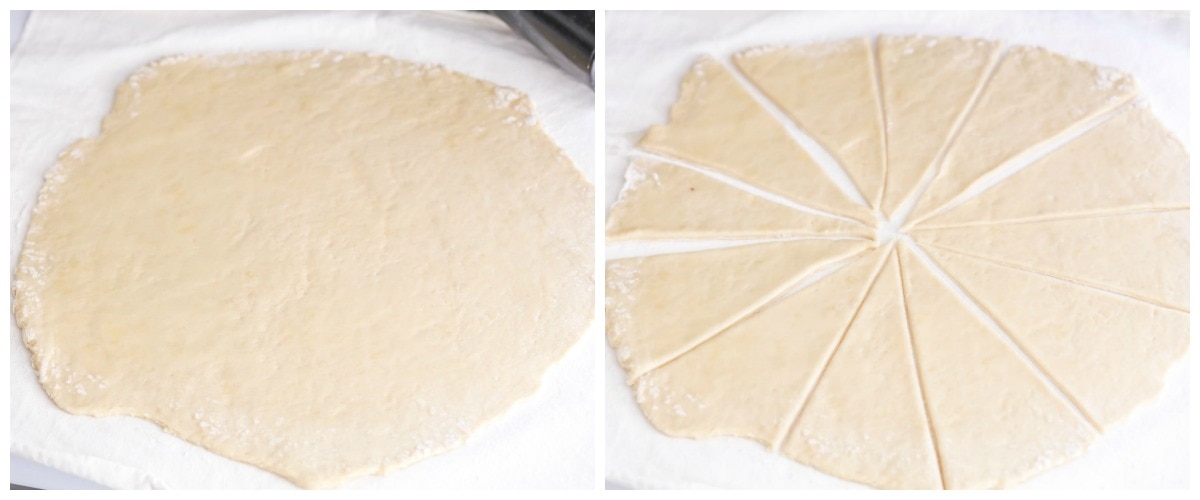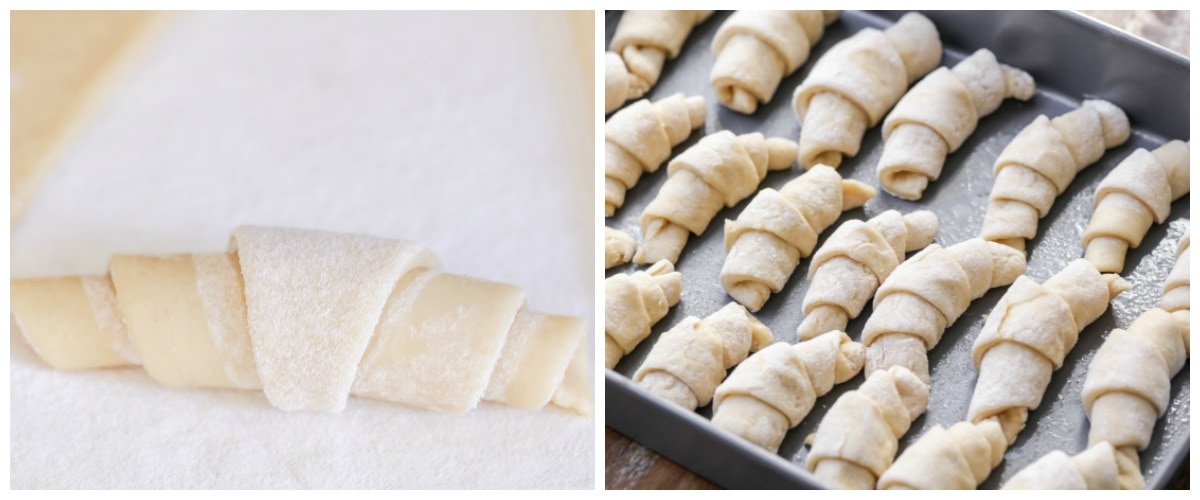 HOMEMADE Dinner rolLS FAQ
What flour is best for dinner rolls? We use all-purpose flour. Can you use bread flour? Yes, but we don't always have it on hand and think the rolls taste perfect with just all-purpose flour.
What kind of yeast is best for dinner rolls? We always use the RapidRise active yeast for this recipe and for most of our bread recipes.
Can rolls be made in the Kitchen-Aid mixer? Yes, you can make this recipe in the Kitchen-Aid. Just be careful not to overmix the dough because it will make it more tough and not as soft.
Can you make rolls in the bread machine?
Although we haven't, many readers have. Here is one reader's experience using the bread machine to make these rolls:
Mine takes all the "wet" ingredients first (I combined the warm milk, oil, sugar, eggs first and put in – also the salt since I've been told don't let the salt and yeast "touch"!) I used 4c. flour and the yeast but skipped adding the 1st 1/4c. water with sugar, as you don't have to dissolve the yeast when using the bread machine and this dough is wet enough without it. I use my dough cycle which is 1 ½ hrs for my machine. The dough turned out great and easy to work with. After shaping rolls I let rise covered in my "barely warmed" oven for 1 ½ hrs. then baked for 15 min in my oven. We love them!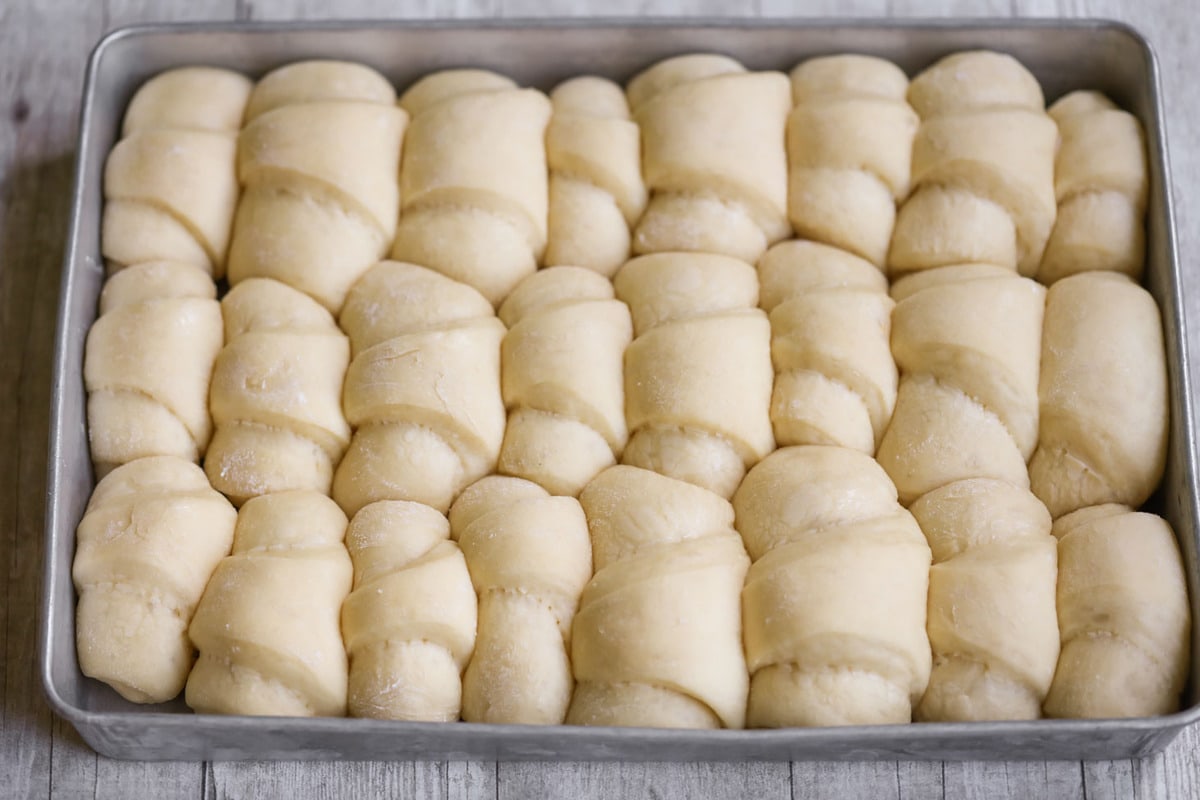 MORE DINNER ROLL RECIPE TIPS
How to shape dinner rolls? As mentioned in the directions, these rolls are made by rolling the dough out into a circle. From there, you cut it like a pizza into 12 pieces. From the round edge, you then roll the dough to make it a crescent roll and place in the pan seam side down.
How to freeze dinner rolls? We suggest freezing the rolls right after they are formed. Then, take them out a couple hours early to let them rise to about double the size (which will take longer obviously since the dough is frozen).
How to store dinner rolls? To maximize shelf life of dinner rolls, be sure to place in a Ziploc bag or wrap in foil and store at room temperature on the counter.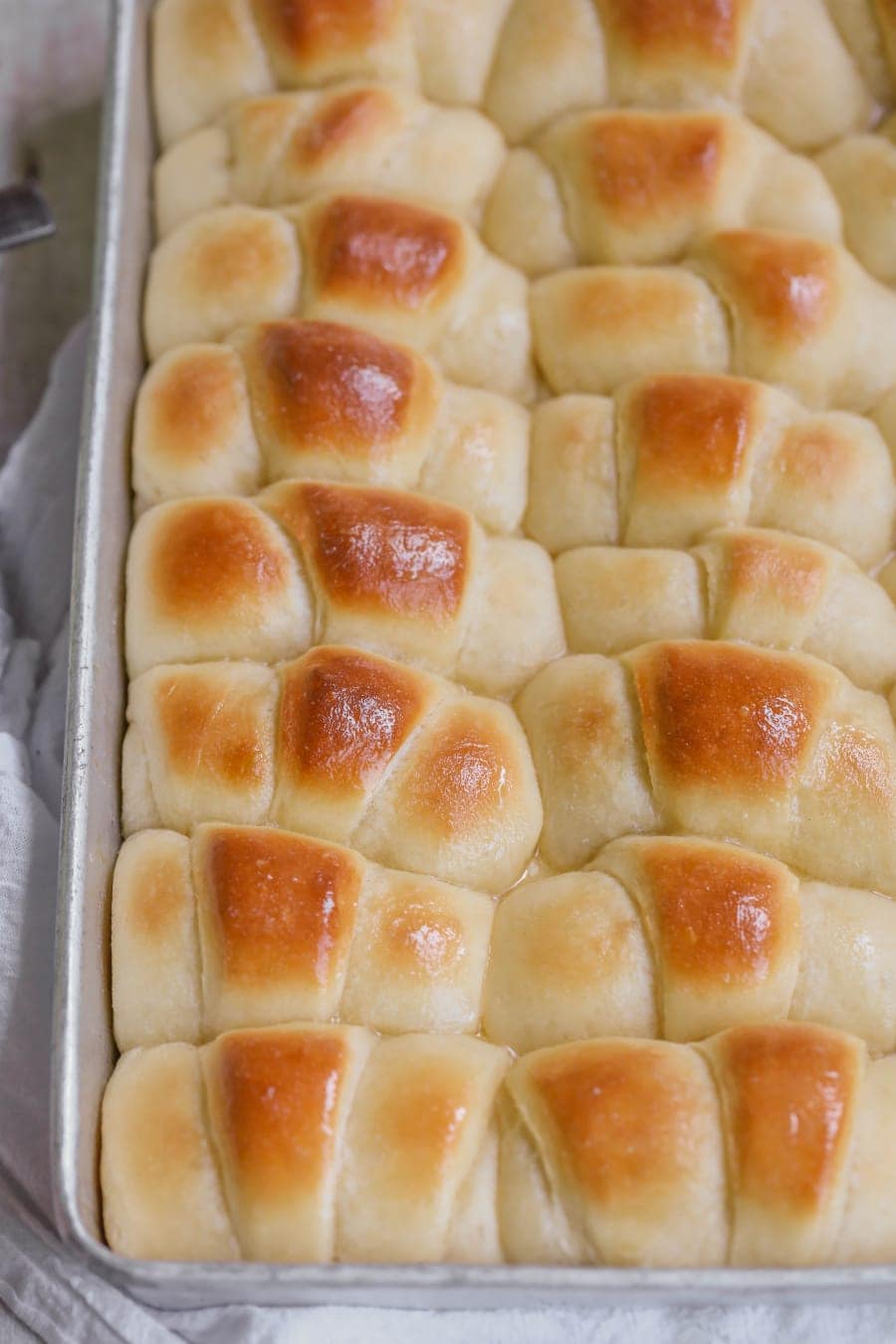 Don't they look just perfect?! We hope you love these soft and fluffy dinner rolls.
what to serve with rolls:
For more dinner rolls, check out:
Homemade Dinner Rolls Recipe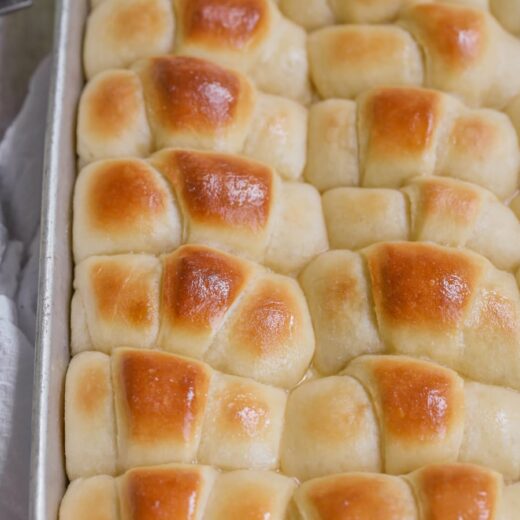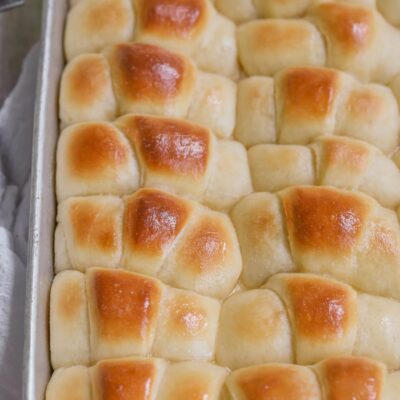 Soft, Butter-y Homemade Dinner Rolls are one of our best-loved recipes. Perfect for holidays, or anytime, it's so hard to eat just one!
Instructions
Mix 1 TB yeast with ¼ cup warm water and ½ tsp. sugar. Let stand until bubbly.

In a large bowl mix 1 cup warm milk, ½ cup oil, ½ cup sugar, 1 tsp. salt with a wooden spoon.

Add 1 cup of flour to mixture, and mix well. Add 2 eggs and beat until smooth (mix vigorously be hand). Add yeast mixture and mix vigorously until smooth.

Add 3-4 cups flour to the yeast mixture. Dough should be very sticky. Pour the dough into a large bowl. Cover with a tea towel and let rise for a few hours until it has doubled in size.

Once the dough has doubled in size punch down and divide in half. Roll dough onto a floured surface making TWO 12 inch circles. Dough should be about ⅜" thick.

Brush dough with melted butter. Cut circles with a pizza cutter into 12 pieces (like a pizza). Roll from rounded edge to the point to make a crescent roll. Place into a greased pan (we use an 11 x16 metal pan and do 3 across and 8 rows down).

Cover dough with a tea towel and let rise for a few hours until it doubles in size.

Bake at 375 until light lightly browned, which is about 15-20 minutes. NOTE: Touch rolls to see if they bounce back - if they do not, bake a little longer). Brushed with melted butter while warm. ENJOY!