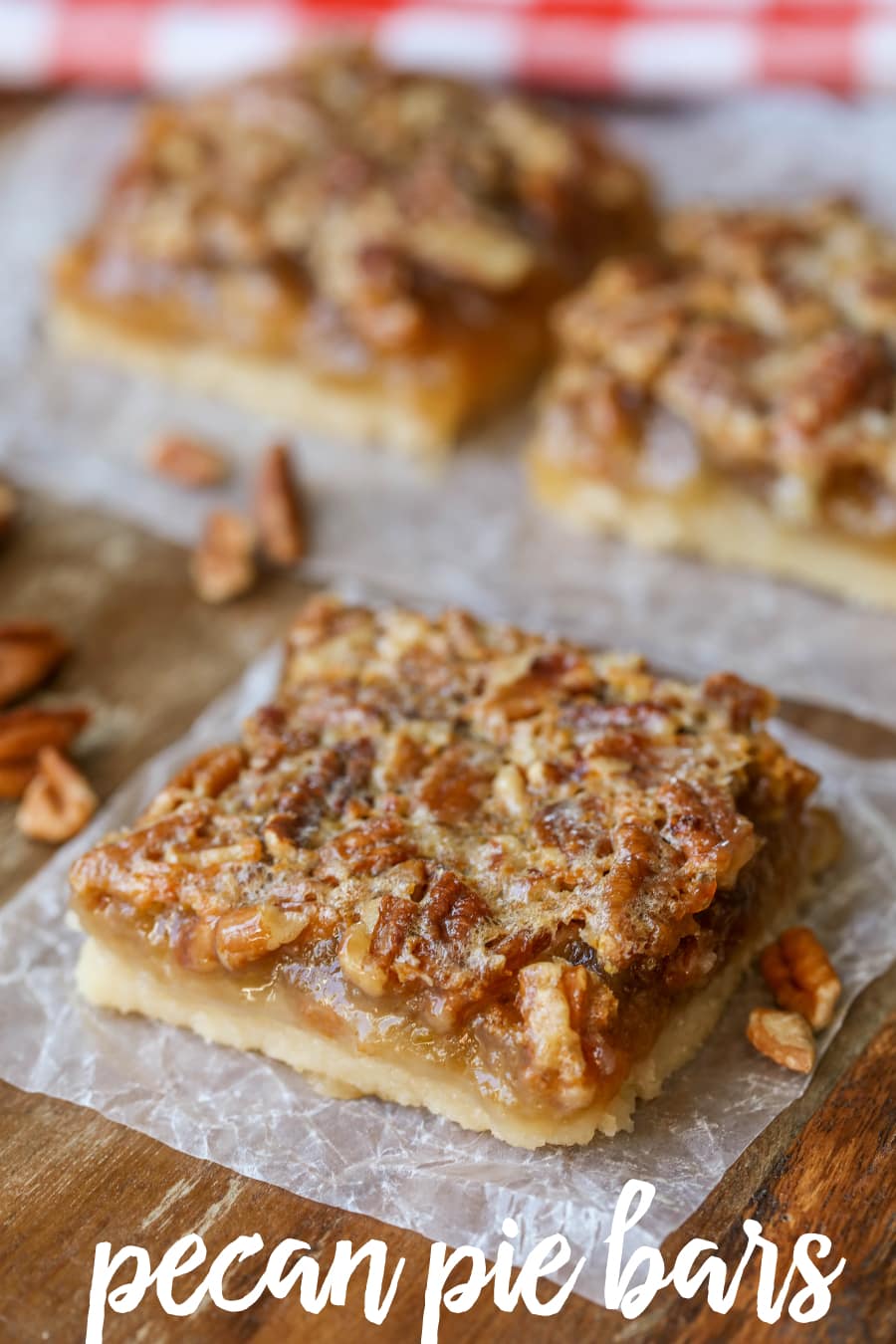 Hi guys! Hope you are all having an awesome day. If not, I'm about to make it awesome with this crazy amazing recipe. You know I'm a freak about chocolate desserts. Well, every once in a while we'll come across a non chocolaty treat that is just worthy enough to fall under the "Non chocolate, but still YUMMY" dessert category. Today I'll be sharing one of them with you – Pecan Pie Bars!!
These Pecan Pie Bars were great and easy to whip up. We've always enjoyed Pecan Pie in the fall but thought making a bar version would be fun. They were so gooey and delicious, even my sister who thought she hated Pecan Pie loved them. If you are a fan of the pie, you will definitely be a fan of these bars. They're perfect any time of year, but especially the fall.
MY OTHER RECIPES
For anyone that loves the classic Pecan pie recipe, they will definitely love the bars version. 😉
For more pecan recipes, check out:
How to make Pecan Pie Bars:
Pecan Pie Bars
Pecan Pie Bars - a delicious shortbread bottom layer topped with gooey Pecan Pie filling.
Ingredients
2 cups all-purpose flour
⅓ cup sugar
¼ tsp salt
¾ cup cold butter, cubed
Filling:
4 eggs
1 cup corn syrup
1-1/2 cups sugar
3 TB butter, melted
1-1/2 tsp vanilla extract
2-1/2 cups chopped pecans
Instructions
Mix flour, sugar and salt in a large bowl; cut in cold butter to create coarse crumbs. Press onto the bottom of a greased 9x13 baking pan. Bake at 350 for 20 minutes.
Filling:
Whisk eggs, corn syrup, sugar, melted butter and vanilla in a large bowl. Stir in pecans. Spread over hot your crust.
Bake for an additional 25-30 minutes, until filling has set. Cool completely before serving.
Adapted from tasteofhome.