Look no further than this collection of fun and festive Halloween Desserts for something perfectly sweet and spooky!
More Collections: Halloween Snacks, Halloween Appetizers, Halloween Drinks, Halloween Dinner Ideas
MOST POPULAR Halloween Desserts
Whether you're throwing a party, or just need a fun and festive dessert for Halloween, we have all kinds of cookies, cakes, cupcakes, and more that are both delicious and ghoulish!
Halloween is such a fun theme – from the decorations to the desserts. With that in mind, I have listed some of our very favorite (and MOST POPULAR) Halloween Treats.
Make it Halloween!
Before we get into the fun stuff, I have a few tips for Halloween Treat ideas. Turn ANY treat into fun and festive Halloween desserts with these easy tricks!
Turning your favorite dessert into a Halloween Themed Treat is pretty easy. It's all about colors and embellishments:
Colors: black, brown, orange, purple and bright green are all great Halloween choices.
Embellishments: add Halloween sprinkles or candies. Halloween toppers, like plastic spiders, are also great additions (be sure they are big enough that they aren't accidentally eaten). Top any treat with candy eyeballs, or your favorite Halloween candy, for an instant transformation.
Serving trays: use spooky and fun Halloween themed serving trays to enhance the overall feel. Decorate with Jack-o-lanterns, ghouls, goblins, or spooky skeletons for pops of Halloween fun!
What to bring to a party
It is always tempting to make a more involved to showcase your skills and give a WOW factor, but keeping in mind these 3 simple questions will help with your planning. Ask yourself:
How easy will it be to transport and keep at the correct temperature?
Will it need a special serving plate or utensil?
Is it easy to double if needed?
With these questions in mind, there are many easy Halloween Dessert recipes that are pretty, delicious, and perfect to take to a party.
Allergies. You may wish to include an ingredient card for people with allergies, or label your dessert as dairy, nut, or gluten-free.
How much to serve
When making a dessert for your own family, or hosting a small gathering, it is fairly easy to determine how much to provide. However, the more party guests there are, the harder it can become to get the right amounts.
No matter how many options are available, plan for guests to have 2 total servings of dessert.
Make ahead of time. Most of these treats can be made at least a day ahead of time, while others can be made even further in advance. This makes it easy to get your party preparations done early. See the individual posts for storage info.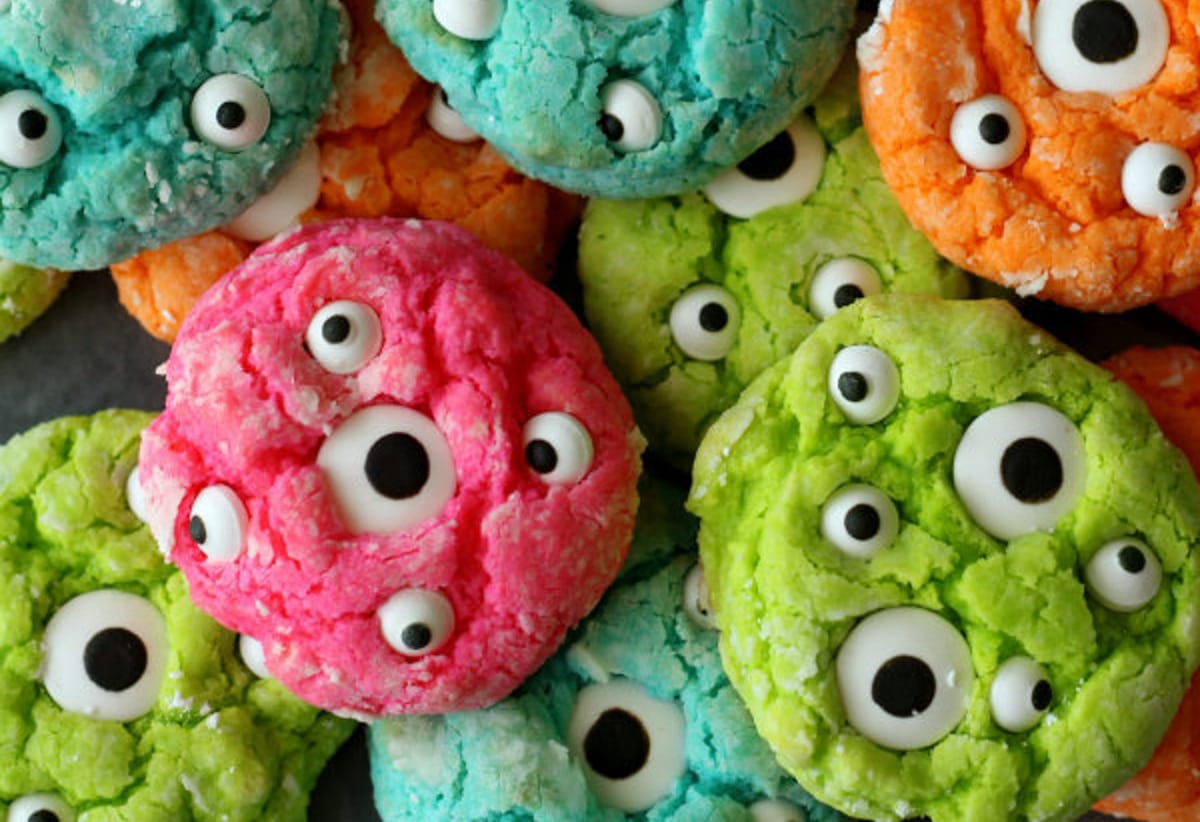 Transporting Desserts
Some desserts are easy to transport and only require a container with a lid. Other desserts may need a little more care.
Use a special cupcake carrier, or cake boxes to help get your dessert to its destination in one piece.
Be sure to place any dessert on the floor, so it won't accidentally fall off of the seat.
Place the dessert in a laundry basket with towels to help keep it from sliding around.
Use a cooler to help keep desserts warm (with hot pads), or cold (with ice packs).
---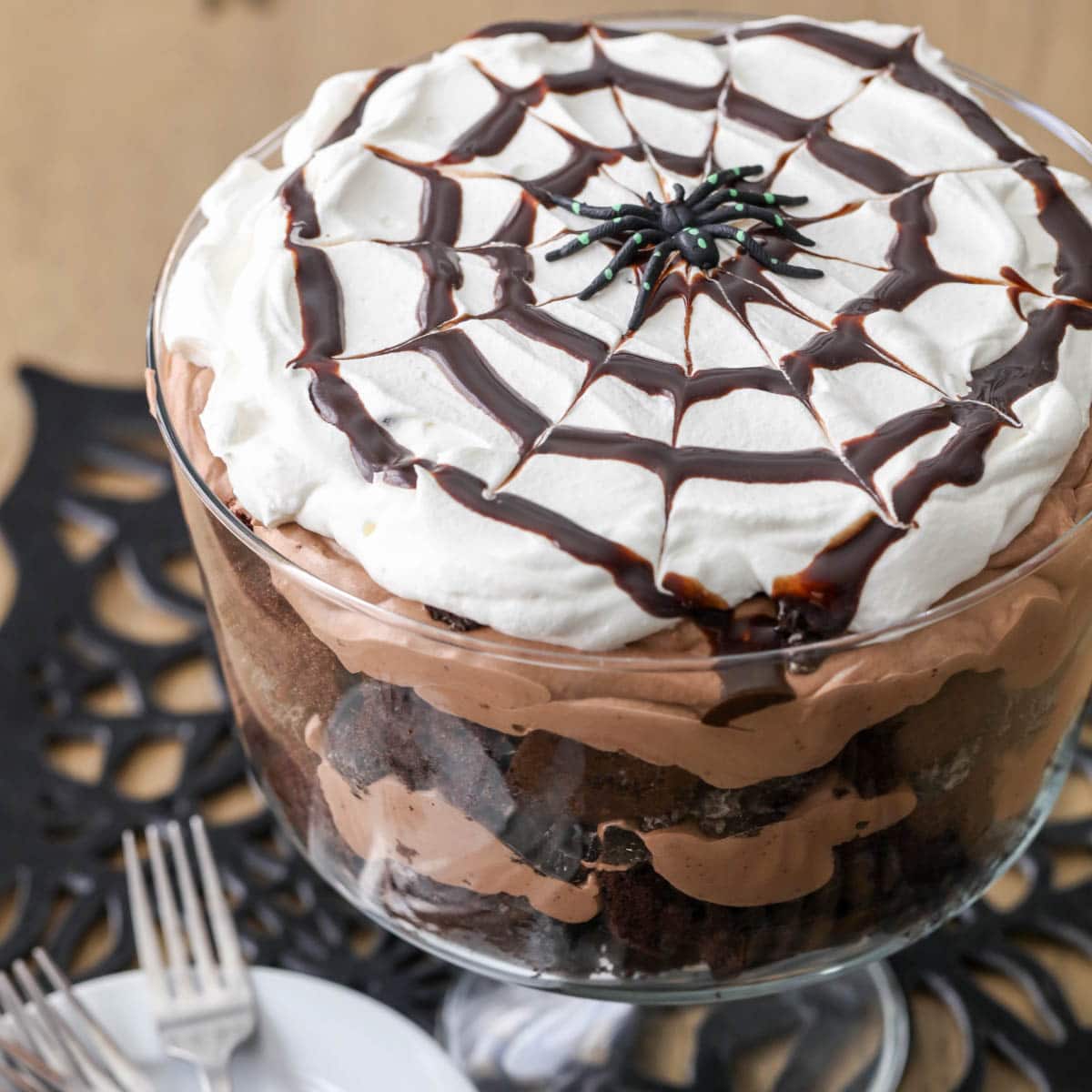 Halloween Desserts & Treats
From cakes to cupcakes, rice krispie treats to cookies – and everything in between – there's something for everyone! I've gathered our favorite Halloween Treat ideas, perfect for any monster mash!
Chocolate Spider Trifle – Oreo cookie & pudding filled Chocolate Spider Trifle is creamy and spooky. It is a perfect show-stopper for Halloween!
Halloween Sugar Cookie Cake – Simply spooky Halloween Sugar Cookie Cake with homemade cream cheese frosting, M&M's and sprinkles is the perfect Halloween dessert!
Chocolate Oreo Spider Cake – Chocolate Oreo Spider Cake topped with cinnamon eyes is creepy crawly and delicious, perfectly festive for all things Halloween!
Halloween Cookie Cake – Simply delicious Halloween Cookie Cake is quick & easy. Top with your fav candy for a perfect Halloween treat!
Oogie Boogie Trifle – This spooky trifle has layers of chocolate cake, crushed cookies, green mousse and cream and gummy bugs – perfect for Halloween!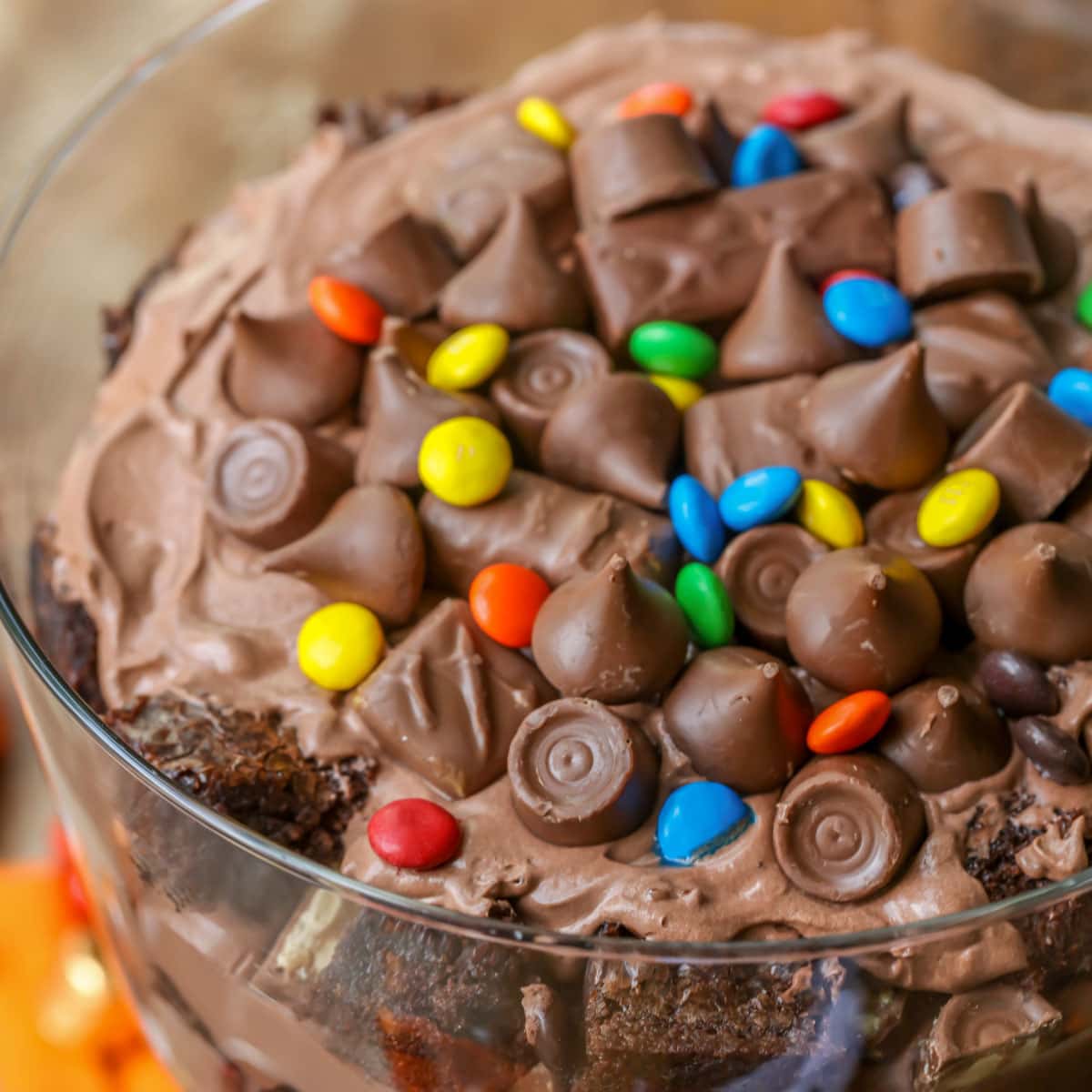 Candy Bar Trifle – Use up that leftover Halloween candy in a delicious Candy Bar Trifle layered with brownie chunks, chocolate pudding and candy.
Pumpkin Dump Cake – Simple and delicious Pumpkin Dump Cake preps in minutes. With all of these earthy flavors, it's perfect all fall long!
Treasure Pudding Cake – Treasure Pudding Cake is a delicious and FUN Pirate Treasure Cake that kids will LOVE!! It's a simple and tasty treat!
Magic Pumpkin Cake – 3 layer cake made up of creamy pumpkin puree layer, a layer of yellow cake, and lastly a white chocolate pumpkin spice frosting topped with white chocolate shavings!!
Graveyard Dirt Cake – White chocolate pudding and Oreo Graveyard dirt cake is EASY, festive and perfect for Halloween! So cut topped with tombstone cookies, it can be on the table in 10 minutes!!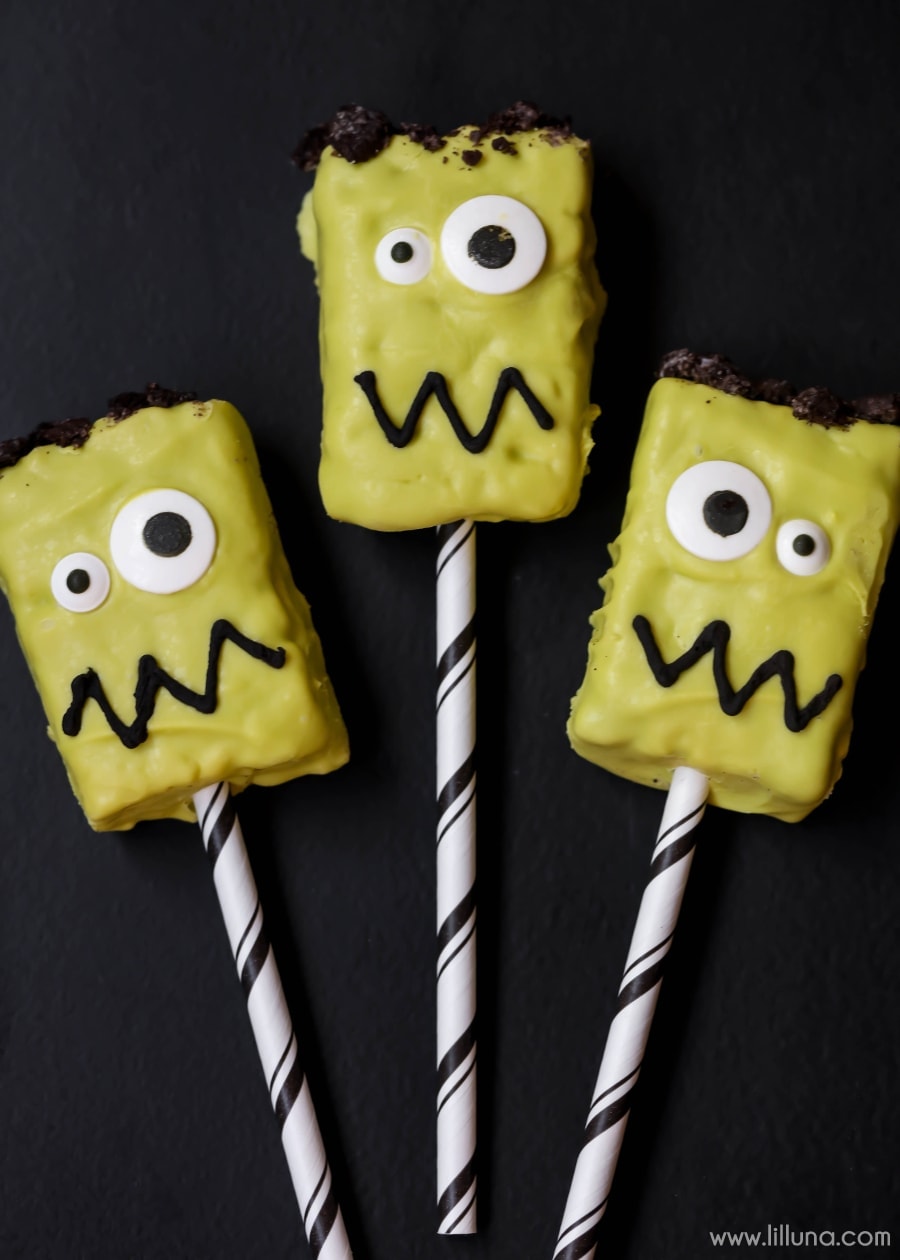 Frankenstein Rice Krispie Treats – Frankenstein Rice Krispie Treats are fun, festive and adorable treats. They are perfect for Halloween parties and a hit with the kids!
Easy Pumpkin Cupcakes – Spiced Easy Pumpkin Cupcakes are so soft, moist, and flavorful. They pair perfectly with delicious homemade cinnamon cream cheese frosting!
Monster Rice Krispie Treats – Fun and festive Halloween rice krispie treats are perfect for party treats and favors. They're beyond simple to make, and the kids can help!
Rice Krispie Balls – These peanut butter rice krispie balls are chewy, sweet and easy to make! Best part is that they only require a handful of ingredients.
Candy Corn Rice Krispie Treats – Chewy Candy Corn Rice Krispie Treats are perfect for fall! With just orange food coloring and candy melts create cute masterpieces!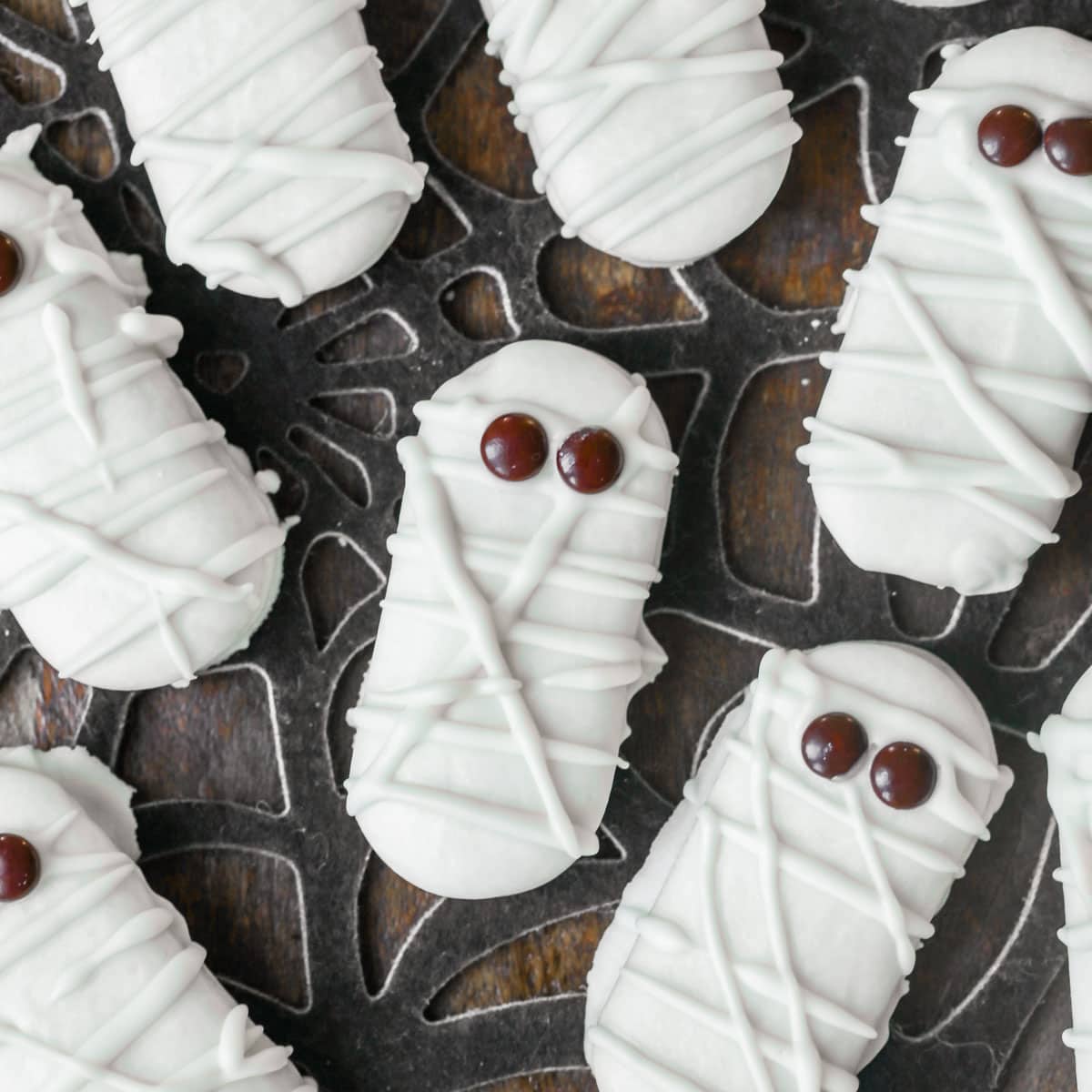 Mummy Cookies – Not so creepy Mummy Cookies are a simple, delicious, and cute treat idea for Halloween!
Monster Cookies – Chewy, crunchy and colorful cookies that you will not be able to get enough of! Perfect to bake up a batch for any occasion.
Pumpkin Oreos – These cute and festive Candy Coated Pumpkin Oreos are a great treat for all Halloween parties and get-togethers.
Halloween Sugar Cookies – Soft and sweet Halloween sugar cookies that will melt in your mouth. Not only are the cookies delicious, but they are great for parties, carnivals and fall festivals.
Gooey Monster Cookies – Fun, bright and festive cake mix cookies are all dressed up to look like monsters. Gooey monster cookies are great all year long!!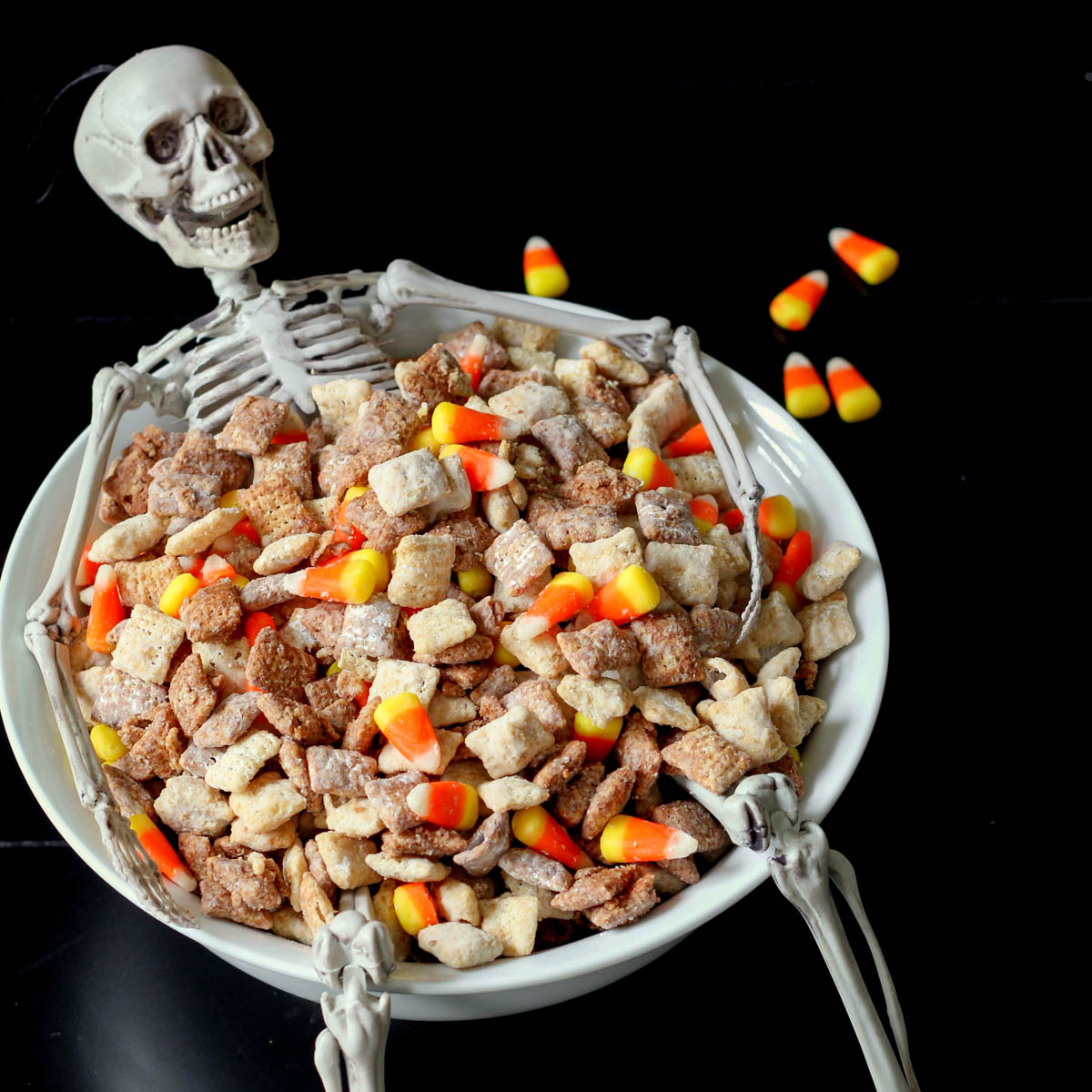 Halloween Puppy Chow – Yummy black and white Halloween Puppy Chow is chocolatey and crunchy with pops of peanut butter & chewy candy corn that everyone will love!!
Gummy Worm Jello Cups – FUN and festive gummy worm Jello cups are a creepy, creative and yummy treat perfect for Halloween. SO easy and kids love them!!
Skeleton Pudding Cups – Chocolatey Skeleton pudding cups are SO simple and tasty. They take minutes to make and are perfect for any Halloween party!!
Black Candy Apples – Dark coated Blackout Candy Apples are the perfect fall and Halloween treat. They come together in only 15 minutes!!
Strawberry Ghosts – Juicy and sweet strawberry ghosts are spooky and delicious!! Here is a simple and quick tutorial on how to make these Boo-tiful treats.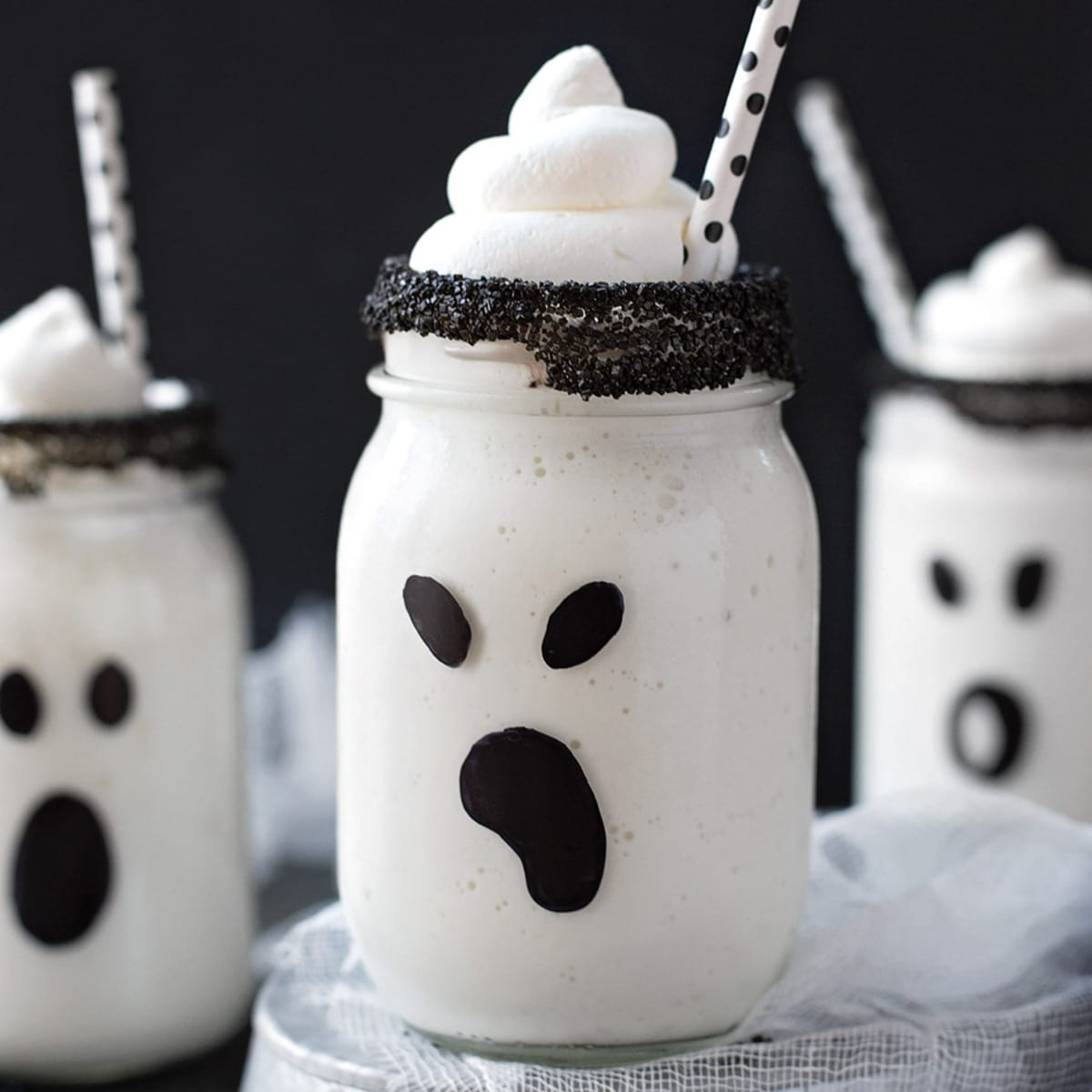 Boo-nilla Ghost Milkshakes – Boo-nilla Ghost Milkshakes are delicious vanilla treats turned into adorable ghosts that are perfect for Halloween!
Pumpkin Snack Mix – Delicious Pumpkin Snack Mix has popcorn, peanuts, cheerios, chex, candy corn, and mallow pumpkins. It's perfect for fall!
Melted Witch Bark – Simple sweet Melted Witch Bark is SO cute and festive. It's perfect for a party activity and tastes yummy!
Caramel Apple Nachos – Caramel apple nachos taste just like a caramel apple, but simpler to make! They are an easy treat perfect for movie nights and get togethers.
Chocolate Pudding Pie Spiders – Mini chocolate pudding pie spiders are fun, festive, and CRAZY easy to make. The kids will love helping out!!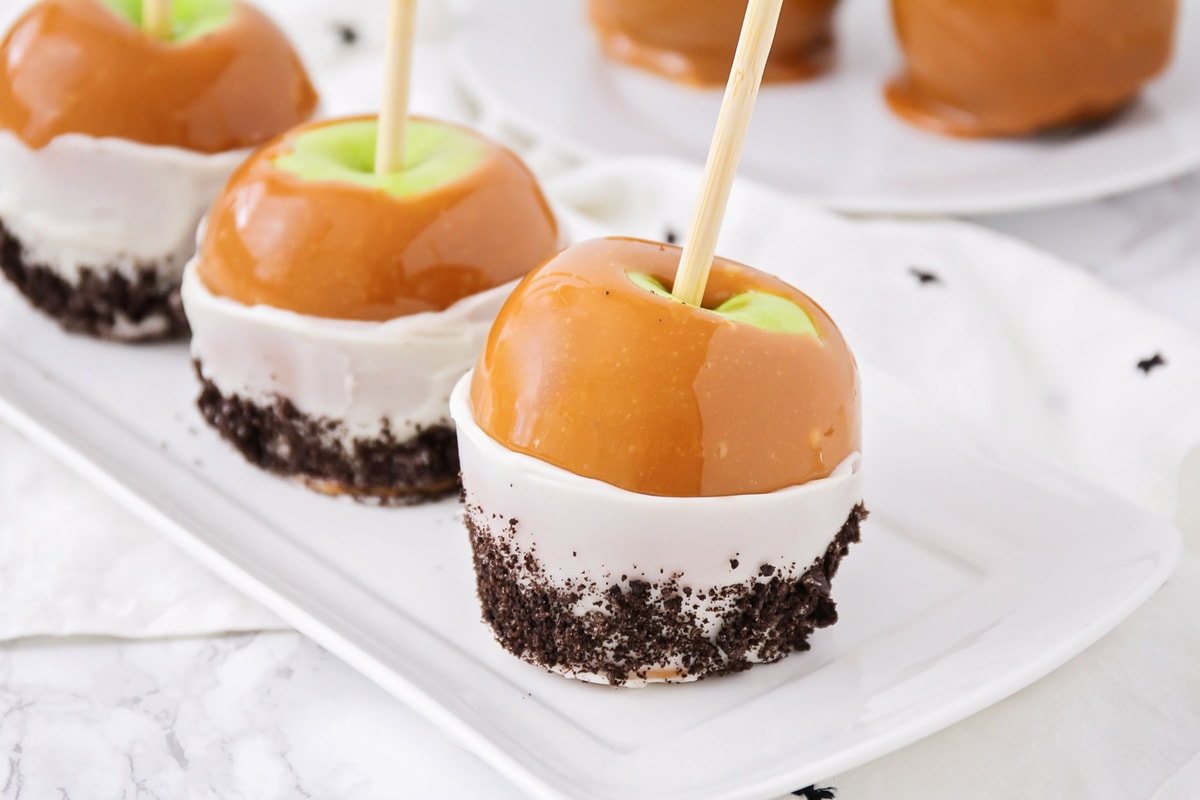 Caramel Apples – Making gorgeous gourmet caramel apples is easier than you think! With these tips and tricks, you will have beautiful (and DELICIOUS) Caramel Apples in no time. For a little extra, dip them in chocolate and your favorite candy bits!
Easy Popcorn Balls – Easy Popcorn Balls are so sticky and tasty, everyone will love them. They're perfect for any party, holiday or get together!!
Witch Hat Cookies – Easy Witch Hat Cookies are a perfectly spooky Halloween treat. Kids will love making and eating these cute creations!
Monster Suckers – These cute green monster suckers taste like apple and look simply ghoulish! They are easy to make and are sure to be a crowd-pleaser.
Pumpkin Dip – Delicious and creamy Pumpkin Gingersnap Dip recipe. A rich and smooth dip for cookies! Ingredients include cream cheese, solid-pack pumpkin, cinnamon, and marshmallow fluff.
Oogie Boogie Sundae – A delicious and simple copycat recipe from Walt Disney World – the Oogie Boogie Sundae has layers of crushed cookies, Mint ice cream and gummy worms and topped with green whipped cream.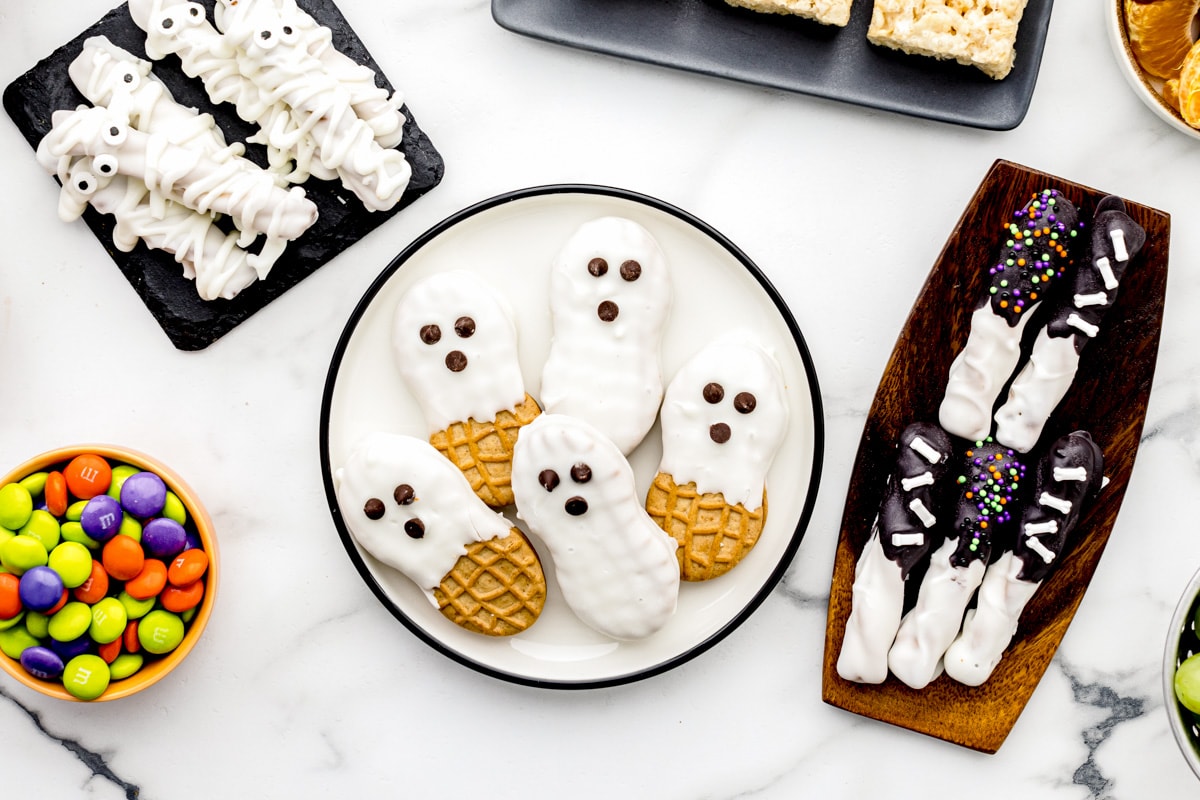 Nutter Butter Ghosts – Spooky and sweet Nutter Butter Ghosts are quick, easy, and Halloween party perfect – a boo-tiful addition to any bewitching spread!
Candy Corn And Peanuts – Candy Corn and Peanuts is a delicious fall mix perfect for snacking! It tastes like a delicious Payday Candy Bar!
Halloween Pretzels – Sweet and salty Halloween Pretzels whip up in minutes and are completely customizable for all of your haunting needs this spooky season!
Apple Monster Teeth – Apple Monster Teeth are a healthy and spooky snack, perfect for your Halloween spread. They are fun for the whole family!
Halloween Candy Charcuterie Board – This customizable Halloween Candy Charcuterie Board is perfect for this spooky season. It includes bonus recipes for the included treats!
---
the complete list
Here are the picture cards for all of the tasty Halloween Desserts listed above.
Halloween is the perfect time to serve up these fun recipes that are sure to put a big smile on everyone's faces!
---
MORE COLLECTIONS: Halloween, Halloween Snacks, Halloween Cookies, Halloween Dinner Ideas