For Halloween, we like to decorate, dress up, and EAT!!! Whether you want themed treats, or just warm fall goodness, enjoy this collection of perfect Halloween Dinner Ideas.
More Collections: Healthy Halloween Snacks, Halloween Drinks, Halloween Desserts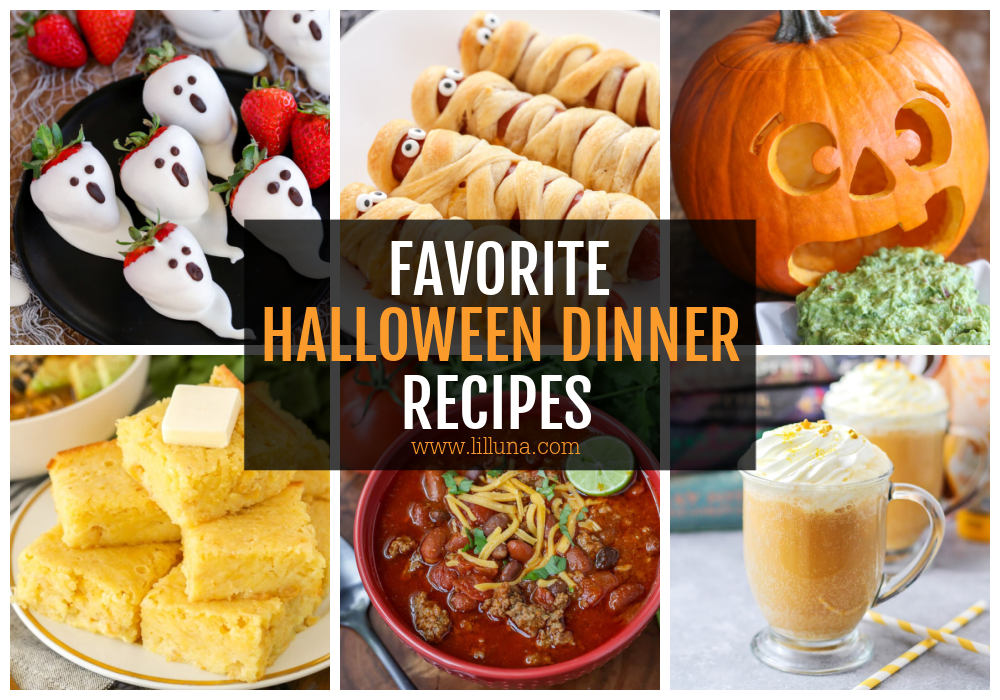 Festive Halloween Dinner Recipes
Soups and Chili are all the rage in fall, but sometimes it's fun to have a Halloween appetizer spread, or spooky easy Halloween snacks and treats with eyes!
I have rounded up the very best drinks, appetizers, main dishes, and desserts that are party perfect for this ghoulish season.
Whether you are searching for fun Halloween Dinner Ideas to enjoy before you head out trick or treating, or are hosting a large Halloween party, these tips will help provide a festive and yummy spread.
Favorite October Produce
Using produce that is in season will enhance the flavor of any dish, because of the freshness of the produce. If you're lucky enough to have a home garden, plan dishes that utilize what's growing. Head over to your local farmers' market for fresh produce at a great price.
There are so many delicious fall fruits and vegetables, but here are my top 5 favorites for each:
Favorite Fall Fruits: apple, pear, grape, persimmon, fig
Favorite Fall Vegetables: pumpkin, sweet potato, turnip, butternut squash, brussel sprouts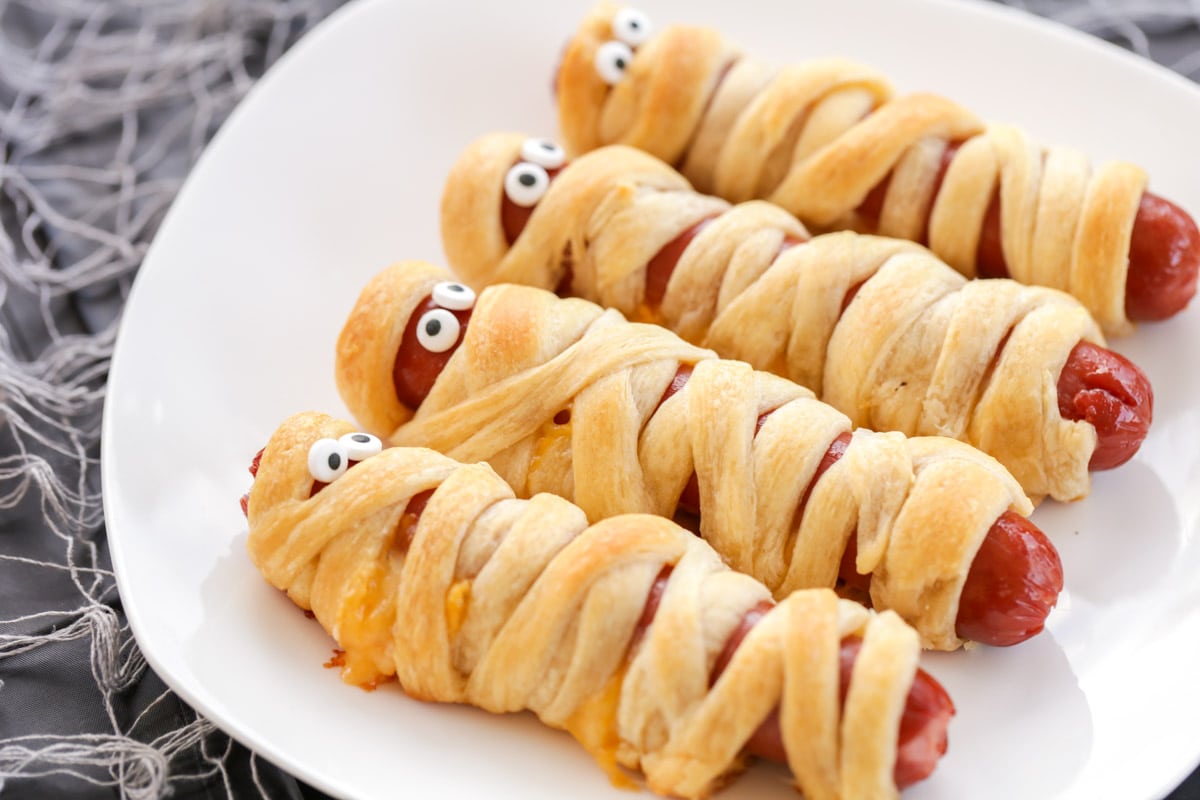 Make it festive
Be creative. Any dish can be turned into Halloween themed, by using fun ingredients. For example, I saw a spaghetti recipe with ½ inch meatballs. The meatballs were topped with a dollop of mozzarella cheese and sliced black olives. It made them look like eyeballs on top of the pasta.
Halloween toys. Another fun way to dress up a dish is to "garnish" with Halloween toys. The dollar store is one of my favorite places to find inexpensive, unique toys – such as ping pong eyeballs or plastic spiders.
Dress up the Table. Add Halloween characters to the dinner by decorating the table with themed plates, cups, and serving dishes. Have fun designing a spooky centerpiece.
Wear Costumes. Invite guests to wear costumes! Have a theme to follow, give awards for different categories, or even lead a costume parade.
Beverages. One of my very favorite ways to serve Halloween drinks is to make it smoky, using dry ice:
Fill the bottom of a large black cauldron or bowl with water.
To serve, drop pieces of dry ice into the water in the larger bowl. It will begin smoking.
Add the punch to a slightly smaller bowl. Place it inside the cauldron.
Be very careful not to add the dry ice directly to the punch. Also, the dry ice will burn bare skin, so use tongs or wear gloves.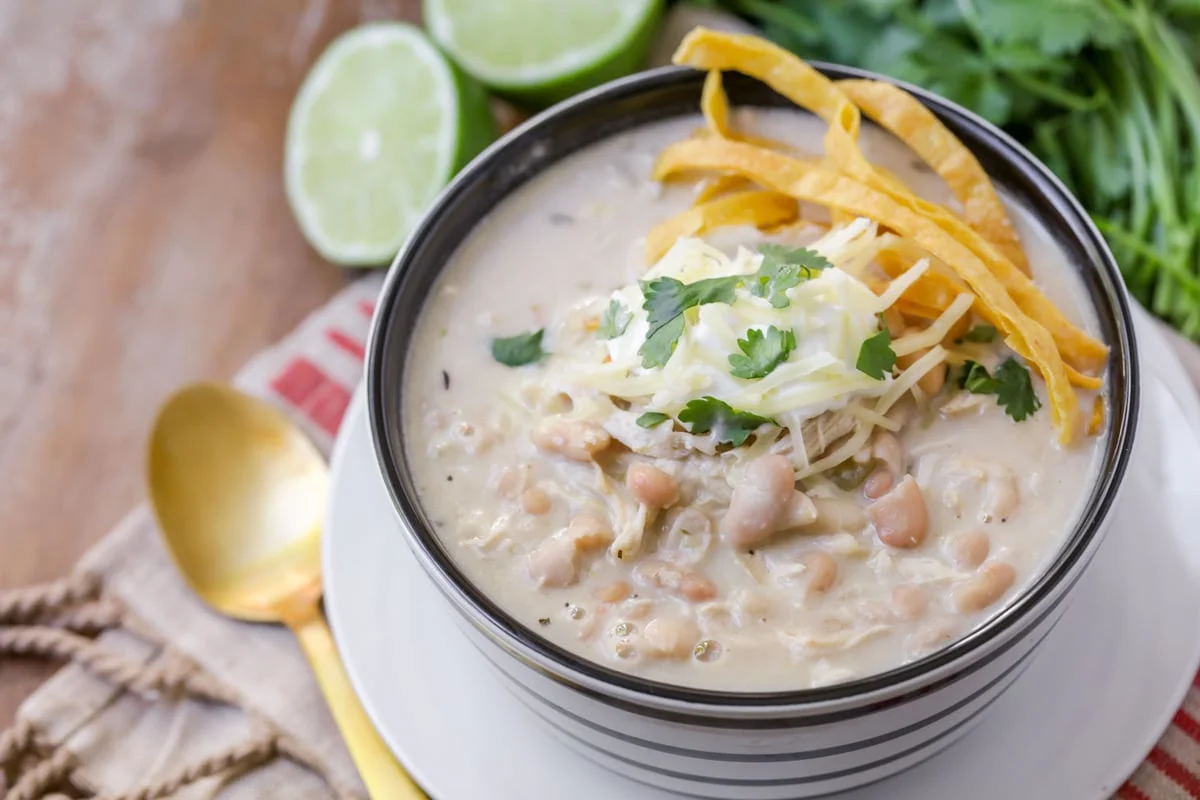 party Planning Tips
How Much to Serve. When making dinner for your own family, or adding just a few extra guests, it's pretty easy to calculate how much you'll need. However, it can be trickier to determine when the guest list grows. These are the guidelines that I use:
Appetizers – Plan to serve 3-5 appetizers per person. If you only have 5-10 people coming, plan to serve 1-2 different appetizer dishes. Add another appetizer dish for every 5-8 people in attendance.
Sides – I always plan to have two sides, for any number of guests less than 10. For every 5-8 more guests, I'll add another type of side dish.
Salad: 1-2 c (2 ½ -5 oz) per person
Pasta Salad: ½-1 cup (4-6 oz) pasta salad per guest
Potato Dishes: 6 oz per person
Veggies: 4 oz per person
Rolls: 1.5 per person
Beverages – A serving is typically 6-8 oz. Plan for guests to have 2 servings in the first hour, and only 1 serving for every hour after.
Desserts – If serving only one type of dessert, most people will have 1-2 servings. When you provide several dessert options, the serving sizes tend to be a little smaller. In this case, plan for guests to have 2-3 total servings.
---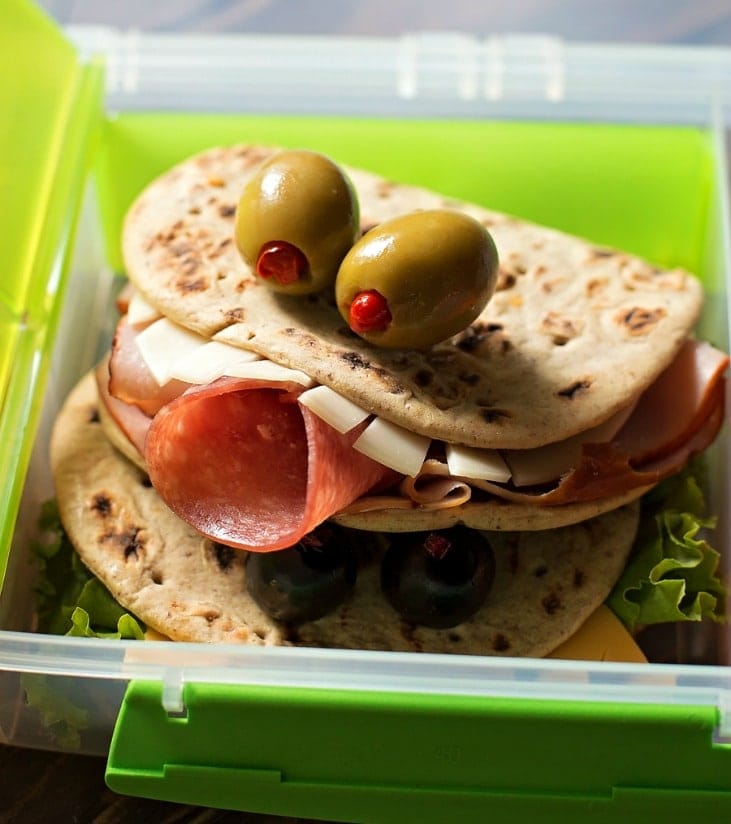 Main Dishes
These tasty main dishes are perfect Halloween Dinner Recipes. Some have a spooky twist, all are delicious!
Flatout Monster Sandwiches – Fun and delicious Flatout Monster sandwiches filled with your favorite meats, cheese and veggies are a hit with the entire family!!
Best Chili Recipe – You're going to fall hard for this spicy and hearty homemade beef chili. This chili recipe is not only simple, but is flavorful and filled with ground beef, tomatoes, beans, spices and all the toppings making it an award winning chili recipe.
Halloween Flatbread Pizza – Halloween Flatbread Pizza is EASY, kid-friendly, and perfect for Halloween! They take 10 minutes to make and are completely customizable!!
Slow Cooker Pulled Chicken – Slow Cooker Pulled Chicken is juicy, flavorful. and preps in minutes! This simple dish is great for holidays, parties and potlucks!
Mummy Hot Dogs – Inspired by pigs in a blanket these buttery crescent wrapped Mummy dogs are filled with cheese and topped with cute candy eyes for spooky kid-friendly fun!!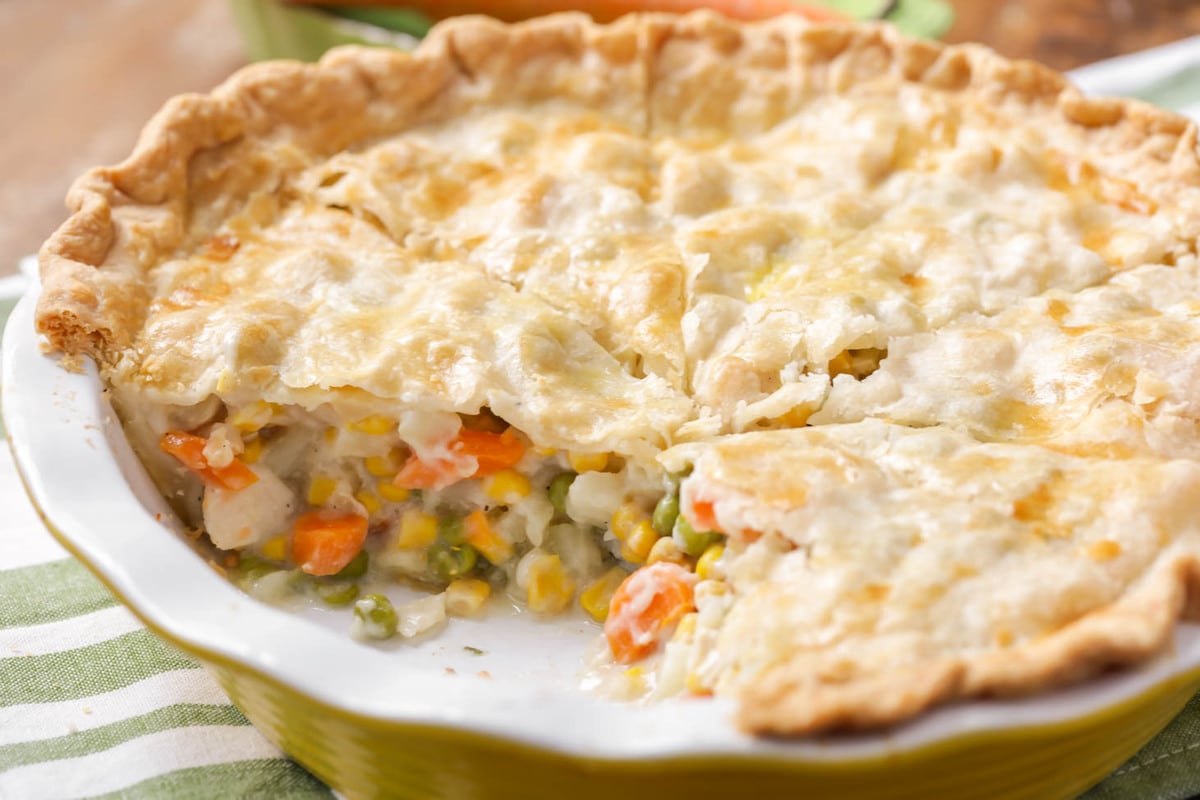 Chicken Pot Pie – Easy Chicken Pot Pie is the definition of comfort food! It's warm, rich with flavor, full of veggies, and has the best flaky crust.
Pumpkin Chili – Loaded with vegetables, this Pumpkin Chili is healthy and delicious. A perfect fall soup recipe that the whole family will love!
Pumpkin Quesadilla – Spooky, cute, kid-friendly jack-o-lantern quesadillas take minutes to make and is perfect for Halloween or any night in October!
White Chicken Chili – White Chicken Chili is hearty, creamy, and has become a new favorite!! Best of all, it's ready in 30 minutes or less!
Crack Chicken – Crack chicken in a crock pot is simple and tasty. Everyone is sure to love this creamy, cheesy chicken dish.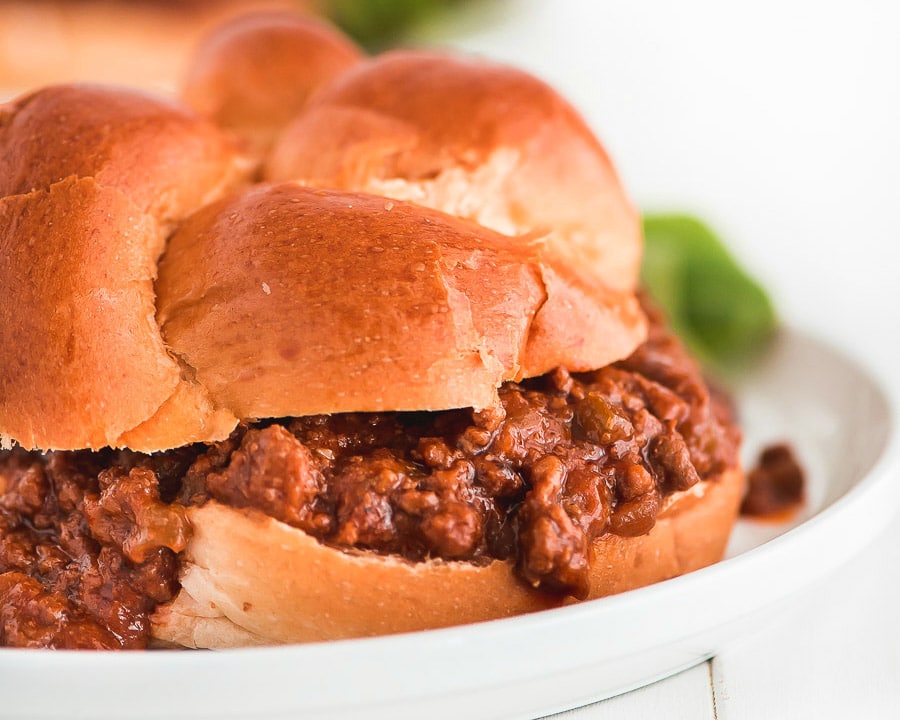 Sloppy Joes – Saucy and savory homemade Sloppy Joes are a delicious meat loaded sandwich. They are quick and easy, perfect for feeding a crowd!
Cheesy Baked Ravioli – Easy Cheesy Baked Ravioli – a quick, simple and delicious dinner recipe that the whole family loves! It's so cheesy and so tasty!
Baked Chicken Drumsticks – Oven baked chicken drumsticks are a healthy alternative for fried chicken lovers! They are seasoned to perfection and baked, not fried!
Sweet Potato Soup – Velvety smooth sweet potato soup has a bit of nip and is the perfect soup recipe for anyone who loves sweet potatoes.
Skillet Lasagna – Skillet Lasagna is a comforting and cheesy one pot meal. It takes just 30 minutes and is perfect for dinner any night of the week!
Spaghetti Pie – Spaghetti Pie makes a hearty and delicious twist for a dinner time win! It's a perfect recipe for busy weeknights and family-friendly dinners.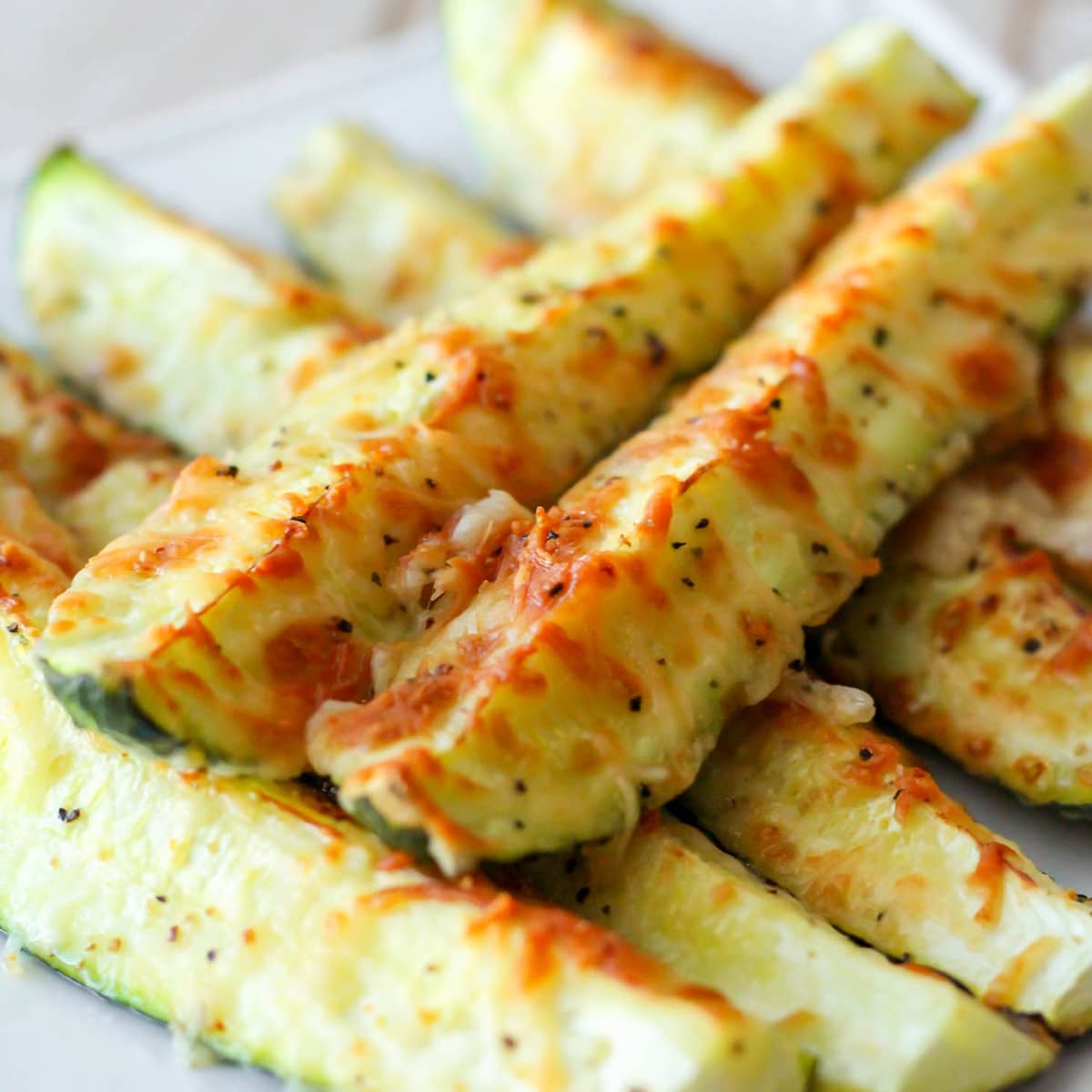 SIDE Dishes
Every Halloween dinner needs a few tasty side dishes! Here are some of our favorite – perfect for fall.
Parmesan Crusted Zucchini – Delicious and Healthy Baked Parmesan Zucchini. These spears are crusted in Parmesan cheese and baked to perfection, making them a great side dish for any meal.
Yeast Dinner Rolls – Homemade Dinner Rolls Recipe that are delicious and perfect for any meal. They're soft, delicious and a hit at every meal!
Glazed Carrots – If you need a go-to side dish, these Brown Sugar Glazed Carrots are perfect for you! The tastiest candied carrots recipe!! Even better, it takes less than 10 minutes to make and only requires 4 ingredients!
Roasted Brussel Sprouts – Oven Roasted Brussel Sprouts have a perfectly crispy outside, and a melt-in-your-mouth center. With only 5 minutes of prep time, you'll want to make this delicious and healthy side dish every night!
Copycat Texas Roadhouse Rolls – Copycat Texas Roadhouse Rolls are so soft they melt in your mouth!! They are huge, buttery, and SO good!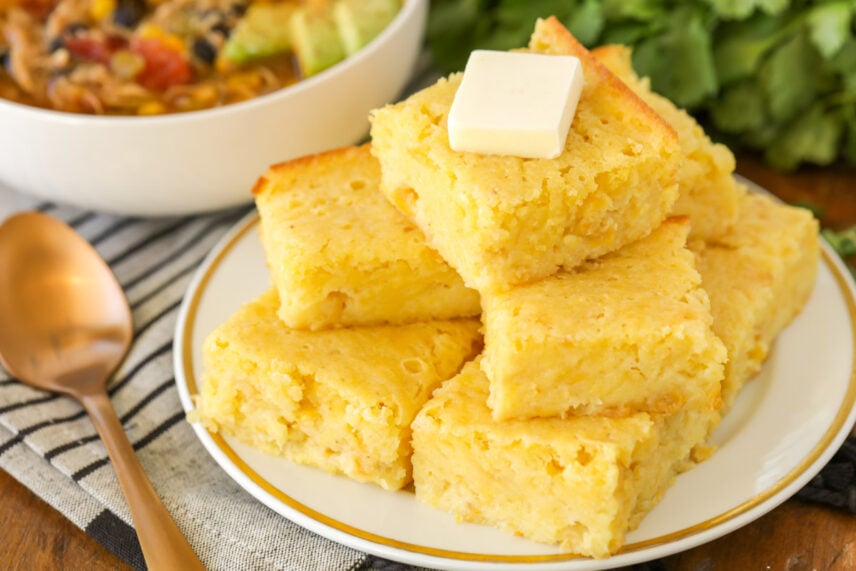 Sweet Cornbread – Moist and fluffy Sweet Cornbread is perfect to enjoy all year long, but especially with soups in the fall.
Easy Tortellini Salad – Super YUMMY and easy Tortellini Salad filled with tortellini, salad, ranch, tomatoes and bacon bits – perfect for summer time!
Baked Sweet Potato Cubes – Baked Parmesan Sweet Potatoes- soft sweet potatoes coated with parmesan cheese and all kinds of spices!! It's a new favorite side dish that is quick and delicious.
Parmesan Potatoes – Simple and delicious baked parmesan potatoes are the perfect side dish, made from cubed potatoes coated in parmesan and a few simple seasonings.
Bacon Wrapped Asparagus – Bacon Wrapped Asparagus is a smoky and savory side dish. It is crispy, delicious, and takes about 20 minutes to prepare!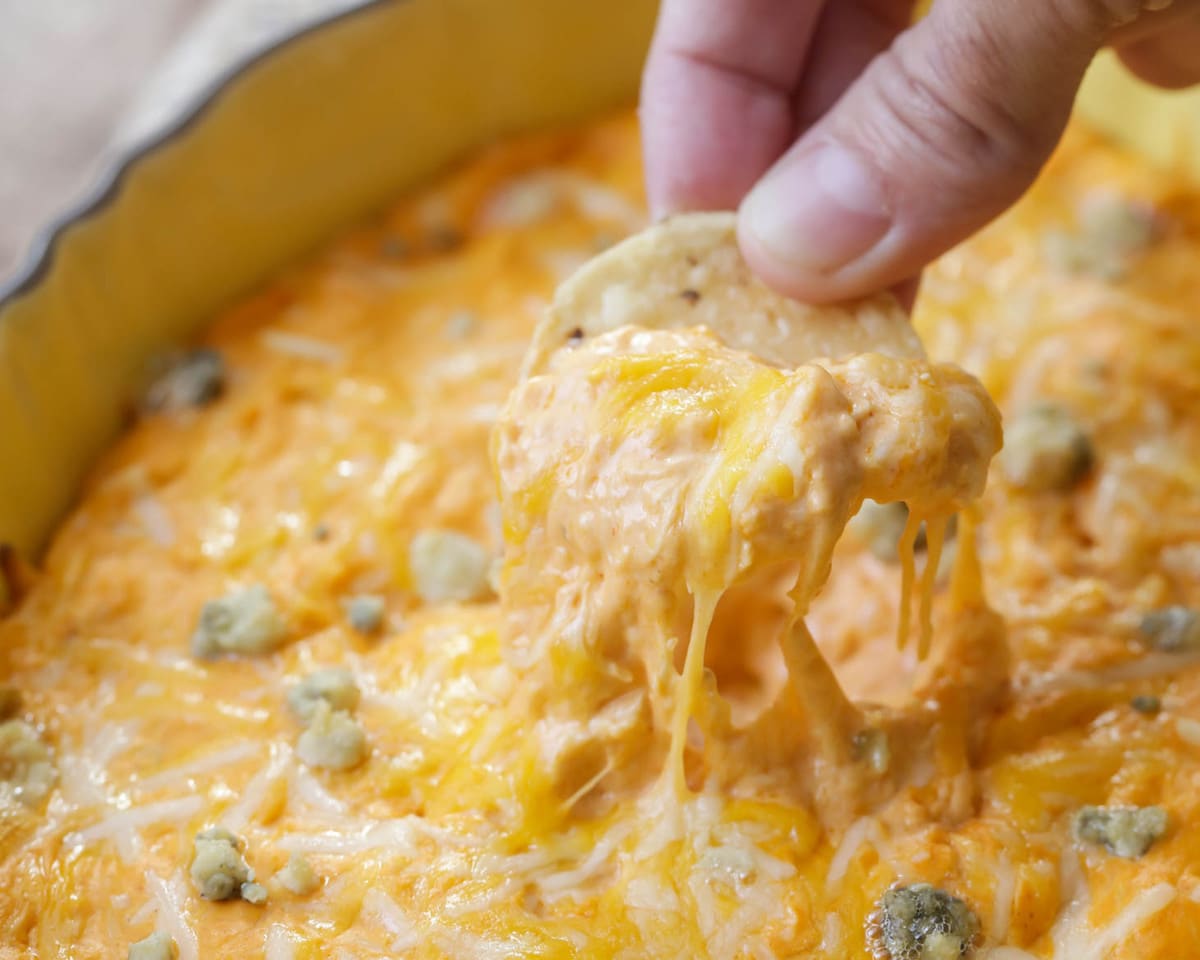 appetizers
A Halloween dinner party wouldn't be complete without a few finger-licking appetizers! I've pulled several of my favorite, perfect for fall, or with a ghoulish twist.
Buffalo Chicken Dip – All the flavor of buffalo wings in a creamy, cheesy, simple dip! This super easy Buffalo Chicken Dip is filled with chicken, buffalo sauce, ranch, and three different types of cheese! It's perfect for parties and get togethers, served with tortilla chips or veggies.
Grape Jelly Meatballs – Delicious 3-ingredient Grape Jelly Meatballs. They take just minutes to prep and are the perfect dinner or appetizer for any party or get together.
Pumpkin Guacamole – A Puking Pumpkin with guacamole is SO easy to make and tastes delicious. It is perfect for any Halloween celebration!
Baked Buffalo Wings – Hot wings are a staple at any get together or party. This easy recipe will show you how to make this appetizer in the oven resulting in crispy, Baked hot wings.
Fried Green Beans – Crispy fried green beans making all of your appetizer dreams comes true! Breaded with seasoned bread crumbs and fried to crunchy perfection!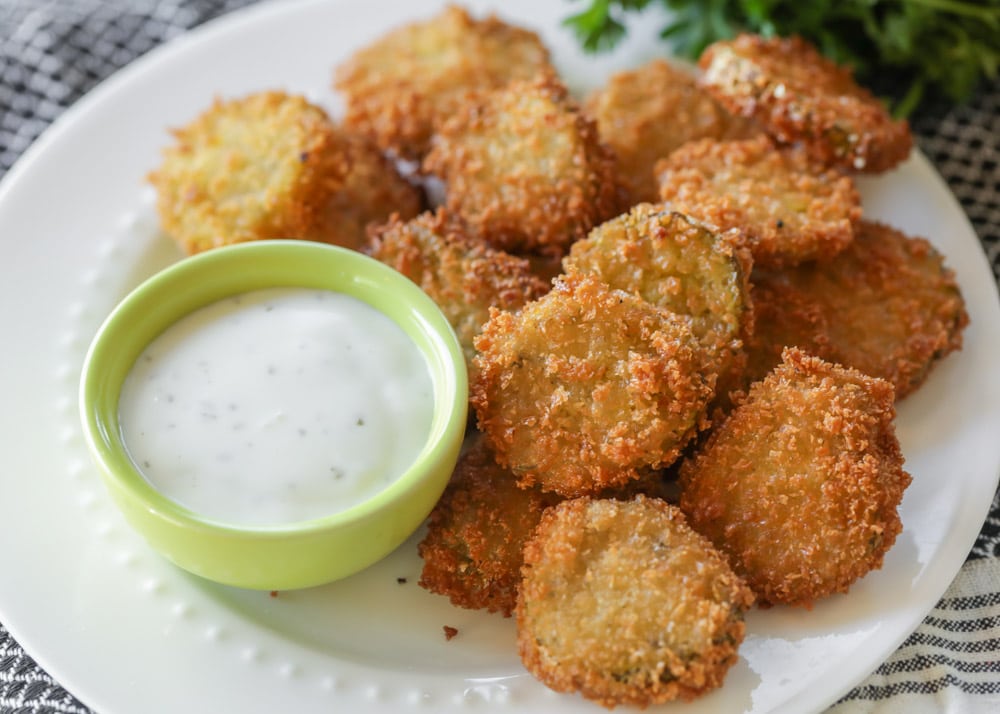 Deep Fried Pickles – Deep fried pickles are crunchy, flavorful, and SO tasty! These pickle slices are breaded and fried to perfection, making them a crowd-favorite party appetizer!
Bacon Wrapped Smokies – Bacon wrapped little smokies sprinkled with brown sugar, and baked to perfection. These bacon wrapped weenies are the ultimate appetizer for any party, and always the first to disappear!
Chicken Pesto Meatballs – Homemade Pesto Chicken Meatballs are so juicy, flavorful, and work great on their own or served over pasta!
Jalapeño Poppers – Spicy fried jalapeño poppers are a classic appetizer that everyone wants! Bite into these cheesy poppers for a flavor explosion!
Sausage Rolls – Sausage mixed with delicious seasonings, all wrapped up in puffy pastry make these Sausage Rolls delicious and addicting!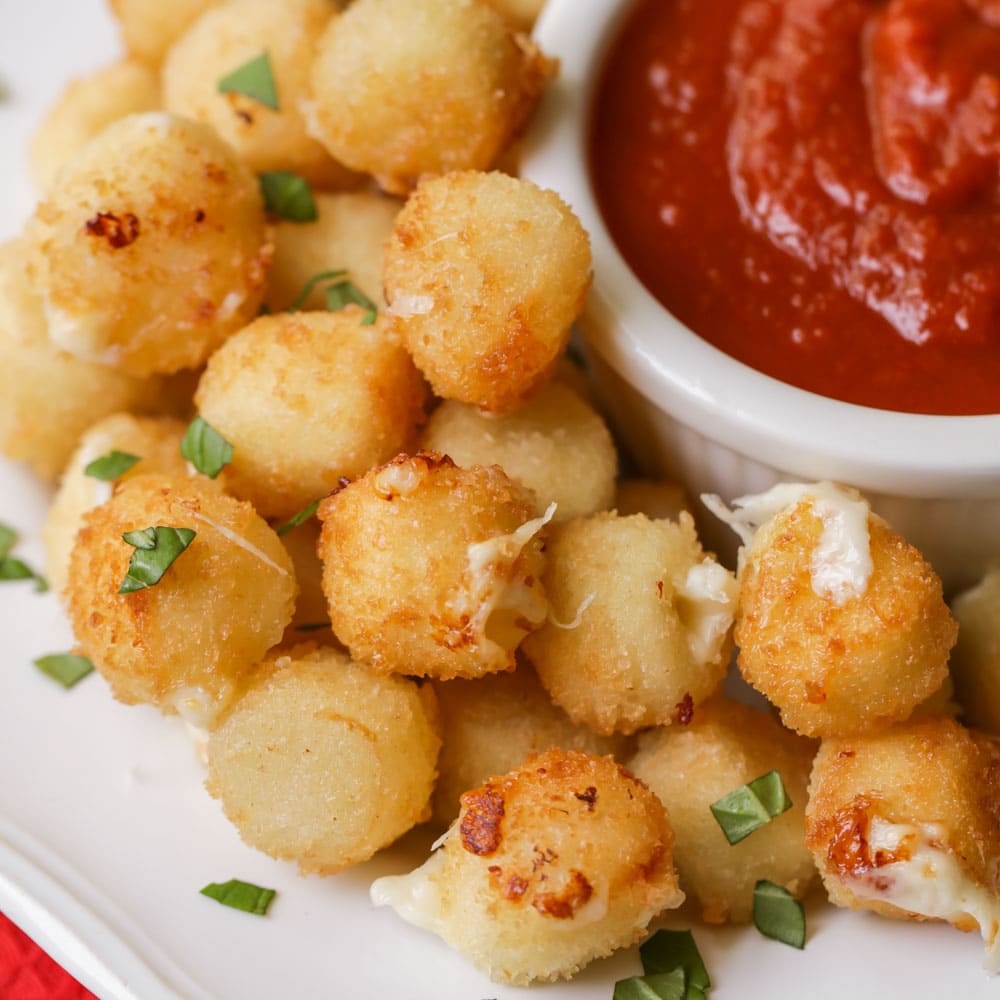 Mozzarella Bites – Fried mozzarella bites are delicious, easy and the perfect party appetizer when served with marinara. Everyone loves this bite-sized snack!
Avocado Taquitos – Avocado Taquitos aka "Flautas" are filled with avocados and cheese and fried to perfection! They're perfect for a main dish or appetizer.
Fried Mac And Cheese – This copycat version of Cheesecake Factory's Fried Mac and Cheese appetizer is to die for! It's made of creamy mac and cheese inside a delicious and crispy breading.
Cream Cheese Green Chili Dip – Cream Cheese Green Chili Dip is one of our favorite appetizers. It is is delicious and takes just 1 minute to make!!
Charcuterie Board – We all love to graze during holidays and parties, and what better way to do it than with a Charcuterie board?! Customize with all your favorite meats, cheeses, crackers, veggies, fruits and dips!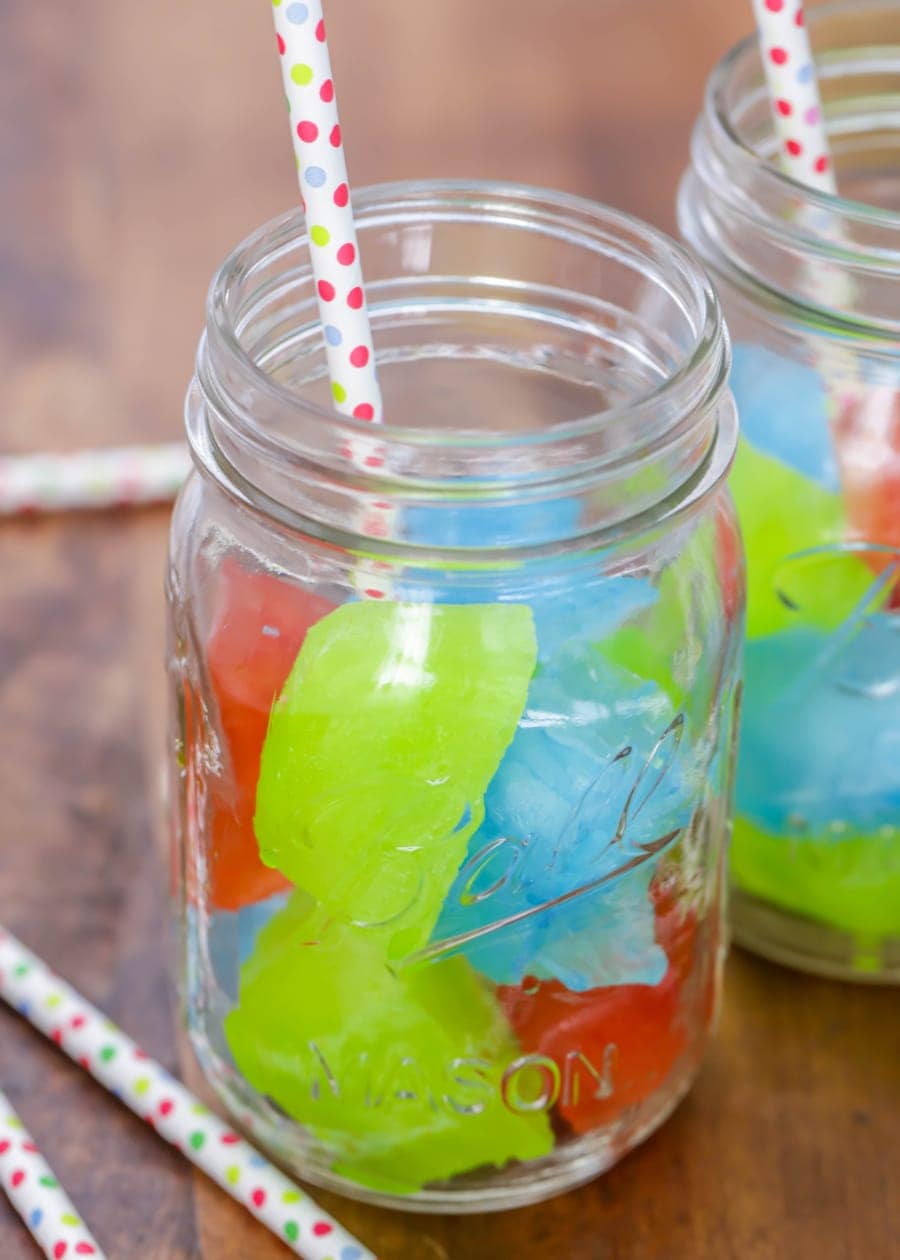 drinks
Don't leave out any details! These kid-friendly cocktails are delicious, and perfect for any spooky celebration.
Kool Aid Ice – Kool Aid Ice drink recipe is perfectly festive for the kids to enjoy at a party or get together!
Ghoul-Aid – Ghoul-Aid recipe is perfect for Halloween! Just mix and enjoy this spooky Orange & grape kool-aid concoction.
Boo-Nilla Ghost Milkshakes – Boo-nilla Ghost Milkshakes are delicious vanilla treats turned into adorable ghosts that are perfect for Halloween!
Slushy Punch Recipe – Slushy punch is fruity and fizzy and perfect for any occasion. Adding wax fangs make it a Halloween must!
Witches Brew – Fun & festive lime flavored witches brew uses only a few ingredients and takes minutes to make!! It is perfect for any party or celebration.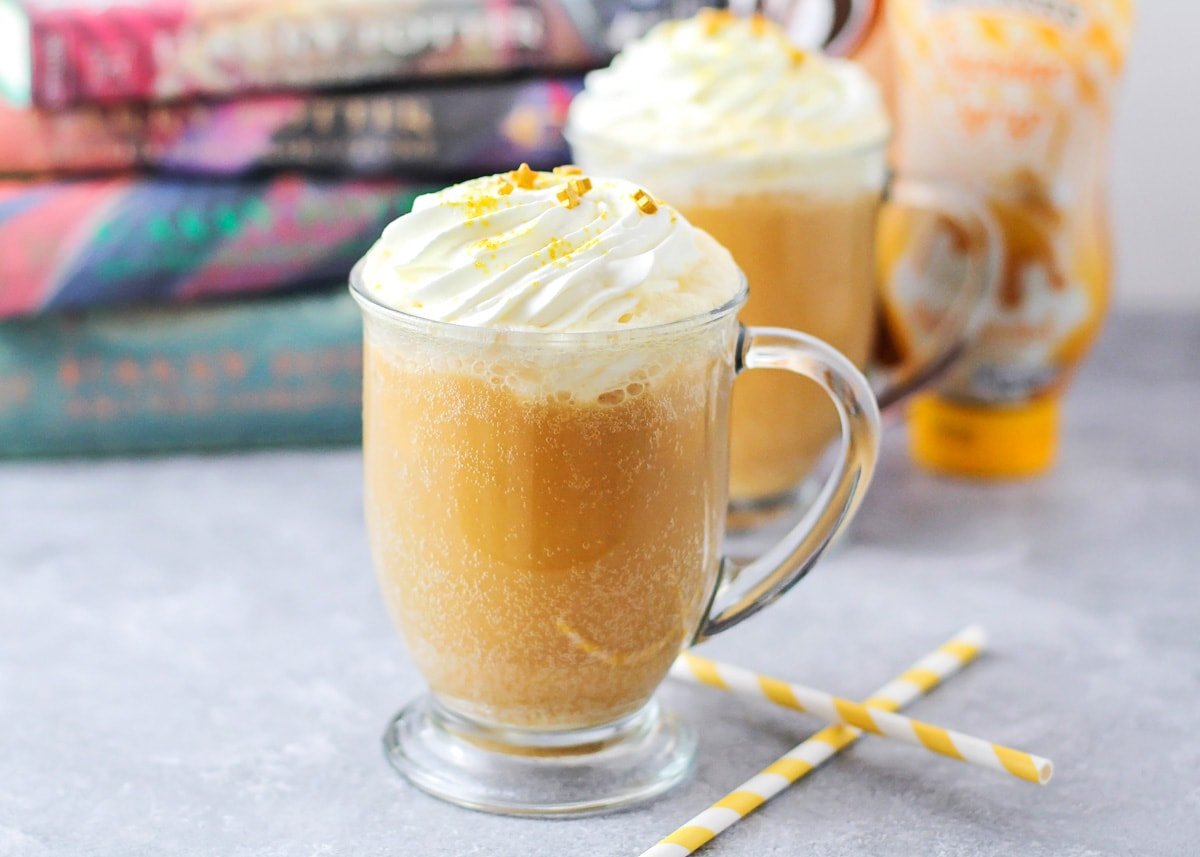 Butterbeer – Butterbeer is a rich, delicious chilled drink with butterscotch flavoring. It is alcohol-free, and perfect for sharing on any occasion!
Halloween Punch – This sweet & fizzy orange sherbet punch is one of our all-time favorite Halloween drinks!! It is a perfectly festive Halloween punch!
Caramel Apple Cider – All the best fall flavors come together in this hot Caramel Apple Cider. It tastes just like Starbuck's Caramel Apple Spice!
Apple Cider – You'll be surprised how simple it is to make homemade Apple cider from scratch. It is spiced to perfection and the coziest fall drink.
Halloween Hot Chocolate – Ghoulishly green White Chocolate Halloween Hot Cocoa is so delicious and perfect for a Halloween party or celebration!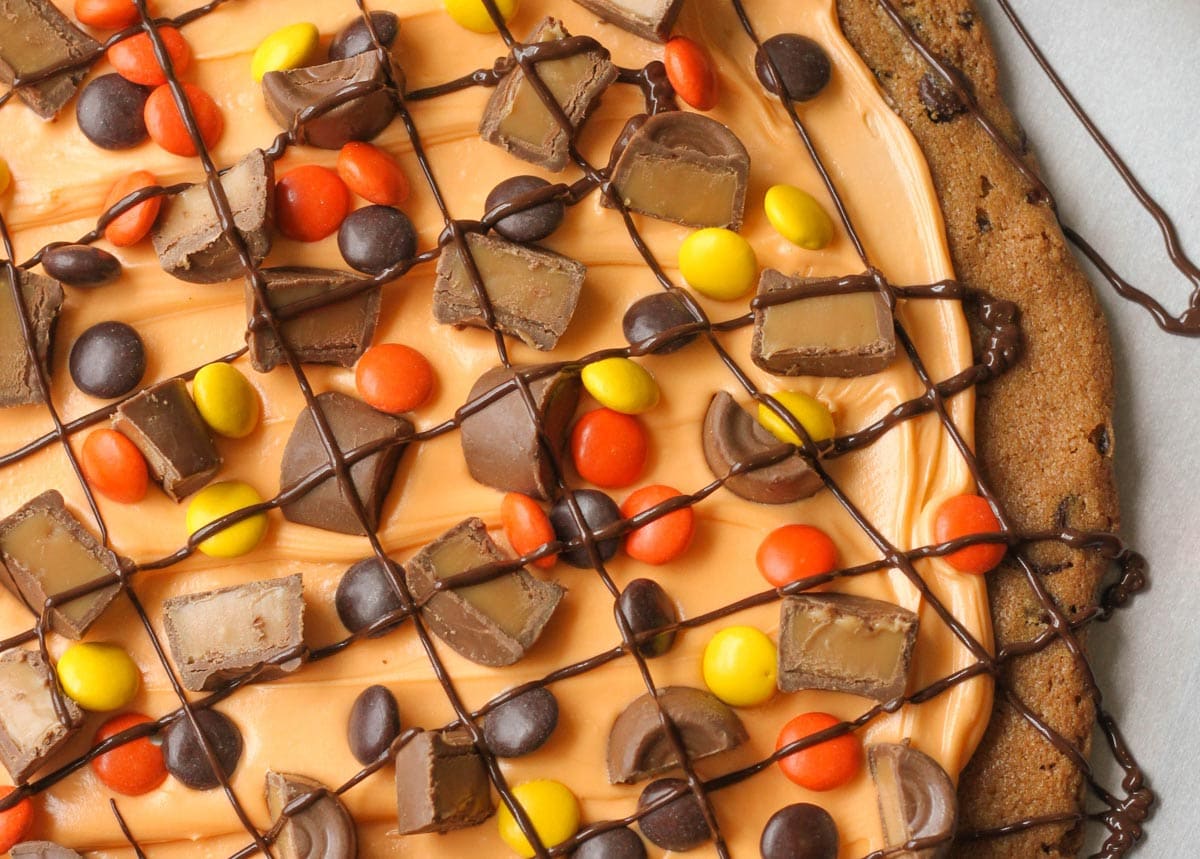 desserts
These sweet treats are the perfect end to your Halloween dinner. They will be enjoyed by all ages!
Halloween Cookie Cake – Simply delicious Halloween Cookie Cake is quick & easy. Top with your fav candy for a perfect Halloween treat!
Melted Witch Bark – Simple sweet Melted Witch Bark is SO cute and festive. It's perfect for a party activity and tastes yummy!
Skeleton Pudding Cups – Chocolatey Skeleton pudding cups are SO simple and tasty. They take minutes to make and are perfect for any Halloween party!!
Oogie Boogie Trifle – This spooky trifle has layers of chocolate cake, crushed cookies, green mousse and cream and gummy bugs – perfect for Halloween!
Halloween Sugar Cookies – Soft and sweet Halloween sugar cookies that will melt in your mouth. Not only are the cookies delicious, but they are great for parties, carnivals and fall festivals.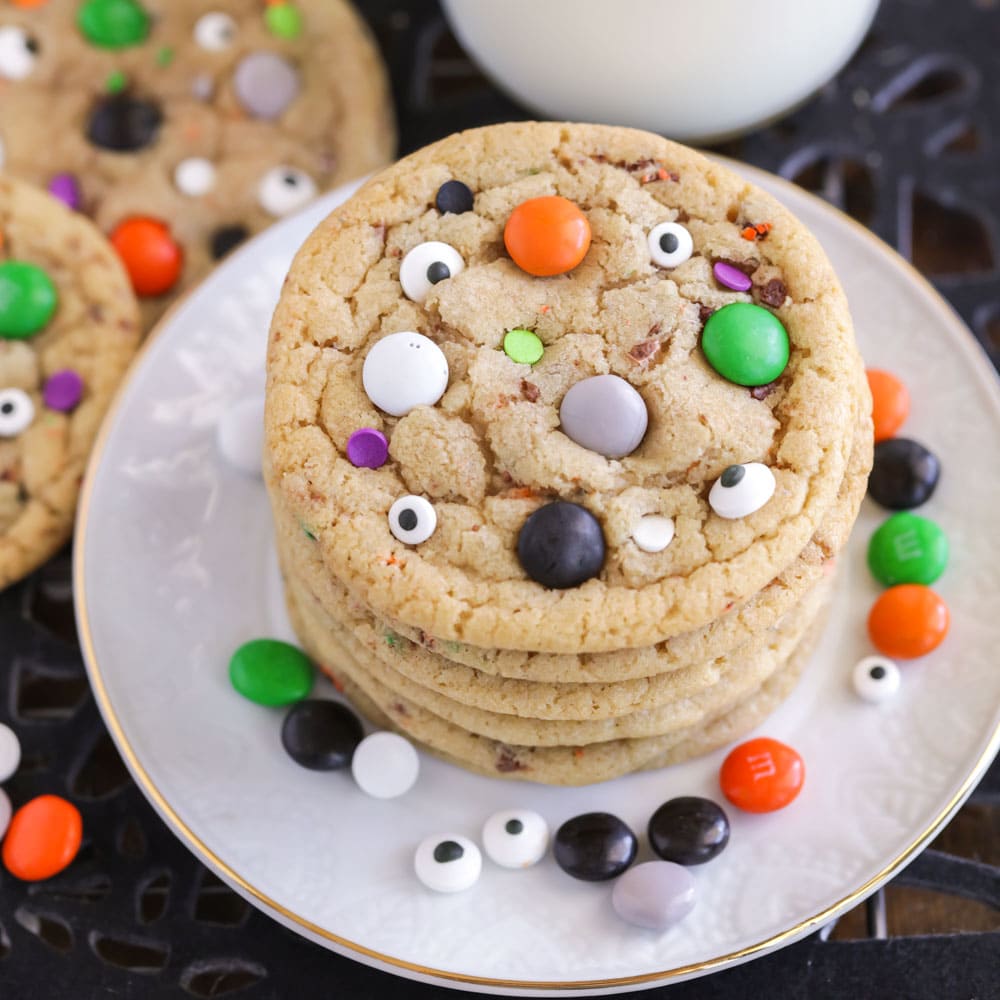 Halloween Cookies – Ghoulishly delightful Halloween cookies are delicious with just the right amount of spooky. They're easy to make and easy to decorate!
Magic Pumpkin Cake – 3 layer cake made up of creamy pumpkin puree layer, a layer of yellow cake, and lastly a white chocolate pumpkin spice frosting topped with white chocolate shavings!!
Halloween Sugar Cookie Cake – Simply spooky Halloween Sugar Cookie Cake with homemade cream cheese frosting, M&M's and sprinkles is the perfect Halloween dessert!
Halloween Puppy Chow – Yummy black and white Halloween Puppy Chow is chocolatey and crunchy with pops of peanut butter & chewy candy corn that everyone will love!!
Chocolate Spider Trifle – Oreo & pudding filled Chocolate Spider Trifle is creamy and spooky. It is a perfect show-stopper for Halloween!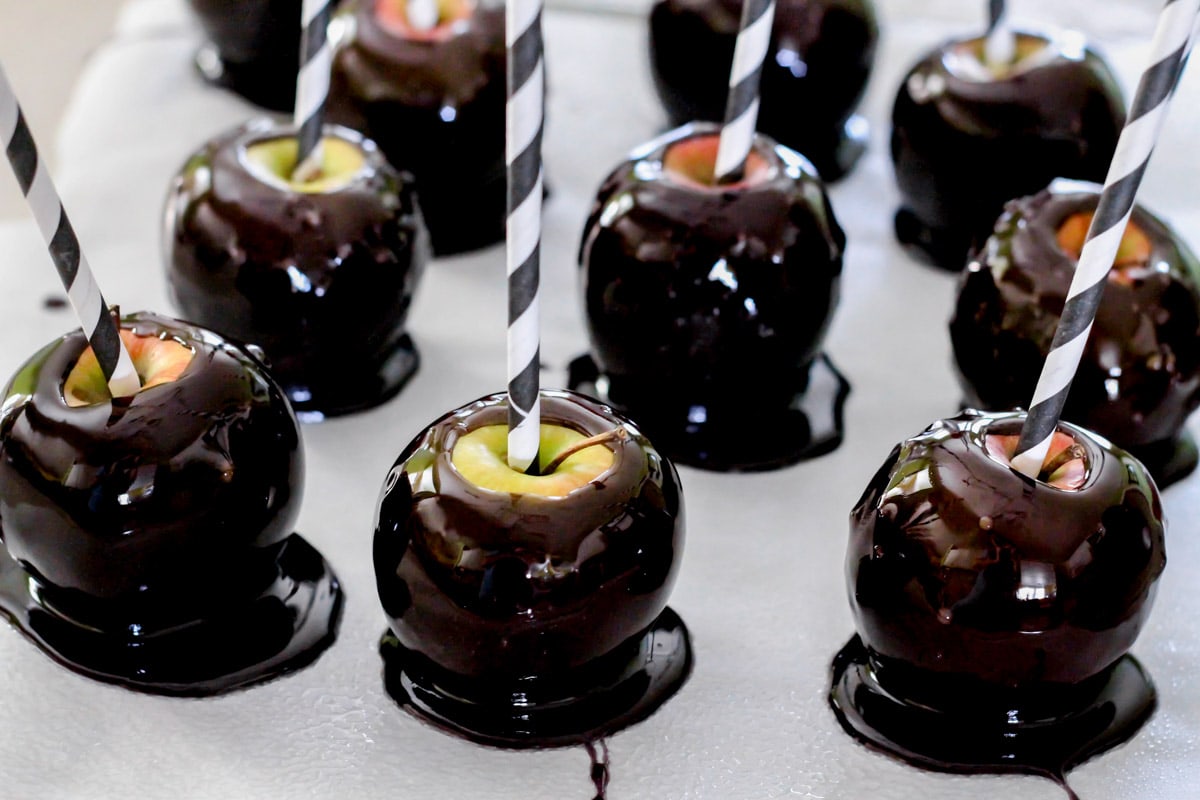 Black Candy Apples – Dark coated Blackout Candy Apples are the perfect fall and Halloween treat. They come together in only 15 minutes!!
Chocolate Oreo Spider Cake – Chocolate Oreo Spider Cake topped with cinnamon eyes is creepy crawly and delicious, perfectly festive for all things Halloween!
Easy Pumpkin Cupcakes – Spiced Easy Pumpkin Cupcakes are so soft, moist, and flavorful. They pair perfectly with delicious homemade cinnamon cream cheese frosting!
Graveyard Dirt Cake – White chocolate pudding and Oreo Graveyard dirt cake is EASY, festive and perfect for Halloween! It can be on the table in 10 minutes!!
Strawberry Ghosts – Juicy and sweet strawberry ghosts are spooky and delicious!! Here is a simple and quick tutorial on how to make these Boo-tiful treats.
---
the complete list
Here are the picture cards for ALL of the amazing Halloween Dinner Ideas listed above.
With so many show stopping recipes to choose from you're sure to have a memorable Halloween get together without a lot of effort!
---
More Collections: Halloween Appetizers, Halloween Snacks, Halloween Cookies