Taco Soup is one of the EASIEST dinner recipes of all time! Just dump, simmer, and enjoy in under 20 minutes!
One of the quickest and easiest soup recipes you'll ever try! If you like the Mexican flavors in this Taco Soup, you might also like Chicken Taco Soup, Tortilla Soup, or Enchilada Soup.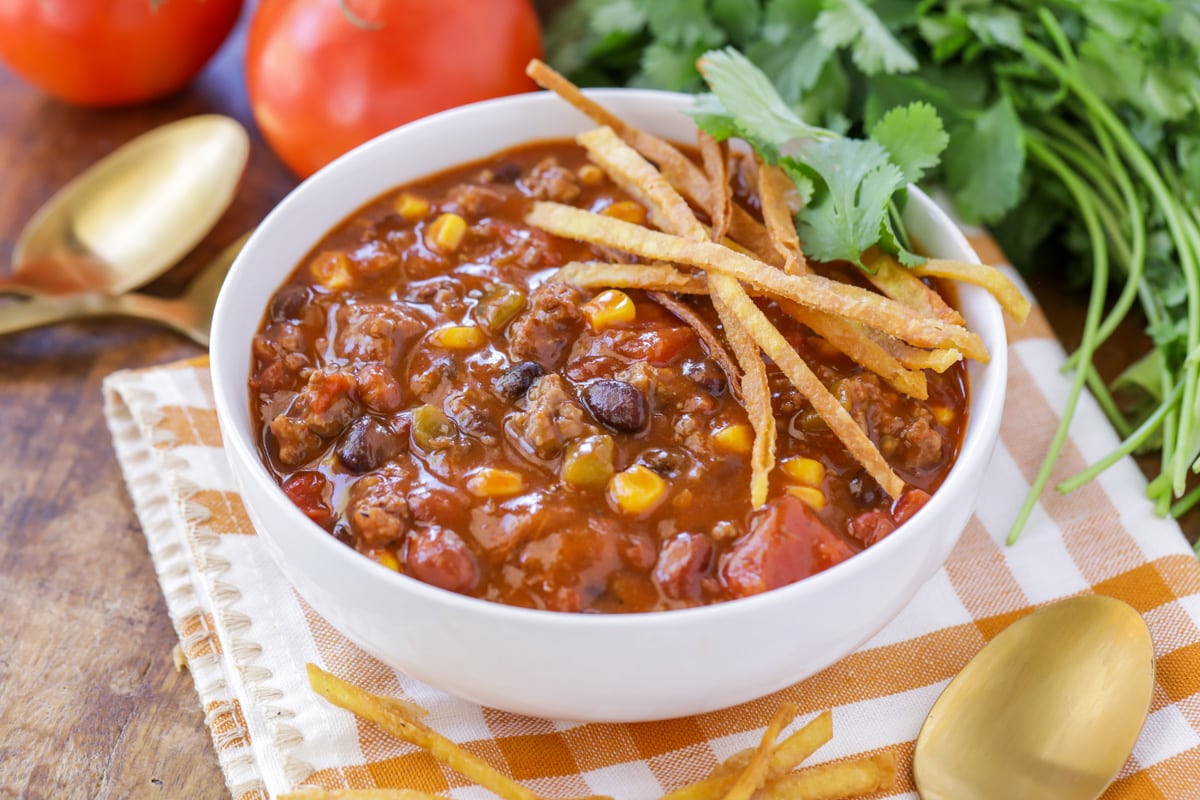 The quickest, easiest Taco soup
We all love a delicious and easy soup recipe, right?? One of my all-time favorite meals that is not only yummy and simple, but quick, is our favorite easy Taco Soup recipe.
This easy Taco Soup is one I make more often during the winter when it's cooler, but is also still great all year long! It's obviously a soup version of taco salad, so if you like taco salad you'll definitely love this recipe.
The best part of all is that it takes 20 minutes TOTAL to make. Yes, you heard me right!! Twenty minutes to prep and cook this entire meal!
Another great part about this recipe is it's made from mostly canned foods, pantry staples we always have on hand. All you have to do is just pop open a few cans, add a few spices, and you have a super delicious and easy meal that the whole family will enjoy.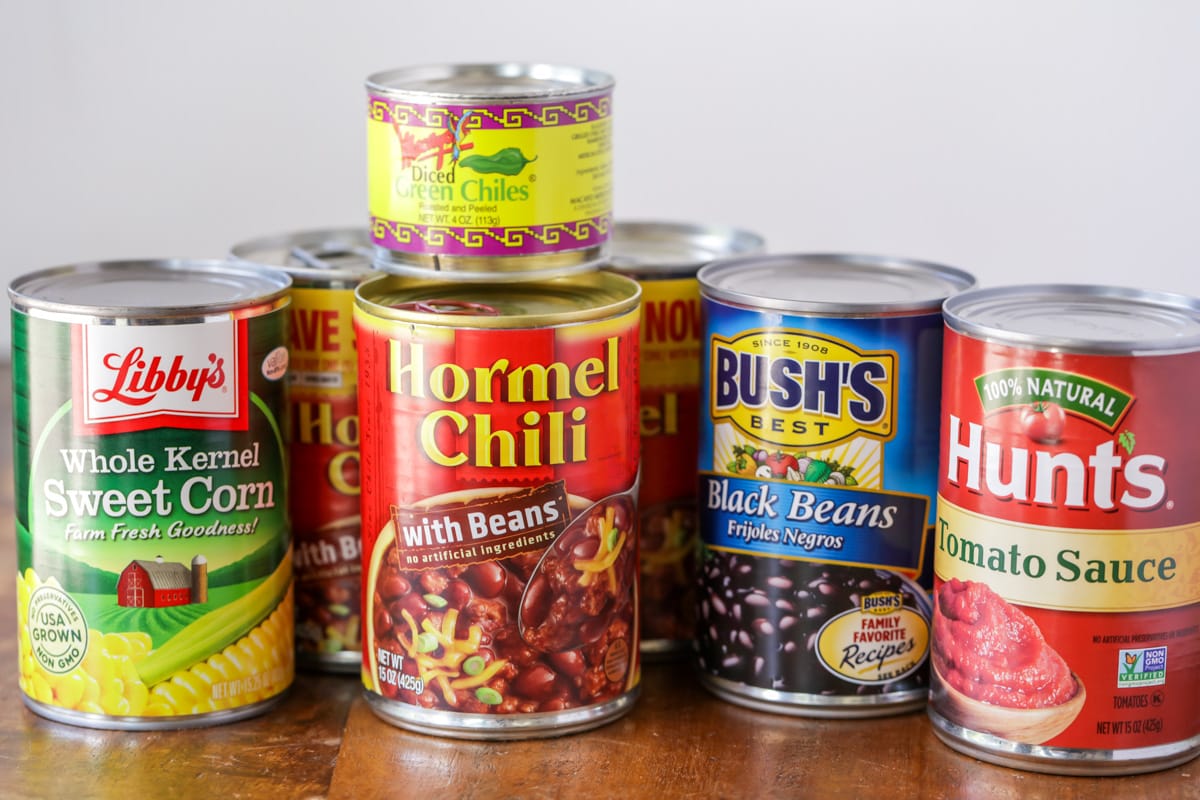 nearly all Ingredients from cans!
This soup is sometimes nicknamed "7 Can Taco Soup" because it's made from just seven cans (plus a few seasonings). Here are the specific canned goods required:
Chili with Beans
Black Beans
Tomato Sauce
Diced Tomatoes
Corn
Green Chiles
The only other ingredients I use that aren't canned are ranch dressing mix and taco seasoning mix! You can either buy the individual packets, or if you have large containers of seasoning, it is equivalent to 3 TB.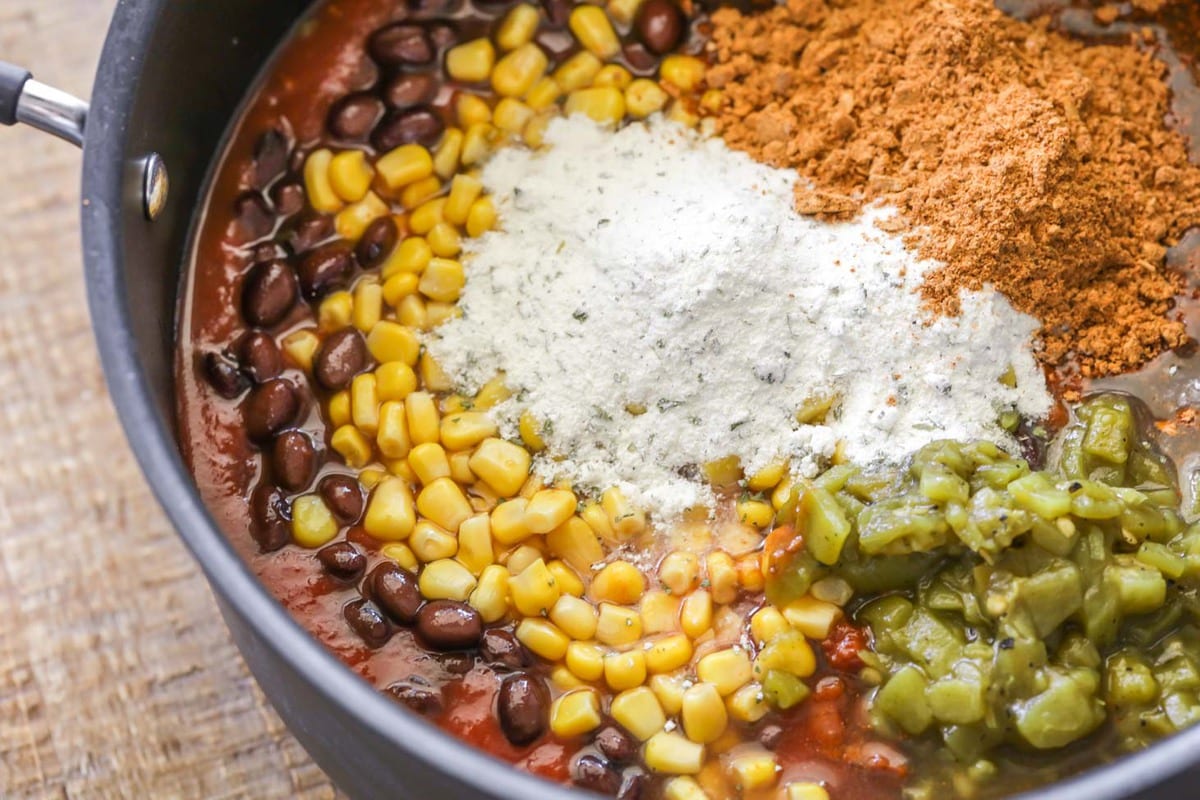 How to make Taco Soup
Not only are the ingredients for this recipe simple – the steps themselves are even simpler!
TOSS 'EM IN. All you have to do is throw all of the ingredients into a large pot. No particular order, just toss em all in! Maybe stir a couple of times to combine everything well, then turn on the heat.
SIMMER. Bring the soup to a boil and simmer for about 15 minutes. Once it's hot and ready, you can serve it with your favorite toppings.
You can use anything you like, but we really like these toppings:
Sour cream
Shredded cheddar cheese
Tortilla strips
Cilantro
Sliced avocado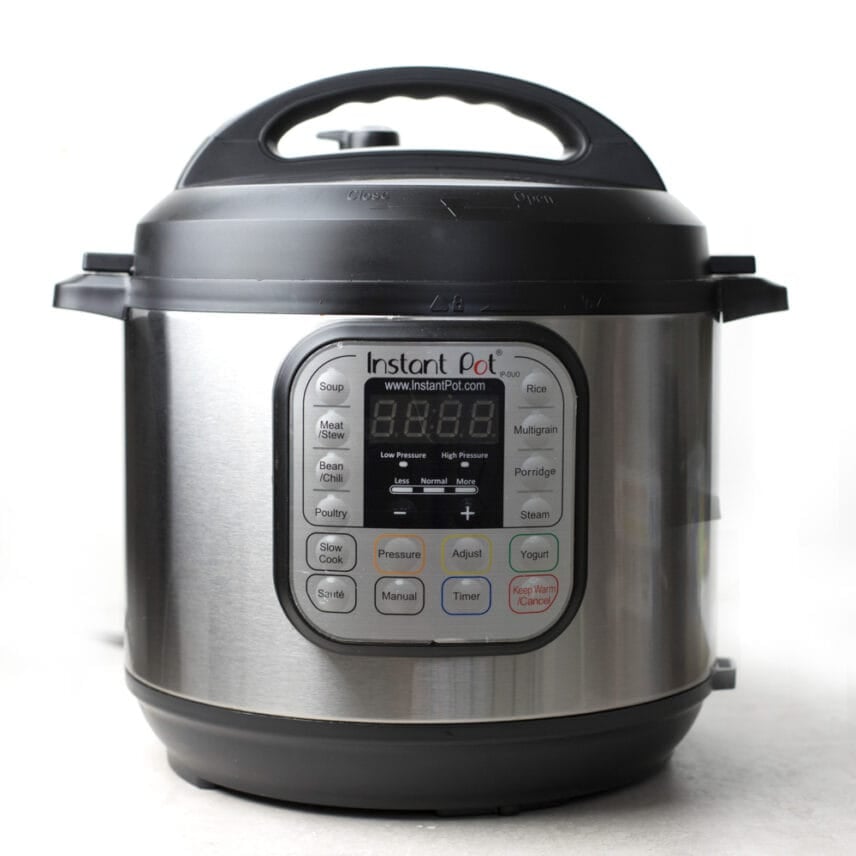 Other cooking methods
Make this soup in the Instapot:
Set the Instant Pot to "Saute."

Once hot, add ingredients to the pot.

Place the lid on and set the valve to "Sealed".

Press the "Soup" button and set timer for 20 minutes.

Once the soup is done, turn valve to "Quick Release".
Make this soup in the Crockpot: We have a slow cooker version that's a tad different but just as good. Check it out HERE. Or for this particular recipe, cook on HIGH for 2-3 hours or LOW for 6-7 hours. 😉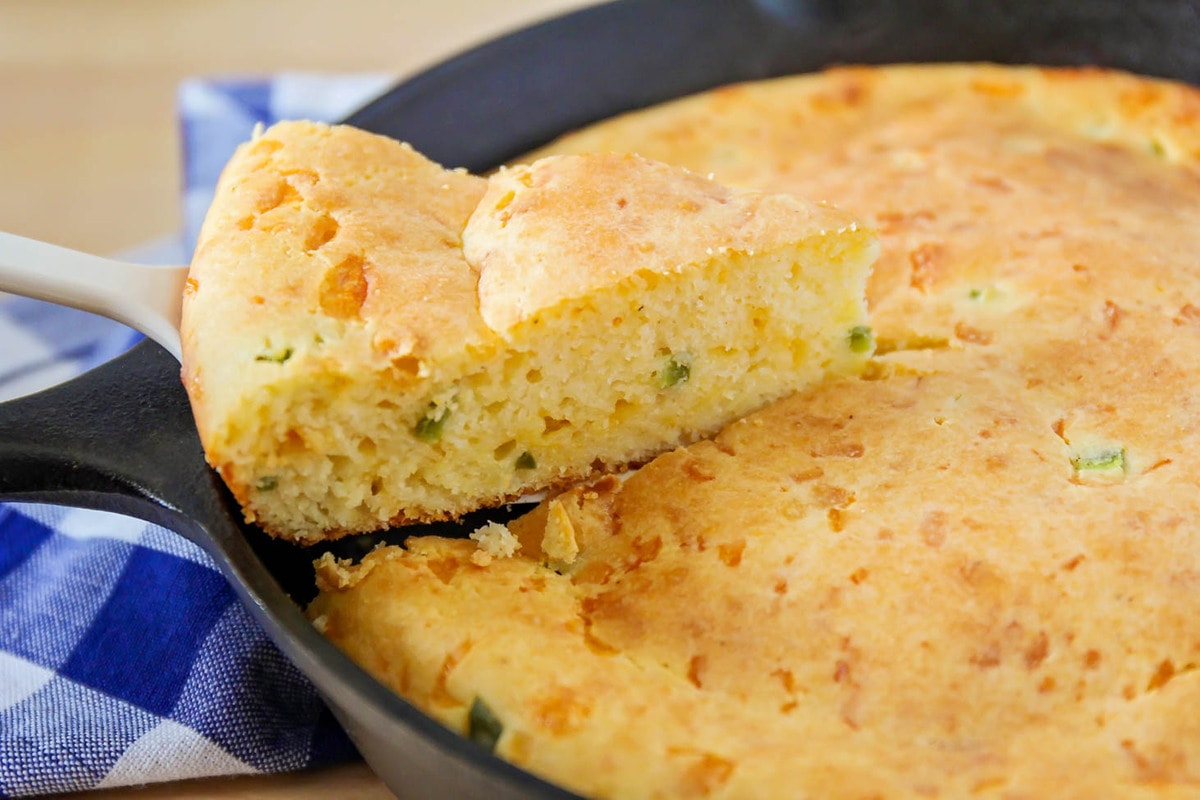 Recipe Tips
How to thicken the soup: If you find your soup isn't thick enough for your liking simply mix 2-3 tablespoons of flour or Cornstarch to ¼ c of broth from the soup. Once mixed add the broth back into the main pot of soup and stir.
Add your own meat: This recipe uses a can of chili with beans and meat. If you want to add your own meat then, use 3 cans of Mexican beans and add 1 pound of cooked ground beef, or for a leaner version use ground turkey or chicken.
Making your own Homemade Taco Seasoning is great because you can easily adjust the ingredients to your taste. Our recipe includes chili powder, garlic powder, onion powder, red pepper flakes, dried oregano, paprika, cumin, salt and pepper. Increase or decrease any of the ingredients to make it exactly the way you like it.
Serve with: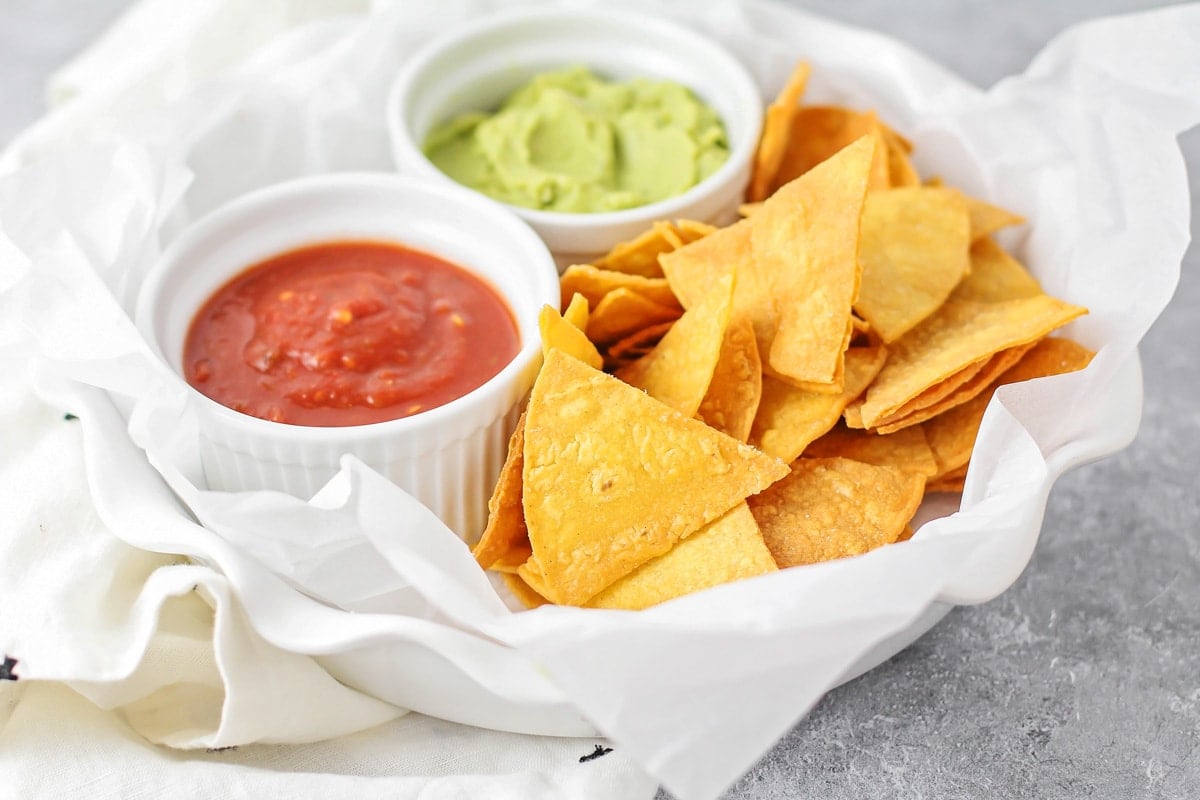 Making ahead and storing
Make ahead of time. Easily make this soup 1-2 days ahead of time. Store in in airtight container in the fridge. Heat on the stove or in a crockpot until warm.
Freezer Meal. Taco soup makes a great freezer meal. Mix all ingredients pour in an airtight container and freeze. To cook remove from freezer and throw it straight in the crockpot for 4 hours on high or 8 hours on low. You can also thaw overnight and heat on the stove top until warm.
Leftovers. Place left overs in an airtight container. Store in the fridge for 3-4 days or freeze for 2-3 months.
Leftovers can be used to make a second meal such as:
Reheat. If you're short on time or have a small amount you can reheat in the microwave in 30 second increments, stirring in between, until warm. If you have the time or have a large amount can als reheat on the stovetop or in a crock pot stirring occasionally until warm.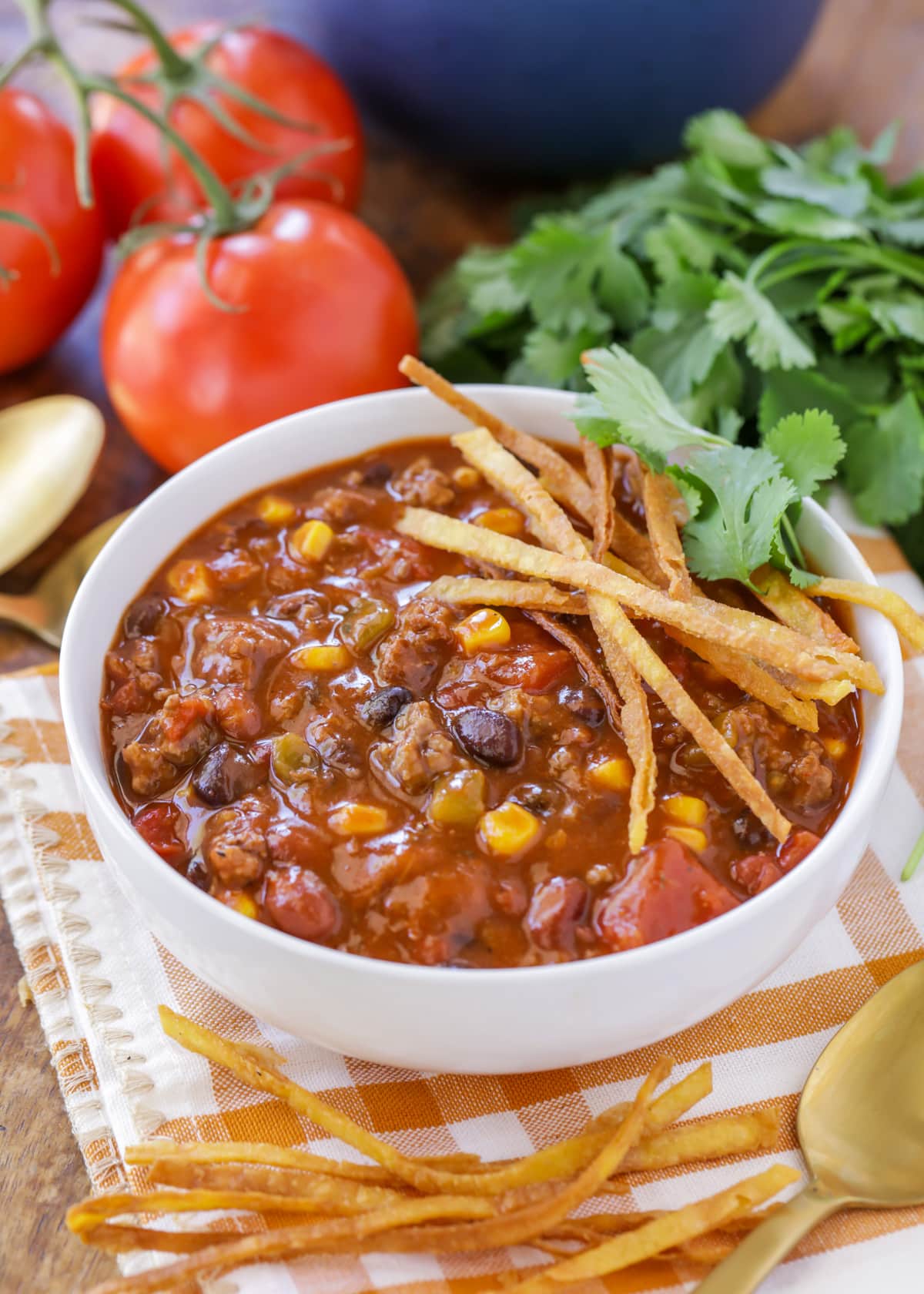 For more easy Soups, check out:
Taco Soup Recipe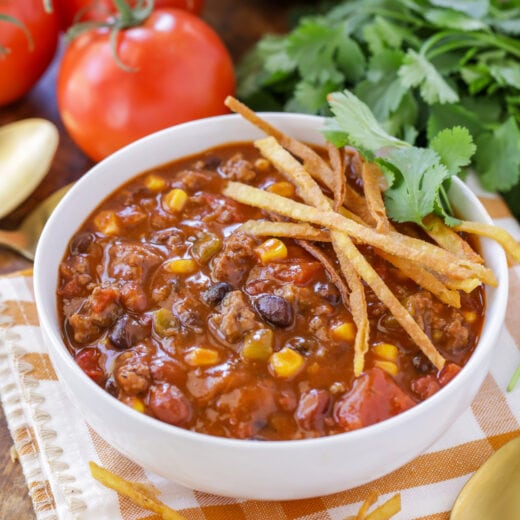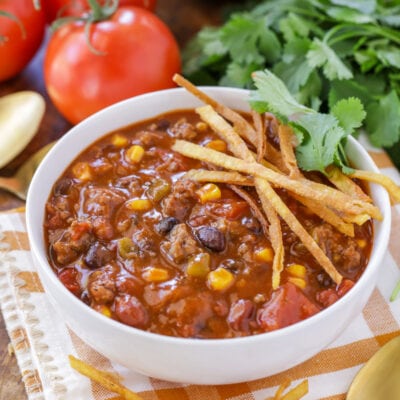 Taco Soup is one of the EASIEST dinner recipes of all time! Just dump, simmer, and enjoy in under 20 minutes!
Ingredients
3

(15-ounce) cans

chili with beans

1

(15-ounce) can

can black beans

drained and rinsed

1

(15-ounce_ can

tomato sauce

1

(15-ounce) can

diced tomatoes

1

(15-ounce) can

corn

1

(4-ounce) can

diced green chiles

3

tablespoons

ranch dressing mix

(or 1 packet)

3

tablespoons

taco seasoning

(or 1 packet)

1½

cups

low-sodium beef broth

½

cup

water
Toppings
sour cream, tortilla chips, shredded cheese, chopped green onions, cilantro
Instructions
Combine all ingredients in a large pot and bring to a boil.

Reduce the heat and simmer for 15 minutes.

Serve warm with your desired toppings.
Notes
Make Ahead: You can easily make this soup 1–2 days ahead of time. Store it in an airtight container in the refrigerator. When ready to serve, reheat on the stove or in a crockpot until warm. Slow Cooker Instructions: Combine all ingredients in a slow cooker and cook on high for 2–3 hours or low for 6–7 hours.