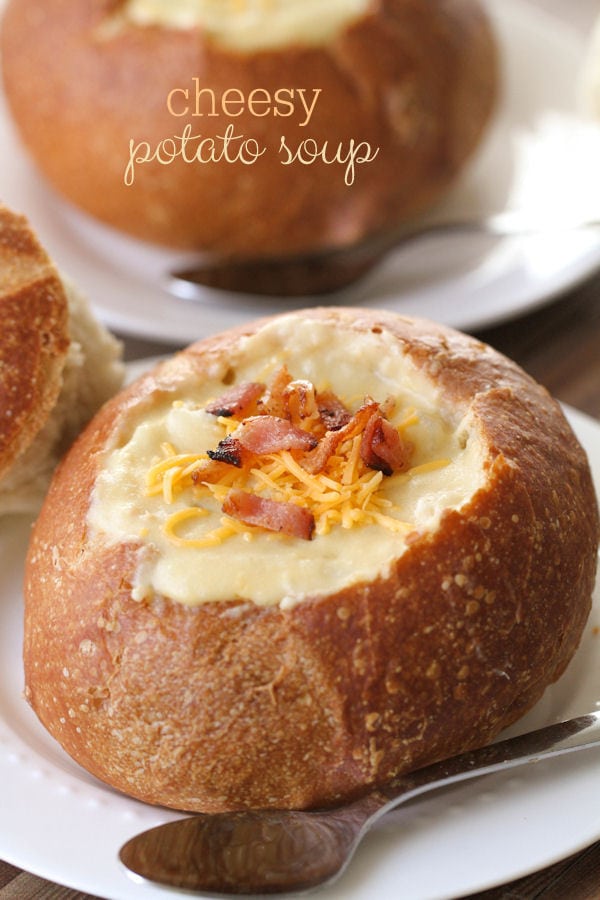 Is it "Soup Weather" where you live just yet? I'm not going to lie… we're not quite there yet here in Arizona but the high this weekend is suppose to be mid to low 60's, which is definitely Soup Weather, and I CANNOT wait!! One of my favorite things to do when the weather cools down is to have soup with bread bowls (it just makes soup that much better!!)  My favorite soup to have with bread bowls is this next recipe for Cheesy Potato Soup… It is so yummy and can literally be made in a few hours in the crockpot. BONUS!!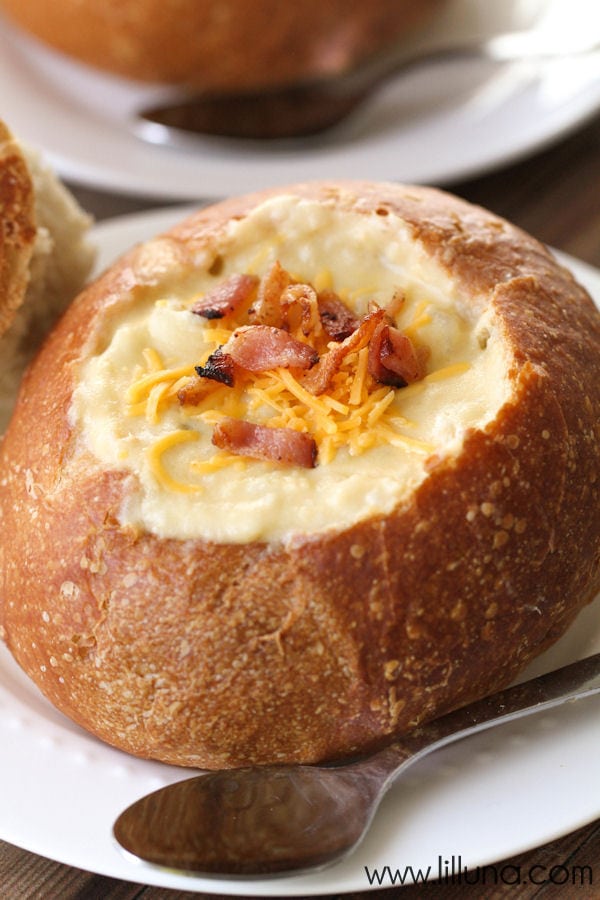 MY OTHER RECIPES
This is definitely my favorite soup recipe I've ever made. I love that all the ingredients can be thrown in the crockpot and hours later you have a super delicious soup, and it's even more delicious served in a bread bowl. I sometimes have a hard time finding them at the grocery store, so if I can't find them there I head to my local Panera or Paradise Bakery to get them. 😉
If you love  Potato Soup, you will definitely want to save this recipe. Like I already mentioned, it is SO easy, SO delicious, and always the first soup gone at every Soup Potluck we've been to (no joke!)
For more cheesy potato soup recipes, check out:
How to make this Cheesy Potato Soup:
Cheesy Potato Soup
The easiest and yummiest Cheesy Potato Soup - just throw it in the crock pot and you're set for a delicious, warm and cheesy soup everyone loves.
Ingredients
1 package cubed frozen hashbrowns
2 cans cream of chicken
1 can cream of celery
1 pint Half & Half
1½ cups grated cheddar cheese
½ cup butter
salt and pepper to taste
Instructions
Melt butter in crockpot. Add remaining ingredients (except cheese, salt and pepper).
Cook in crockpot on high for 3-4 hours.
Add 1 cup cheese, salt and pepper before serving. Use reserve cheese to sprinkle on top.