Whether you are looking to keep the kitchen cool by not using the oven, or you need an easy meal for a busy night, these crockpot dinner ideas are for you!
More Collections: Crockpot Chicken Recipes, Summer Crockpot Recipes, Crock Pot Appetizers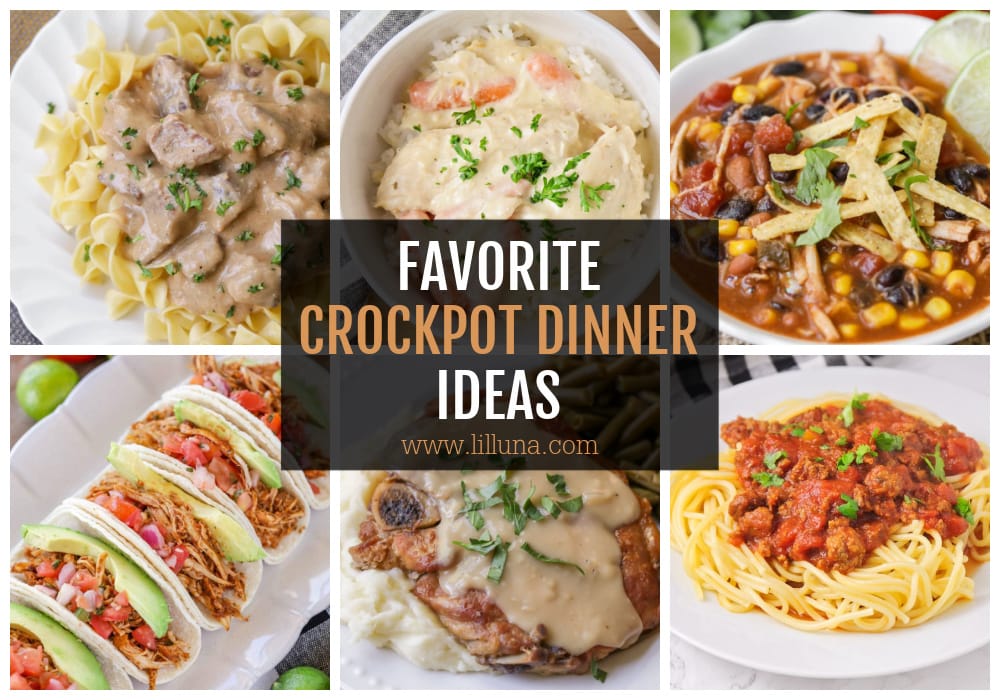 Making Dinner a Breeze!
Soups and stews are easy and well-known crockpot meals, but you can do so much more with a slow cooker!!
I'm talking enchiladas, spaghetti, and orange chicken. Really, the possibilities are endless. These easy main dishes can be prepped in the morning for a grab-and-go style dinner that night!
Crockpot dinners make a fabulously easy weeknight meal.
Needless to say, I've gathered up a few of our best-loved and frequently used crockpot dinner ideas/main dishes to help make your weeknights a breeze.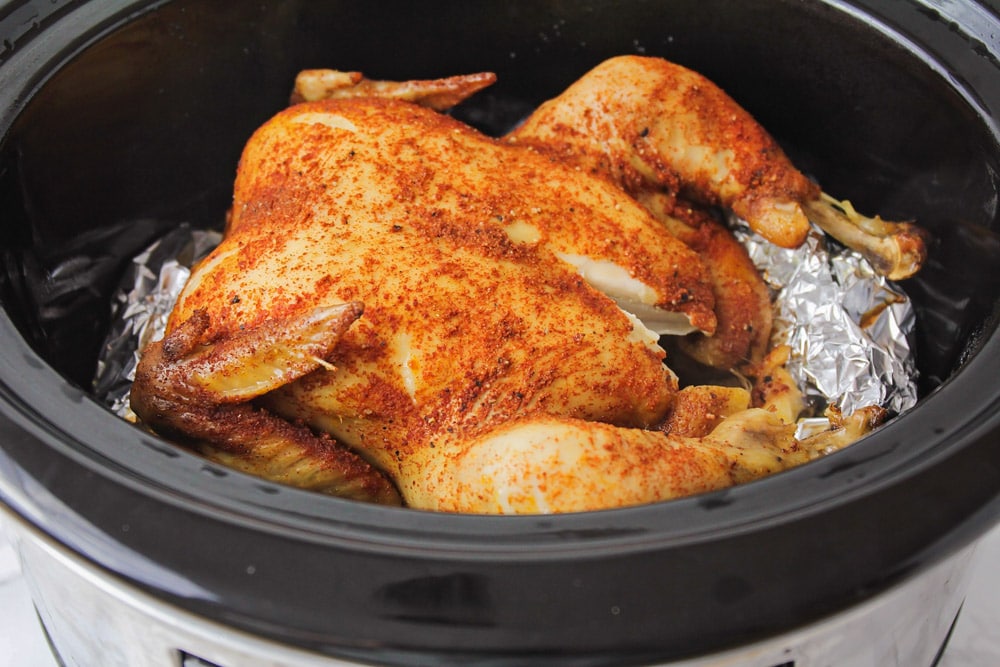 Prepping for the Crockpot
One of the main appeals to crockpot dinner ideas is that you can toss everything in the pot in the morning and then come home to a delicious hot, savory meal.
To save time in the morning make sure that:
Frozen meat is in the fridge to thaw.
Pull out any spices so you're not digging for them in the morning.
Chop any veggies and keep them in a separate container in the fridge.
Set and go. Unless otherwise directed in the recipe leave the crockpot alone. Removing the lid may allow needed liquid to evaporate. It also lets heat escape and it can take up to 20 minutes to return back to the set temperature.
Exception. If a recipe calls for adding any dairy, tender vegetables, fresh herbs, cooked rice, or pasta, then you will be instructed to remove the lid and add it during the last 20-30 minutes of cooking time.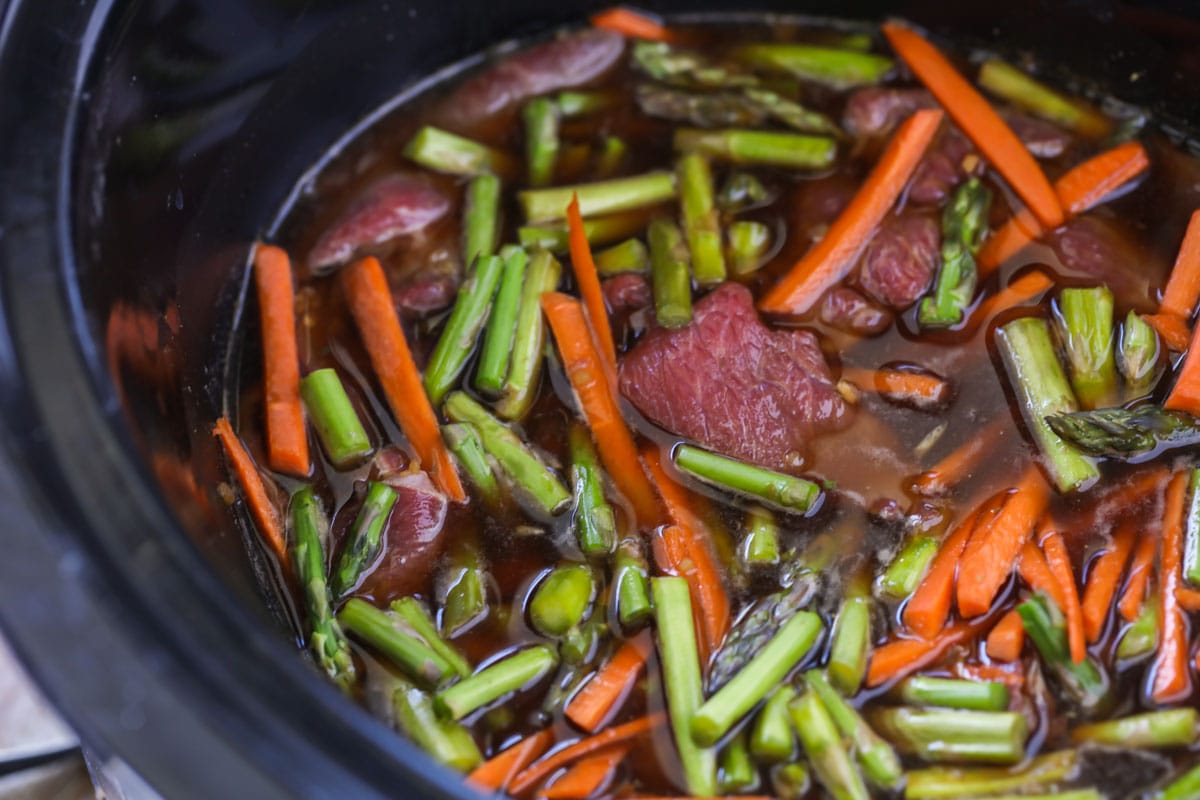 crock Pot Meat Tips
When using meat in your easy crock pot dinners, use these tips to ensure it's tender and flavorful:
Trim off extra fat from the cuts.
Cheaper cuts do better in the crock pot than more expensive cuts.
For the most even cook, be sure the amount of food will fill your pot ½ way to ⅔ full. Most recipes are adapted for a 5-6 qt pot.
For easy clean up use a crock pot liner.
Despite the appeal of a "forget and go" meal, you do have to remember not to allow the recipe to overcook.
Except for ground beef, you can skip the browning of red meats. Browning can help give an extra layer of texture and flavor, but the dish can be made without it.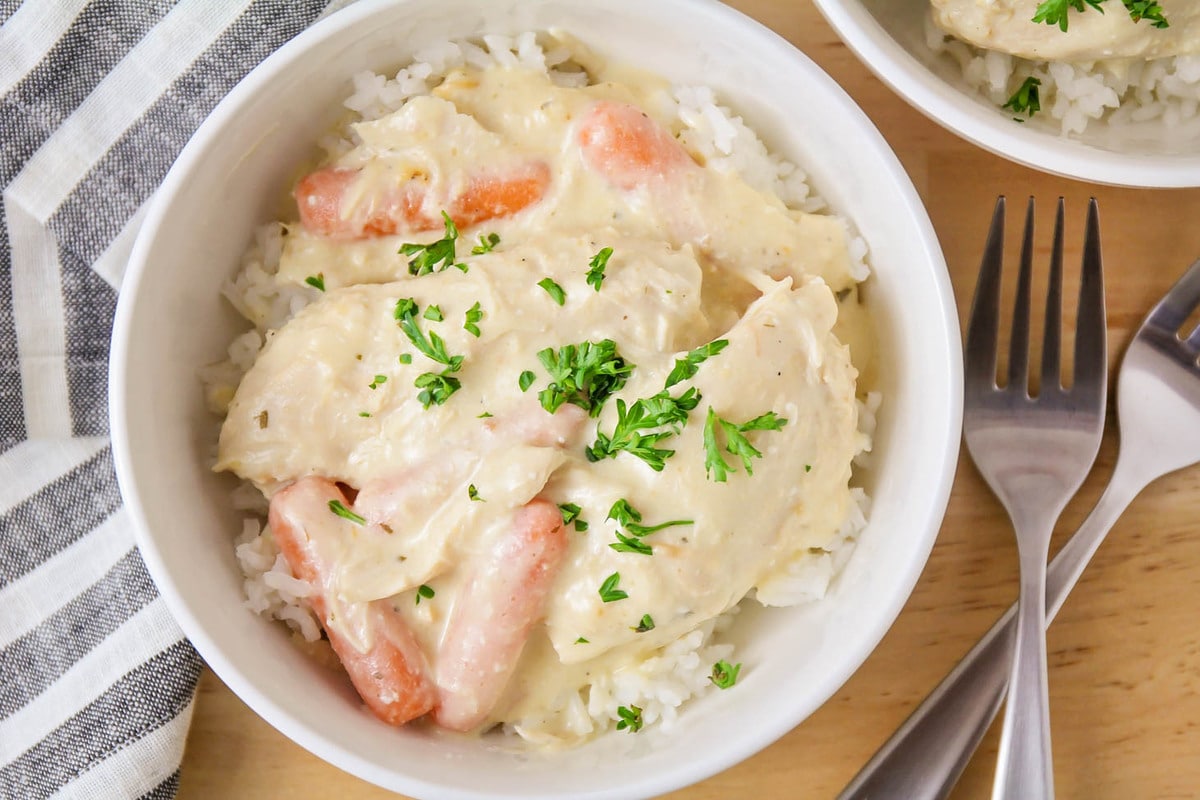 Additional Crockpot Tips
When using a crock pot keep these tips in mind to make the best crockpot dinners:
Soups are a classic recipe made in the crockpot. We have several tried and true recipes on the site. If you are trying to adapt a soup recipe for the crockpot, then reduce the amount of liquid by ¼-⅓ because there is little to no evaporation that happens.
Low and high setting. The appeal of the crockpot is to be able to set it and forget about it, usually for several hours. This is where the LOW setting comes in handy. The LOW setting is about 200°F and the HIGH setting is about 300°F.
I have also found that the LOW setting generally just cooks the food better than the HIGH setting. Most recipes will list both settings as an option with the LOW setting taking about twice as long as the HIGH setting.
Crock pot vs slow cooker. Though they look the same and are used to cook foods for an extended period of time there is a key difference between the two: A crockpot has a ceramic pot insert that is heated from all sides, whereas slow cookers have a metal pot that is heated on the bottom.
Most people, including me, use the term slow cooker even though they are talking about a ceramic crockpot.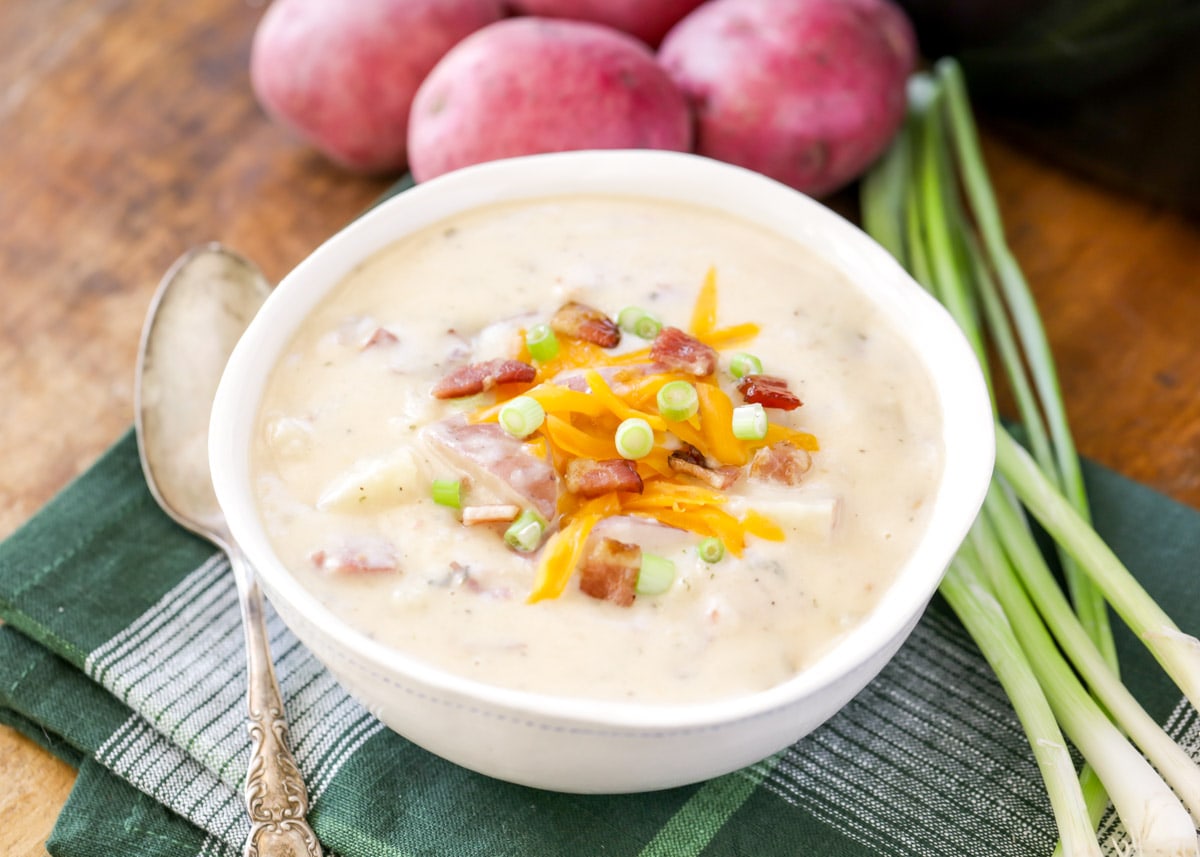 Ingredient FAQ
Veggies or starches will cook perfectly in these crock pot dinners with these simple tips.
Vegetables. Larger root vegetables such as beets, potatoes, onions, turnips, sweet potatoes, and carrots can cook for several hours. Be sure to cut them about the same size. Don't add tender vegetables like baby spinach, peas, mushrooms, corn, or artichoke hearts until the last 5-10 minutes of cooking time.
Rice and pasta. Most recipes will have you cook rice and pasta separately and add them during the last few minutes of the cooking time. However, if the recipe instructs you to add uncooked rice or pasta at the beginning, then it is specifically designed to cook the ingredients.
Aromatics like onion, bell peppers, celery, garlic, and ginger are commonly used and should be activated before use. They are typically sautéed in a pan to get their flavor going, then added to the crock pot.
Acidic dishes. Adding a bit of brown sugar, honey, or coconut milk can help cut through acidic dishes.
Fresh herbs add a lot of bright flavor to a soup. Keep in mind that 1 tablespoon of fresh herbs = 1 teaspoon of dried herbs. Also, don't add the fresh herbs until the last 30 minutes of the crock pot cooking time.
---
Best Crockpot Dinner RECIPES
This list has ALL kinds of crockpot dinner ideas including soups, meats, pasta, and more! It's everything you need for a no-fuss meal any night of the week.
Slow Cooker Creamy Fiesta Chicken
Slow cooker creamy fiesta chicken is such a simple, flavorful crockpot recipe! It is a tasty crock pot meal made with pantry staples!
Crock Pot Cashew Chicken
Crock pot cashew chicken is an easy and delicious dinner that takes little time to prep and has a delicious sauce!
Cafe Rio Shredded Chicken
Copycat Cafe Rio shredded chicken – a simple and delicious chicken recipe that is perfect for salads, burritos, quesadillas and tacos!
Crock Pot Teriyaki Chicken
Make this super easy crock pot teriyaki chicken in your slow cooker, and serve over warm white rice for a delicious teriyaki bowl!
Crockpot Orange Chicken
This crockpot orange chicken is simple, and tastes even better than takeout. With breaded chicken pieces covered in a phenomenal orange sauce and cooked to perfection in a slow cooker, it's a recipe the whole family loves!
Crock Pot Ranch Chicken
You'll love how simple, yet flavorful, this delicious chicken is. Made entirely in the crockpot, creamy ranch chicken breasts are perfect on its own or served over rice.
Slow Cooker Chicken Enchiladas
Hot and cheesy slow cooker chicken enchiladas to feed your family any day of the week! So easy to throw all the ingredients in and let the crock pot do the work for you.
Slow Cooker Chicken Tacos
We love this slow cooker version which involves salsa, taco seasoning, cilantro and more. You'll never find an easier way to enjoy chicken tacos!
Crock Pot Lo Mein
Deliciously saucy crock pot chicken lo mein is filled with edamame, snow peas making it an easy favorite dinner recipe.
Slow Cooker Roast Chicken
Juicy and flavorful roasted chicken made in the slow cooker! So simple to make an entire chicken with the help of your crock pot.
Crock Pot Lasagna
Classic lasagna made in the slow cooker! This delicious crock pot recipe has all the layers of noodles, cheese, sauce and meat that everyone loves but made more simply.
Pot Roast
This slow cooker pot roast recipe is one of our favorite Sunday dinners. It takes only 3 minutes of prep time and then the slow cooker does the rest! The chuck roast ends up being SO tender and full of flavor from the brown gravy, Italian, and ranch dressing mix!
Crock Pot Spaghetti
We make this yummy crock pot spaghetti all the time! Buttery noodles topped with a flavorful meaty sauce—DELISH!
Crock Pot Mongolian Beef
Delicious crock pot mongolian beef loaded with carrots and asparagus is SO simple to make. Your crock pot does all the work!!
Slow Cooker Turkey Chili
Homemade slow cooker turkey chili is hearty and packed with flavor. It is loaded with beans, ground or chopped turkey, and spices!
Carnitas
Carnitas AKA Mexican slow cooker pulled pork takes minutes to prep and is great in tacos, bean burritos, quesadillas, chimichangas and more!
Hot Dogs In Crock Pot
The easiest way to make hot dogs for a crowd! Cook hot dogs in the crock pot for all of your summer potluck needs.
Asian Meatballs
Easy and delicious crock pot Asian meatballs take minutes to prep, are perfect for parties and have that Asian flavor we all know and love.
Beef Stroganoff
This easy beef stroganoff recipe is simple and flavorful. Served with egg noodles, this creamy stroganoff made in the slow cooker is a classic Sunday dinner recipe and is perfect to enjoy any night of the week.
Sweet Pork Barbacoa
Sweet pork barbacoa is the best slow cooker pulled pork recipe you will ever try. Better than Cafe Rio—you better make a double batch!
Crockpot Brown Sugar Ham
This crock pot ham is made entirely in the slow cooker, which makes for quick prep time and minimal effort. With a deliciously sweet brown sugar glaze, it's our favorite way to make a holiday ham!
Crock Pot Pork Roast
Prepare to be amazed by this ultra tender, fall off the bone crock pot pork roast. It only takes a handful of ingredients to make, including the complimentary gravy.
Slow Cooker Pork Chops
These simple and delicious crock pot pork chops are sure to become a family favorite. They are so tender and juicy and are topped with an amazing gravy that we love to serve over the chops and mashed potatoes!
Slow Cooker Kalua Pork
This slow cooker kalua pork is a classic Hawaiian favorite made easily in your slow cooker with just a few ingredients. Eat it on it's own, or in tacos or sliders.
Crock Pot Mac And Cheese
Everyone loves a good slow cooker recipe, and this crock pot mac and cheese is so simple, cheesy, and delicious!
Crock Pot Ribs
Juicy, fall-off the bone BBQ crock pot ribs are the best and easiest dinner idea! Great for a small family, big family, or cooking for a crowd!
Chicken Taco Soup
Perfectly spiced chicken taco soup can be enjoyed all year long. It's hearty, delicious, and packed with flavor!
Crock Pot Spinach Tortellini Soup
Easy crock pot tortellini and spinach soup is a hearty soup filled with cheese tortellini, spinach, tomatoes, and lots of spices!!
Chicken Florentine Soup
With a combination of chicken, potato, white beans, carrots, spinach and more, this chicken florentine soup is hearty and absolutely delicious. It tastes similar to Olive Garden's recipe, but it's made in the slow cooker!
Crock Pot Baked Potato Soup
Creamy and delicious crockpot baked potato soup is so full of flavor and EASY too! This crockpot potato soup recipe is a real winner!
Hamburger Soup
Hearty and delicious hamburger soup is filled with corn, carrots, potatoes, cheese and more! Best of all, it's made in the slow cooker with minimal effort.
Crock Pot Chicken Enchilada Soup
These crock pot green chile enchilada soup is a new favorite soup packed with chicken, green chiles, corn, rice, and mixed with lots of spices and cheeses.
Crock Pot Chicken Stew
A simple, convenient, and TASTY stew recipe made in the crock pot! Made with chicken, potatoes, carrots, cream of chicken soup, sour cream, ranch dressing mix and more, this slow cooker chicken stew recipe is BURSTING with flavor!!
Crockpot Cheeseburger Soup
Thick and cheesy crockpot cheeseburger soup is rich and creamy with plenty of chunks for a stick-to-your-ribs kind of soup!
Crockpot Taco Soup
This crockpot taco soup recipe includes all the most flavorful ingredients. Just dump all the ingredients in your slow cooker, and 4 hours later you'll have a creamy and delicious taco soup!
Slow Cooker Beef Stew
DELICIOUS slow cooker beef stew filled with chunks of beef, potatoes and carrots – a family favorite that is hearty, simple and great for fall.
---
Effortless Comfort Food
If you're looking for a delicious and easy dinner ready to go at the end of the day without having to heat up the oven, you've found the perfect list! We love using our crockpots to make effortless comfort food the whole family enjoys!
Be sure to check out all of our Crock Pot Recipes!
More Collections: Easy Slow Cooker Recipes, Crock Pot Soup Recipes, Crock Pot Side Dishes