Crock Pot Appetizers are a great snack to prepare for parties. Dips and meatballs are our go-to's and I have some tasty recipes that are sure to get the party started!
More Collections: Crockpot Side Dishes, Crockpot Dinner Ideas, Easy Slow Cooker Recipes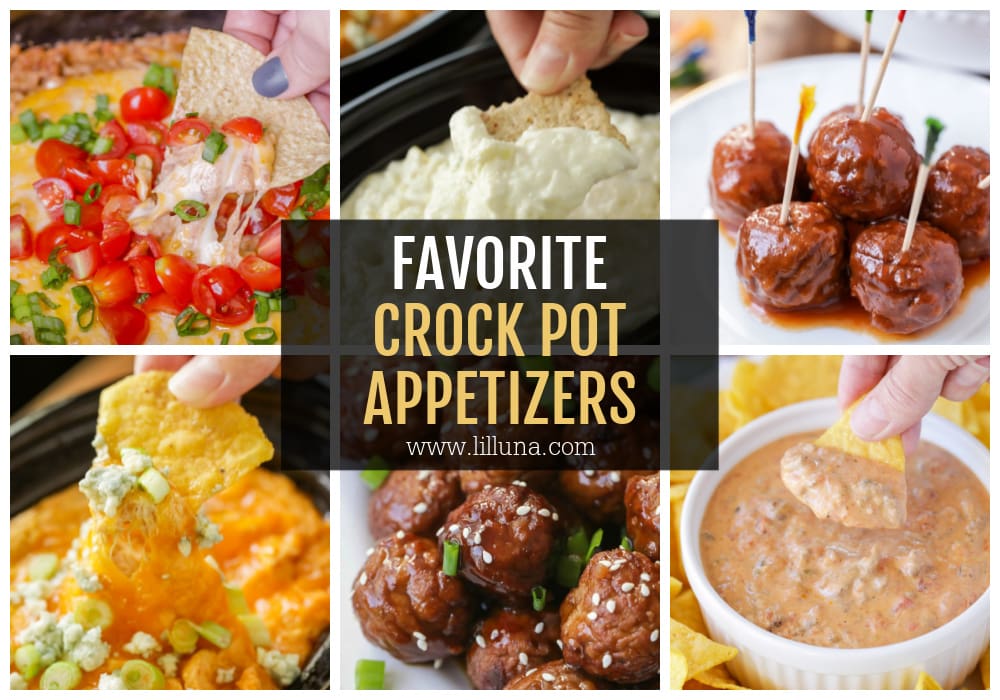 Crockpot Appetizers
If you're anything like me, you're scrambling around trying to get ALL the party preparations ready the day of.
What if I told you I had something that could make it a *little* easier?!
Using a crock pot is a great way to free up some time for other party and dinner preparations. You can also use the pot to keep the appetizer dish warm throughout your event.
It's time to get your dip on and free up time for other preparations!!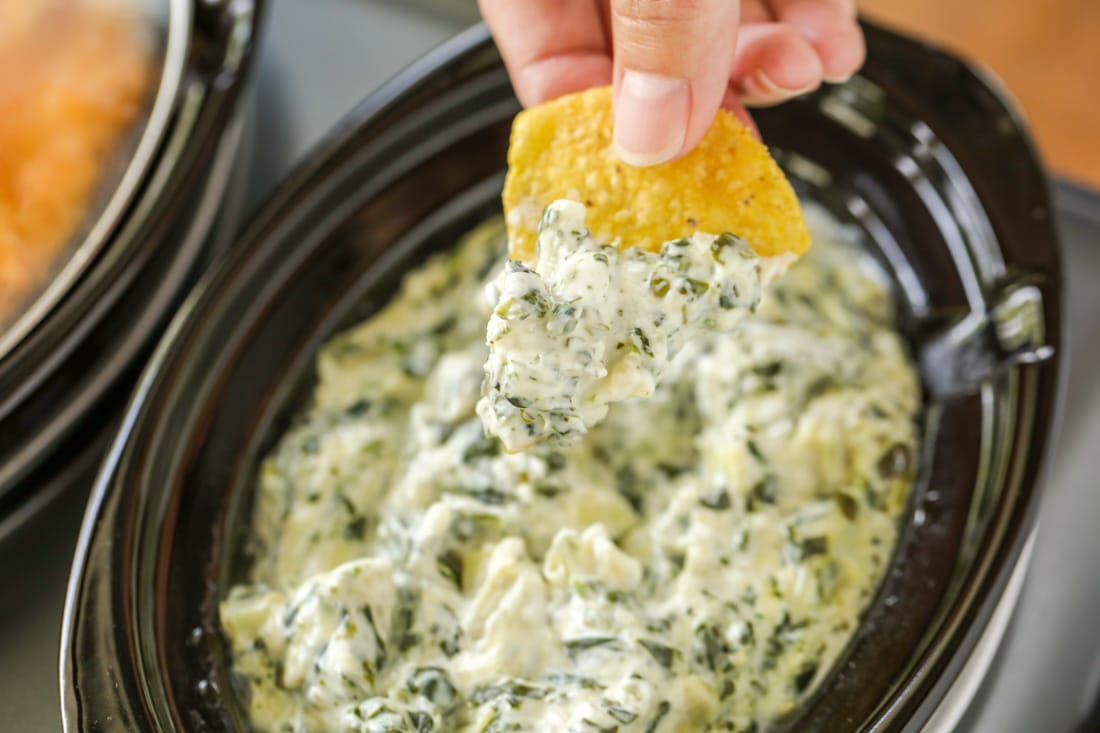 Crock Pot vs Slow cooker
All crock pots are slow cookers, but not all slow cookers are crock pots. These kitchen tools are very similar and are often used interchangeably.
It's important to note that I also use these terms interchangeably and that when I use the term slow cooker I am referring to crock pots that cook slowly. So what is the difference?
Slow cookers are typically metal pots that sit on a heated surface or plate. It is much like cooking on a stovetop.
Crock pots act more like an oven. They're usually ceramic pots that sit in a heating element that surrounds all sides.
You can buy basic crock pots that have off, warm, low, and high settings. These are typically manual. You can also find more high-tech crock pots with extra settings and digital timers.
There are also different sizes you can buy from a mere 1 qt to extra large 10 quarts. An average size crock pot for dinners is usually 6 qts. Smaller 1.5-2 quart pots are great for party dips and to keep appetizers warm.
Best kind of slow cookers to Use:
Here are a few crock pots, with great reviews, you can find on Amazon:
This Mini Crock Pot is 1.5 quarts with a manual dial and 4 settings.
This Triple Slow Cooker Buffet has three 1.5 quart bowls, each with its own manual temperature dials.
This Crock Pot is 6 quarts, portable with a locking lid, and has a manual dial with 4 settings.
This Crock-Pot is 6 quarts, programmable, and has a digital timer.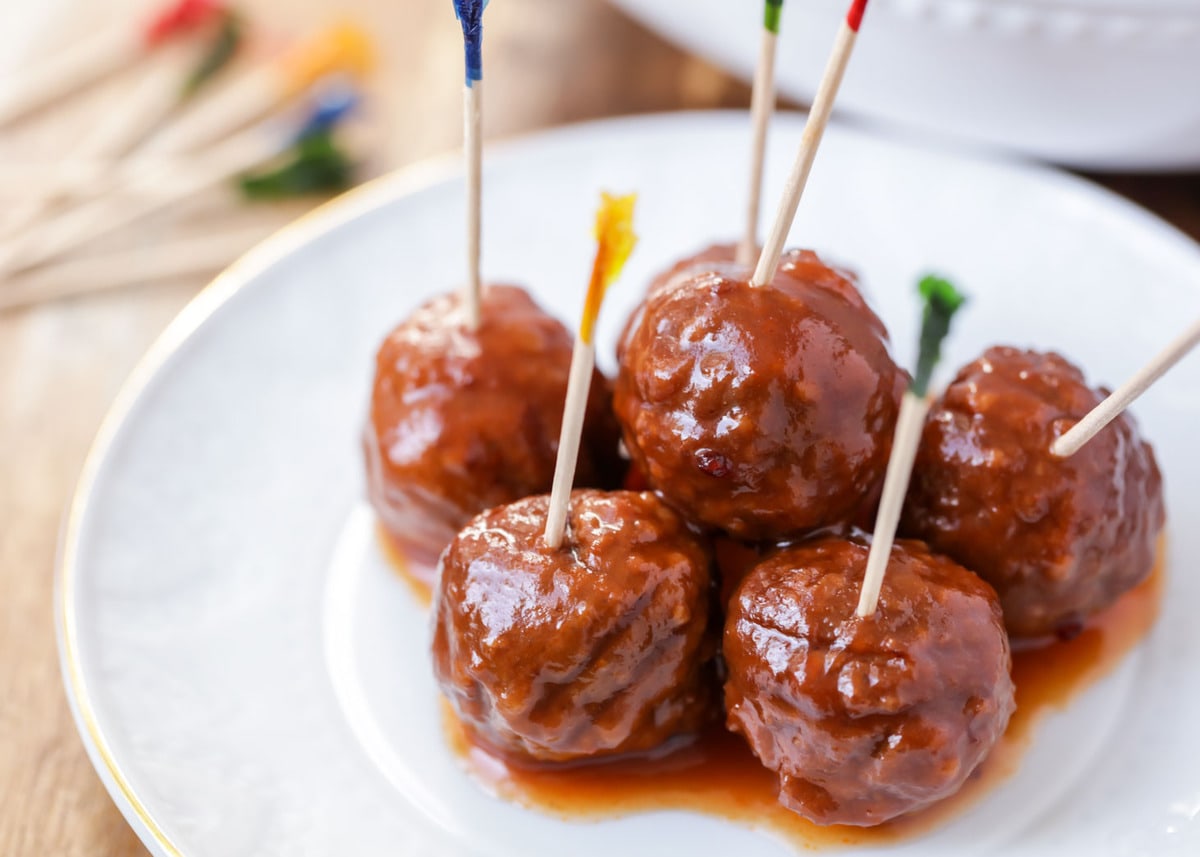 Crock Pot Tips
HIGH on a crock pot is about 300°F. LOW is about 200°F. One hour on high equals about 2 to 2½ hours on low.
Crock pot size. Many appetizer dishes, like dips, won't need a large crock pot. Ideally, you want your recipe to fill your pot anywhere from ½ -¾ of the way for the best cook.
Don't peak. Unless otherwise directed don't lift the lid. Quite a bit of the heat needed to cook the food properly escapes when the lid is lifted. It can take up to 20 added minutes to get back to the correct temperature.
Warm setting. Once the dish has been cooked, remember to switch the setting to warm otherwise the food can overcook. It is not recommended to use the warm setting for longer than 4 hours so be sure to consider that when starting your dish.
The warm setting is also great to keep appetizers made by another method warm while transporting them or serving them at a party.
Transporting. A crock pot with a locking lid makes it super easy to transport food without spills or lost heat. (Just make sure the lid is NOT locked while cooking food)
Don't have a locking lid? I suggest removing the lid and placing a piece of "Press and Seal" food wrap over the pot. Replace the lid and use a large heavy-duty rubber band to string around each handle, right over the top of the lid.
Place the pot in a study laundry basket or box and make it snug with a towel to keep the pot from sliding around in the car.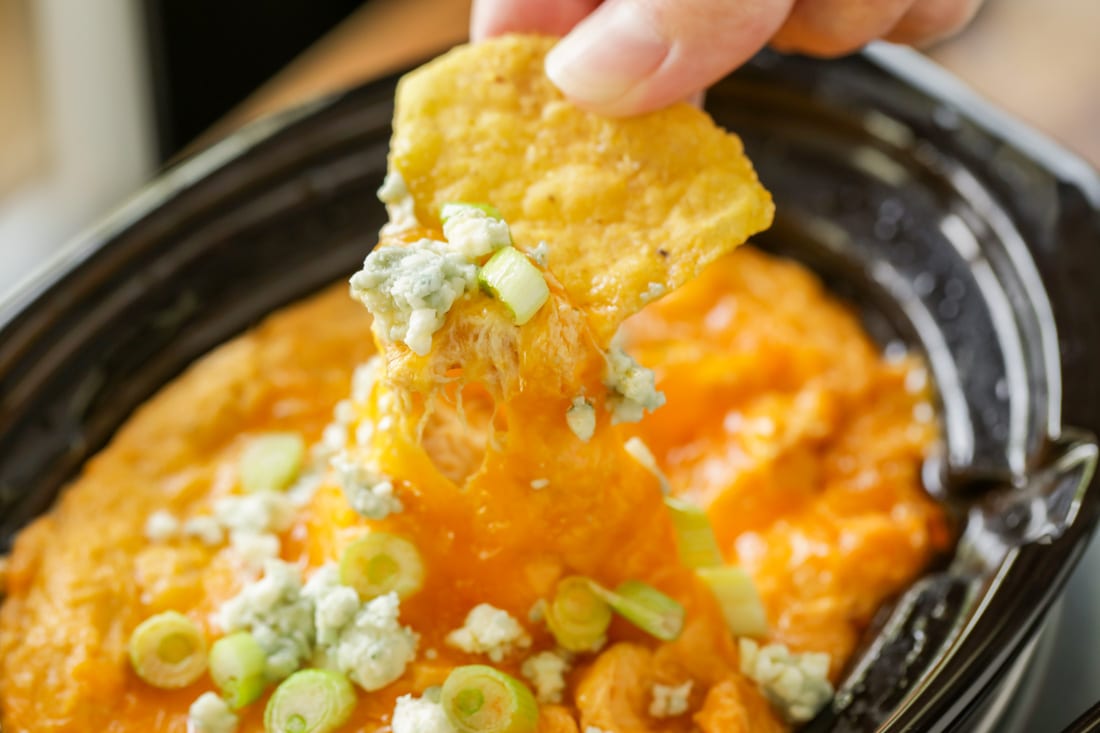 Best practices for crock pots
Meat. Seafood, lean meat, frozen meat, and meat that has the skin on should not be slow-cooked.
Typically, you should brown ground beef, ground sausage, and bacon before adding them to the crock pot, especially when used as a garnish.
Raw meat needs to be left in a crock pot long enough so it gets cooked throughout. The best way to check for doneness is with a meat thermometer.
Cooking your meat at a low temperature for a longer period of time will generally give you the most tender and flavorful results.
Grains. Pasta and rice will become gluey when cooked for too long. Take care to precook it and add it at the end of the cooking time.
Veggies. Delicate vegetables, like green onions, become limp and soggy with prolonged cooking. Add these veggies at the end, unless it's a tomato and soft is what you're going for.
More firm vegetables like carrots and potatoes do well, just be sure to cut them all the same size so they cook at the same rate.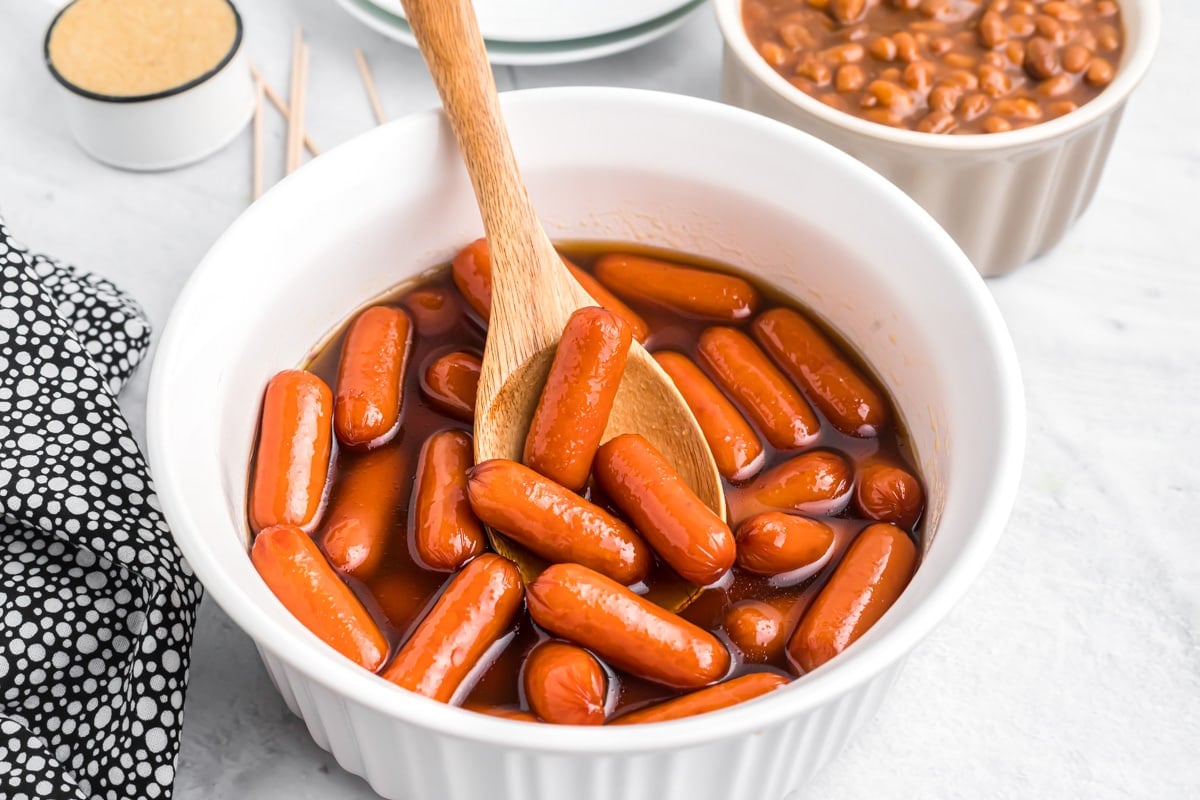 Best Practices Continued…
Dairy. All of your cheddar cheese, cream cheese, and other dairies should be added in the last 30 minutes of cook time. Otherwise, it tends to curdle and separate.
Spice. If you love love love spice, then add those hotter ingredients at the beginning. The longer spicy ingredients are cooked, the hotter they will become.
For a more mild dish, add the spicier ingredients toward the end of the cooking time. Some of our favorite add-ins to spice things up are jalapenos, chili sauce, and red pepper flakes.
Seasoning. In any case, be sure to season!! Salt, garlic, ginger, soy sauce, BBQ sauce, ranch dressing, ketchup, buffalo wing sauce, Worcestershire sauce, or whatever your flavor profile requires.
When used properly, seasonings will make every appetizer a huge hit!
Just keep these tips in mind:
Too much liquid dilutes the taste of the dish.
Food on the bottom tends to cook faster than those on top. Unless otherwise directed, place meat in first, then add vegetables on top.
Prepare ingredients the night before and keep them in the fridge. Toss them in the crock pot in the morning and come home to a warm meal.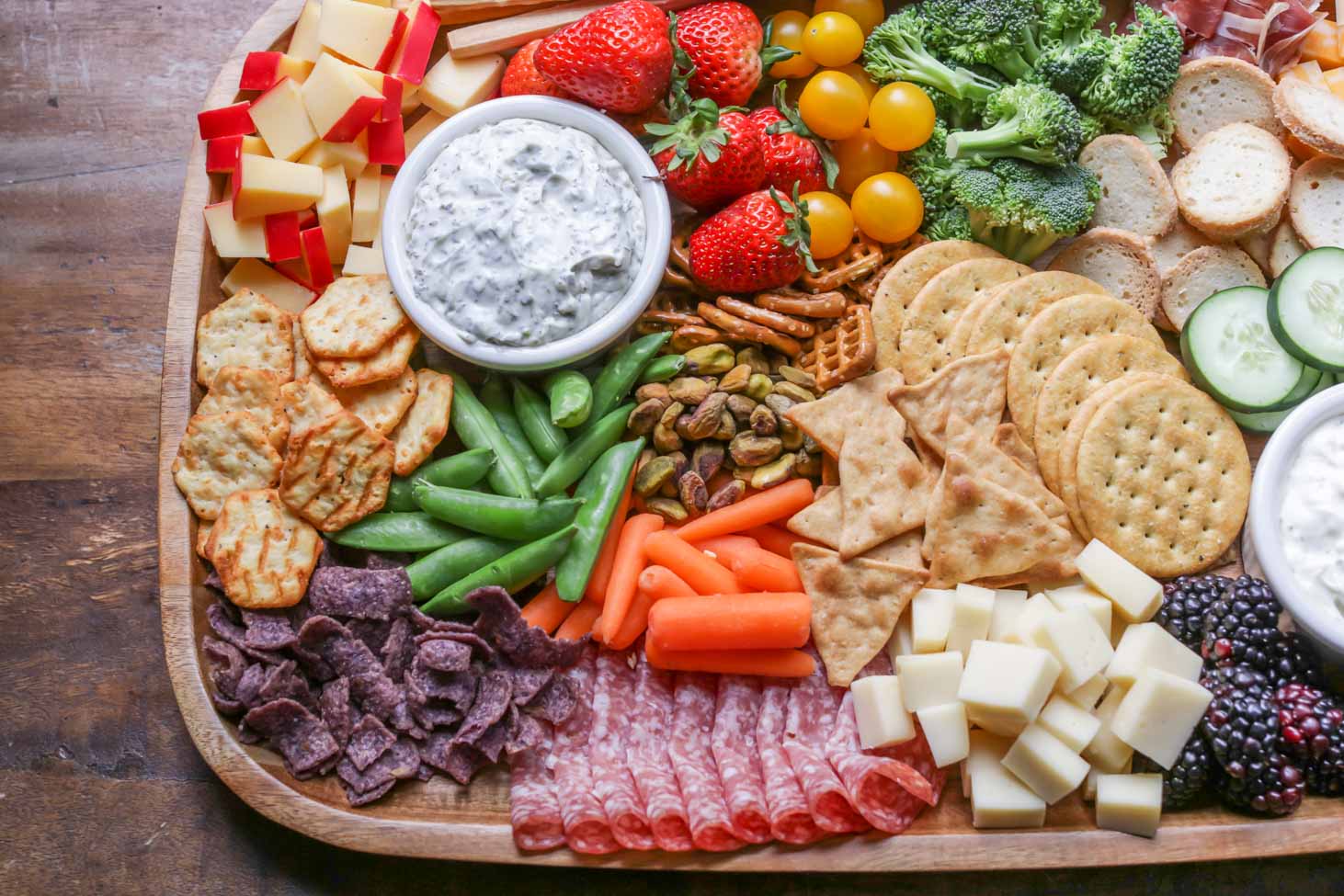 Dippables
If you are serving dips, be sure you have plenty of dippables on hand for the perfect bite!
We love sturdy veggies like carrots, celery sticks, and broccoli. Tortilla Chips, pita chips, and crackers are perfect for any creamy Queso or cream cheese Artichoke Dip. Even little Smokies and Chicken Wings are perfectly dippable!
---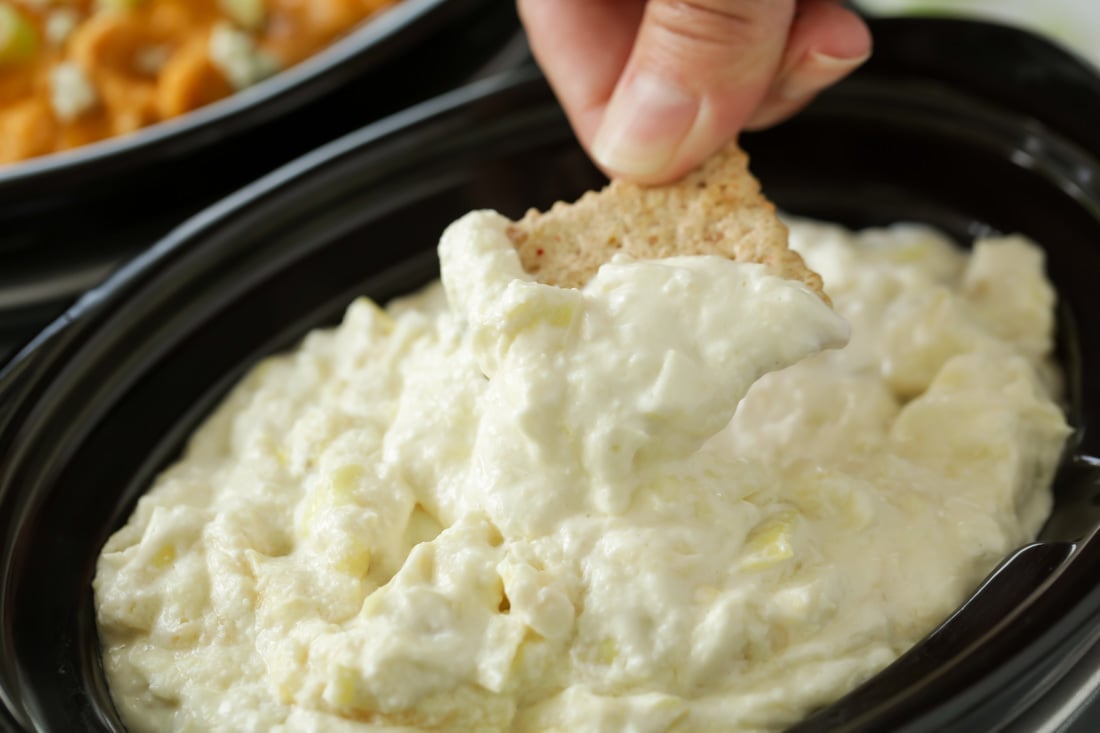 Best Crock Pot Appetizers
The two types of crock pot appetizers I mostly have on the site are dips (like our favorite Pizza Dip), Meatballs, and of course our Beanie Weenies!
Dips and meatballs are two of the easiest things you can toss in your slow cooker and not even have to think about it! Plus, both classics can even be served in the crock pot, which keeps them warm for your entire party.
**The following recipes are either made in the crock pot or have instructions on how to make them in the crock pot.
Slow Cooker Artichoke Dip – Crock Pot Artichoke is the same cheesy, savory dip you've always loved, but made in a slow cooker. Make this tasty dip ahead and save time!
Sausage Cream Cheese Dip – Simple Sausage Cream Cheese Dip is delicious and perfect to serve at parties, especially for holidays! It is absolutely PACKED with flavor!
Crockpot Buffalo Dip – Cheesy, spicy Crockpot Buffalo Chicken dip is a flavorful party dip that can be easily made in the slow cooker! It's great for game days and get togethers.
Crockpot Spinach Artichoke Dip – Crockpot Spinach Artichoke Dip is made easy in a slow cooker! With creamy cheese, shredded spinach, and chopped artichokes all melted together, it's the ultimate party dip.
Crock Pot Bean Dip – This cheesy and delicious crock pot bean dip is made with hardly any effort! SO easy, convenient, and perfect for holiday parties! Grab those chips and get dippin'.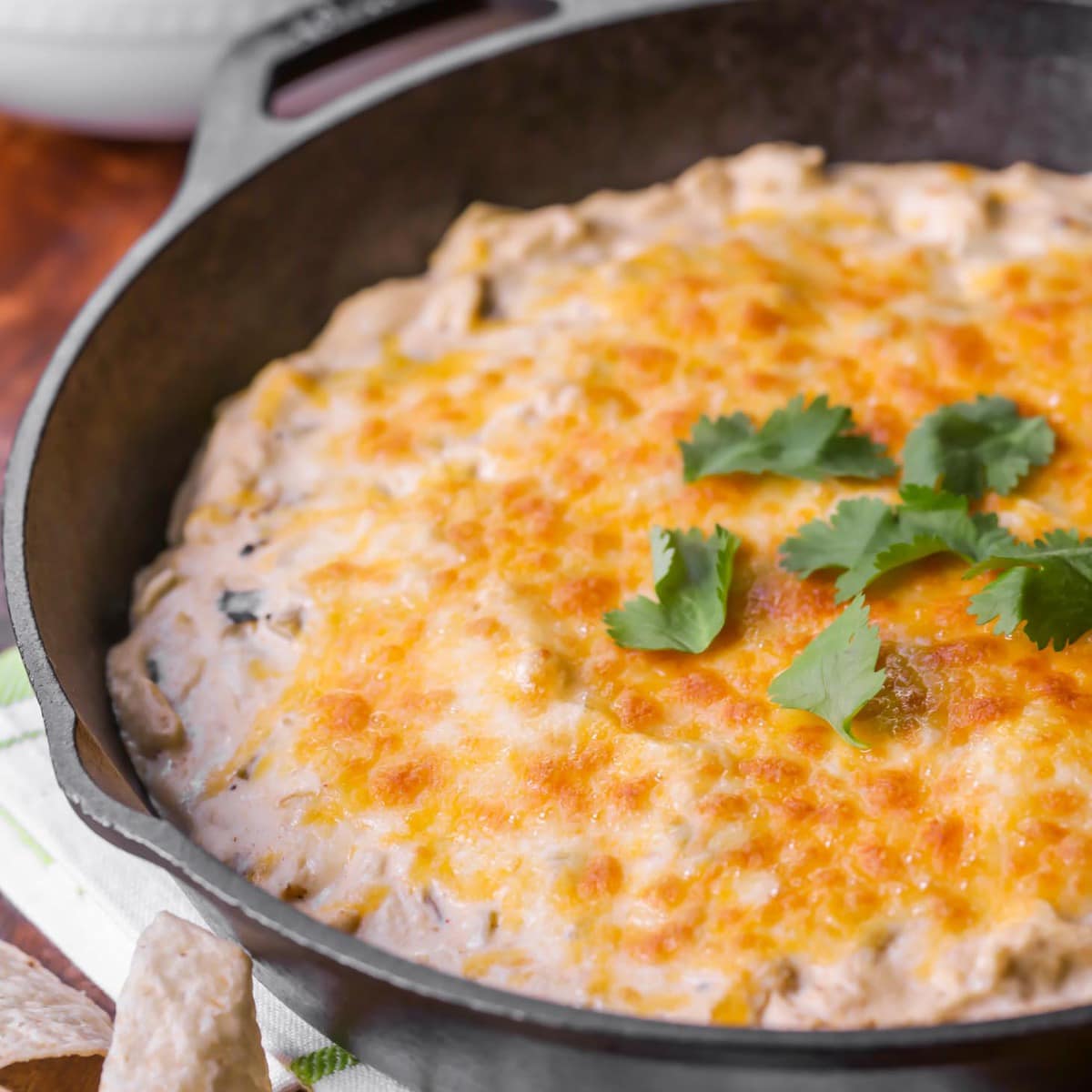 Chicken Enchilada Dip – If you love all the flavors of green chili enchiladas, you'll love this cheesy dip! Ingredients include cream cheese, sour cream, chicken, green chilis, enchilada sauce, and seasonings!
Bean Dip – With sour cream, cream cheese, Mexican cheese, refried beans, and salsa, this delicious Bean Dip is perfect to eat with chips, tacos, or any Mexican dish!
Tamale Dip – Tamale Pie Dip – this cheesy dip is going to be a new favorite at any gathering! Filled with shredded chicken, creamed corn, cream cheese, Mexican cheese, and sour cream!
Crack Chicken Dip – Bacon, Ranch, and cheese make this Crack Chicken Dip irresistible! It's savory, gooey and a great appetizer for any occasion.
Chili Cheese Dip – Make the BEST and yummiest Chili Cheese Dip in only 10 minutes and with a handful of ingredients. It's the perfect appetizer for any party.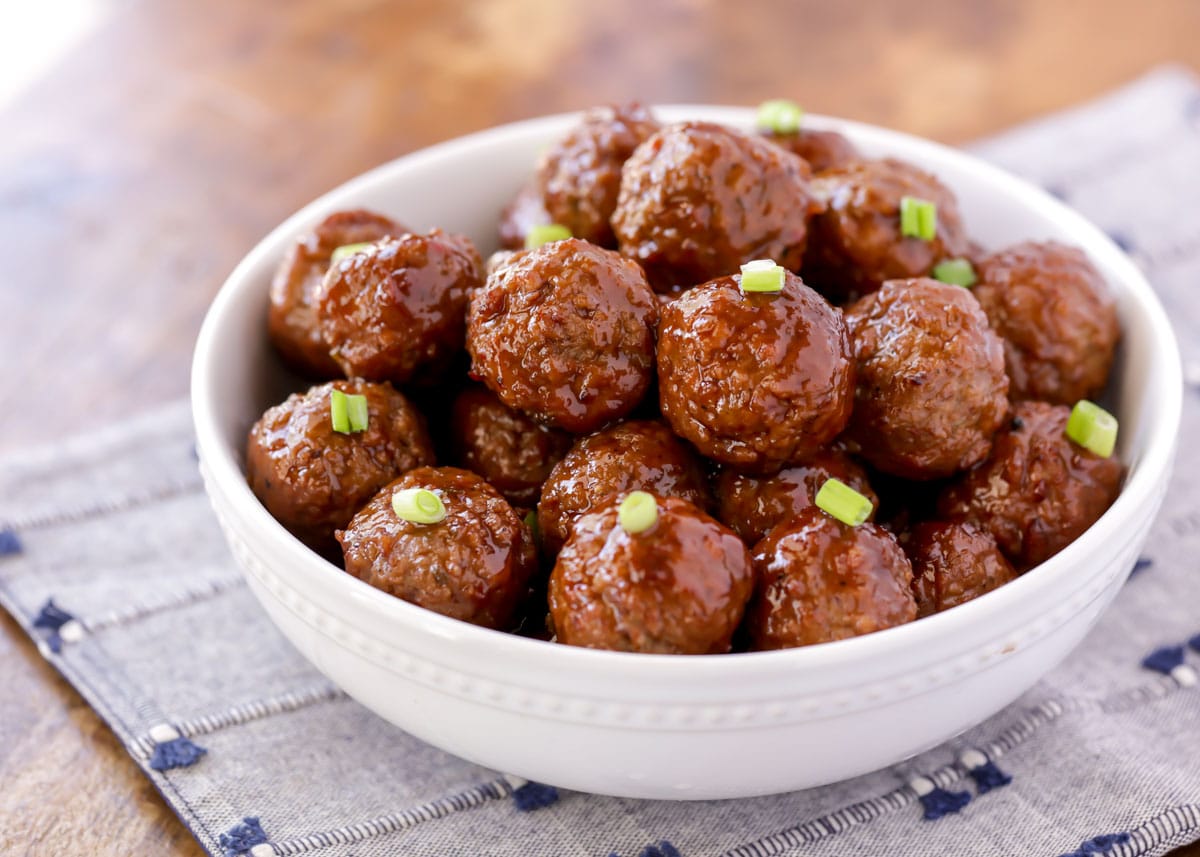 Crock Pot Meatballs
And who doesn't love meatballs? They're simple and usually require few ingredients making them perfect for any get-together!
BBQ Meatballs – Sweet + savory BBQ Meatballs are saucy and delicious with a bit of tanginess. With only 5 minutes of prep they are a breeze to make!
Barbecue Pineapple Meatballs – Sweet and savory Pineapple Meatballs are a perfectly easy appetizer for parties and get-togethers or a delicious side dish for dinner.
Slow Cooker Grape Jelly Meatballs – Sweet & tangy dump-and-go Grape Jelly Meatballs take minutes to prep and are the perfect dinner or appetizer to feed a crowd!
Crockpot Meatballs – Sweet + savory Crockpot Meatballs are packed with flavor, and perfect for parties. They are SO easy, yet SO tasty!
Asian Meatballs – Easy and delicious Crock Pot Asian meatballs take minutes to prep, are perfect for parties and have that Asian flavor we all know and love.
Brown Sugar Beanie Weenies – With only 5 minutes of prep and 3 ingredients, these Brown Sugar Beanie Weenies are by far one of the easiest appetizers!
---
A Fav in the Crock Pot
We love Hamburger Dip, and we love to serve it in the crock pot.
Since we like to have several appetizers at our gatherings, we like making sure at least one can be in the slow cooker. Not only does it free up the stove and oven, but it's just so simple.
This recipe is also so delicious and a hit with anyone who tries it. 🙂
---
The Complete List
Here are the picture recipe cards for all the recipes in this collection. These slow cooker appetizers are sure to be a hit with your guests at your next potluck, super bowl party, or family event!
Be sure to check out all of our Appetizer Recipes!
More Collections: Easy Appetizers, Appetizer Dips, Healthy Appetizers