This compilation of healthy appetizers, including everything from low fat to low carb to baked versions, is perfect for any big gathering or party and won't undo all of your fit eating choices!
More appetizer collections: Mexican Appetizers, BBQ Appetizers, 4th of July Appetizers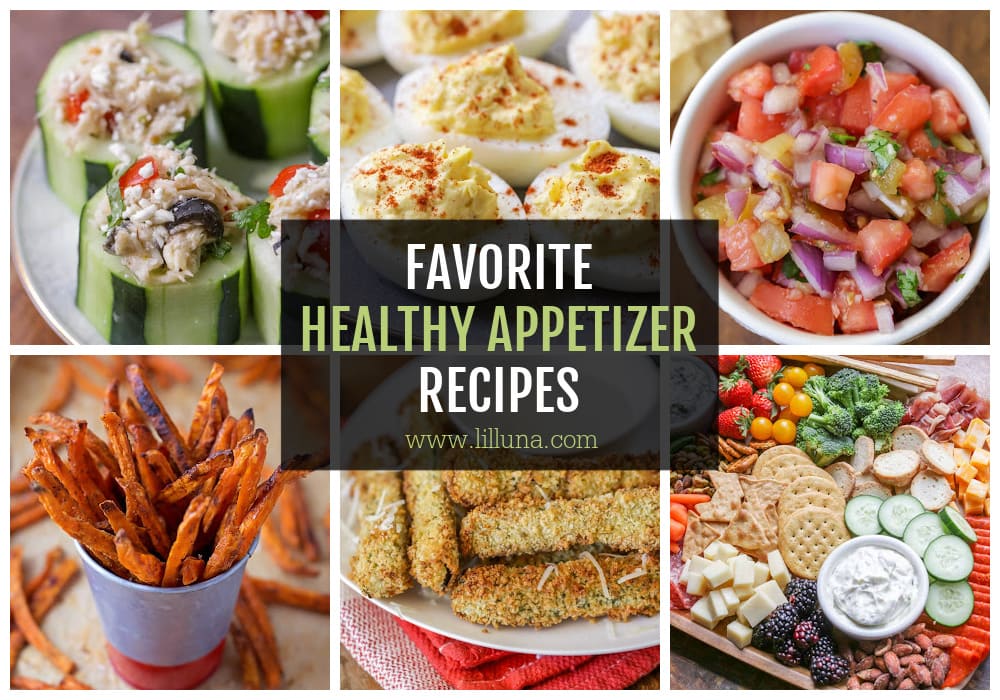 What does your "healthy" look like
Healthy food is a bit subjective depending on the way you choose to consume your macronutrients.
Some people choose a high protein, low fat, low carb diet, whereas others may choose high fat, low carb, low sugar diet. Or maybe you prefer plant-based or organic foods.
Either way, I have a few healthy appetizers that won't skimp on taste, and are sure to whet your appetite!!
The categories could go on and on as there are many different ways to eat that are healthy. This page separates our appetizer recipes into the more common requests for healthy appetizer recipes.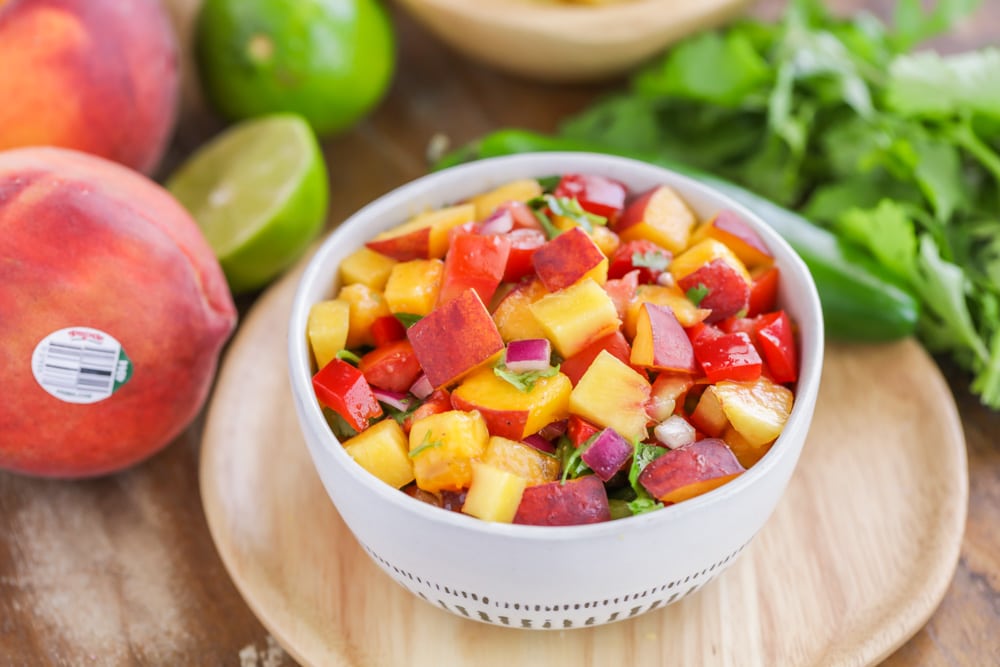 the most popular healthy appetizers
Just because you're looking for healthy appetizers to serve doesn't mean you have to skip the classic appetizers that we all love.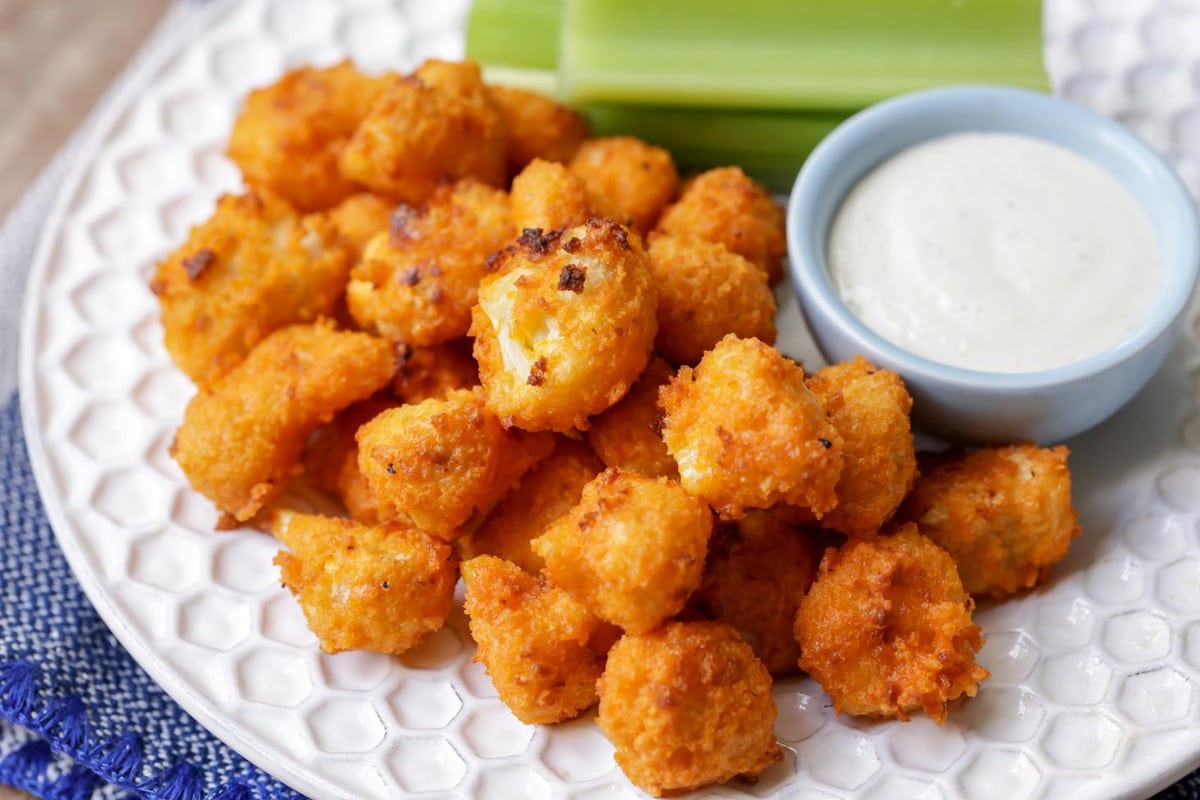 Low sugar is always a good idea
Low sugar. I think no matter what diet plan your family eats, most of us would agree that low sugar is one of the healthiest things we can do for our bodies.
A couple of ways to reduce your white sugar intake is to use:
Sugar substitutes such as stevia, xylitol, erythritol, or monk fruit sweetener.
Natural sweeteners such as coconut sugar, honey, maple syrup, and molasses.
What Makes an Appetizer Healthy?
Besides low sugar, I think that using a variety of produce will create a healthier appetizer spread. The wider variety of colors used, the more diverse the nutrients will be. Think of the rainbow. Just add some slices of your favorites!!
Here are a few ideas for each color category:
Red: apples, strawberries, red peppers, cherries, watermelon, radishes, or tomatoes
Orange: oranges, carrots, pumpkin, orange peppers, cantaloupe, or peaches
Yellow: lemons, corn, yellow peppers, pineapple, or banana
Green: avocado, grapes, kiwi, peas, broccoli, cucumber, spinach, celery, bell peppers, or artichokes
Blue/purple: blueberries, grapes, plums, figs, olives, or eggplant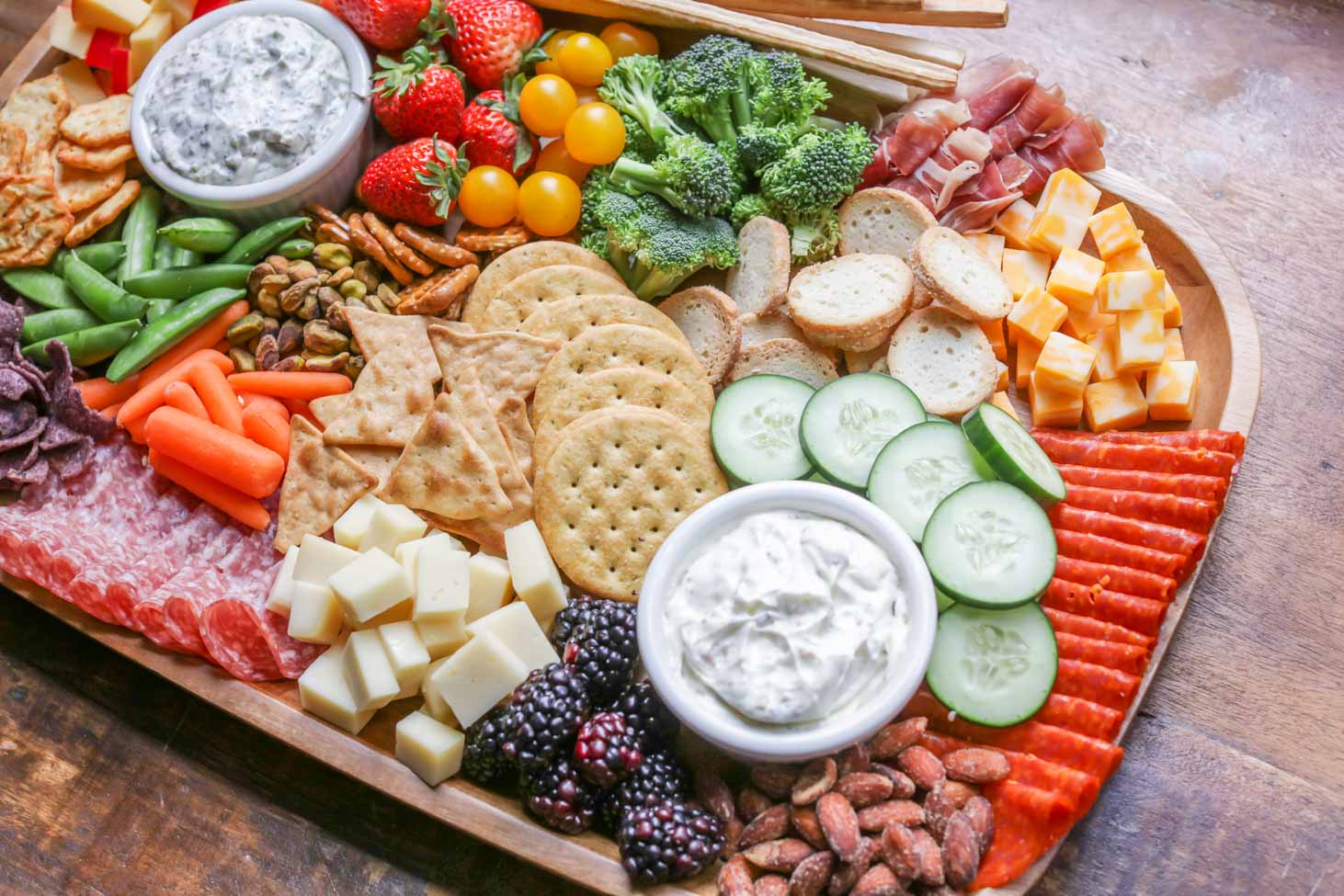 appetizer Planning Tips
When picking out your menu, try to provide an appetizer from different categories that way there is a little something for everyone.
Have 2-3 different appetizers for fewer than 10 guests.
Add another appetizer option for every 5-8 more guests.
If appetizers are the only food on the menu then plan for each person to have 10-12 pieces during the first 2 hours. Add 5 more pieces per person for every hour after.
If they are being served before a meal, then plan for each guest to have 3-5 pieces total per person.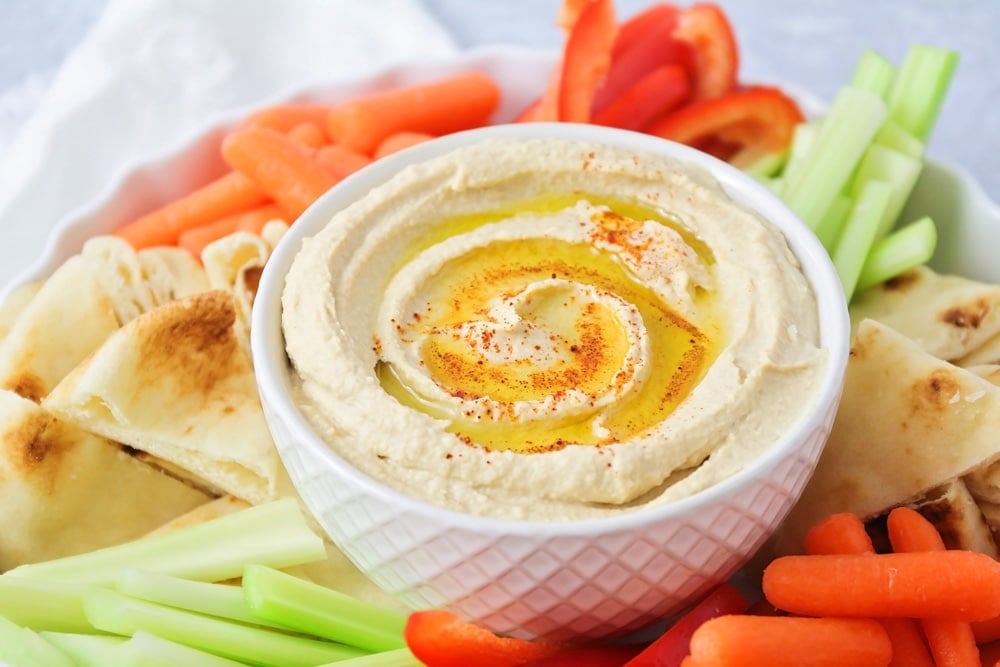 healthy snacks to bring to a party
For some reason, I correlate snacks with kids and appetizers with adults. The following types of snacks are healthy ones I often like to serve when kids attend but are also loved by adults.
Thread different ingredients on skewers. You can use fruit, veggies, or something similar to these Lunch Kabobs. It's also a lot of fun to use small cookie cutters to cut the fruit and even some vegetables into shapes.
Dipping sauce, like healthy dressing, artichoke dip, or Hummus, is a favorite for whole-grain crackers and veggies.
Making individual Greek Yogurt Parfaits.
Trail Mixes are a great way to incorporate healthy nuts, dried fruits, whole-grain pretzels, and other healthy foods.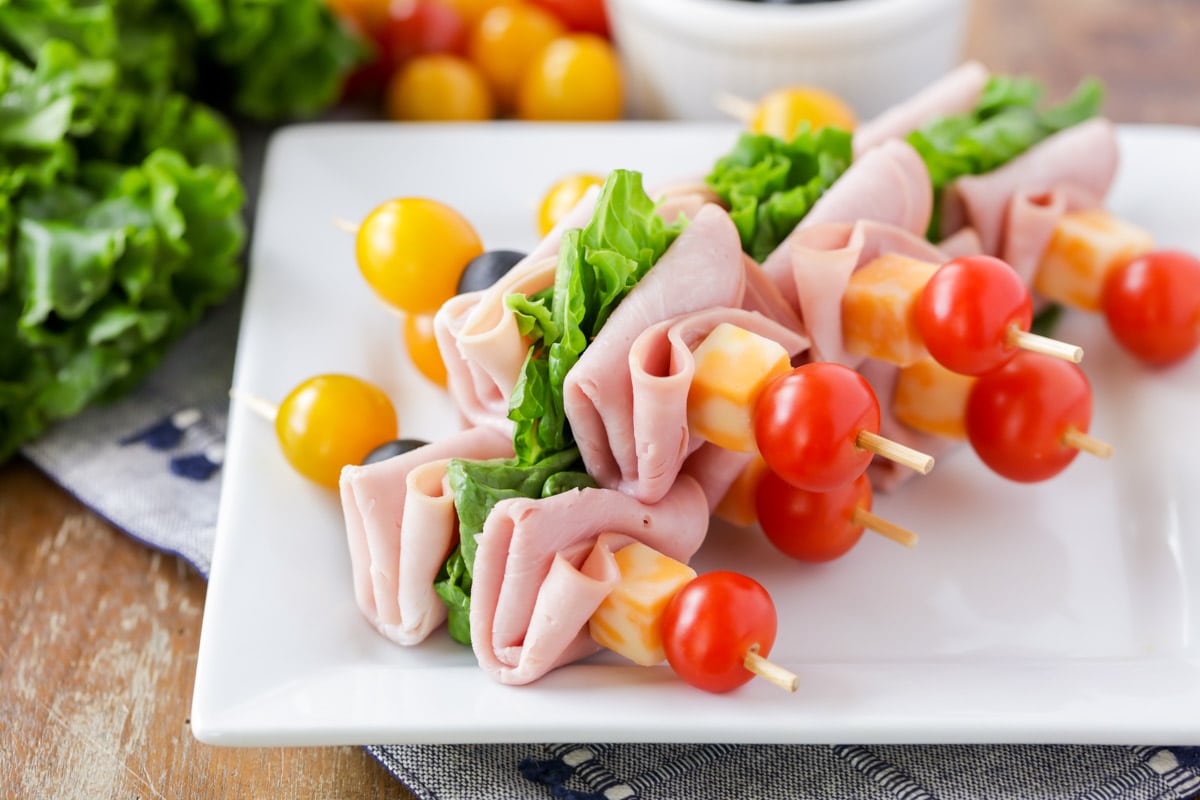 healthy finger foods
Finger foods, also known as hors d'oeuvres, are slightly different from appetizers. They are individual portions that can be eaten without utensils, are mess-free, and are easily consumed when standing and mingling with others.
Tea sandwiches are a favorite like these Easy Cucumber Sandwiches.
I like using toothpicks to be able to serve some favorite foods like these Buffalo Chicken Meatballs.
Filling up hollowed-out vegetables with tasty healthy ingredients works well. These recipes will often have "stuffed" or "cup" in the title.
These Flatbread Pinwheels are another good example. Choose a healthy flatbread and fill it with your favorite healthy combinations.
---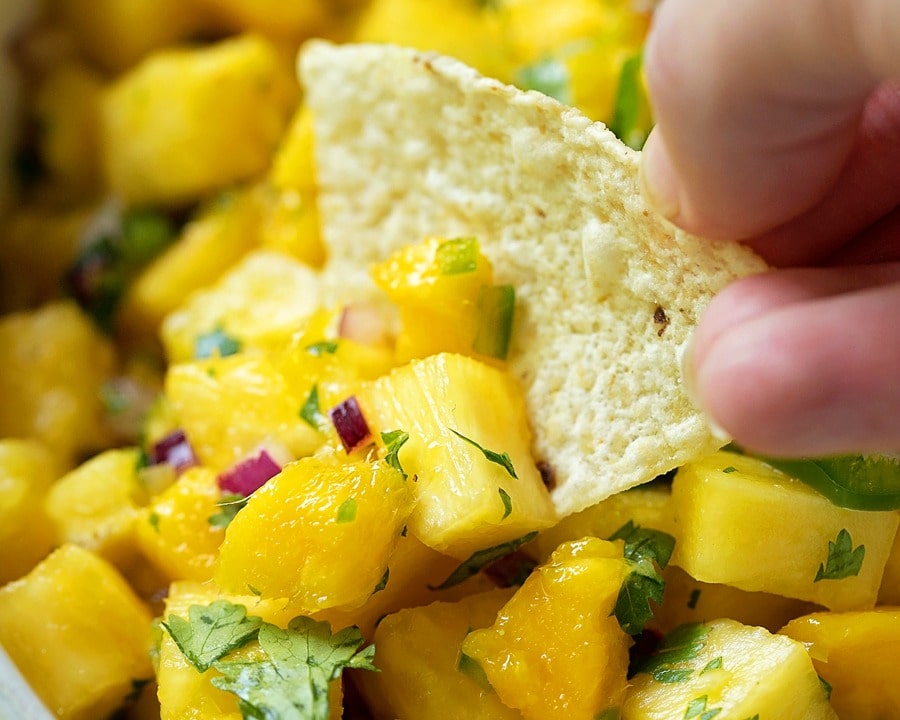 easy healthy appetizers
The next few healthy appetizers are simple and require either few ingredients and/or just a few minutes to make.
Mango Salsa -This sweet and savory Mango Salsa is perfect with chips or any Mexican meal. It's filled with sweet pineapple, cilantro, mangoes, onion, cilantro and jalapenos making it full of flavor and simple to make.
Pico De Gallo – Everyone loves a good pico recipe! This version calls for tomatoes, green chilis, onion, cilantro, lime juice and salt and is SO addicting!
Fruit Kabobs – Colorful fruit kabobs are the best appetizer or side for any occasion! Load up your favorite fruits and get snacking.
Peach Salsa – Fresh Peach Salsa Is Delicious With Chips, On Top Of Fish Or Pork, Or Spooned Over Tacos! You'll Love The Sweet And Savory Flavors In This Simple Recipe!
Strawberry Salsa – You can't go a summer without eating this sweet and spicy strawberry salsa! The flavors are so unique. Grab some cinnamon and sugar chips or your favorite tortilla chips and dig in!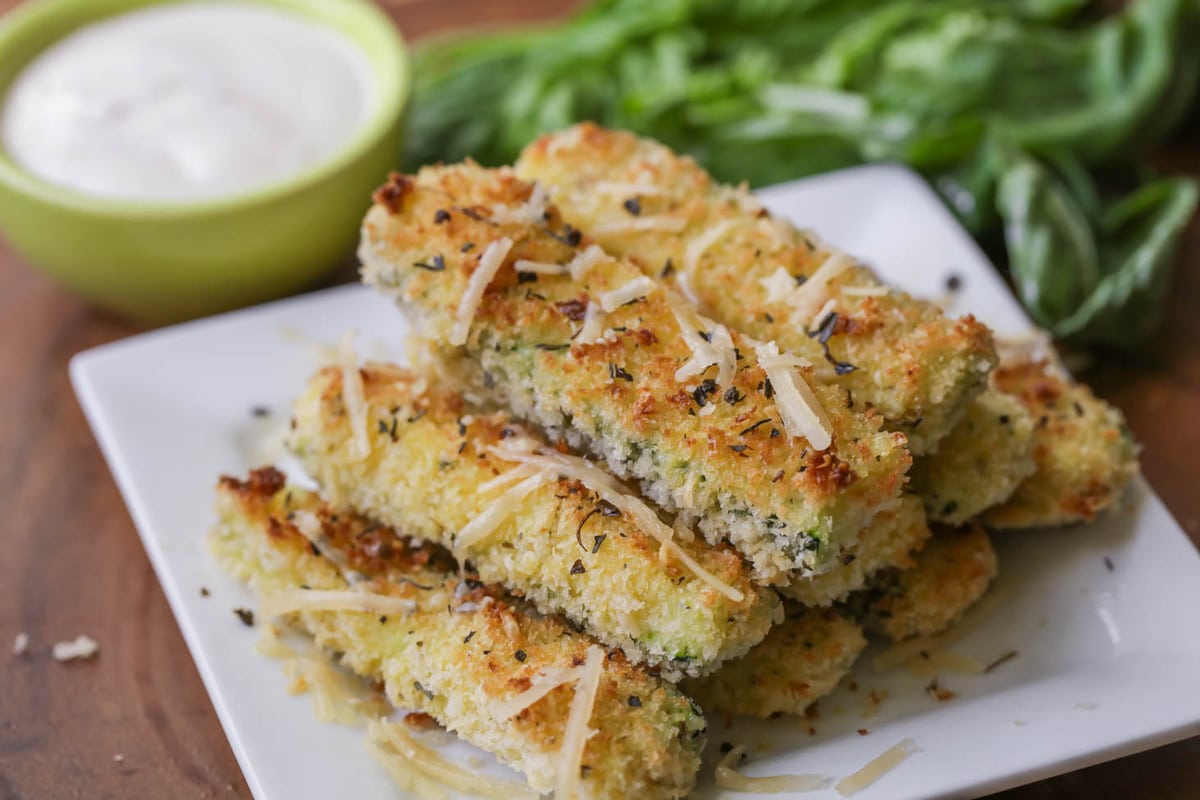 Baked Zucchini Fries – These baked zucchini sticks are crusted and baked in panko, parmesan cheese, oregano, and basil. Zucchini fries are healthy AND delicious!
Baked Taquitos – Simple and tasty baked Chicken Taquitos. These rolled tortillas are filled with chicken, cheese, salsa and so many delicious spices!
Greek Cucumber Cups – Simple Greek Cucumber Cups are a light and delicious appetizer that whips up in minutes. They are a perfect low calorie snack!
Baked Buffalo Wings – Hot wings are a staple at any get together or party. This easy recipe will show you how to make this appetizer in the oven resulting in crispy, Baked hot wings.
Baked Cream Cheese Rangoon – These delicious Cream Cheese Rangoons are filled with cream cheese, garlic, and green onions, then baked to crisp perfection!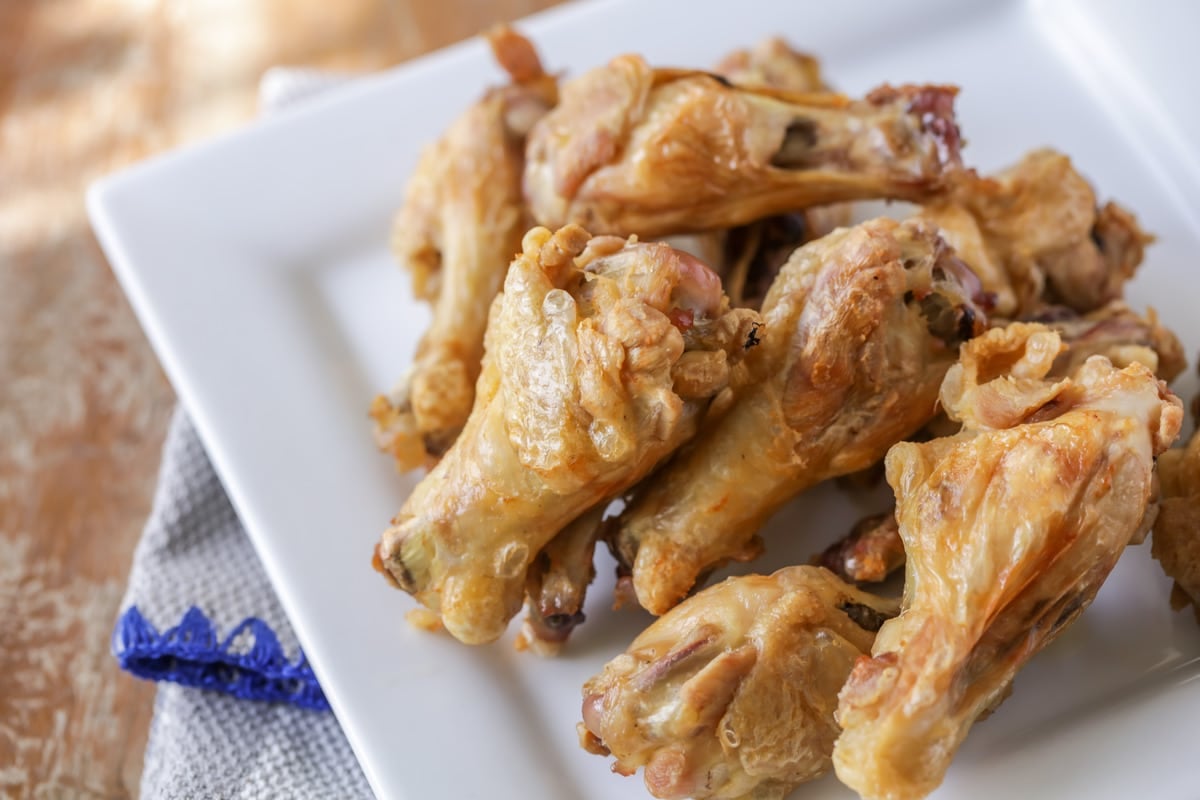 Baked Chicken Wings – Deliciously crispy baked chicken wings have endless possibilities. Bake in the oven, and dip in your favorite sauces!
Baked Sweet Potato Fries – These Sweet Potato Fries are so delicious and crispy. If you love sweet potatoes, you'll love these fries because they're simple, flavorful, made in the oven and the perfect side dish to any meal.
Baked Tortilla Chips – Baked tortilla chips are just as tasty, but with less calories. They are quick and easy to make!
Baked French Fries – Baked french fries are a healthy twist on a crunchy comfort food. They are still packed with flavor and will satiate all of the fried potato cravings.
Buffalo Cauliflower Bites – Make these buffalo cauliflower bites for your next football party! No one will even notice they are healthier or even made with cauliflower. They're our new go-to appetizer!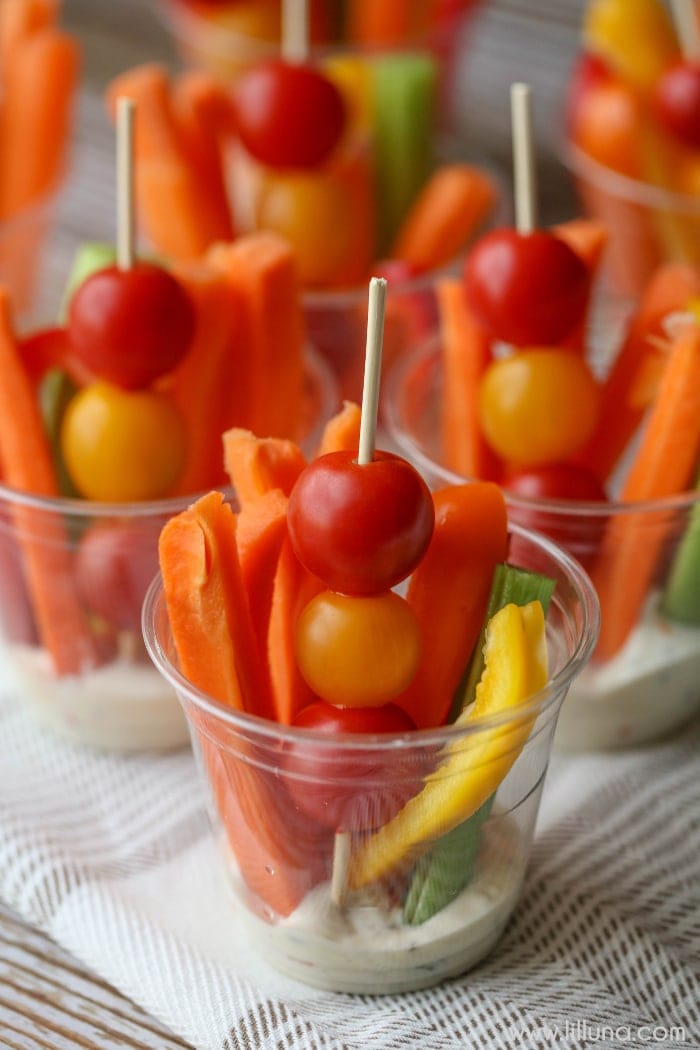 Veggie Appetizers
Filled with vitamins and fiber, veggies are a healthy addition to any appetizer spread!
Veggie Cup Appetizers – Quick and Easy Veggie Cup Appetizers – filled with dressing and veggies, this mess-free snack is great for so many occasions.
Caprese Kabobs – Simple, quick and delicious Caprese Kabobs take minutes to throw together and are perfect for any party or get together.
Caesar Salad Cups – Caesar Salad Cups are a quick, simple and tasty side dish or appetizer. They're mini salads in a cup and great for parties and get togethers!
Veggie Tray – Easy game day inspired Veggie Trays are perfect for any occasion or party! Grab your friends and gather around for good food.
Air Fryer Zucchini – Crispy air fryer zucchini will give you all the flavor and none of the guilt! This healthy version still packs the flavor punch.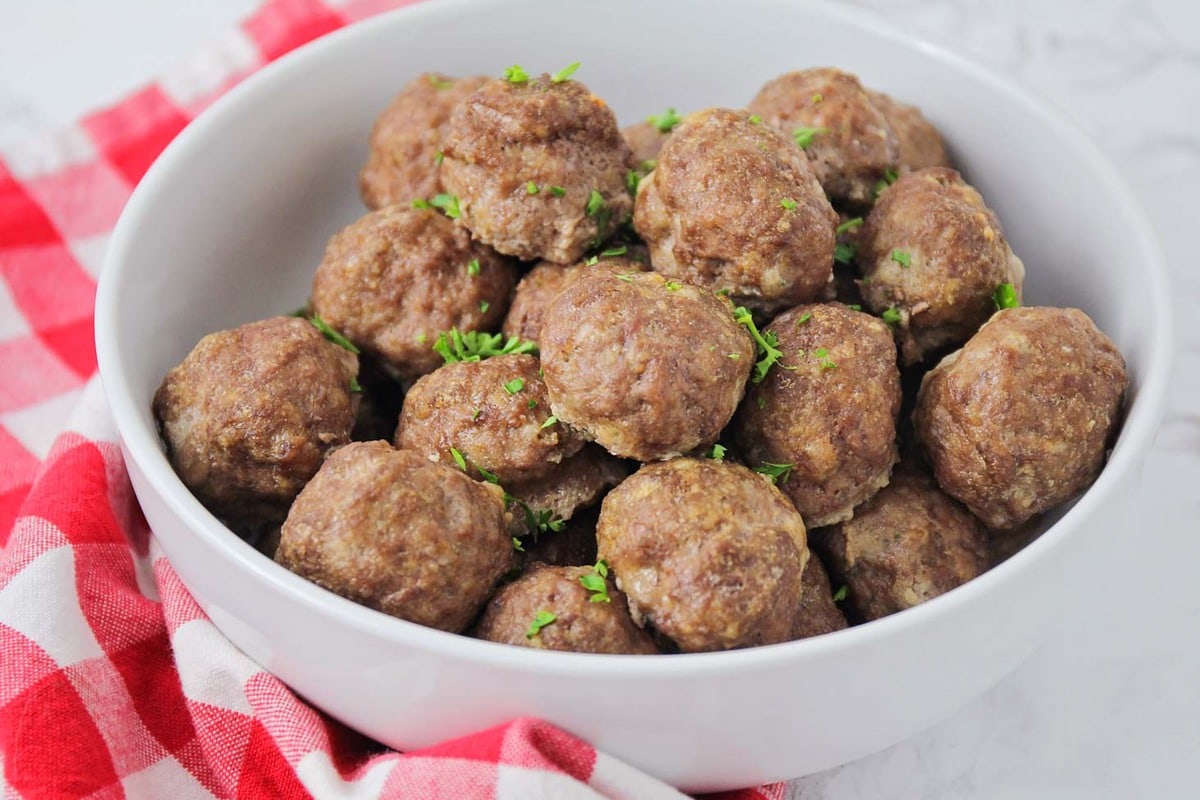 KETO-Friendly APPETIZERS
Those who may eat a keto diet will prefer low-carb, low-sugar appetizer options. This does mean they're typically higher in fat and protein.
Easy Meatball Recipe – This Homemade Meatball recipe is way better than store bought, and easy too – they take minutes to put together! Made from ground beef mixed with parmesan cheese, salt, pepper, onion and garlic powder, milk, and eggs. These ground beef meatballs are perfect alone or mixed in with pasta!
Baked Kale Chips – Grab a healthy snack like these crunchy baked kale chips! So much better for you than regular potato chips and super tasty too!!
Loaded Pulled Pork Cups – Savory and delicious Loaded Pulled Pork Cups have all of the tasty flavors of a BBQ dinner in one convenient bite!
Sausage Stuffed Jalapenos – These sausage stuffed jalapeños are also filled with cream cheese and baked to perfection. Trust us when we say they're a must-have appetizer at your next party.
Buffalo Wings – Crispy tender chicken wings tossed in the most wonderful buffalo sauce! The best party appetizer for a crowd!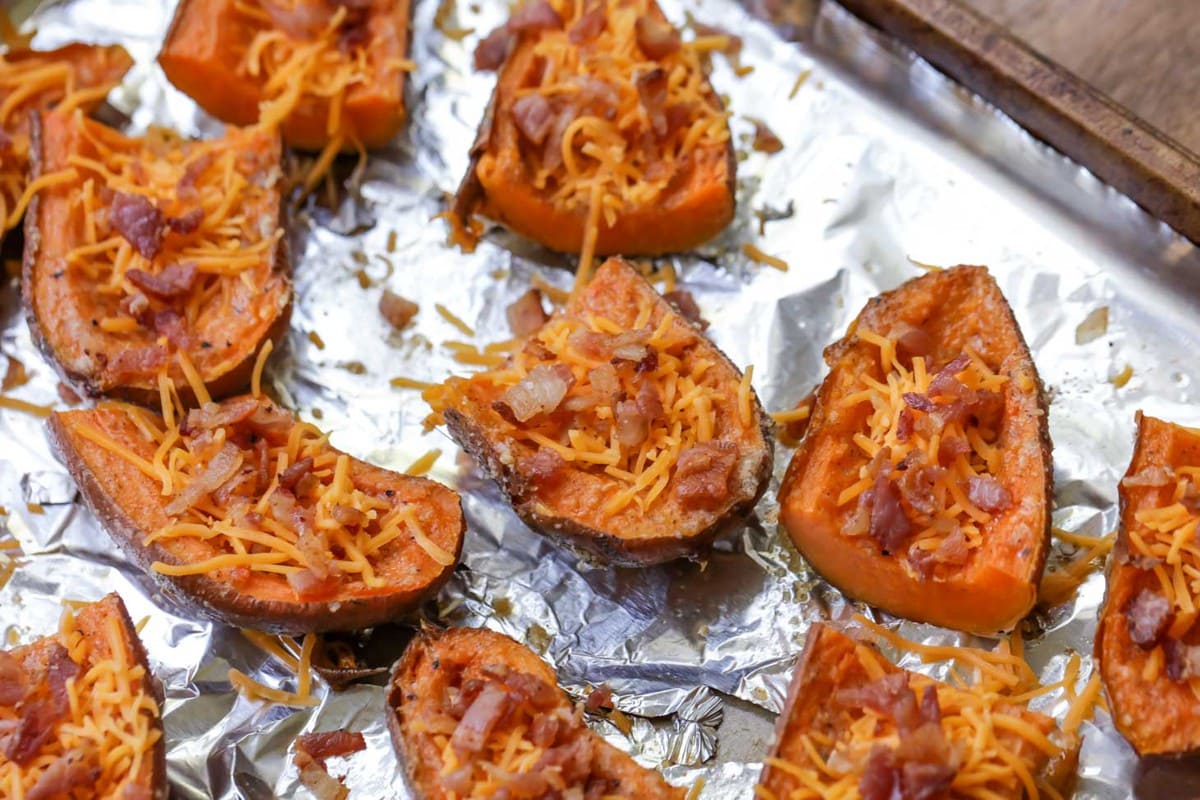 Sweet Potato Skins – Crispy Sweet Potato Skins are a delicious buttery parmesan crusted appetizer. Whip these up for your next party!!
Deviled Eggs – Nothing better than a smooth deviled egg appetizer! You'll be surprised with how easy these are to make. Tons of flavor, super delicious and perfect for parties and holidays.
Bacon Ranch Cheese Ball – This Bacon Ranch Cheese ball is the perfect partner for your veggie tray! With cheese, bacon, and ranch flavors, you can do no wrong!
Buffalo Chicken Meatballs – Buffalo Chicken Meatballs are easy to make, full of flavor, and packed with a kick! They make a perfect appetizer.
Bacon Wrapped Asparagus Skewers – This recipe is inspired by one of our favorite Disneyland foods – Bacon Wrapped Asparagus Skewers from Bengal Barbecue! These skewers only require 4 ingredients and take less than 10 minutes on the grill!
---
Our Favorite Platter
A go-to for every party and get-together is a Charcuterie Platter.
What we love most about it is that we can customize it for every occasion with the foods and produce that are in season as well as the ones we love most.
We like to do a mix of crackers, cheeses, meats, and dips along with vegetables and fruits.
We also love that they are so easy to make. They can be assembled any way and are always a hit.
Here is what you'll need to make it:
---
THE COMPLETE LIST
Here are the picture cards for all of the healthy appetizers listed above.
Whether it's to serve for a party, family get together, or even as a side dish, these tasty appetizers are sure to please a crowd!
---
---
Be sure to check out all of our Appetizer Recipes.
For more collections, see: Easy Appetizers, Finger Food Appetizers, Cold Appetizers