Savory corn salsa has a little kick of spice! There are so many yummy uses for this delicious and simple salsa.
Fresh corn salsa is a great way to top your Mexican dishes, or serve with chips & salsa. For more salsa recipes try Black Bean and Corn Salsa, Homemade Salsa, Mango Salsa, and Chili's Salsa.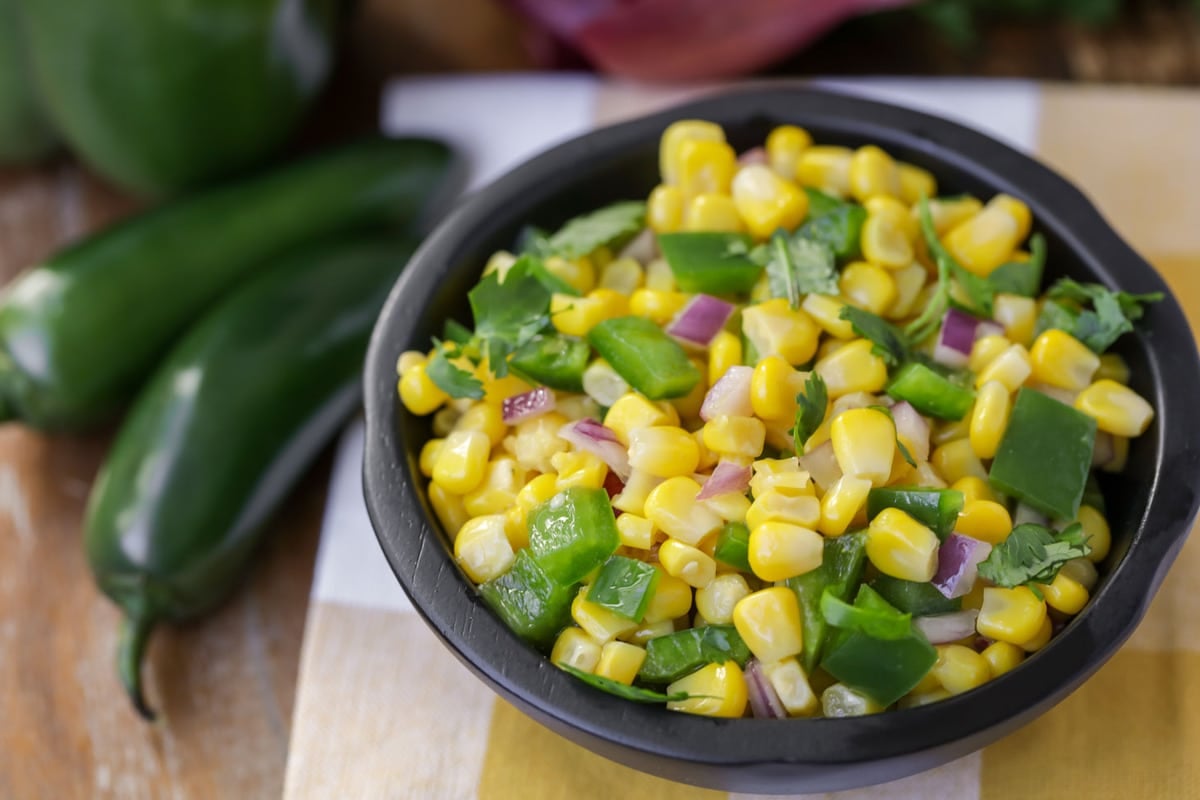 easy Corn Salsa dip
Fresh corn salsa is my jam. It's filling, healthy, and the flavors are undeniably delicious. The subtle sweetness from the corn pairs perfectly with the spicy jalapeños. It has just enough heat to make you coming back for more!
Corn salsa is such a great snack or appetizer idea to bring to a potluck or dinner party. Just don't forget the chips! This won't last long with hungry people around.
Sweet and salty corn salsa is also great for burrito bowls, serving on top of tacos, or over fish or poultry. It tastes so yummy is goes with about any Mexican dish out there. And of course you can eat it alone with chips.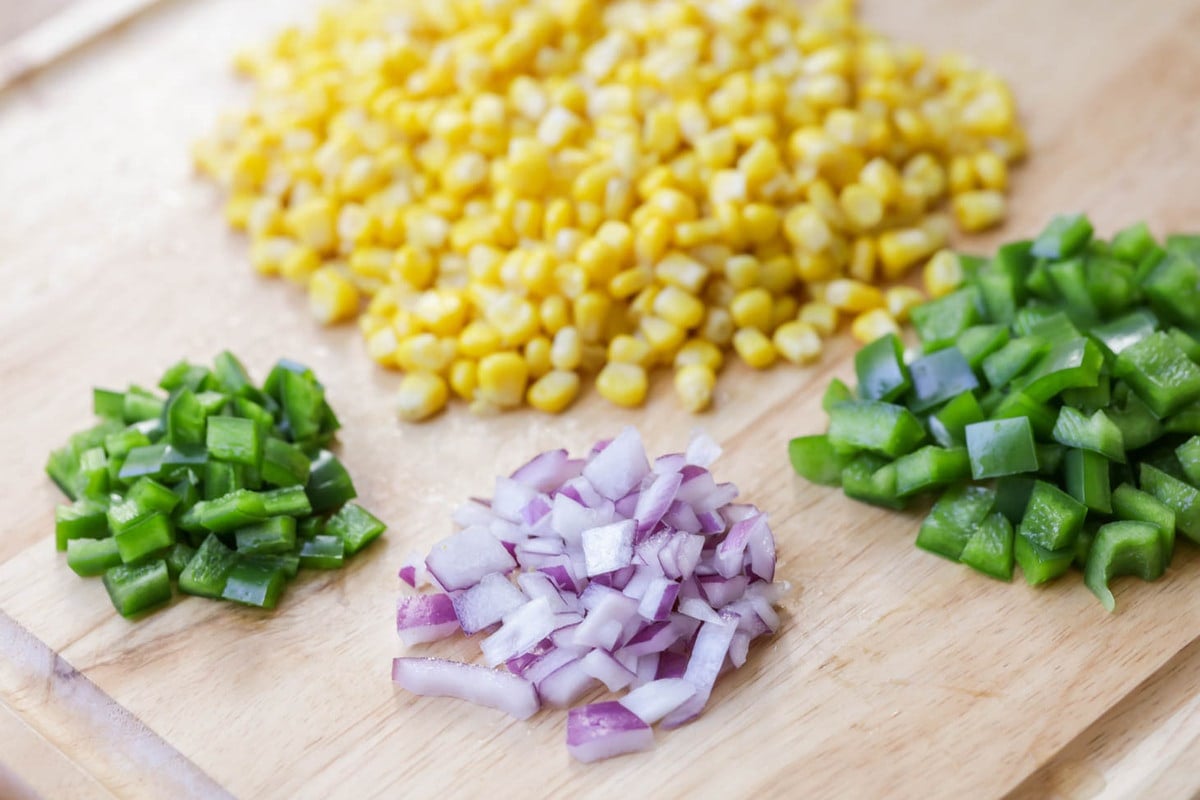 How to Make Corn Salsa
This recipes calls for canned corn but you can definitely use fresh corn off the cob if you have it! You could also grill the corn on the cob and use that too—would give it a nice grilled taste!
CHOP. To make, chop the jalapeño, bell pepper, and onion and put it into a bowl with the corn kernels.
SEASON. Mix in the lime juice, olive oil, sugar, and salt. Toss everything gently to combine. Lastly, chop up the cilantro and  mix it in. Serve it chilled or at room temperature.
Change up the recipe by adding in any of these variations:
grilled corn
grape tomatoes
garlic
orange or red bell pepper
black beans
avocado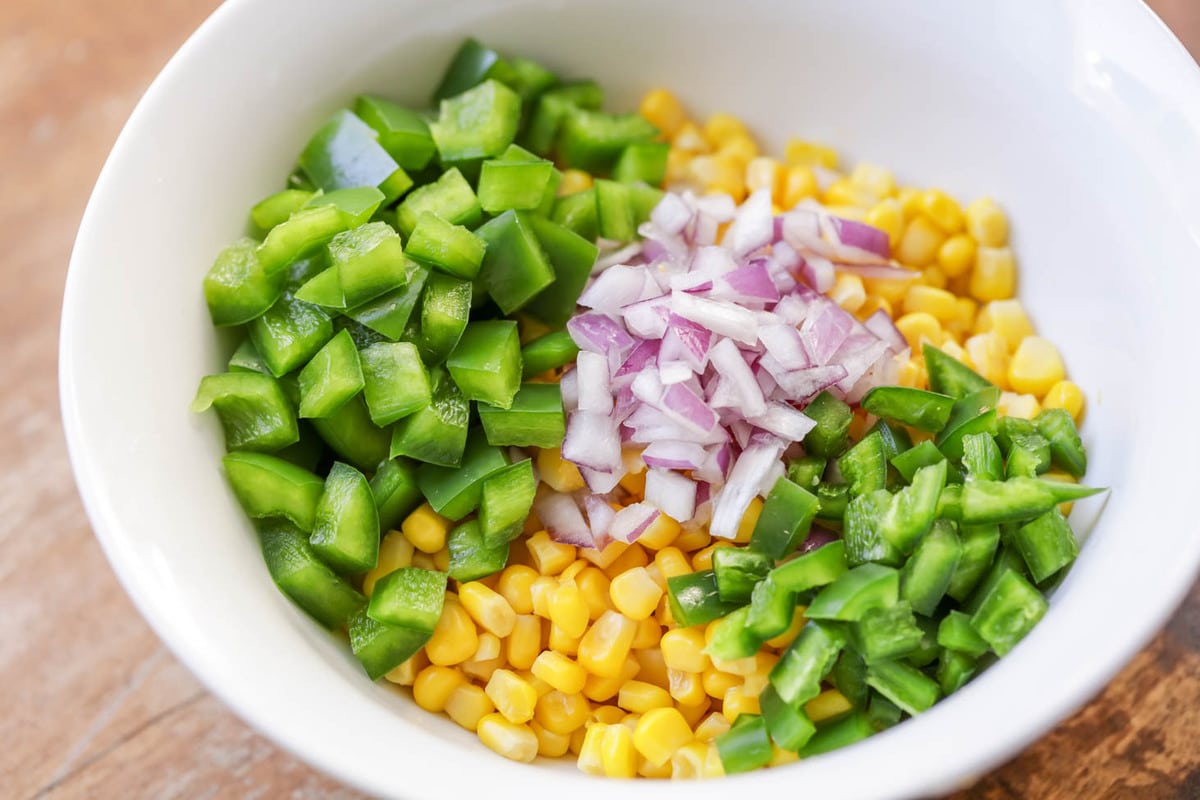 Serving tips and SToring Info
This easy corn salsa is super yummy on it's own with your favorite tortilla chips but it also goes well with lots of other Mexican dishes. Fish, chicken, pork, just to name a few! You can also add it to:
So many options!
If you have any leftover, STORE it in an airtight container in the fridge. It should last for 4-5 days.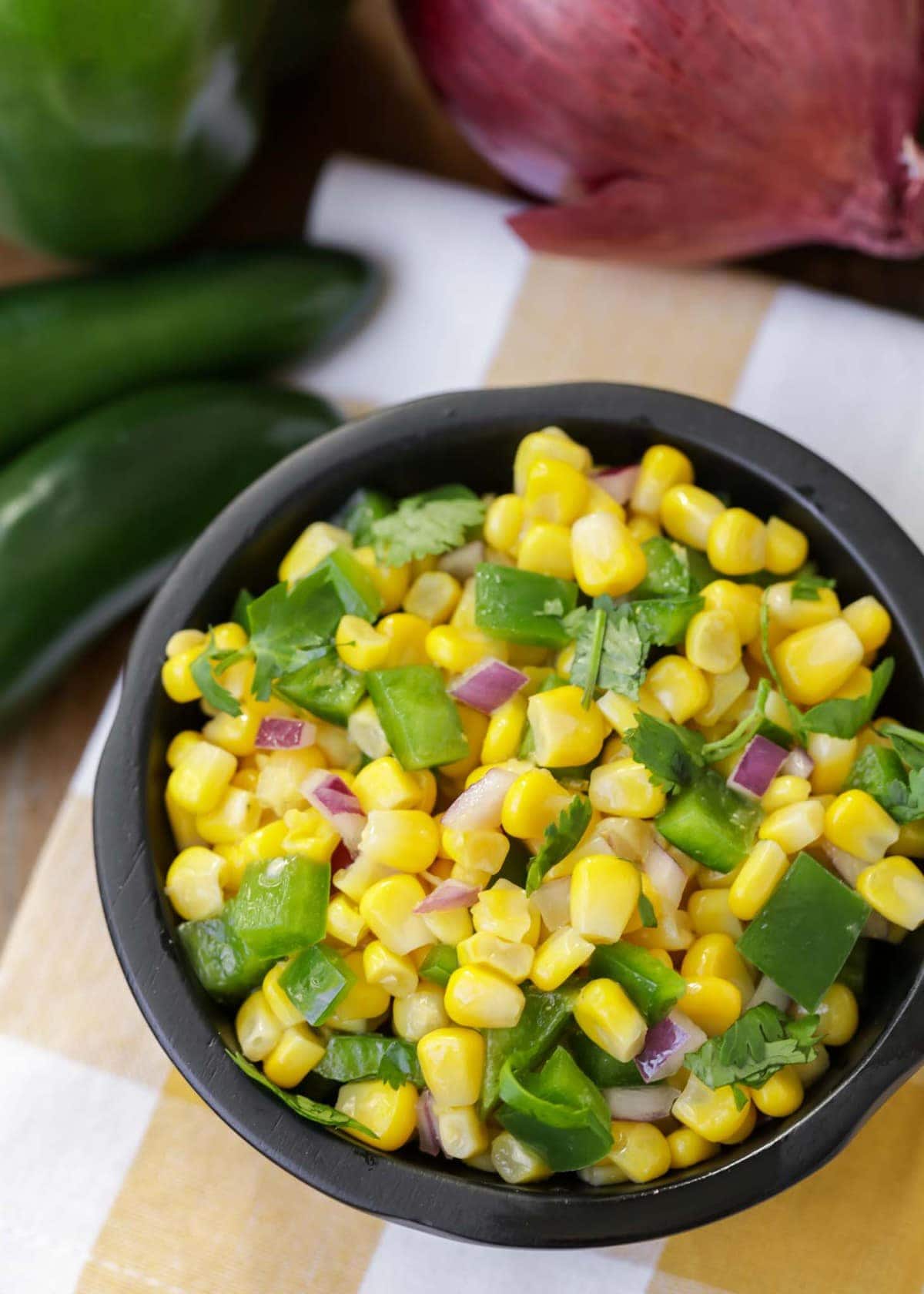 For more chip dip recipes, try:
Corn Salsa Recipe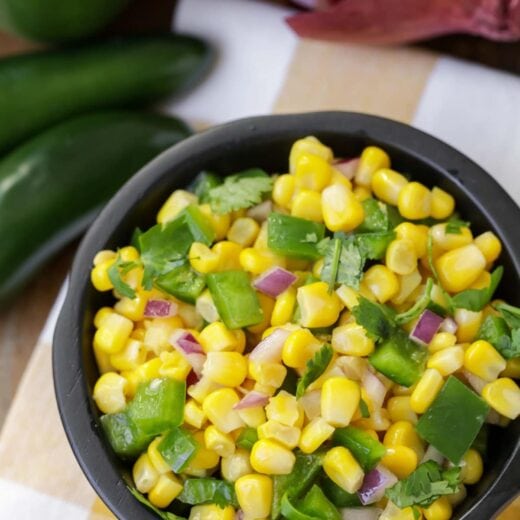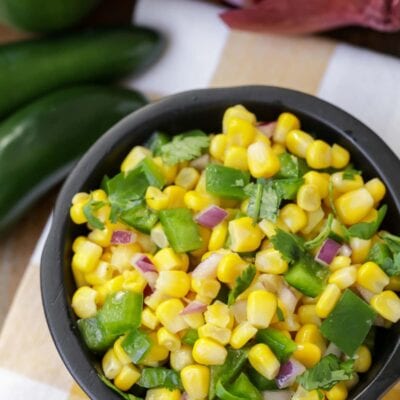 Savory corn salsa has a little kick of spice! There are so many yummy uses for this delicious and simple salsa.
Ingredients
1

15 oz. can

corn

fresh cut corn kernels

1

jalapeno pepper

seeded and chopped

1/2

green bell pepper

seeded and chopped

2

tbsp

red onion

chopped

3

tbsp

lime juice

2

tsp

olive oil

1/2

tsp

sugar

1/2

tsp

garlic salt (with parsley flakes)

2

tbsp

cilantro

chopped
Instructions
In a bowl, mix corn, green pepper, jalapeno and red onion.




Stir in lime juice, 2 teaspoons olive oil, sugar and salt. Chop and add cilantro just before serving.