Make your own restaurant-style chicken tacos at home. They are easy to make, perfectly crunchy, and SO delicious!
Chicken tacos have become one of our go-to Mexican recipes. It's definitely our #1 taco recipe, followed closely by Steak Tacos and Pork Tacos. But, who are we kidding?! All tacos are our favorite!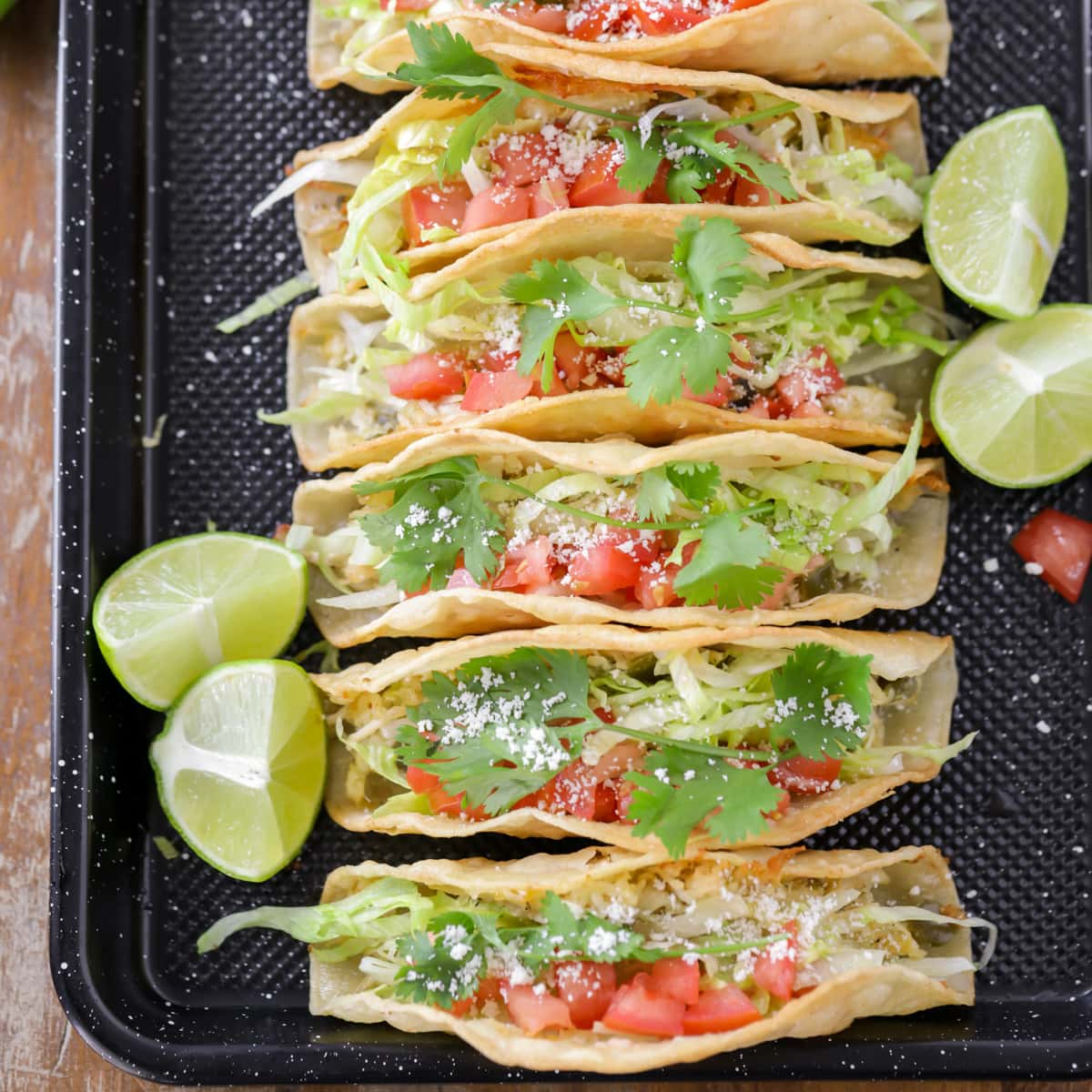 Restaurant-style Tacos
One of the main dishes we have at our Mexican family get-togethers is crispy chicken tacos.
Each of us makes it a little differently, but it's something we always have and expect when we are having Mexican food at a Luna event, along with our famous Beef Empanadas and Red Cheese Enchiladas.
Fortunately, these shredded chicken tacos are easy and yummy!
I like to cook all my Shredded Chicken in advance, divide it, and put it into freezer bags. Then I just pull out a bag in the morning, let it thaw throughout the day, and have it ready to cook in time for dinner.
These are the BEST chicken tacos, loved by the entire family. They taste just like the chicken tacos found at your local Mexican Restaurants – crunchy and delicious!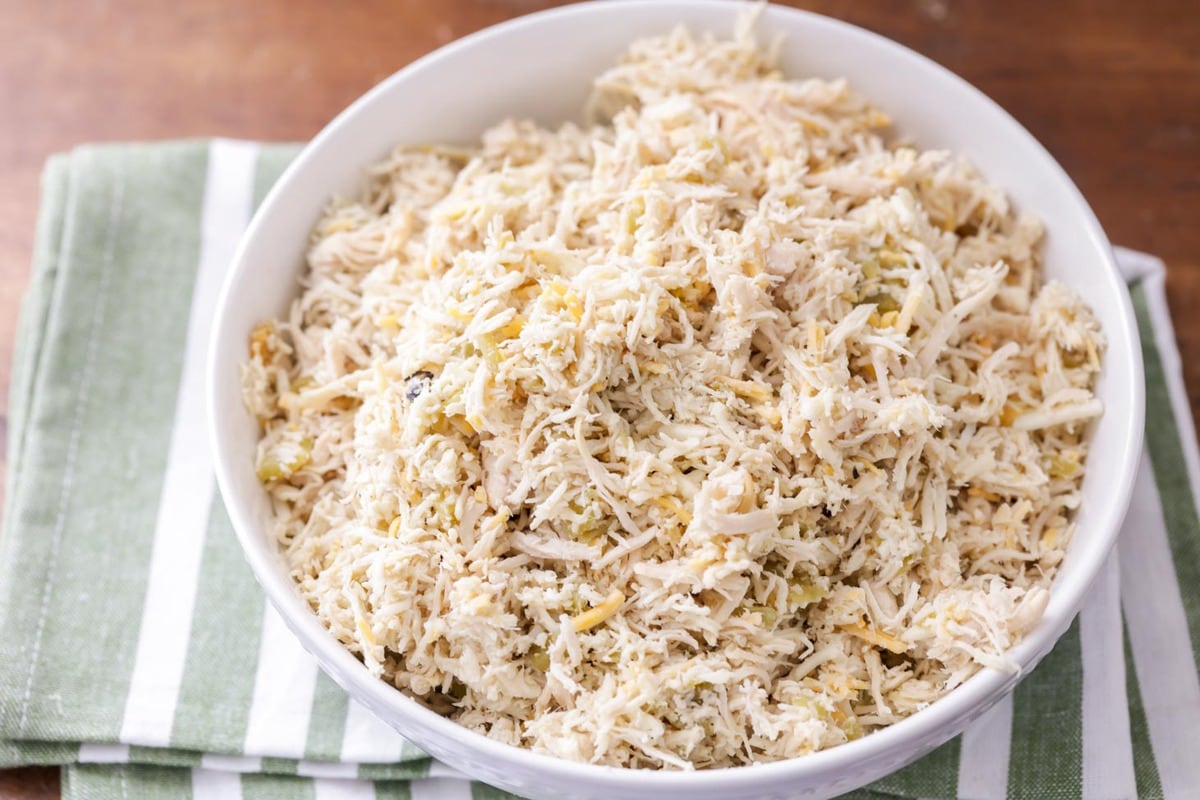 How to make chicken tacos
Making these easy chicken tacos is beyond simple.
FILLING. Prep the chicken by adding shredded chicken, green chiles, cheese, salt, and pepper to a bowl. Mix.
FRY. Add vegetable oil to your pan and turn to LOW/MEDIUM heat. Add some chicken to the middle of your corn tortilla. Then grab with your tongs.
Rock back and forth when the oil is ready until the taco can lay down without opening up.
ENJOY! Take the taco out when both sides are cooked. Lay it on a plate lined with a paper towel to help drain the oil. Add any toppings such as shredded lettuce and tomatoes and/or extra cheese.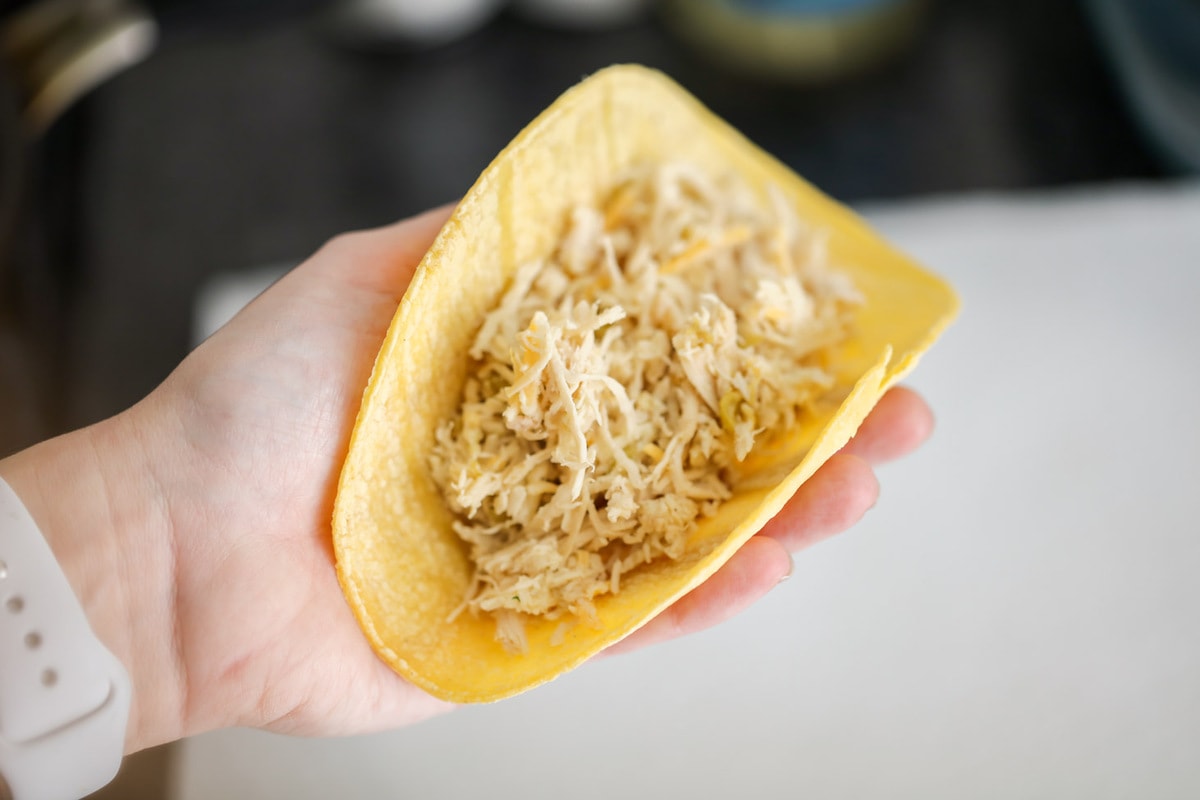 Recipe Tips
There are simple ways to prep for this chicken tacos recipe.
Chicken. Cook up a boneless skinless chicken breast or use boneless skinless chicken thighs. Another idea is to purchase a rotisserie chicken and shred it.
Instant pot shredded chicken. I love my crock pot, but sometimes I need something quicker. Enter the instant pot. Cook chicken from a thawed or frozen state in just minutes.
Add 2-3 pounds of chicken to the pot, sprinkle on your seasonings of choice, and top with 1 cup of chicken broth (or water).
Seal the lid. Set "Pressure Cook" to HIGH and set the timer for 10 minutes (12 minutes if the chicken is frozen). Allow it to naturally release for about 5 minutes then quickly release the valve and remove the lid.
Shred with a fork and the chicken will be ready to use in the tacos. Any extra can be frozen for another meal.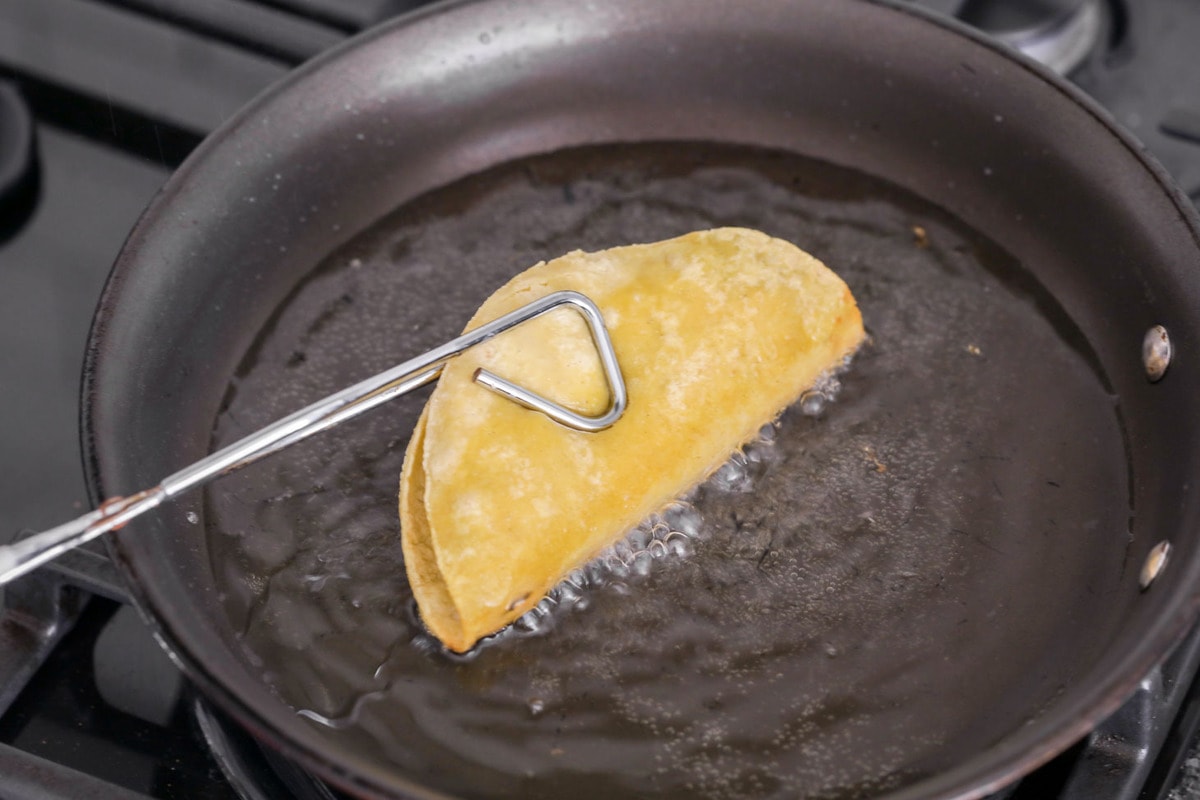 Taco Variations
This best chicken taco recipe can easily be changed up.
Soft tacos. For soft chicken tacos with this same chicken mixture, heat up the chicken, salt and pepper, and green chiles in the microwave. Add the cheese before filling the soft flour tortillas.
Rolled tacos. Roll these tacos instead of making them in a taco shape. When they are rolled, we call them Flautas. They taste great and are also perfect for serving as an appetizer at parties.
Flavor variations. Change up the flavor of these tacos, by adding different spices and cheeses. My mom likes to make them with just shredded chicken, salt, pepper, oregano, and cheese.
Other possibilities include cumin, chili powder, garlic powder, paprika, or cayenne pepper.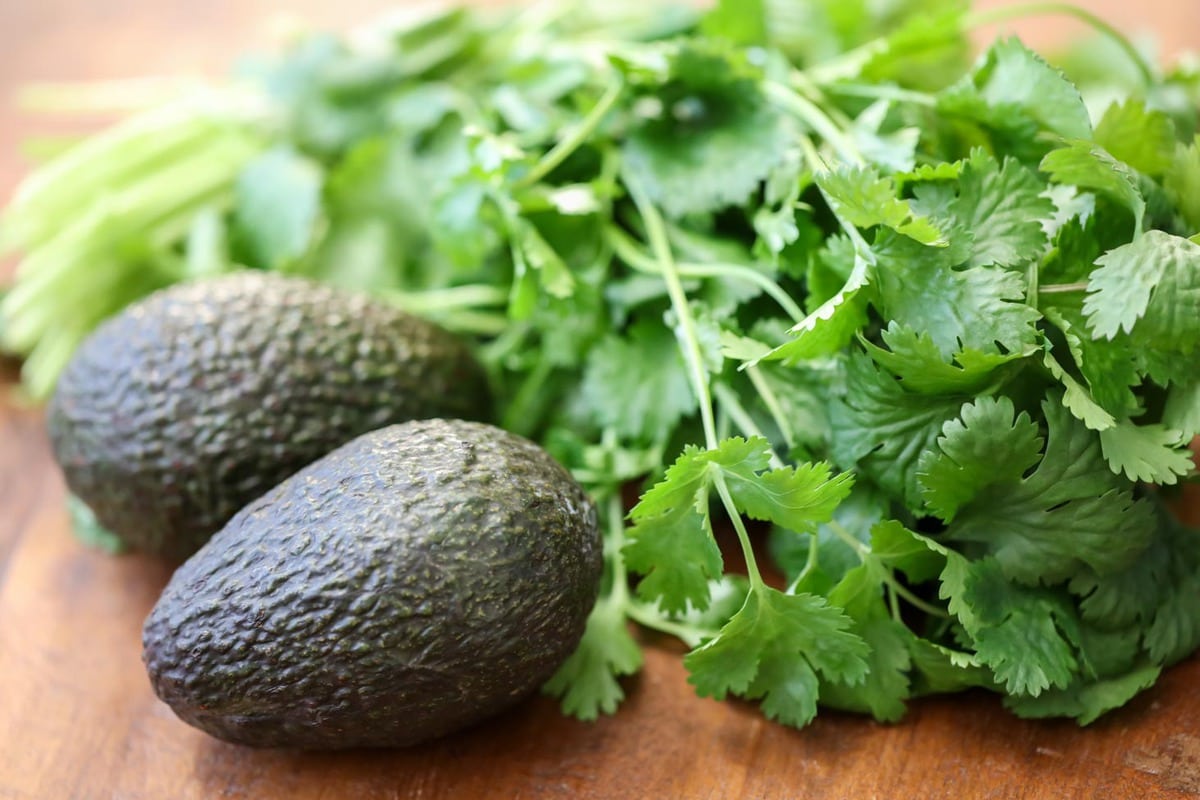 Topping Ideas
Our favorite chicken taco toppings include shredded lettuce, diced tomatoes, extra cheese, and green onion slices. You could also add:
fresh cilantro or sliced avocado
sour cream or Greek yogurt
freshly squeezed lime juice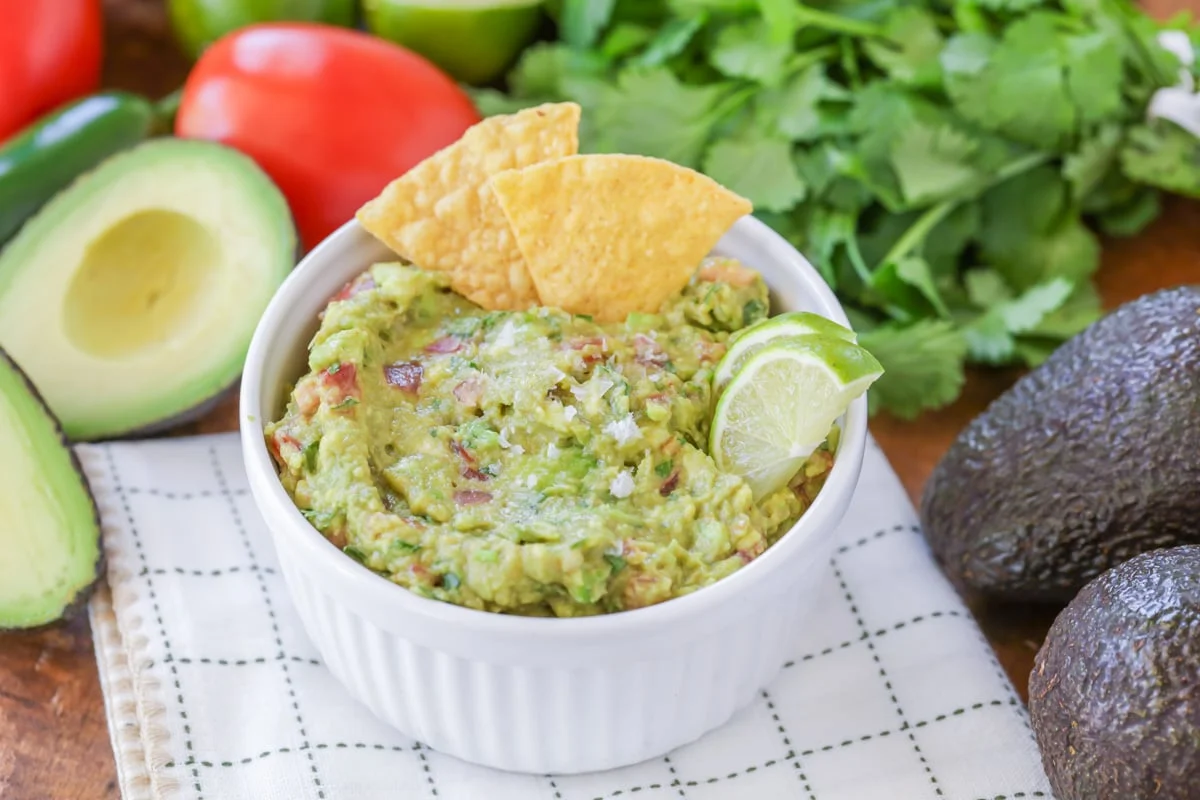 Serving + Storing Tips
We have so many favorite recipes that we like to serve with this shredded chicken taco recipe, but here are some of our favorites:
STORE. Keep homemade chicken tacos in an airtight container in the fridge for 3-4 days.
To reheat. The best way I have found to reheat chicken tacos is in an air fryer. If you don't have one, I suggest broiling them in the oven on both sides.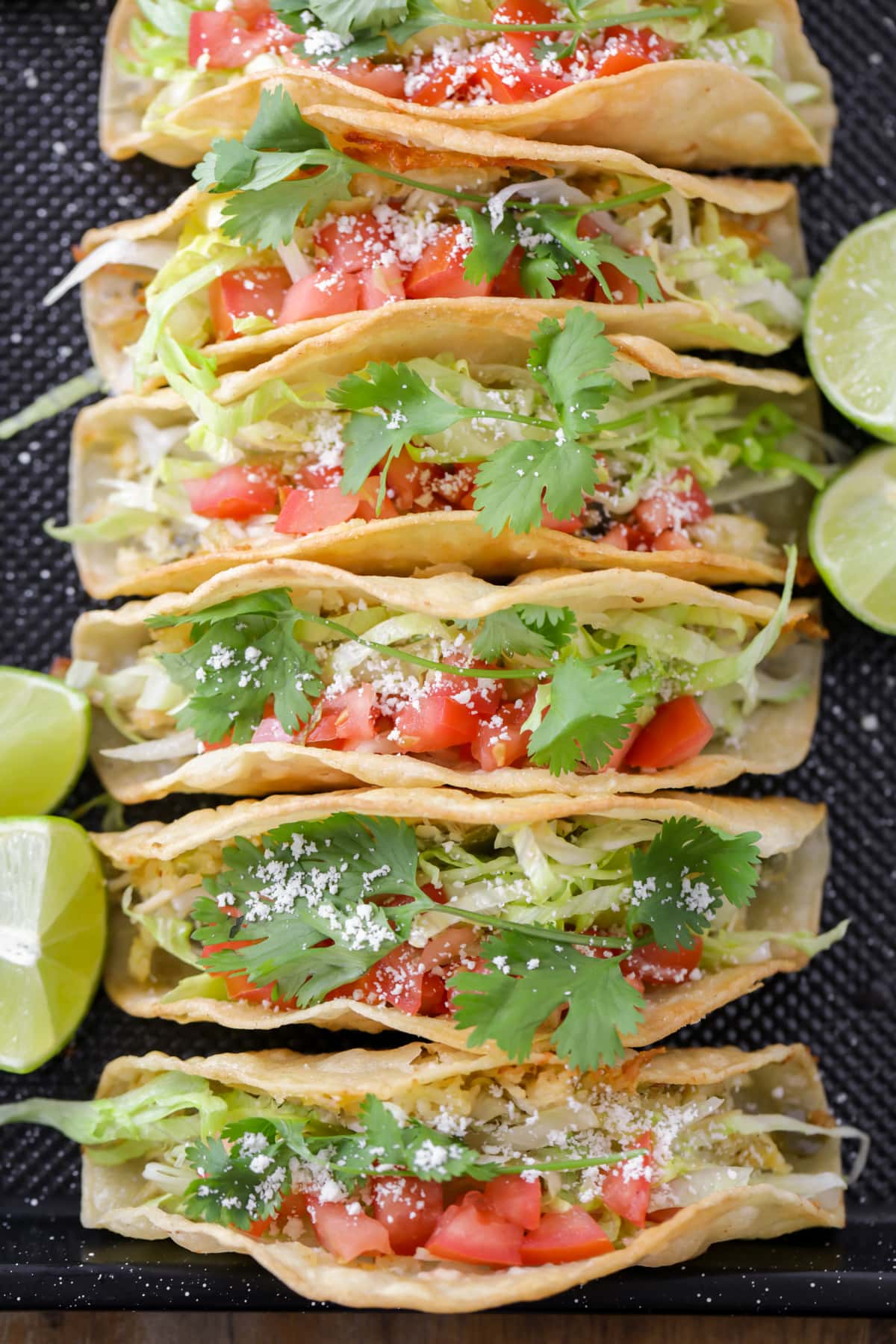 Recipe FAQ
Why is the chicken in my chicken tacos rubbery?
There are a few factors that create rubbery chicken including undercooking, not enough moisture, too much fat, and poor chicken quality ("white striping" which are white fatty strips that run parallel to the muscle fibers).
How can I keep the corn tortillas from cracking when I make chicken tacos?
Corn tortillas can tear when rolled, especially if they are old. To help keep this from happening you can warm them up along with a damp paper towel in the microwave. You can also flash fry them in the oil for a second or two on each side, then fill, fold, and re-fry. We like to use Kroger brand corn tortillas which don't crack easily and don't require flash frying first.
How are chicken tacos different than taquitos?
The chicken filling can be the same. The difference is that taquitos are rolled while tacos are folded which leaves space for other toppings to be added.
For More Taco Recipes, Check Out: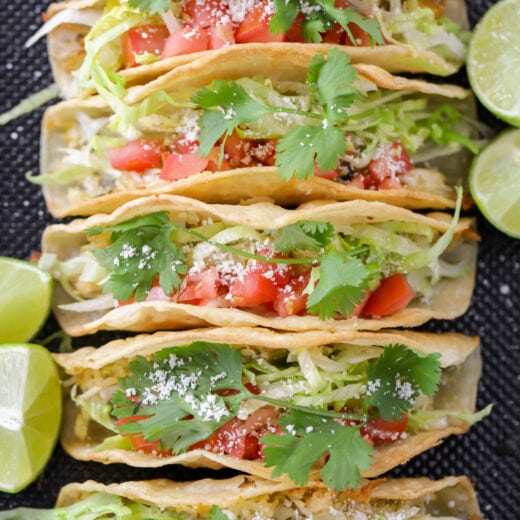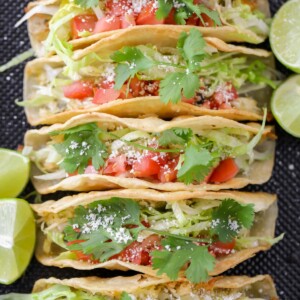 Chicken Tacos Recipe
Make your own restaurant-style chicken tacos at home. They are easy to make, perfectly crunchy, and SO delicious!
Ingredients
2

cups

shredded, cooked chicken

1

cup

shredded Mexican blend cheese

1 (4-ounce)

can

green chiles

salt and pepper to taste

vegetable oil

8 (6-inch)

corn tortillas
Instructions
In a medium bowl, combine chicken, cheese, green chiles, salt and pepper, and mix.

Fill a large saucepan with about ¾ inch oil. Heat over medium heat to 375°F.

Add ¼ cup of chicken mixture to the middle of a corn tortilla, then fold like a taco and grab with your tongs. Rock the taco back and forth in the oil until it can lay down without opening, then place into the oil on its side.

Cook for 2–3 minutes on each side. When both sides are cooked, remove from oil and place on a paper towel–lined plate to drain. Repeat with the remaining tortillas and filling.

Add your desired toppings to fill the tacos before serving.
Notes
Flash Fry. If your corn tortillas are cracking easily, flash fry them in the oil for a second or two on each side, then fill and re-fry. We like to use the Kroger brand of corn tortillas which don't crack easily and don't require flash frying first.
Taco Variations: 
Soft Tacos: Combine the chicken, chiles, salt and pepper and heat in the microwave, then add the cheese. Serve with toppings in soft flour tortillas.
Rolled Tacos: You can roll these instead of making them in a taco shape—when rolled, they are called flautas.
Meat: Switch up the chicken for other meats like shredded beef (the same as our Pot Roast recipe) or pork (the same as our Kalua pork recipe). 
 
Nutrition
Calories:
107
kcal
,
Carbohydrates:
12
g
,
Protein:
5
g
,
Fat:
5
g
,
Saturated Fat:
2
g
,
Polyunsaturated Fat:
0.5
g
,
Monounsaturated Fat:
1
g
,
Cholesterol:
13
mg
,
Sodium:
97
mg
,
Potassium:
60
mg
,
Fiber:
2
g
,
Sugar:
0.4
g
,
Vitamin A:
93
IU
,
Vitamin C:
0.01
mg
,
Calcium:
113
mg
,
Iron:
0.4
mg
Nutrition information is automatically calculated, so should only be used as an approximation.
Making this recipe? Tag us!
Share it with us on Instagram using the hashtag #lilluna, so we can see what you're creating in the kitchen!