Beef Empanadas are one of our favorite Mexican dishes. They are a crispy, airy taco made from dough, filled with shredded beef, red chile sauce, and olives.
Using our favorite Red Enchilada Sauce, leftover Roast, and this amazing empanada dough, these beef empanadas are requested in my home more than any other recipe. Every time we have a Mexican meal, these are always the star!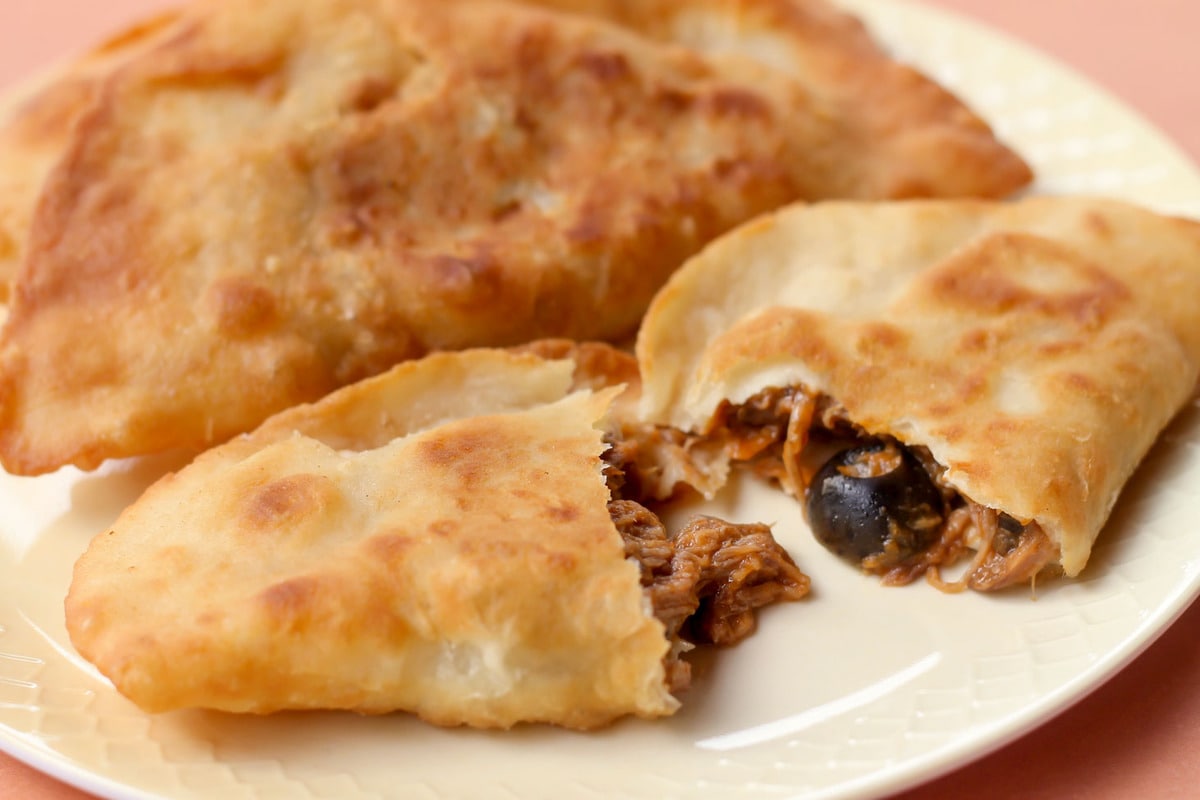 Grandma's famous Empanadas
Being hispanic, Mexican food is something I've grown up enjoying.
From Mexican Rice to Chimichangas to Chicken Enchiladas – we love it all, but there is one recipe that my family loves most – my grandma's empanadas.
Have you had them before? You can find them in restaurants, but in my opinion, they don't taste even close to the ones my Grandma Luna would make. Fortunately, she taught my mom how to make them and my mom has in turn taught me.
So, what are empanadas exactly? They're a a crispy, airy fried taco filled with red chile beef and olives.
The name comes from the Spanish verb empanar which roughly translates to "wrap in bread", so an empanada is essentially a breaded pastry filled with a savory center.
Dependent on which country you have them in, these can be sweet or savory. Most often they are filled with meat, like our classic recipe, but they also may have fruit and other kinds of fillings.
Once you can master the dough, you can customize the fillings to what you like best!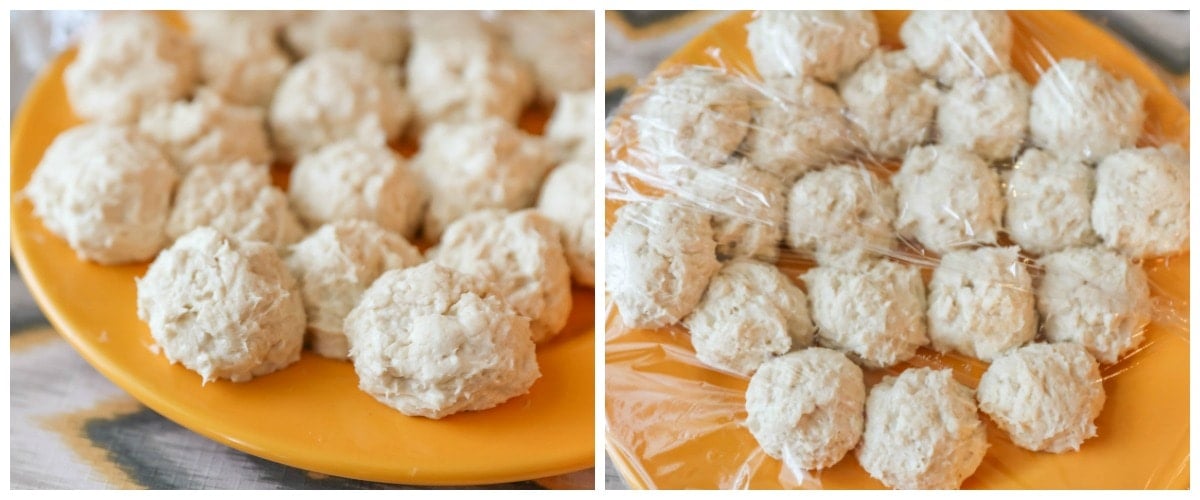 how to make Empanada Dough
The recipe isn't very difficult at all, but if there was a difficult part it would be the empanada dough.
That's just because you want to make sure it's mixed and rolled out to become the airy, pastry-type dough everyone loves in this recipe.
Some people use pie crust or pastry dough as a short cut, but I assure you that making this homemade dough is WELL worth it!!
MIX. To make the empanada dough, begin by mixing your all purpose flour, baking powder and salt together in a medium bowl. Add shortening or lard (we think lard works best) along with the water, and use a wooden spoon to mix. The dough will be a little sticky, but that is what we want.
SEPARATE & LET SIT. Pinch away a golf ball size piece of dough and roll into a ball. Set onto a plate and cover with Saran wrap for 4-6 hours (we usually make ours in the morning to be ready for dinner). If you want smaller empanadas, you can make the dough ball even smaller.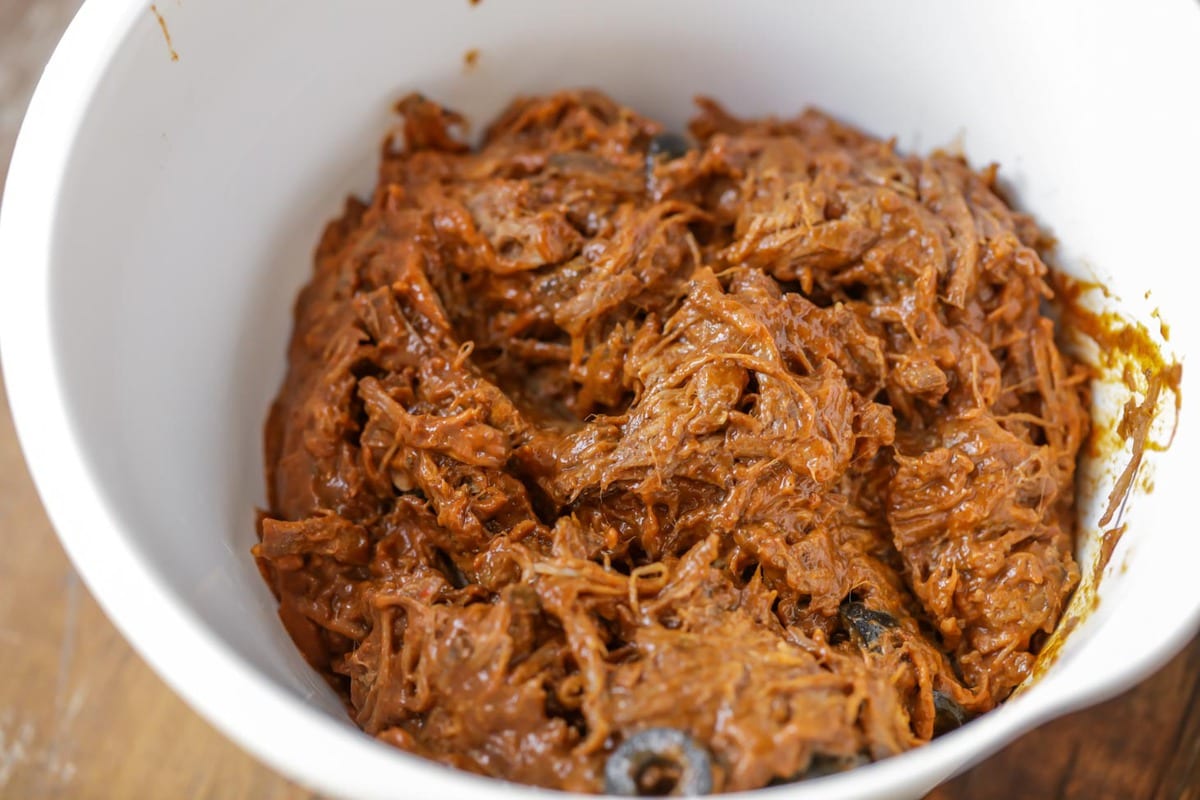 How to Make Empanadas
MEAT. Once you have your empanada dough made and covered for several hours, you will make your meat portion. As mentioned above, we typically cook up our meat as a classic Pot Roast recipe and shred the beef once done cooking.
SAUCE. We also like to make our Homemade Red Enchilada sauce (we use this most often in these empanadas and our Red Cheese Enchiladas), but you can also used any canned red sauce you like. Coat the shredded beef in the enchilada sauce and add a small can of diced olives. Set aside to start working on your dough.
FILL. Roll out a ball of empanada dough onto a floured surface to be about 5-6 inches. When dough is rolled out, put about ¼ cup of meat mixture on one side of the dough, fold the other half of the dough over and pinch around the edges. (Tip: Some people use the prongs of a fork to crimp the edges instead of just pinching)
FRY. Deep fry these in about ½ inch deep oil on medium-high heat in a frying pan or large skillet. You will fry until the dough is golden brown and then let set on a paper towel lined paper plate or dish.
Folding Tips:
You don't want to be chincy with the meat mixture, but also be careful to not overfill the center.

Once assembled place the beef empanadas in the fridge for 20-30 minutes. This can help them "set" and stay together while being cooked.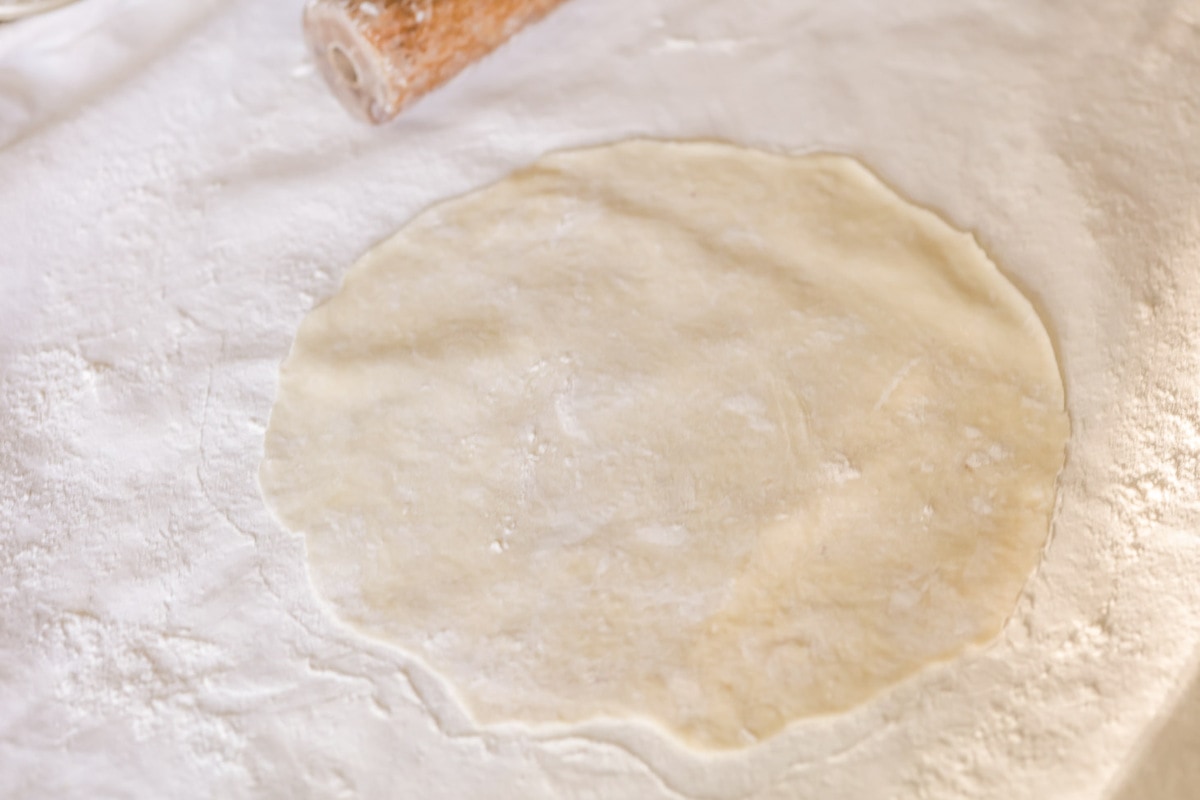 Oven Baked Method
We always deep fry our empanadas because, in our opinion, it's the only way to prepare them. 😉 However, if you must go the healthier route, you can bake them in the oven.
Preheat oven to 375 degrees F and line a baking sheet with parchment paper.
Prepare, fill, and fold empanadas according to the recipe.
Whisk together 1 egg and 1 tablespoon of water and brush the egg wash over the tops of the prepared empanadas with a basting brush.
Bake for about 20 minutes until the empanadas are golden brown.
Recipe Notes:
We think lard works better than shortening, but both work.
Our favorite empanada sauce is our Red Enchilada sauce.
Our favorite beef recipe is our Pot Roast recipe. You could also use an equal amount of ground beef.
We also make pork and chicken empanadas. Use our Pulled Pork or Shredded Chicken, omit the BBQ sauce, and add 505 Green Chili Sauce.
You can add other ingredients and seasonings to your filling such as diced onion, green olives, bell peppers, minced garlic, cumin, chili powder, etc.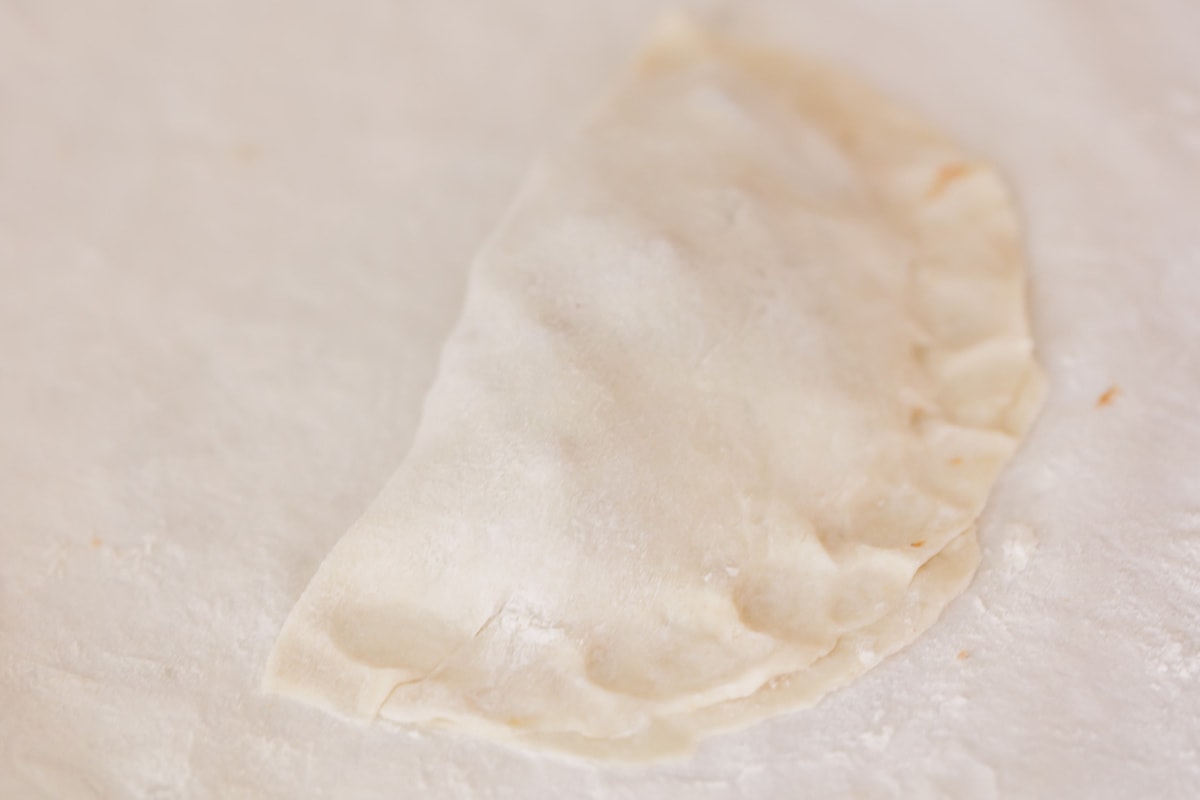 MAking Ahead & STOring
You can make beef empanadas ahead and either keep them in the fridge or freezer.
Store as separate ingredients: make dough and roll into a ball. Cover with plastic wrap. We typically make it 6-8 hours in advance and let it rest on the counter at room temp. You can also make this 24 hours in advance, and then the morning of, take out of the fridge and let rest on the counter until ready to fry up.
Store as assembled empanadas: Prepare according to recipe directions, but do not bake. If storing in the fridge, then place empanadas in an airtight container separating the layers with parchment paper. Refrigerate for 1-2 days. If freezing, then place empanadas on a baking sheet, be sure they do not touch, and flash freeze. Once frozen transfer them to an airtight freezer safe container, label and freeze for 3-4 months. Thaw in fridge and cook according to directions.
NOTE: Be cautious of how wet the meat mixture is. If it's too saucy it may cause the dough to become soggy.
Freezing: If freezing, then wrap again with foil. Make the filling and store in a separate freezer safe, if applicable, container. Store in the fridge for 1-2 days or freezer for 3-4 months. Thaw if needed, assemble and cook according to directions.
How long do empanadas last? Like most fried food, beef empanadas are best fresh. Having said that, you can store in a Ziploc bag and place in the fridge for up to 24-48 hours before reheating and enjoying.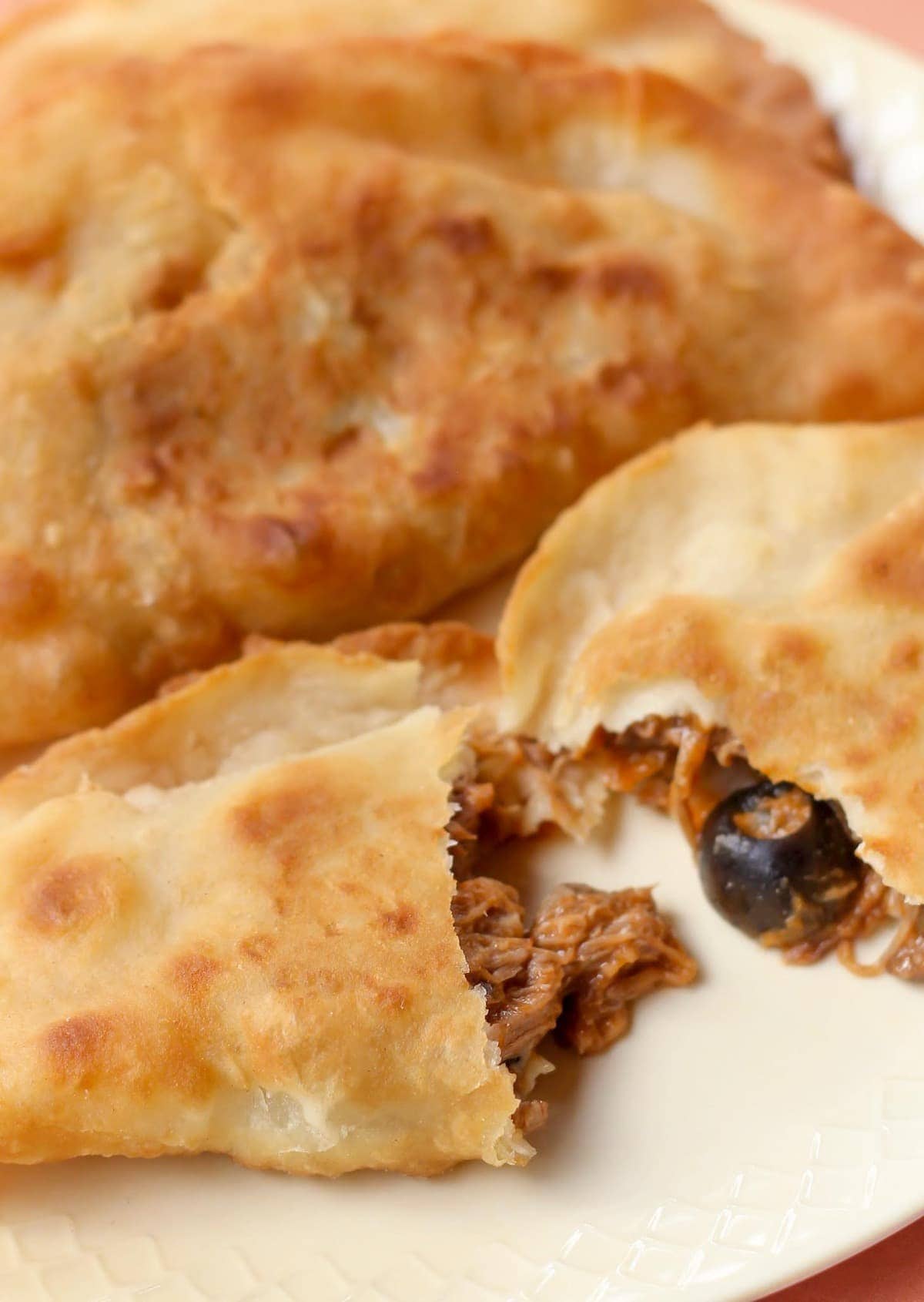 I really hope you give these a try, because I think you'll love them just as much as we do. They really are our favorite Mexican empanadas and ALWAYS get rave reviews.
What to serve with Beef Empanadas?
More Similar Main Dishes:
Beef Empanada Recipe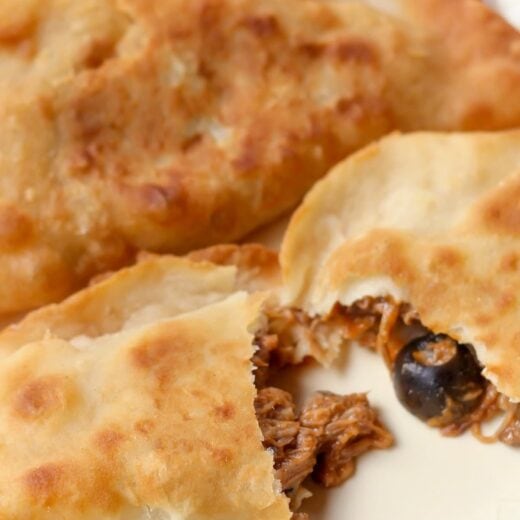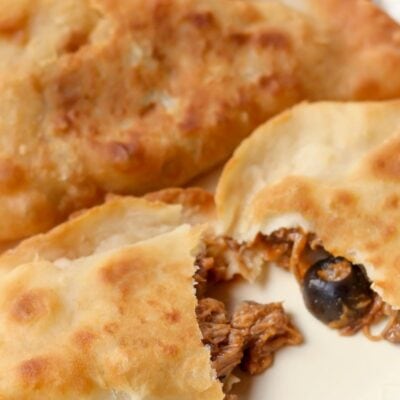 Beef Empanadas are one of our favorite Mexican dishes. They are a crispy, airy taco made from dough, filled with shredded beef, red chile sauce, and olives.
Ingredients
Filling
2½

pounds

roast beef

cooked and shredded (store-bought or homemade)

1-2

cups

red enchilada sauce

to taste (store bought or homemade)

½

cup

diced black olives

vegetable oil

for frying
Instructions
In a medium bowl, mix all ingredients for the dough together with a wooden spoon until well combined and a little sticky. Pinch away golf ball–sized pieces of dough and roll each one into a ball. Place dough balls on a glass or ceramic plate and cover with plastic wrap. Let rest at room temperature for 4–6 hours (we usually make ours in the morning to be ready for dinner).

In a medium bowl, combine shredded meat, red enchilada sauce and diced olives. Mix and set aside.

When dough is ready, fill a medium saucepan with ¾ inch oil. Heat over medium heat to 365 degrees F.

Roll out each dough ball on a floured surface into a 5–6-inch round.

Add ¼ cup of roast beef mixture to one side of each dough circle. Fold the other half over and pinch around the entire edge.

Working in batches, fry empanadas in oil for 2–3 minutes on each side until golden brown.

Transfer to a paper towel–lined plate to drain. Serve warm.
Notes
Make Ahead: We don't suggest making any fried foods ahead of time, but you can make the filling in advance. Store in an airtight container in the refrigerator for up to 48 hours.
Variations: We love to change it up and make pork or chicken empanadas.
o Pork: Use Pulled Pork and mix with your favorite green chile sauce.
o Chicken: Use the chicken mixture from our Flautas recipe in place of the beef.