Everything you need to know about shredded chicken! Tips and tricks on how to cook it, shred it, use it, and even freeze it! You'll be able to use shredded chicken in various recipes including soups, casseroles, and even appetizers.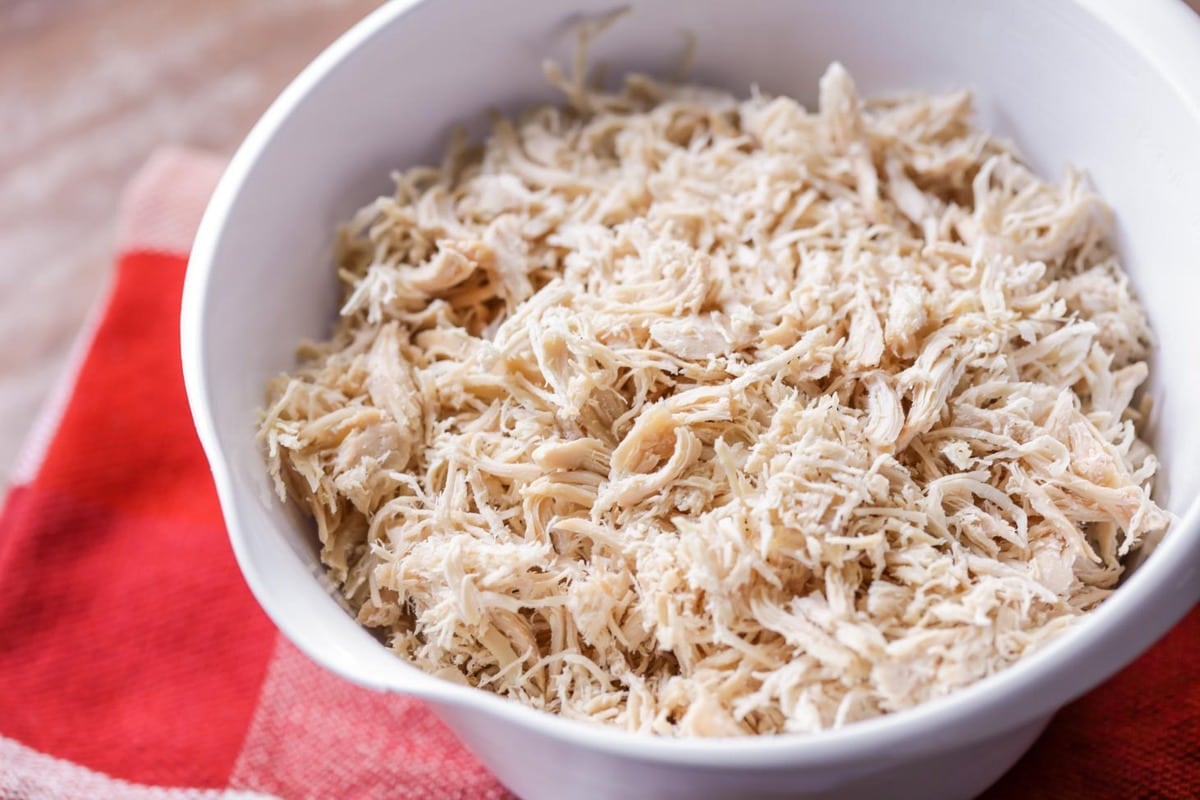 Shredded Cooked Chicken
Chicken is the best. It's inexpensive, tastes great when cooked and seasoned properly, and it is delicious in about a million recipes. Plus, it's such a great source of protein for our bodies! You can bake chicken in the oven, grill it outside, cook it in the crockpot, or in a pan on the stove! It's very versatile.
One of my favorite ways to eat and use chicken is shredded. Throw it into enchiladas, soups, salads, dips, appetizers and more! Sometimes shredding chicken can seem daunting, and maybe even like a chore. That's where this post comes in. We will let you in on some shredded chicken secrets! I will also tell you my favorite recipes to use shredded chicken in. Let's get started!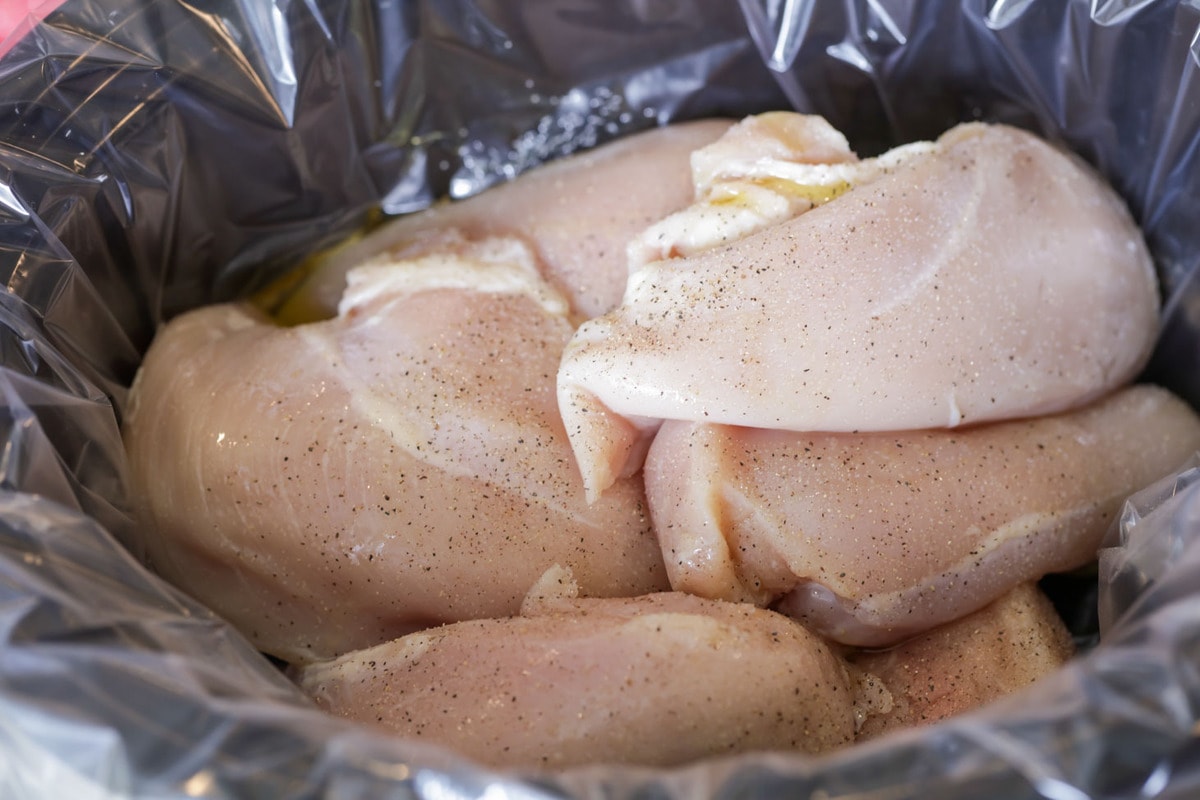 How to make shredded chicken
As I mentioned, there are several different ways to cook chicken. Pretty much any method will work for making shredded chicken (including baking it in the oven), but the two methods I've found that produce the most tender, fall apart, shredded chicken are in the slow cooker, and the instant pot.
Crockpot Shredded Chicken
I love the crockpot method because it's SO simple. Place your chicken breasts in the crock pot, drizzle with olive oil, and season with salt and pepper. Cook on LOW for 8 hours, or HIGH for 3-4. Take out and shred while it's warm.
Instant pot Shredded CHicken
If you're in a time crunch, you can always use a pressure cooker! Place two pounds of chicken breasts in the Instant Pot with 1⁄2 cup of water and your favorite seasonings. Secure the lid and set the Instant Pot to manual for 12 minutes if the chicken is frozen, and 9 minutes if it's thawed.
Once it's done cooking, let the Instant Pot self vent for 10 minutes. Then, manually release the remaining pressure in the Instant Pot, open the lid, remove the chicken, and shred.
how to Shred Chicken
There are a few different ways we like to shred chicken once it's cooked. The most common ones are the hand method and the fork method. The hand method is basically just using your hands to shred the chicken into pieces. Make sure your hands are clean and the chicken is completed cooled—hot chicken = ouch! The fork method requires two forks. Pull the chicken apart in shreds with the forks. The forks get the job done faster and a little bit easier than the hand method.
My favorite way to shred chicken is the stand mixer method! Have you heard of this one? If you haven't, I'm about to change your life. It's the easiest and fastest way out there! Make sure your chicken is still warm and put it into your stand mixer. Put the flat beater, or paddle, attachment on and put it on speed 2 for 30-60 seconds. You will be surprised at how fast it shreds.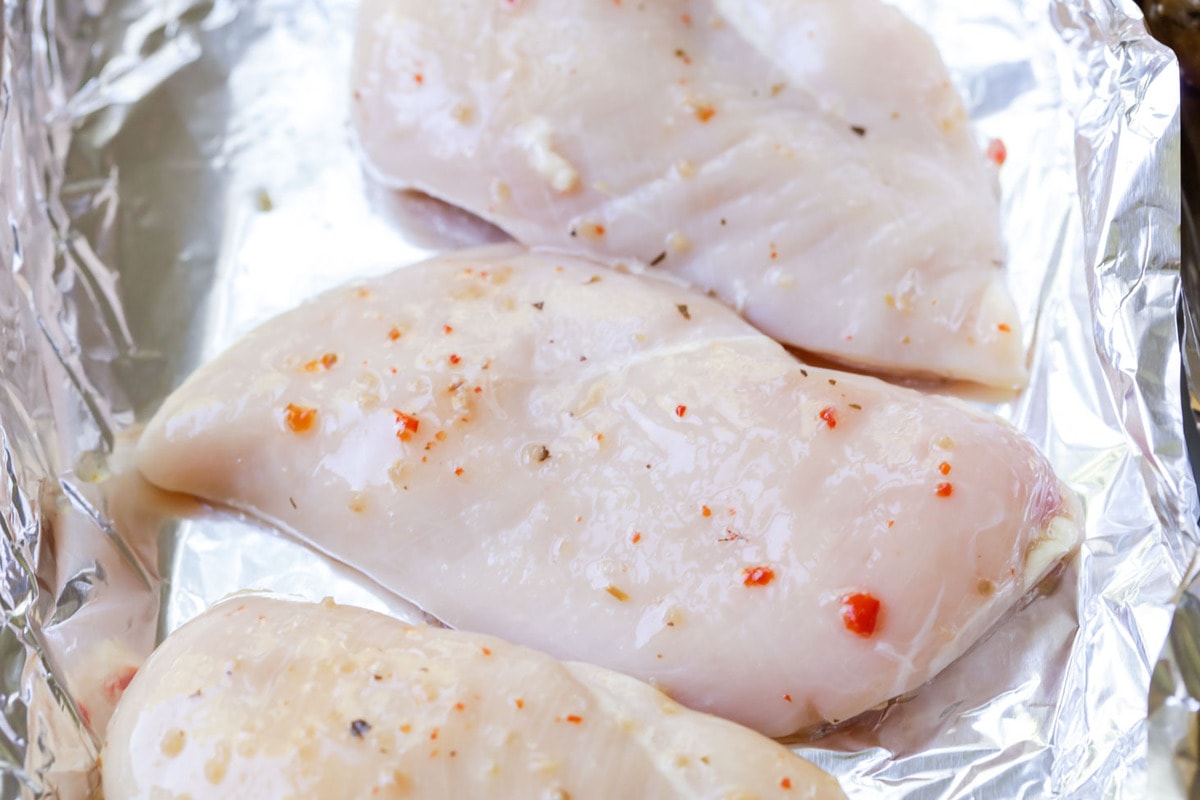 Shredded Chicken Recipes
Here are some of my favorite recipes that use shredded chicken, including soups, casseroles, Mexican dishes, and appetizers!
Soups:
Casseroles:
Mexican Dishes:
Appetizers: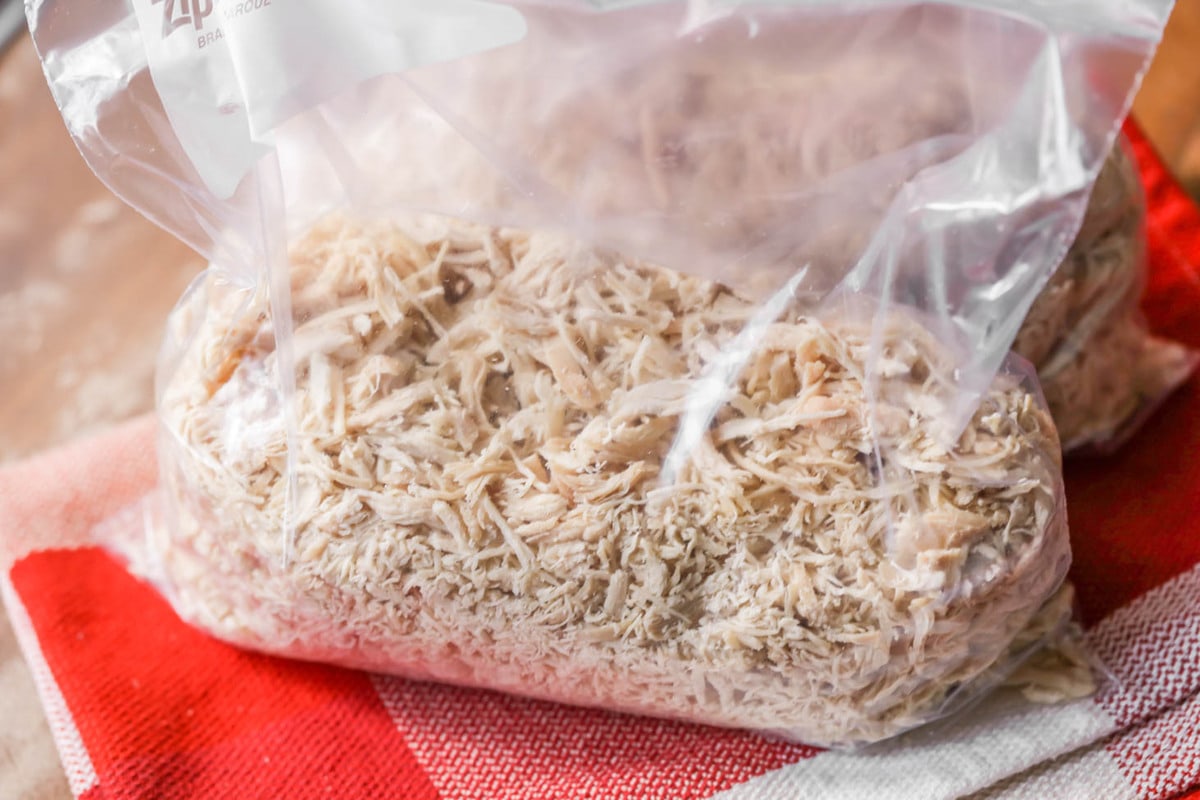 Freezing Shredded Chicken
How to freeze shredded chicken? It's really quite easy and something we do all the time. In fact, we cook up a bunch of chicken at the beginning of each month, bag and freeze it for that month's meals.
Once your shredded chicken is completely cooled, you can put it in ziplock bags or airtight containers in 1 or 2 cup portions (depending on how much you think you'll use at a time), and store in the freezer. If it's stored properly, the chicken will maintain good quality for about 4 months. It's still safe to eat any time after that, but it will taste the best within that time period.
When you're ready to use it in a recipe, you can take individual servings out of the freezer and thaw it in the fridge overnight. Or, if it's going in something that will be cooked like a soup or casserole, you should be able to put it right into the recipe.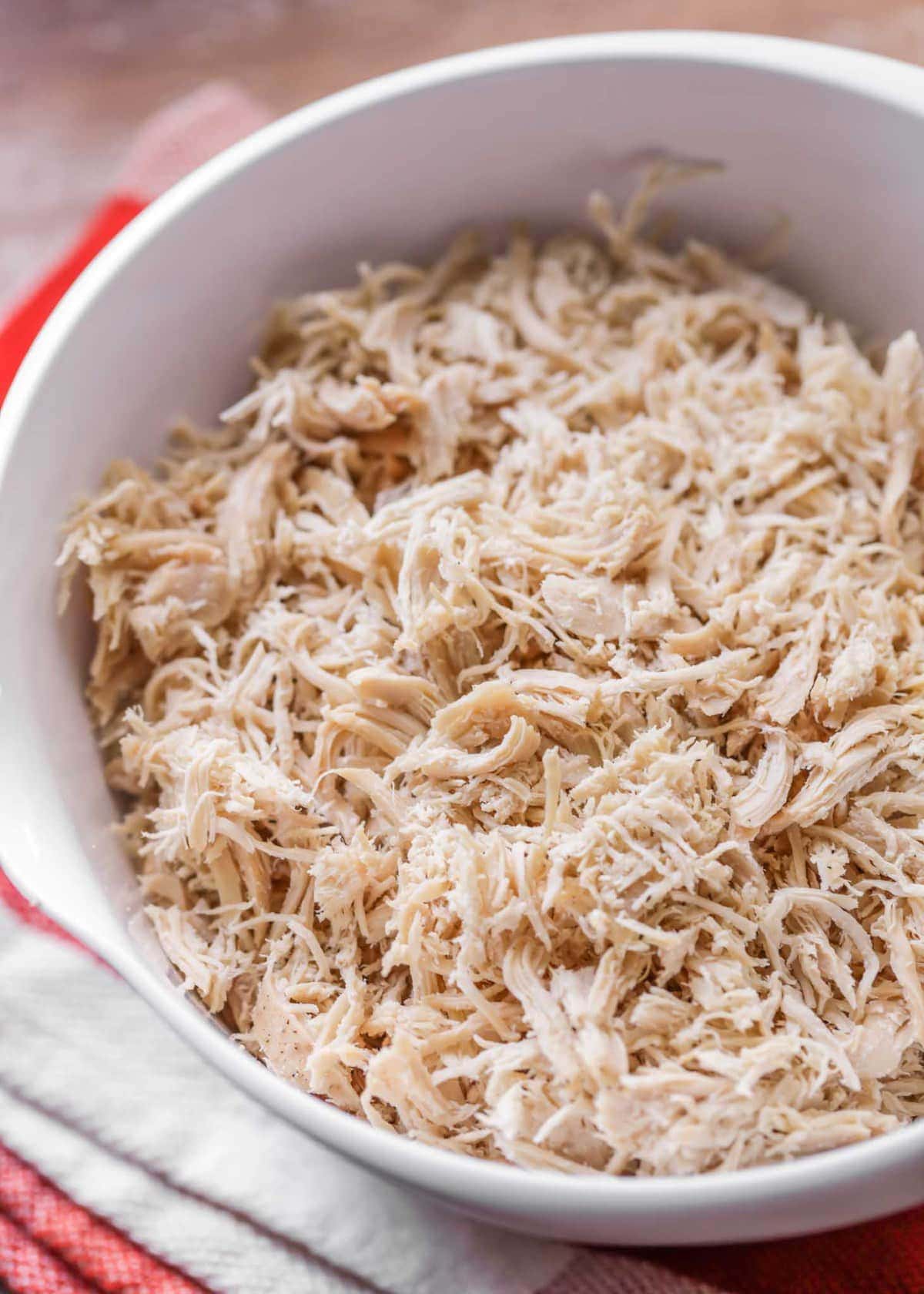 We sure love us some shredded chicken! We use it in so many recipes and love having it on hand because its the perfect additio to any meal.
What is your favorite way to shred chicken? Let us know in the comments!
Shredded Chicken Recipe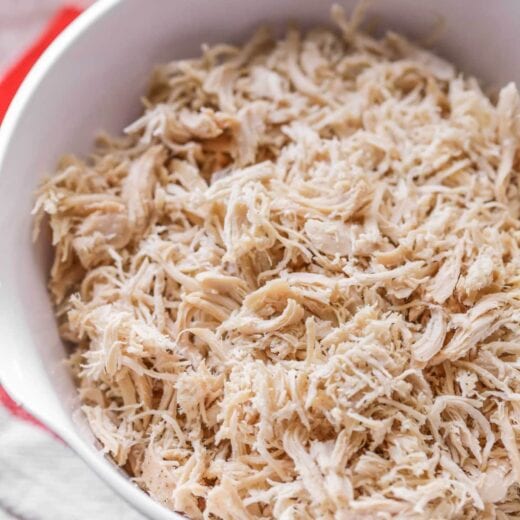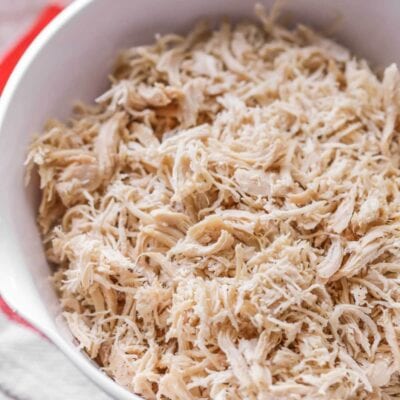 Tender, moist, shredded chicken cooked in the crockpot. This shredded chicken can be used in soups, salads, casseroles, and even appetizers!
Ingredients
4

chicken breasts

boneless, skinless

2-3

TB

olive oil

salt and pepepr
Instructions
Place boneless, skinless chicken breasts in the crock pot.

Drizzle with olive oil and season with salt and pepper.


Cook on LOW for 8 hours or on HIGH for 3-4 hours.


Take out and shred while warm.