All of your baked chicken questions answered in one post! Perfectly cooked Oven Baked Chicken is easier than you think, plus it's used in so many other recipes – from appetizers to dinner recipes. Season or marinate however you like!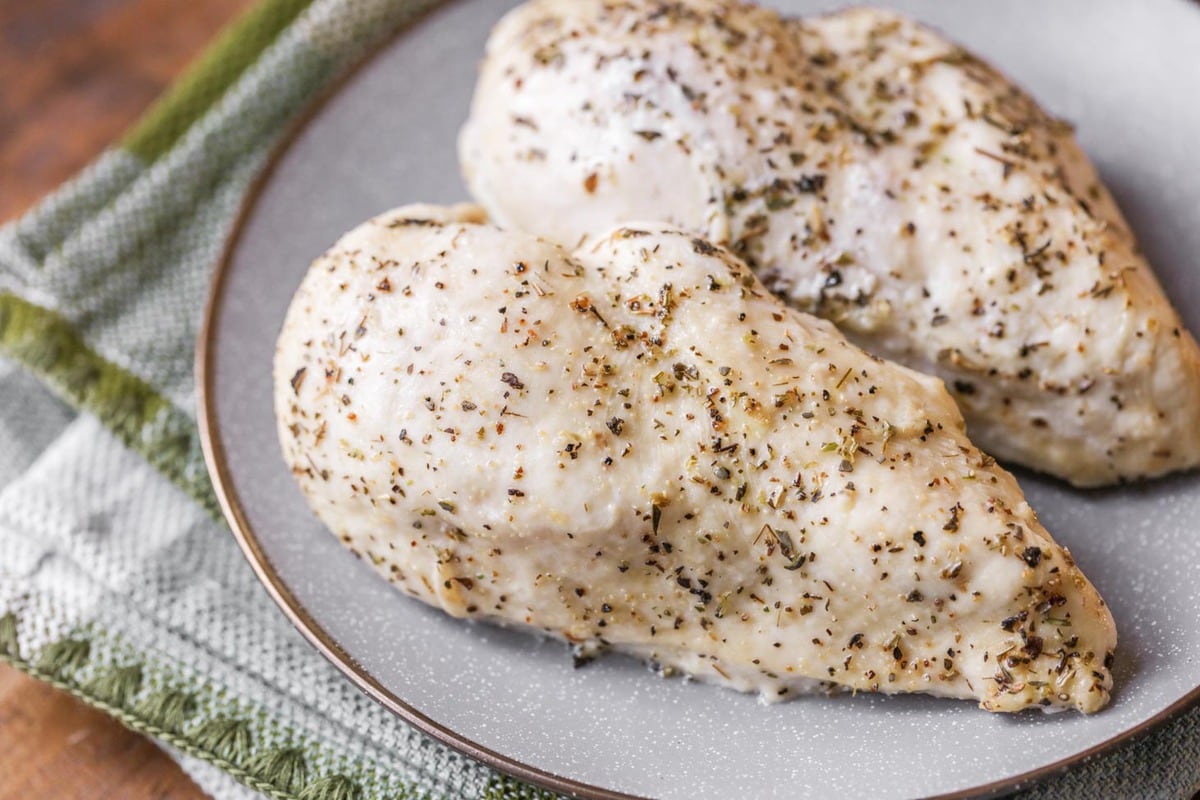 Baked Chicken Breast
Baked chicken breast recipes are some of my favorites. Baking the chicken makes the process so easy when the oven does all the work for you. Plus, the clean up is so much easier. But chicken can be a tricky subject. Why is chicken hard to cook sometimes? Don't over-bake it! Don't under-bake it! It's gotta be just right. 
 And there are so many ways to season it, cut it up, and serve it.
In this post, we're going to answer all of your baked chicken breast questions! Let's get to the bottom of how to baked the perfect chicken breast in the oven. After reading this post, you'll be cooking moist, tender, well seasoned, and evenly cooked chicken in no time, every time!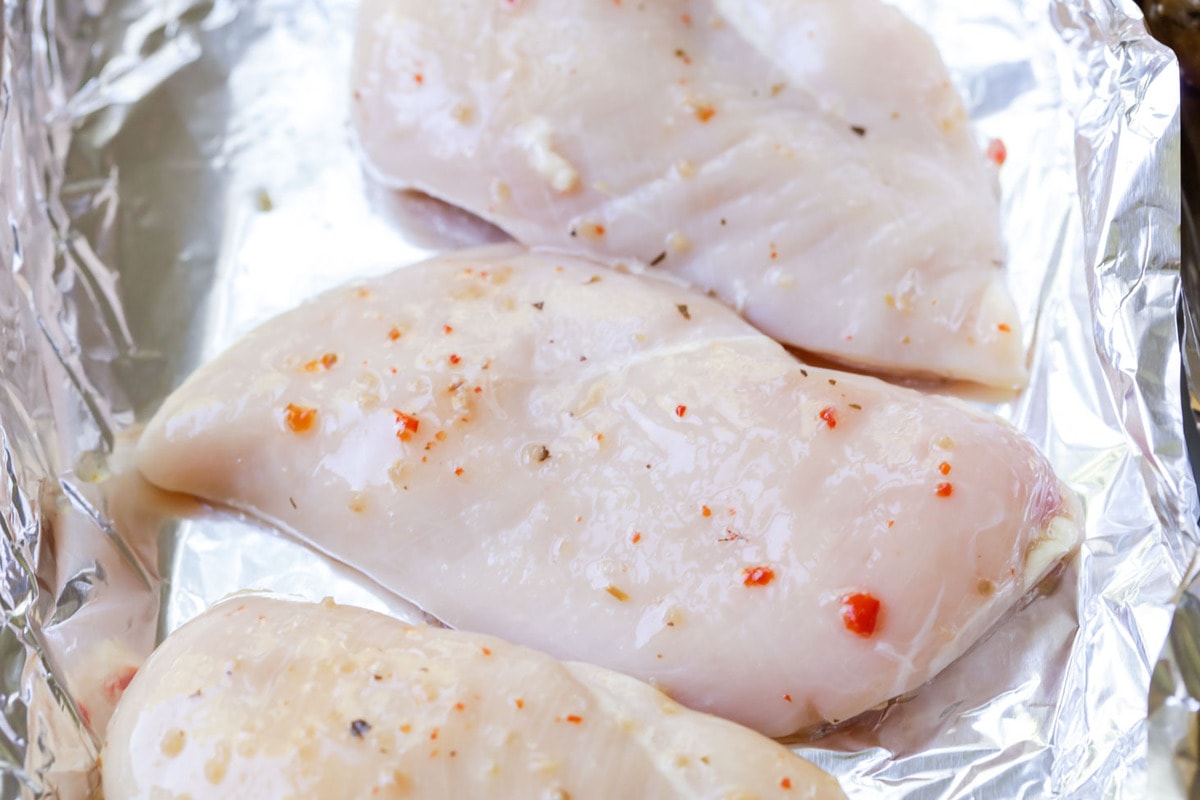 How to Bake Chicken
It's super important to season your chicken really well. No one likes a plain bland chicken breast. There are so many options! Here are a few different seasoning variations on the site:
If we are looking to cook a basic baked chicken recipe, we either just marinate it in a dressing for 24 hours or drizzle on olive oil and some Italian seasoning and salt and pepper.
When baking chicken in the oven, you need to make sure it's cooked completely throughout. Using a meat thermometer is very helpful in making sure your chicken is properly cooked. The thickest part of your chicken should be at the temperature 165 degrees Fahrenheit (or 75° Celsius).
What temperature to bake chicken?
There are a few different oven temperatures you can bake chicken. A good rule of thumb is 375 degrees. Not all chicken breasts are created equal- some are bigger and thicker than others. But an 8oz chicken breast should be cooked at 375 degrees for about 30 minutes. When your chicken breast is cooked through the juices will run clear.
Here are some general temps and how long to bake chicken info:
350 degrees: 30 – 35 minutes
375 degrees: About 30 minutes
400 degrees: 25 minutes
425 degrees: 20 – 25 minutes
TIP: For easy clean up, just place on a greased foil-lined baking sheet. 😉
Sometimes I let my chicken rest for a couple of minutes before I slice it up. This is not mandatory but I feel like it helps with keeping it moist and flavorful.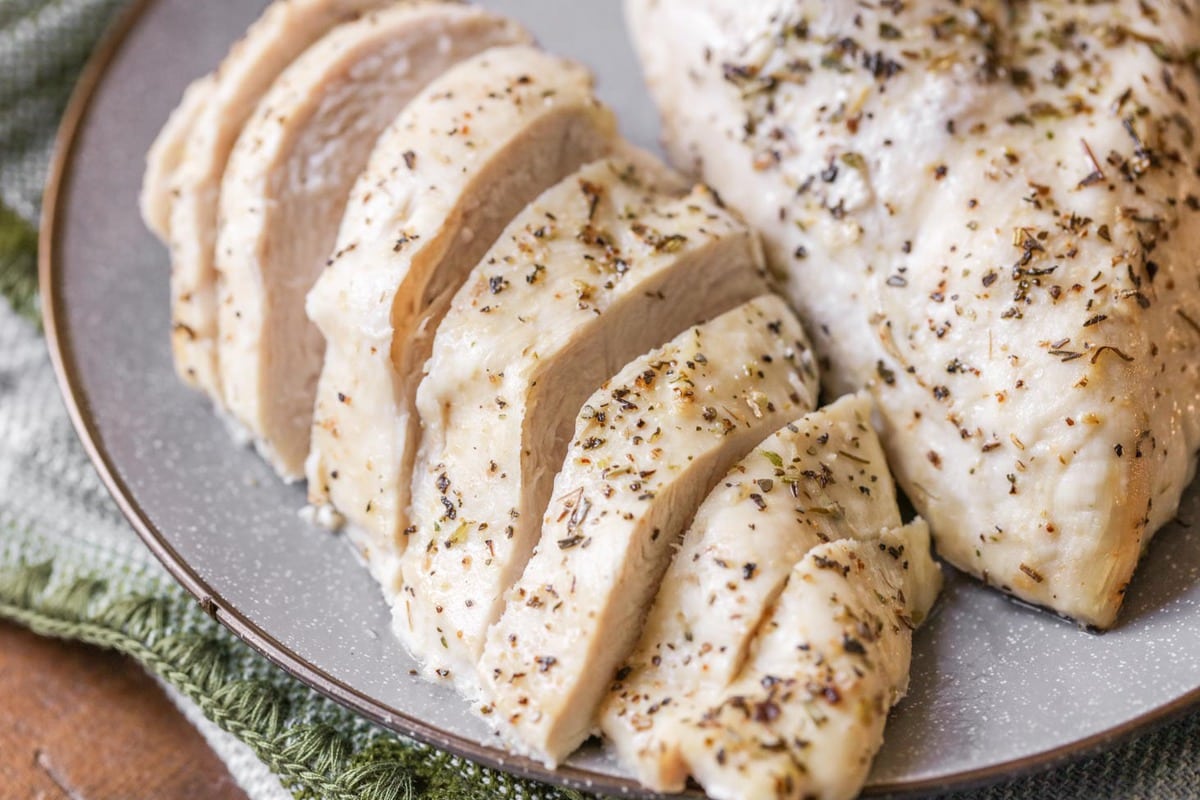 Baked chicken recipes
The possibilities are endless with a baked chicken breast! There are so many yummy recipes and different flavors you can make. It depends on whether you cook and cube or shred it, but here are some of our favorite ways to use baked chicken:
Cooked and Cubed Chicken dinner Recipes:
Cooked and cubed Chicken Soup Recipes
Both are so delicious. I also love to cube baked chicken breasts and throw them into easy salads like this Lemon Chicken Pasta Salad or this fresh Waldorf Salad. And don't forget all the ways you can use shredded chicken – GO HERE for best tips and tricks for shredding chicken.
Baking chicken in the oven gets even more tasty with all the different breading you can put on it! One of my favorites is this Baked Chicken Parmesan! It has all the flavor of fried chicken parmesan but on the lighter healthier side. These Baked Chicken Fingers are also a winner at our house- my kids LOVE them. This Crispy Baked Chicken is crunchy and creamy and oh-so-yummy!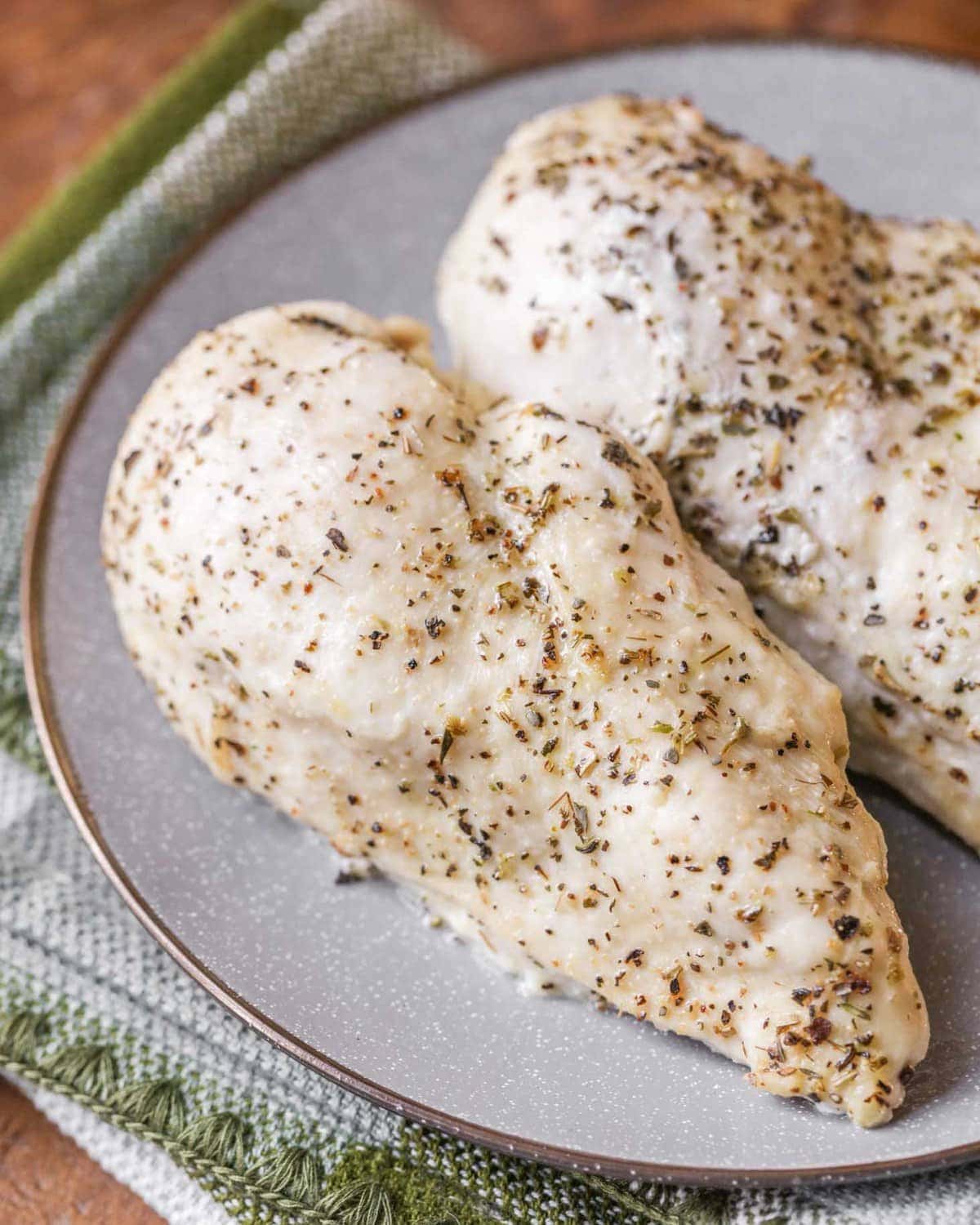 Now you are a professional at baked chicken breasts! We hope all of your questions were answered in this post and that you feel confident in baking chicken in the oven.
Baked Chicken Recipe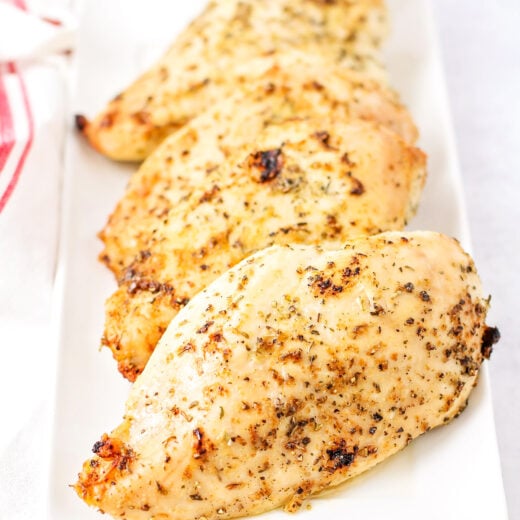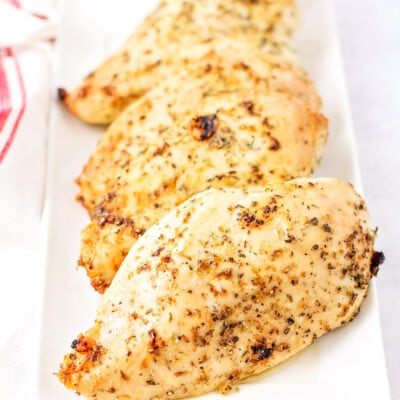 Perfectly cooked Oven Baked Chicken is easier than you think, plus it's used in so many other recipes - from appetizers to dinner recipes!
Ingredients
4

chicken breasts

1-2

tbsp

olive oil

1

teaspoon

garlic salt

with parsley flakes

½

teaspoon

pepper

½

teaspoon

italian seasoning
Instructions
Place chicken breasts in a bowl and drizzle with olive oil, season with garlic salt, pepper, and Italian seasoning.

Place on a greased sheet pan (covered with foil for easy cleanup, if desired)

Bake for 16-20 minutes, or until chicken is cooked throughout. When the chicken is fully cooked, the juices will run clear, and the thickest part of the chicken should be at least 165 degrees using a meat thermometer. *Broil for 2-3 minutes more if you want the chicken a little more browned.

Let the chicken cool for a few minutes before slicing or cubing to ensure it stays moist and tender.