These Buttery smooth mashed potatoes are our Go-To potato side dish recipe for every dinner and holiday get together. They're everyone's favorite potatoes!
Mashed potatoes ALWAYS make an appearance at Sunday dinners and holiday meals. They're usually accompanied by more favorite side dishes, like glazed carrots, green bean bundles, and of course homemade rolls!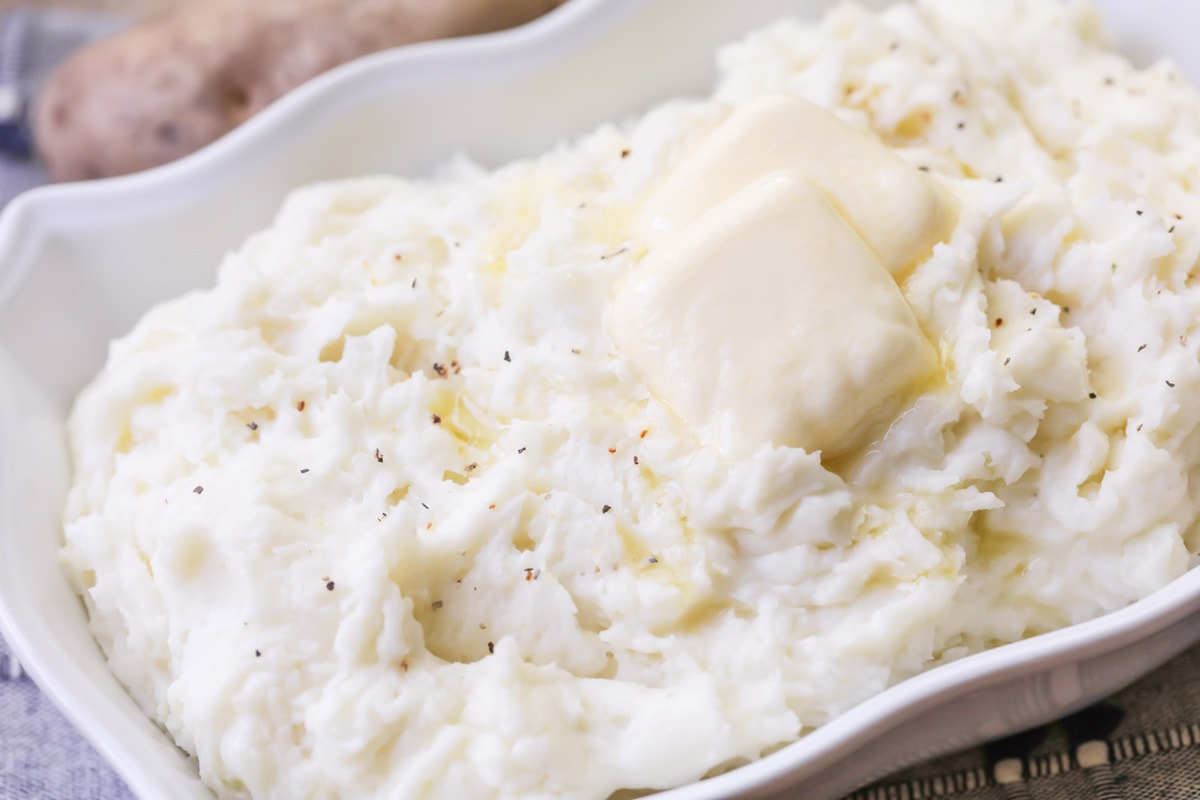 favorite homemade mashed potatoes
There are few things in life that are better than a side of creamy mashed potatoes (name a better side dish – I dare you!)
Mashed potatoes are an iconic food in my life. I have so many great memories of sitting around the table with my family eating and enjoying mashed potatoes together.
Today's recipe is our classic homemade mashed potatoes, but we also love our Cheesy Mashed Potato Casserole, and Slow Cooker Mashed Potatoes.
All you need to make these potatoes is a good masher, lots of butter/salt/pepper, and hot cooked potatoes. Then you already halfway there.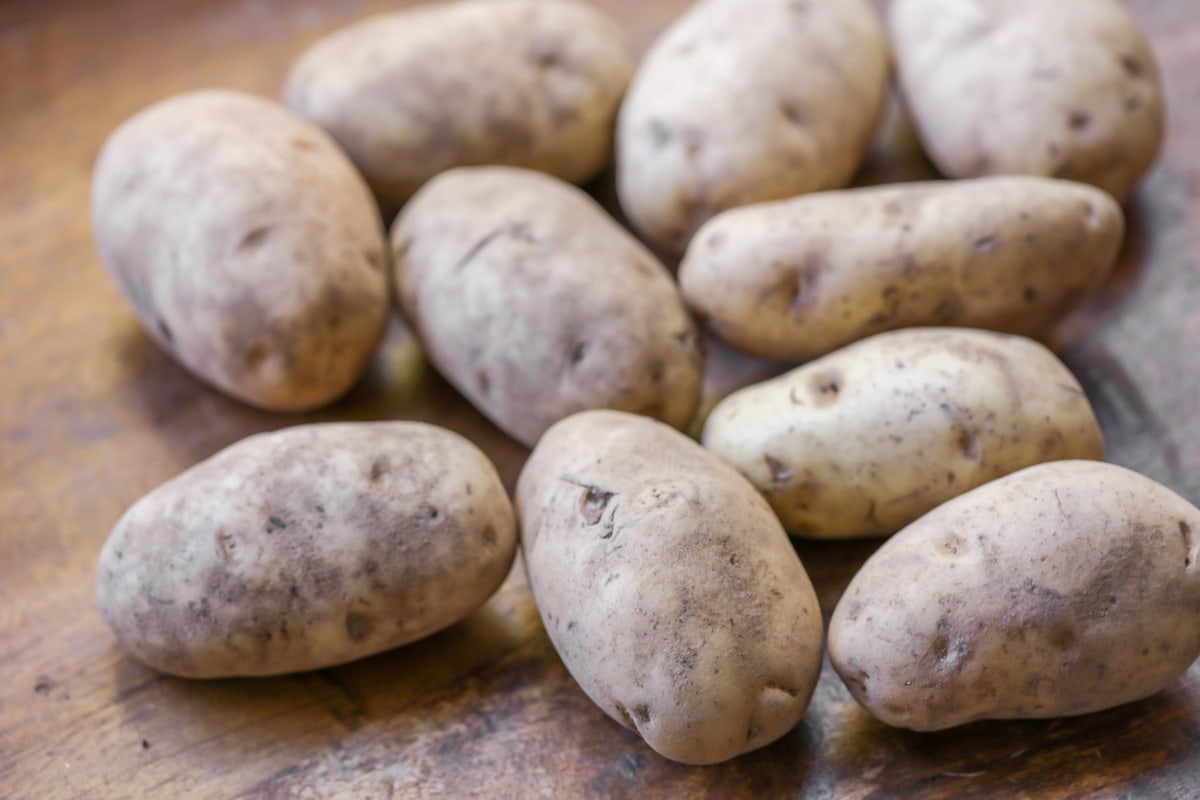 How to Make Mashed Potatoes
Potatoes, in general, are our favorite!! And making this recipe is easier then you think. You're going to need 5 pounds of potatoes for this recipe which feeds about 10 people!
PREP POTATOES. Make sure to wash, peel, and cut your potatoes into chunks before starting.
Best kind of Potatoes for mashed potatoes?
You want to use potatoes with higher starches, like Russet or Yukon Golds. They make for the fluffiest and smoothest mashed potatoes and absorb flavoring more easily than other varieties.
Red or white potato varieties are more waxy and usually take a little more work and mashing to become creamy.
BOIL. Place the cut potatoes into a large pot. Add enough water to the pot to cover the potatoes. Bring the water to a boil, then let the water simmer until the potatoes are fork tender (about 20-25 minutes). Stick them with a fork to see if they are ready.
ADD INGREDIENTS. Drain the water form the pot. Add the cream cheese, butter, cream, and salt. If the cream cheese scares you, I promise you cannot even taste the cream cheese in this recipe. It just adds to the flavor and creaminess.
BLEND. Use a hand mixer to blend all of the ingredients together. Keep mixing until it's as smooth as you want it. (I prefer smooth with no lumps!) Add any more salt and pepper and you'll easy fall in love with this creamy mashed potatoes recipe.
SERVE. Add a few more butter slices on top before serving because a little more butter is always a good idea. Enjoy every last bite!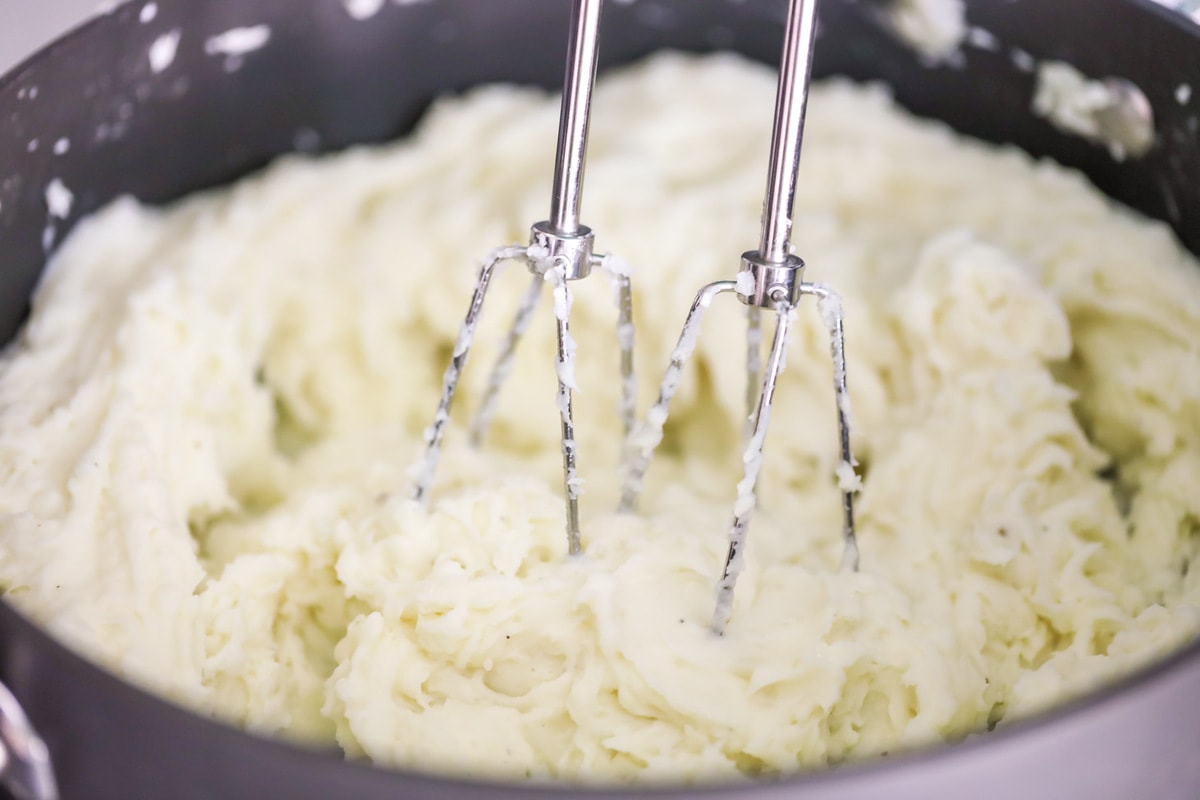 How to serve + Store mashed potatoes
How many potatoes should I prepare per person? You should plan on about ½ pound for each guest, so a 5 pound bag should feed 10 people.
QUICK SERVING GUIDE

10 people – 5 pounds
20 people – 10 pounds
25 people – 12.5 pounds
40 people – 20 pounds
100 people – 50 pounds
To keep your potatoes warm while you serve them, here's an easy trick: Butter your slow cooker and add a few tablespoons whipping cream to it. Keep slow cooker on LOW and transfer your potatoes to it – keep in there for up to 4 hours, stirring before serving.
LEftover mashed potatoes;
Stored properly in the fridge, these be stored in the fridge for 3 to 5 days.
As long as your potatoes have plenty of butter and cream, they're great for freezing. We recommend placing them in a freezer-safe Ziploc bag and laying them flat (it makes it easier to store and to reheat).
How to reheat mashed potatoes:
MICROWAVE – The easiest and fastest way to reheat is to place them in a covered dish and heat them in the microwave at half-power for 4-5 minutes, stirring occasionally.
STOVETOP – Let potatoes thaw overnight in the fridge and place in a large pot on low to medium heat. Stir occasionally until heated through.
SLOW COOKER – Thaw potatoes overnight in the fridge and heat on low for 2-4 hours.
For all of these, add butter or dairy (sour cream or cream cheese) and additional seasonings, if needed when done.
Kids and adults alike will go crazy over these easy and yummy homemade mashed potatoes. We've enjoyed this recipe since I was little and hope you enjoy them as much as we do!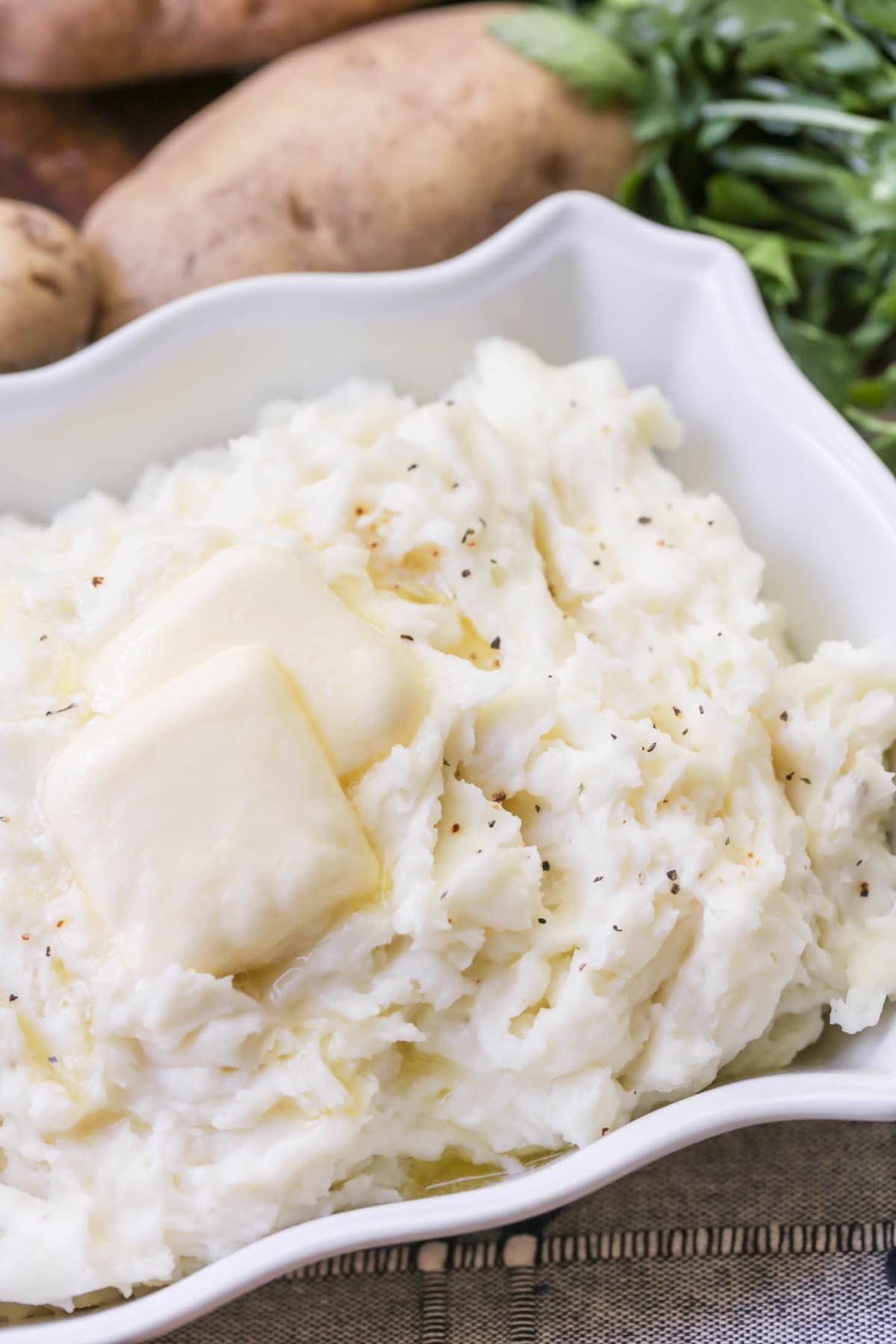 For more mashed potato recipes, check out:
MORE COLLECTIONS: Side Dishes, Thanksgiving Side Dishes
Best Mashed Potatoes Recipe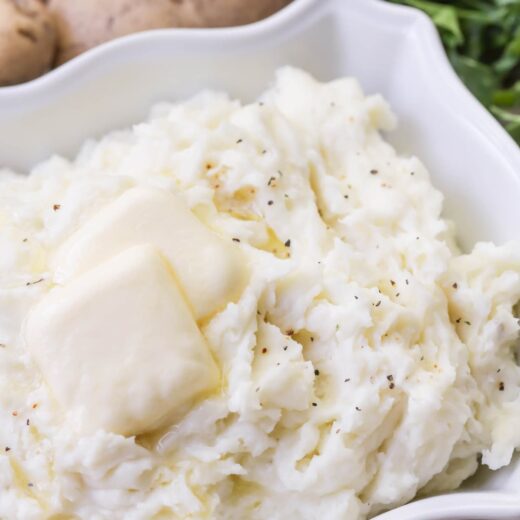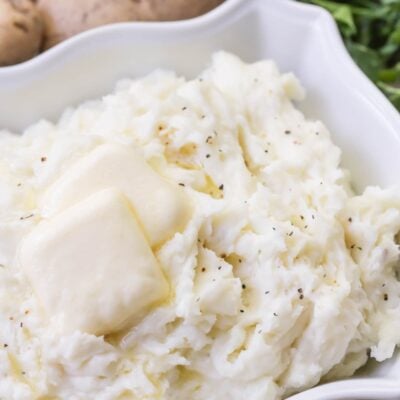 My FAVORITE mashed potatoes recipe! These Buttery smooth mashed potatoes are our Go-To potato side dish recipe for every dinner and holiday get together.
Ingredients
5

lbs

potatoes

washed, peeled, and cut into chunks

4

oz

cream cheese

1/2

cup

salted butter

1/2

cup

heavy whipping cream

1 1/2

tsp

salt
Instructions
Place cut potatoes into a large pot. Add water to pot, covering potatoes. Let water come to a boil, then lower heat and simmer until potatoes are tender (about 20-25 minutes).

Drain water, add cream cheese, butter, cream, and salt. Using a potato masher, mash and mix until you reach your desired consistency.

Season with any more salt and pepper.