A roundup of all the most popular Side dish recipes for Easter. From veggies, to salads, to healthy options and more, we are sharing all the best sides for your holiday.
For more Easter collections, check out: Easter Brunch Ideas, Easter Appetizers, Easter Dinner Ideas, Easter Desserts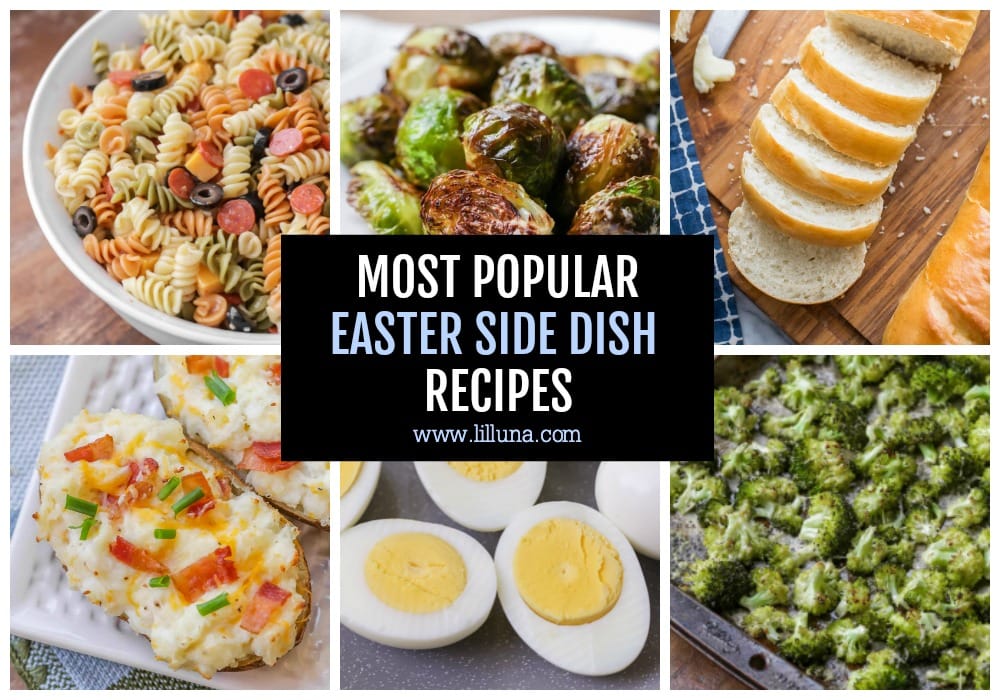 FAVORITE Easter Dinner Side Dishes
Yes, Easter Ham is a staple at Easter dinner, just as much as carrot cake, but you also can't have the meal with some side dishes.
Today, we are rounding up all of our favorite side dishes that would be perfect for your Easter meal. From rolls to veggies to salads, there are so many options to choose from. And what's great is you can pick and customize any of them to your family's liking.
As a family, we also like to make food assignments so one person isn't left doing it all. Divvy up the work and your Easter dinner will be simple and delicious.
We hope you enjoy this list of tasty sides for your Easter holiday meal.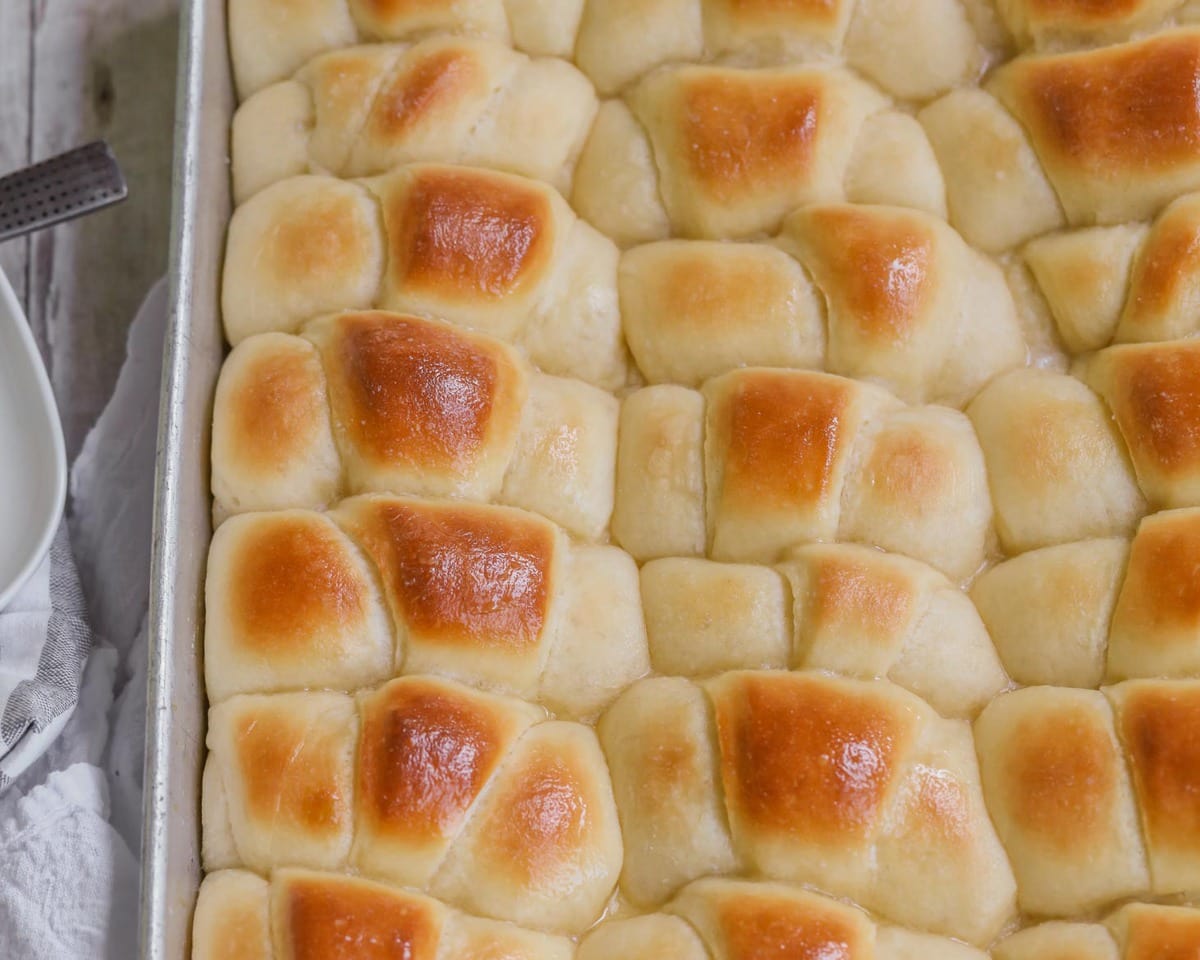 Side Tips – Choosing, How Much to Make + More
When hosting a dinner party you want every course to be delicious. This includes the often underestimated side dish. 
Choosing: Once you have your main dish selected you can start planning sides. 
Different than the main dish. This may seem obvious, but what I mean by this is that if you're serving ham as the main dish stay away from sides that also include ham as an ingredient. 

Use seasonal ingredients they're often fresh and cost effective. 

Complete the meal using at least one of each of the following vegetables, starch and salad.

Include sides that can be made or prepped ahead of time.

Mix in new and unique with tried and true. Once you have the traditional starch, veggie and salad recipes picked out go ahead and add something new. 

For 6 or fewer guests have 3-4 different sides, then add one more side for every 5 guests. 
How much to make: You do NOT want to run out of food, nor do you want loads of leftovers. The following information can help guide you in how much to make of each type of dish:
Potato dish: plan 6 oz per person

Vegetable dish: plan 4 oz per person

Rice: 1.5 oz per person

Plan 1 ½  rolls per person 

Pasta dish:

2 ounces for a side dish per person

Anticipate needing ½ cup salad per person
How to Keep Sides Hot?
Even if you're able to make some dishes ahead of time, at some point many dishes will need to get heated and kept hot until it's all ready to serve. Here are a few ideas you can use to help keep your food hot:
A cooler: Not just for keeping food cold. Its insulation will help retain heat.

Use the grill. A gas grill, with a thermometer, will work to keep foods warm. Keep the internal temp around 200°F.

A crock pot set to low or warm. 

Use an insulated food carrier

Chafing Dishes
Side dishes for easter ham
Because Ham is the most popular main dish that people serve at Easter, we wanted to make sure we shared all of the sides that pair well with it. Here they are:
Easter Vegetable Side Dishes
Vegetables are a MUST at holiday meals. It's the same for your Easter dinner menu. From roasted veggies to crock pot vegetables, we have a variety to choose from.
Potato Side Dishes
Who doesn't love potatoes? The starchy vegetable is a favorite at all of our holiday meals. We love it so much, that we have dozen and dozens of potato recipes here on Lil' Luna. From potato casserole dishes to cheesy potatoes, to roasted potatoes, we've got them all. Pick and choose which ones your friends and family will love most for Easter.
POTATO CASSEROLES: 
Easter rolls + Bread Sides
It's hard for us NOT to have bread at our holiday functions. Whether they're rolls, or garlic breads or biscuits, it's a MUST-HAVE. Here are our most popular bread sides that would go great with your Easter dinner.
Easter Salad recipes
Whether they're sweet or savory, we always like to include a few Easter salads in the Easter menu planning. Fortunately, most of these are very simple and dressings can be made ahead of time to make your Easter Sunday a little less busy, starting with the sweet salads.
SWEET SALADS:
SAVORY SALADS:
Pasta Salads
Another type of side and salad is pasta salad. Typically, these can be made in advance and are great additions to an Easter dinner or even an Easter brunch or lunch. And you can never go wrong with pasta, am I right?
Make Ahead Easter Side Dishes
When it's a busy day, it's nice to have sides that can be made ahead of time. Fortunately, most breads and salads fall under this category. We just recommend prepping salads in advance and waiting to add the dressing so it doesn't get soggy. Here are some of favorite recipes to make the day before:
Healthy Easter Side Dishes
With all the food that ISN'T healthy that is typical for Easter, like ham and carrot cake, it's sometimes nice to have a few healthy side dishes to go with the meal. Our favorites include:
More Classic Easter Sides
Don't forget some of these classic Easter sides! They also make great additions to any Easter meal and are easy to make and loved by all.
So many recipes to choose from your Easter meal. We hope it helps you in planning a stress-free and delicious Easter. Be sure to divvy up the work with friends and family.
For more Easter recipes, check out: