Grilled asparagus is the best side dish alongside almost any dinner recipe! Sprinkled with salt, pepper, and a little parmesan cheese—this recipe is incredible!
Even just a hint of parmesan can make all the difference when it comes to a side dish, especially on vegetables like zucchini, potatoes, and these asparagus! Try the baked version of these asparagus as well!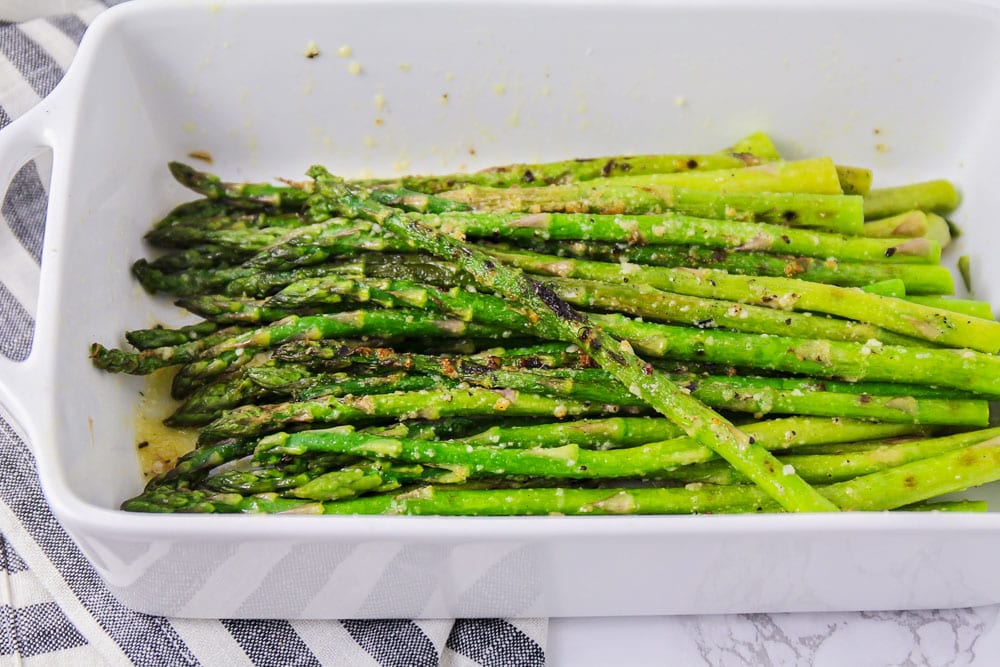 Grilling for the Win
Isn't grilling the best? If I had it my way, I would grill daily. Not only is the food delicious, but the scent of grilling food outside is my fav!
I love living in Arizona because we can grill outside pretty much any time of year! We grill so many different foods—vegetables, carne asada, chicken souvlaki, and of course these BEST EVER Dr. Pepper ribs!
Asparagus is one of our families favorite side dishes. We will eat it prepared any way but we love grilling it the best because of the crunchy texture. I like to keep the seasoning simple… Salt, pepper, olive oil, garlic powder, and a little parmesan. The grated cheese takes this grilled asparagus to the next level in flavor! SO yummy – you will love making this winning side dish.
Tips for Picking and storing asparagus
A few tips to consider when picking out asparagus…
Buy when they're in season. This will help give the freshest and cost effective produce.

Look for a bundle where the buds on the spears of the asparagus are tight.

The spears should be a bright green color and firm not limp.

For this recipe look for a bundle of medium-large size stalks as they hold up better when grilled.

Do not store in plastic bags or containers. Store in an open brown bag in the crisper drawer or upright in a cup of water toward the front of the fridge. Be sure to change the water and trim the ends if needed. They should last for 4-8 days.

Always wash them and trim the stalks before using.

To trim

:

The base of the asparagus is typically tough and will need to be trimmed off. If you bend the asparagus, it will break at the tender part right where the thicker portion begins. You can also use a sharp paring knife and trim where the asparagus becomes thicker. The thicker portion may have slightly different color.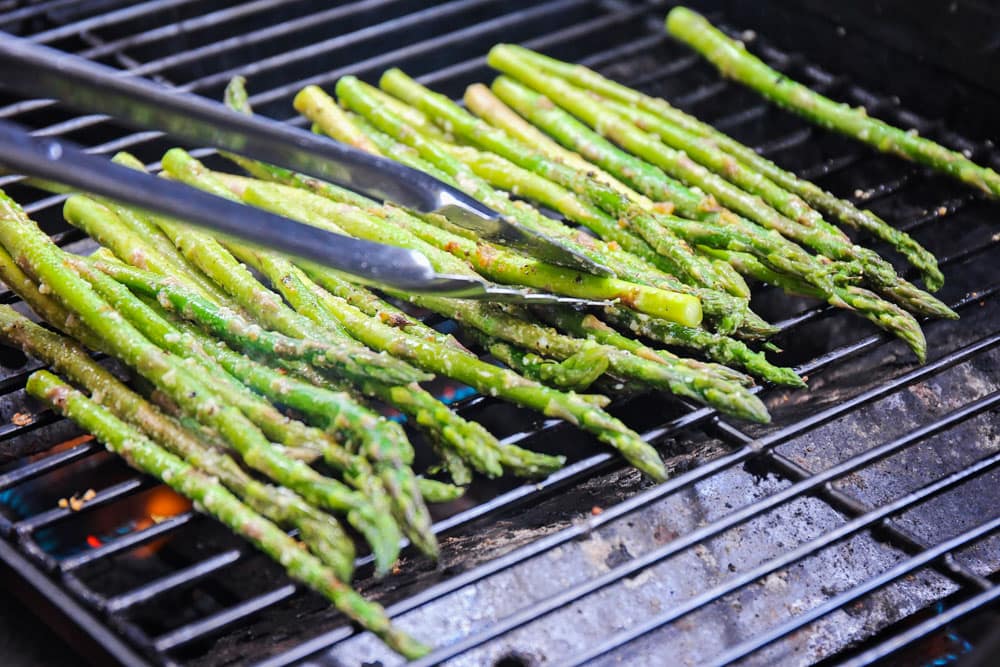 How to Grill Asparagus
Grilling tips:
Preheat the grill: you want to hear the stalks sizzle and start to char right away.

Make sure you grill your asparagus perpendicular to the grates so the stalks don't slip through, or use a grill basket.
Asparagus Grill Times:
Grill the asparagus for 2-3 minutes until they are tender. Do not over cook or they will become mushy. Serve them immediately after cooking!
How to grill in a foil packet? I like the look, flavor and texture that grilling directly on the grill grate gives, but you can also wrap your asparagus in foil packets before throwing them on the grill. Allow to cook for 10-15 minutes depending on the size.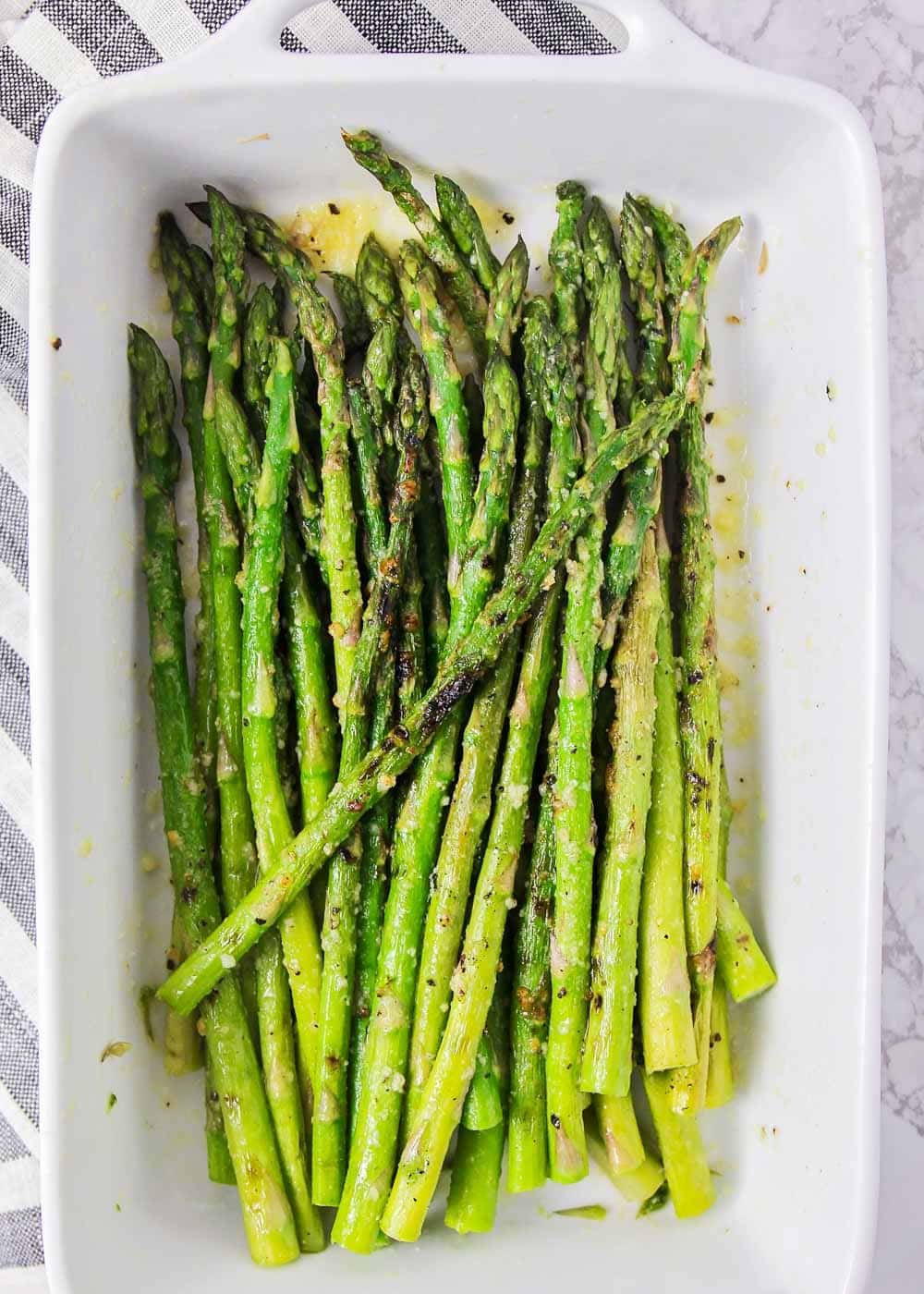 For more asparagus recipes, check out:
Grilled Asparagus Recipe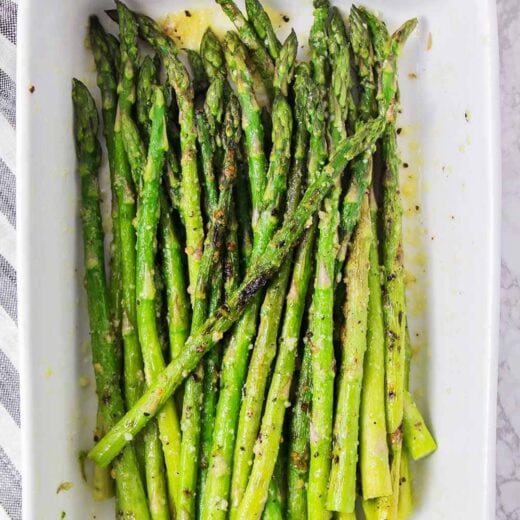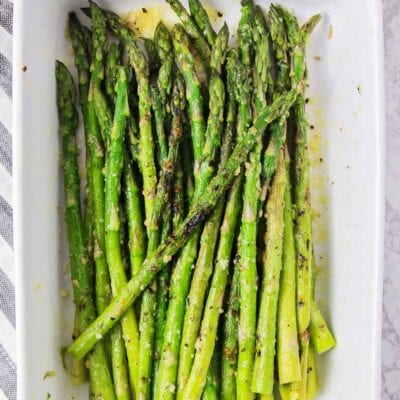 Grilled asparagus is the best side dish alongside almost any dinner recipe! Sprinkled with salt, pepper, and a little parmesan cheese—this recipe is incredible!
Ingredients
1

pound

fresh asparagus spears

trimmed

1

tablespoon

olive oil

salt and pepper to taste

2

tablespoons

grated parmesan cheese

1

teaspoon

garlic powder
Instructions
Preheat the grill for high heat. Toss the asparagus spears with the olive oil, then sprinkle with salt and pepper, parmesan, and garlic, and toss again.

Grill the asparagus over high heat for 2-3 minutes, until tender. Serve immediately.