This recipe is inspired by one of our favorite Disneyland foods – Bacon Wrapped Asparagus Skewers from Bengal Barbecue! These skewers only require 4 ingredients and take less than 10 minutes on the grill! They definitely make for the ultimate side dish at any BBQ or gathering.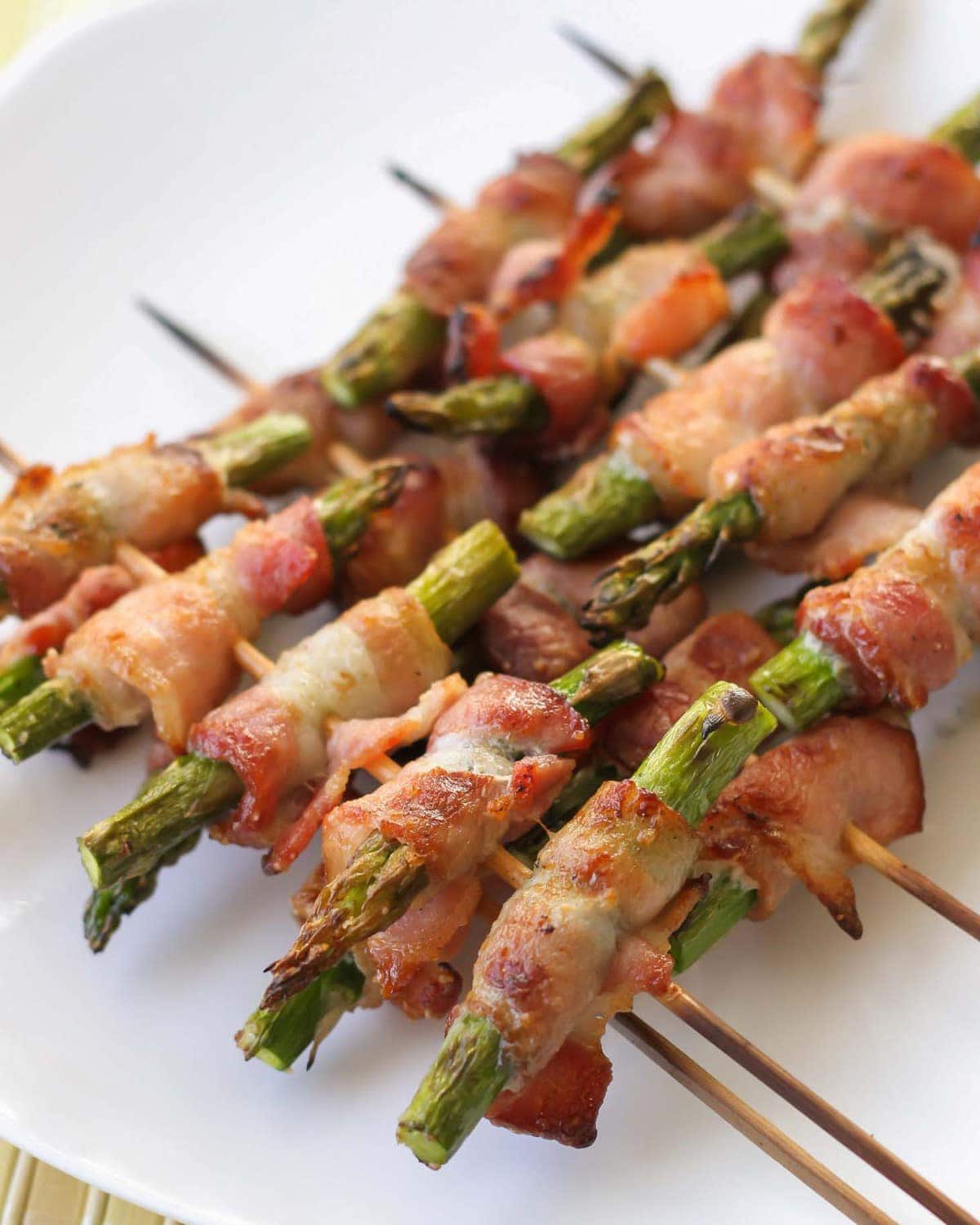 Grilled Bacon Wrapped Asparagus
Disneyland is by far our family's favorite spot to vacation because it's place we all enjoy! The hubby and I feel like all our cares melt away when we're there and we can focus on just enjoying our family and having fun together. Disneyland truly is magical!! Today, I'm sharing a copycat recipe from one of our favorite spots at Disney – Bengal Barbecue. It's right across the way from the Indiana Jones ride, and is our favorite spot to grab some delicious skewers, particularly the Bacon Wrapped Asparagus Skewers.
If you have never been to Bengal Barbecue, I highly suggest stopping by next time you're about to board the Jungle Cruise. They have a variety of skewers, and all are amazing. We love the bacon and asparagus version because it's a light snack and one we can have between meals at the park. We love them so much, we had to try a version at home, and I'm so glad we did because this recipe tastes just like it!! Just 4 ingredients are needed for these babies, so give them a go! We think you'll love them just as much as we do.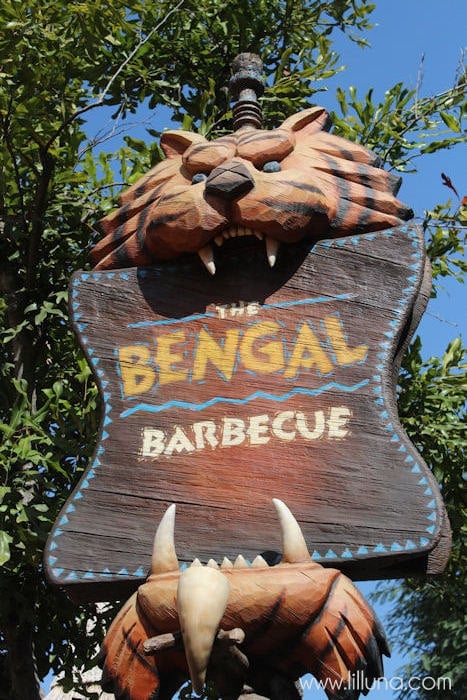 How to make Bacon Wrapped Asparagus:
Making this asparagus is so easy! It only takes about 10 minutes to prep and the rest is the grilling part! Not bad for such a delicious recipe.
Begin by wrapping 1/3 part bacon around each piece of asparagus and sprinkle with a bit of olive oil and Parmesan cheese. From there you will add about 5 pieces of asparagus to each skewer. Then grill until the bacon is cooked! Easy peasy. 😉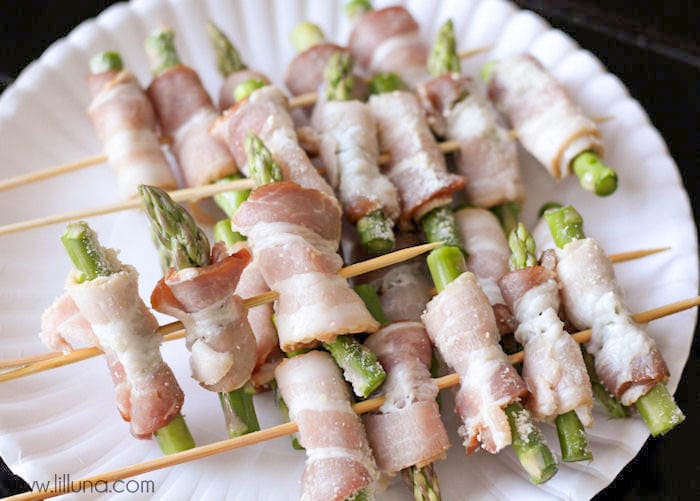 5 pieces of asparagus on each skewer.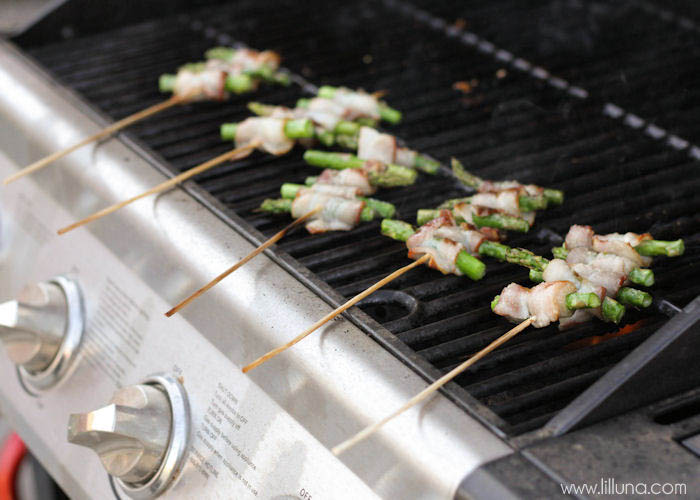 We placed these on the grill with the bottoms of the skewers out so we could easily rotate them.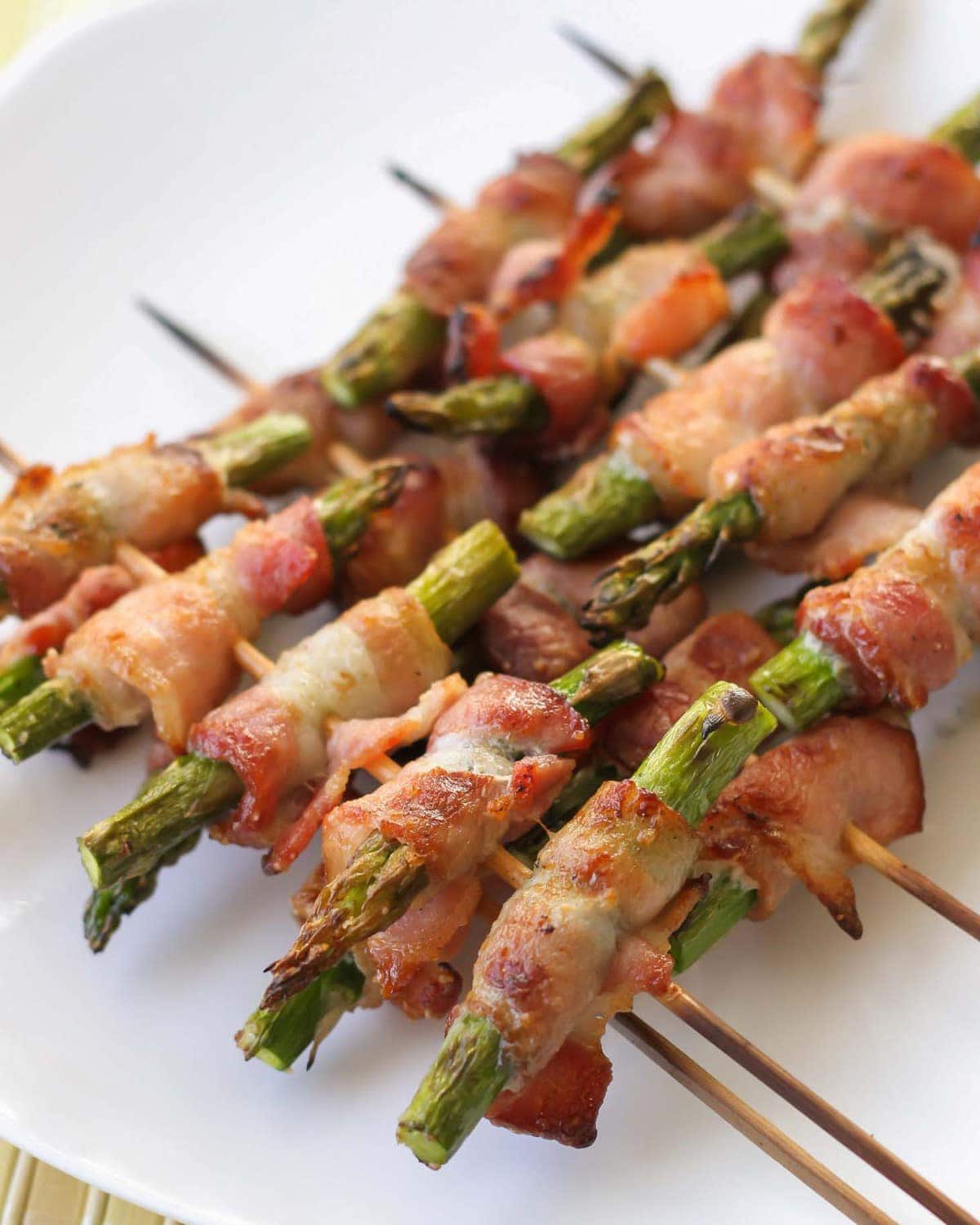 DELICIOUS-NESS!!
My mouth is watering just looking at these guys!! They were seriously so tasty! They were so easy to make and didn't take long at all. We ended up cooking ours on the grill for about 8 minutes, but time may differ depending on your grill. I think this means we have another Copycat Disneyland recipe in the books!!
This recipe is perfectly paired with these other Lil' Luna Recipes:
For more asparagus recipes, check out: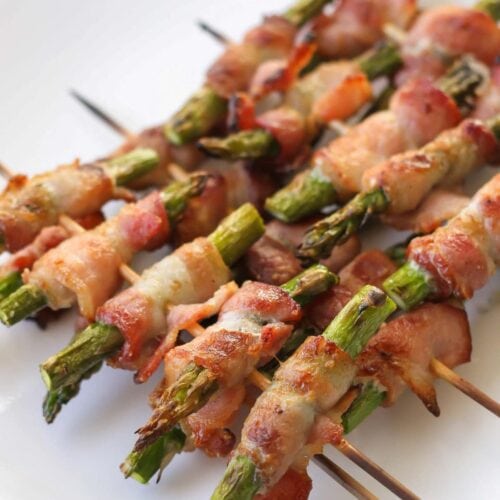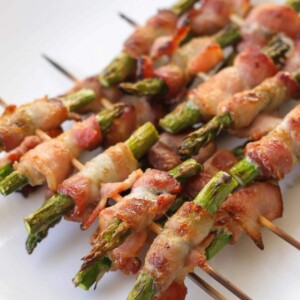 Bacon Wrapped Asparagus Skewers recipe
This Recipe Is Inspired By One Of Our Favorite Disneyland Foods – Bacon Wrapped Asparagus Skewers From Bengal Barbecue! These Skewers Only Require 4 Ingredients And Take Less Than 10 Minutes On The Grill!
Ingredients
1/2

bunch

asparagus

10

slices

bacon

olive oil

Parmesan cheese

Skewers
Instructions
Cut the ends off of your asparagus and then cut in half.

Cut your bacon in thirds. Wrap a piece of bacon around each asparagus and place on pan with it faced down.

Sprinkle with olive oil and parmesan cheese.

Place 5 pieces of asparagus on each skewer.

Grill until Bacon is cooked (about 6-8 minutes)