You guys ready for another great dinner idea?
I'm sure you have noticed by now that we are HUGE pasta lovers! We love trying out new pasta dishes (like today's Lemon and Asparagus Pasta) and love sharing with you our favorites. This next recipe is a new FAV that I think you'll enjoy just as much as we did. I think we were a little partial since we also love asparagus, and this recipe is loaded with the delicious veggie. It also has cheese, and you just can't go wrong with cheesy pasta dishes – am I right?!
This Asparagus Pasta was delicious, but we are thinking we will add some cooked chicken strips to go with it. It reminds me a bit of the Chicken and Asparagus Pasta but it obviously has more of a lemon taste to it. Bottom line, if you like lemon and pasta and asparagus, then you'll definitely want to try this recipe.
MY OTHER RECIPES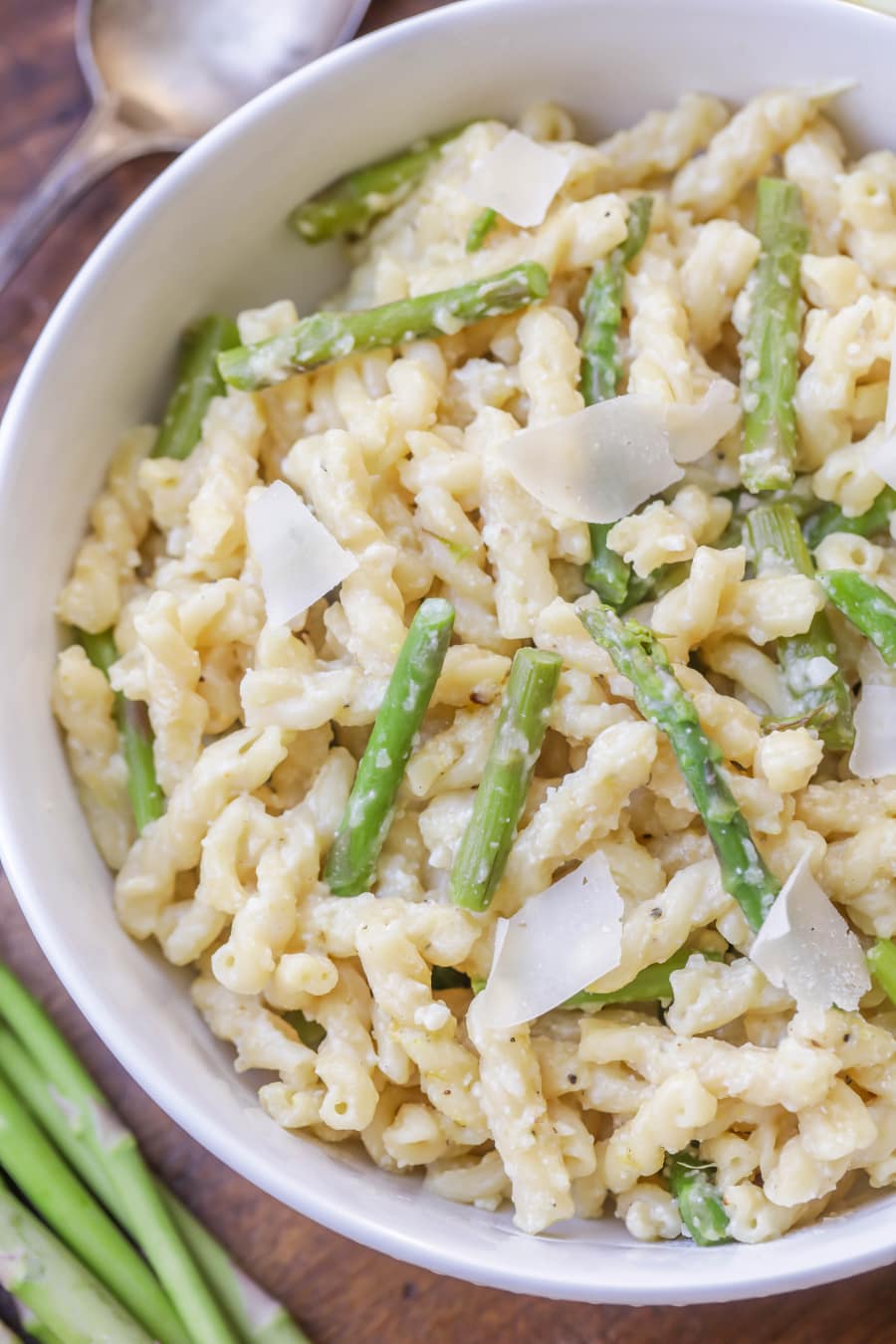 You can never go wrong with cheese and pasta!!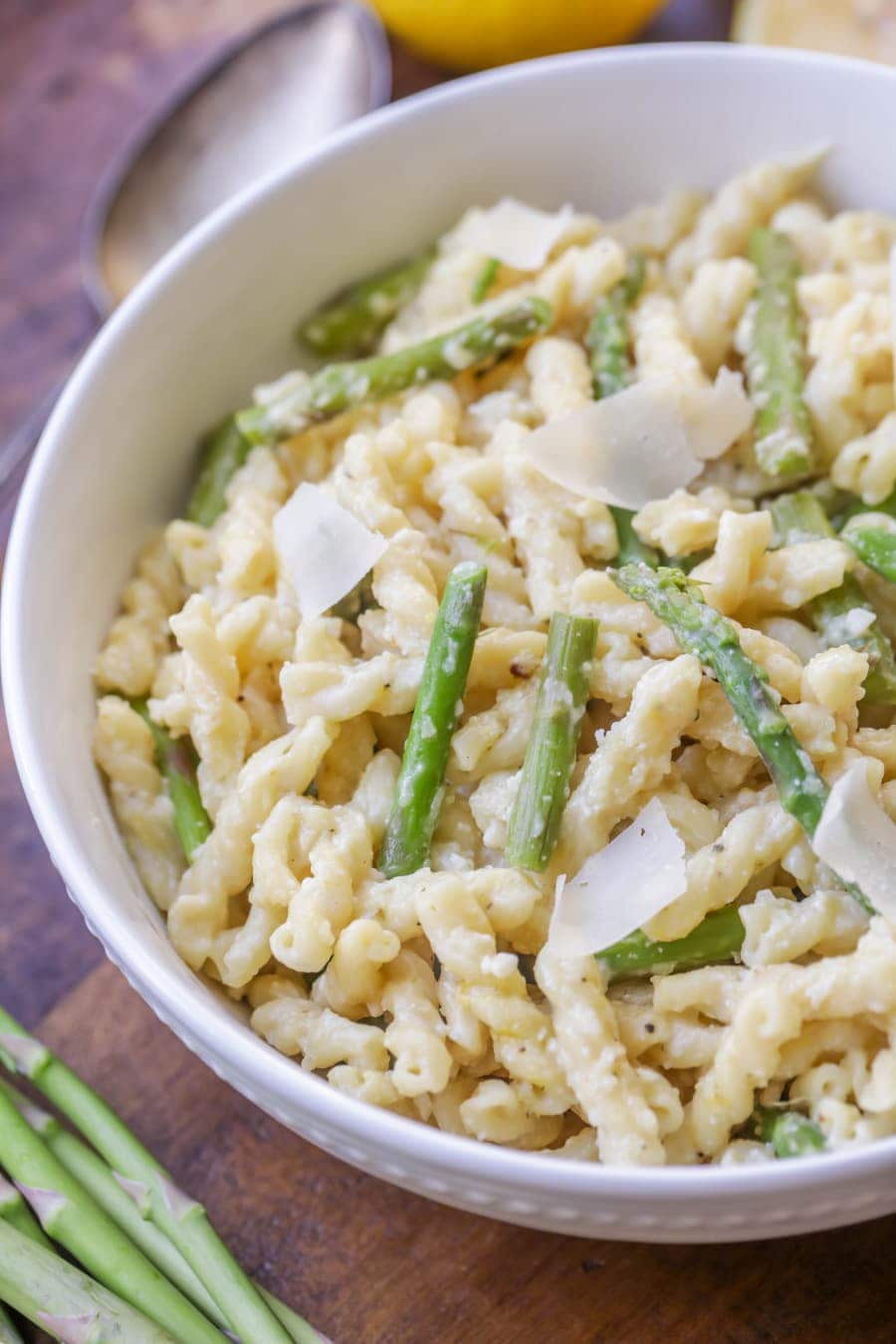 Since we're slightly obsessed with pasta, you can bet we make this as often as we can. I admit the kids like to pick out the asparagus (they don't know what they're missing out on), but I'm hoping they learn to love it soon. I can already envision an entire meal with this pasta that includes some Fried Zucchini, Garlic Bread, and some Brown Sugar Glazed Carrots. Mmmm! Here is what you'll need to know to make this pasta recipe:
Lemon and Asparagus Pasta:
Lemon and Asparagus Pasta
Cheesy Lemon and Asparagus Pasta - Penne pasta and asparagus with parmesan cheese and lots of seasonings, making it a favorite dinner idea.
Recipe type:
Main Dish/Dinner
Ingredients
1½ cups penne pasta (or any other pasta you like)
½ bunch asparagus, cut into 1-inch pieces
¾ C. whole milk
2 tsp. dijon mustard
2 tsp. all-purpose flour
dash of salt and pepper
1 tsp. extra-virgin olive oil
2 tsp. minced garlic
1½ tsp. lemon juice
⅓ grated Parmesan Cheese
⅓ cup shaved Parmesan Cheese
Instructions
Cook pasta in boiling water for 6 minutes. Add asparagus and continue cooking until just tender (about 3-5 more minutes). Drain and return to the pot.
In a medium bowl, whisk milk, mustard, flour, salt and pepper.
Heat oil in a small saucepan on medium-high heat. Add garlic and cook until fragrant and lightly browned (stirring constantly) about 1 minute. Pour in the milk mixture and whisk. Continue stirring as you bring to a simmer. Cook until thick, 1 to 2 minutes. Stir in lemon zest and juice.
Stir this sauce into the pasta and cook over medium-high heat. Cook until sauce is thick and creamy. Mix grated Parmesan cheese into the pasta.
Top with remaining shaved Parmesan cheese as a topping. ENJOY!
Recipe adapted from Recipe.com.
We also love this pasta recipe: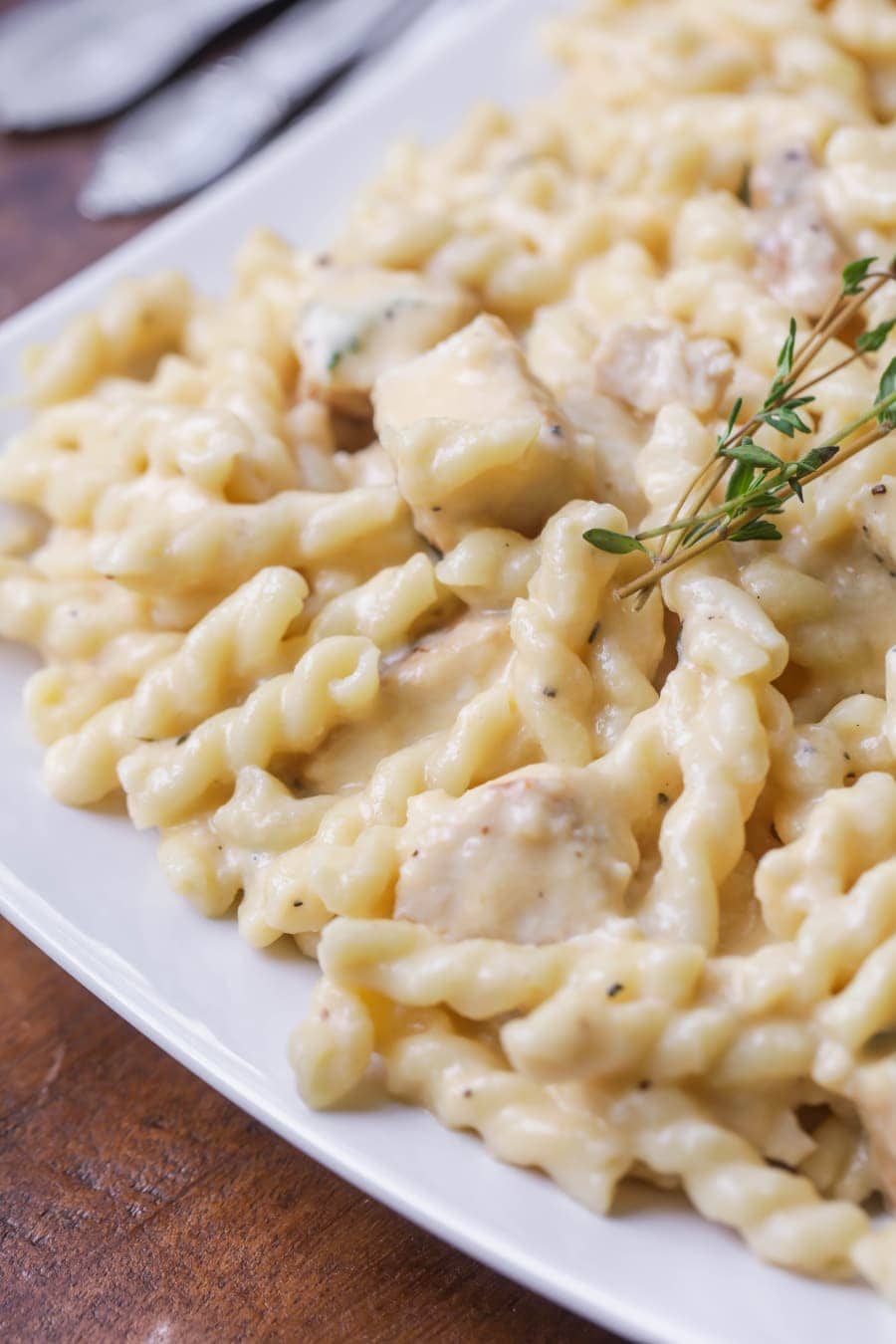 Here are some of my other favorite pasta dishes…
ENJOY!