No matter what type of pasta noodles you like, whether you like red or white sauce, or meat vs. meatless pastas—this post has all kinds of easy pasta recipes that the whole family will love!
More Collections: Chicken Pasta Recipes, Healthy Pasta Recipes, Penne Pasta Recipes, Vegetarian Pasta Recipes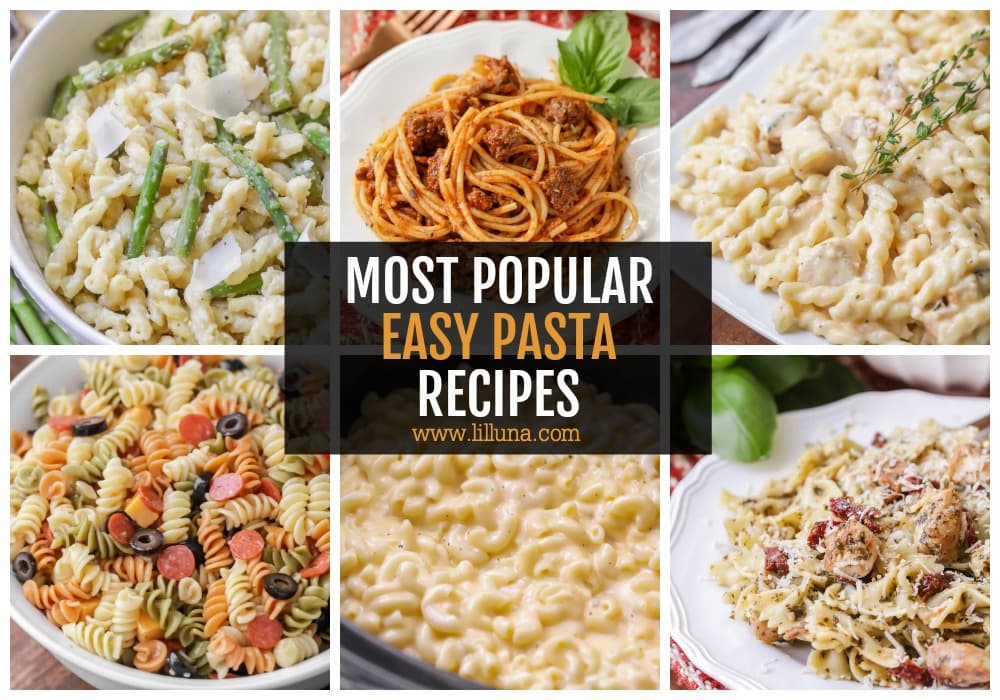 An Easy Way to Feed the Family
For me, pasta dishes are among the easiest recipes to make!
Better yet, my kids are more apt to try and love a new recipe when it has pasta in it. Because – who doesn't love pasta?!
I've collected some of our most favorite easy pasta recipes. Some recipes can be finished in under 30 minutes. Other easy recipes can be whipped up in just a few minutes, then baked in the oven or finished in the slow cooker. We promise you'll love these easy pasta dishes.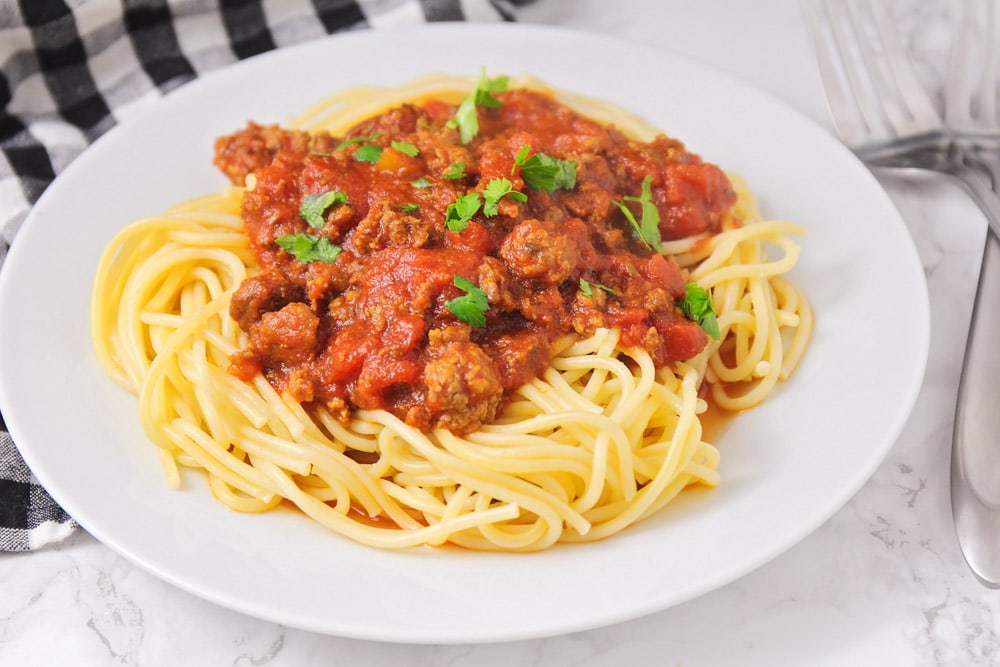 Tips for Making Easy Pasta dishes
Many of the recipes use precooked meats like chicken or ground beef. One trick I use is to precook enough to make several meals. I'll portion the meat into 1 lb bags and then store them all in the freezer. When I have a recipe that calls for precooked meat, all I have to do is grab a portion from the freezer.
Along that train of thought, many pasta dishes can be made ahead of time and either stored in the fridge or freezer to be warmed up later. Because it is so easy, I will often double the recipe I'm already making. I'll use one for dinner and freeze the other to be used on a busy day. 
Also, pasta is pretty forgiving in that you can use virtually any type of noodle in a given recipe. Of course, there are a few recipes that you have to stick with what's written (like lasagna), but other recipes can be switched up with whatever you have in the pantry.
Spaghetti, Angel hair, Linguine, Fettuccine are all similar and can be substituted for one another.

Penne, bow tie, wagon wheel, shell, rigatoni, fusilli, ziti can often be used interchangeably as well. 
With such a vast variety of pasta dishes listed I couldn't possibly cover all the tips and tricks there are, so be sure to read each recipe post to find out all the ins and outs for that particular recipe. 
Easy and Delicious Pastas
All of these recipes are "no fail" pastas that the whole family LOVES!
They're simple to make, don't require a ton of crazy ingredients, feed a decent sized crowd, and are always popular with whoever I feed it to. You'll want to add some of these to your regular meal rotation as well!
Easy Chicken and Turkey Pastas
We always tend to have some chicken on hand, like I mentioned before. I'll cook up some chicken breasts and either shred or cube them, then store in the freezer for recipes like this.
Turkey and chicken are interchangeable in these recipes, so depending on what you have on hand, feel free to use either!
Easy slow cooker & Oven Baked Pastas
These crock pot and baked pasta recipes are awesome for easy prep. They might take a little longer to make from start to finish, but they are less hands on time. So you can prepare them earlier on in the day and then they'll be ready by dinner time.
Easy Pasta Salads
All of these are cold pastas, and make great side dishes. Although, some of them include meat, which makes them filling enough to use for a main dish.