No matter what type of pasta noodles you like, whether you like red or white sauce, or meat vs. meatless pastas—this post has all kinds of easy pasta recipes that the whole family will love!
More Collections: Chicken Pasta Recipes, Healthy Pasta Recipes, Penne Pasta Recipes, Vegetarian Pasta Recipes
An Easy Way to Feed the Family
For me, pasta dishes are among the easiest recipes to make!
Better yet, my kids are more apt to try and love a new recipe when it has pasta in it. Because, who doesn't love pasta?!
I've collected some of our most favorite easy pasta recipes. Some recipes can be finished in under 30 minutes. Other easy recipes can be whipped up in just a few minutes, then baked in the oven or finished in the slow cooker. We promise you'll love these easy pasta dishes!
Tips for Pasta ingredients
Precooked meats. Many of the recipes use precooked meats like chicken or ground beef. One trick I use is to precook enough to make several meals. I'll portion the meat into 1 lb bags and then store them all in the freezer. When I have a recipe that calls for precooked meat, all I have to do is grab a portion from the freezer.
Pasta with simple ingredients. Pasta pairs well with almost any flavor and texture. Many pasta recipes can have a lot of ingredients, but some pasta dishes are incredibly simple and still yummy. So whether you're trying to spruce up an old recipe or creating something new, here are few easy ways to do so:
Sauce: Add a simple sauce—pesto, marinara or alfredo sauce are easy to whip up, or you can buy premade sauce.
Veggies: Vegetables are a healthy and easy ingredient to add to pasta. You can add sautéd, roasted or grilled vegetables right on top of many dishes. Some of my favorites include bell pepper, asparagus, and broccoli. For picky eaters shredded carrots, zucchini, and diced mushrooms can easily be hidden in sauces.
Protein: Protein can be mixed in with the dish or added to the top chicken, shrimp, bacon bits or ground turkey, chicken, sausage or beef all work well.
Cheese: Cheese can be sprinkled on top or melted into the dish.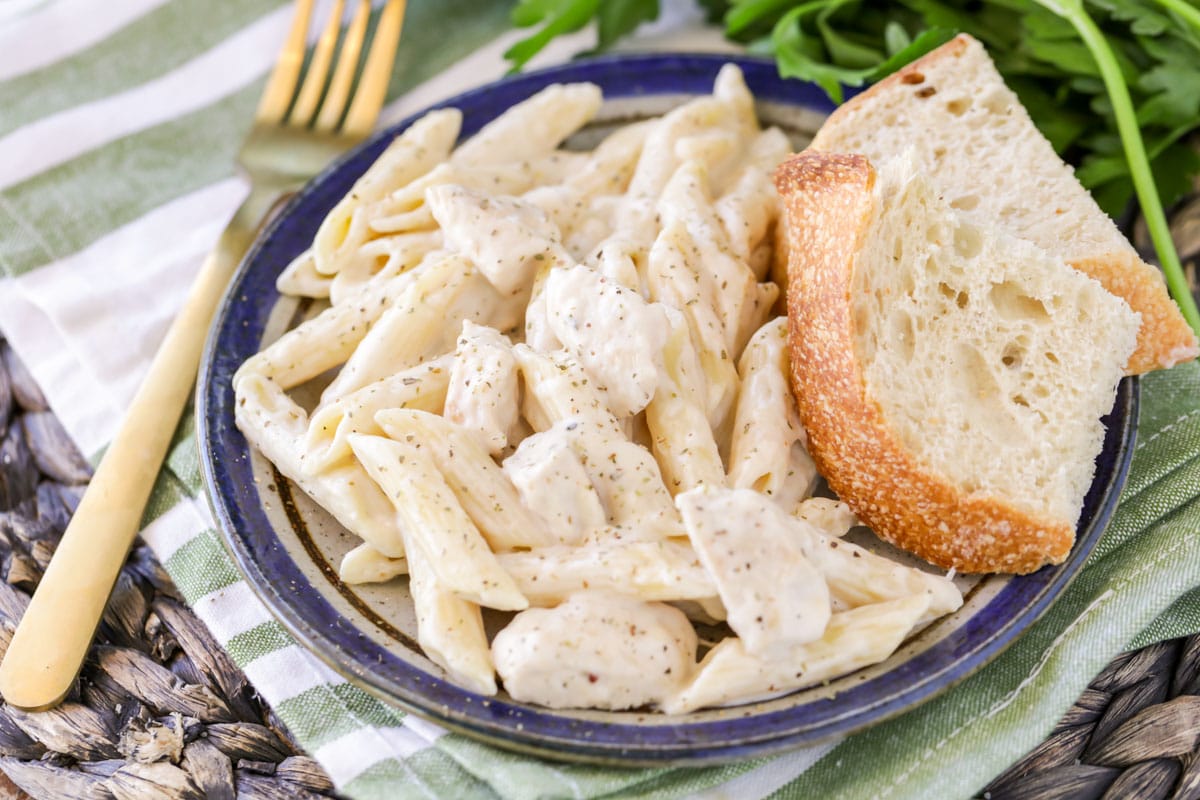 pasta for beginners
Type of noodle. Pasta is pretty forgiving in that you can use virtually any type of noodle in a given recipe. Of course, there are a few recipes that you have to stick with what's written (like lasagna), but other recipes can be switched up with whatever you have in the pantry.
Spaghetti, Angel hair, Linguine, Fettuccine are all similar and can be substituted for one another.

Penne, bow tie, wagon wheel, shell, rigatoni, fusilli, ziti can often be used interchangeably as well.
Boiling Pasta. Boiling 2 oz of dry pasta per person is a good guideline to follow. Once cooked, 2 oz of pasta is about 1-1.25 cups of cooked pasta.
Begin by filling a pot with water. You'll want 4 quarts of water for every pound of pasta. This ensures that there will be enough liquid to cook the pasta as well as enough room for the pasta to cook without being clumped together. Add a lid and bring the water to a boil. (Tip- For added flavor use chicken or vegetable broth instead of water to cook the pasta.)
Optional: Once the water is boiling you can choose to add salt. Add 1-2 tablespoon salt for every pound of pasta.
Add the pasta to the boiling water. Cook uncovered until the desired tenderness. You'll need to refer to the package for specific times. The best way to test for doneness is to bite into a piece.
Drain pasta in a colander. You can lightly rinse with water to keep the pasta from sticking to each other. However, don't add olive oil as the oil will prevent sauces from sticking to the pasta.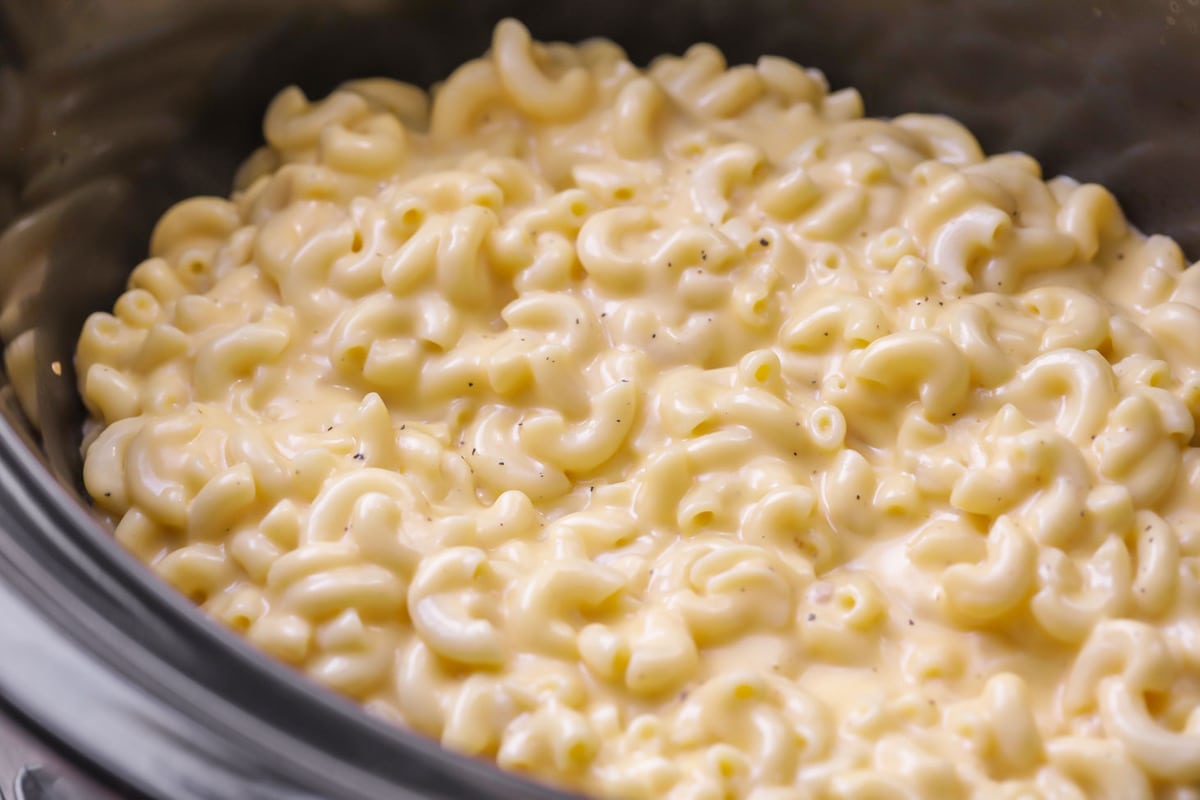 Serving and Storing
These are some of our favorite easy side dishes to pair with pasta:
Make ahead of time. Along that train of thought, many pasta dishes can be made ahead of time and either STORED in the fridge or freezer to be warmed up later. Because it is so easy, I will often double the recipe I'm already making. I'll use one for dinner and FREEZE the other to be used on a busy day.
With such a vast variety of pasta dishes listed I couldn't possibly cover all the tips and tricks there are, so be sure to read each recipe post to find out all the ins and outs for that particular recipe.
---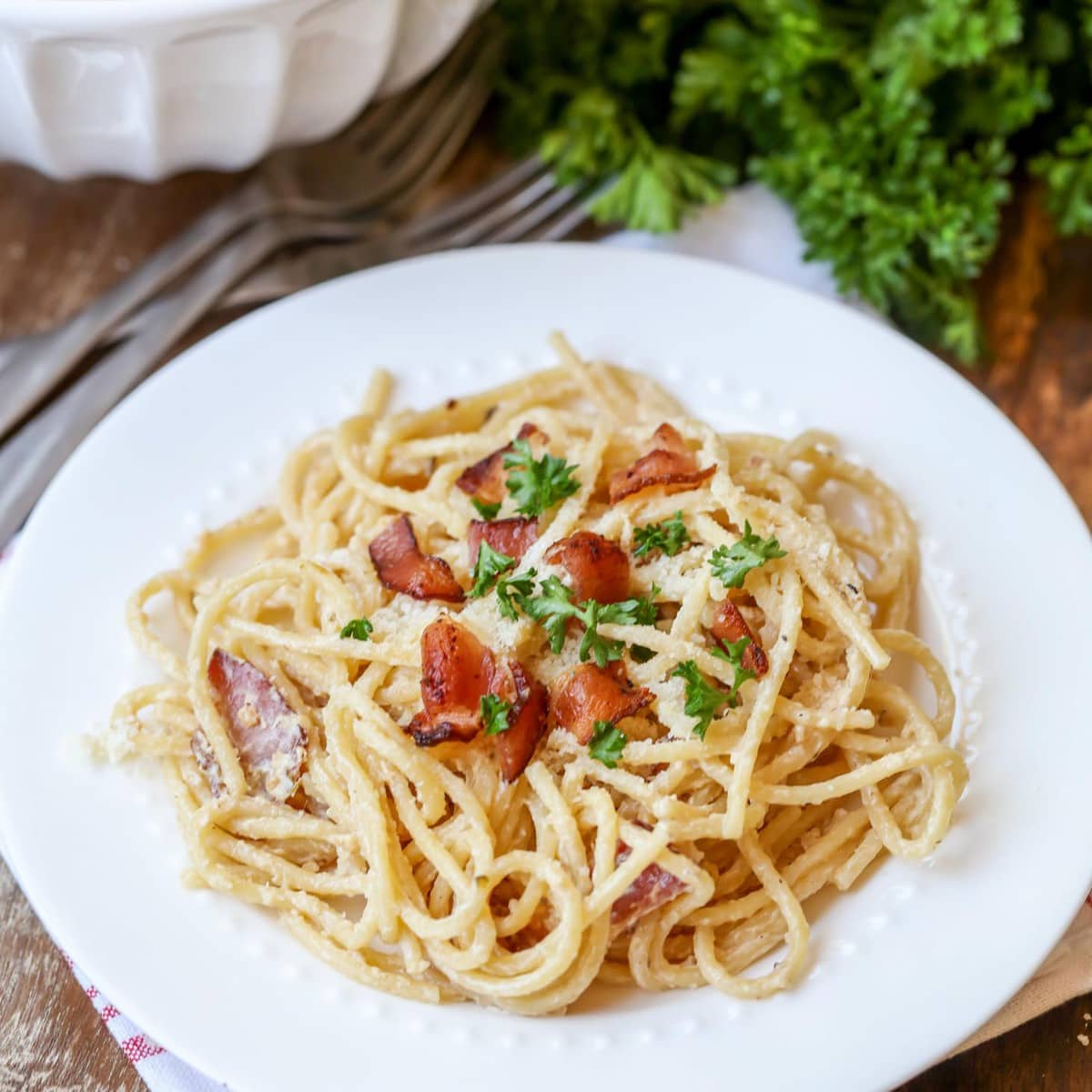 favorite easy pasta recipes
All of these recipes are "no fail" pastas that the whole family LOVES!
They're simple to make, don't require a ton of crazy ingredients, feed a decent sized crowd, and are always popular with whoever I feed it to. You'll want to add some of these to your regular meal rotation as well!
Pasta Carbonara – A creamy, delicious and flavorful pasta dish filled with cream cheese, parmesan, garlic and bacon. For only having a few ingredients, this Pasta Carbonara has big flavor!
Italian Sausage Pasta – Everyone loves this Italian Sausage Pasta recipe! Not only is it easy, cheesy, and delicious, but it is a hit with the entire family and can be made mild or spicy depending on your preferences.
Easy Spaghetti Recipe – This easy spaghetti recipe is kid-friendly and is made with a delicious homemade spaghetti sauce making it the perfect family dinner recipe!
Easy Lasagna Recipe – Our family's favorite lasagna recipe – not only because it's delicious but because it's so EASY! You don't even have to precook the lasagna noodles! With beef, pork, three cheeses, and tons of seasonings, you know this recipe is going to be a hit!
Chicken Penne Pasta – A delicious and simple Chicken Penne Pasta that is the perfect family dinner. The entire family loves it!
Easy Fettuccine Alfredo – Easy and Quick Fettuccine Alfredo that takes just 15 minutes to make! This family favorite recipe includes fettuccine, garlic, parmesan, and whipping cream and is sure to become a go-to dinner idea!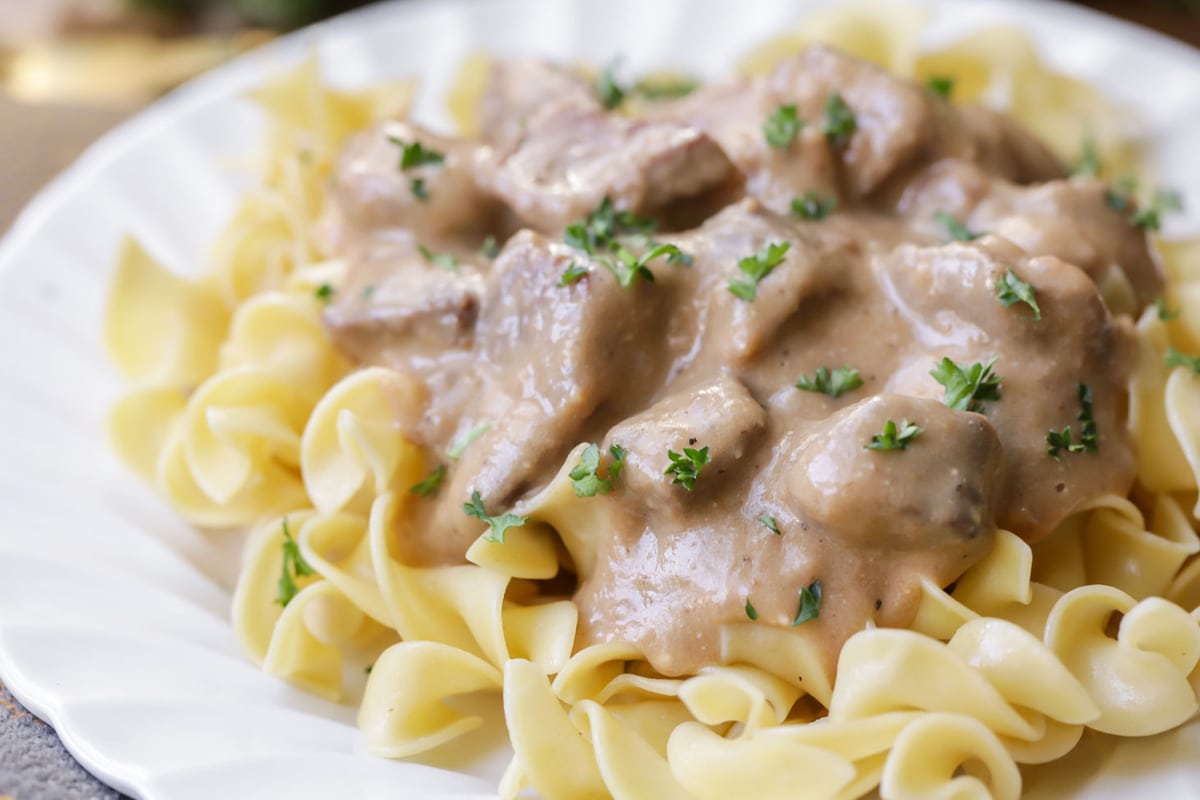 Beef Stroganoff – This Easy Beef Stroganoff recipe is simple and flavorful. Served with egg noodles, this creamy stroganoff made in the slow cooker is a classic Sunday dinner recipe and is perfect to enjoy any night of the week.
Zucchini Chicken Alfredo Roll Ups – Zucchini Chicken Alfredo Roll Ups are cheesy & comforting. This easy dish only needs six ingredients & takes only 30 minutes to make!
Cheesy Garlic Tortellini Pasta – Cheesy garlic tortellini pasta is covered in a delish homemade sauce, and is ready in 20 minutes! It is perfect for busy weeknights.
Lemon Asparagus Pasta – This Lemon Asparagus Pasta is so simple, yet packed with amazing flavor! Made from penne pasta, mixed with asparagus, and covered in a cheesy sauce with just a hint of lemon.
Chicken Alfredo – Cheesy chicken Alfredo pasta is a go-to dinner meal in our house. Creamy sauce mixed in with fettuccine pasta and sautéed chicken. A one-pot meal that the whole family will enjoy!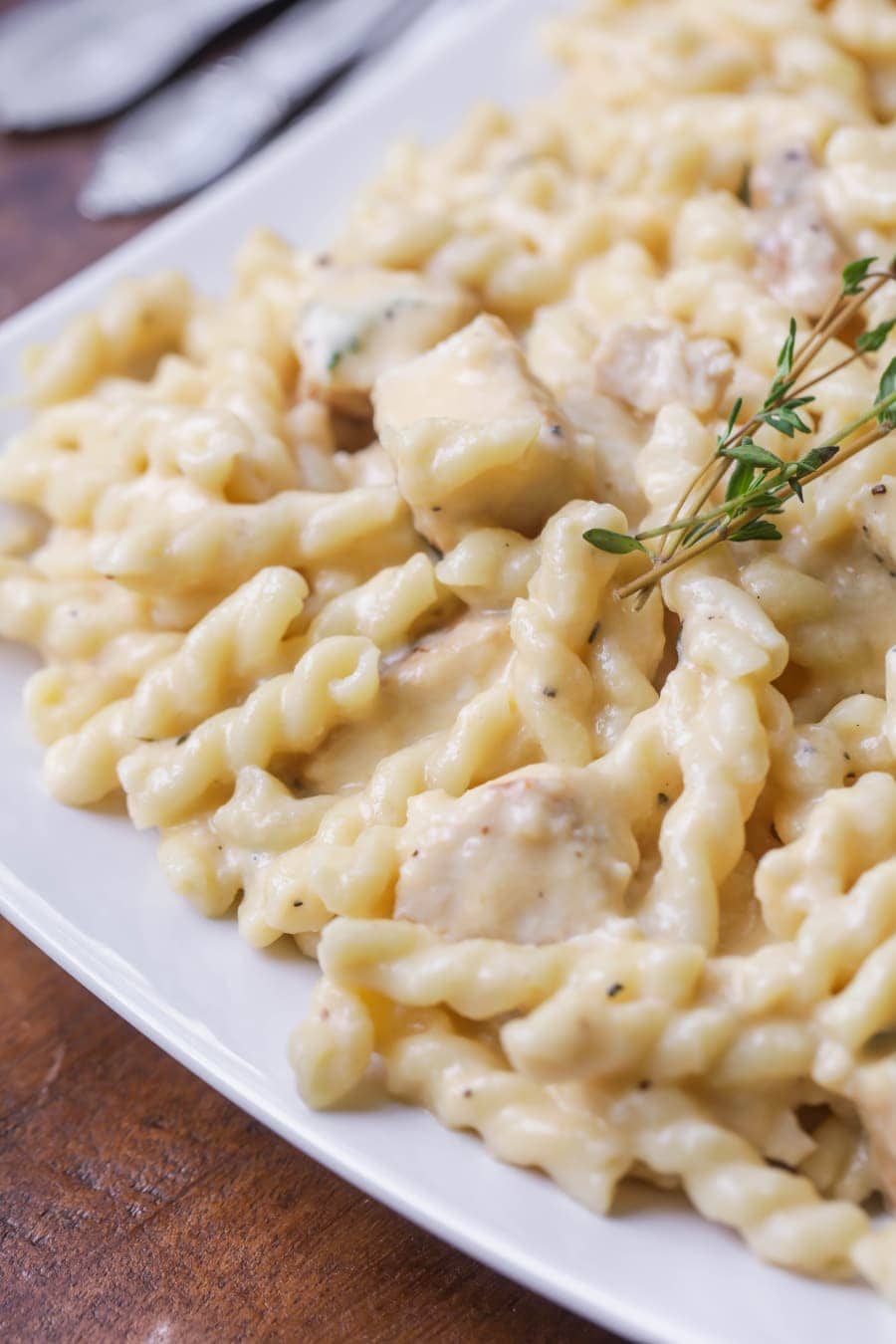 easy chicken & Turkey Pastas
We always tend to have some chicken on hand, like I mentioned before. I'll cook up some chicken breasts and either shred or cube them, then store in the freezer for recipes like this.
Turkey and chicken are interchangeable in these recipes, so depending on what you have on hand, feel free to use either!
Triple Cheddar Chicken Pasta – Even my pickiest eaters love this easy chicken pasta, which is why it's a go-to weeknight dinner in our family! With pasta, chicken, seasonings, and cream sauce full of cheese, you definitely can't go wrong!
Chicken Bacon Ranch Pasta – Easy Chicken Bacon Ranch Pasta – a creamy and delicious pasta dish filled with cheese, chicken and bacon all made in one pot! This pasta can't be beat!
Chicken And Asparagus Pasta – This cheesy Chicken and Asparagus Pasta is one the whole family will love. It's flavorful and filled with everyone's favorite ingredients!!
Chicken Pesto Pasta – This Chicken Pesto Pasta is very flavorful and simple dinner idea that is sure to please. It's filled with bow-tie pasta, chunks of chicken, cheese, sun-dried tomatoes, garlic and pesto making it a new go-to meal recipe.
Lemon Chicken Pasta – Flavorful Lemon Chicken Pasta is covered in a delicious sauce made from lemons, whipping cream, cheeses, and fresh basil.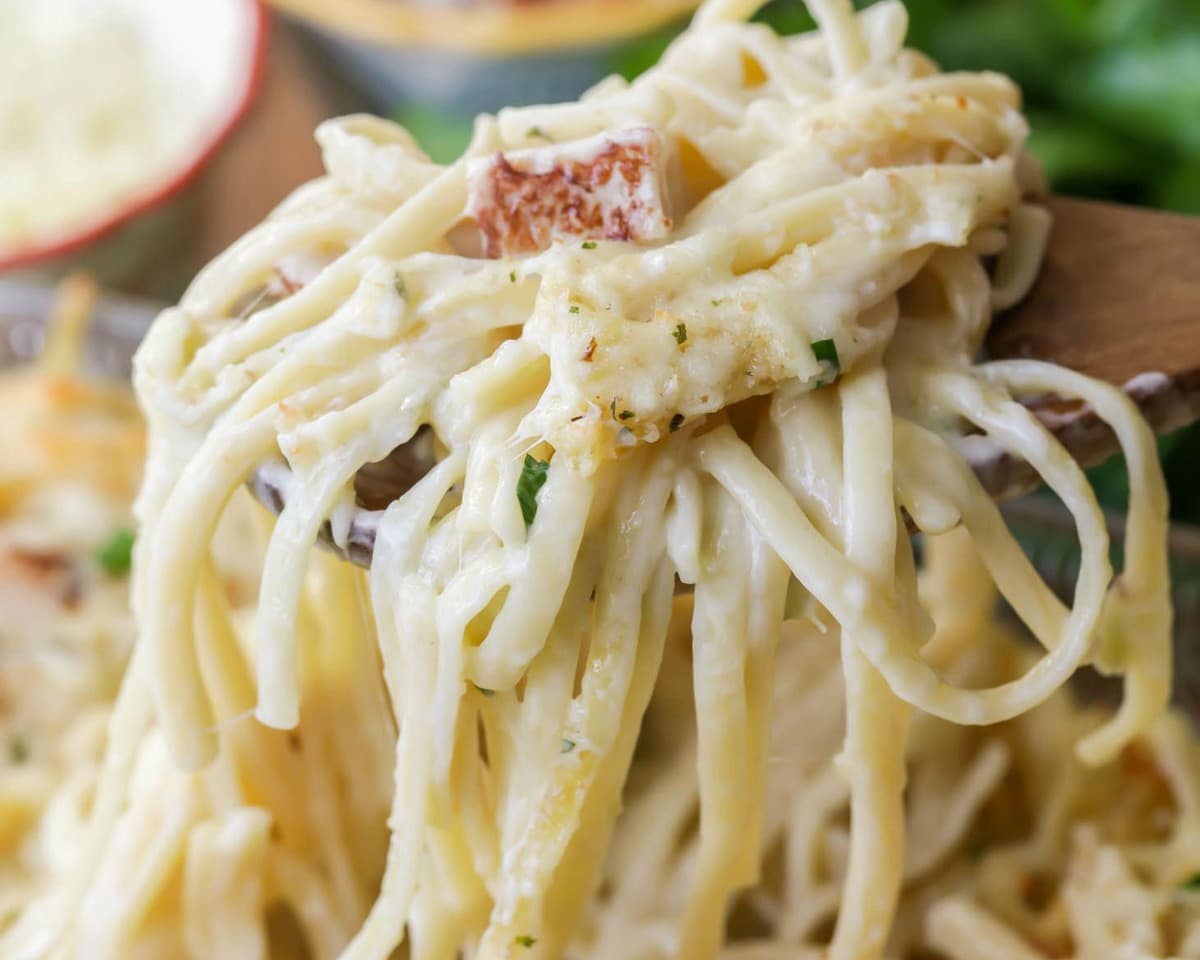 Easy Turkey Tetrazzini – This creamy Turkey Tetrazzini is a simple and flavorful pasta casserole dish. It's perfect for using leftover holiday turkey, but makes for a crowd favorite year round!
Chicken Parmigiana – Tasty chicken parmigiana is hearty and filling crispy chicken a top a bed of pasta covered in a rich homemade tomato sauce.
Chicken Scallopini – This Chicken Scallopini is a delicious dish of crusted chicken over lemon butter pasta. The flavorful, butter chicken and pasta combo is irresistible and perfect for dinner any night of the week.
Chicken Spaghetti – A new twist on your favorite pasta dinner! This easy recipe calls for chicken, spaghetti noodles, cream of chicken, salsa, sour cream and cheese, making it the epitome of comfort food.
Parmesan Chicken Manicotti – These manicotti shells are stuffed with a cheesy chicken mixture, and topped with tasty marinara!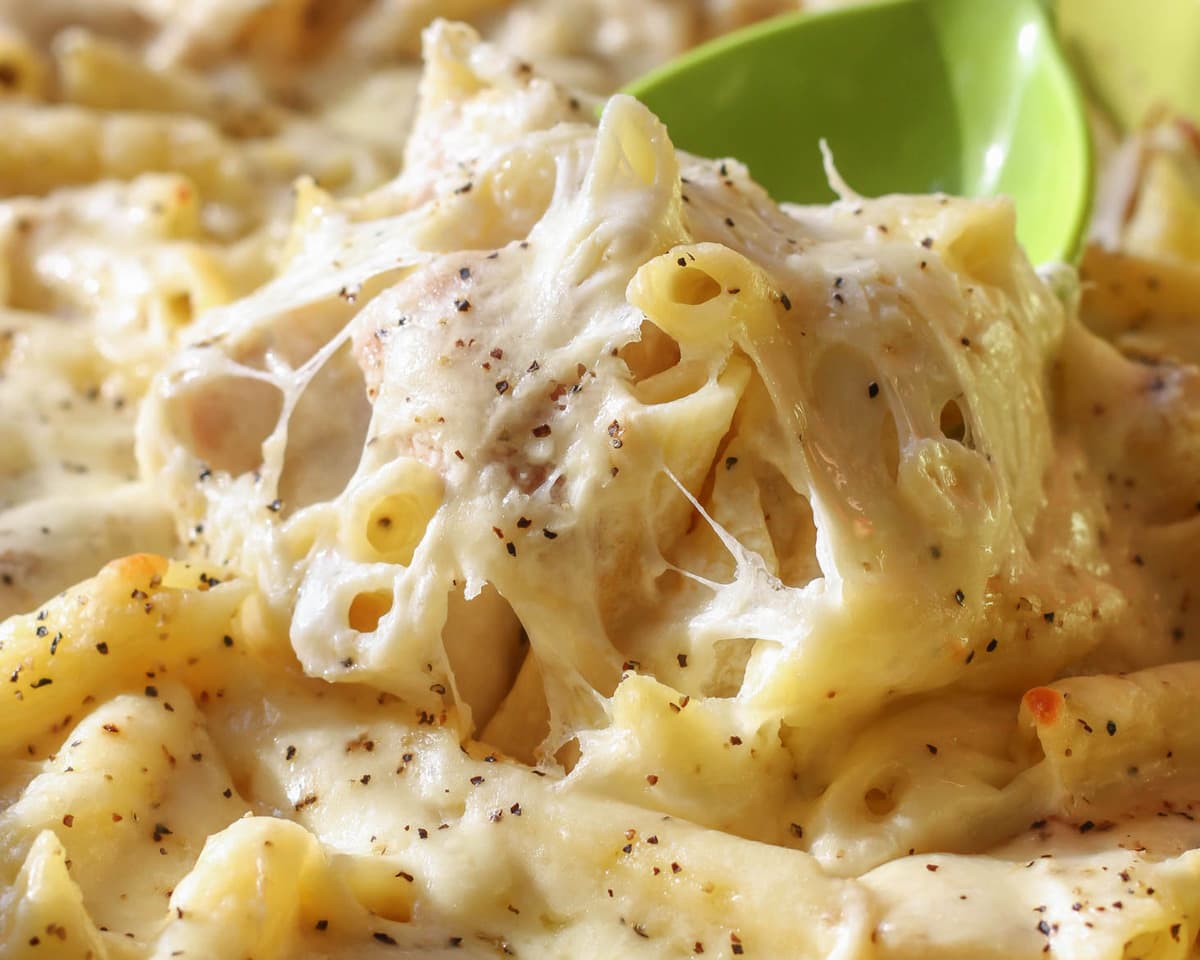 easy pasta bake recipes
These crock pot and baked pasta recipes are awesome for easy prep. They might take a little longer to make from start to finish, but they are less hands on time. So you can prepare them earlier on in the day and then they'll be ready by dinner time.
Chicken Alfredo Bake – A delicious and simple casserole version of the dish every family loves – Cheesy Chicken Alfredo Casserole! Pasta, chicken, lots of cheese, and yummy seasonings make this pasta casserole a hit!
Baked Spaghetti – Cheesy Baked Spaghetti – a simple, delicious, dinner recipe filled with hamburger, sausage, cheese and more! Everyone will love this dinner recipe!
Chicken Asparagus Pasta Bake – A lighter Chicken asparagus pasta bake that is a favorite dish topped with Panko and baked to crispy perfection!!
Chicken Lasagna – Everyone loves lasagna! this chicken version is just as delicious and is filled with spinach, cheese and delicious homemade white sauce.
Baked Ziti – Baked Ziti is an easy baked pasta recipe filled with a cream cheese and tomato sauce and topped with cheese! It's great for feeding a crowd.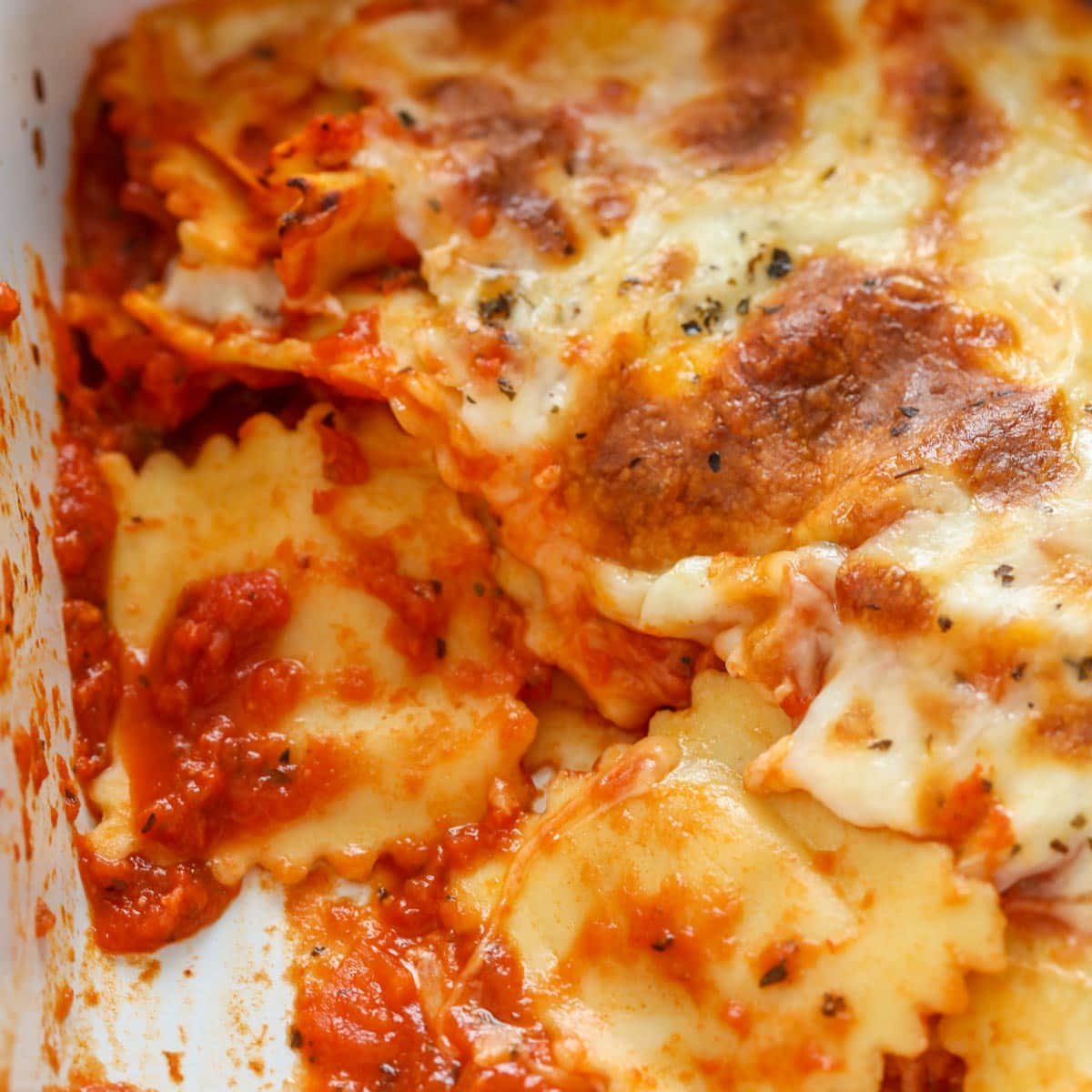 Cheesy Baked Ravioli – Easy Cheesy Baked Ravioli – a quick, simple and delicious dinner recipe that the whole family loves! It's so cheesy and so tasty!
Cheesy Baked Tortellini – This Easy Cheesy Baked Tortellini is simple and delicious too. Tortellini, bacon, cheese, basil, & spinach fill this recipe and make it irresistible and perfect for dinner any night.
Crockpot Lasagna – Classic Lasagna made in the slow cooker! This delicious crock pot recipe has all the layers of noodles, cheese, sauce and meat that everyone loves but made more simply.
Crock Pot Mac And Cheese – Everyone loves a good slow cooker recipe, and this Crock Pot Mac and Cheese is so simple, cheesy and delicious. With loads of cheese, butter, and sour cream it's hard not to love this creamy macaroni and cheese recipe.
Crock Pot Spaghetti – We make this yummy crock pot spaghetti all the time! Buttery noodles topped with a flavorful meaty sauce—DELISH!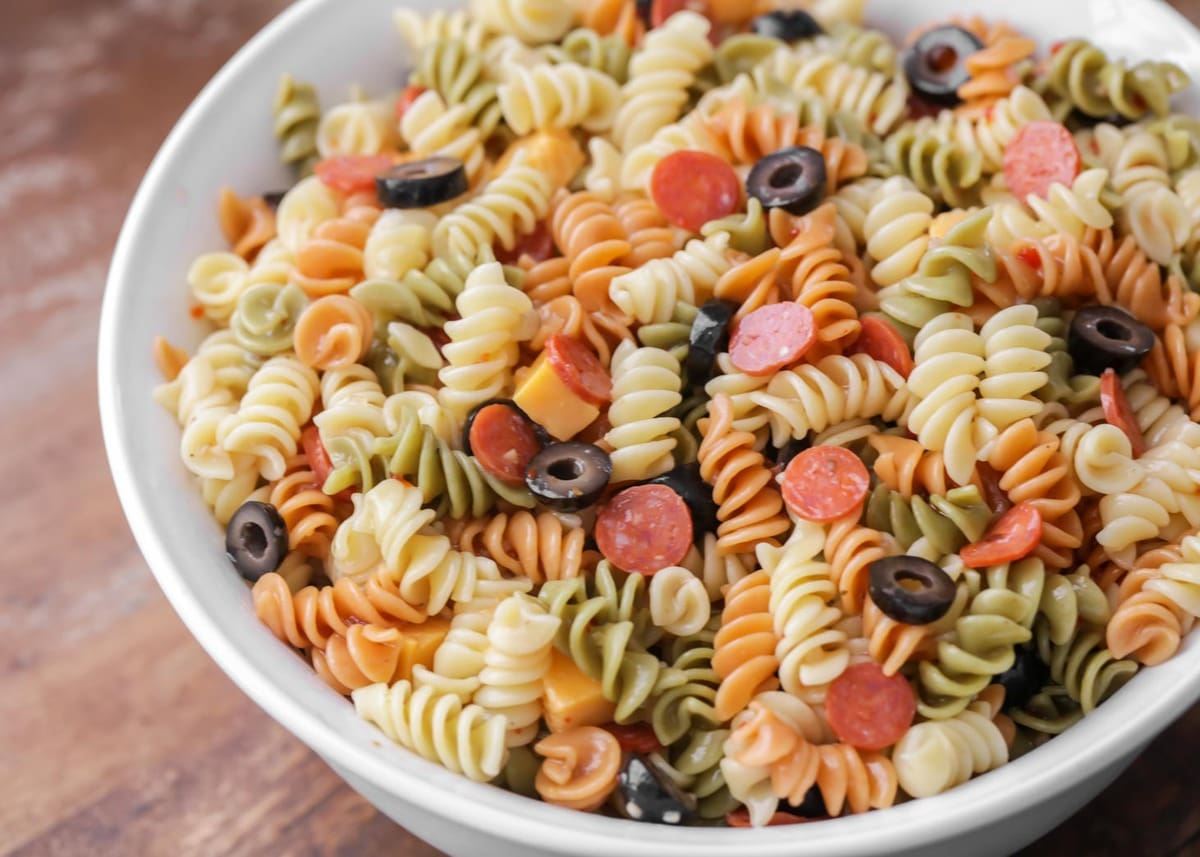 Easy Pasta Salad recipes
All of these are cold pastas, and make great side dishes. Although, some of them include meat, which makes them filling enough to use for a main dish.
Easy Pasta Salad – Easy and delicious Italian Pasta Salad recipe that includes Rotini pasta, olives, tomatoes, & cheese in Italian dressing! It takes minutes to make and is perfect for any get together including BBQs and holidays.
Layered Pasta Salad – A dish that is appealing to both your taste buds and your eyes! This beautiful Layered Pasta Salad is filled with your favorite ingredients including pasta, chicken, peas, lettuce, celery, and more.
Taco Pasta Salad – Delicious Taco Pasta Salad filled with beans, corn, tomatoes, avocado and more!!
Macaroni Salad – A simple, creamy macaroni salad loaded with pasta, peas and ham. It's perfect for parties, family dinners, and potlucks!
Greek Pasta Salad – This delicious Greek Pasta Salad is filled with rotini pasta, tomatoes, cucumber, olives, and feta cheese and is covered in a tasty greek dressing! It's perfectly light and refreshing.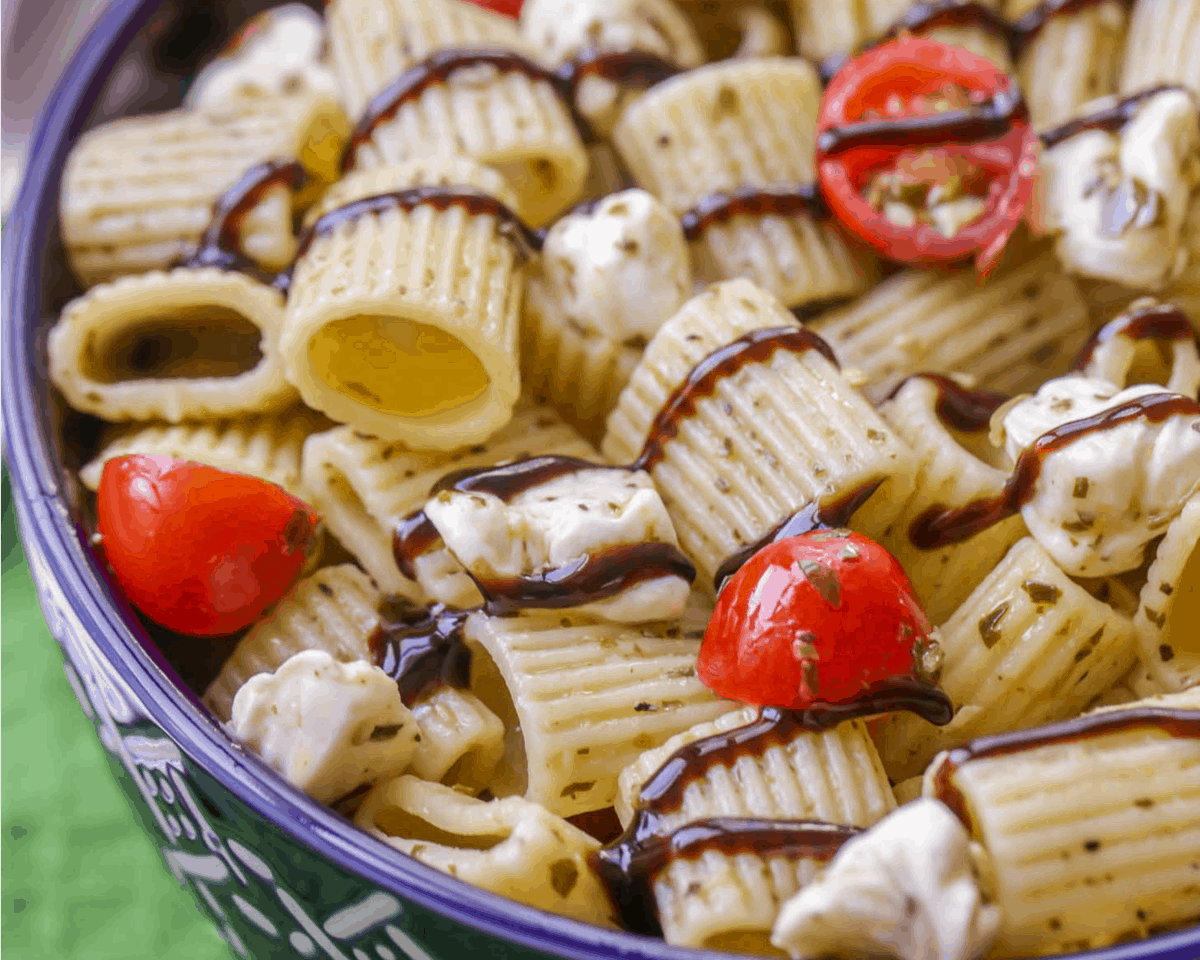 Caprese Pesto Pasta Salad – Caprese Pesto Pasta Salad is a light dish with a bold flavor, making it perfect for potlucks, parties, BBQ's, and get togethers!
Chinese Pasta Salad – Chinese Pasta Salad is filled with lettuce, pasta noodles, chicken, fried wontons, and more, all tossed in a delicious homemade dressing.
Easy Tortellini Salad – Super YUMMY and easy Tortellini Salad filled with tortellini, salad, ranch, tomatoes and bacon bits – perfect for summer time!
Fresh Mozzarella Pasta Salad – Easy & Fresh Mozzarella Pasta Salad is light, delicious and flavorful. This simply dressed salad is a new favorite!!
Chicken Pasta Salad – Creamy chicken pasta salad is quick, easy, and SO tasty. It is packed with hearty ingredients for a filling side or main dish!
---
the complete list
Here are the picture cards for all of the scrumptious Easy Pasta Recipes listed above.
These dishes are so versatile and full of flavor they're sure to become some of your new go-to's whether you're looking for a weeknight meal or something for a special occasion!
---
More Collections: Easy Salad Recipes, Pasta Salad Recipes, Dinner Ideas For Kids