You guys know how much we love chicken and pasta here!! How can you not when they're almost always delicious and loved by the whole family?! 😉  Today's recipe for Chicken Scallopini happens to be another one of those yummy dishes and is one my mom got from watching the news one day (thanks, Mom!) She gave it a try, and it was a hit!! Like I said, I'm not sure how it wouldn't be a hit when you have breaded chicken and pasta that is coated in a Lemon Butter sauce.
This particular recipe is also pretty simple. It takes a little bit of time but is easy to do, which is what I like most about great recipes (simple – AND delicious!)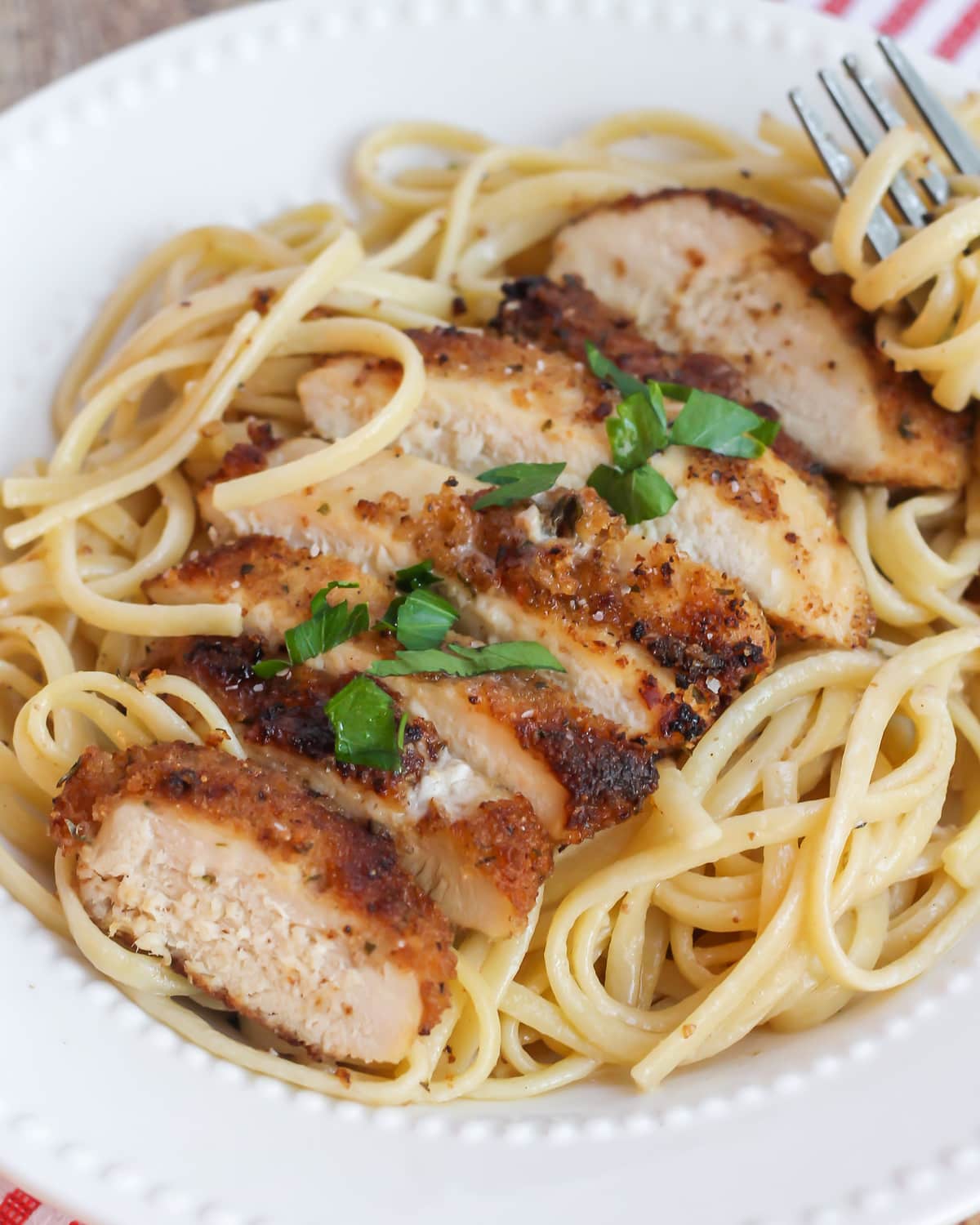 MY OTHER RECIPES
Whether you're making dinner for the family or for company, this is definitely one of those recipes that everyone will enjoy! Serve it up with some Fried Zucchini and Garlic Knots and you're set!
For more chicken pasta recipes, check out:
How to make Chicken Scallopini:
Chicken Scallopini
Chicken Scallopini - Delicious crusted chicken over lemon butter pasta - a new favorite dinner meal!
Ingredients
4 chicken breast skinless, boneless
Oil, for sautéing chicken
Butter, for sautéing chicken
2 C. Italian seasoned breadcrumbs or Panko
¼ t. salt
¼ t. black pepper
Lemon Butter sauce
4 oz. fresh lemon juice
2 oz. white wine
4 oz. heavy cream
1 cup butter
1 lb. linguini pasta, cooked
Instructions
Place each chicken breast in a plastic bag. Using a meat mallet, pound to about ¼-inch thickness.
Heat a about 1 TB of oil and 2 T. butter in a large skillet
Coat chicken in breadcrumbs and saute in your skillet, turning until brown and cooked through. Remove chicken from pan.
In a medium pan, bring to boil, lemon juice and white wine on medium heat. Reduce by one-third. Add cream and simmer until mixture thickens. Slowly add your butter until incorporated
Season with salt and pepper and add capers.
Cook pasta according to box directions. Add lemon butter sauce to pasta and toss.
Add cut chicken over pasta. Garnish with parsley and serve.
Recipe adapted from ABC 15.