Cheesy and delicious Funeral potatoes (aka Cheesy potatoes, Party Potatoes). This simple casserole is a potato lovers dream. With cheesy, sour cream, butter, cream of chicken and Hash Browns, these potatoes are perfect for any meal or holiday.
These potatoes are the perfect side dish for large gatherings, parties, and holidays. If you like cheesy potatoes, you'll probably like scalloped potatoes, or loaded mashed potatoes.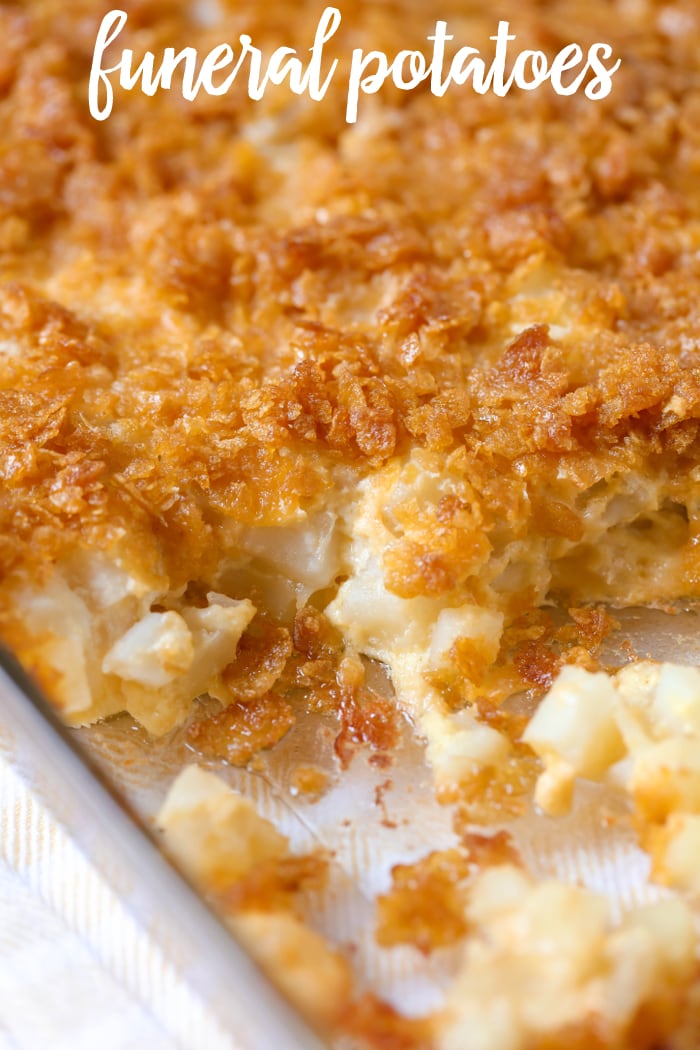 what are funeral potatoes?
There are certain side dishes that have to be made on Thanksgiving in our family. Some of those include my aunt's super yummy Ham, my mom's famous rolls, and several side dishes, including Funeral Potatoes (also known as Cheesy Potato Casserole, Party Potatoes, Cheesy Potatoes, etc.).
Yes, we do have classic Mashed Potatoes as well, but we always have at least two pans of Funeral Potatoes. Usually one has onions in it, and the other one does not (for us picky folk).
Why are they called Funeral Potatoes? Because this dish has become a staple at funeral luncheons. And since they are so yummy, they are great to have for the holidays with some of our other favorite sides including creamed corn, green bean casserole and homemade macaroni and cheese. We also like to make this all year long because they're that good – and simple!
I'm not going to lie… I sometimes crave these more than the regular mashed potatoes, BUT having said that I usually have both on Thanksgiving, because I'm just a potato lover!! 😀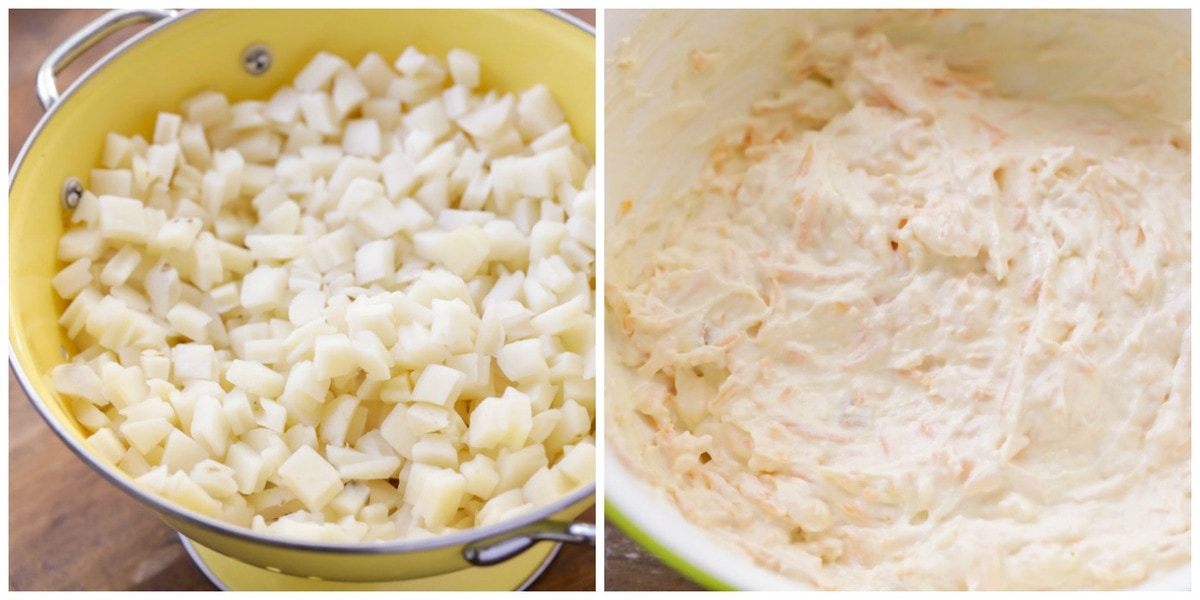 How to Make Funeral Potatoes
Once your cubed hash browns are thawed, rinsed and drained, you'll set them aside and make your cream mixture. This is made by mixing the sour cream, cream of chicken soup and butter. Add salt, onion and cheese to this and mix well.
Combined hash browns with the sour cream mixture and stir until it's well combined. Pour this into a greased 9×13 pan.
Place your corn flakes in a Ziploc bag with melted butter and mix and crush until well coated. Pour this over the potatoes and bake for 350 for 40 – 50 minutes.
funeral potato variations:
There are so many ways to change this up!
Topping – We think corn flakes work the best, but you can also use Panko or even crushed Ritz crackers. Most kind of crackers will do, but Ritz works best if you are going that route.
Potatoes – You can use shredded potatoes too – we have a similar recipe using them for Hashbrown Casserole.
Crock Pot – We like this version in the oven, but we do have a Slow Cooker Cheesy Potatoes recipe we love!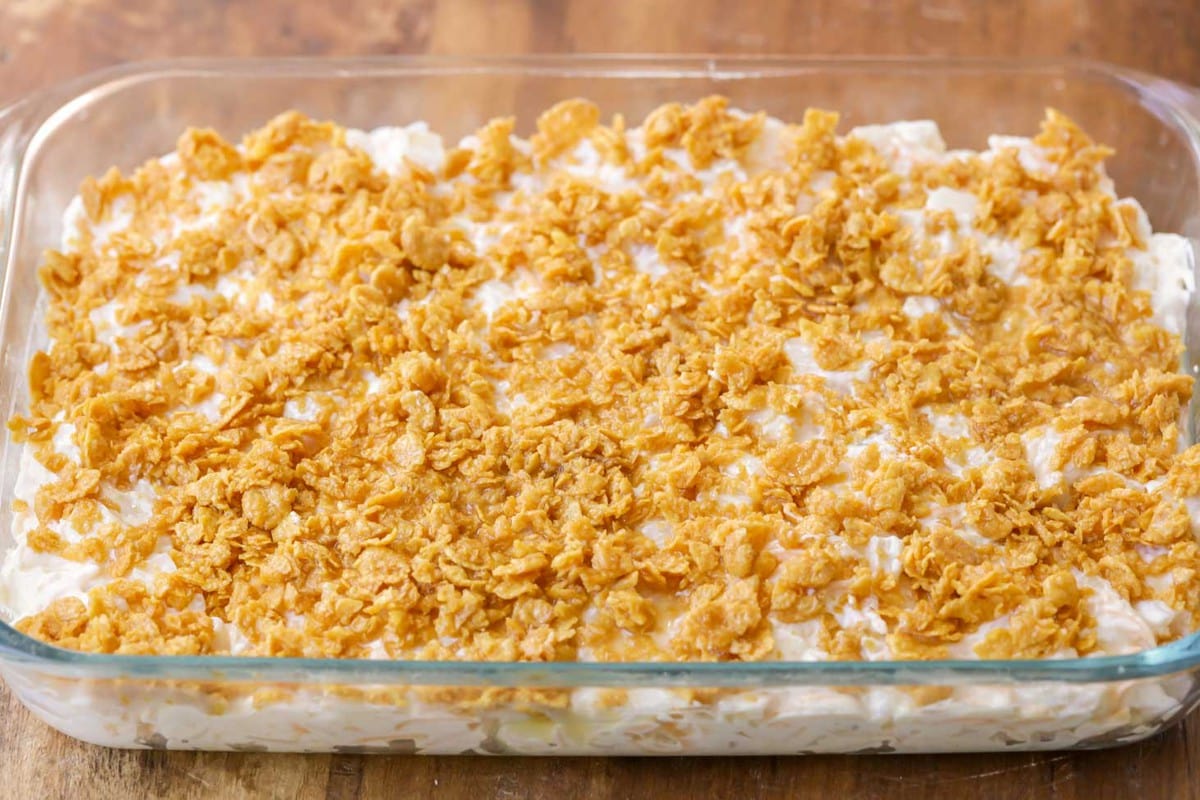 Cheesy Potato FAQ
Can you make funeral potatoes ahead of time? Yes, you can! If you want to make these funeral potatoes ahead of time make them as the recipe says, but don't add the cornflake topping or butter. When you're ready to bake, thaw in the fridge overnight. Add the butter and cornflake topping and bake as directed!
Can you freeze funeral potatoes? You will also make this to the point where you pour the potatoes into the dish. Do not add the cornflakes and instead cover with foil and place in the freezer for up to 3 months. Let thaw in fridge overnight and then add the cornflakes before baking. We also recommend making them in a disposable dish pan if you are planning to freeze.
How to store/reheat funeral potatoes? We place the potatoes in an air-tight container and leave in the fridge for up to 3 days. To reheat, just place on a plate and reheat in the microwave until heated through.
How to make funeral potatoes for 50+ people? Funeral potatoes are a great dish to make for a crowd! If you want to make this recipe for 50 or more people – just triple the recipe or more. This recipe serves about 16 people. Make sure you have a few 9×13 pans lying around to bake all the potatoes in! Or better yet – buy large disposable pans to bake them in. 😉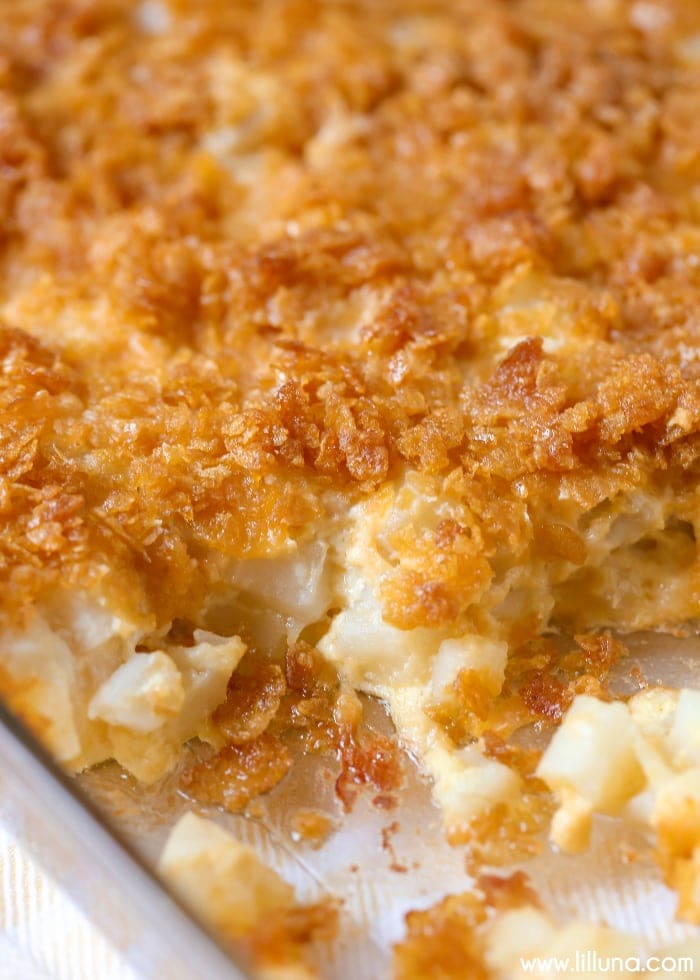 If you've ever had these Cheesy Potatoes, then I'm sure you know just how yummy they really are. The best part is that you can add ingredients like bacon bits or even a few veggies to make them just how you'd like them. 🙂
What to Serve with Funeral Potatoes:
For more potato recipes, check out:
COLLECTIONS: Thanksgiving Sides
Funeral Potatoes Recipe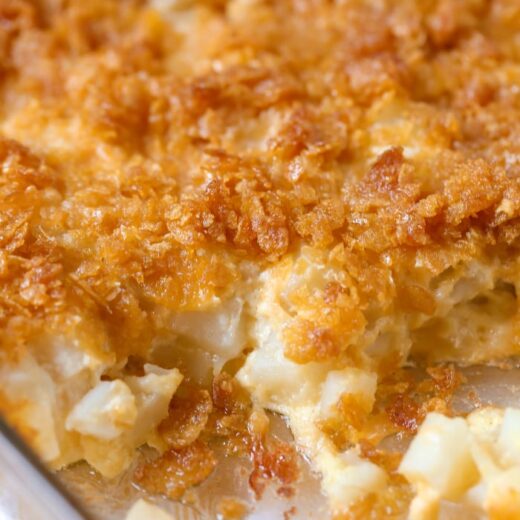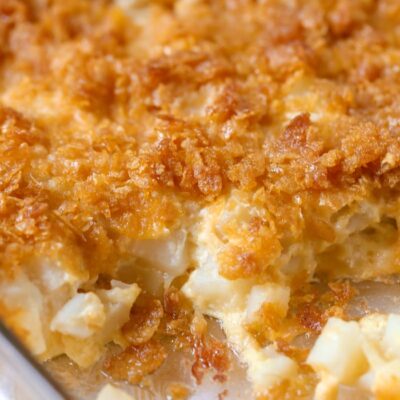 Family-favorite Funeral Potatoes casserole is creamy, cheesy, and crispy on top. It's perfect for dinners and holidays!
Ingredients
Instructions
Preheat the oven to 350 degrees F.

Place your potatoes in a colander. Let them sit until thawed and drained.

Combine sour cream, soup and butter in a bowl. Mix it well. Add salt, onion and cheese to this mixture and stir until all combined.

Add potatoes to mixture and stir until all combined. Place in 9x13 dish.

Sprinkle on butter covered crushed Corn Flakes.

Bake uncovered at 350 degrees for 40-50 minutes.