Green Bean Casserole is a classic side dish, especially at holiday meals! This savory casserole is simple, delicious and requires only 4 ingredients, which makes it the perfect addition to your holiday menu!
There are a few side dishes we ALWAYS have at holiday dinners, and this casserole is one of them. Mashed potatoes, dinner rolls, and glazed carrots are other favorites we count on having for holidays and family gatherings.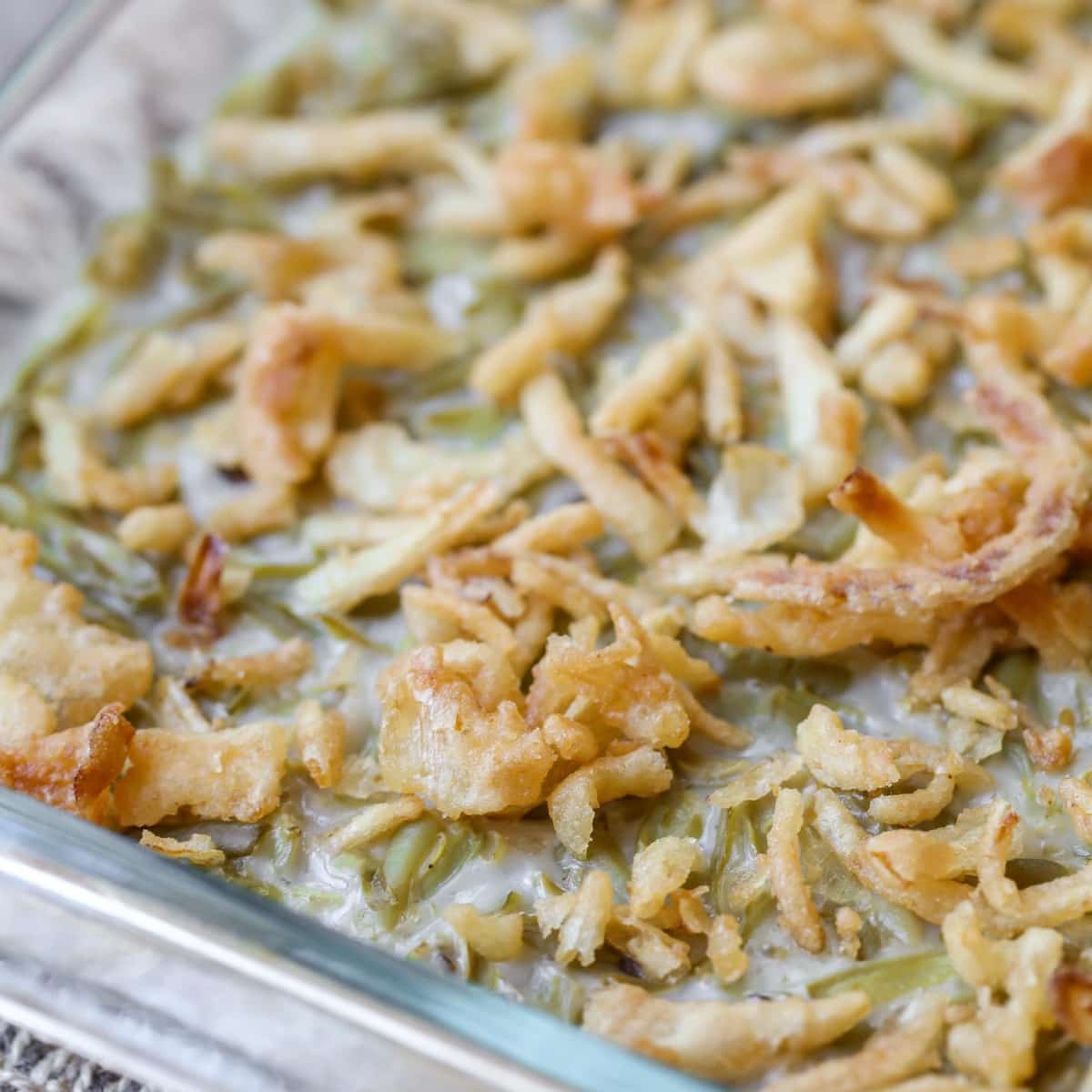 Easiest + best green bean casserole
Today's dish happens to be a Thanksgiving classic!
I'm sure most of you have tried it before, but if you haven't I highly suggest giving this easy Green Bean casserole recipe a try. It's probably the best way to serve green beans and is a great recipe to make as a simple side to the rest of the Thanksgiving feast.
Although meat and rolls and pie sound pretty heavenly, it's always nice to mix in some veggies (even when they're covered in cream of chicken and mushroom soup!!) 😉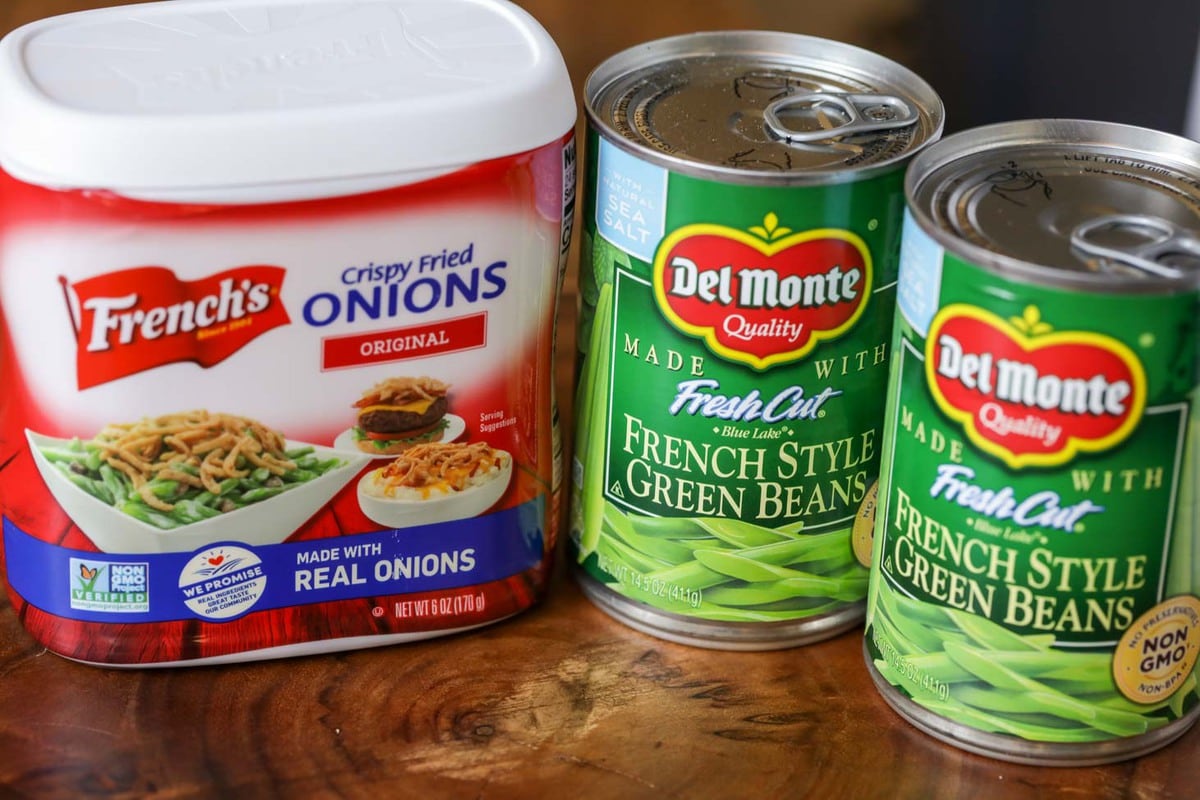 How to Make Green Bean Casserole:
This homemade green bean casserole is literally the easiest casserole you'll ever make. Only 5 minutes of active prep time, and FOUR ingredients!
Green beans
Cream of chicken & mushroom (you can also use just cream of mushroom but we like the combo better)
Milk
French's Fried Onions
You just stir together everything but the onions, add some salt and pepper, put it in a 9×13 dish, and bake in the oven for about 20 minutes. Then you add French's fried onions on top and bake for an additional 5 minutes. Simple as that.
crockpot green bean casserole:
Lightly spray the crock pot with cooking spray. Combine green beans, milk and soup. Cook on low for 2-3 hours, or 1 hour on high. Cooking time may be longer if you are using fresh green beans. Transfer to a serving dish. Sprinkle with fried onions that have been prebaked for 5 min in a 350° oven.

green bean Casserole variations
As with any recipe, it's easy to change it up based on the ingredients and tastes you prefer the most. Here are some changes you can add to this recipe to make it even more to your liking. 😉
BACON – add some cooked, chopped bacon to the recipe to make it a green bean casserole with bacon. SO good!
FRESH GREEN BEANS – use 3-4 cups of fresh, cut green beans instead of the canned version for more freshness. You just need to trim the ends first and if they are large, cut them in half. Fresh green beans are more crispy, but if you like the softer texture found in canned green beans, you can pre-boil them first for about 7-8 minutes.
CHEESE – Add 1 – 1 ½ cups shredded cheese to the mix to add more flavor and cheesiness to this casserole.
CREAM OF CHICKEN – use this instead of cream of mushroom if you know there are no mushroom fans in the house.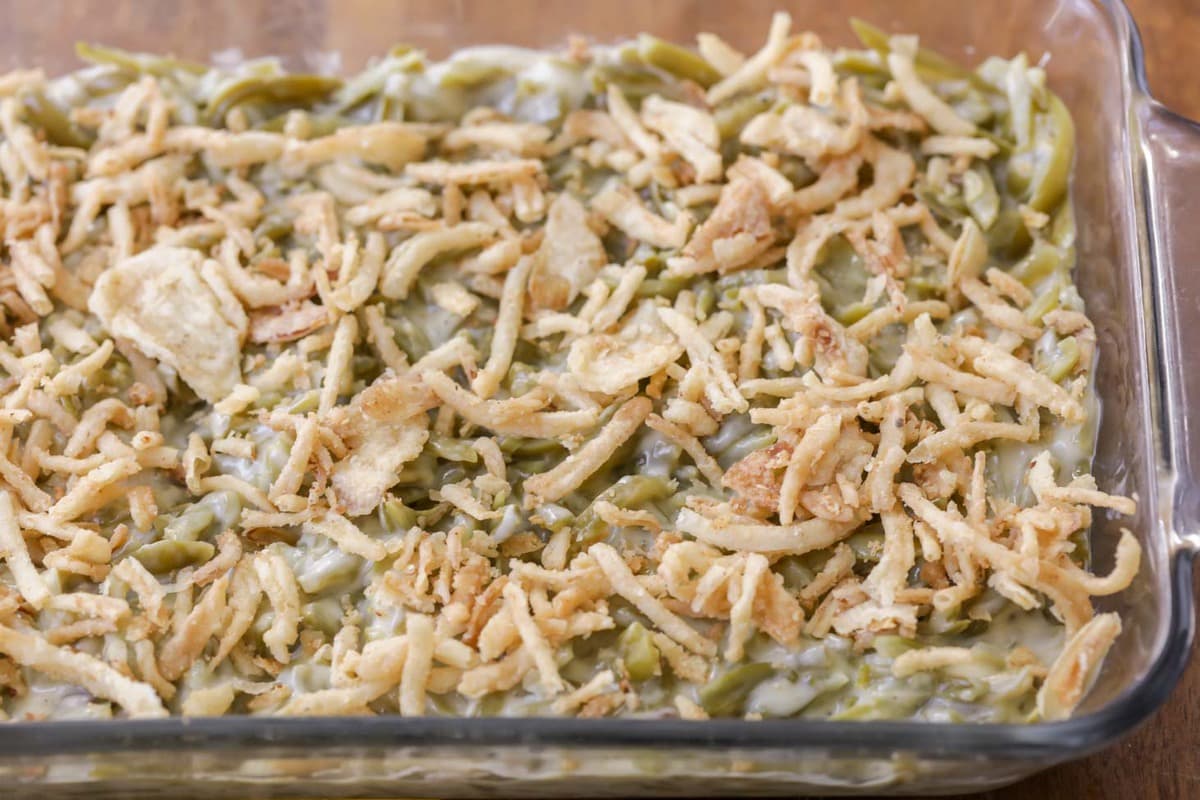 Great for Large Gatherings
With all of the holiday menu items that are so time consuming, it's nice to have at least one dish that doesn't take much time or effort. This green bean casserole is definitely one of those dishes!
MAKE AHEAD. To save yourself even more time, you can assemble your green bean casserole 24-48 hours in advance and keep it covered in the fridge. Be sure to add the fried onions right before baking, otherwise they'll get soggy.
How much to make per person: Double the recipe for 20-25 people. Triple the recipe for 30-35 people. Remember when serving at a holiday dinner there are so many other delicious side dishes that people tend to take smaller portions of each dish.
Leftovers
If you end up with leftovers after your holiday dinner, you can store them in the fridge for up to 3 days.
REHEAT. Preheat the oven to 350 degrees. Cover with foil and bake for about 15 minutes per pound. Remove the foil and bake for additional 10 minutes. If the fried onions need to be a little more crispy, broil on low for 2-3 minutes.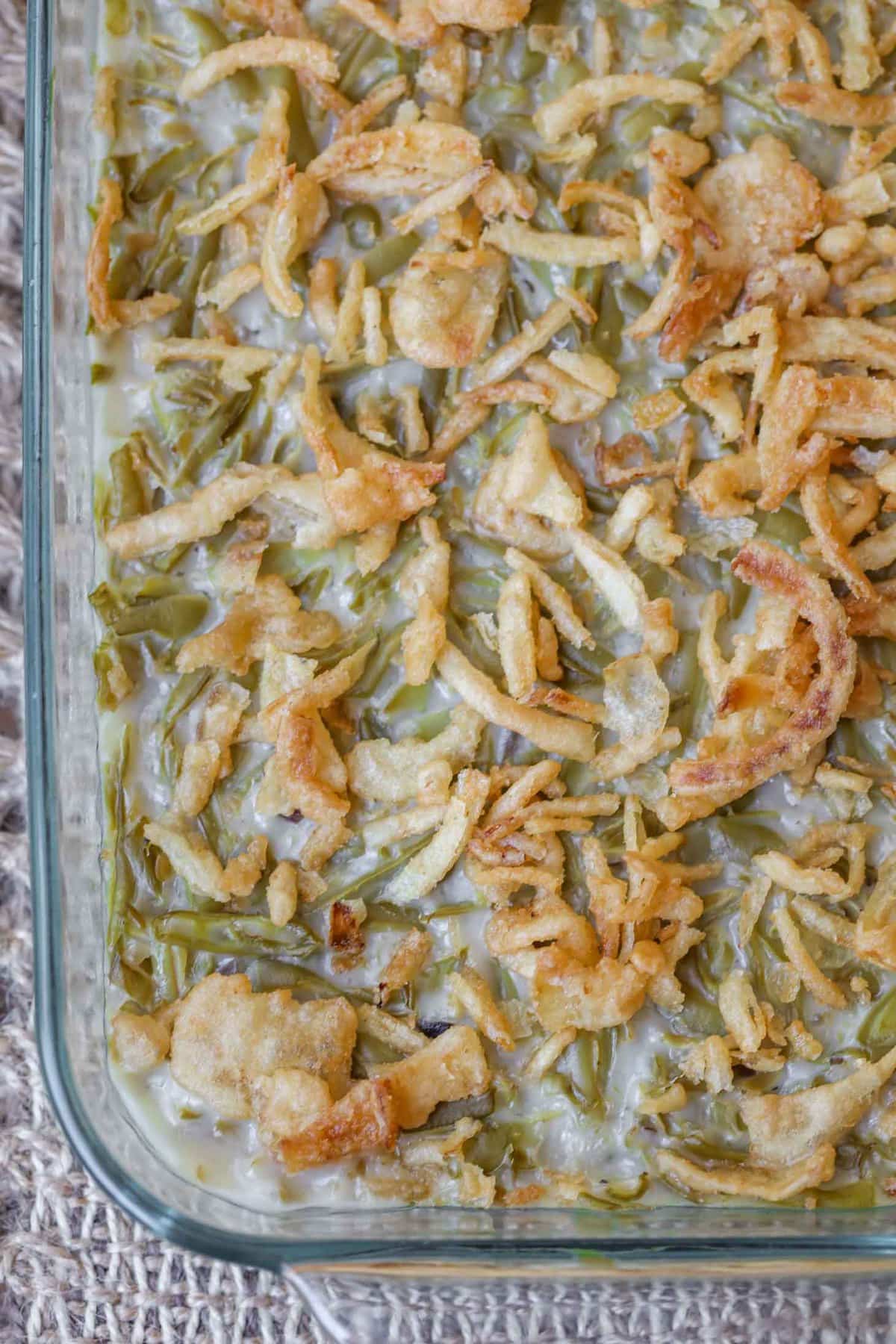 I'm glad my tastebuds have finally grown up, because I can't imagine holiday meals without homemade green bean casserole! 😉
what to serve with green bean casserole?
For more green bean recipes, check out:
COLLECTIONS: Sides, Thanksgiving Side Dishes
Green Bean Casserole Recipe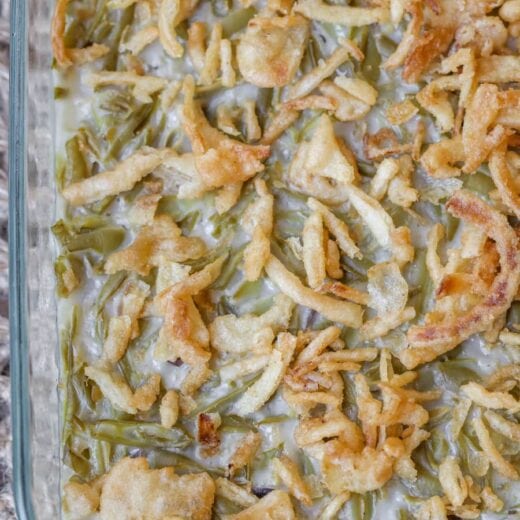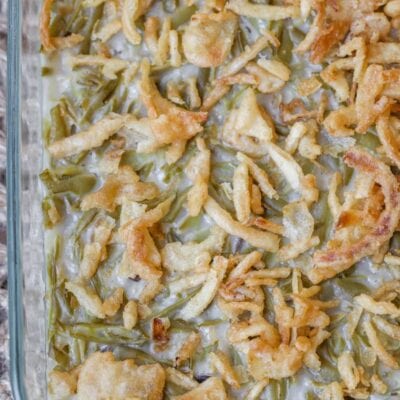 Green Bean Casserole is a classic side dish, especially at holiday meals! This savory casserole is simple, delicious and requires only 4 ingredients, which makes it the perfect addition to your holiday menu!
Ingredients
3

14.5 oz

cans French-style green beans

drained

10.75

oz

can condensed Cream of Chicken & Mushroom

1/4

c

milk

salt and pepper to taste

2.8

oz

can French-fried onions
Instructions
Mix green beans, soup, milk, salt and pepper in a bowl and pour into a 9x13 dish.


Bake for 18-20 minutes and top with onions. Bake for an additional 5 minutes and ENJOY!