Every Christmas dinner needs delicious sides to complete it. Salads, vegetables, potatoes, or breads—this collection of Christmas Side Dishes has it all!
MORE COLLECTIONS: Christmas Appetizers, Christmas Desserts, Christmas Dinner Ideas, Christmas Cookies, Mexican Christmas Food, Italian Dinner Ideas
Tips for Christmas dinner sides
SO many side dish recipes to choose from for Christmas!
They're easier to choose when you know the cuisine, but we wanted to share some of our favorites as well as some tips for making them for the holidays.
Our number 1 tip? Make a few that can be prepared in different ways so you aren't over-crowding the oven or stove. 😉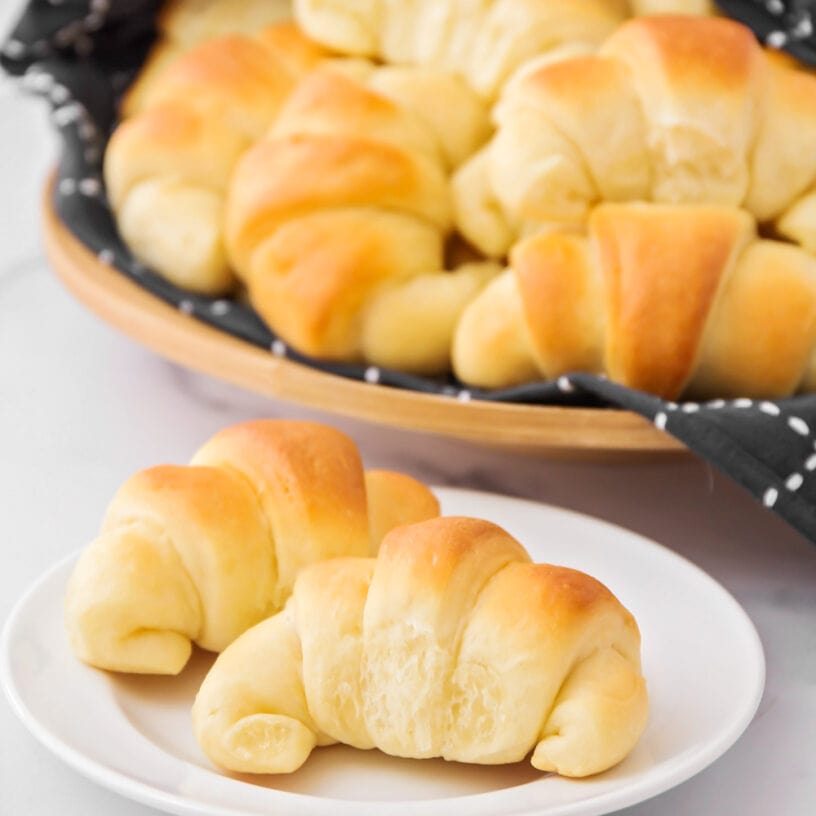 Christmas Sides Tips
How much to make: The perfect ending to Christmas day is around the dinner table with loved ones and delicious food, but you do not want to run out. The following information can help guide you in how much to make.
Potato dish: plan 6 oz per person
Vegetable dish: plan 4 oz per person
Rolls: 1 ½ rolls per person
Pasta: about ½ cup per person
Salad: ½-1 cup per person
Make ahead of time: After a busy day of gifts and fun you may not want to spend a lot of time cooking in the kitchen. Incorporating dishes that can be made ahead of time will make dinner prep run smoothly and quickly.
The individual recipes have more information on how to make ahead of time and how to store leftovers.
Keeping Sides Hot: Even if you're able to make the Christmas side dishes ahead of time at some point some sides will need to get heated and kept hot until everything is all ready to serve. Here are a few options you can use to help keep your food hot:
A cooler: Not just for keeping food cold. Its insulation will also help retain heat. Cover the pots and pans with a lid or foil and stack them inside. (Be sure that they don't smoosh the food underneath)

A crock pot set to low or warm.

Use an insulated food carrier

Chafing Dishes
Now, on to our go-to Christmas Side Dish options. We've broken it down into: Salad Recipes, Vegetable Sides, Rolls Sides and Miscellaneous Sides.
Christmas Salad Recipes
Green salads or fruit salad both are a delicious addition to Christmas dinner. They balance out some of the heavier dishes and add color and flavor.
Spinach Tortellini Salad – This Cold Tortellini Salad Is The Ultimate Side Dish For BBQ And Potlucks! With Tortellini, Spinach, Tomatoes, Olives, And Parmesan Tossed In Italian Dressing, This Tortellini Spinach Salad Is Packed With All The Best Flavors!
Waldorf Salad – Everyone Loves This Waldorf Salad That Is Filled With Grapes, Apples, Celery, Walnuts, Cheese And Chicken. Toss It In A Homemade Poppyseed Dressing And This Salad Is Perfect For Any Lunch, Dinner Or Appetizer.
Tortellini Salad – Super YUMMY and easy Tortellini Salad filled with tortellini, salad, ranch, tomatoes and bacon bits – perfect for summer time!
Brussel Sprout Salad – Brussel Sprout Salad Is As Pretty As It Is Tasty—Full Of Shredded Brussel Sprouts, Pomegranate Seeds, Sliced Almonds, And A Little Bit Of Shaved Parmesan.
Tomato Mozzarella Salad – Fresh, Light, And Healthy Tomato Mozzarella Salad With Basil And Balsamic Glaze! Perfect For Lunches With Friends Or A Side Salad To Dinner!
Caesar Salad Dressing – Delicious Homemade Caesar Salad Dressing With Crispy Homemade Croutons. This Simple Salad Dressing Will Become Your New Go-To For Salads!
Pistachio Salad – Everyone Loves This Pistachio Salad! This Cool Side Salad Is Perfect For Summer Or Any Holiday Get Together.
Fruit Salad – A fresh fruit salad that makes the perfect side dish to any meal! Colorful, healthy, delicious, and filled with all your favorite fruits!
Strawberry Jello Pretzel Salad – Strawberry Jello Pretzel Salad is the ultimate combination of sweet and salty. This classic treat is always a crowd pleaser!!
Ambrosia Salad – This Ambrosia Salad Will Take Your Straight Back To Your Childhood. The Best Creamy Fruit Salad With Mini Marshmallows Mixed In!
Christmas Vegetable Side Dishes
No meal in complete without a side of vegetables. Thankfully I have an assortment of delicious veggie recipes that adults and kids will like.
Glazed Carrots – If You Need A Go-To Side Dish, These Brown Sugar Glazed Carrots Are Perfect For You! This Recipe Makes The Most Tender And Tasty Baby Carrots. Best Of All, It Takes Less Than 10 Minutes To Make And Only Requires 4 Ingredients!
Fried Zucchini – Whether You Serve It As A Side Or An Appetizer, This Restaurant Style Fried Zucchini Is A Family Favorite. Fried To Perfection, This Dish Is Simply Addicting, Especially Dipped In Ranch And Marinara!
Roasted Vegetables – Simple, Flavorful, And Healthy Oven Roasted Vegetables That Take Less Than 10 Minutes Of Prep Work! Nothing Beats Yummy Veggies Roasted In The Oven!
Creamed Corn – A smooth and creamy side dish filled with cream, butter and cheese. Anyone who likes corn will love this recipe! This creamed corn is also a perfect side dish for holiday meals.
Green Bean Bundles – These Green Bean Bundles make for the ultimate side dish. Bacon wrapped green beans drizzled in butter, brown sugar, and garlic salt – the flavor can't be beat!!
Brussel Sprouts with Bacon – Brussel Sprouts With Bacon Has A Delicious Flavor That Will Make You Come Back For Second And Third Helpings! Adding Bacon Is The Perfect Addition To This Side Dish Recipe That Is Simple And Loved By All.
Fresh Green Bean Casserole – Fresh green bean casserole is a classic side dish for any dinner or holiday. It is easy to make and takes this beloved classic to a new level of yum!!
Parmesan Asparagus – This Parmesan Baked Asparagus Is The Easiest And Yummiest Way To Eat The Veggie! It Takes Just Minutes To Prep And Is The Perfect Side Dish To Any Meal!
Grilled Bacon Wrapped Asparagus – This Recipe Is Inspired By One Of Our Favorite Disneyland Foods – Bacon Wrapped Asparagus Skewers From Bengal Barbecue! These Skewers Only Require 4 Ingredients And Take Less Than 10 Minutes On The Grill!
Honey Glazed Carrots – Easy And Delicious Honey Glazed Carrots That Are The Perfect Side Dish To Any Meal! They're Quick To Make And Are Coated In A Butter-Y Honey Glaze That Everyone Loves.
christmas potato recipes
From Russet to Red, or even Sweet, potatoes make a filling and delicious side that will compliment any Main dish.
Best Mashed Potatoes – These Buttery Smooth Mashed Potatoes Are Our Go-To Potato Side Dish Recipe For Every Dinner And Holiday Get Together. They're Everyone's Favorite Potatoes!
Parmesan Potatoes – Simple And Delicious Baked Parmesan Potatoes Are The Perfect Side Dish, Made From Cubed Potatoes Coated In Parmesan And A Few Simple Seasonings.
Crockpot Mashed Potatoes – These Cheesy Garlic Crock Pot Mashed Potatoes Are The Perfect Accompaniment To Any Meal, And So Incredibly Easy To Make. They're Creamy, Smooth And Savory, And The Cheese Adds So Much Delicious Flavor.
Twice Baked Potatoes – After Having These Twice Baked Potatoes, You'll Never Want Regular Baked Potatoes Again! These Super Easy Potatoes Are Loaded With Sour Cream, Cheese, Bacon, And Seasonings! For Being Such A Delicious Side, They Are SO Simple!
Mashed Potato Casserole – Creamy cheesy Mashed potato casserole is like no other. This AMAZING side dish takes mashed potatoes to a whole new level!
Funeral Potatoes – Cheesy And Delicious Funeral Potatoes (Aka Cheesy Potatoes, Party Potatoes). This Simple Casserole Is A Potato Lovers Dream. With Cheesy, Sour Cream, Butter, Cream Of Chicken And Hash Browns, These Potatoes Are Perfect For Any Meal Or Holiday.
Crockpot Scalloped Potatoes – Slow Cooker Scalloped Potatoes – These Creamy Potatoes Are A Perfect Side Dish To Just About Any Meal! You Only Need A Few Simple Ingredients, And Your Crock Pot Does All The Work.
Baked Sweet Potato Cubes – These Oven Roasted Sweet Potatoes Are Easy To Make, Flavorful And Have A Tasty Parmesan Cheese And Spices Coating Making Them Our New Favorite Side Dish.
Twice Baked Potato Casserole – Twice Baked Potatoes In Casserole Form! Filled With Red Potatoes, Cheese, Sour Cream, Bacon And More. It's The Perfect Side Dish To Any Holiday Meal Or Dinner.
Candied Sweet Potatoes – Delicious Candied Sweet Potatoes – A Simple And Tasty Side Dish That Will Be A Family Favorite! Soft Sweet Potatoes Mixed With Butter, Brown Sugar, Water, Salt And Pepper.
Mashed Sweet Potatoes – Buttery Smooth Mashed Sweet Potatoes That Elevate Any Meal You're Making. With Maple Syrup, Cinnamon, Nutmeg, Butter And More, You Will Love The Combination Of Sweet And Savory These Potatoes Have To Offer.
Baked Parmesan Sweet Potatoes – Baked Sweet Potato Cubes – These Oven Roasted Sweet Potatoes Are Easy To Make, Flavorful And Have A Tasty Parmesan Cheese And Spices Coating Making Them Our New Favorite Side Dish.
Garlic Red Mashed Potatoes – Creamy Garlic Mashed Red Potatoes are flavorful potatoes that are full of flavor. They are a perfect side dish with any meal!!
Baked Mashed Potatoes – Our Baked Mashed Potatoes Have Layers Of Mashed Potatoes And Cheese All Topped With Bacon. This Potato Casserole Is Perfect For Dinner And Holiday Meals!
Potatoes and Asparagus – Delicious Potatoes And Asparagus Mixed Together With Bacon, Butter And More. This Vegetable Medley Is A Great Side Dish To Any Meal!
Christmas dinner rolls, Breads + more
Rolls, stuffing and cheesy pasta you're craving for the delicious carb with certainly be satisfied. And who doesn't include rolls as some of their Christmas side dishes?! Exactly what I thought – you need them!
Dinner Rolls – These Are Our ALL-TIME FAVORITE Dinner Rolls! They Are Soft, Butter-Y And Always The Hit For Any Dinner Or Holiday Get Together. It's So Hard To Eat Just One!
Easy French Bread – The BEST Homemade French Bread Recipe – So Soft And Tasty!! Serve With Butter Or Turn It Into A Delicious Appetizer. Everyone Loves This Bread Recipe!
Texas Roadhouse Rolls – Copycat Texas Roadhouse Rolls are so soft they melt in your mouth!! They are huge, buttery, and SO good!
Yeast Dinner Rolls – Homemade Yeast Dinner Rolls Recipe Are Delicious, Soft And Fluffy. They're A Delicious Side Dish To Any Meal!
Cornbread Stuffing – Savory Cornbread Stuffing Is The Perfect Side Dish, Especially For Holiday Meals! The Texture Is Perfect And The Flavor Is Delicious!
Homemade Mac and Cheese – The Cheesiest, CREAMIEST Homemade Mac N Cheese You'll Ever Make! Macaroni Pasta Covered In Sharp Cheddar Cheese, Melted Into A Warm Cream Sauce, And Topped With A Perfect Panko Crust. The Whole Family Will Definitely Approve!
Macaroni and Cheese with Ham – Macaroni and Cheese with ham smothers noodles and ham in heavy cream and 3 kinds of cheeses. It's a recipe everyone will love!
Crock Pot Mac and Cheese – Everyone Loves A Good Slow Cooker Recipe, And This Crock Pot Mac And Cheese Is So Simple, Cheesy And Delicious. With Loads Of Cheese, Butter, And Sour Cream It's Hard Not To Love This Creamy Macaroni And Cheese Recipe.
Italian Bread – It Is So Easy To Make Italian Bread At Home With Just A Few Simple Ingredients. Nothing Beats A Soft And Crusty Bread Warm From The Oven!
Macaroni Salad – A Simple, Creamy Macaroni Salad Loaded With Pasta, Peas And Ham. It's Perfect For Parties, Family Dinners, And Potlucks!
---
Our Go-to Christmas Side
It's not Christmas without have a potato side at our meal, and although Mashed Potatoes may be the go-to for most, we love us some Red Christmas Potatoes.
These oven roasted red potatoes are lightly seasoned and baked to perfection and make the perfect side to any kind of meat (steak, Prime Rib, Ham).
These delicious Christmas potatoes won't disappoint because they're delicious and so simple!
THe Complete List
Here are the picture cards of all the Christmas Side Dish Recipes. All of these Christmas Sides will be perfect for your Christmas Dinner. Enjoy!
Be sure to check out all our Christmas Recipes.