Easy Lemon and Herb Roasted Potatoes are a delicious side dish to any meal!! Golden potatoes in lemon juice, olive oil, and lots of herbs and seasonings making them flavorful and delicious!
We love oven roasted potatoes! This recipe is full of flavor, herbs and lemon. Other favorites include our baked Parmesan potatoes and sweet potato cubes.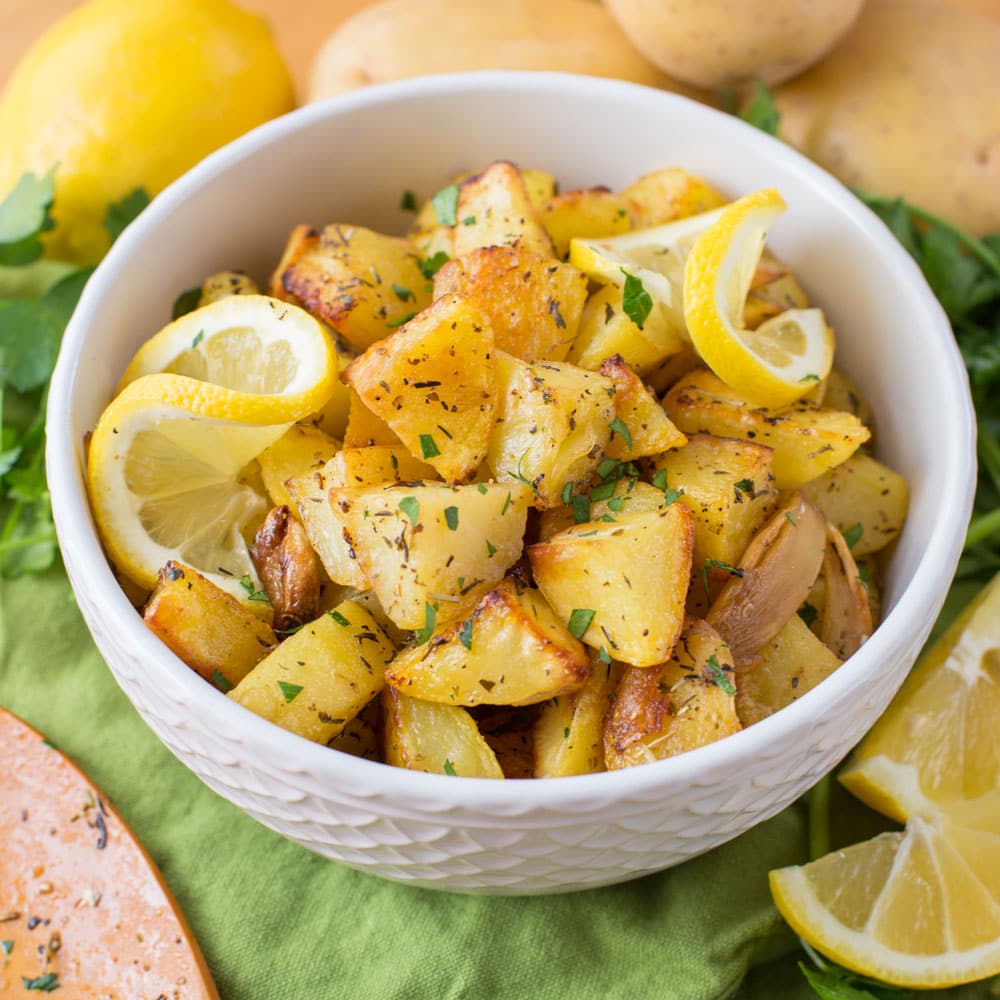 Another Easy + Flavorful Side Dish
Hello Lil' Luna readers! It's me Natalie, from Life Made Simple. Today I'm sharing a really effortless side dish idea – easy herb roasted potatoes.
I'm constantly trying to come up with new ideas for side dishes. Our family loves our classic sides like mashed potatoes, roasted broccoli and corn on the cob, but we love changing it up. These potatoes were the perfect recipe to add to the menu!
The best thing about these herb potatoes is that all of "active" time for this recipe is the prep work. Peeling and chopping the potatoes, boiling them and tossing them in the lemon/herb/oil mixture. And that only takes about 10 minutes. I'm telling you, these potatoes are delicious and a cinch to make!!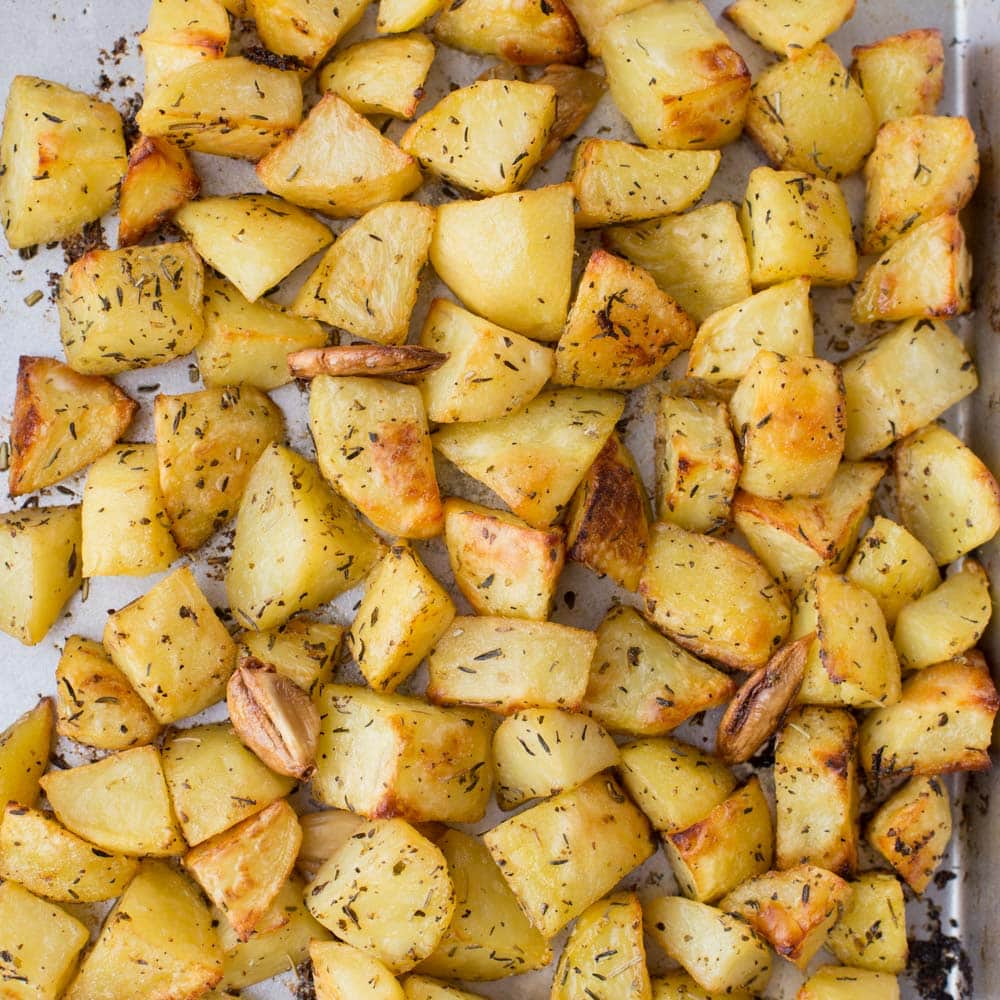 How to Make Herb Potatoes
As we mentioned – they are so easy!
After peeling, chopping and boiling the potatoes and tossing them in the herb and oil mixture, all that's left to do is spread the coated potatoes onto a hot baking sheet and bake at 375 degrees for about 1 hour.
Turn every 20 minutes and you've got a pan full of bright, herby golden potatoes.
Recipe Tips:
We use Yukon Gold potatoes in this recipe because they are great for roasting but you can use any kind of potato you want and it will turn out great.
Cook under a broiler for a few minutes to make them more crispy.
When cutting the potatoes try to cut them all roughly the same size, this will help them cook evenly.

When placing the potatoes on the pan don't crowd it. You want to make sure none of the potatoes are overlapping each other because this will prevent the bottom potatoes from getting crispy.
If you prefer, you can definitely leave the peel on the potatoes. If you do this, just be sure to wash and scrub your potatoes before chopping them.
How do you keep roasted potatoes from getting soggy? Roasted potatoes are definitely the best right after they are cooked. Once they sit for too long they may get soggy. The best way to prevent this is to eat them right away, but if they have sat out for too long then put them back in the oven and reheat them for about 10 minutes, turning them over at half way.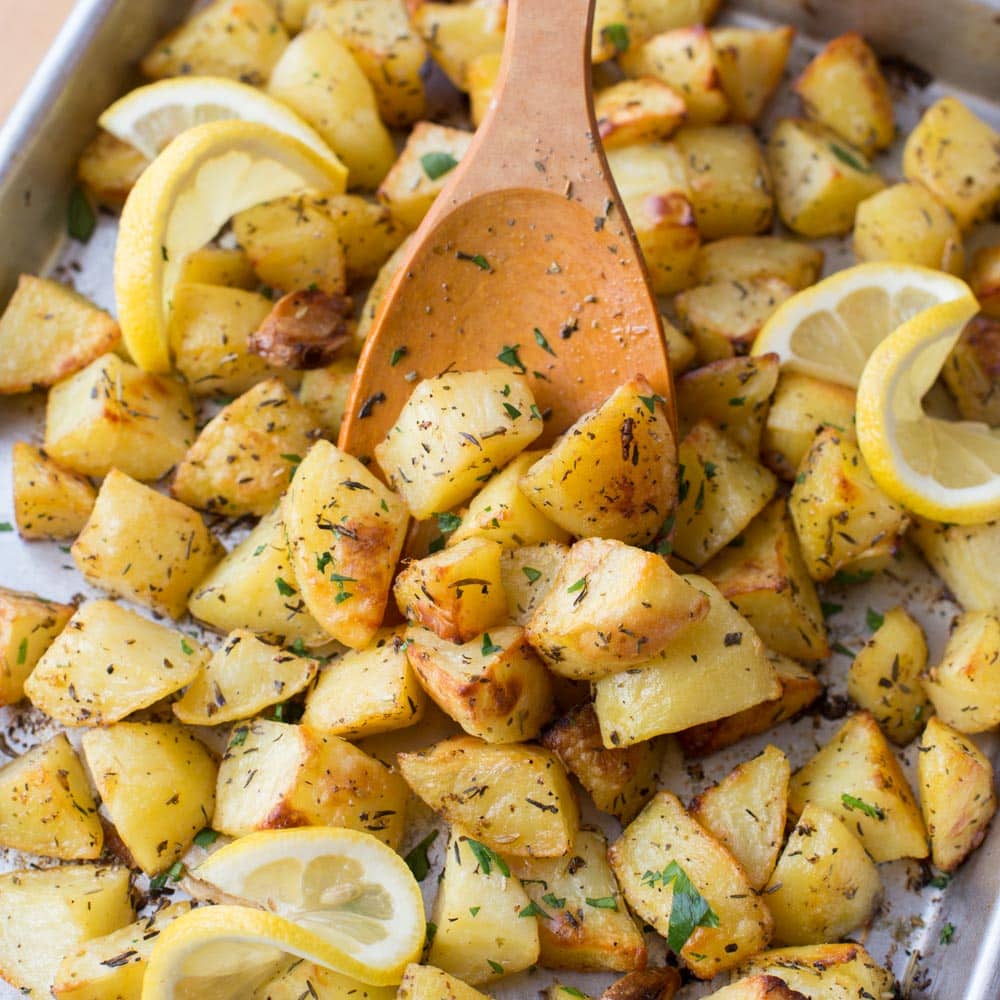 Storing, Reheating + What to Serve With
If you have leftovers STORE them in the fridge in an airtight container or a resealable plastic bag for 3-5 days.
You can also FREEZE these cooked potatoes as well. Once they have cooled, spread on a pan and freeze until solid. Then transfer them to a large freezer bag. Label and freeze 3-4 months.
To REHEAT them place them on a roasting pan with some oil and bake at 400 degrees for about 10-15 minutes or 30 minutes if frozen. Be sure to flip halfway through bake time.
What to Serve With These Potatoes: They go great with most meals, but here are some of our favorites!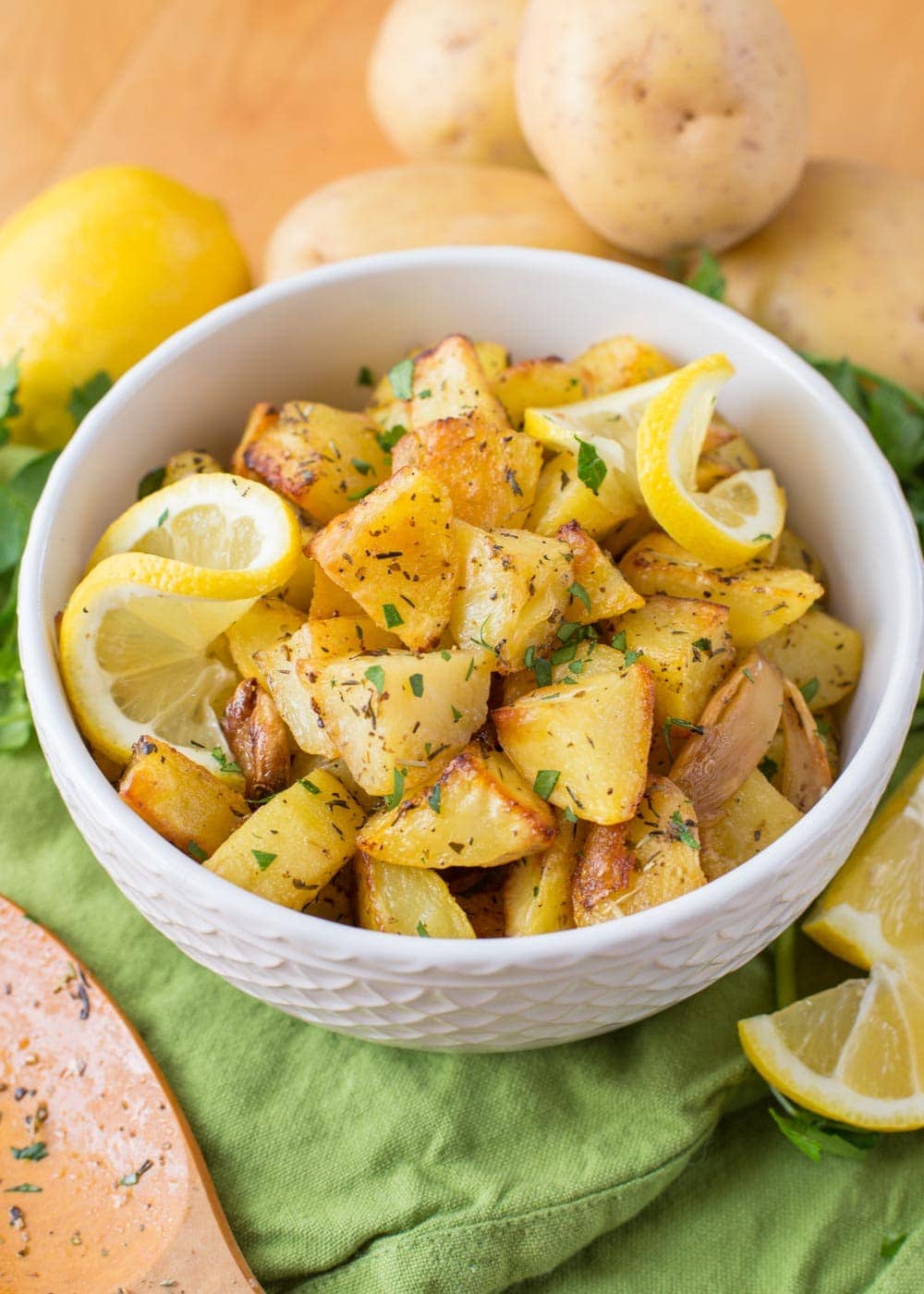 And for more veggie side dishes, check out:
Herb Roasted Potatoes Recipe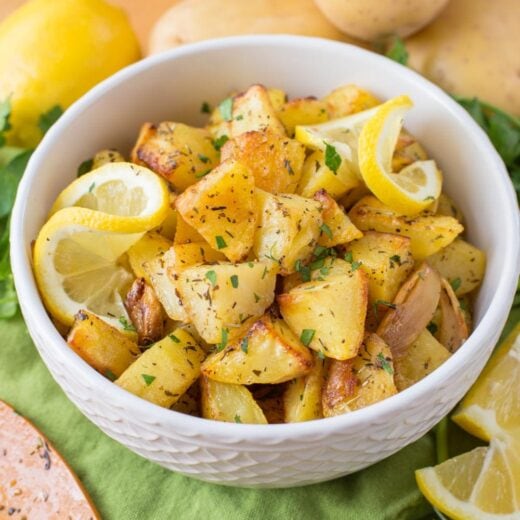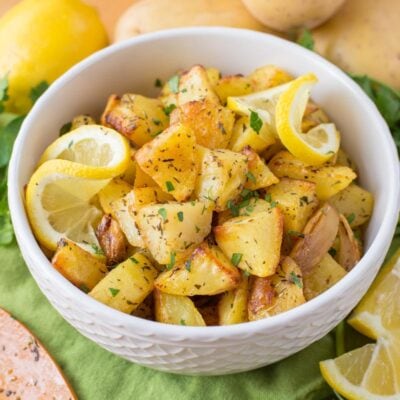 Easy Lemon Herb Roasted Potatoes – A yummy side dish!! Golden potatoes in lemon juice, olive oil, and lots of seasonings!!
Ingredients
8-10

yukon gold potatoes

chopped into chunks

1

small

lemon juice

2

tbsp

olive oil

1/4

tsp

salt

1/4

tsp

black pepper

1/4

tsp

garlic powder

1/2

tsp

dried oregano

1/2

tsp

dried thyme

1/2

tsp

dried rosemary

4-5

cloves

minced garlic

smashed
Instructions
Preheat oven to 375 degrees. Place a baking sheet or 9×13 inch pan into the oven and bring it to temperature while the oven preheats (you want it hot).

Meanwhile, boil the chopped potatoes in lightly salted water for about 5, drain and toss into a large mixing bowl with the lemon juice, olive oil, salt, pepper, garlic powder, oregano, thyme, rosemary and garlic cloves.

Pour the coated potatoes onto the hot baking sheet or into the baking dish and bake for 1 hour, tossing every 20 minutes to get an even brown on all sides.