If you're looking for another way to enjoy chicken, look no further! With quick, easy prep and big flavor, this Mayo and Parmesan Chicken Bake is the answer to all your questions!
It's one of our favorite baked chicken recipes. If you love simple chicken dinners, also check out our Creamy Swiss Chicken Bake and Bruschetta Chicken!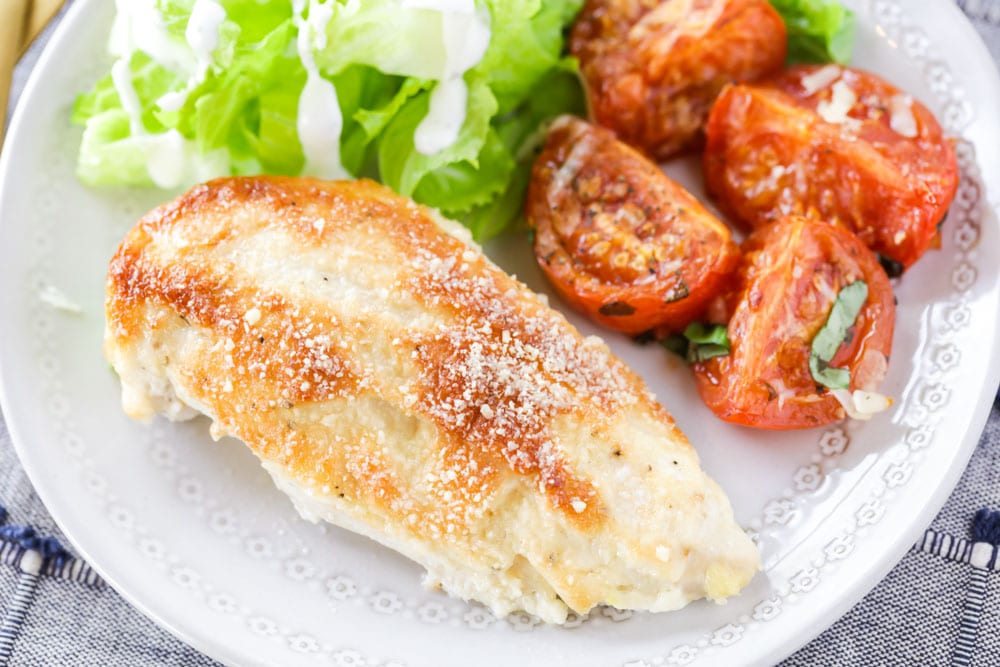 easy, delish mayo parm chicken
If you've seen all the chicken recipes on the site you'd know chicken is my meat of choice, but I just feel like there are so many things you can do with it and it's always so good! You can bake it, fry it, shred it, use it in soups, add it to a casserole, or just enjoy it on its own!
This recipe is for a baked chicken, and it has the most flavorful, creamy mayo and parmesan mixture on top. I was surprised how tasty it was the first time I made it!
Prep time takes under 5 minutes and then you can throw it in the oven for a while (my favorite kind of recipe).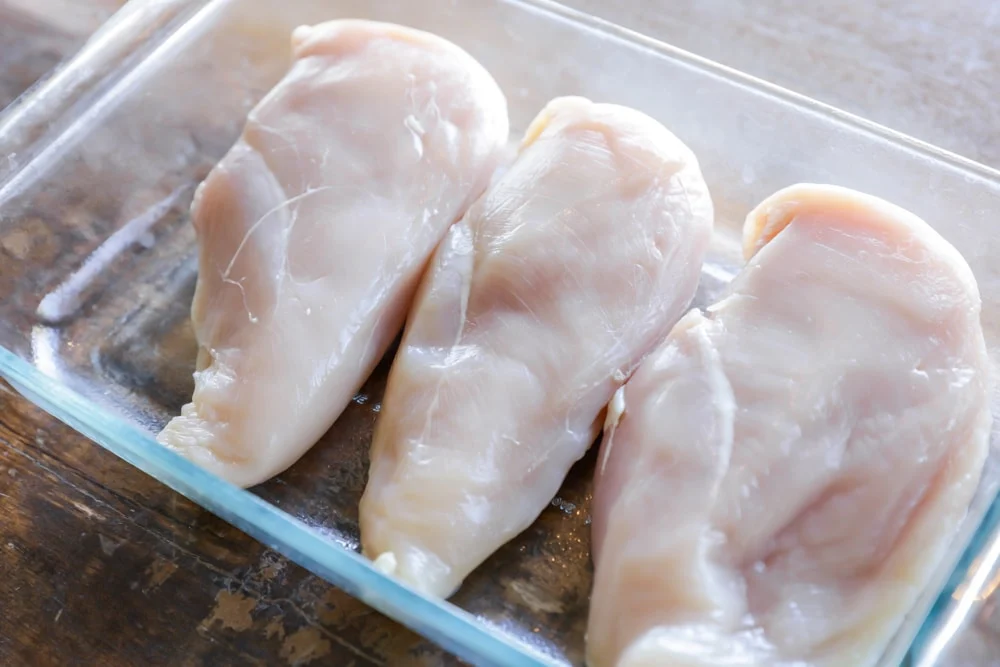 how to make mayo parmesan chicken
Simply place chicken breasts inside a greased 9×13 pan. Mix together the mayonnaise, Parmesan cheese, salt, pepper and garlic powder, and spread over the tops of each chicken breast. Sprinkle on more Parmesan cheese, if desired, and bake for 40-45 minutes. Easy peasy!
You can change up the ingredients slightly according to your preferences:
Low fat. The recipe calls for mayonnaise but for a healthier version I like to use non-fat vanilla or plain yogurt.
More crunch. You can also add a little more crunch by adding some bread crumbs or Panko on top along with the parmesan cheese.
TIP: Easy Clean up: Line your baking pan with foil and spray with nonstick spray or with parchment paper. 
Crock Pot Instructions
You can just as easily make this tasty mayo parmesan chicken in the slow cooker! Place the parmesan coated chicken in an oiled crockpot on high for 3-4 hours or on low for 6-8 hours.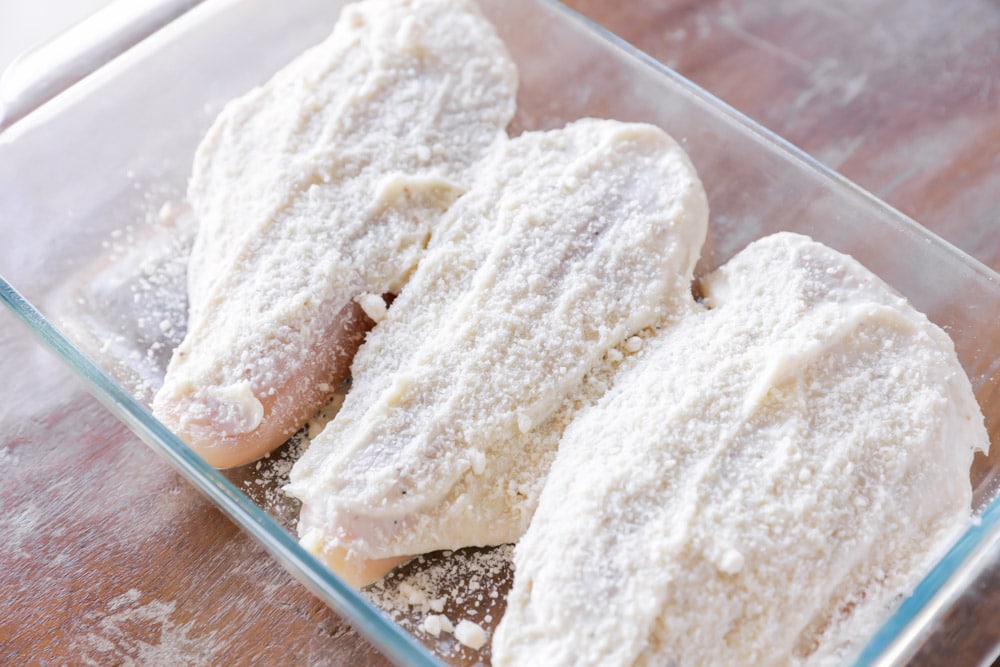 How to Store + Reheat
Refrigerate this Mayo Parmesan Chicken for up to 4 days. Any longer just store them in the freezer. Individually wrap chicken breasts in waxed paper or parchment. Place into freezer bags. Remove as much air as possible from bags seal, label and freeze for up to 4 months.
To reheat: Allow the chicken to thaw in the fridge for at least 8 hours, The chicken doesn't need to be completely thawed, but must not be frozen solid. 
Preheat the oven to 225°F

Place the chicken pieces in a baking dish with a rack. Add ¼ -½ cup of water or chicken broth to the bottom. Place the breasts on top of the rack. You do not want the chicken to be sitting in the liquid. 

Add a tin foil tent to the top of the dish. This will help keep the chicken moist. Bake for 20-30 minutes or until the internal temperature reaches 165°F. (bake time will depend on how frozen the breasts still are and how hot your oven runs)
We like to pair this chicken with: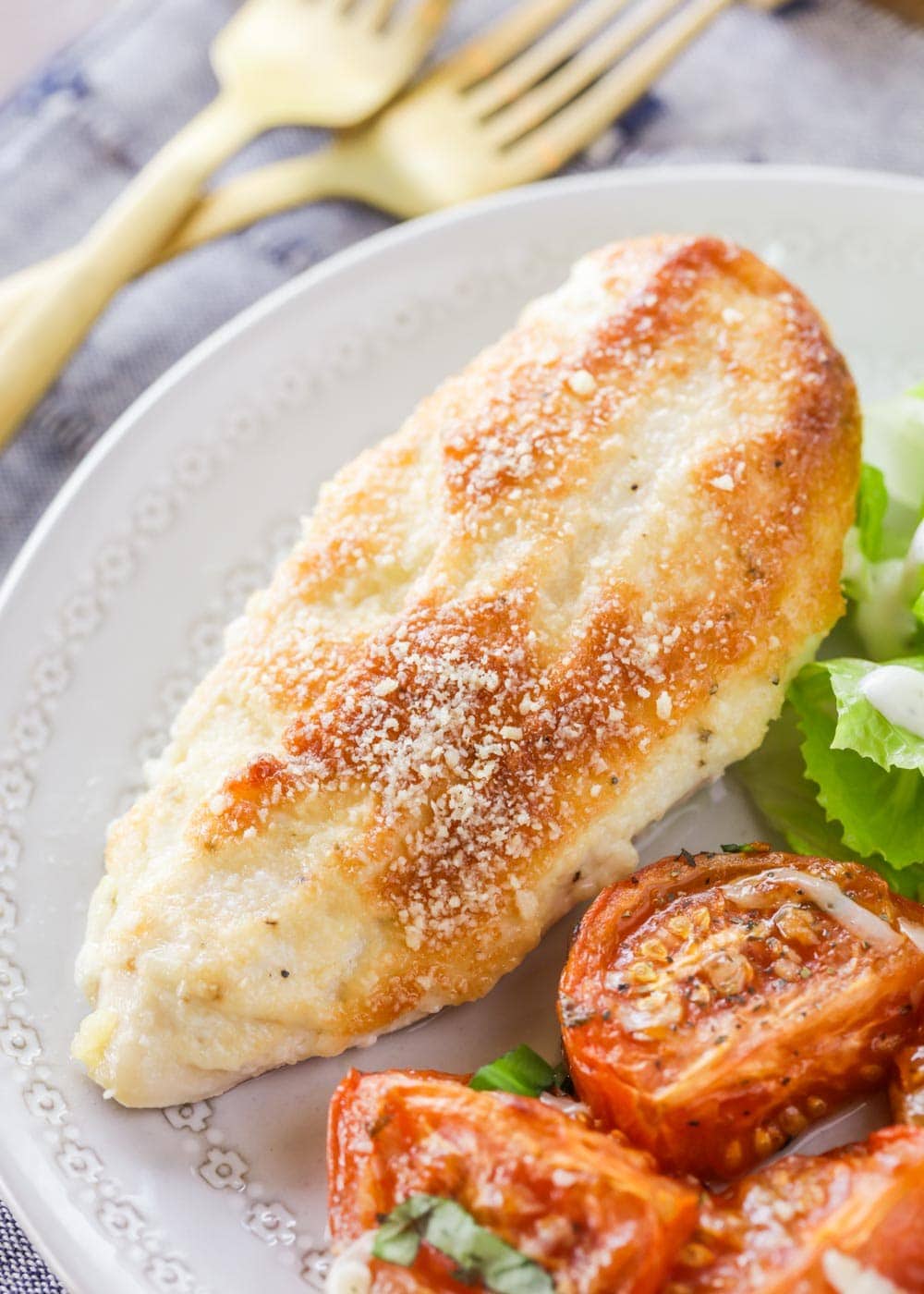 For more Baked Chicken recipes, check out:
Mayo Parmesan Chicken Recipe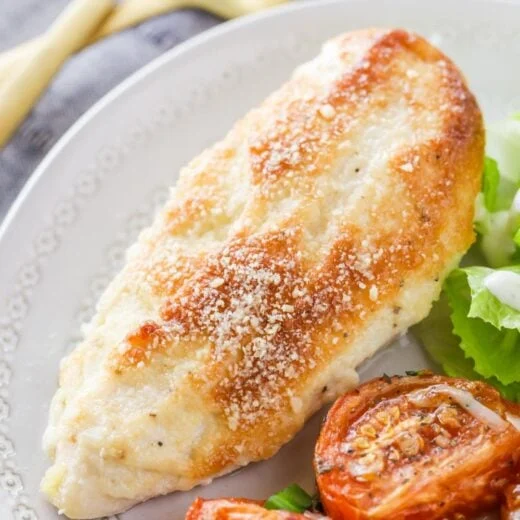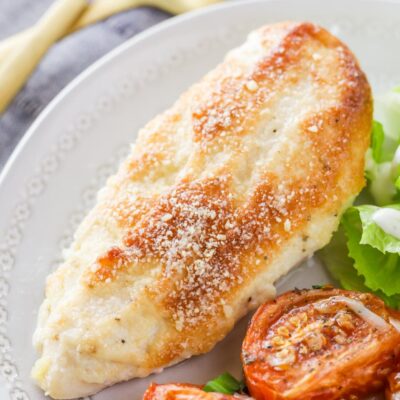 A delicious Parmesan Chicken Bake that is simple, yet full of flavor, and takes little prep time.
Ingredients
6

chicken breasts

1

cup

mayonnaise

or 1 cup non-fat plain or vanilla yogurt

1/3

cup

parmesan cheese

grated

1

tsp

salt

1/2

tsp

lemon pepper

1/2

tsp

garlic powder
Instructions
Place chicken breasts inside a greased 9x13 pan.

In a small bowl mix mayonnaise, Parmesan cheese, salt, pepper and garlic powder. Once well combined, spread over the tops of each chicken breast.

Sprinkle on more Parmesan cheese if desired and bake for 40-45 minutes.