Baked Bruschetta Chicken is marinated in Italian dressing and topped with cheese. It is simple and delicious!!
Bruschetta Chicken served with Roasted Brussel Sprouts and Copycat Olive Garden Breadsticks is a perfect weeknight meal. It's one of our favorite easy chicken recipes and something the whole family will love!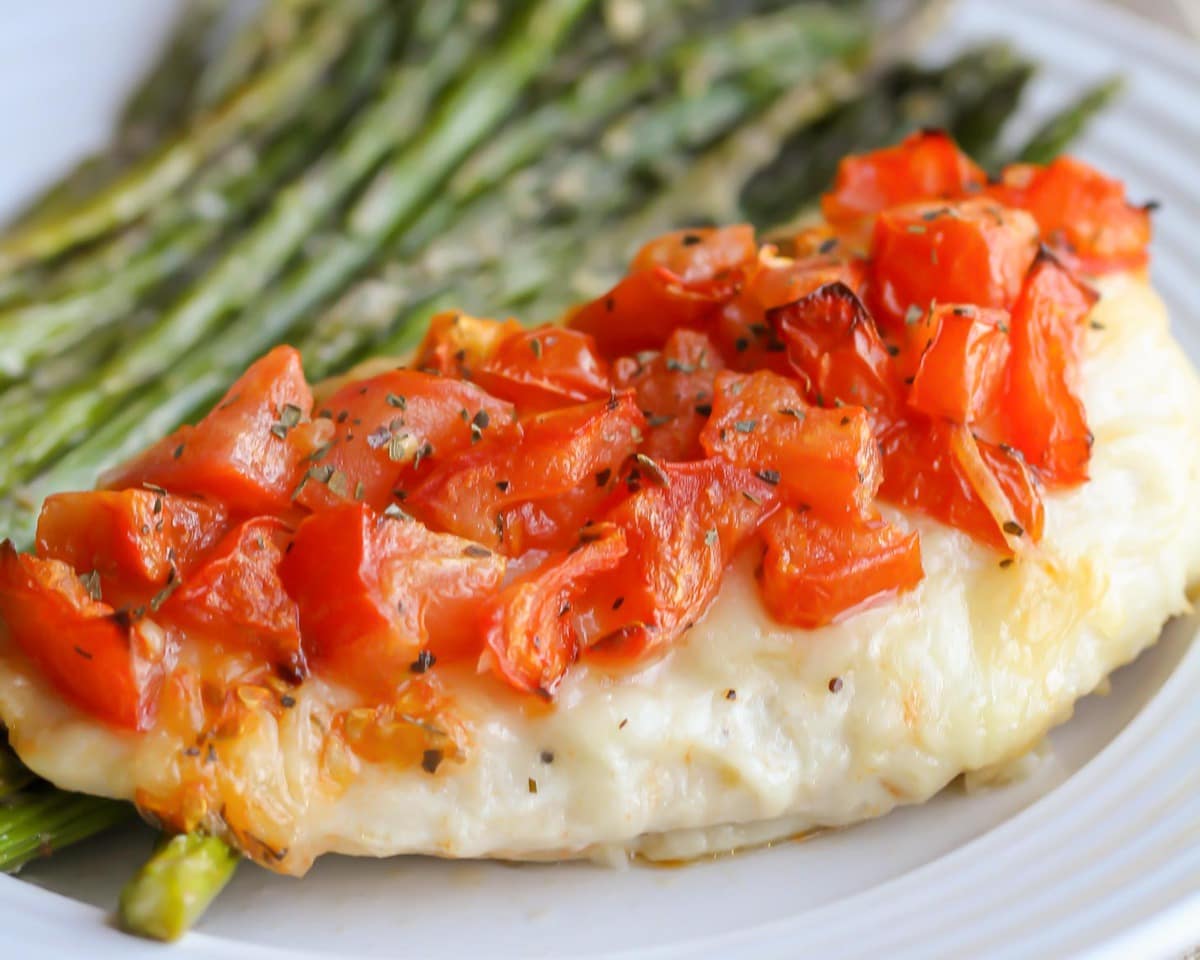 Chicken + Bruschetta
Chicken is probably the most popular dinner item at our house (in case you hadn't already noticed from the plethora of chicken recipes on the site, like Chicken Tetrazzini, Lemon Pepper Chicken, and Baked Chicken Parmesan). Even though we do have a large variety of chicken recipes, I'm always looking for ways to switch up the chicken dinner.
I recently across one of my old posts for Homemade Bruschetta, and thought it would be fun to make a chicken version!
It was SO simple to make and ended up tasting delicious. We've had it at least once a month for the past few months since it's easy and I always have the ingredients on hand. I know grilled chicken can get a little boring, so it's nice to change it up and make it in different ways.
If you love chicken and bruschetta like we do, then I think you'll really enjoy this recipe. 😉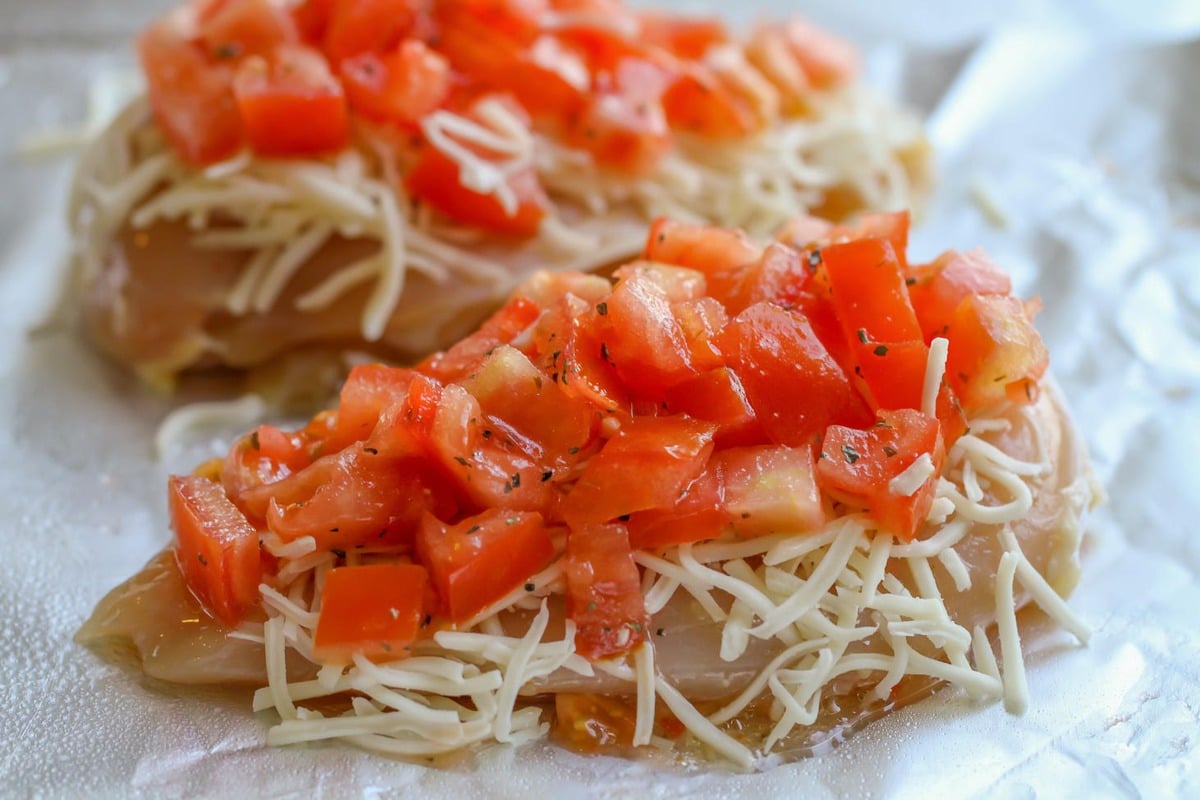 Bruschetta Chicken Bake
MARINATE. To make this chicken, we marinate our chicken in Italian dressing for about 24 hours. From there, we place it on a foil-lined baking sheet.
BAKE. Top it with shredded Mozzarella cheese along with the cubed tomatoes, olive oil and basil mixture. Bake for about 40 minutes. We sometimes top this with a bit of shaved Mozzarella too for even more cheese and serve warm.
Tips + Storing Info
Marinate chicken for a few hours in the Italian dressing, but even marinating it for an hour will be fine.
Control how much cheese to use for each piece of chicken. I put less on mine, and LOTS on the hubby's since he is a major cheese lover.
Sometimes a few of the tomatoes fall off while it's cooking, but we have no problem scooping them up and adding them back on top.
Use premade bruschetta as a shortcut for this recipe
Instead of using shredded mozzarella cheese simply let a piece of mozzarella cheese melt on top on each piece of chicken
Easily grill the chicken instead of baking it. Simply combine the chicken with the Italian dressing in a Ziploc bag to marinate. Remove and grill on medium high heat for 6-8 minutes on each side. Once it's cooked through, top with a slice of mozzarella cheese and continue to cook until cheese is melted (about 1 minute), then remove from the grill. Combine tomatoes, olive oil, and basil, and spoon on top of the cooked chicken.
STORE leftovers in an airtight container in the fridge for 3-5 days. REHEAT any leftovers by putting it in the oven at 325° for about 15-20 minutes or until heated through. Or, simply microwave! The leftovers reheat extremely well.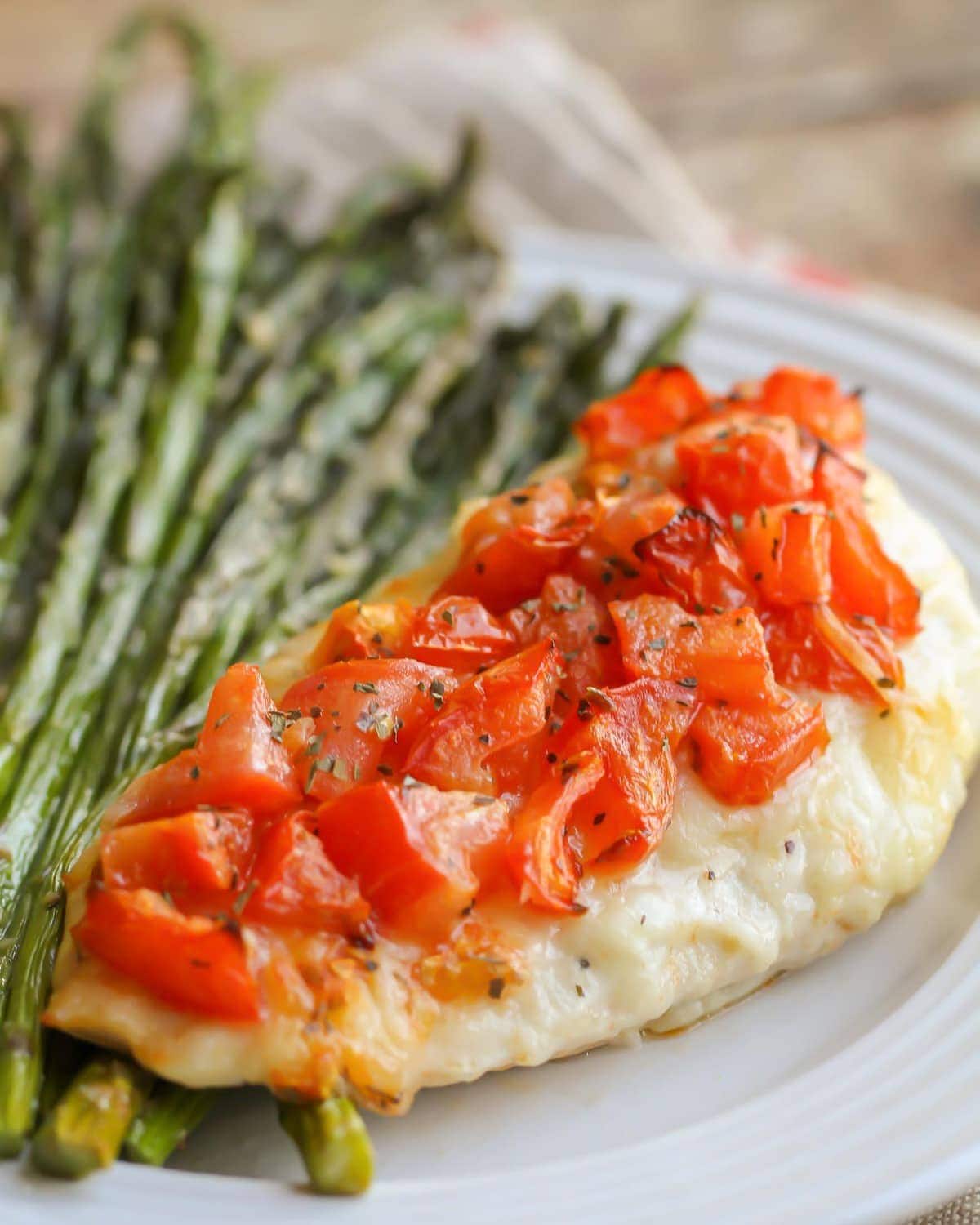 For more chicken recipes, check out:
Bruschetta Chicken Recipe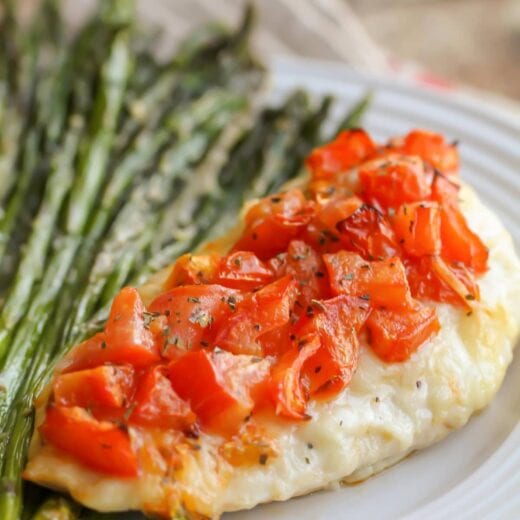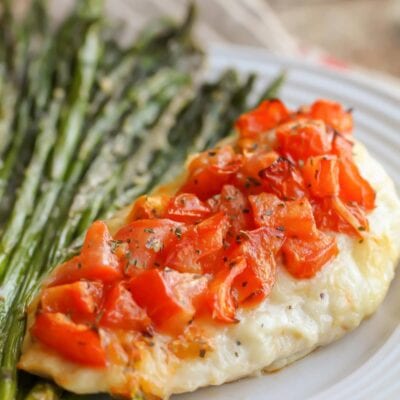 Baked Bruschetta Chicken is marinated in Italian dressing and topped with cheese. It is simple and delicious!!
Ingredients
4

chicken breasts

1

c

Italian Dressing

3

tomatoes

cubed

1-2

TB

olive oil

1

tsp

basil

1

c

mozzarella cheese

shredded
Instructions
Marinate chicken breasts in Italian Dressing for several hours.

Preheat oven to 350.


Combine cubed tomatoes, olive oil and basil in a bowl and mix well.


Place chicken breasts on a foil-lined cookie sheet. Add desired amount of mozzarella cheese on top of the chicken breasts (we added about a few TB to each breast). Top with a few tablespoons of the tomato mixture.


Bake for 40-45 minutes.