This yummy Homemade Bruschetta is simple and perfect for any party! It includes fresh ingredients and is the perfect Italian appetizer!
It's a classic appetizer great for parties or when serving Italian food. Not only is this recipe simple, but it gets rave reviews and is a go-to finger food along with our fried zucchini and garlic bread!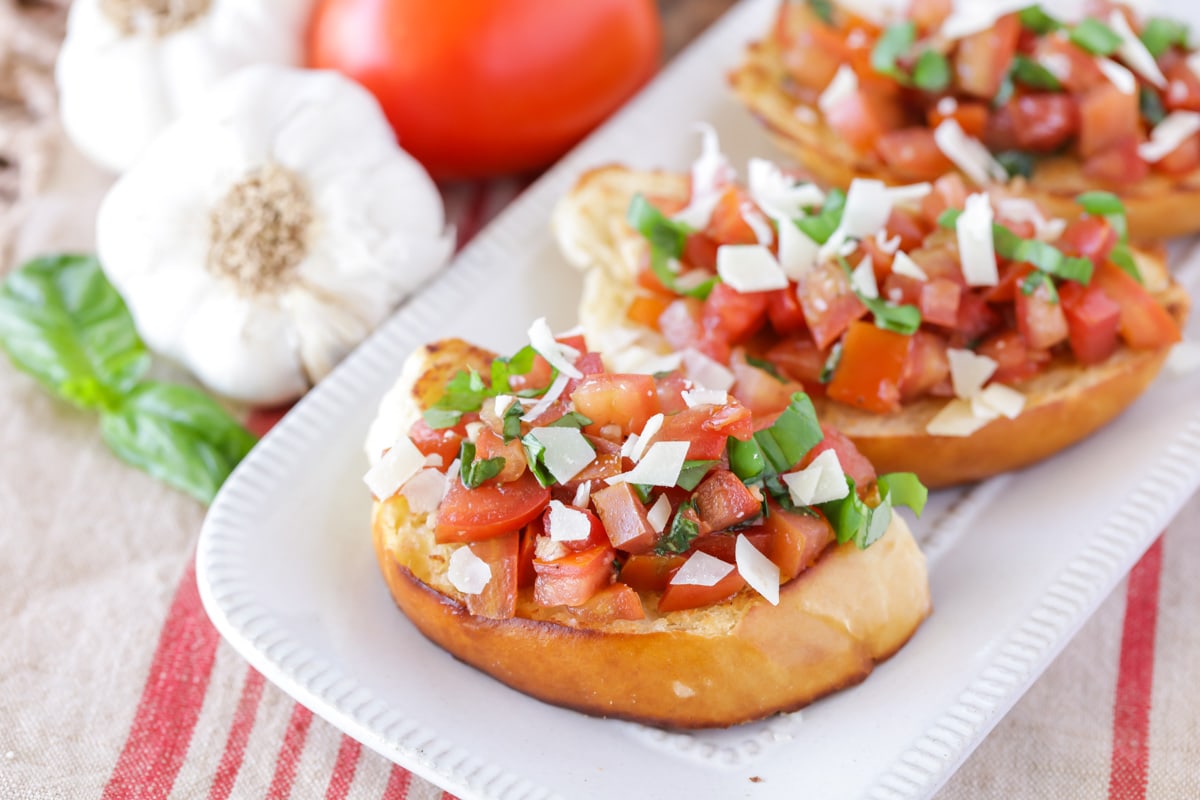 A Family FAv appetizer
I know I've mentioned it before, but our family likes to get together often, especially for holidays. Every time we get together, you can bet we all bring food to eat and share.
The recipe we're sharing with you today is one of our favorite appetizers to bring to these family get togethers – Homemade Bruschetta (other favorites include Spinach Artichoke Dip and Deviled Eggs).
It is seriously such an easy bruschetta recipe, and the flavors are amazing, which makes it the BEST!
So what is Bruschetta? It is a classic Italian appetizer that originates from Italy consisting of toasted bread topped with various things like tomatoes, vegetables, meat, or cheese.
Here in the US though, it usually refers to the actual tomato based topping. Our recipe is for the tomato based topping, but we do serve ours on toasted bread like the Italian appetizer!
If you've ever enjoyed delicious bruschetta from an Italian restaurant and dream of making it at home – this recipe will be your new go-to!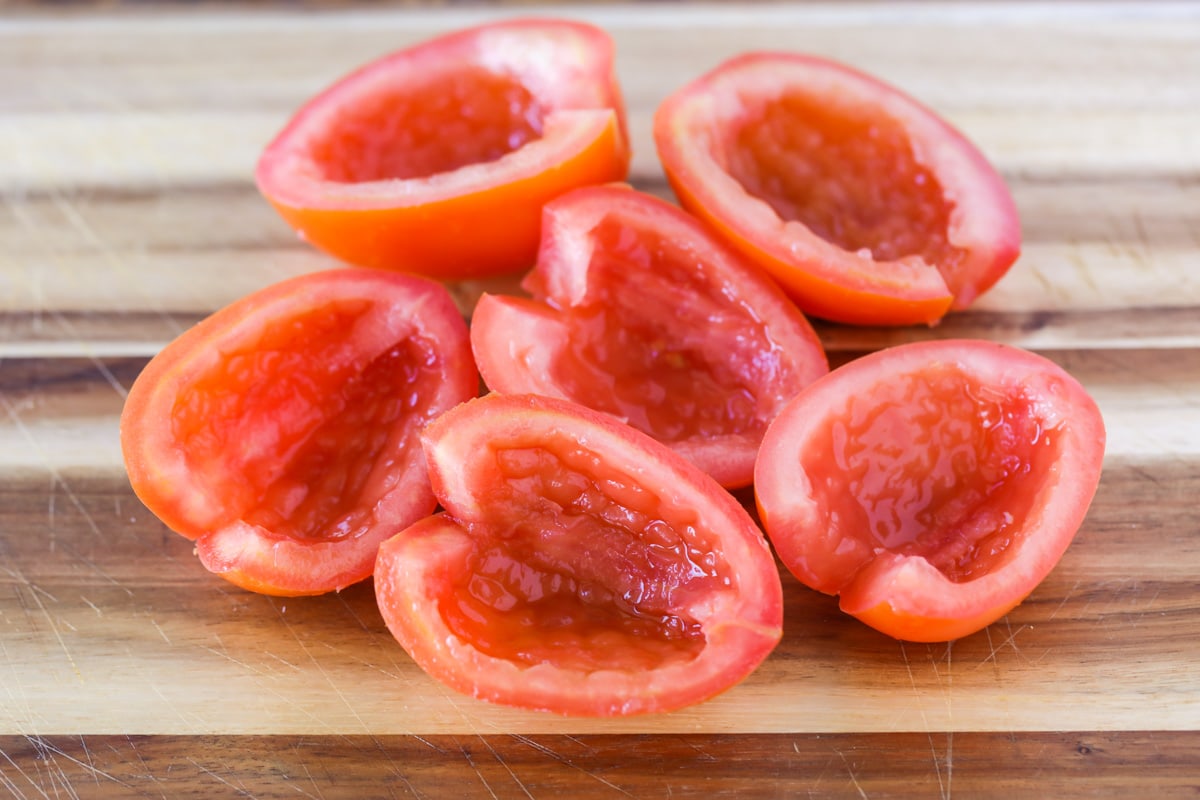 How to Make Bruschetta
There are 11 ingredients needed to make this, but many of those are spices, and even with that many ingredients, this recipe is still quite easy to make. Here are the ingredients:
8 roma (plum) tomatoes, cut in half with seeds spooned out.
2. ⅓ cup chopped fresh basil leaves
3. 4-5 teaspoons garlic, minced
4. 1 tablespoon balsamic vinegar
5. 1 teaspoon extra virgin olive oil
6. 1 teaspoon dried oregano
7. ¼ teaspoon kosher salt
8. ¼ teaspoon freshly ground black pepper
9. ¼ cup grated Parmesan cheese, plus shaved parmesan for topping, optional
10. 4 tablespoons unsalted butter
11. 1 loaf French bread
MIX. Dice tomatoes and add to a medium bowl. Add chopped basil and minced garlic. Mix in the balsamic vinegar, olive oil, kosher salt, and pepper.
REFRIGERATE. If you're not serving right away, make sure you stick the tomato mixture in the refrigerator until you're ready to serve.
BREAD. As I mentioned, we like to spoon ours on toasted bread slices or baguettes.
Drizzle with balsamic glaze if wanted as well as sprinkle with chopped shaved Parmesan.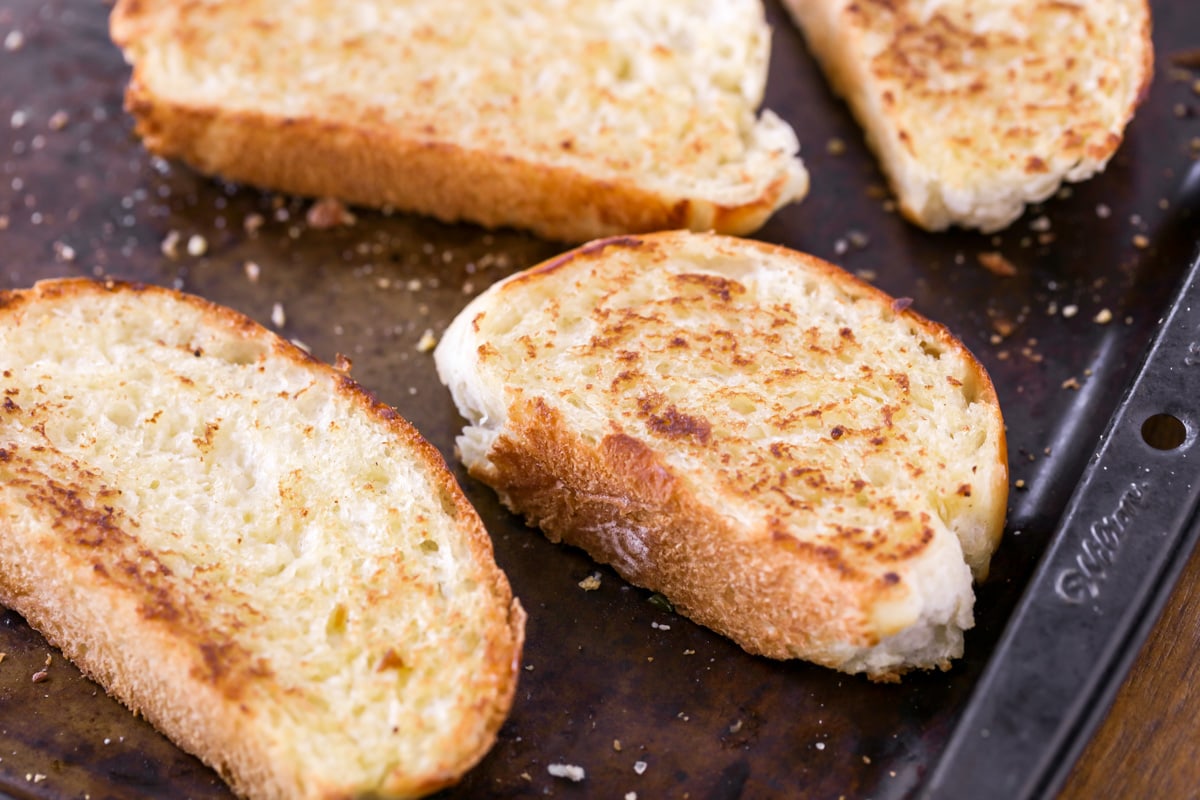 BEST bread for Bruschetta?
You can use whatever bread you like most. Here are some of the most popular breads used for bruschetta:
Baguettes or Hogi Roll
Sourdough Bread
Rustic Bread
We typically buy a baguette and cut it into slices. Then place them on a cookie sheet or baking sheet, brushing each slice with butter, and sprinkle with grated parmesan cheese. Broil on HIGH for 2-5 minutes (depending on how fast and hot your oven is).
We also like to cut the bread a little more thick, butter and sprinkle with Parmesan cheese and Italian seasoning and cook it on the skillet too. (The slices can also be grilled)
Once the bread is toasted and you're read to serve, place a scoop of tomato Bruschetta on top of the baguette slices – and sprinkle with shaved Parmesan (optional but so yummy)!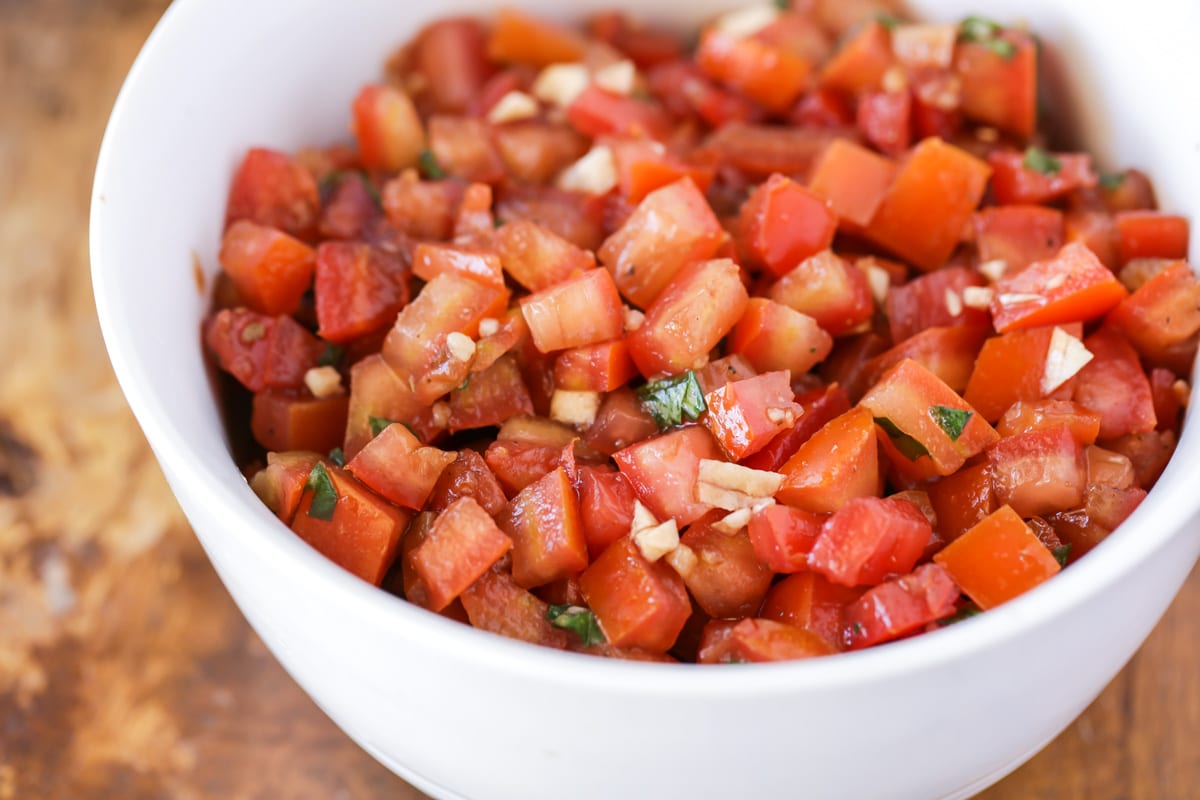 Storing, Freezing + More Tips
How long does bruschetta keep? We keep it in an airtight container until ready to serve and then only keep it out for up to 2 hours.
How to store bruschetta? If making a head of time, we will add all the ingredients except for the canned tomatoes and basil and add those right before serving. Once it's made, this can be kept in an air-tight container in the fridge for 24-48 hours.
How to store bruschetta bread? We keep this in a Ziploc bag if it's already made. It's definitely best served warm with the bruschetta.
Can bruschetta be frozen? Yes, bruschetta can be frozen. Freeze the bread and tomato topping separately. Be aware that the tomato topping may become a more mushy after being frozen. To serve let the tomato topping thaw and reheat the toast in the oven.
What other things can I put on the bruschetta? There are so many bruschetta topping alternatives try including some of these: vegetables such as corn, cured meat such as diced salami, pepperoni, ham, bacon bits, pastrami, cheeses such as diced mozzarella or provolone.
And be sure to check our Bruschetta Chicken – which we love to make when we have leftover bruschetta mixture!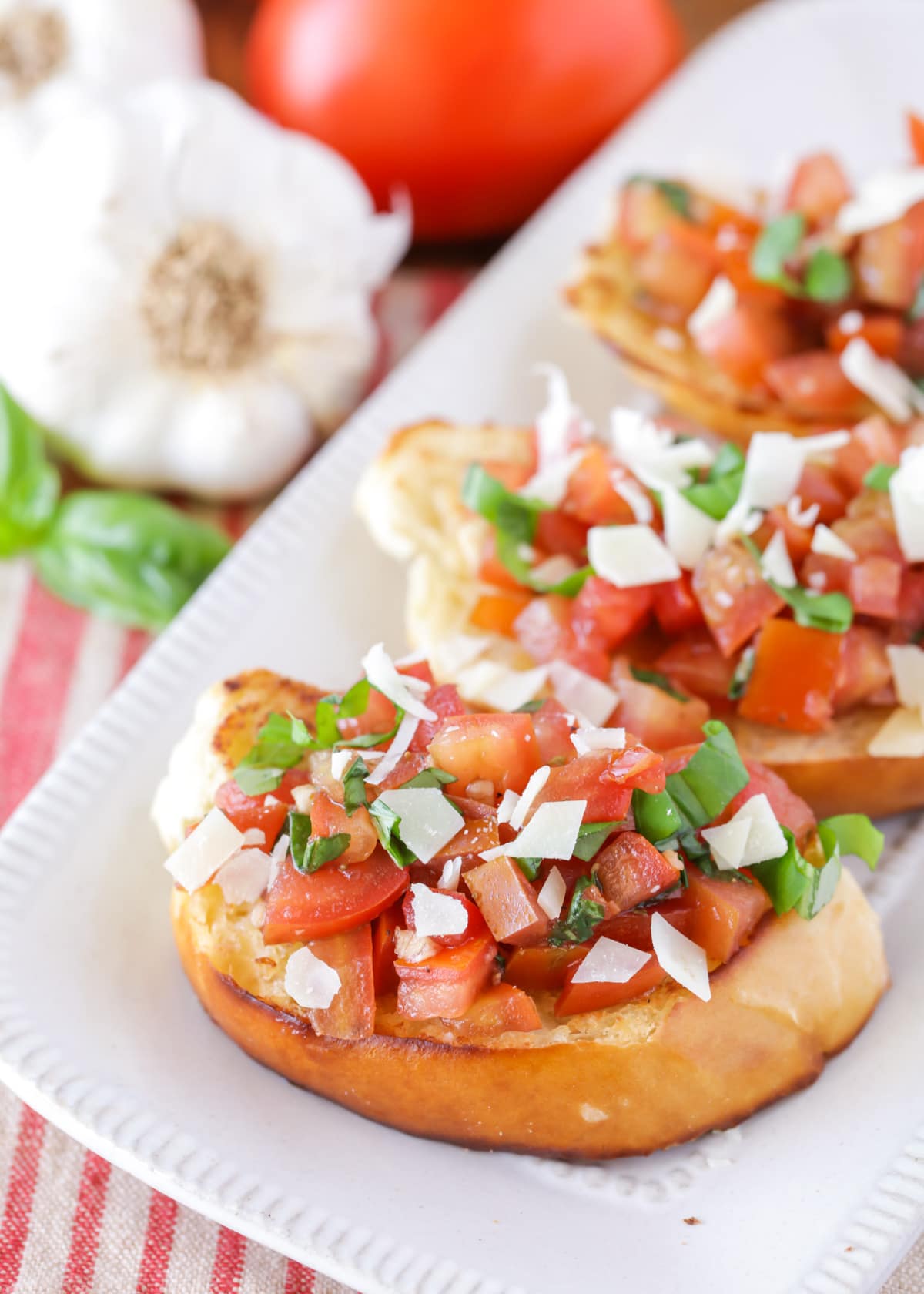 For more bruschetta recipes, check out:
Bruschetta Recipe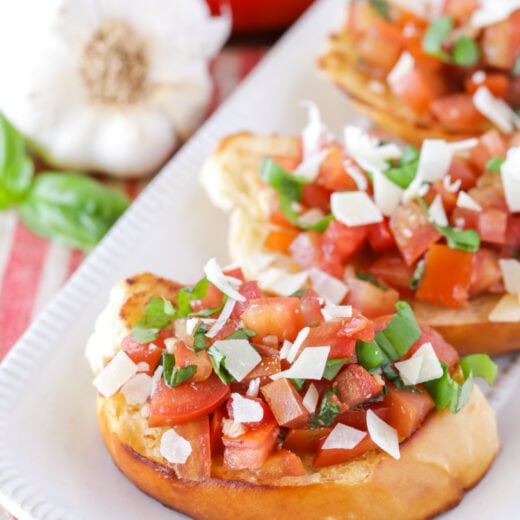 This yummy Homemade Bruschetta is simple and perfect for any party! It includes fresh ingredients and is the perfect Italian appetizer!
Ingredients
8

Roma plum tomatoes

seeded and diced

⅓

cup

chopped fresh basil

4-5

teaspoons

minced garlic

1

tablespoon

balsamic vinegar

1

teaspoon

olive oil

1

teaspoon

dried oregano

¼

teaspoon

kosher salt

¼

teaspoon

pepper

1

loaf

French bread

Italian bread or baguette

4

tablespoons

unsalted butter

¼

cup

grated Parmesan cheese

plus shaved Parmesan for topping (optional)
Instructions
Preheat the broiler to high.

Combine tomatoes, basil and garlic in a medium bowl.

Mix in balsamic vinegar, olive oil, oregano, kosher salt and pepper.

Slice bread ½–¾ inch thick. Spread butter onto each slice and sprinkle with Parmesan cheese.

Place on a baking sheet and broil for 2–5 minutes, or until toasted. You can also toast buttered bread slices, sprinkled with cheese, in a skillet over medium-low heat.

Add tomato topping to toasted bread slices and sprinkle with shaved Parmesan before serving, if desired.
Notes
Make Ahead: Add all of the ingredients except for the fresh basil and place in a covered bowl in the refrigerator for 24 hours. Right before serving, add basil.