We love appetizers at our house and love to make them for parties, get togethers and holidays! Last week, we spent New Year's Eve putting together a ton of appetizer recipes to enjoy that night, and I wanted to share one of them with you today. It's for Cheesy Spinach Artichoke Dip. Ever since I can remember, artichoke dip has been one of my favorite appetizers, and it's one we often get when we got out on hot dates. As a kid, spinach and artichokes scared me, but now I love them!! I mean, how could you not when they're drenched in cheese, sour cream, cream cheese and mayonnaise? 😉
If you've ever wanted to give this recipe a try, I highly suggest you try this one. It's very simple and be put together in just a few minutes. I'm thinking next time I'll let it sit in the crock pot for a few hours. If you love spinach and artichokes, you'll love this dip recipe!! It's so cheesy and good!!
Here are a few process shots of the Artichoke Dip recipe:
MY OTHER RECIPES
Combine spinach, artichoke hearts and shredded Parmesan cheese.
Add sour cream/mayo/garlic/cream cheese mixture.
Mix well.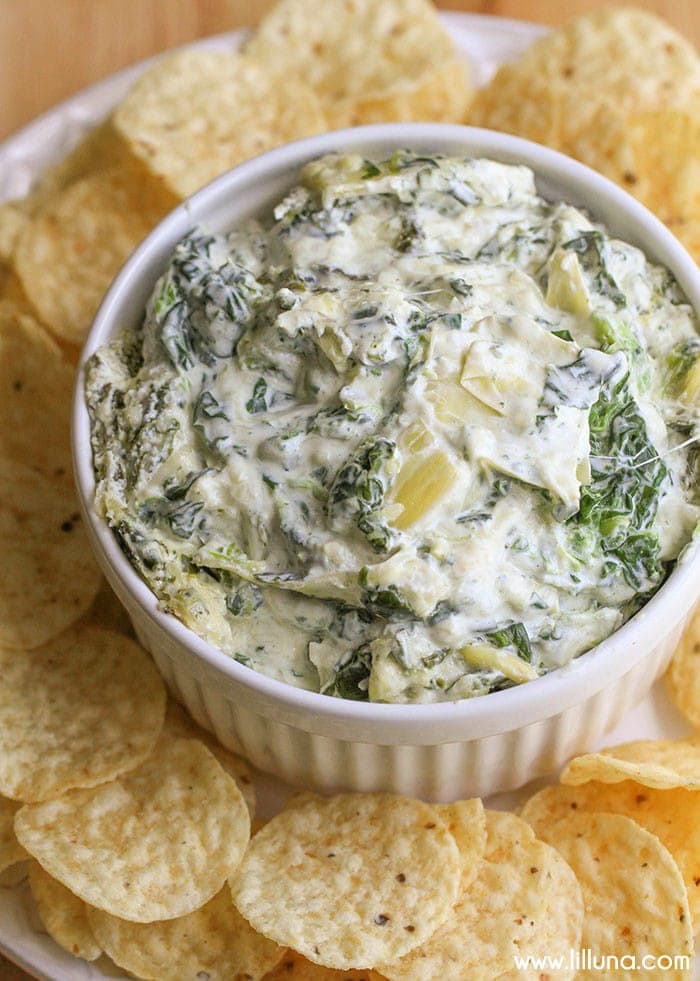 Are you drooling? If not, you should be!! We really hope you love this dip recipe as much as we did. 😉 I'm seriously so excited to make this again. It's so good!! And what's great is it reheats well too, which is always a bonus. 😉
For more spinach dip recipes, check out:
How to Make Spinach Artichoke Dip:
Spinach Artichoke Dip
This Cheesy Spinach Artichoke Dip is one of the best appetizers you'll try. It's flavorful, simple and served perfectly with chips, bread pieces and veggies - perfect for any get together!
Ingredients
2 cups shredded parmesan cheese
1 - 10 oz. box frozen chopped spinach, thawed
1 - 14 oz. can artichoke hearts, drained and chopped
2 teaspoons minced garlic
⅔ cup sour cream
1 - 8 oz. block cream cheese (softened)
⅓ cup mayonnaise
Instructions
Preheat oven to 375.
In a medium bowl, mix together Parmesan cheese, spinach and artichoke hearts.
In a separate bowl, mix together sour cream, cream cheese, mayo and garlic. Add to spinach mixture and mix until well combined.
Pour into a 8x8 pan and bake for 25 minutes.
Serve immediately.
Recipe adapted from Food.com.
These Spinach Dip Bites are also a favorite for parties!!