Big game day equals fabulous food spreads!! It's time to bring the big guns and wow your guests with your Super Bowl Appetizers prowess.
More Collections: Finger Food Appetizers, Mexican Appetizers, Party Appetizers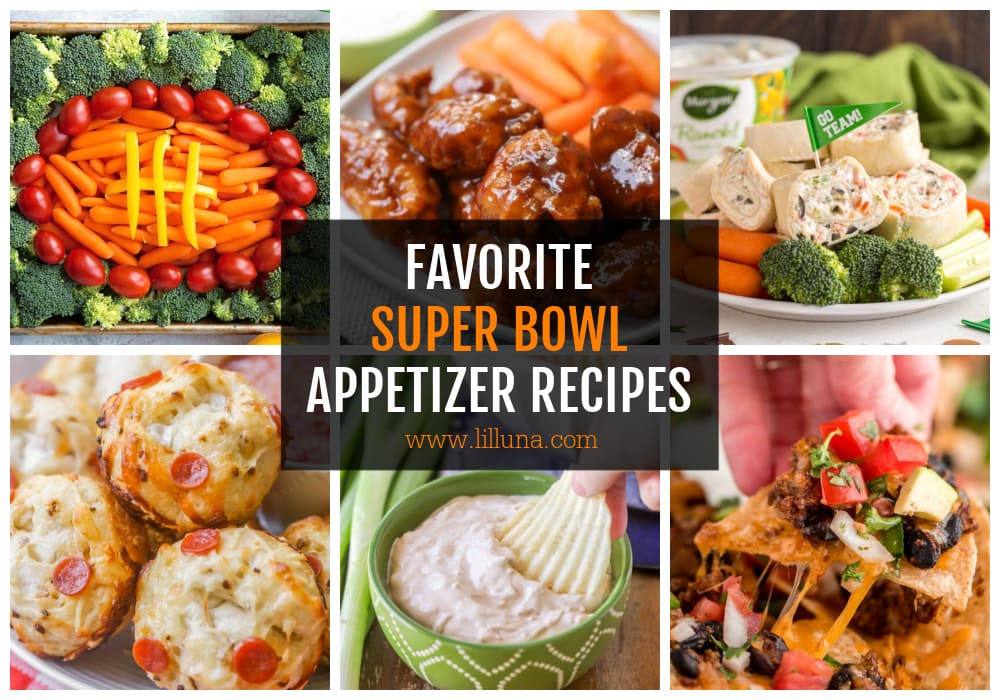 GOOD FOOD FOR THE BIG GAMe
There are some die-hard football fans out there that would watch the Big Game no matter what.
Then, there are those who only watch the commercials and taste the delicious food that is always served.
No matter what camp you're in, we've got a great list of easy Super Bowl Appetizers for you. The die-hard football fans will love it and the foodies will love you!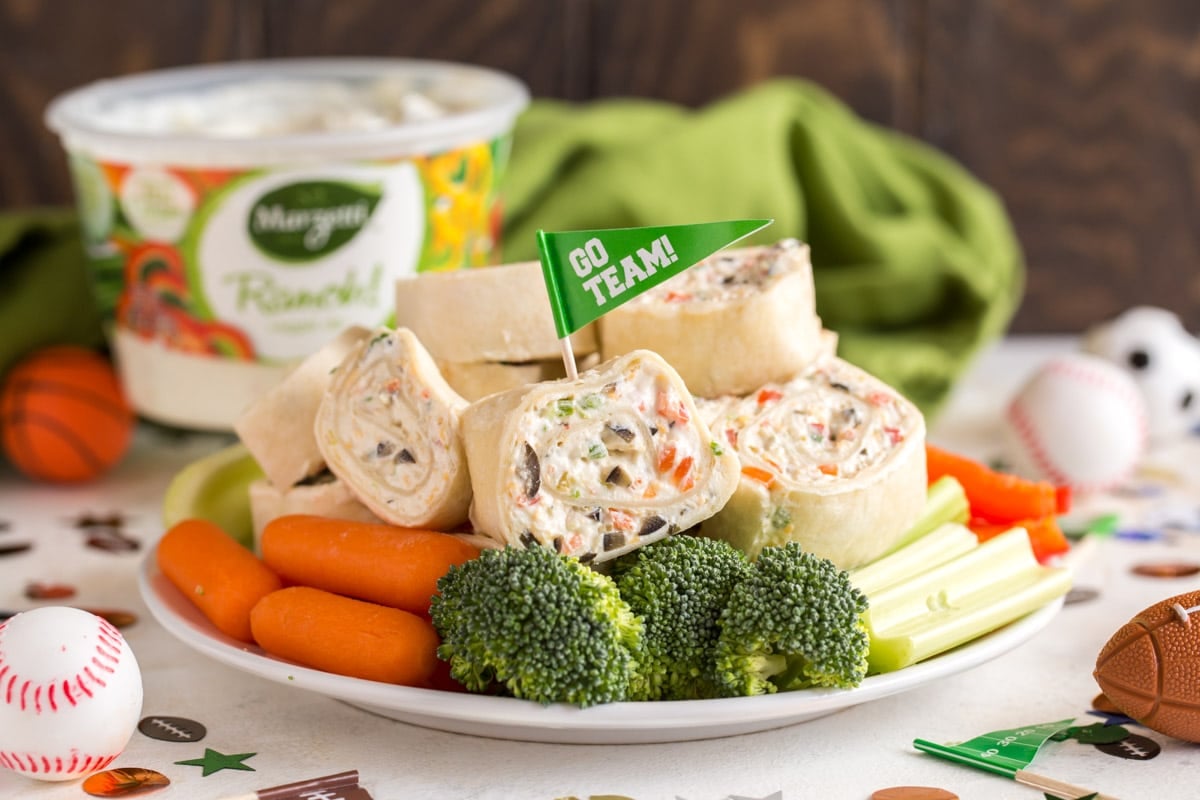 Super Bowl Planning Tips
The average Super Bowl Game lasts about 4 hours plus 30 minutes before the game. I have a few tips to help you determine how much to make:
For fewer than 10 guests offer 2-3 different types of appetizers.
For more than 10 guests add another dish for every 5-8 more people.
How much per person. When appetizers are the main food at an event, plan to serve about 10-12 pieces per person for a two-hour party. Add about 5 more pieces per person for every hour after.
Balance. Try to balance out the types of dishes chosen. Have a mix of warm and cool, light and heavy, proteins and produce. Vary the colors and textures as well.
Watch for sales. Grocery stores will often reduce the pieces of your favorite game-day foods.
Make ahead of time. Prepare as much food as you can ahead of time to allow for last-minute party preparations.
Keep perishable items and dipping sauces such as Ranch Dressing and veggie dips refrigerated until right before serving.
A slow cooker can also be very helpful with keeping dips and appetizers warm during your event.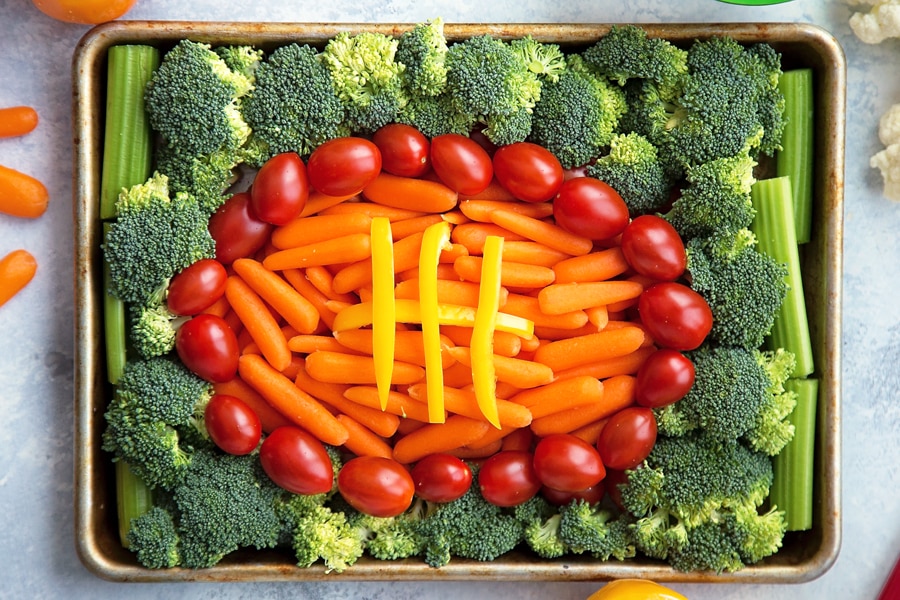 Hosting the ultimate Party
Here are a few tips to help you plan the ultimate Super Bowl Party:
Decorate in the team colors with streamers and balloons. If you have dual supporters, decorate half the room for one team and the other half for the other team.
Have face paint, foam fingers, hats, and other fun activities or items.
Noisemakers are a great way to celebrate touchdowns.
Inviting children? Have a separate area for kids to play. Put on an age-appropriate movie that will keep their attention. Have football-themed coloring sheets or other activities.
Most Important: make sure everyone has a seat and a clear view to watch the game. Determine how many you can comfortably sit and then invite accordingly.
---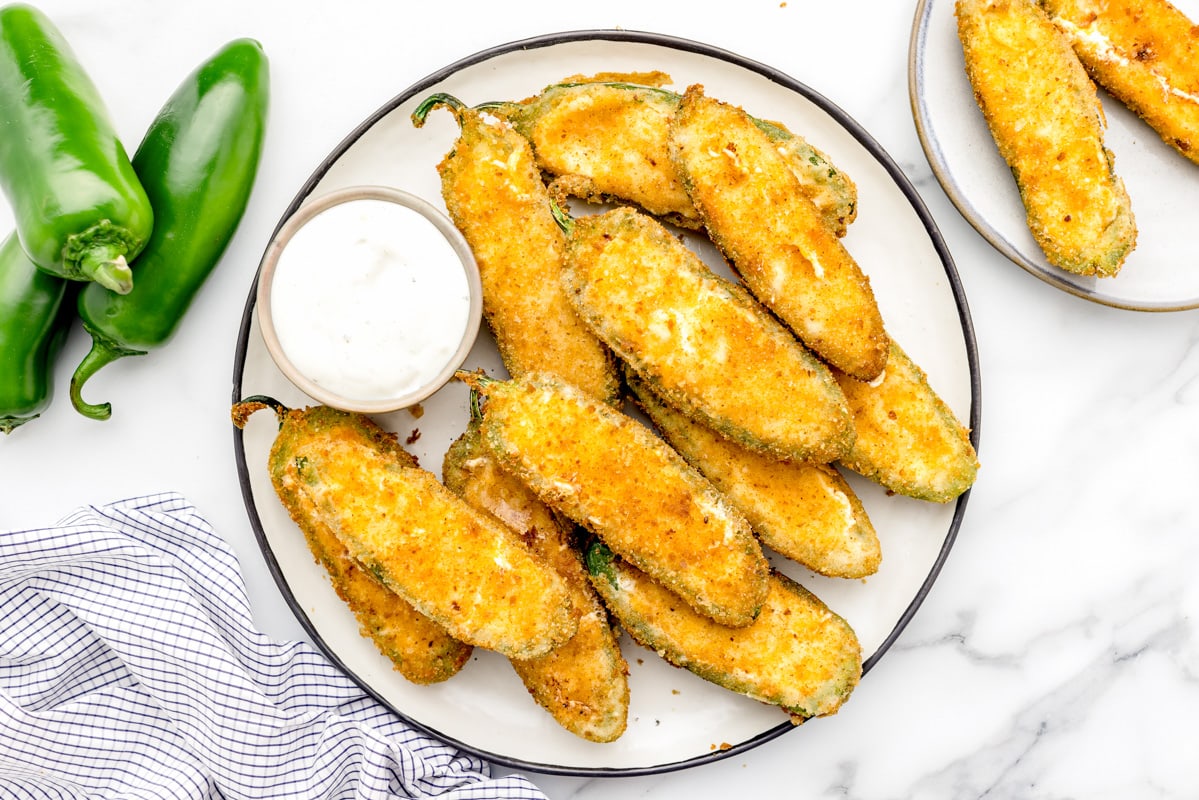 best super bowl appetizers
Whenever I think of Super Bowl Appetizers, Jalapeño Poppers and Fried Pickles are at the top of my list.
While crackers and cheddar cheese are simple and tasty, these are some of our most classic appetizers, as well as the recipes that are always popular at super bowl parties.
Jalapeno Poppers – Spicy fried jalapeño poppers are a classic appetizer that everyone wants! Bite into these cheesy poppers for a flavor explosion!
Spinach Puffs – Buttery spinach puffs are cheesy and savory with pops of bacon. As you can imagine, they are a hit at parties!
Mozzarella Bites – Fried mozzarella bites are delicious, easy and the perfect party appetizer when served with marinara. Everyone loves this bite-sized snack!
Deep Fried Pickles – Deep fried pickles are crunchy, flavorful, and SO tasty! These pickle slices are breaded and fried to perfection, making them a crowd-favorite party appetizer!
Crockpot Meatballs – These crockpot meatballs are full of so much flavor, and perfect for parties. Best of all, they only require 5 minutes of prep work!
Buffalo Chicken Egg Rolls – Buffalo Chicken Egg Rolls are two of our favorite appetizer recipes in all wrapped up into one dippable delight.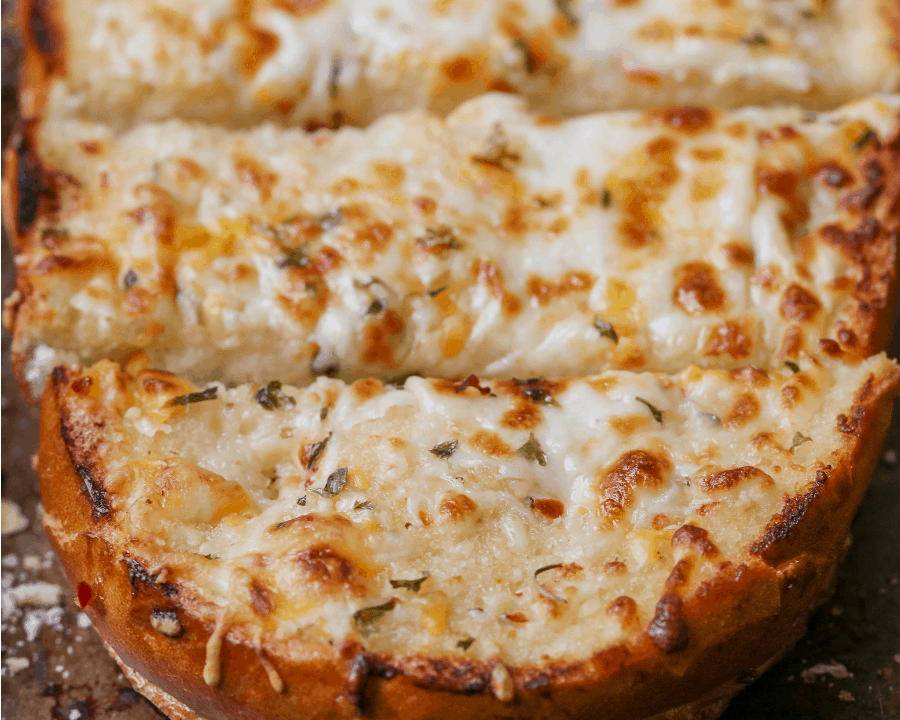 Cheesy Garlic Bread – This is by far our favorite Garlic Bread recipe. It takes minutes to put together and is SO cheesy and delicious. It's the perfect side dish for any meal, but especially for pasta and Italian dishes!
Loaded Nachos – Piled high Loaded Nachos are the perfect game day food and appetizer. They're easy to make and customize with your favorite nacho toppings!
Bacon Wrapped Potatoes – Bacon Wrapped Potatoes are a delicious appetizer combing two favorite ingredients – bacon and potatoes. Just add your favorite dip!!
Loaded Baked Potato Rounds – Loaded Baked Potato Rounds are a simple, quick and delicious side. Dip it in sour cream or your favorite dip!
Buffalo Chicken Sliders – Simple + Savory Buffalo Chicken Sliders pack just the right amount of heat. They are great served as a dinner or appetizer!!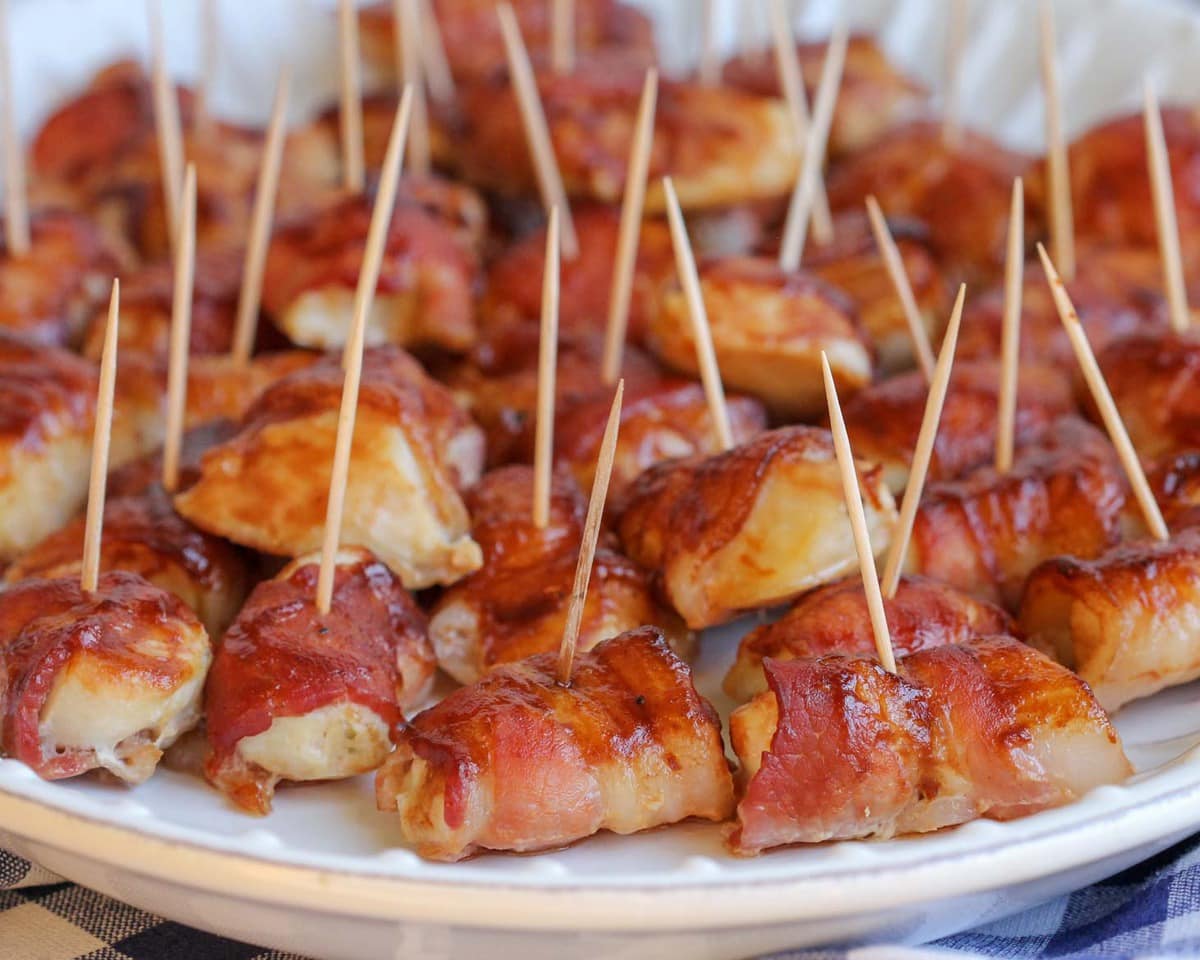 BBQ Bacon Wrapped Chicken Bites – BBQ Bacon Wrapped Chicken Bites are simple, quick , and delicious. Chicken smothered in barbecue sauce and wrapped in bacon make for a popular appetizer at any gathering!
Loaded Pulled Pork Cups – Savory and delicious Loaded Pulled Pork Cups have all of the tasty flavors of a BBQ dinner in one convenient bite!
Bacon Wrapped Smokies – Bacon wrapped little smokies sprinkled with brown sugar, and baked to perfection. These bacon wrapped sausages are the ultimate appetizer for any party, and always the first to disappear!
Hot Dog Nuggets – Hot Dog Nuggets only require TWO ingredients and make a perfect for lunch, dinner or even a party appetizer! Kids and adults alike will love these little bites.
Fried Green Beans – Crispy green bean fries making all of your appetizer dreams comes true! Breaded with seasoned bread crumbs and fried to crunchy perfection!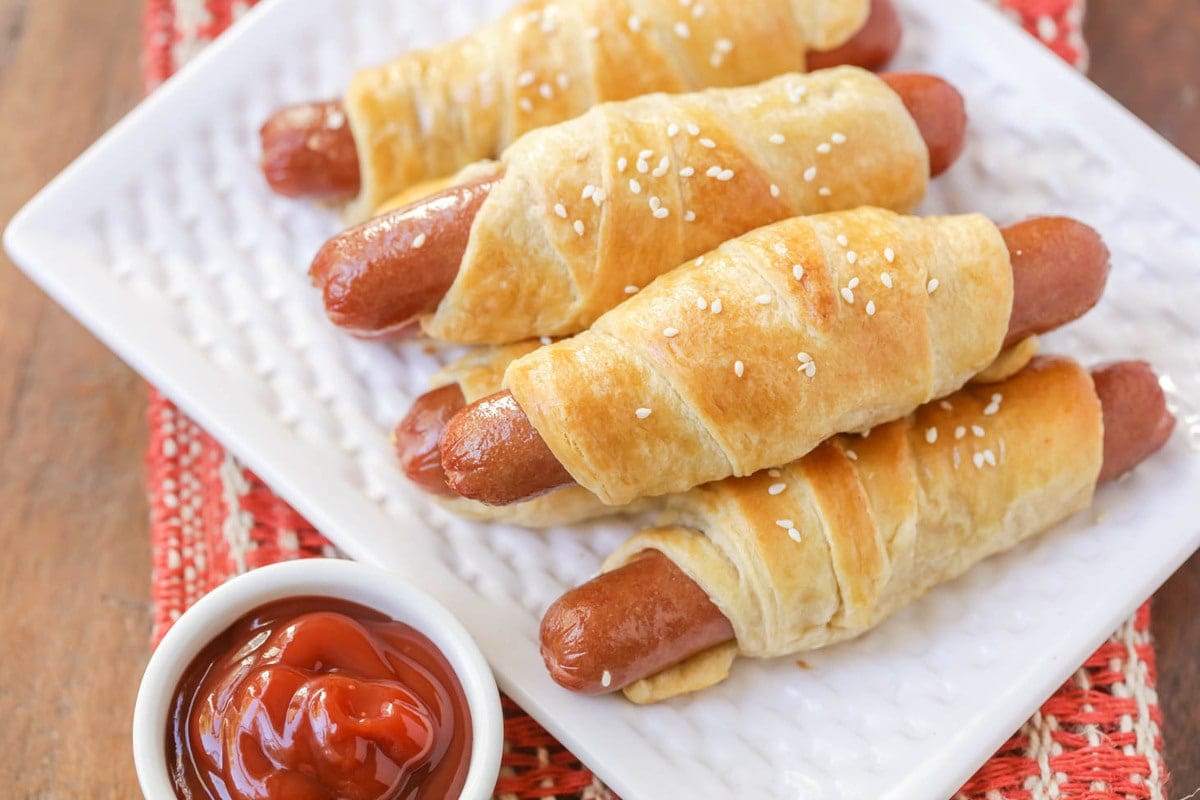 Pigs In A Blanket – A yummy lunch, dinner, or snack idea for the whole family! Homemade pigs in a blanket with delicious crescent dough and a sprinkling of sesame seeds on top!
Ham And Cheese Sliders – Quick + easy hot Ham and Cheese Sliders are absolutely addicting. They are a crowd favorite and disappear in minutes!
Sweet And Salty Chex Mix – Sweet and Salty Chex Mix is made in minutes for snacking perfection! It's completely customizable for your munching needs.
Buffalo Chicken Egg Rolls – Buffalo Chicken Egg Rolls are two of our favorite appetizer recipes in all wrapped up into one dippable delight.
Pull Apart Bread – Pull Apart Bread is a favorite appetizer and perfect for sharing. There is cheesy, delicious goodness in every bite!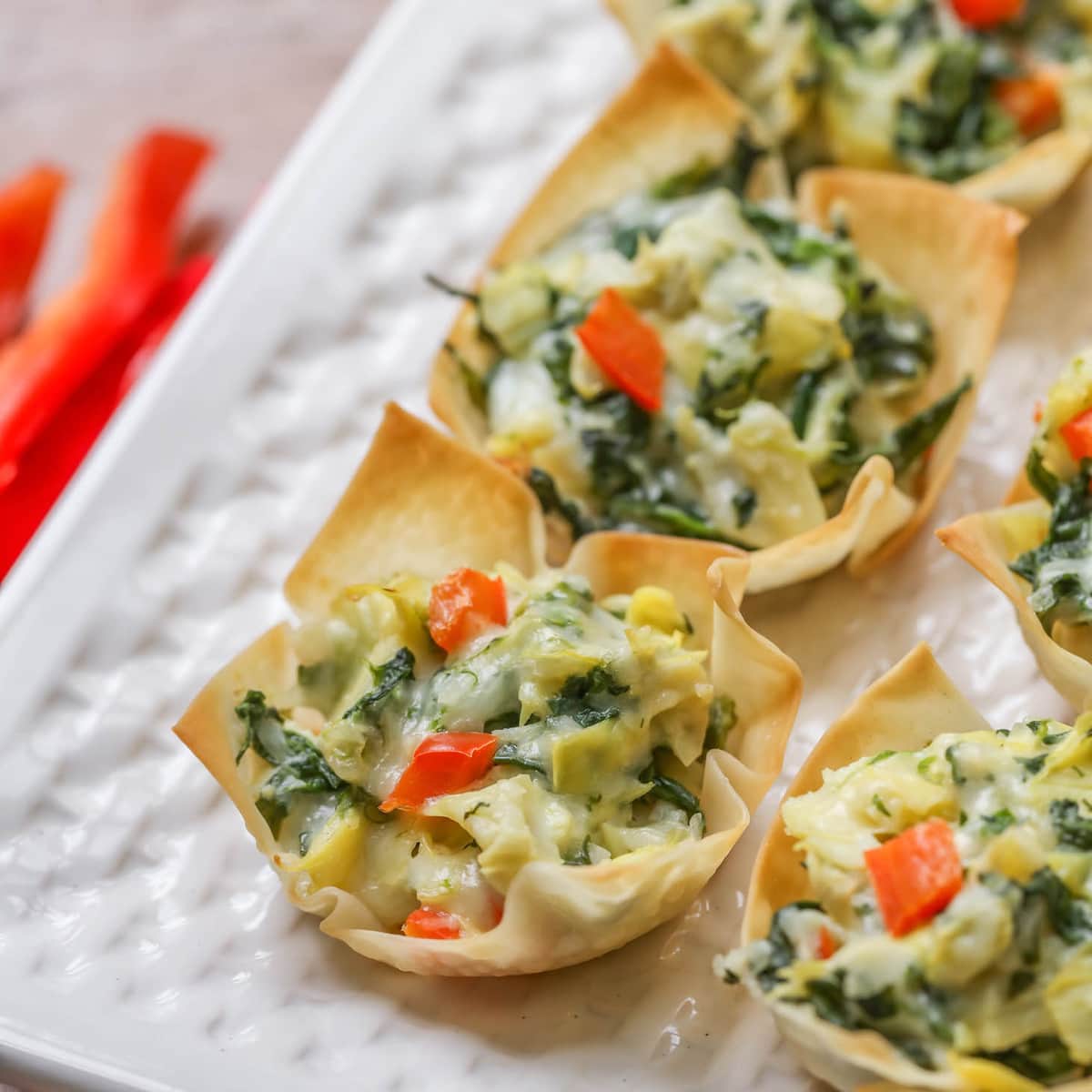 healthy super bowl appetizers
Even though we LOVE fried, meaty, and extra cheesy appetizers, we also like to have some that are light, veggie-based, and ALWAYS a hit with everyone.
Spinach Artichoke Cups – Cheesy Spinach Artichoke Cups are simple to make, and packed full of delicious spinach and cheese flavor! They are baked to perfection.
Deviled Eggs – Nothing better than a smooth deviled egg appetizer! You'll be surprised with how easy these are to make. Tons of flavor, super delicious and perfect for parties and holidays.
Veggie Cup Appetizers – Quick and Easy Veggie Cup Appetizers – filled with dressing and veggies, this mess-free snack is great for so many occasions.
Veggie Tortilla Roll Ups – These delicious Veggie Tortilla Roll Ups are made from a rolled tortilla filled with Ranch Veggie dip, and chopped veggies, making them the perfect bite-sized party appetizer!
Veggie Tray – Easy game day inspired Veggie Trays are perfect for any occasion or party! All you need is a sheet pan and some fresh vegetables to put this fun appetizer together. Grab your friends and gather around for good food.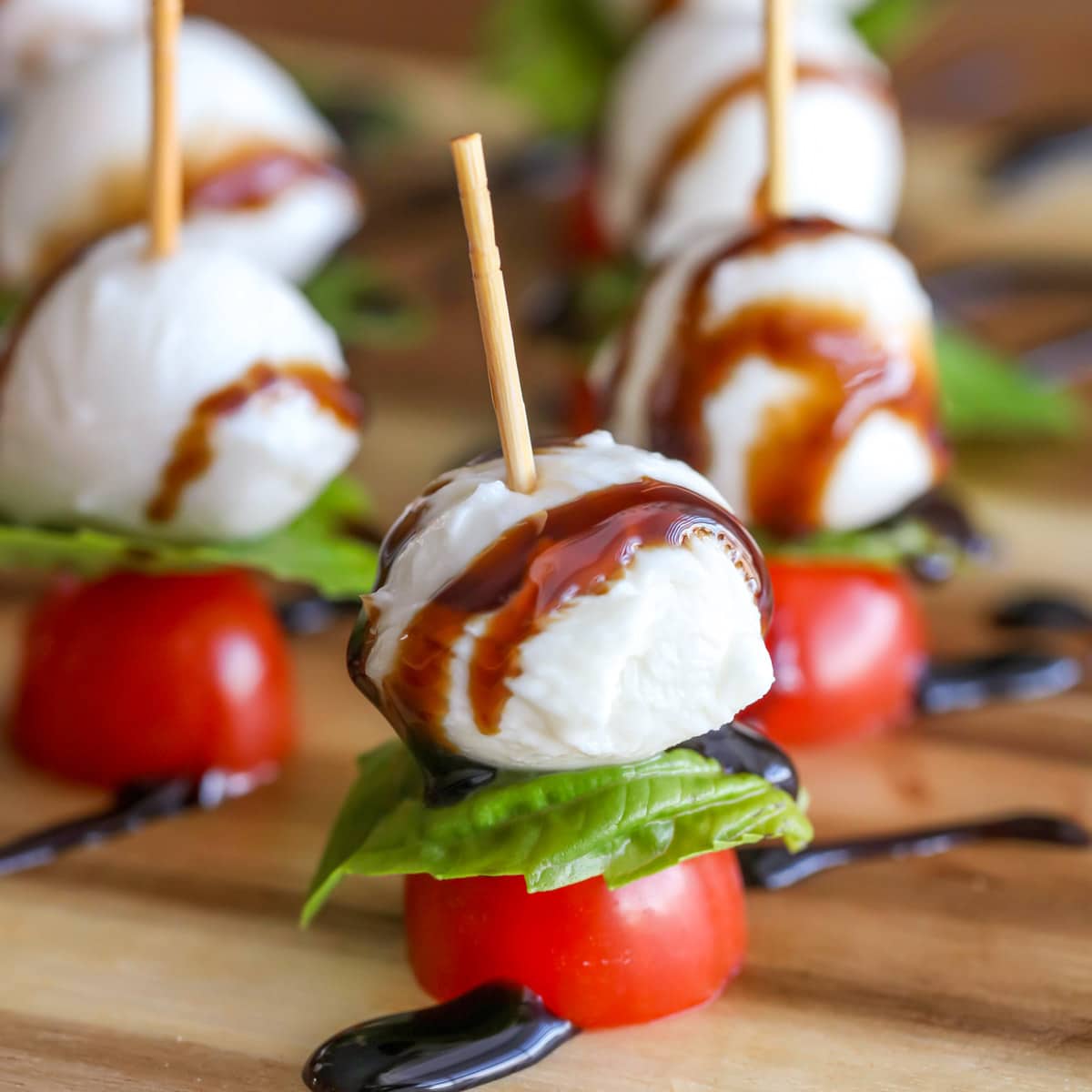 Caprese Kabobs – Simple, quick and delicious Caprese Kabobs take minutes to throw together and are perfect for any party or get together.
Avocado Taquitos – Avocado Taquitos aka "Flautas" are filled with avocados and cheese and fried to perfection! They're perfect for a main dish or appetizer.
Greek Cucumber Cups – Simple Greek Cucumber Cups are a light and delicious appetizer that whips up in minutes. They are a perfect low calorie snack!
Baked Taquitios – Simple and tasty baked Chicken Taquitos. These rolled tortillas are filled with chicken, cheese, salsa and so many delicious spices!
Buffalo Cauliflower Bites – Make these buffalo cauliflower bites for your next party! No one will even notice they are healthier or even made with cauliflower. They're our new go-to appetizer!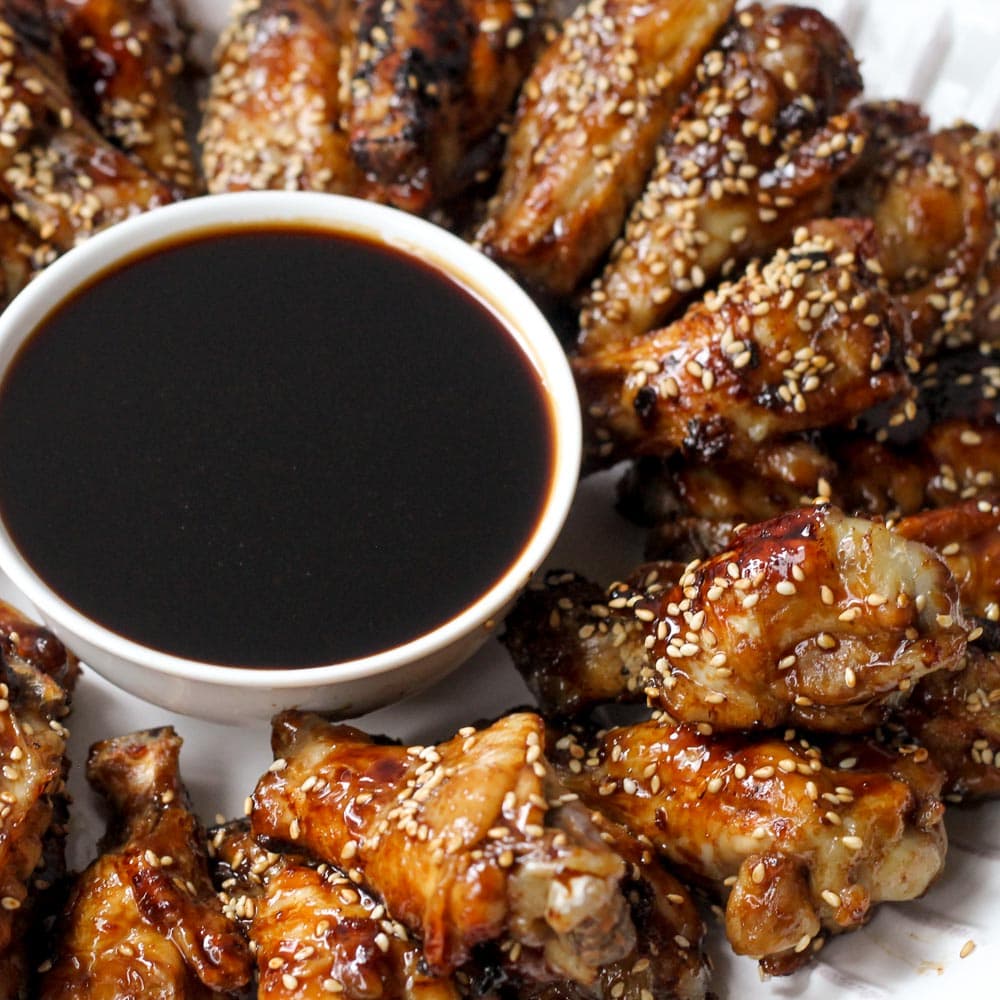 Favorite Pizza And Wings
Classic and delicious, pizza and wings are always a go-to option.
Teriyaki Chicken Wings – Homemade Teriyaki Wings – one of the best recipes you'll ever try! Lots of flavors make these chicken wings a great appetizer for any get together!
Baked Buffalo Wings – Hot wings are a staple at any get together or party. This easy recipe will show you how to make this appetizer in the oven resulting in crispy, Baked hot wings.
Baked Chicken Wings – Deliciously crispy baked chicken wings have endless possibilities. Bake in the oven, and dip in your favorite sauces!
Lemon Pepper Wings – Crispy lemon pepper chicken wings are fried to perfection and packed full of juicy lemon and butter flavor.
Boneless Buffalo Wings – Spicy tender pieces of chicken that make the a delicious appetizer! These Boneless Buffalo wings are simple and are great for dinner or any party!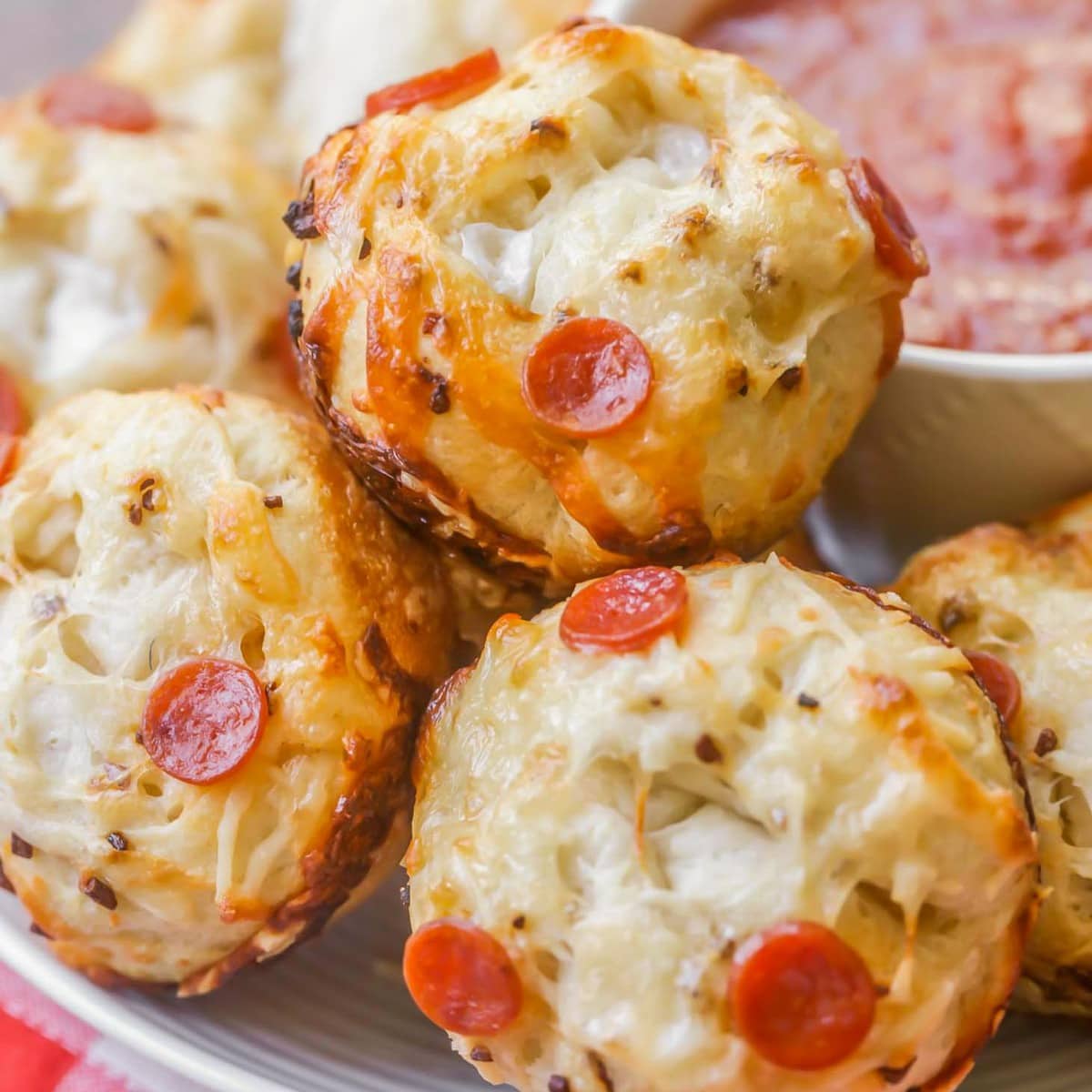 Cheesy Pizza Muffins– These cheesy and delicious Pizza Muffins make for the perfect appetizer. They're filled with melty mozzarella, and topped with a yummy garlic butter, more cheese, and mini pepperonis.
Mini Deep Dish Pizzas – Mini Deep Dish Pizzas are our new favorite dinner recipe. They're easy, quick and can be made custom for each person with their favorite toppings!
Boneless Honey BBQ Wings – Delicious homemade boneless chicken wings, double breaded, baked to a crispy perfection, then smothered in sweet and tangy honey bbq sauce.
Pizza Roll Ups – Crazy fast and easy to make, these pizza roll ups are oozing with cheese and pepperoni. They are tiny pockets of big flavor!
Pizza Dip – Everyone's favorite food in dip form! This pizza dip is simple, delicious, and can be customized based on your favorite pizza toppings!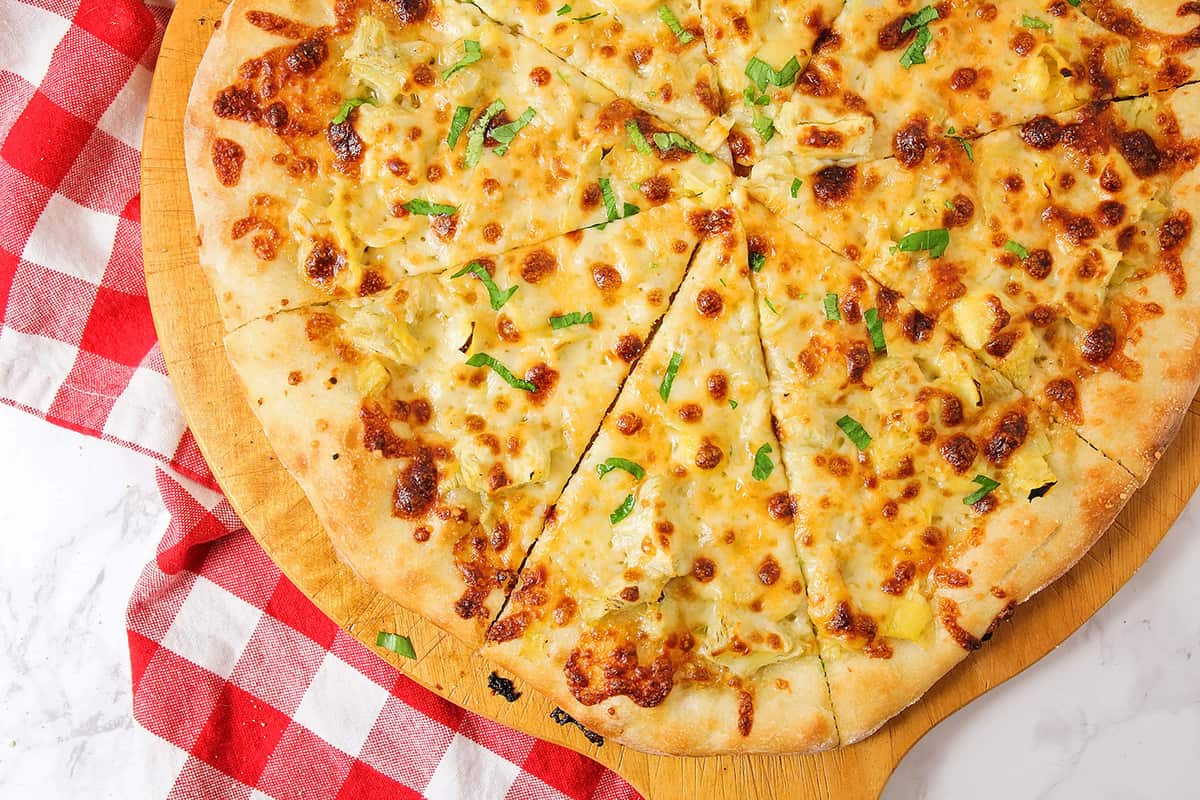 Artichoke Pizza – This artichoke pizza is so cheesy and delicious, with a unique combination of flavors—garlic, artichokes, and of course cheese. It's perfect for your next pizza night!
Mini Pizzas – These Mini Pizzas are bite-sized pizzas topped with cheese, tomatoes, fresh basil and more. They're perfect for lunch, dinner, or even as an appetizer at parties!
Pepperoni Pizza Grilled Cheese – Pepperoni Pizza Grilled Cheese is stuffed with mozzarella, pepperoni sandwiched between two pieces of buttery garlic toast. It's a fun twist on a classic.
Pepperoni Pizza – This homemade pepperoni pizza is wonderfully crispy every time. Achieve the perfect slice right at home!
English Muffin Pizzas – English muffin pizzas are a quick and easy meal the kids will love. They are savory, delish, and sized just right!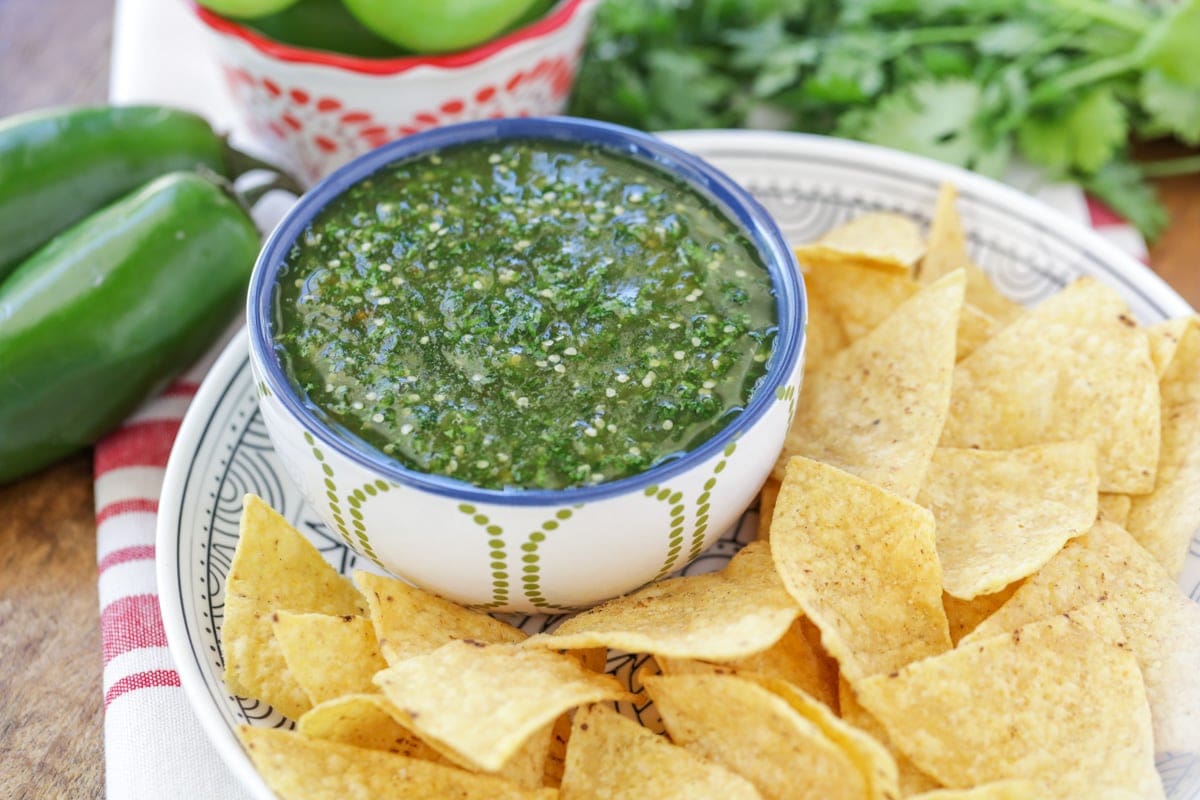 Super Bowl Dips And Salsas
We can't forget the dips and salsas!! We love to have at least 1 or 2 dips and 1 or 2 salsas at any Super Bowl get-together.
Salsa Verde – Sweet Salsa Verde – a delicious salsa recipe that is sweet and takes just minutes to make. Ingredients include tomatillos, jalapenos, sugar, & cilantro.
7 Layer Bean Dip – This 7 Layer Dip recipe is a must-have at every function! It has loads of flavor and all your favorite dip ingredients including avocados, olives, tomatoes, cheese, guacamole and more!
Homemade Salsa – This is such an EASY homemade salsa recipe! All you have to do is throw all the ingredients into your blender, and blend!
Simple Guacamole – Spicy, chunky simple guacamole is so easy and addicting, it's sure to be a crowd pleaser! You won't be able to stop eating it.
Chili Cheese Dip – Just four ingredients make for the BEST and yummiest chili cheese dip! Melty cheese and hearty chili are so tasty together! It's the perfect appetizer for any party.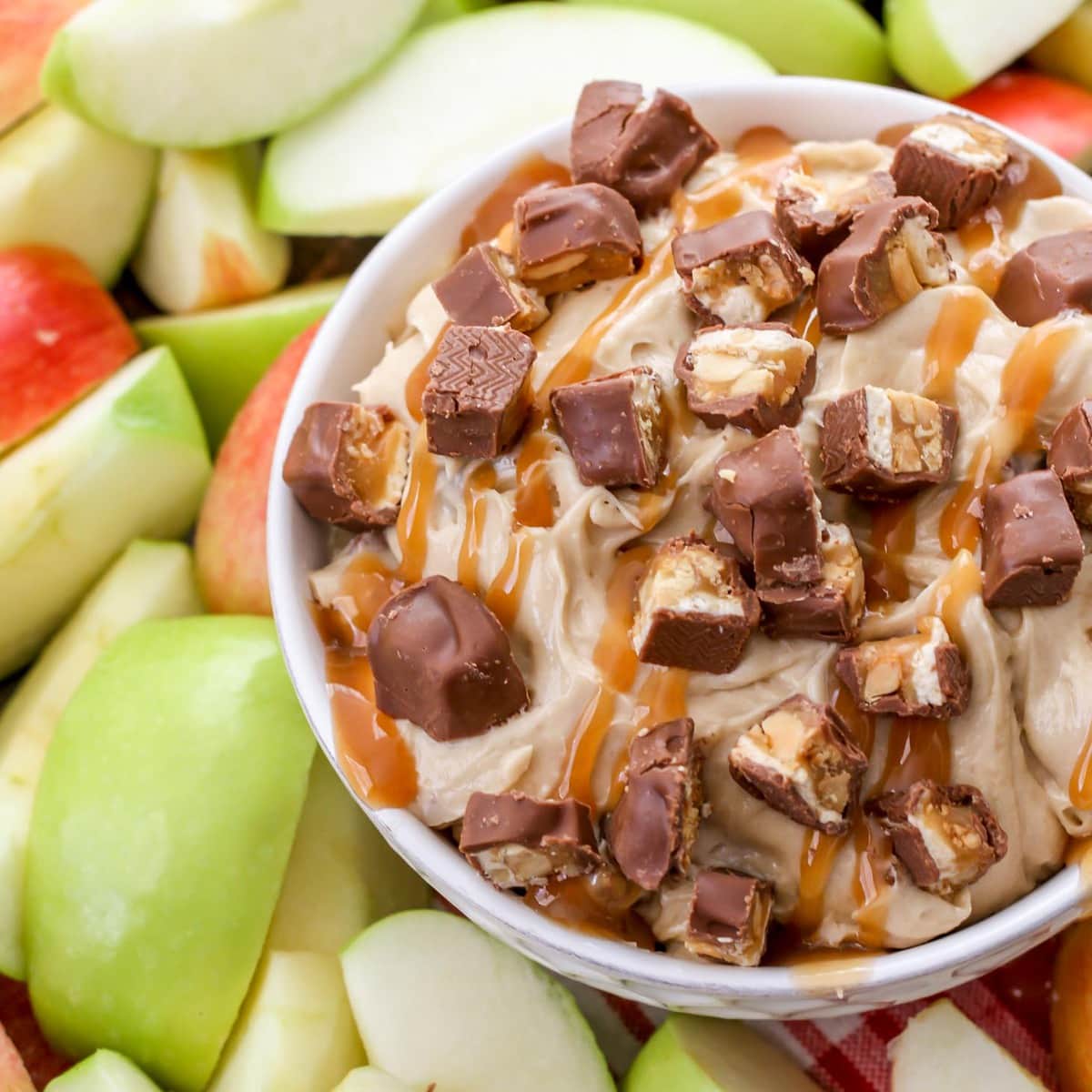 Snickers Dip – Once you try this brown sugar & cream cheese Snickers Dip, you'll never want to eat your apple slices any other way! It is irresistible.
BLT Dip – This creamy BLT Dip is the ultimate warm, cheesy, party dip! It's loaded with cream cheese, cheese, and sour cream, then baked and topped with crispy bacon, shredded lettuce and fresh tomato!
Artichoke Dip – Artichoke Dip is irresistibly creamy and every bite is loaded with spinach and artichokes. This hot, cheesy dip will be a hit at your next party!
Buffalo Chicken Dip – All the flavor of buffalo wings in a creamy, cheesy, simple dip! This super easy Buffalo Chicken Dip is filled with chicken, buffalo sauce, ranch, and three different types of cheese! It's perfect for parties and get togethers, served with chips or veggies.
Cream Cheese Fruit Dip – This Cheesecake Fruit Dip is one of the best fruit dip recipes you will ever try! It takes just 5 simple ingredients – cream cheese, vanilla, sugar, marshmallow fluff, and cool whip – and ALWAYS vanishes in minutes! Definitely a crowd favorite!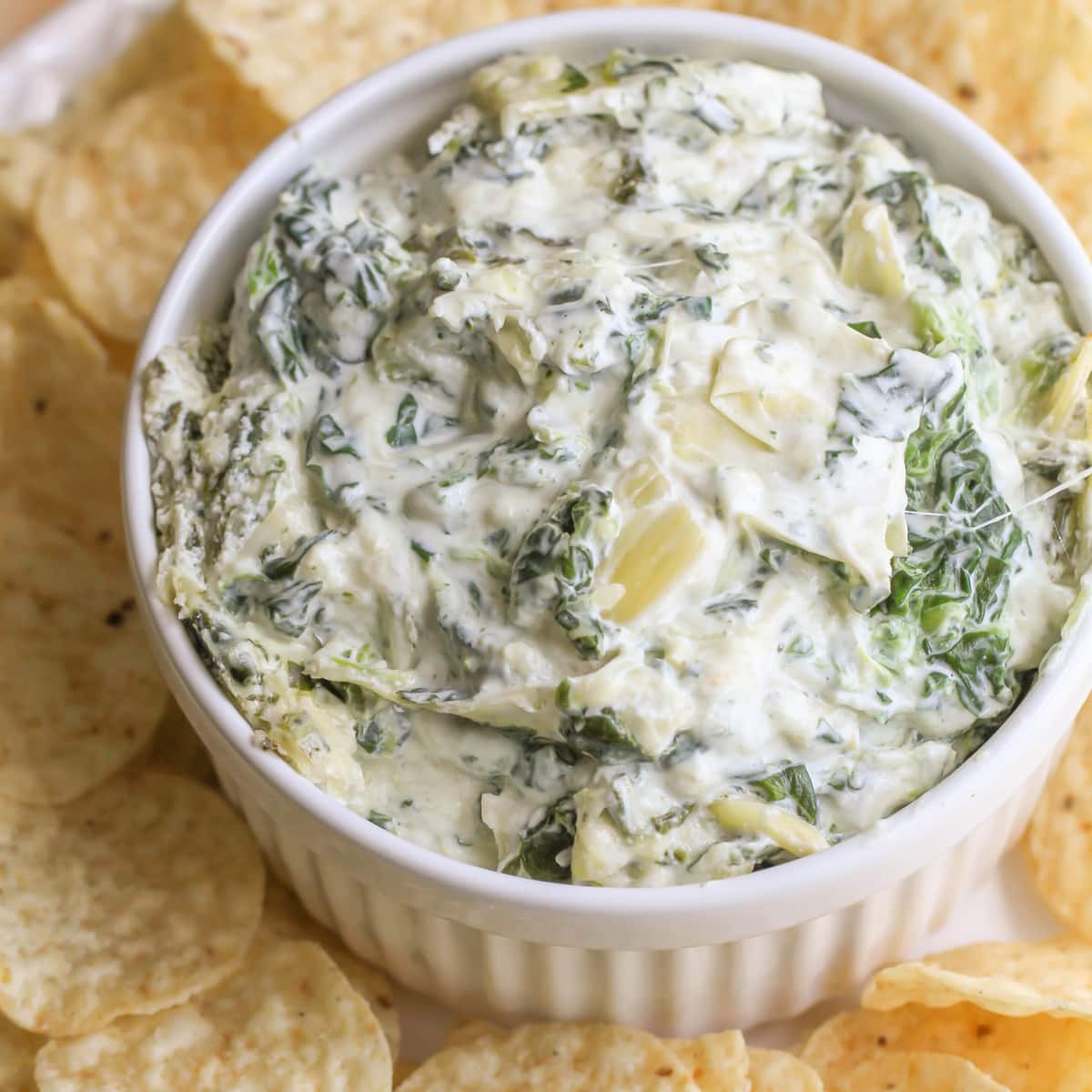 Spinach Artichoke Dip – This is the BEST Spinach Artichoke Dip recipe, and the ultimate dip for any get together! Filled with spinach, artichoke hearts, cheese, sour cream, cream cheese, and mayo – this easy spinach artichoke dip is sooo cheesy and flavorful, served perfectly with chips, bread pieces or veggies.
French Onion Dip – French onion dip is tangy and savory. It requires only two ingredients and is made in under a minute!
Queso Blanco – This delicious queso blanco is made in no time, and will be the perfect addition at your next get together, especially served with tortilla chips and veggies.
Dill Vegetable Dip – The perfect go-to veggie dip for parties and snacking. Use it for vegetables, chips, or whatever you feel like! Even if you don't like dill pickles, you'll love this Dill Vegetable Dip.
Black Bean And Corn Salsa – This Black Bean and Corn Salsa is one of our favorite dips and appetizers. It's great with any Mexican dish or served with tortilla chips!!
Chili's Skillet Queso – Copycat Chili's skillet queso takes just minutes to make!! It's not only simple but it's delicious and addicting.
---
The Complete List
Here are the picture recipe cards for all of the tasty Super Bowl Appetizers and snacks listed above.
From dips to sandwiches to pizza and wings we've got you covered! These recipes are sure to be crowd-pleasers and will help make your Super Bowl or any fun get-together a memorable event.
Be sure to check out all of our Appetizer Recipes!
For more collections, see: Easy Appetizers, Appetizer Dips, Healthy Appetizers