Avocado Taquitos aka "Flautas" are filled with avocados and cheese and fried to perfection! They're perfect for a main dish or appetizer.
Whip up some Beef and Avocado Taquitos for a quick and tasty snack! We love to dip ours in Pico de gallo and Homemade salsa.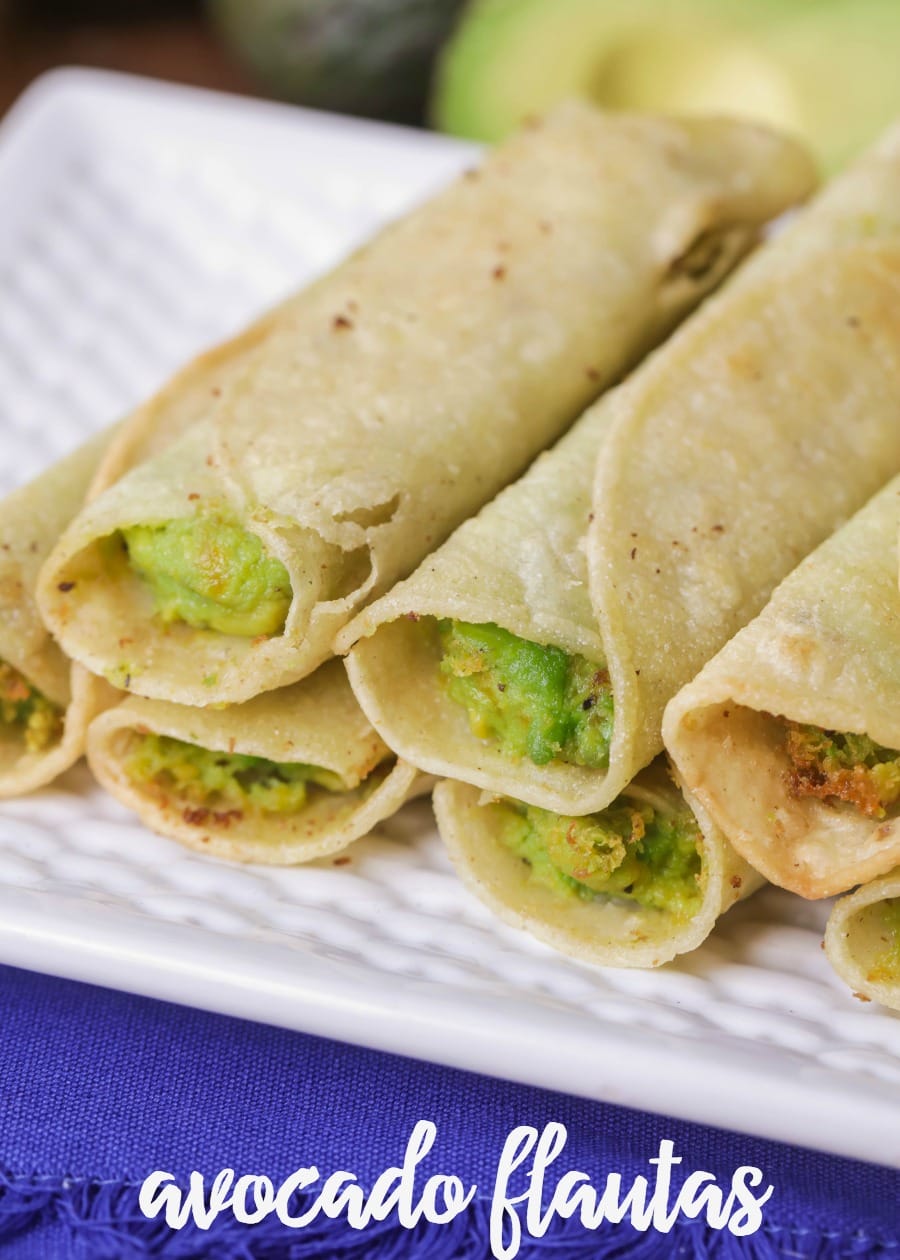 We love Mexican food!
It's no surprise that my family loves Mexican food. I mean, we are Hispanic and my family has grown up on the best Mexican recipes since I was a little girl. Some of the recipes have been handed down from generation to generation, but some are ones we've made up along the way.
One of the recipes we've made up is the one we are sharing today for Avocado Flautas (aka Avocado Taquitos). I asked my mom if she was the one who made them up, but she's not quite sure if it was her, my aunt or my grandma. All she knows is that she has been making them for years, which means we have been enjoying them for years! ;D
It's a very simple recipe that requires just 4 ingredients and can be whipped up in no time. Typically, we make Beef Flautas using a chuck roast we've cooked up in the slow cooker. Sometimes, we do chicken, but our favorite is the avocado version. Each corn tortilla is filled with avocado and cheese and fried to perfection. Yes, I said fried… which means they aren't healthy, but man are they good!! It's pretty much like eating tortilla chips with cheese filled guac. Sound good? If so, then you'll definitely love this recipe.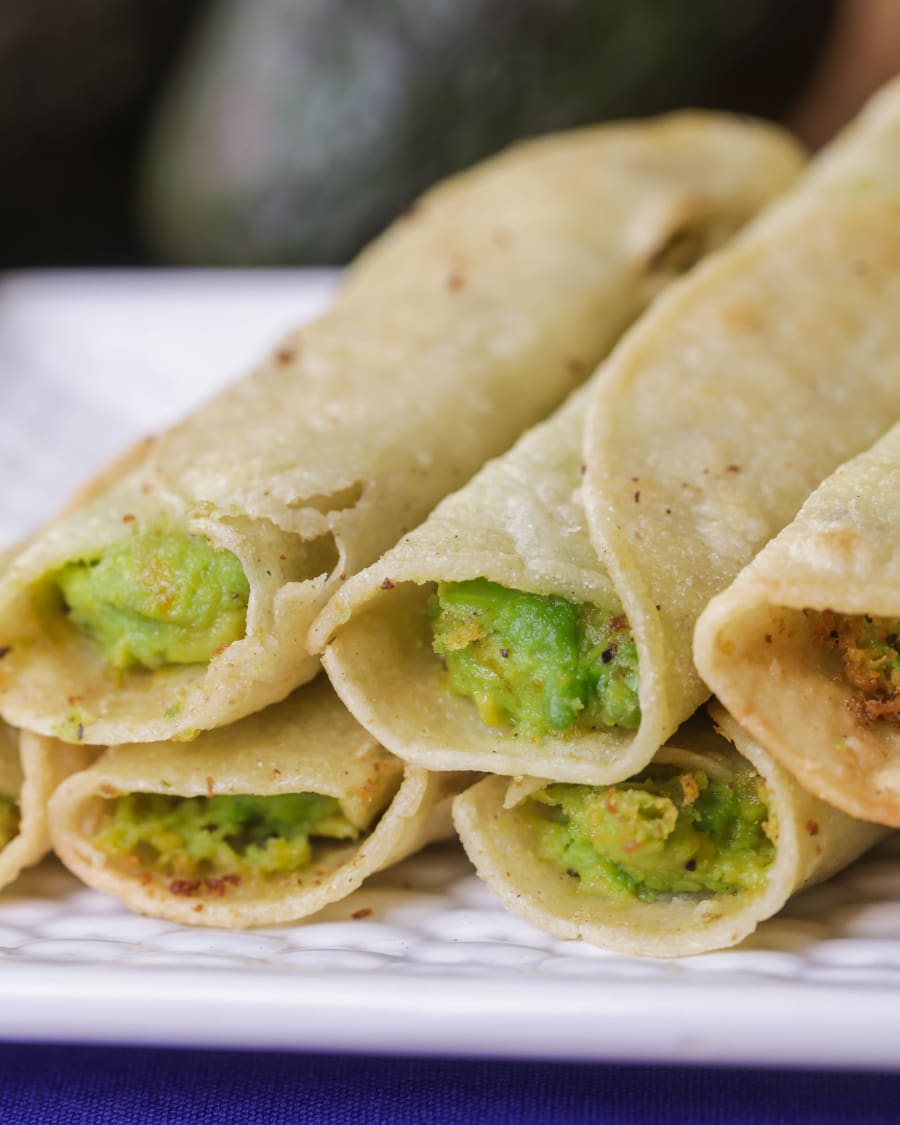 Avocado Taquitos
PREP. Add oil to a frying pan and place on medium heat.
FILL. Add avocados, cheese, salt and pepper to a bow and mix well. Spoon about ¼ cup into the middle of each corn tortilla. Roll up and place seam-side down in oil.
FRY + ENJOY! Cook on both sides until golden. Place on paper towel-lined plate to allow excess oil to drip off. Serve warm and ENJOY!
Tips + Storing Info
Air Fryer: Preheat it to 400 degrees, cook on one side for 6-9 minutes, flip and cook for 5 more minutes.
Oil: Use just enough oil to coat the bottom of the pan, plus a little more.
Temperature: Put the bottom of the wooden spoon in the pan, if the oil is bubbling around the spoon then it is hot enough.
Avocado: A ripe avocado should be firm enough to handle a squish without bruising, but not be as tough as a rock. The peel will typically be a bit darker if the avocado is ripe.
Tortillas: Corn tortillas tend to break or rip when they have dried out, are too cold or are old. They are perfectly fine to eat, they just don't roll as nicely. Using a tortilla warmer will help them roll without breaking. 
STORE these in an airtight container in the fridge for up to a week. You can reheat them in the oven until they're warmed through if you want to keep them crispy, or you can microwave them until they're warmed through for a quick lunch or snack.
To FREEZE: Cook these taquitos completely, let them cool, and then put leftover taquitos in an airtight container bag in the freezer. Wrap individual taquitos in a paper towel and microwave for 1-2 minutes until warmed through.
To make ahead: Since avocados brown quickly I would advise against making these ahead of time.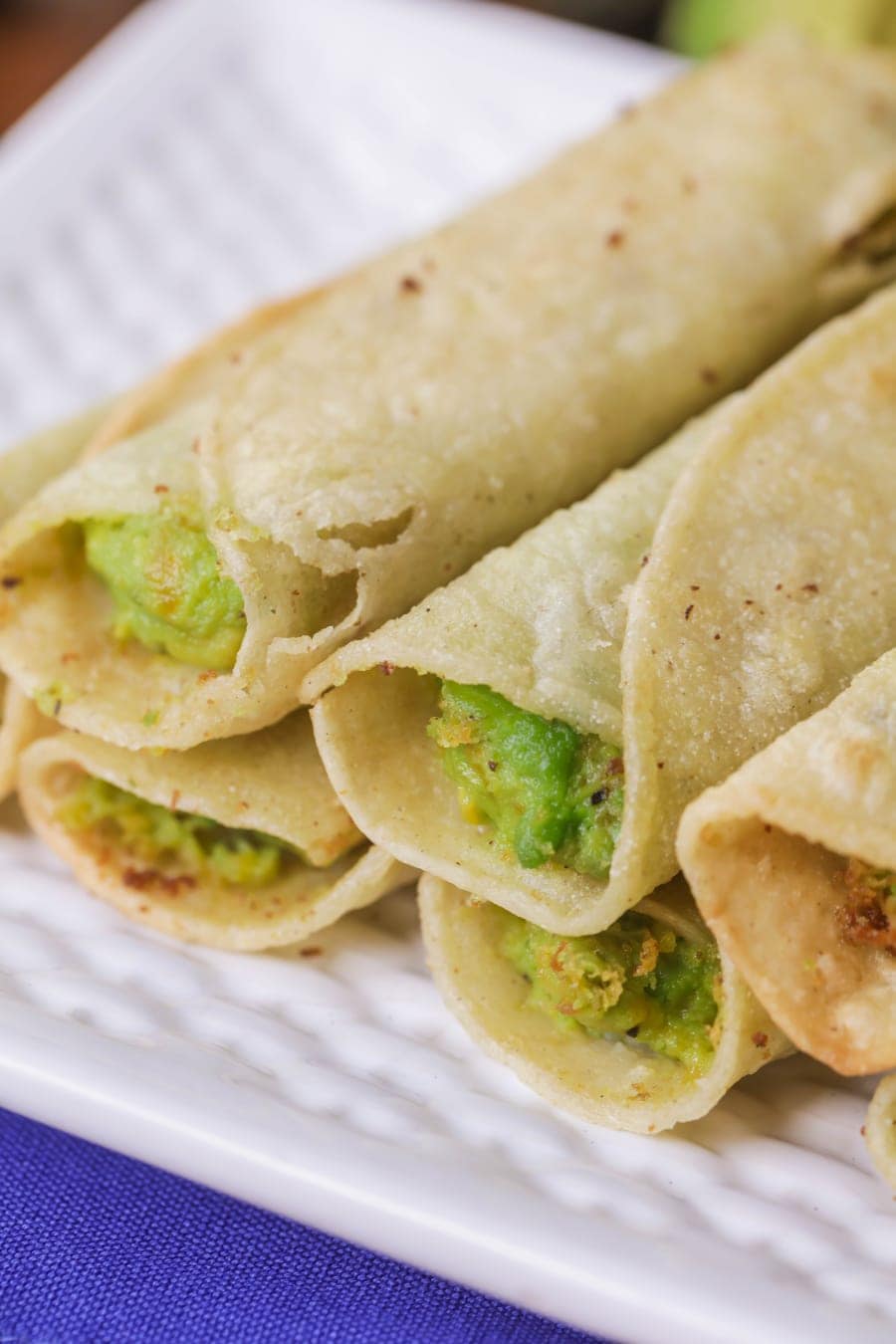 And here are more Mexican recipes we love to make: