Everyone loves these cheesy taquitos! They're filled with chicken, cream cheese, salsa, and spinach and are great as appetizers or even a main dish.
Also known as flautas, these chicken taquitos are loved by the entire family. Rolled and fried to perfection, we love to serve this dish with Mexican rice and salsa!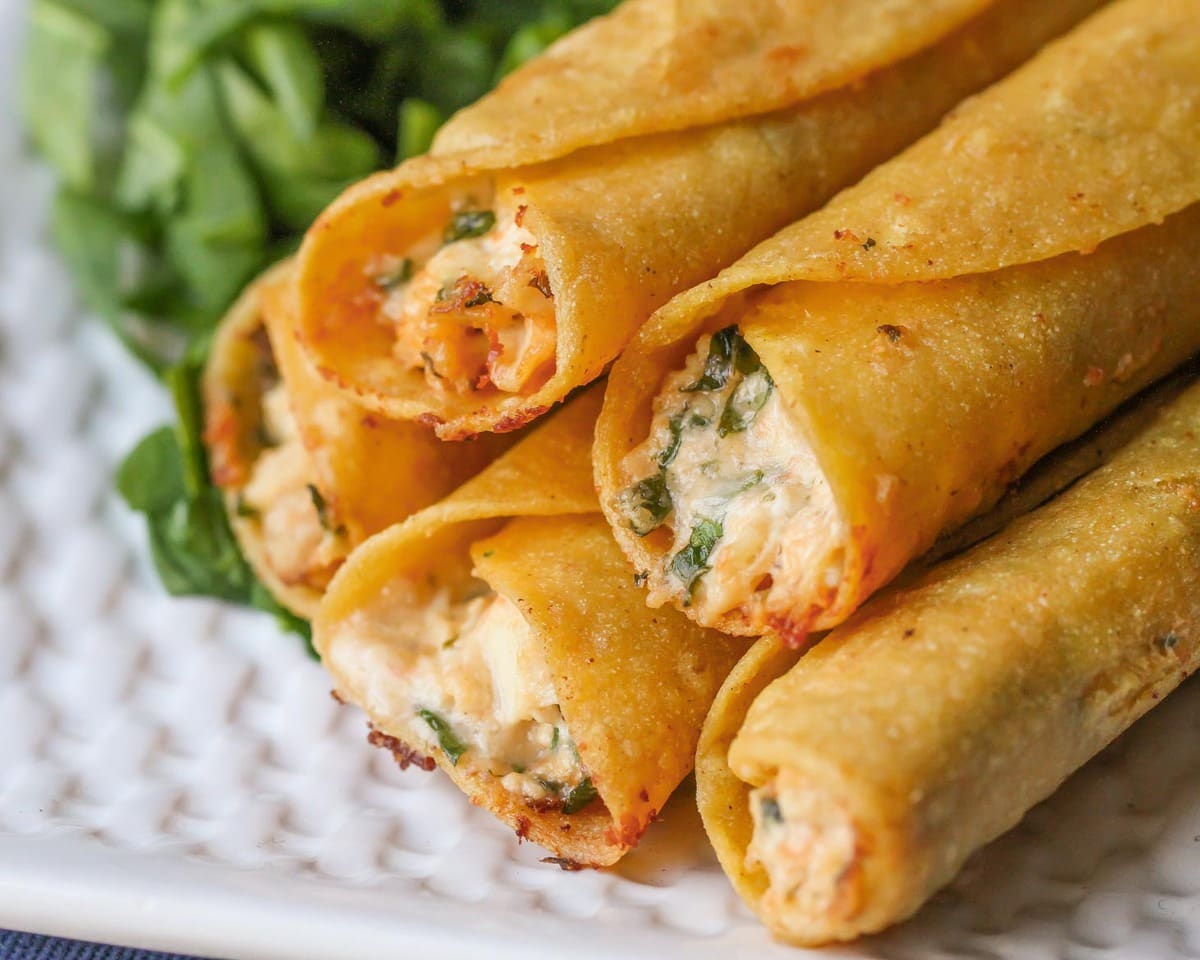 family-Favorite Taquitos
We have Mexican food EVERY week!
Without fail, we are having tacos, enchiladas, quesadillas or taquitos one day during the week and the kids love them. I'm so grateful for that because I love these recipes too, and they're usually really easy to make.
Today, I wanted to share our favorite taquitos recipe – Cream Cheese and Chicken Taquitos.
What are TAQUITOS? A Mexican dish consisting of a small tortilla that is rolled around a filling of meat and cheese and then deep-fried.
They are very similar to the flautas we make all the time, but they have cream cheese, salsa, and baby spinach mixed in with it too. Tacos are usually folded, and these taquitos are rolled.
Since my husband LOVES cream cheese, I knew he'd love this recipe and to no surprise, everyone else does too. It's easy and so delicious.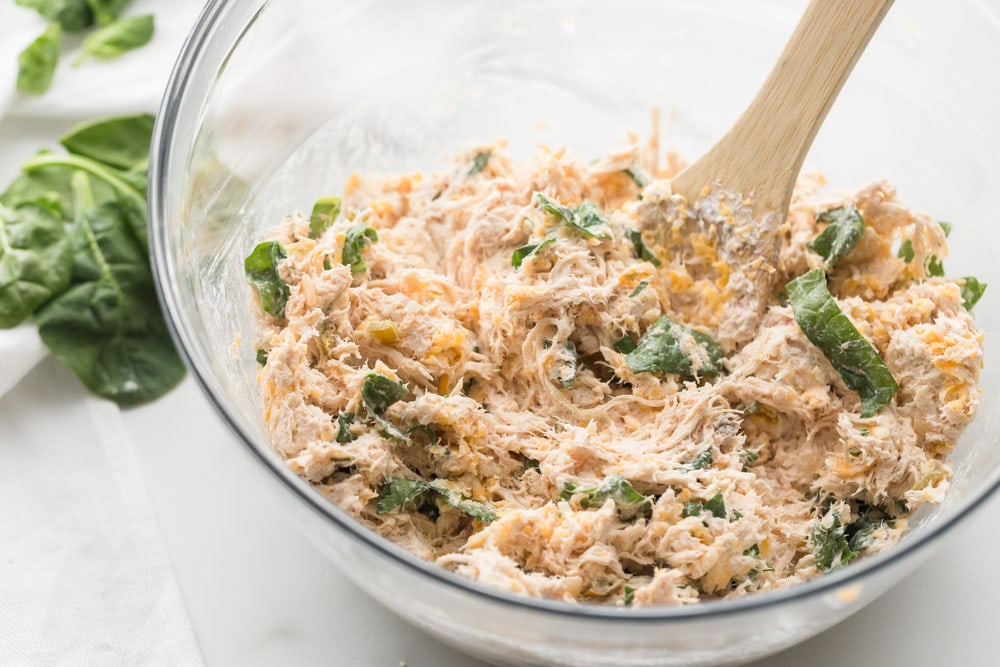 How to make Taquitos
These chicken taquitos are so great as appetizers or as a main dish. And we love that that are quick to make. Here is how we make them:
OIL. Begin by heating ½ inch oil on medium heat in a frying pan.
MIX. While the oil is heating up, mix together cooked, shredded chicken, cream cheese, sour cream, salsa, co-jack cheese and spinach. Add salt and pepper to taste.
ROLL + FRY. Once the oil is hot enough, add a few tablespoons of the chicken/cream cheese mixture along the center of the corn tortilla and spread out. Roll up and set seam side down (using tongs) into the oil.
DRAIN OIL. Cook these until golden brown on both sides and continue doing this until the mixture is gone. Set on paper towel lined plate to drain the oil and serve warm.
SERVE WITH SOME OF THESE FAVORITES: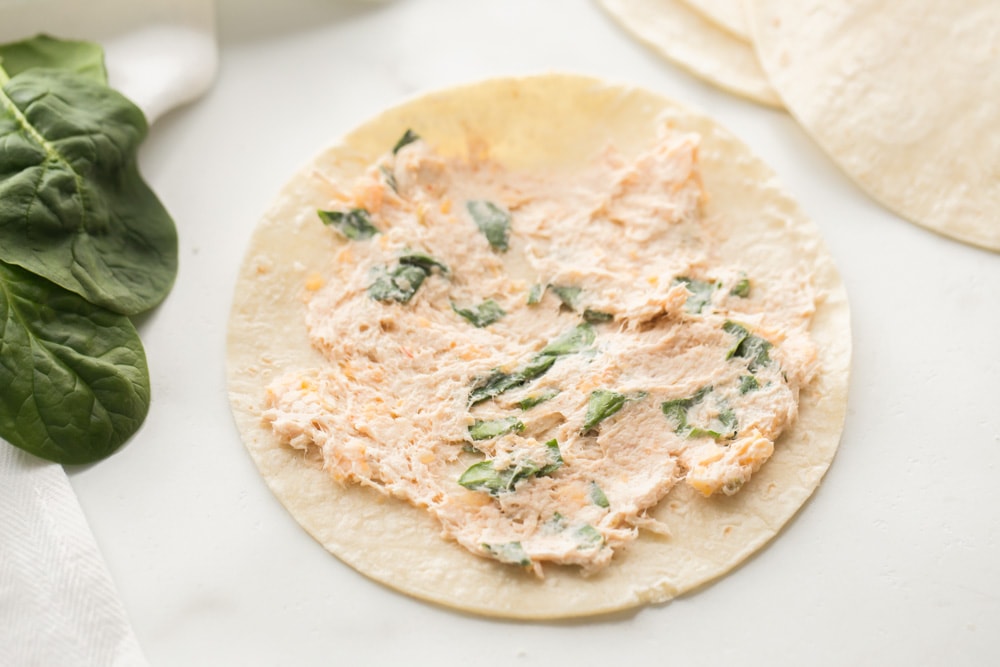 Recipe Tips
Having a hard time getting your corn tortillas to roll without cracking? Wrap a stack of corn tortillas in some damp paper towels and microwave for 15-30 seconds until warmed up.
The reason why many tortillas crack or break is because they are not warm enough.
How to keep taquitos rolled up? Add your mix, roll and then use metal tongs to hold the taquitos in the oil with the seam-side down until they stay rolled. You can also add toothpicks to the center of each taquito before frying to keep them in place.
Can you use flour tortillas? Yes – the kind of tortilla – corn tortillas or flour tortillas is what most believe if the difference between a taquito and a flauta. No matter what you use, both make these delicious!
VARIATIONS: There are so many ways to change up these taquitos. Here are a few examples: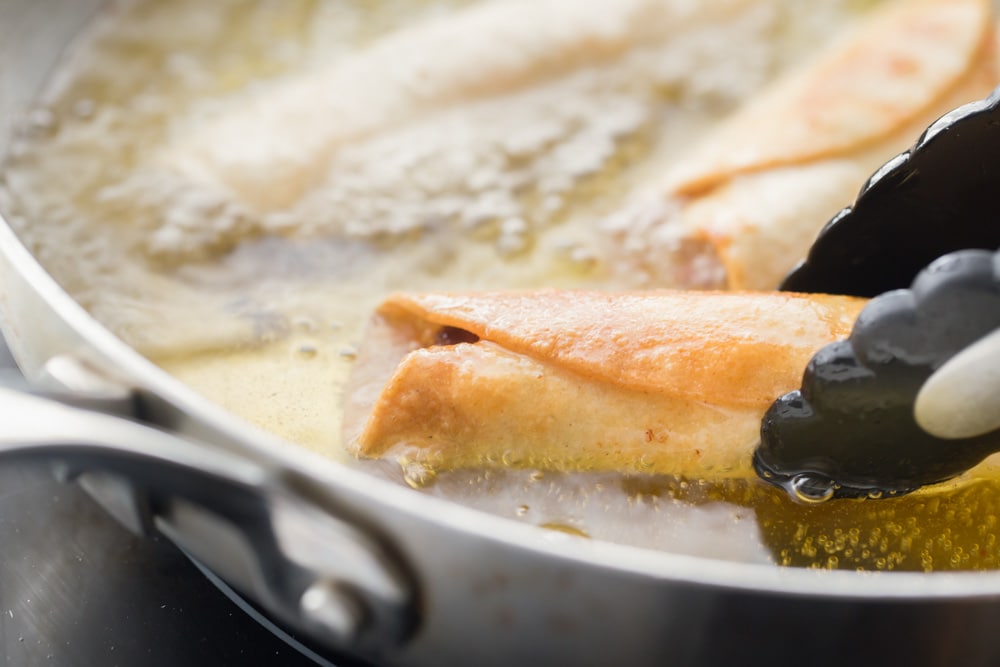 FAQ
Can you bake taquitos? Yes, you can! We even have a recipe for it. Be sure to check out our Oven Baked Chicken Taquitos.
Can you make these taquitos ahead of time? You can definitely make the chicken/cream cheese mixture ahead of time. We typically do this when we know it will be a busy night.
To make ahead, just store and cover in the fridge for up to 24 hours in advance.
Can you freeze taquitos? The cream cheese and chicken mix freezes well. We just place in freezer-safe Ziploc bags and get as much air out. They day I'm ready to make them, I just pull them from the freezer and let them thaw completely, which is perfect for those crazy busy days.
What to serve with taquitos?
The options are endless, but here are some of our favorites:
And don't forget all the things to dip them in: Red Salsa, Green Salsa, Guacamole, Cilantro Ranch Dressing, Avocado Ranch Dip, Queso Blanco.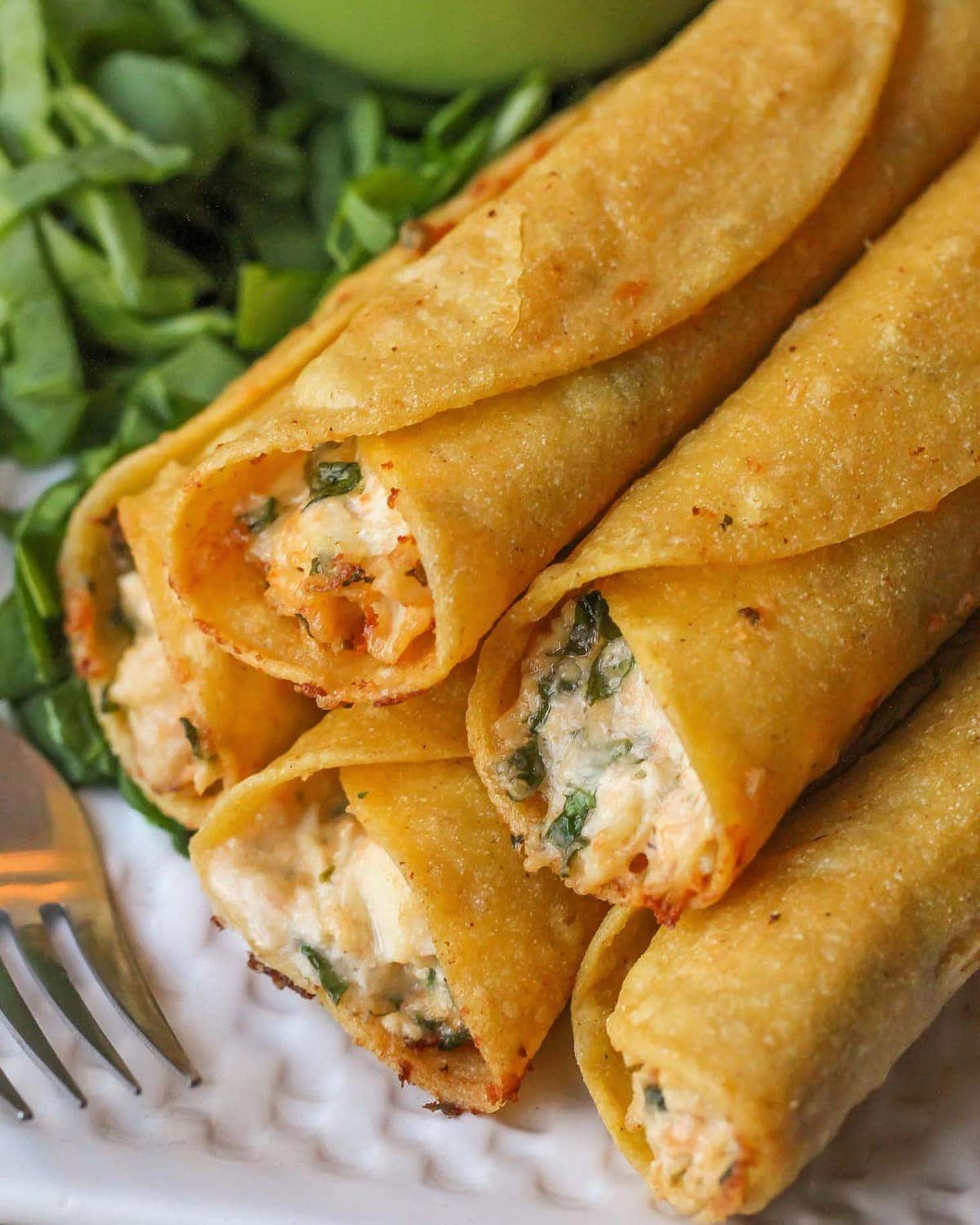 For more taquito recipes, check out:
Chicken Taquitos Recipe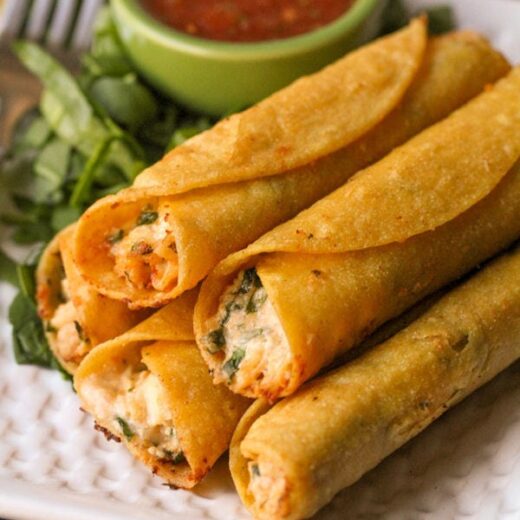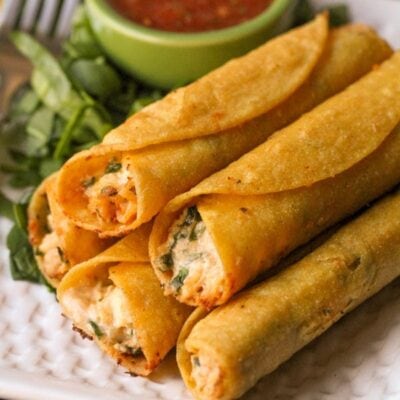 You will love these Cream Cheese and Chicken Taquitos filled with cream cheese, salsa, cheese, sour cream and spinach.
Ingredients
3

cups

chicken

cooked and shredded

6

oz

cream cheese

softened

1/3

cup

sour cream

1/2

cup

salsa

1 1/2

cups

colby jack cheese

1 1/2

cups

baby spinach

chopped and stems removed

12

6 inch

corn tortillas

vegetable or canola oil for frying
Instructions
Heat ½" oil in a sauce pan on medium heat.

In a large bowl mix together the chicken, cream cheese, sour cream, salsa, co-jack and spinach. Add salt and pepper to taste.

Once oil is hot enough (place hand over pan, above oil, to feel heat), add a few tablespoons of chicken/cream cheese mixture to the center of a tortilla and spread out. Roll up and set seam side down in oil using tongs. Cook until golden brown on both sides.

Repeat until all the tortillas are filled, rolled and fried.

Set on paper towels to drain.

Serve warm and ENJOY!
Recipe adapted from Cinnamon Spice and Everything Nice