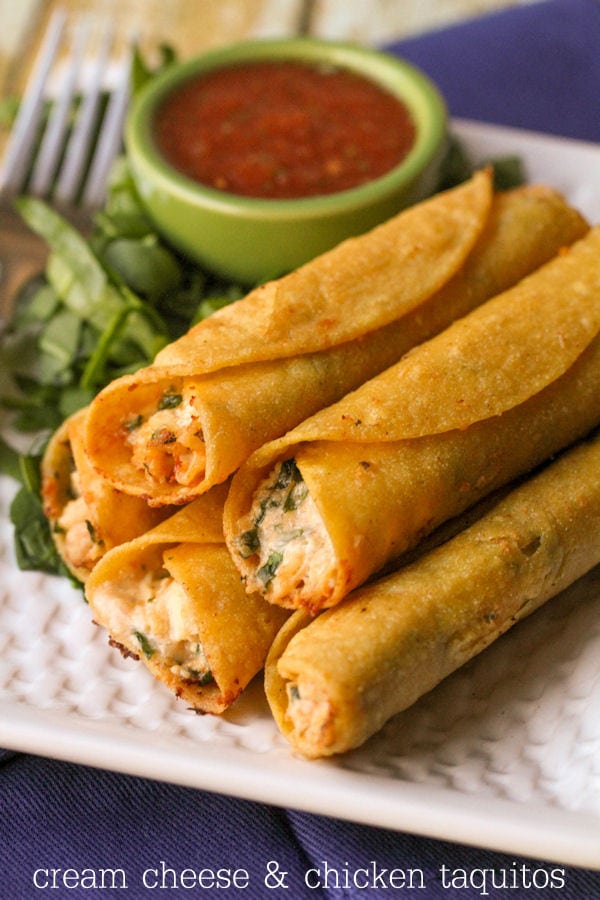 We have Hispanic food EVERY week. Without fail, we are having tacos, enchiladas, quesadillas or taquitos one day during the week and the kids love them. I'm so grateful for that because I love these recipes too. We also have Mexican Rice with these meals, which is another recipe my kids LOVE (score!)
The taquito recipe I'm sharing today is one that we have recently become obsessed with. They are very similar to the chicken taquitos we make all the time, but they have cream cheese, salsa, and baby spinach mixed in with it too. I know I've shared this before, but my husband LOVES cream cheese, so I was 100% sure that he would love these taquitos. Well, he loved them and so did I, so we've had them a few times this last month. What I love is I made the cream cheese and chicken mix and froze the leftovers in 2 bags so I could make them 2 other nights. That worked out great for some of those crazy busy days. I just pulled one bag out in the morning to let it de-frost and it was perfect by dinner!
Another thing I love about this recipe is that they are great to make as the main dish or even an appetizer. Either way, I know you'll love these Cream Cheese and Chicken Taquitos because they are DELICIOUS!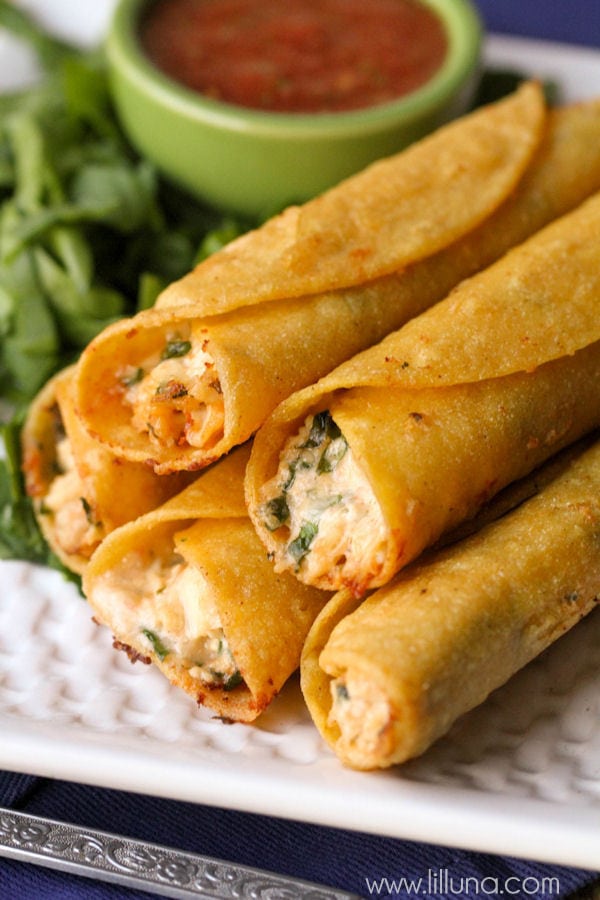 MY OTHER RECIPES
I'll admit… I'm a little sad I don't have some of the cream cheese and chicken mix in my freezer still. Good thing is, it's easy to make! We have even used the mixture inside quesadillas which was also a hit!
For more taquito recipes, check out:
How to make Taquitos:
For printable recipe instructions see below. 😉
Cream Cheese and Chicken Taquitos
You will love these Cream Cheese and Chicken Taquitos filled with cream cheese, salsa, cheese, sour cream and spinach.
Recipe type:
Appetizer/Main Dish
Ingredients
3 cups cooked shredded chicken
6 ounces ounces cream cheese, softened
⅓ cups sour cream
½ cups salsa
1½ cups colby jack cheese
1½ cups chopped baby spinach, stems removed
12 - 6 inch corn tortillas
vegetable or canola oil, for frying
Instructions
Heat ½" oil in a sauce pan on medium heat.
In a large bowl mix together the chicken, cream cheese, sour cream, salsa, co-jack and spinach. Add salt and pepper to taste.
Once oil is hot enough (place hand over pan, above oil, to feel heat), add a few tablespoons of chicken/cream cheese mixture to the center of a tortilla and spread out. Roll up and set seam side down in oil using tongs. Cook until golden brown on both sides.
Repeat until all the tortillas are filled, rolled and fried.
Set on paper towels to drain.
Serve warm and ENJOY!
Recipe adapted from Cinnamon Spice and Everything Nice