This collection of Mexican Appetizers contains all the best dips, salsas, and quick and easy appetizers that will perfectly complement your entrees at your next fiesta!
More Collections: Mexican Chicken Recipes, Mexican Dessert Recipes, Mexican Soup Recipes
Perfect for Fiestas!
I've mentioned before that I'm part Mexican. My family loves to have Mexican-themed meals on occasion when we get together!
Sometimes it's for holidays like a Cinco de Mayo party or Christmas, but other times it's just for a regular old Sunday dinner. Either way, we love a good fiesta. 😉
Whenever we have a Mexican meal, we go ALL out with appetizers, entrees, desserts, and even drinks! I wanted to share with you some of our favorite Mexican Appetizer Recipes that we frequently use for these fiestas!
This list includes quick and easy recipes that take less than 30 minutes, dips, and salsas.
What are the most common Mexican appetizers?
There are many amazing starters that can be served at any Mexican Fiesta. Some of our favorites include:
making Mexican appetizers
Here are some simple tips for adjusting the spice in Mexican appetizers.
Jalapenos and peppers are often used in Mexican food. They can also be quite hot.
Make it mild. Reduce the amount used, or remove the seed and inner rib.
Make it spicier. Leave in the seeds and rib section.
Provide options for guests to add heat to their individual dishes such as hot sauce, hot salsa, red chili flakes, sliced jalapenos, chipotle pepper flakes, or chili powder.
Reduce the heat of a hot dish.
Honey, butter, lime juice, and lemon juice will help cut through the heat and neutralize it a bit.
Or top the dish with sour cream, cheese, avocados, lettuce, and tomatoes.
Serving the dish with some starch like Rice, Beans, Flour Tortillas, or Cornbread can also help reduce the spiciness of the meal.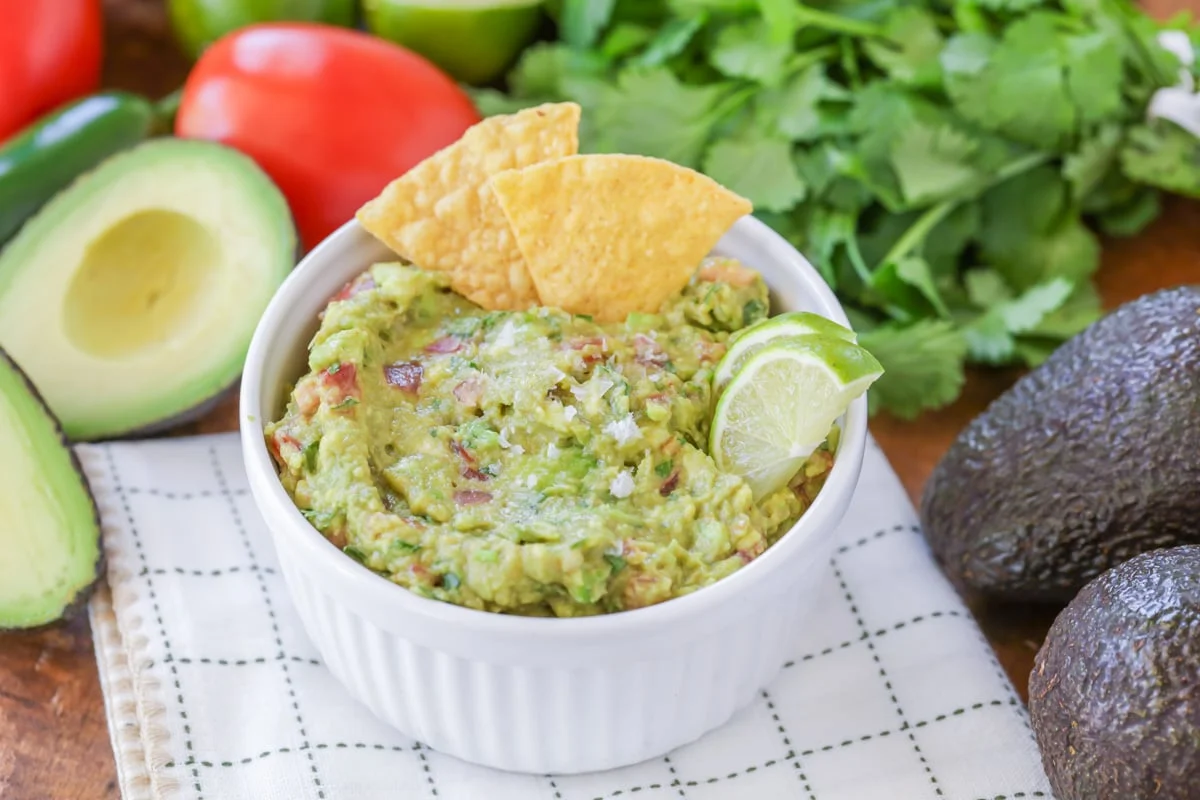 Appetizer Serving Tips
How many to serve. Having the right amount of appetizers can be tricky to calculate. The main factors I consider are if dinner will be served, the length of the party, and the number of guests.
If dinner will also be served, then plan for about 3-5 pieces per person.
Only appetizers. Plan to serve about 10-12 pieces per person for a two-hour party. Add about 5 more pieces per person for every hour after.
For fewer than 10 guests offer 2-3 different types of appetizers.
For more than 10 guests add another dish for every 5-8 more people.
Variety. Try to offer a mix of warm and cold, heavy and light, proteins, and produce. Try to incorporate different colors and textures as well.
Serving logistics. Have one central appetizer table or divide the appetizers onto several plates or tiers and have them placed in various areas around the room. Include plates, napkins, and utensils at each station.
Make ahead of time. Many Mexican appetizers can be prepared ahead of time. See the individual posts for more info. Dips are especially delicious when made ahead of time because all the flavors have a chance to blend together.
Let guests contribute. Make a list of what you plan to serve. Some guests will offer to bring a dish so already knowing what you plan to make will help you both know what would be a beneficial addition to the spread.
---
Easy Mexican appetizers
I love Mexican Appetizers, and it's especially nice when they are quick and easy. These recipes are super simple and take less than 30 minutes to prep!
Chicken Quesadillas
These easy, cheesy Chicken Quesadillas are a crowd favorite. They are not only filled with cheese and chicken, but a delicious homemade sauce that makes these hand-held goodies irresistible!
Sausage Stuffed Jalapenos
These sausage stuffed jalapeños are also filled with cream cheese and baked to perfection. Trust us when we say they're a must-have appetizer at your next party.
Buffalo Chicken Taquitos
Serve these Buffalo Chicken Taquitos as an easy dinner idea, or as an appetizer at your next party or get together.
Flautas
Tortillas filled with meat and cheese and fried to perfection! Crispy, flavorful flautas are a delicious dinner for everyone!
Jalapeno Poppers
Spicy fried Jalapeno Poppers are a classic appetizer that everyone wants! Bite into these cheesy poppers for a flavor explosion!
Nachos
Piled high Loaded Nachos are the perfect game-day food or appetizer. They're easy to make and customize with your favorite Nacho toppings!
Cream Cheese and Chicken Taquitos
Everyone loves these cheesy taquitos! They're filled with chicken, cream cheese, salsa, and spinach and are great as appetizers or even a main dish.
Avocado Taquitos
Avocado Taquitos aka "Flautas" are filled with avocados and cheese and fried to perfection! They're perfect for a main dish or appetizer.
Chicken Tacos
Make your own restaurant-style shredded Chicken Tacos at home. They are easy to make, perfectly crunchy, and SO delicious!
Ground Beef Tacos
Ground Beef Tacos are fried to golden perfection and filled with lettuce and tomatoes. They are a family favorite!!
Mexican Pinwheels
Mexican pinwheels are bite-size tortilla rolls filled with a spiced cream cheese mixture. They are a party in your mouth!
Esquites
Mexican Street Corn in salad form. It is a tasty corn salad topped with chili and cotija cheese. It's incredibly delicious and easy to whip up!
Mexican Wontons
Mexican Wontons are a zingy twist on a classic appetizer. They are crispy with a perfectly spiced, creamy center!
Mexican Corn Salad
Grilled Mexican Corn Salad is a quick, easy twist on Elote. It's a perfect side for pairing with your Mexican favorites!
---
Mexican Dip recipes
Keeping cold dips cold and hot dips hot. Salsa and dips are definitely a favorite to be served with Mexican dishes. The trick is to be able to keep them hot or cold.
Hot. The easiest way to keep dips hot is to use a crock pot or chafing dishes. Serve in a ceramic or glass dish since they will retain heat longer than metal. Another way to try is to only set out as much as will be eaten in 30 minutes. Refill with hot dip is needed.
Cold. Serve cold dips on top of a bowl or tray of ice. Another way to keep your dip cold is to only set out what can be eaten within 30-60 minutes. Keep the rest of the dip in the fridge and refill as needed.
All of these dips can complement the entrees (I love eating bean dip with my Enchiladas!), but you can also serve them with tortilla chips.
We have a recipe for Homemade Tortilla Chips (fried) and Baked Tortilla Chips that are slightly healthier.
Chili Cheese Dip
Make the BEST and yummiest Chili Cheese Dip in only 10 minutes and with a handful of ingredients. It's the perfect appetizer for any party.
Bean Dip
This easy cheesy bean dip is ready to enjoy in only 30 minutes. It's a favorite to eat with chips, tacos, or any Mexican dish!
Avocado Lime Ranch Dip
It only takes a small handful of ingredients and a few minutes to whip up some creamy and delicious Avocado Lime Ranch Dip! Filled with cilantro, lime juice, and avocado, this ranch dip is perfect for dipping chips or topping Mexican dishes!
7 Layer Bean Dip
This 7 Layer Bean Dip recipe is a must-have at every function! It has loads of flavor and all your favorite dip ingredients including avocados, olives, tomatoes, cheese, guacamole and more!
Chipotle Ranch
Chipotle ranch has just the right amount of kick. Drizzle it over salads, dip tortilla chips, or serve it on the side of your Mexican entrees.
Crock Pot Bean Dip
This cheesy and delicious crock pot bean dip is made with hardly any effort! SO easy, convenient, and perfect for holiday parties! Grab those chips and get dippin'.
Jalapeno Popper Dip
Cheesy Jalapeno Popper Dip has just enough spice and a perfectly crisp topping. It's sure to be a hit at your next party!
Chili's Skillet Queso
Copycat Chili's skillet queso takes just minutes to make!! It's not only simple but it's delicious and addicting.
Taco Dip
Loaded with all of your favorite taco toppings, this creamy taco flavored dip is perfect for dipping with tortilla chips.
Avocado Cream Sauce
Spread, dip, dabble- This Avocado Cream Sauce is the perfect pairing to all of your Mexican dishes! It's a little bit tangy, creamy and super delicious.
Tamale Dip
Hearty Tamale Pie Dip is filled with the familiar flavors of a mouth-watering cheesy chicken tamale. Even better, it's much easier to make and takes less than half the time!
Chicken Enchilada Dip
If you love all the flavors of green chili enchiladas, you'll love this cheesy dip! Ingredients include cream cheese, sour cream, chicken, green chilis, enchilada sauce, and seasonings!
Black Bean Dip
Delicious Black Bean Dip is so cheesy and perfectly shareable. The best part is it only takes 5 minutes of prep!!
Hamburger Dip
A cheesy, hearty dip made with only 4 ingredients—this Savory Hamburger dip is always a hit at parties.
Guacamole
Spicy, chunky simple guacamole is so easy and addicting, it's sure to be a crowd pleaser! You won't be able to stop eating it.
Queso Blanco
This delicious queso blanco is made in no time, and will be the perfect addition at your next get together, especially served with tortilla chips and veggies.
Mexican Bean Dip
Hot Mexican bean dip is prepped in minutes and baked in the oven. It's packed with a punch for a perfect appetizer or side!
---
favorite salsas
Again, all of these fresh salsas are tasty on the side of any Mexican entree, but they're also perfect with some tortilla chips. For the chunkier salsa (like the ones with fruit), I recommend using the scoop-shaped tortilla chips!
Corn Salsa
Savory corn salsa has a little kick of spice! There are so many yummy uses for this delicious and simple salsa.
Strawberry Salsa
The unique flavors of this sweet and spicy Strawberry Salsa pair perfectly with fish, tacos, or any Mexican dish!
Homemade Salsa
This is such an EASY and delicious homemade salsa recipe! All you have to do is throw all the ingredients into your blender, and blend!
Tomatillo Salsa
Easy tomatillo salsa is spicy and delicious! It's great with tortilla chips or as a sauce on top of your favorite Mexican dishes!
Peach Salsa
Fresh peach salsa is delicious with chips, on top of fish or pork, or spooned over tacos! You'll love the sweet and savory flavors in this simple recipe!
Black Bean and Corn Salsa
This Black Bean and Corn Salsa is one of our favorite dips and appetizers. It's great with any Mexican dish or served with tortilla chips!!
Chili's Salsa
The restaurant salsa you know and love, made at home anytime you like! This Chili's Salsa copycat recipe is literally made in minutes with the help of a blender.
Mango Salsa
This sweet and savory Mango Salsa is perfect with chips or any Mexican meal. It's full of flavor and simple to make.
Pineapple Salsa
Fresh Pineapple Salsa is deliciously addictive. Eat it with your favorite tortilla chips and share it with friends and family!
Cucumber Salsa
Crisp and light Cucumber Salsa is delicious with tortilla chips or on top of tacos. It is best when freshly made and chilled.
Salsa Verde
Sweet Salsa Verde is a delicious salsa recipe made from tomatillos, jalapeños, sugar, & cilantro. It is sweet and spicy and takes just minutes to make.
---
Appetizers to start off the perfect fiesta
We hope you enjoy this list of tasty Mexican Appetizers – they are some of our family favorites! Be sure to check out all of our Appetizer Recipes they really help get any party started off right!
More Collections: Mexican Side Dishes, Mexican Beef Recipes, Mexican Casserole Recipes