Ground beef, shredded beef, or even carne asada—this collection features all of our most popular Mexican Beef Recipes!
More collections: Mexican Chicken Recipes, Mexican Soups, Mexican Desserts
Mexican Entrees with Beef
A lot of our Mexican dishes use chicken, but trust me when I say that beef is just as delicious in these flavorful recipes!
The recipes I have listed in this collection use ground beef, shredded beef, and freshly cooked and sliced beef. So depending on what you have on hand, there are plenty of options!
Before I list the recipes, here are a few tips that will help simplify your cooking and ensure your Mexican beef recipes turn out tasty!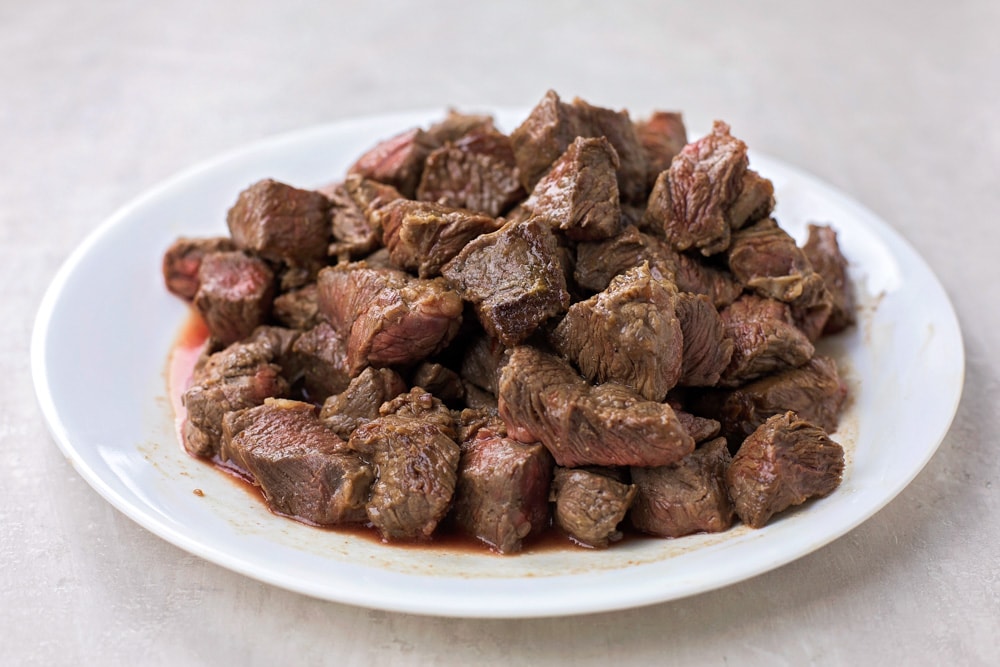 What cuts of beef are best?
Mexican shredded beef recipes simply use a slow cooked beef roast. You can use a crock pot, slow cooker or an instant pot to cook a roast so that it is fall-apart tender and easy to shred.
Many Mexican recipes call for steak and I've found that flank or skirt steak both work really well. Other similar cuts include flat iron steak, flap steak, hanger steak, and beef skirt.
Ground beef is used in tacos, casseroles and more. There are 3 main types of ground beef. Most of the time a recipe just states "ground beef" and you can choose what of the three types of beef to use.
Ground beef 70/30 has the highest percentage of fat which makes this the most flavorful. The amount of meat used will be reduced by about 25-30 percent after being cooked. You'll need to drain the excess juices after browning and then it can be used in the recipe without making it soggy with oil.
Ground beef chuck roast 80/20 is good for most any recipe. So if you're not sure what type to use this is a great choice. It has less fat than ground beef but enough to still yield a wonderful flavor. You may still want to drain any excess fat, but there won't be too much.
Ground Sirloin 90/10 has the least amount of fat between the 3 types. As a result it can dry out more quickly. It's not a great choice when you need the meat to hold together, like for hamburgers or meatballs. But don't count it out. It is a great choice for casseroles which usually includes sauces and cheese which will add moisture.
Tips for Mexican Beef Recipes
How to "Brown" Ground Beef: Most recipes will ask you to brown the meat before adding it to the other recipe ingredients. You'll need a 10-12 inch skillet for 1 1/2 pounds of ground beef. Heat up the skillet before adding the meat.
You can also add a little oil, but it is not essential. Cook over medium high heat. Use a wooden spoon or spatula to break it into pieces and stir it up. It should finish in about 5 minutes.
Note: The recipe will sometimes instruct you to add spices, if not I will still add a bit of table salt or garlic powder. Sometimes cumin or diced onion depending on what recipe I'm making.
Make ahead of time: Have frozen shredded or ground beef on hand. Whip up a large batch. Once the meat has cooled, portion it into 1 lb increments. Store in freezer safe containers for 3-4 months. When you're ready to make a recipe simply grab the premade meat, thaw, and start cookin'.
Not only can you make the beef portion ahead of time, but many of the recipes can be completed ahead of time and stored in the freezer for a quick dinner on a busy day. See the individual posts for more storage details.
More Helpful Recipes: We have a few other recipes that many Mexican dishes call for Red enchilada Sauce, Green Enchilada Sauce, Taco Seasoning, Flour Tortillas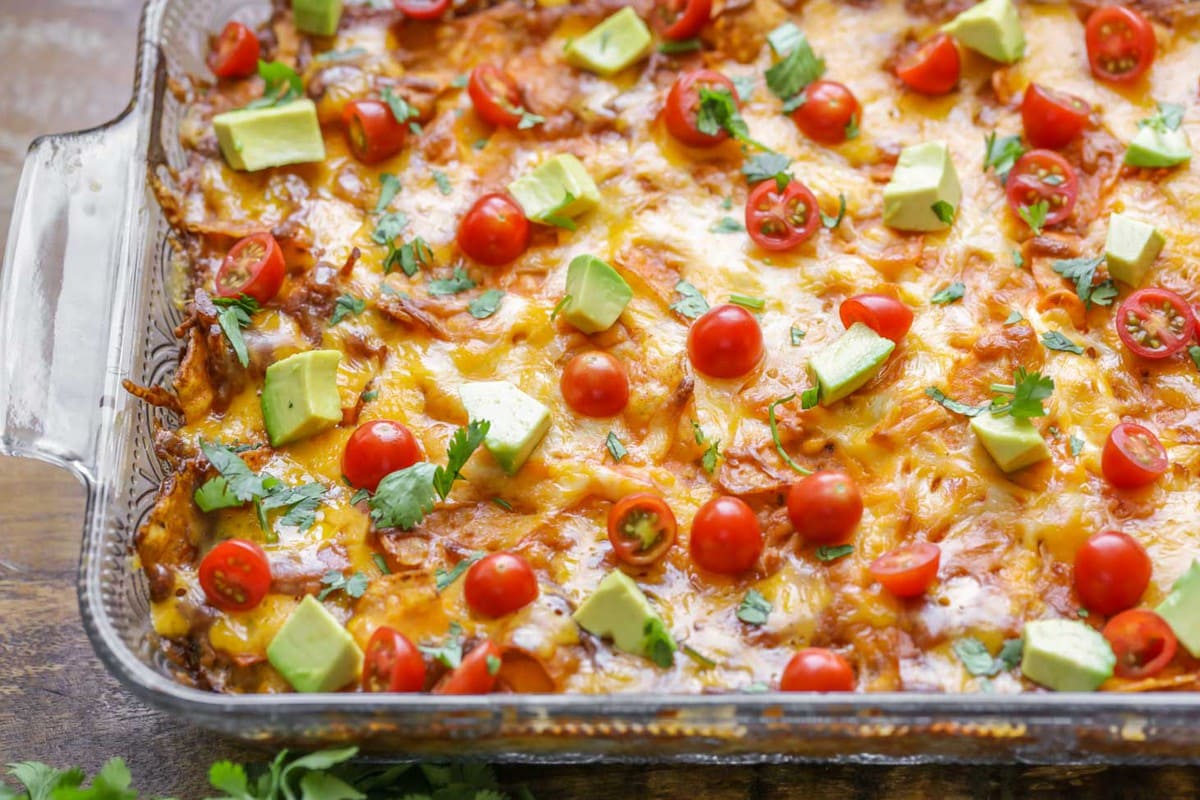 Adding freshness to your Mexican dishes:
Have these set out to the side of your meal for individual use and your personal garnishing desire.
Lime Wedges
Cilantro
Avocado
Green Onion
Diced Yellow Onion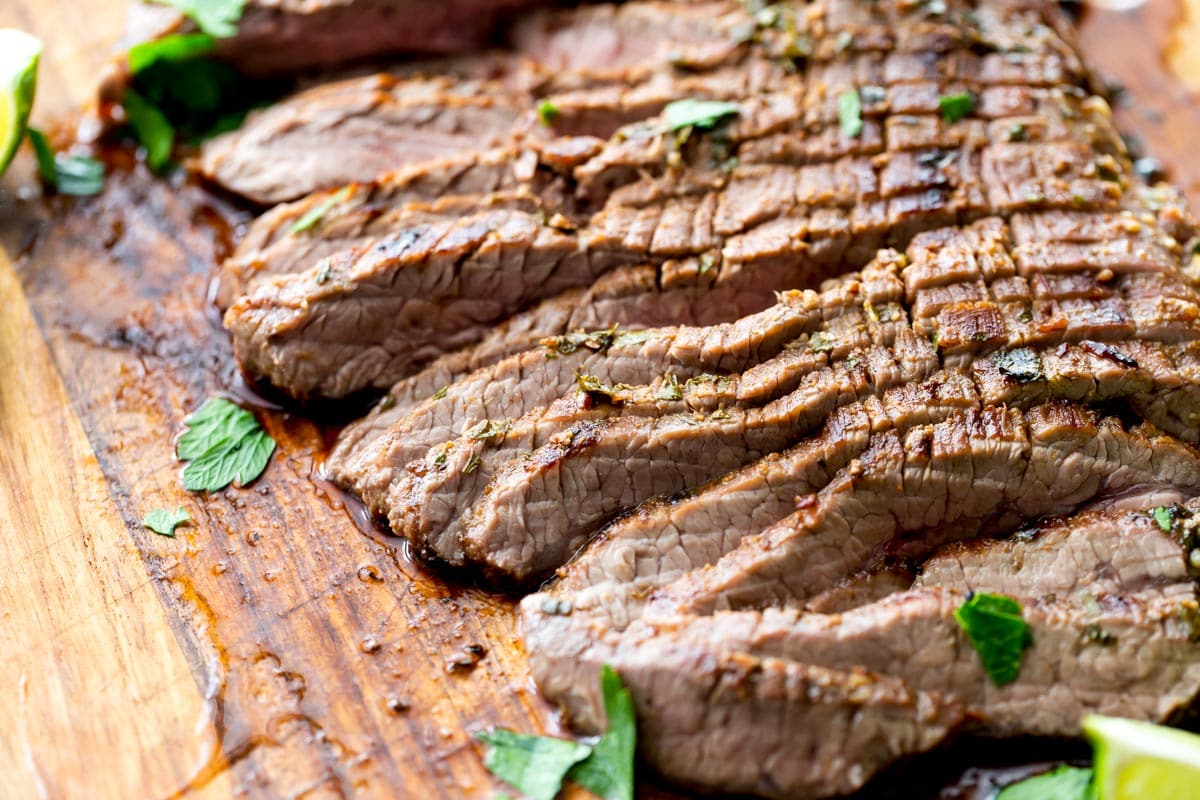 Toppings and Sides
Mexican food toppings and sides are just as good and almost as necessary as the main dish. Some favorite include:
Black Beans
Warm Tortillas (flour or corn)
Cauliflower Rice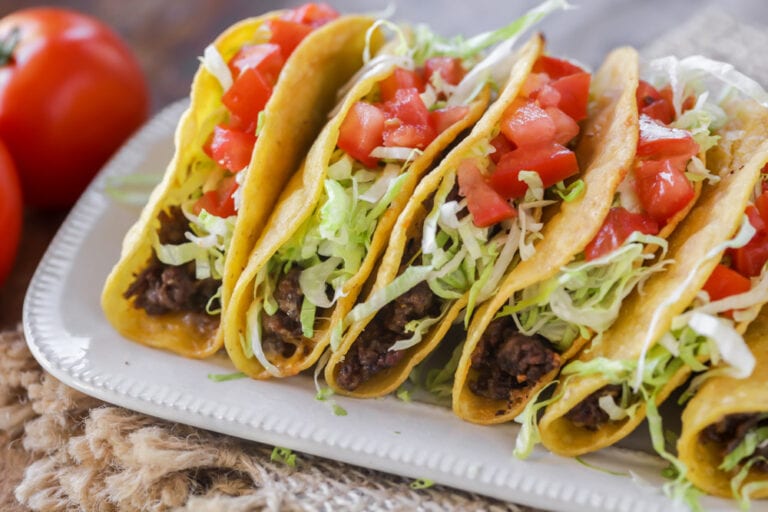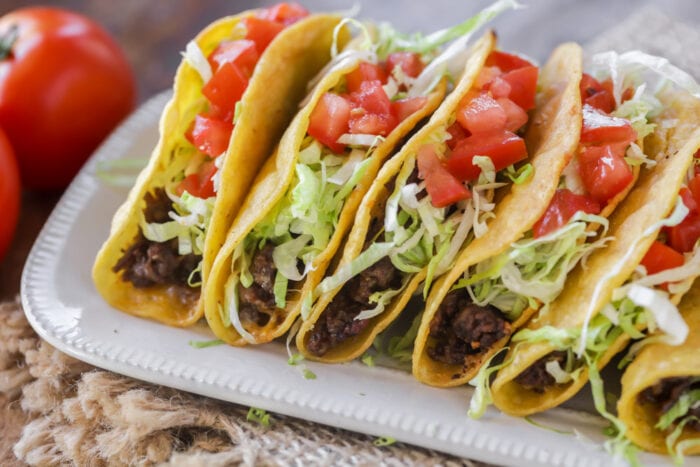 mexican Ground beef recipes
We know that ground beef isn't always considered a part of Mexican food, but we promise it works great in so many recipes! Here's proof:
Easy Ground Beef Tacos – One of our favorite versions of tacos – ground beef tacos!! They're filled with meat and cheese, fried until golden and topped with lettuce and tomatoes.
Taco Soup – One of the EASIEST dinner recipes of all time! This super easy Taco Soup is made from canned chili, beans, corn, tomatoes, and green chiles, plus ranch dressing mix and taco seasoning. All you have to do is dump everything in a pan and simmer. It's ready in under 20 minutes!
Loaded Nachos – Piled high Loaded Nachos are the perfect game day food and appetizer. They're easy to make and customize with your favorite nacho toppings!
Hamburger Dip – A cheesy, hearty dip made with only 4 ingredients—this Savory Hamburger dip is always a hit at parties.
Homemade Taco Pizza – This delicious, Homemade Taco Pizza is simple and on the table in under 30 minutes. It's topped with meat, beans, cheese and more making it flavorful and easy to customize based on all the flavors you love most.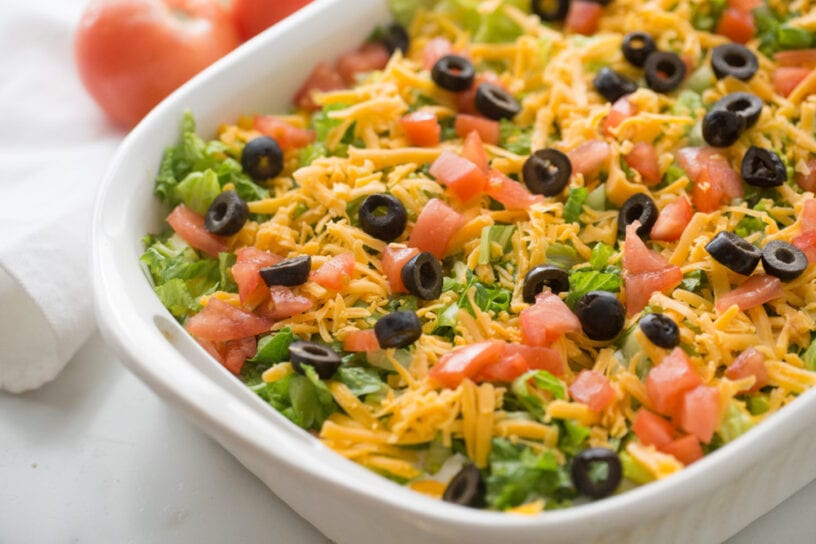 Taco Casserole – This delicious Taco Casserole is like a taco salad in casserole form! With a ground beef and biscuit base, plus layers of sour cream, lettuce, tomatoes, cheese, and olives, this casserole is the perfect way to switch up your dinner routine.
Taco Pie – A super simple and delicious recipe for Taco Quiche. Ground beef, sour cream, taco seasoning, cheese and biscuit mix make this delicious recipe!!
Enchilada Casserole – Enchilada Casserole is a comforting family favorite meal, perfect for weeknights. The layers of tortillas, ground beef, beans, corn, and cheese, all smothered in red enchilada sauce will have you coming back for seconds!
Tamale Pie – Tamale Pie is bursting with spice and hearty meat with a fabulous crust of tamale goodness and filled with beef, chiles, cheese and more. It is a delicious one pan meal and easy to make!
Dorito Casserole – Everyone loves this crunchy and flavorful Dorito casserole. It's layered with lots of meat, cheese and (of course!) nacho cheese flavored Doritos!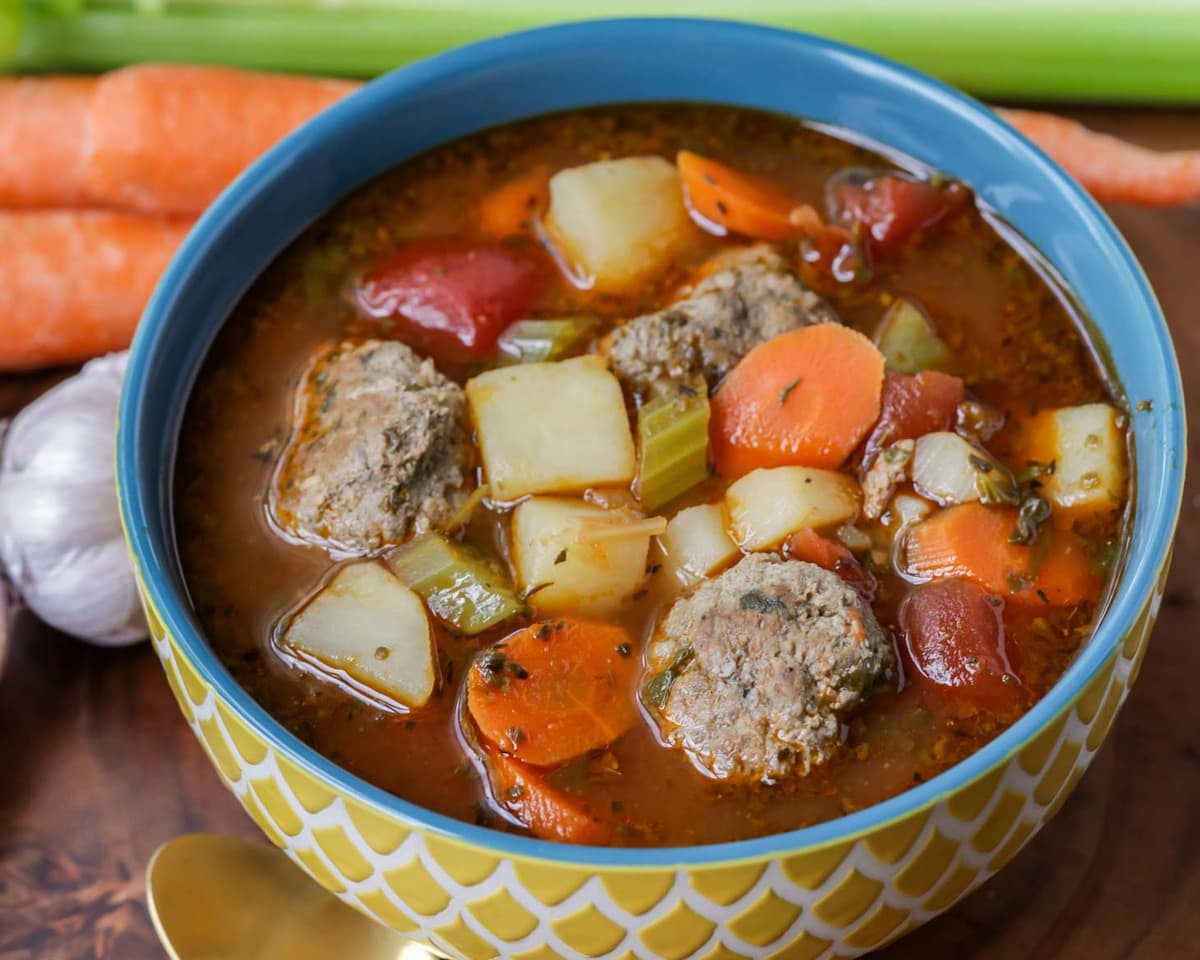 Albondigas Soup – Albondigas soup is a delicious Mexican recipe filled with meatballs, vegetables and spices! Packed full of flavor, this simple Albondigas soup is sure to become a favorite.
Frito Pie – Frito pie is packed with creamy and crunchy textures, and big taco style flavor. This easy dish comes together in just over 30 minutes!
Taco Soup – One of the EASIEST dinner recipes of all time! This super easy taco soup is made from beans, corn, tomatoes, and green chiles, plus ranch dressing mix and taco seasoning. All you have to do is dump everything in a pan and simmer. It's ready in under 20 minutes!
Taco Pasta Shells – A twist on a classic, Taco Pasta Shells meld the best of two cuisines into one delectable dish with just the right amount of spice!!
Indian Fry Bread – Delicious Homemade Fry Bread—aka "Navajo Tacos" or "Indian Bread"—pillows of dough, fried until crispy on the outside and soft on the inside. Make it a meal by adding sweet or savory toppings!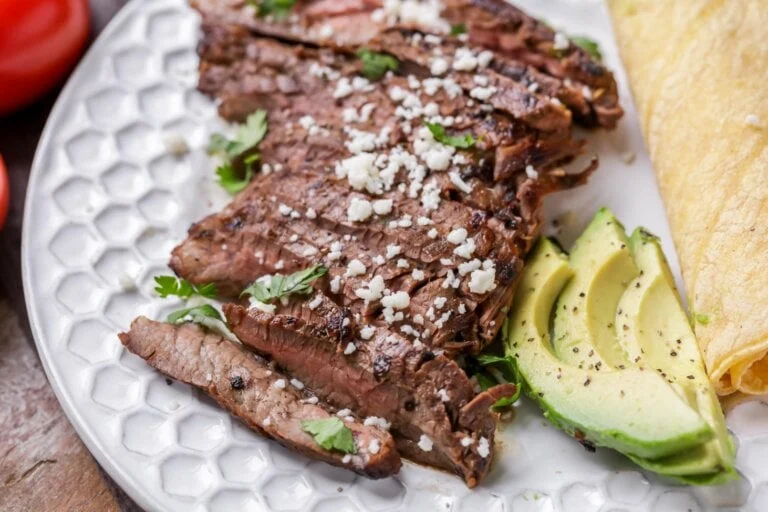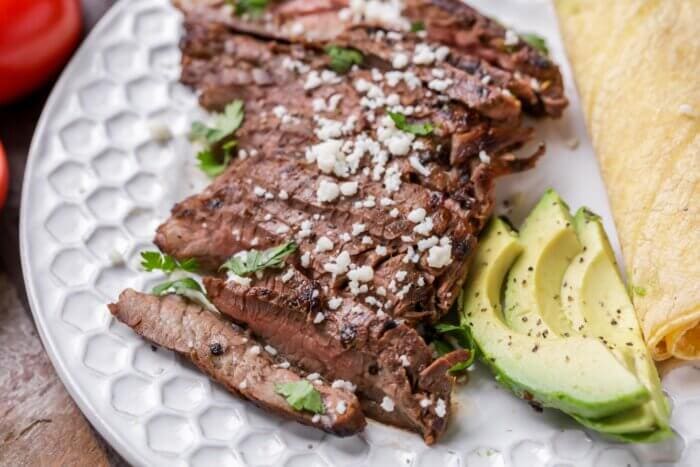 Our Favorite Ground Beef Recipes
Let's not forget these other favorites… Also, keep in mind that many other pork and chicken Mexican recipes can be subbed with carne asada or shredded beef. 😉
Carne Asada – Carne Asada is the perfect Mexican flavored meat to add to tacos, burritos, salads, or quesadillas. It's tender, flavorful, and juicy.
Beef Empanadas – Beef Empanadas are one of our favorite Mexican dishes. They are a crispy, airy taco made from dough, filled with shredded beef, red chile sauce, and olives.
Beef Flautas – Tortillas filled with meat and cheese and fried to perfection! Crispy, flavorful flautas are a delicious dinner for everyone!
Carne Asada Tacos – Juicy grilled carne asada loaded in tortillas with all of your favorite toppings! This recipe makes perfectly seasoned steak tacos that everyone is going to enjoy.
Steak Fajitas – You know those sizzling fajitas you see at restaurants? You can make them at home! It may seem intimidating, but this steak fajita recipe couldn't get any easier!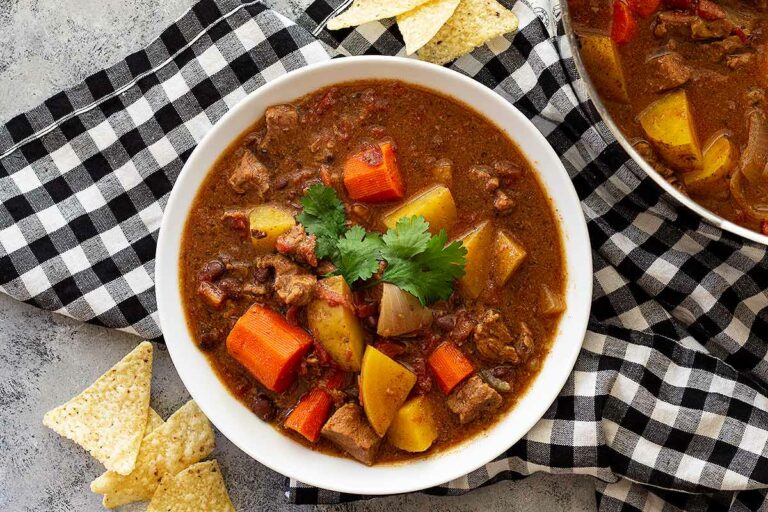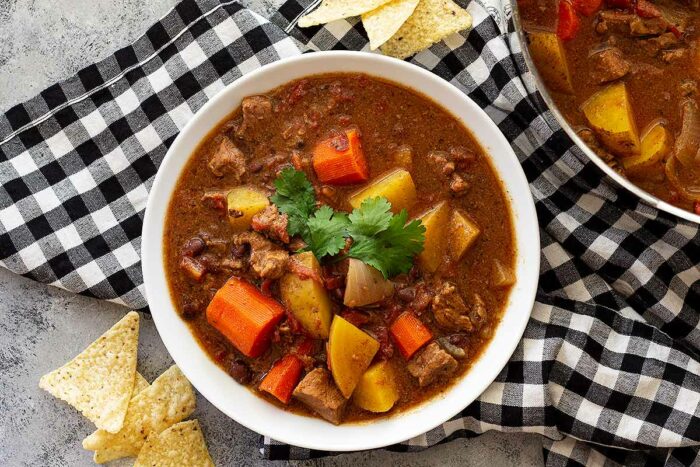 Mexican Beef Stew – Hearty Mexican Beef Stew that's filled with vegetables and tender beef. It's a flavorful twist on a classic!
Green Chile Burritos – The easiest Green Chile Burritos require just a few ingredients, including a seasoned chuck roast and 505 green chile sauce. The whole family loves them!
Steak Tacos – These steak tacos are marinated to perfection and bursting with fresh flavor! Tacos are quick and easy for a perfect weeknight dinner in under 30 minutes.
Baked Chimichangas – Everyone loves chimichangas! This Baked Chimichanga recipe is stuffed with rice, meat, cheese and more. Such a simple dinner recipe that is so delicious and perfect to add to the monthly menu.
Beef Enchiladas – Shredded Beef Enchiladas Made with Just 6 ingredients! This easy dinner idea is a crowd pleaser and is filled with corn, beef, green chiles, cheese and covered in red sauce.
---
The Complete list
Here are the picture cards for all of the delicious Mexican Beef recipes listed above.
With so many fantastic tried and true recipes to choose from we're sure you'll find some new favorites!
---
More Collections: Mexican Christmas Food, Mexican Casserole Recipes, Beef Dinner Ideas