Whether you need dinner in a flash or are prepping for a special occasion or gathering, Beef Dinner Ideas will get those wheels turning. "Beef, it's what's for dinner!!"
More Collections: Breakfast For Dinner, Chicken Dinner Ideas, Quick Dinner Ideas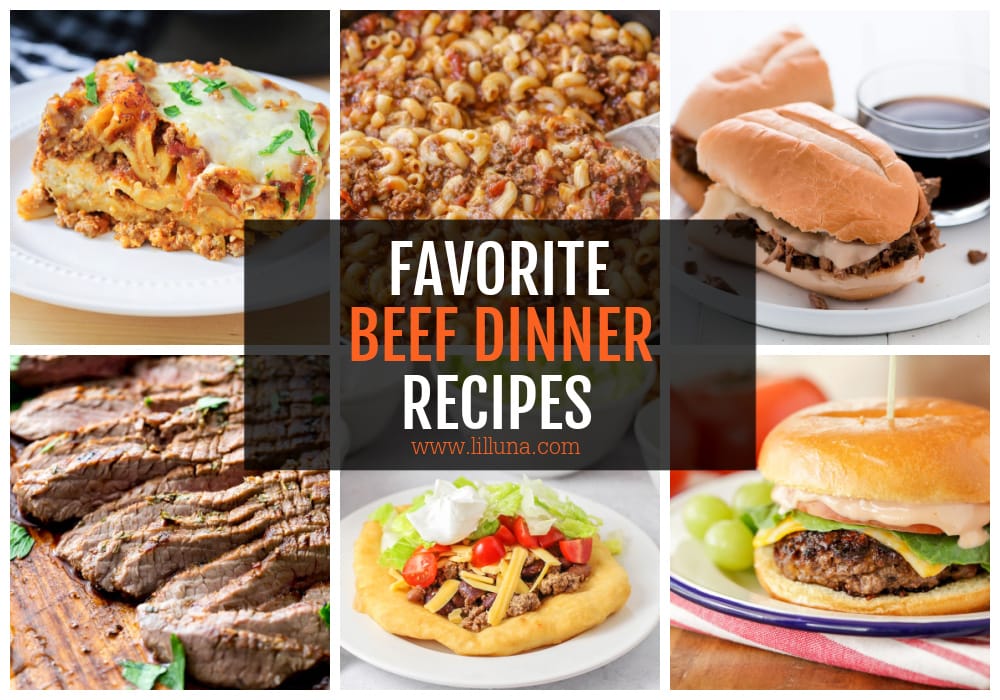 Beef! It's what's for dinner
Beef is a perfect protein addition to any meal. It can be ground, added into soups to feed the masses, shredded into tacos, used in ground beef casserole recipes, or served as patties on buns.
It can be used in any cuisine and pairs perfectly with so many flavors.
I created this collection of beef dinner ideas that includes everything from ground beef and Burgers, to shredded beef and Pot Roasts! There are soups, sandwiches, enchiladas, steaks, and everything in between!
But first, a few tips on cooking with beef.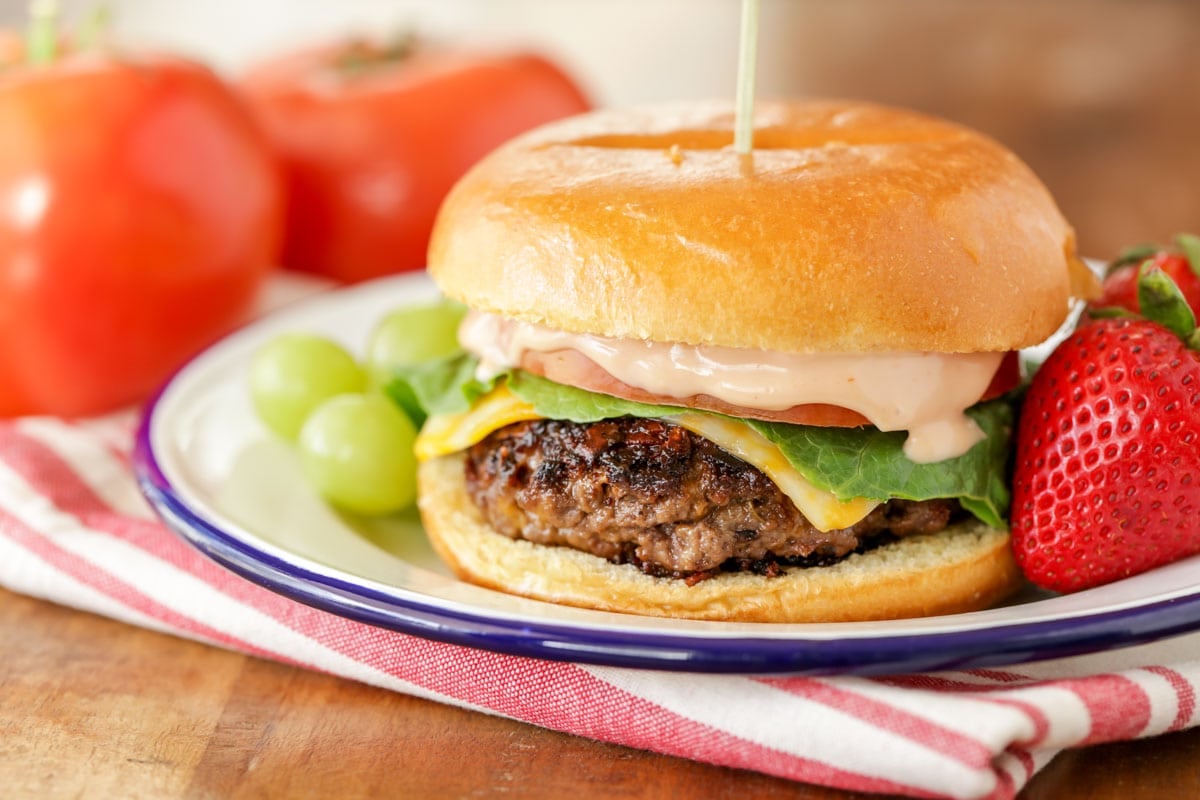 Best kind of beef to use
What kind of beef is best to use in recipes? The recipe will list what cut of meat to use such as "cubed chuck roast" for a stew or "ground beef" for a casserole.
The recipe may also include alternate cuts that still work well in the recipe. When using ground beef, it is sold according to the percentage of fat that it contains.
25-30% contains the fattiest and is great for dishes that stand alone like Burgers or Meatballs. The higher fat content yields a juicy and flavorful dish. This is also the least expensive.
15-20% is great for soups and casseroles, but can also be used for burgers and meatballs. You may be instructed to drain any excess oil after browning the meat.
Less than 10% is the leanest. It isn't always great for stand-alone recipes because it dries out quickly, but works well to add to larger dishes like casseroles and soups.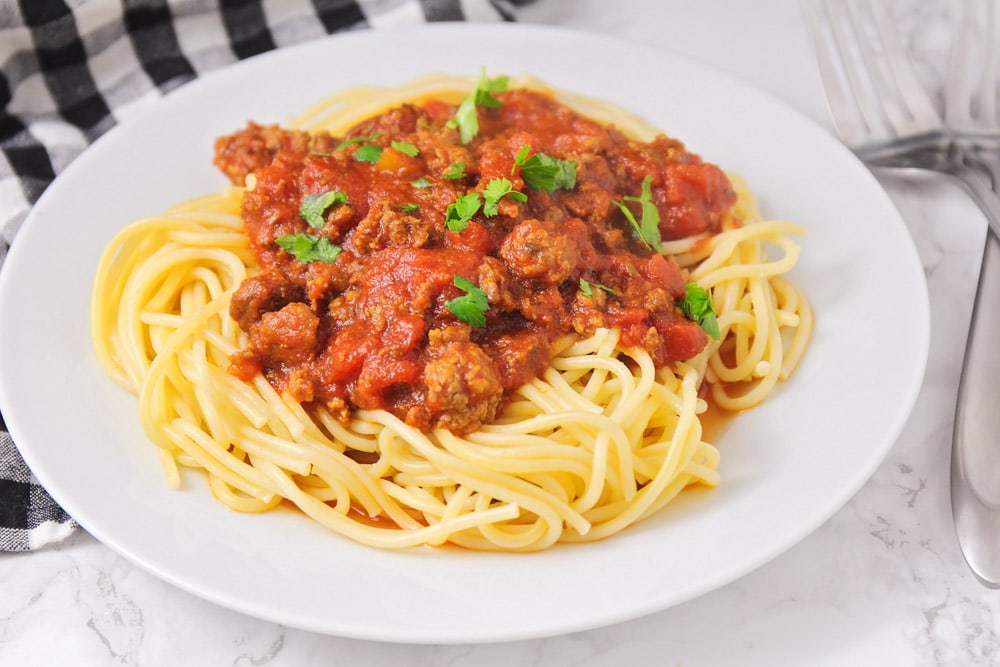 beef faq
Depending on what kind of beef you plan to serve will determine how much you'll want to prepare. The following guidelines will help you decide.
Ground beef: 8-10 oz per person.
Bone in roast: 14-16 oz per person
Boneless roast: 8-10 oz per person.
Ribs: 14-16 oz per person.
Steaks like rib-eye, t-bone, and porterhouse: 16-24 oz per person.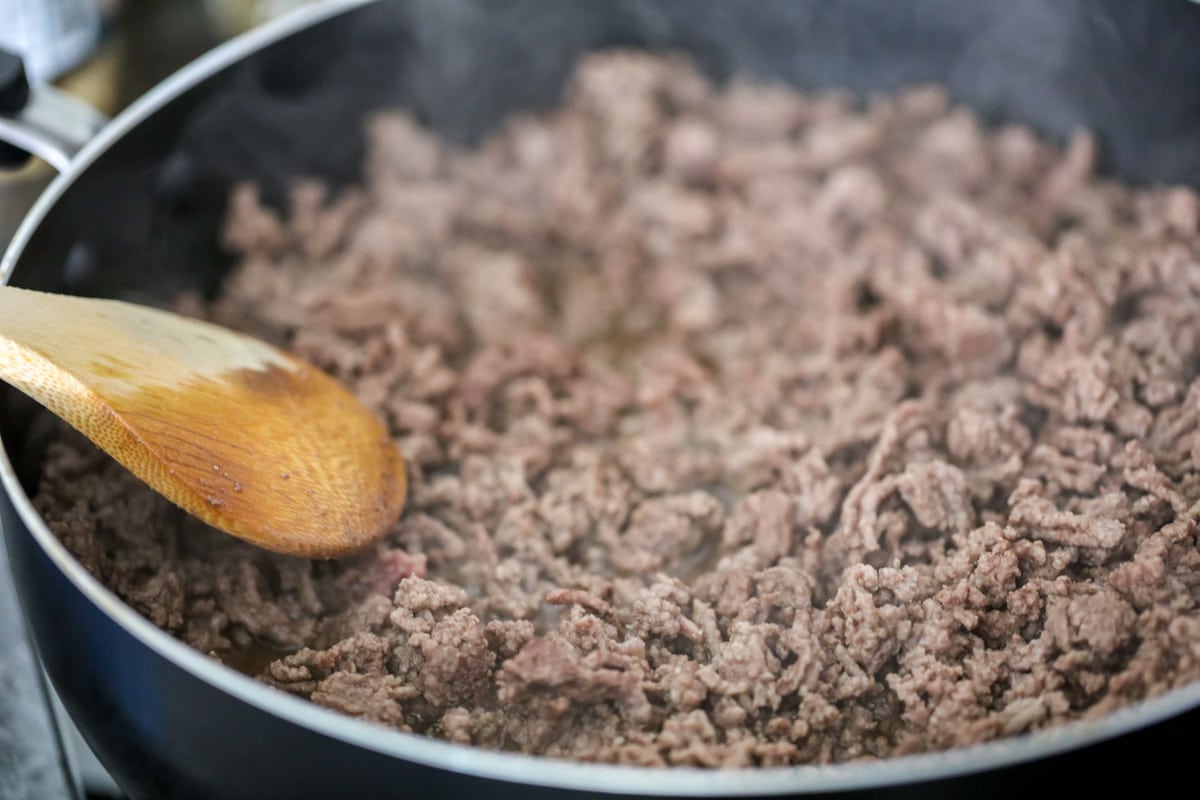 How to brown ground beef
Pull the ground beef out of the fridge and let it sit at room temperature for about 15 minutes.
Add 1-2 teaspoons of olive oil to a cast-iron skillet, or other heavy-bottomed pan and heat it up over medium-high heat. Add the ground beef.
Use a spatula to break the meat up into pieces and let it cook for about 5 minutes before flipping it. Use the spatula to continue to break the meat into pieces. Cook until no longer pink. Drain excess oil.
Don't overcrowd the pan or the beef will steam instead of getting a crispy brown.
To season the meat, add aromatics, like garlic, along with the oil. Then add the meat.
Freeze. Cooking up a few batches and freezing the browned beef for later can really help get dinner on the table on busy days.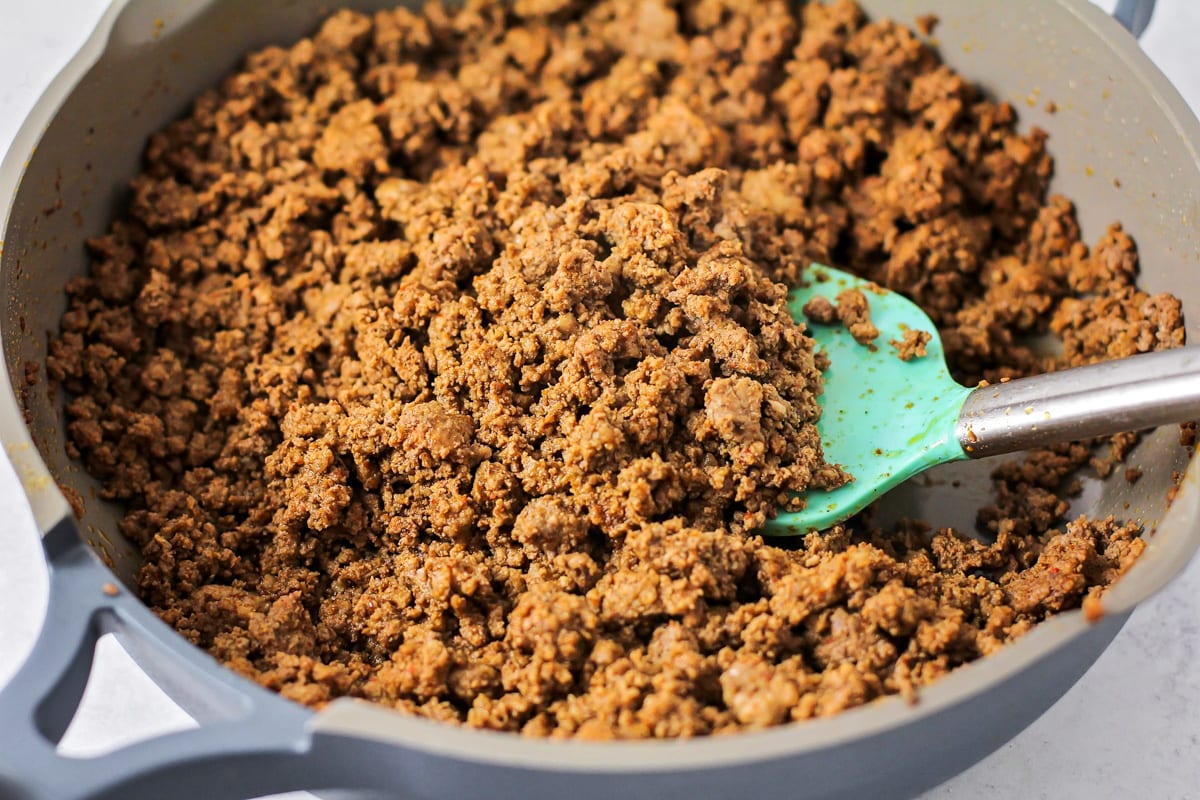 What spices pair best with ground beef? There are many different seasonings that go well with ground beef. It really depends on what flavor profile you want to create. For example:
Italian beef may include parsley, garlic, salt, black pepper, and Italian seasoning.
Beef tacos would include chili powder, garlic, onion, red pepper flakes, oregano, paprika, cumin, salt, and pepper.
Hamburgers may have a simple Lawry's seasoning salt.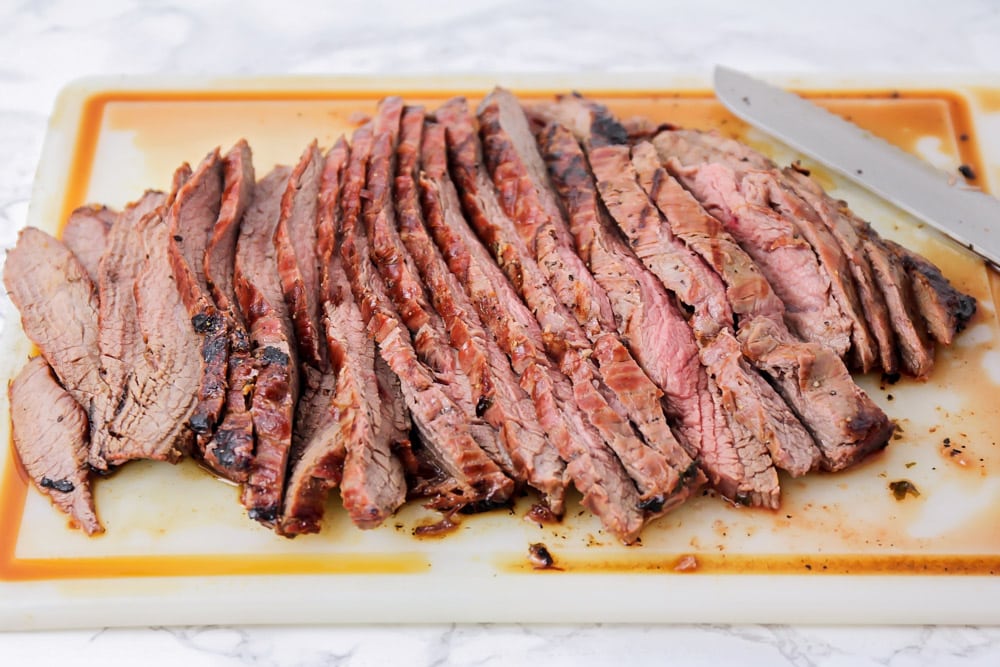 Cook Temperatures
Unlike Chicken, beef is much more forgiving in how it can be cooked. Using a meat thermometer is the most accurate way of knowing how the meat is cooked.
No matter what type of cooking you prefer, let the meat sit at room temperature for about 30 minutes before cooking. Then, after it has been cooked, make sure that the meat rests for a few minutes. The internal temp will rise another 5-10° and finish cooking in the middle.
Rare. The outside is seared and crisp while the internal temperature reaches 120°F and is completely red throughout.
Medium rare. Seared crust with the center being 50% cooked. Cook to an internal temperature of 126°F. Allow to rest and the internal temperature will rise to 130-140°F.
Medium. Seared outside with the center being 25% cook – a thin red line right through the center. The internal temperature will be 134°F and then rise to 140-145° F while resting.
Medium well. Cook to an internal temperature of 150°F. The inside will be done all the way through with only a tad bit of pink. After resting the temperature will be 150-155°F.
Well done. The internal temperature will be 160-170°F. The meat will be firm to the touch and brown all the way through.
Ground beef: Beef should be brown throughout and cooked to 160°F.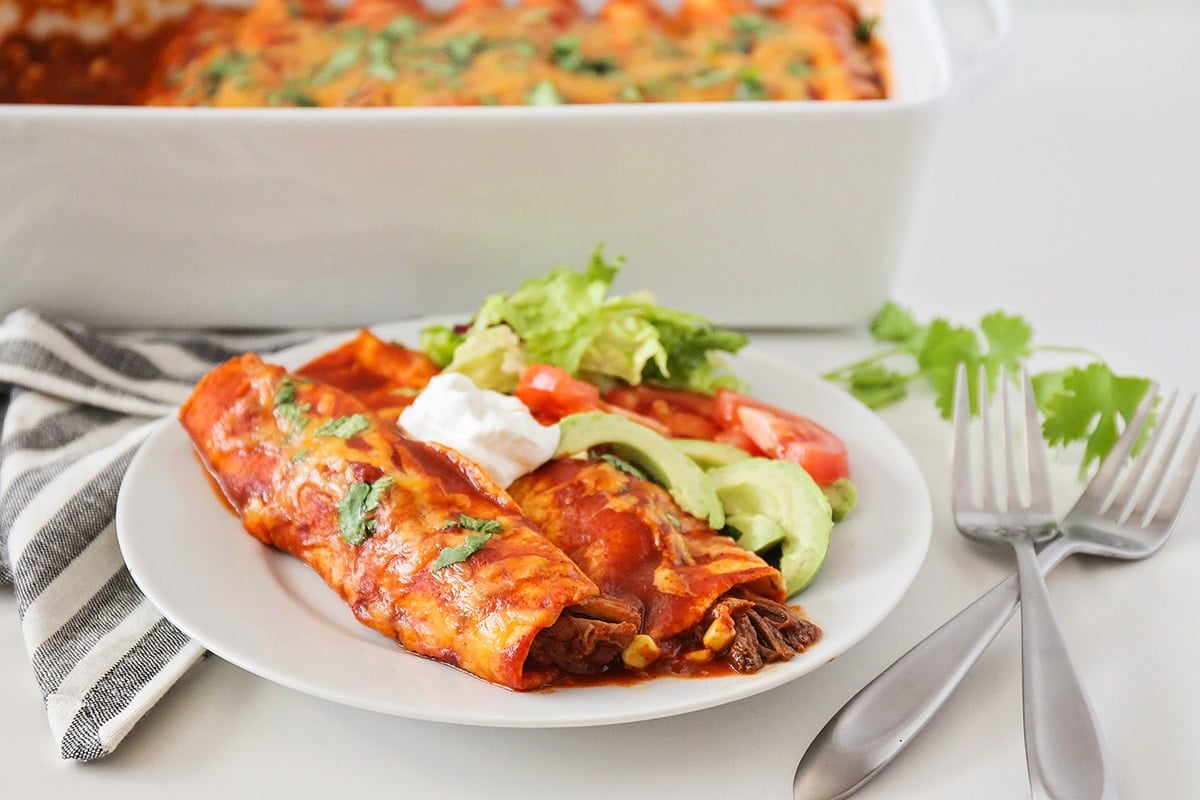 Storing beef
Meat can be fairly expensive, so when I find a good deal I like to stock up and keep it in the freezer.
Raw ground beef can be stored in the fridge for 3-4 months when stored in a freezer-safe container. If vacuum sealed, it will last for 2-3 years in the freezer.
Raw beef like roast and cuts of steak can last much longer in the freezer. Wrapped in freezer paper, safely freeze it for up to 12 months. However, it tastes best when used before 9 months. Vacuum-sealed beef will also last for 2-3 years in the freezer.
Thaw frozen beef in the fridge, but to thaw it faster go ahead and place it in a Ziploc bag, then into a bowl of cold water. Change the water every 30 minutes until the meat is completely thawed. Once thawed beef, you may not refreeze it raw.
Cooked beef can be frozen for 2-4 months.
Storing ground beef. Once purchased, ground beef needs to be kept in the fridge or freezer.
It can be kept in the fridge in its original packaging for 2-3 days.
Freeze the beef in its original packaging for up to 2 months.
To freeze it longer it needs to be properly packaged to avoid freezer burn. Wrap the meat in heavy plastic wrap and then again with foil or freezer paper or place it in a freezer Ziploc.
Sometimes beef can be purchased in a tube. This tube will act as heavy plastic wrap and all you need to do is wrap it with a secondary item. Properly wrapped AND kept at 0°F, the meat will last for several years.
---
Ground Beef dinner ideas
These easy ground beef recipes include a wide variety, from pastas to meatballs and everything in between!
Easy Spaghetti Recipe
This easy spaghetti recipe is kid-friendly and is made with a delicious homemade spaghetti sauce making it the perfect family dinner recipe!
Ranch Burgers
These Ranch Burgers make the BEST homemade hamburgers!! This easy burger recipe is complete with the most delicious secret sauce that compliments the ranch burger perfectly!
Sloppy Joes
Saucy and savory homemade Sloppy Joes are a delicious meat loaded sandwich. They are quick and easy, perfect for feeding a crowd!
Walking Tacos
Walking tacos are an easy grab and go meal that is full of flavor! They are no mess, easy to make, and perfect for large gatherings!!
Homemade Hamburger Helper
Hamburger Helper is filling and hearty. A perfect dish for the family that comes together in under 30 minutes!
Homemade Taco Pizza
This delicious, Homemade Taco Pizza is simple and on the table in under 30 minutes. It's topped with meat, beans, cheese and more making it flavorful and easy to customize based on all the flavors you love most.
Easy Ground Beef Tacos
One of our favorite versions of tacos – ground beef tacos!! They're filled with meat and cheese, fried until golden and topped with lettuce and tomatoes.
Easy Swedish Meatballs
Swedish meatballs made from both pork and beef, cooked to perfection, and smothered in a creamy gravy.
Loaded Nachos
Piled high Loaded Nachos are the perfect game day food and appetizer. They're easy to make and customize with your favorite nacho toppings!
Italian Meatballs
These homemade Italian meatballs are sure to rival your favorite Italian restaurant. They are juicy, soft, and full of flavor!
Crockpot Meatballs
These crockpot meatballs are full of so much flavor, and perfect for parties. Best of all, they only require 5 minutes of prep work!
Crockpot Lasagna
Classic Lasagna made in the slow cooker! This delicious crock pot recipe has all the layers of noodles, cheese, sauce and meat that everyone loves but made more simply.
Grape Jelly Meatballs
Delicious 3-ingredient Grape Jelly Meatballs. They take just minutes to prep and are the perfect dinner or appetizer for any party or get together.
Taco Pie
A super simple and delicious recipe for Taco Quiche. Ground beef, sour cream, taco seasoning, cheese and biscuit mix make this delicious recipe!!
Easy Lasagna
Our family's favorite lasagna recipe – not only because it's delicious but because it's so EASY! You don't even have to precook the lasagna noodles! With beef, pork, three cheeses, and tons of seasonings, you know this recipe is going to be a hit!
Crock Pot Spaghetti
We make this yummy crock pot spaghetti all the time! Buttery noodles topped with a flavorful meaty sauce—DELISH!
Easy Meatloaf
Tender flavorful meatloaf that the whole family will devour! This meatloaf recipe is super simple- making it perfect for all levels of cooks in the kitchen.
Spaghetti Casserole
Spaghetti casserole is the definition of comfort food! Hearty, delicious, and an easy way to make and eat spaghetti.
Easy Meatballs
This Homemade Meatball recipe is way better than store bought, and easy too – they take minutes to put together! Made from ground beef mixed with parmesan cheese, salt, pepper, onion and garlic powder, milk, and eggs. These ground beef meatballs are perfect alone or mixed in with pasta!
Spaghetti Pie
Spaghetti Pie makes a hearty and delicious twist for a dinner time win! It's a perfect recipe for busy weeknights and family-friendly dinners.
Meatball Soup
Veggie loaded Meatball soup is filling and delicious. Your entire family will love and devour this kid-friendly dish!
Taco Soup
One of the EASIEST dinner recipes of all time! This super easy Taco Soup is made from canned chili, beans, corn, tomatoes, and green chiles, plus ranch dressing mix and taco seasoning. All you have to do is dump everything in a pan and simmer. It's ready in under 20 minutes!
Cheeseburger Casserole
Hearty cheeseburger casserole is filled with ground beef and pasta, and oozing with cheese! It really is everything but the bun.
Albondigas Soup
Albondigas soup is a delicious Mexican recipe filled with meatballs, vegetables and spices! Packed full of flavor, this simple Albondigas soup is sure to become a favorite.
Taco Casserole
This delicious Taco Casserole is like a taco salad in casserole form! With a ground beef and biscuit base, plus layers of sour cream, lettuce, tomatoes, cheese, and olives, this casserole is the perfect way to switch up your dinner routine.
Cheeseburger Soup
Filled with hamburger meat, carrots, potatoes, Velveeta, delicious spices, and BACON, this Crockpot Cheeseburger Soup is the perfect recipe for a cold day!
Hamburger Macaroni Soup
Hearty and savory beef & tomato macaroni soup is filling and full of flavor. It only requires a handful of panty staples.
Lasagna Soup
Everything you love about lasagna (noodles, meat, and cheese), minus all the things you don't (layering, and tons of time)! This lasagna soup is easy, filling, and beyond delicious!!
Hamburger Soup
Hearty and delicious Hamburger Soup is filled with corn, carrots, potatoes, cheese and more! Best of all, it's made in the slow cooker with minimal effort.
Chili Spaghetti
Flavorful Chili Spaghetti is a midwestern twist on a classic bowl of chili. It is hearty with just the right amount of spice!!
Cheesy Beef Goulash
When you need an easy dinner recipe that will please the whole family, try whipping up some old fashioned goulash! Everyone loves this hodgepodge of macaroni noodles, ground beef, tomatoes, cheese, and seasonings! This easy goulash recipe is the perfect go-to for any night of the week.
Best Chili Recipe
You're going to fall hard for this spicy and hearty homemade beef chili. This chili recipe is not only simple, but is flavorful and filled with ground beef, tomatoes, beans, spices and all the toppings making it an award winning chili recipe.
Hamburger Casserole
Easy cheesy hamburger casserole is packed with flavor and kid approved! Loved by the entire family, it's a go-to in the monthly menu.
---
Other Beef Dinner Ideas
If you prefer shredded beef or steak to ground beef and burgers, these are the beef dinner recipes for you!
Beef Stroganoff
This Easy Beef Stroganoff recipe is simple and flavorful. Served with egg noodles, this creamy stroganoff made in the slow cooker is a classic Sunday dinner recipe and is perfect to enjoy any night of the week.
Beef Empanadas
Beef Empanadas are one of our favorite Mexican dishes. They are a crispy, airy taco made from dough, filled with shredded beef, red chile sauce, and olives.
Best Steak Marinade
This is Our All-Time Favorite Steak marinade! It requires only four ingredients, and makes our steak taste SO amazing! Everyone always asks for this Easy Steak Marinade recipe because it's just that good!!
Mexican Beef Stew
Hearty Mexican Beef Stew that's filled with vegetables and tender beef. It's a flavorful twist on a classic!
Slow Cooker Beef Stew
DELICIOUS Slow Cooker Beef Stew filled with chunks of beef, potatoes and carrots – a family favorite that is hearty, simple and great for fall.
Easy Beef And Broccoli
DELICIOUS Beef and Broccoli recipe that everyone will love. This flavorful dish is perfect for your next dinner is easy to make too!
Carne Asada
Carne Asada is the perfect Mexican flavored meat to add to tacos, burritos, salads, or quesadillas. It's tender, flavorful, and juicy.
Steak Fajitas
You know those sizzling fajitas you see at restaurants? You can make them at home! It may seem intimidating, but this steak fajita recipe couldn't get any easier!
Beef Flautas
Tortillas filled with meat and cheese and fried to perfection! Crispy, flavorful flautas are a delicious dinner for everyone!
Steak And Tortellini Salad
Delish Steak and Tortellini Salad is hearty and refreshing. Tortellini, sirloin & romaine in a creamy pesto dressing is a must-have!
Steak And Potatoes
Steak and Potatoes basted in garlic butter is a rich and flavorful dinner perfect for a special occasion, but easy enough for any night!
French Dip Sandwich
These low maintenance French Dip Sandwiches are made with hearty beef and melted provolone cheese on a buttery toasted bun, and dipped in au jus!
Beef Lo Mein
Hearty and delicious Beef Lo Mein is so simple and has so much flavor! It is filled with saucy chunks of beef, carrots and broccoli!
Crock Pot Brisket
Juicy and delicious meat, easily made in your slow cooker! This crock pot brisket is so tender it just falls apart.
Pot Roast
This Crock Pot Roast Recipe is one of our favorite Sunday dinners. It takes only 3 minutes of prep time and then the slow cooker does the rest! The chuck roast ends up being SO tender and full of flavor from the brown gravy, Italian, and ranch dressing mix!
Crock Pot Mongolian Beef
Delicious Crock Pot Mongolian Beef loaded with carrots and asparagus is SO simple to make. Your crock pot does all the work!!
Beef Enchiladas
Shredded Beef Enchiladas Made with Just 6 ingredients! This easy dinner idea is a crowd pleaser and is filled with corn, beef, green chiles, cheese and covered in red sauce.
---
New Favorite Beef Dinners
Whether you are looking for some new trusty ground beef or other beef dinner ideas you're sure to find many new favorites on this list!
And for more collections: Easy Dinner Ideas, Sunday Dinner Ideas, Healthy Dinner Ideas