Hearty and delicious Beef Lo Mein – this simple dinner recipe has so much flavor and is filled with chunks of beef, carrots and broccoli!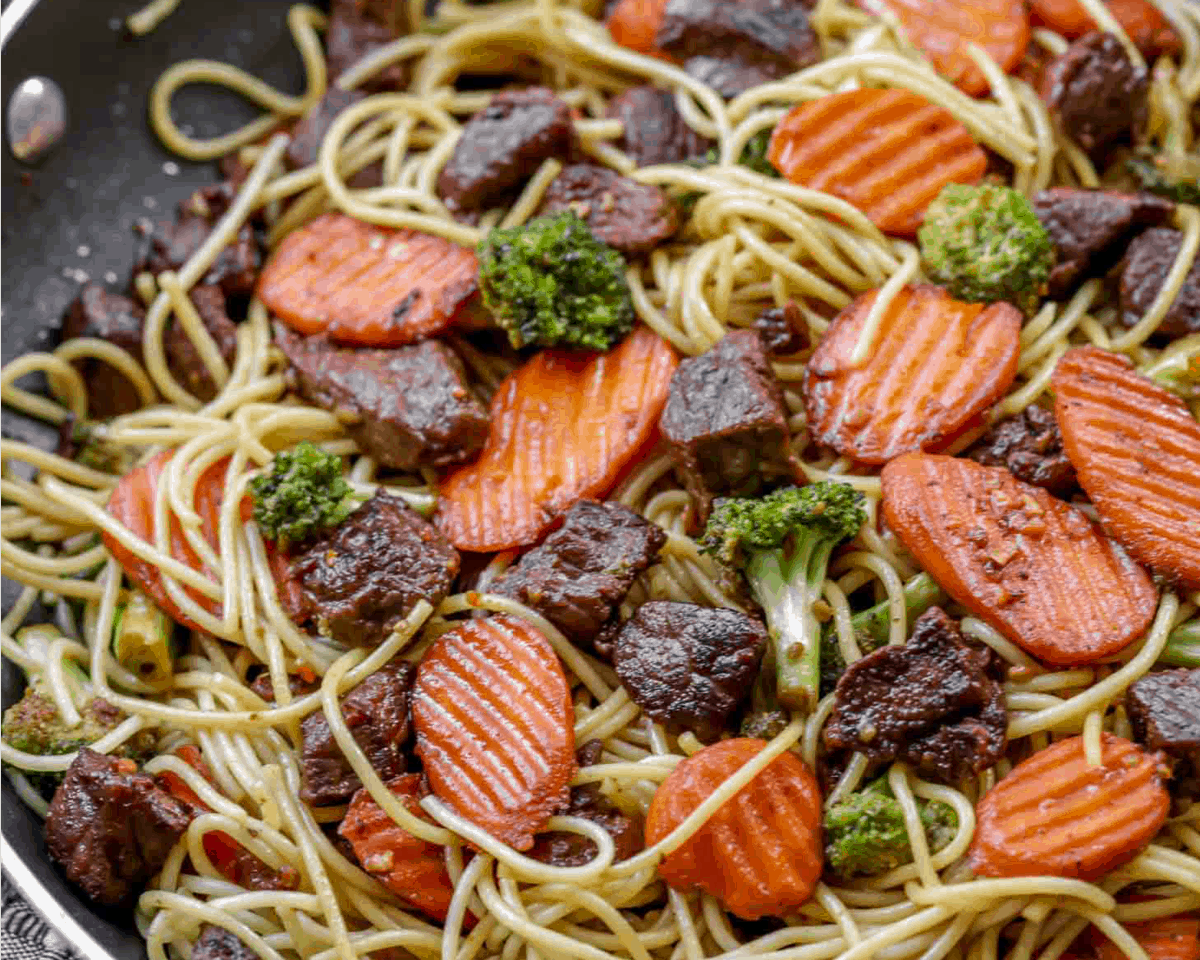 Beef Stir Fry
You know when you're first married and you're trying to figure things out? Like how to run a household… or an oven?! Many of you may not have felt that way, but I was pretty young and came straight from home, so there was a definite learning curve for me. We spent the first year of our marriage eating noodles and Freschetta pizza (good times!) Since one meal, over and over, can get pretty old, we had to be creative with how we made our noodles, which is how we ended up making something similar to today's recipe for Beef Lo Mein (aka Beef Stir Fry).
We have always loved the combo of beef and noodles. In fact, when we were first married, we'd make Ramen noodles, drained and then stir fried in Worcestershire sauce. Sounds gross, but it was a favorite. Now, we make this Beef Lo Mein (from Mom's Dish) which is even better with it's noodles and veggies. We never go too crazy on the veggies but love adding broccoli and carrots.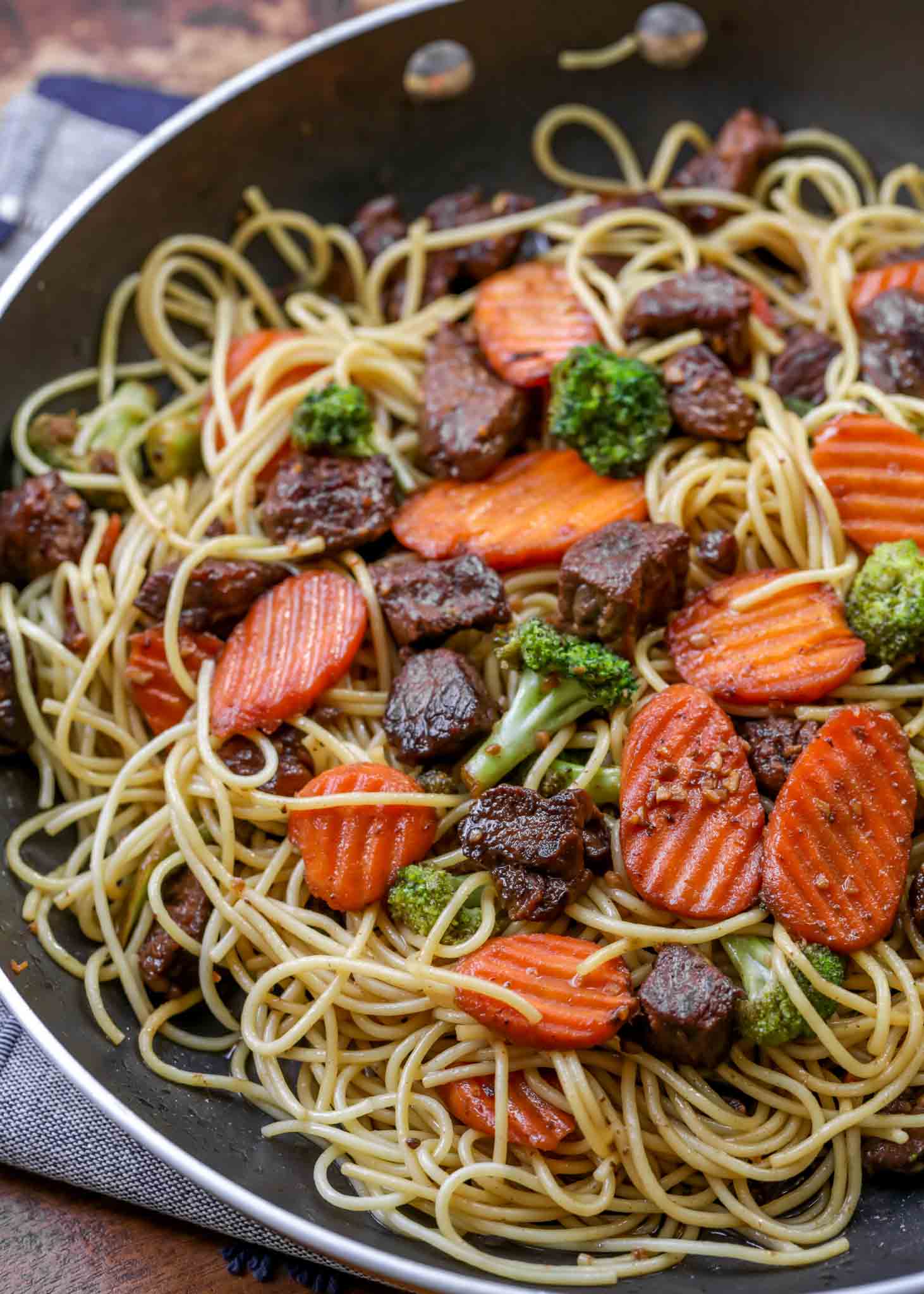 Other great veggies to add include peppers, snow peas and mushrooms. Our kids are pretty picky though, so we usually keep the veggies more simple. 😉
This Beef Lo Mein wasn't difficult to put together and certainly wasn't difficult to scarf down! The flavor was just simple enough to catch the interest of our kids and tasty enough for us adults to want seconds. Another keeper dinner recipe for the monthly menu!!
This recipe is perfectly paired with these other Lil' Luna recipes:
For more Asian beef recipes, check out:
How to make Beef Lo Mein:
Beef Lo Mein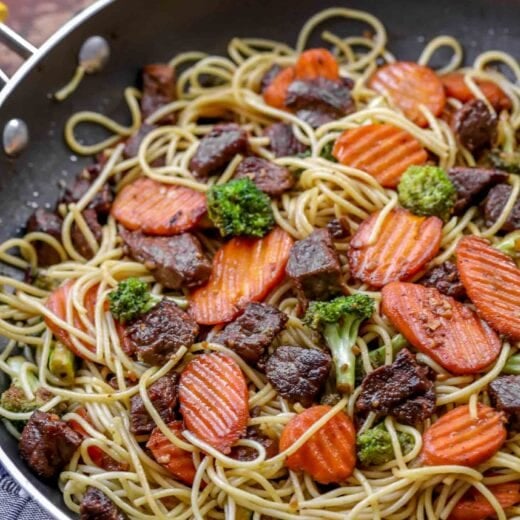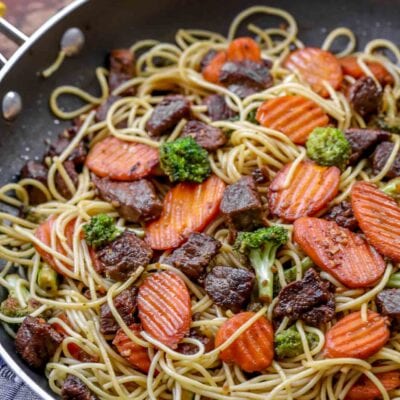 Hearty And Delicious Beef Lo Mein - This Simple Dinner Recipe Has So Much Flavor And Is Filled With Chunks Of Beef, Carrots And Broccoli!
Ingredients
8

oz

Thin Spaghetti; broken in half

1

tsp

Sesame Oil

1/4

cup

Hot Boiled Water

1

tbsp

Beef Better Than Bullion

3

tbsp

Soy Sauce

2

tbsp

Brown Sugar

1

lb

Beef

2

Large

Carrots

2

cups

Broccoli

4

tsp

Minced Garlic

Oil

for frying
Instructions
Add sesame oil to cooked spaghetti and stir, set aside.

Dissolve Better Than Bullion and brown sugar into hot, boiled water. Add soy sauce and set aside.

Brown both sides of your beef in a hot skillet. Let cool and slice it into 2" pieces. Return to skillet and fry until completely cooked. Add sauce mixture and cook for about one minute, set aside.

Dice carrots and broccoli into two inch pieces. Sautee carrots in hot oil until softened, add broccoli and cook for about 3 minutes. Mix in garlic and remove form heat.

Toss spaghetti, vegetables and beef together, in a large dish. Serve hot.
Recipe from Mom's Dish.
For all Dinner Ideas, CLICK HERE.
For all Asian recipes, CLICK HERE.