DELICIOUS Beef and Broccoli recipe that everyone will love. This flavorful dish is perfect for your next dinner is easy to make too!
Hey friends! I have to say… it brings me such joy to hear when someone successfully makes a recipe from the blog and it becomes a family favorite. We (my mom mostly) works really hard to find good recipes for us to try so that we can help bring something truly simple and yummy for your home. If a recipe is a flop, we try it again until it's not. If it proves not be a good recipe, we mourn (for a brief second) over our lost time in the kitchen and then we move on. The recipes we bring to you are in every sense of the word TRIED and TRUE and we're so happy to know that you've tried them and think they're great too!
Simple Beef and Broccoli
Speaking of great, I, of course, have a GREAT recipe to share today. You may have noticed that our family goes a little coo-coo for any Asian type recipe. Yes – we're a little obsessed! We tried this simple Beef and Broccoli and everyone loved it. A little time over the stove and you've got a great recipe that is better than take out. Check out these pictures and tell me it doesn't look like it came straight for PF Chang's. If you love flavorful YUM!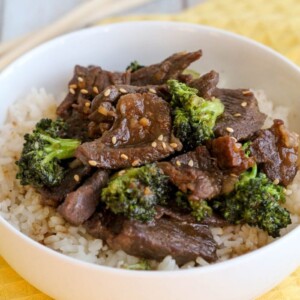 Beef and Broccoli Recipe
Beef and Broccoli - A little time over the stove and you've got a great recipe that is better than take out!
Ingredients
1.5

lb

beef chuck roast

cut into 1/8 inch thin slices

2

cups

broccoli florets

2

tbsp

sesame seeds

toasted (optional)
Sauce
1

tbsp

honey

1/2

cup

soy sauce

1/2

cup

chicken broth

1/2

cup

brown sugar

1

tbsp

rice wine

2

tbsp

oyster sauce

1

tbsp

minced garlic

1/2

tbsp

sriracha

1/2

tbsp

sesame oil

3/4

tsp

ground ginger

1/2

tbsp

minced onion

1/2-1

tbsp

corn starch
Instructions
Whisk all sauce ingredients together in a bowl, until smooth. (We decided to make this sauce the night before and using a little bit, we marinated the meat overnight. This is not a necessary step, but we really liked the outcome. If you do not have the extra time, simply make your sauce before you're ready to cook.)

Add a little sauce to a large pan on medium heat.

Add sliced beef (we always marinate our meat overnight) to hot pan and pour remaining sauce over the top.

Cook on high heat for 3-5 minutes until beef starts to brown then let simmer for about 30 minutes. This will give you tender juicy meat.

Add in fresh broccoli florets and cook another 2-3 minutes until broccoli is tender. Serve hot, over rice.

Top with toasted sesame seeds.
My mouth is watering just thinking about this delicious recipe!! Serve it up with yummy Fried Egg Rolls or Cream Cheese Wontons (plus dessert) and you have a full-course meal!
DIFFICULTY: Simple
HOW MANY DOES IT FEED: 4
ANY CHANGES MADE: used more cornstarch to make sauce thicker. We used chuck roast instead of round roast. We made the sauce the night before and marinaded the meat in some sauce. Started cooking meat on high then we let simmer for about 30 minutes. This made the meat really tender and juicy.
ANY SUGGESTIONS FOR NEXT TIME: None – maybe serve it over noodles instead. 😉
For more great Asian recipes to try out, check out:
Healthier Than Panda Orange Chicken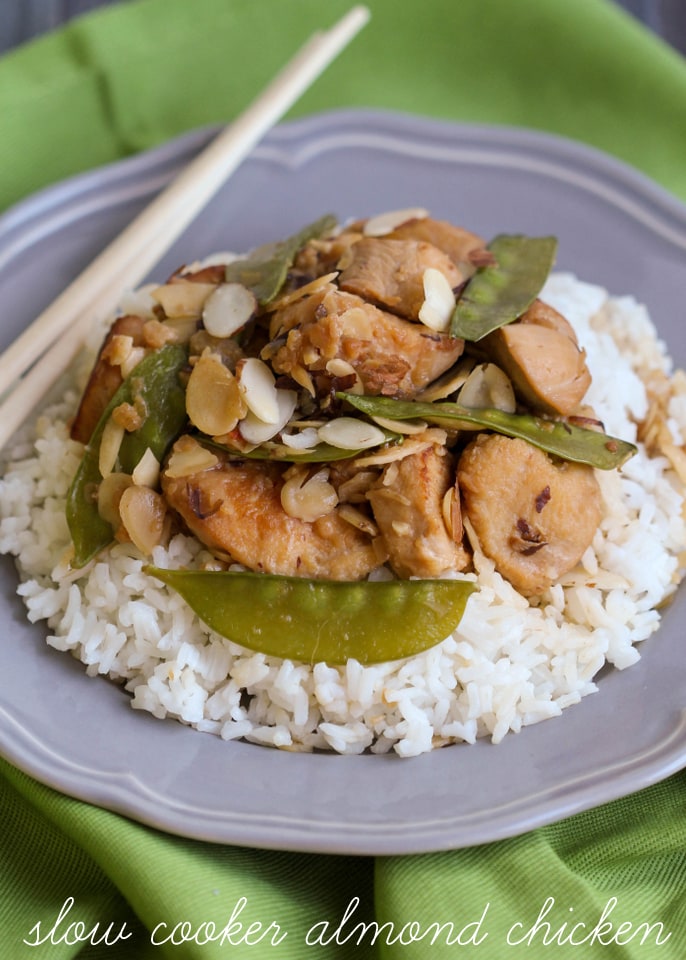 For all Chinese recipes go HERE.
For all Recipes go HERE.
And get weekly emails with monthly freebies by signing up for the Lil' Luna newsletter. 🙂
For even more great ideas follow Kristyn on Facebook – Pinterest – Instagram – Twitter – Periscope – Snapchat.
Don't miss a thing – Sign up for the Lil' Luna Newsletter today!
Thanks!
Kellyn