This tasty low-carb side dish will knock your socks off with how yummy it is! Cauliflower rice will be your new go-to healthy side dish!
This cauliflower rice is pretty simple with simple flavors but you can spice it up however you like. Once you've made this rice, you can and should try other cauliflower recipes like Cauliflower Casserole, Mashed Cauliflower, and Buffalo Cauliflower.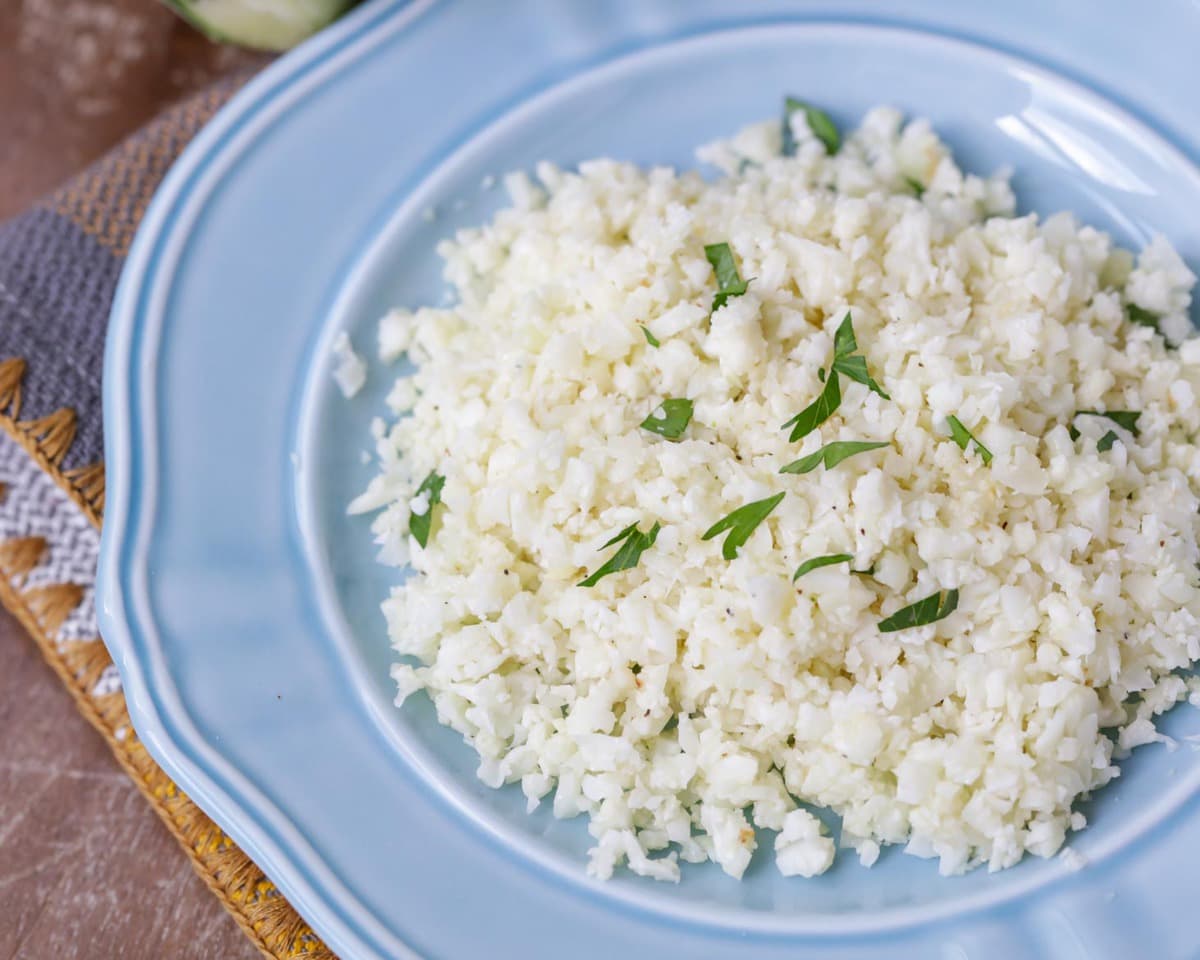 A rice alternative
You might be thinking, what is cauliflower rice? It's a light and fluffy alternative to regular white rice. Plus it's packed with nutrients and vitamins. Healthy? Check! Delicious? Check! Easy to make? Yes! If this is your first time making it yourself, this is the perfect recipe to start with.
If you've never tried it, you definitely should! You will not miss the white rice, I promise. This veggie rice might even become your new favorite side dish recipe. It tastes delish as an alternative in recipes like in our Cauliflower Fried Rice.
Cauliflower rice is one of those foods that you can pretty much eat an unlimited amount. It's that healthy for you! It's great for all of those paleo, low-cal, gluten-free lifestyles out there! Even if you're not doing special diet, you will love this versatile veggie rice.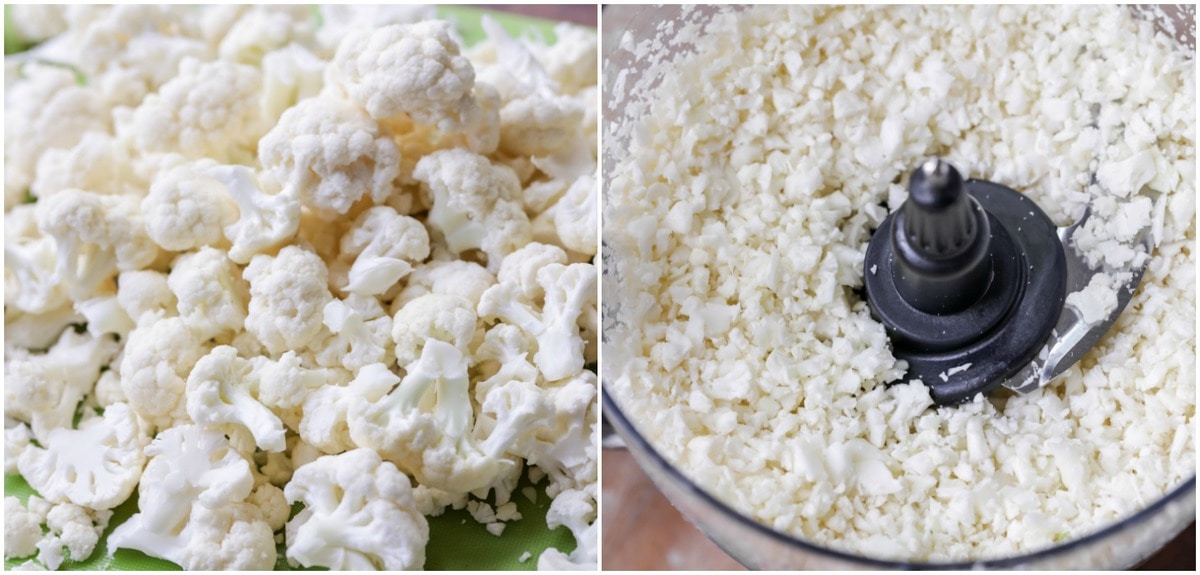 Just blend and cook!
Just a few ingredients are needed to make this easy cauliflower rice:
cauliflower
olive oil
salt & pepper
In just 10 minutes you can make this cauliflower rice to go on the side with so many dinner dishes.
BLEND. Cut your cauliflower into large chunks and put them into a food processor (you can use a blender, but we think the food processor works better). Pulse the cauliflower until it's broken down into rice-sized pieces. You're over halfway done.
COOK. Heat a skillet over medium heat. Pour a couple tablespoons of extra virgin olive oil into the skillet and heat it up. Throw in the cauliflower rice, salt, and pepper and stir it around a bit. Cover the skillet and cook the rice until it's heated through. This will only take about 3 to 5 minutes. Remove the lid and fluff the rice with a fork. Give it a taste and be pleasantly surprised on how delicious it is!
To roast: just spread onto a foil-lined baking sheet, drizzle with oil, salt and pepper and back for 20 minutes at 425.
To freeze: add it to a freezer bag and lay it flat in the freezer. And then to reheat, we add it to a pot and cook until heated through. You may need to add a little extra oil if needed. You can also microwave the rice.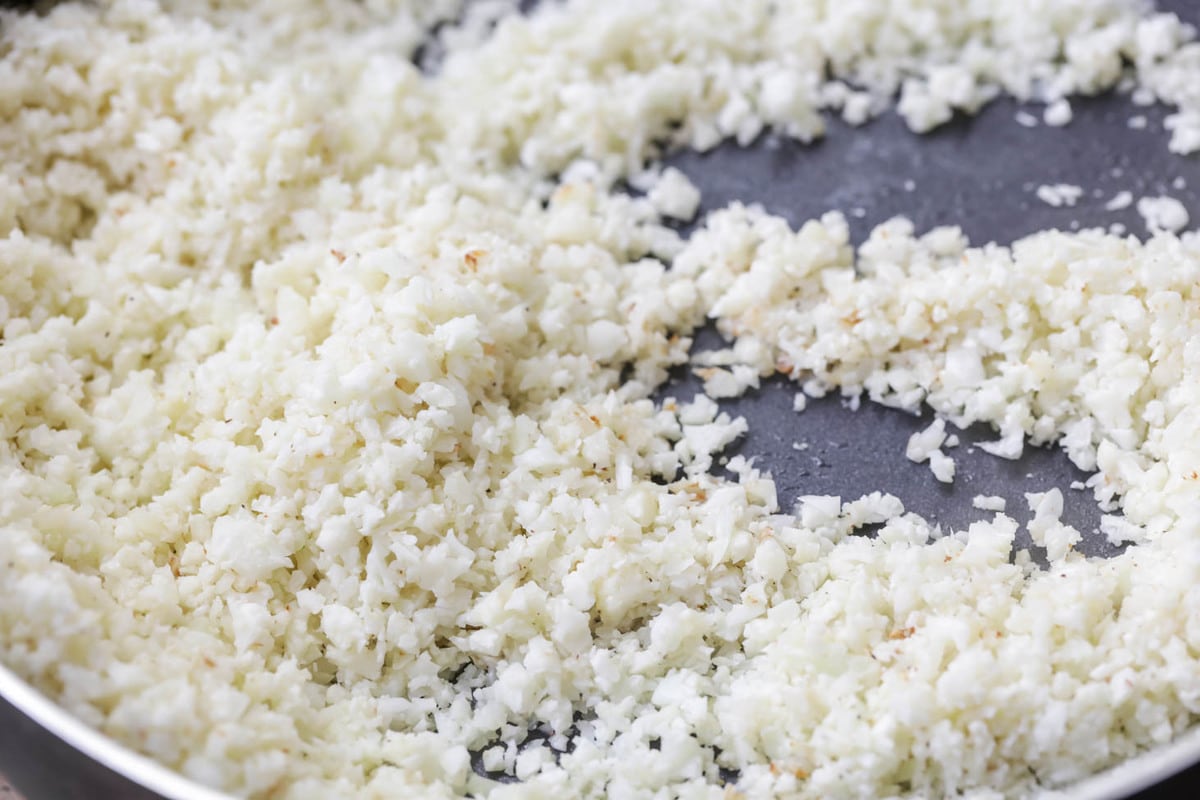 How to Use Cauliflower Rice
In any recipe that you use rice, you can almost always use riced cauliflower. We love to use it in soups and especially love to enjoy it as a side dish to many of our chicken recipes. In fact, here are some of our favorite dishes we serve over this riced cauliflower:
Although, we have yet to try cauliflower in our Spanish rice recipe, we want to give it a try!
Use in a soup. Instead of using regular white or instant rice, just use cauliflower rice for a more healthy, but still hearty and flavorful addition.
Use to make pizza crust! It's really yummy. You can even do a version of mashed 'potatoes' with it. Possibilities are endless!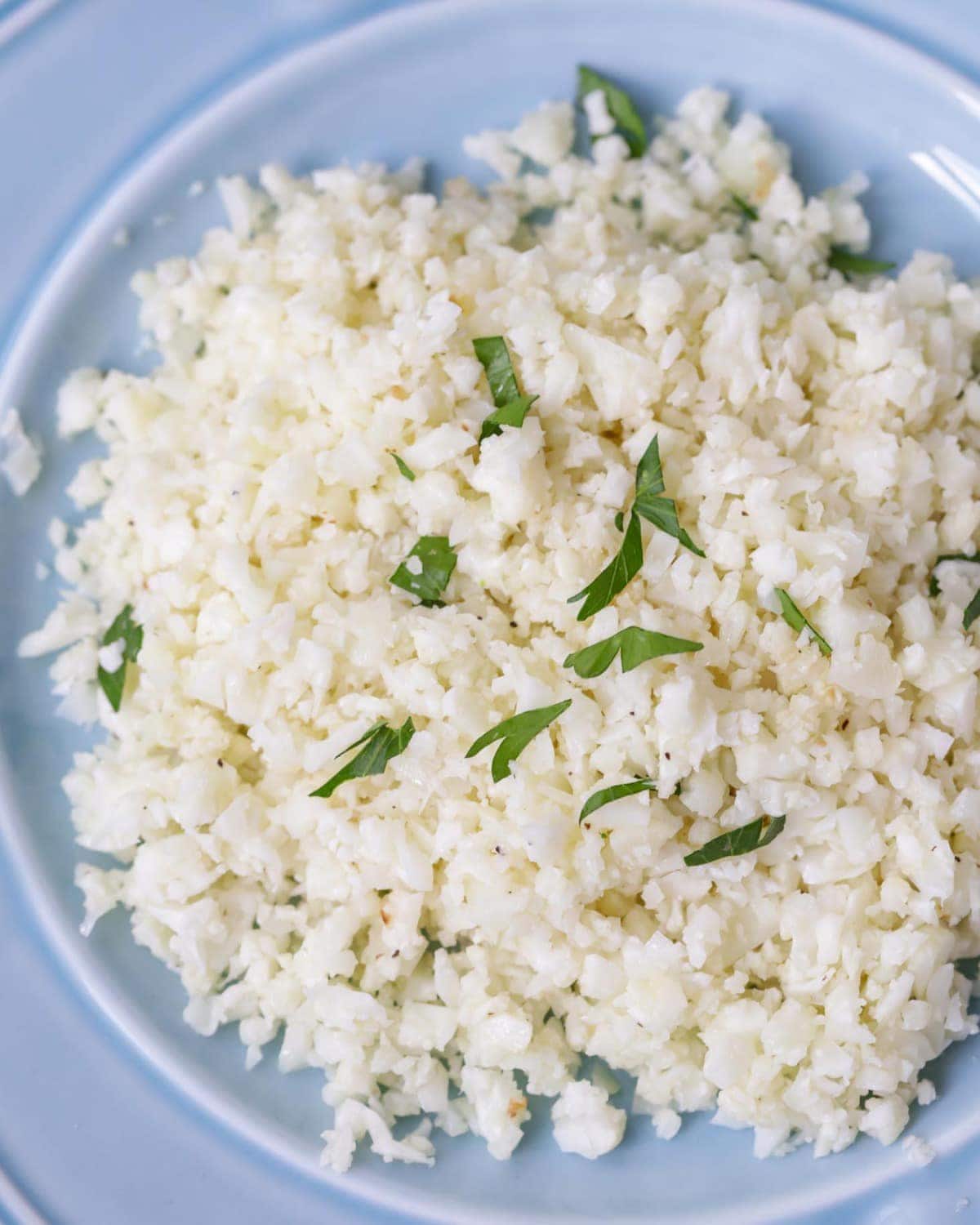 For more rice recipes on the site, be sure to check out:
Cauliflower Rice Recipe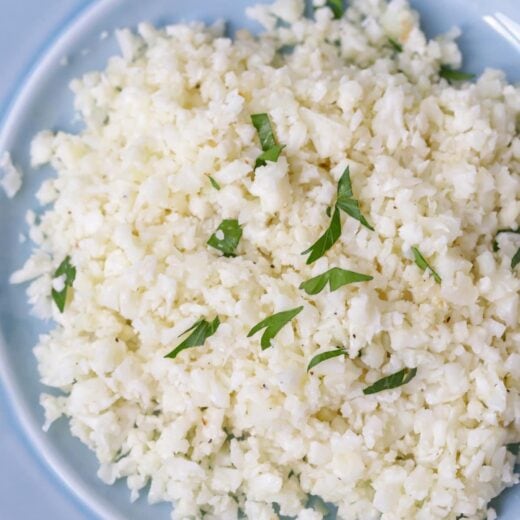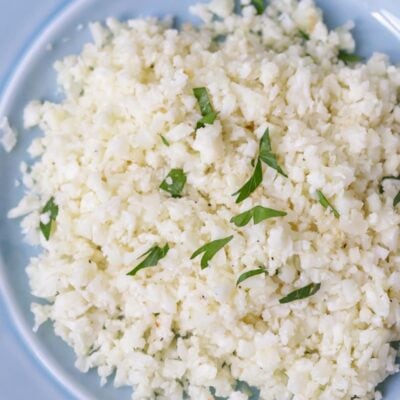 This tasty low-carb side dish will knock your socks off with how yummy it is! Cauliflower rice will be your new go-to healthy side dish!
Ingredients
1

lg

cauliflower

cut into lg chunks

2

TB

extra virgin olive oil

salt and pepper to taste
Instructions
Place cauliflower chunks in a food processor and pulse until broken down into rice-size pieces.

Heat olive oil in a skillet over medium heat; add cauliflower 'rice', salt, and pepper. Cover skillet and cook until heated through, 3 to 5 minutes. Remove lid and fluff 'rice' with a fork.