I've teamed up with Ragú® Old World Style® for this recipe and post. As always, all opinions are 100% my own.
This Baked Chicken Parmesan is one of the yummiest and easiest dinner ideas you'll ever try!! This crispy chicken covered in tomato sauce and cheese has so much flavor and is great served on its own or over any pasta.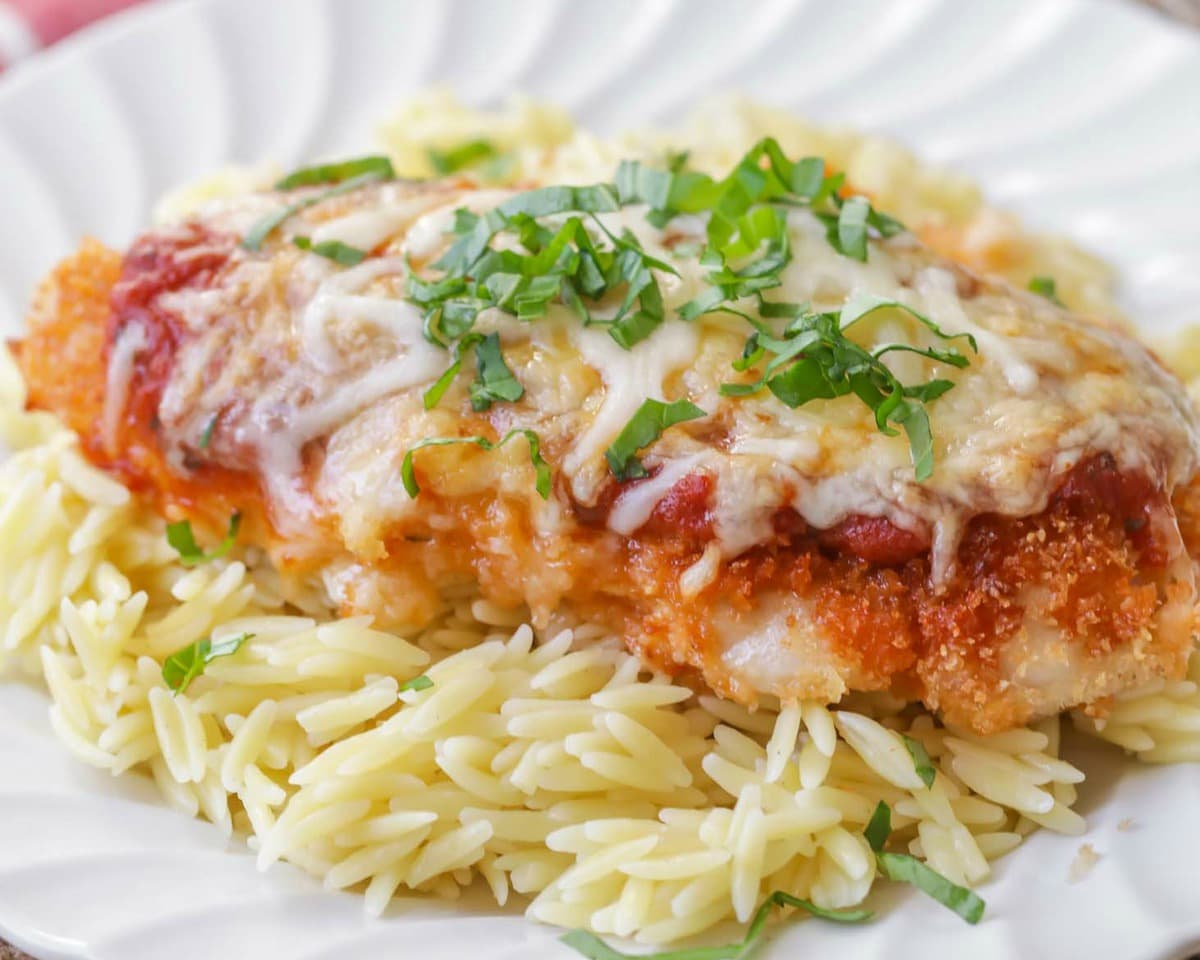 Easy Chicken Parmesan
I LOVE Chicken recipes! I'm sure you could have guessed that if you've been to the site before and have tried one of the many chicken dinner recipes I have on the blog. Chicken is also something we have every week, so I like to create new recipes with chicken that changes things up a bit. One of our favorites is Baked Chicken Parmesan.
I partnered with Ragú® Old World Style® to create this SAUCEsome recipe that everyone loves. I ended up adapting one of the recipes from Ragú and because I hadn't shared a Chicken Parm recipe on the site before, I knew that was the recipe I wanted to share.
Let me tell you – it was SO easy and SO deliciou!! We've actually had it twice since then because my family loved it so much. The best part? It takes just a few minutes of prep time!! I think I can speak for everyone when I say that delicious recipes that require little work are always the best. 😉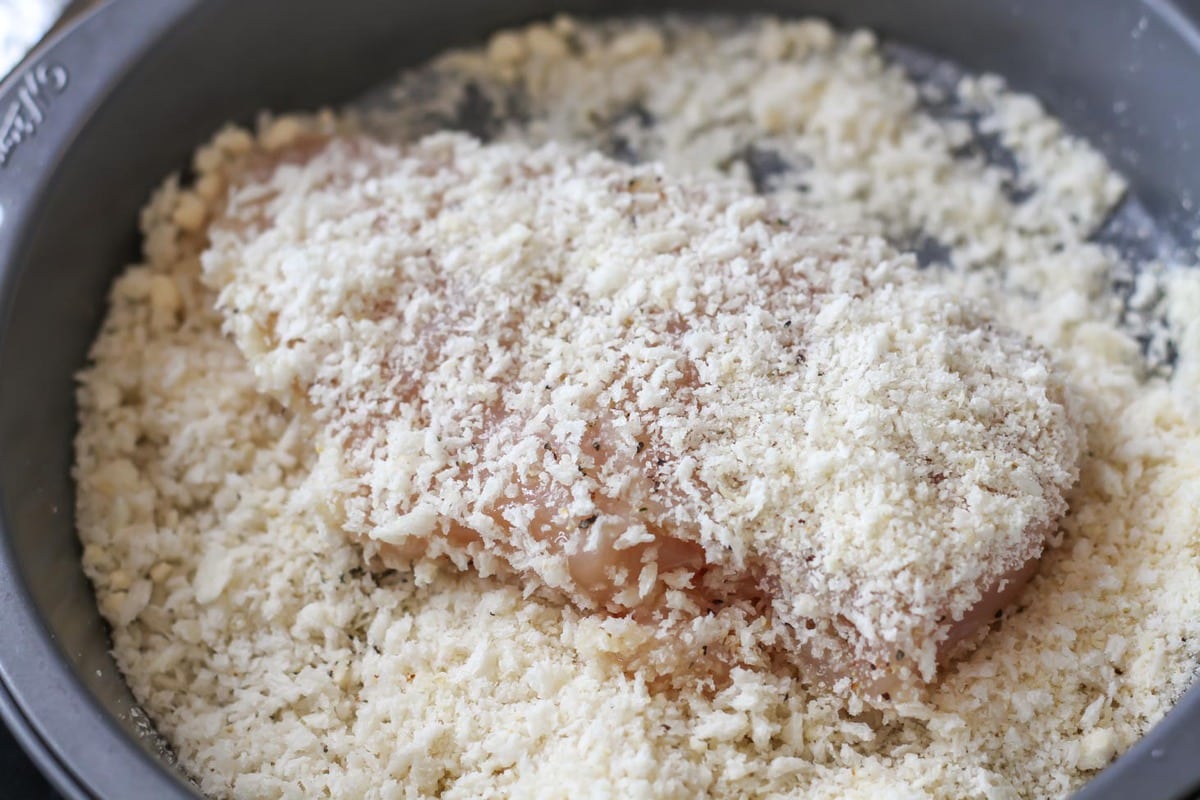 Dip each breast into melted butter and then into the Panko mixture and throw in the oven.
How to Make Chicken Parmesan
As I mentioned, this recipe was very simple. AND, not too many ingredients are needed here. Here are the Chicken Parm ingredients:
chicken
Panko
grated Parmesan
garlic salt
butter
olive oil spray
Rau
Mozzarella
basil
orzo pasta (or your favorite pasta)
Just a few steps are required to make this delicious baked chicken parmesan.
Begin by placing your Panko, parmesan and salt in a Ziploc bag. Set this aside and melt your butter. Dip each chicken breast into the melted butter and then into the Panko bag. Shake around making sure the chicken gets well coated and then bake this chicken for about twenty-five minutes.
While this is baking, you can cook up pasta if you want to serve the chicken with it. Once the chicken is done baking, add some Ragu, some cheese and bake for another 5 minutes or so.
Serve over your pasta and you've got a delicious meal everyone loves!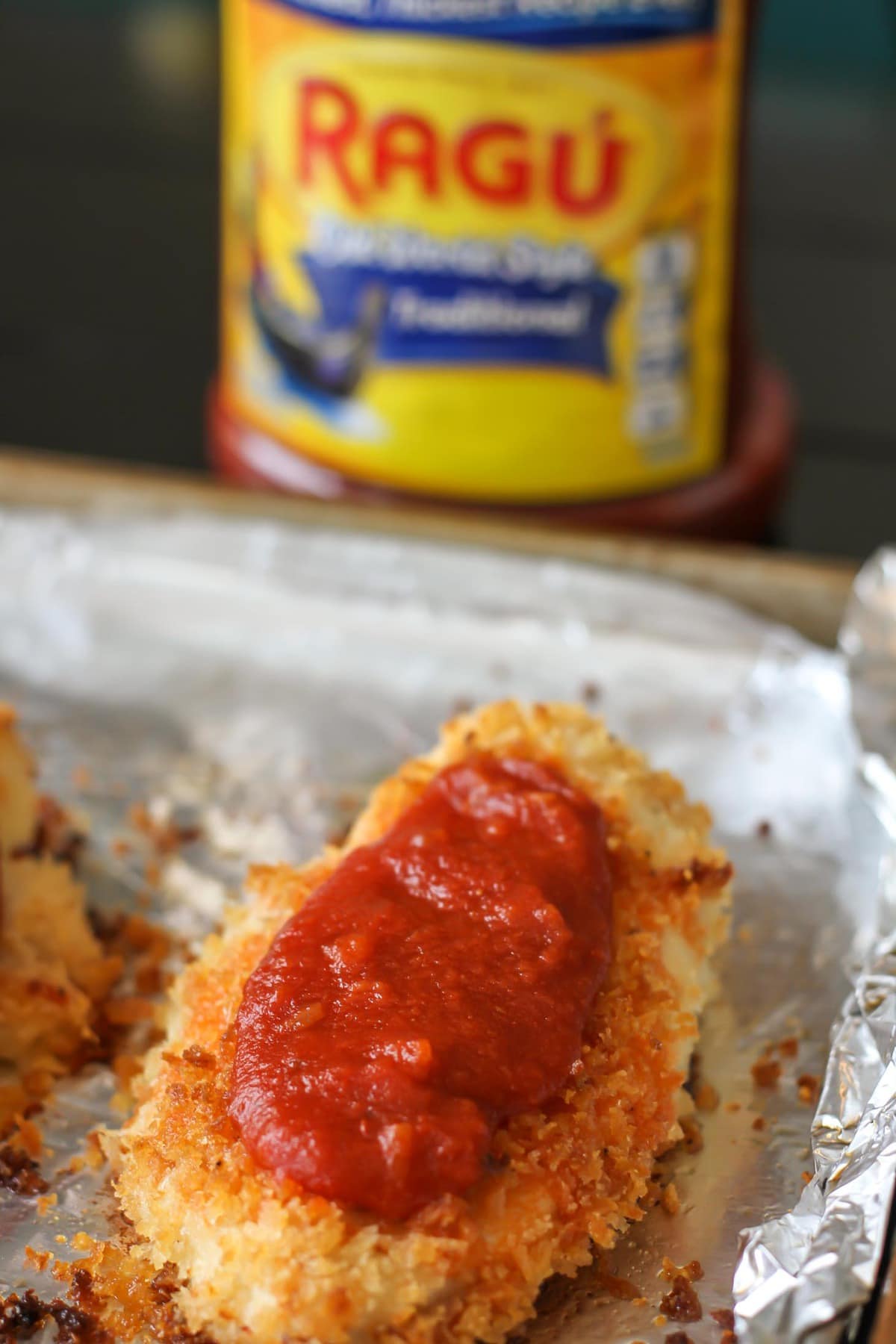 After baking for 25-30 minutes, take your chicken out and add Ragú Sauce to the top of each baked chicken breast. Top with shredded Mozzarella cheese and basil and bake for another 4-6 minutes.
Best Chicken Parmesan Recipe
I seriously LOVE how this dish turned out! Like I mentioned before, we've already had this recipe a few times since we first made it. My kids really love Spaghetti noodles, so I'll probably make that for the pasta next time. And if you like sauce, like I do, be sure to add extra sauce to each piece of chicken.
It really is the BEST Chicken Parmesan recipe!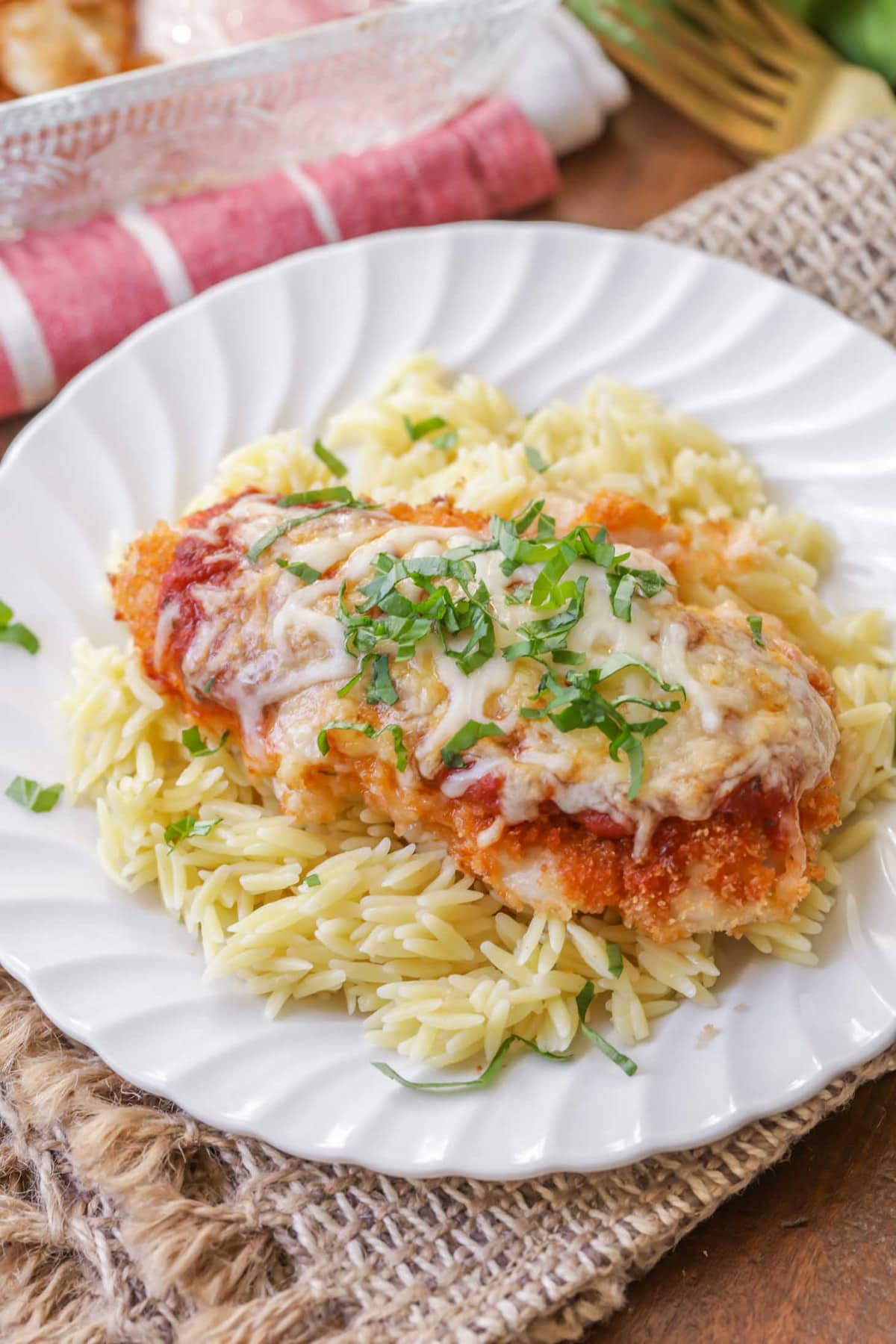 It's cheesy, it's crunchy, it's simple AND it's delicious. What more is there to love?
Complete the meal by also making:
For more baked chicken recipes, check out: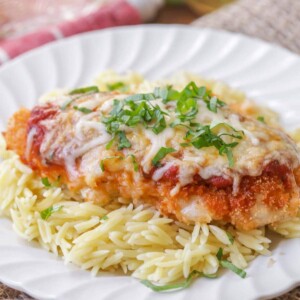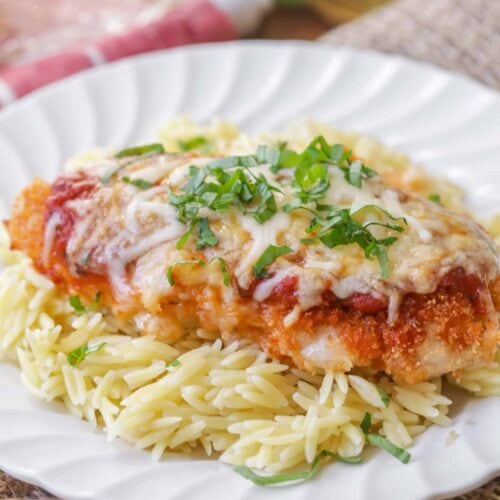 Baked Chicken Parmesan Recipe
This Baked Chicken Parmesan is one of the yummiest and easiest dinner ideas you'll ever try!! This crispy chicken covered in tomato sauce and cheese has so much flavor and is great served on its own or over any pasta.
Ingredients
4

Skinless, Boneless Chicken Breasts

thin

1

cup

Panko

1/4

cup

Grated Parmesan

1

tsp

Garlic Salt

1/2

cup

Butter

Olive Oil Spray

1

cup

Traditional Ragù Sauce

(divided)

1

cup

Shredded Mozzarella Cheese

(divided)

Basil

Orzo Pasta
Instructions
Preheat oven to 400 degrees.

Place panko, parmesan and salt in a gallon-size Ziploc bag or in a small pan. Set aside.

Melt butter in a medium bowl. Dip each chicken breast into the melted butter until well coated and place in Ziploc bag. Shake until coated and place in a greased 9x13 pan. Repeat this process for each chicken breast.

Spray chicken lightly with olive oil spray and bake for 25-30 minutes.

While chicken is baking, cook pasta as directed on box.

When chicken is done, pour about ¼ cup of Ragú Sauce onto each chicken breast along with ¼ cup shredded mozzarella cheese and a little bit of basil.

Cook an addition 4-6 minutes or until cheese is melted and bubbly.

Serve over warm pasta.
There really is nothing better than gathering around the table as a family to enjoy a delicious meal together. I've dicussed this in the past, but most Luna functions are planned around food. We make the menu and assignments and the night of the event, we get to spend time together eating, chatting and laughing. That, my friends, is SAUCEsome!
Now that we don't live around family, we've really had to get out of our comfort zones and invite others over for dinner. We've made it a goal to invite someone over for dinner each week, and I'm happy to say we've been pretty good about doing just that in the two years we've lived here. We have SO enjoyed making new friends and getting to know others while we've lived in Texas and have been able to do this all while eating around the dinner table. Even when we don't have company, we love spending time as a family around the table chatting about the days events and laughing together. It's one of my favorite family times!
This is pretty much how my family is after dinner each night – HAPPY!! They're usually not as happy right before when they're starving. LOL! 😉 I think my youngest son is giving dinner a BIG THUMBS UP!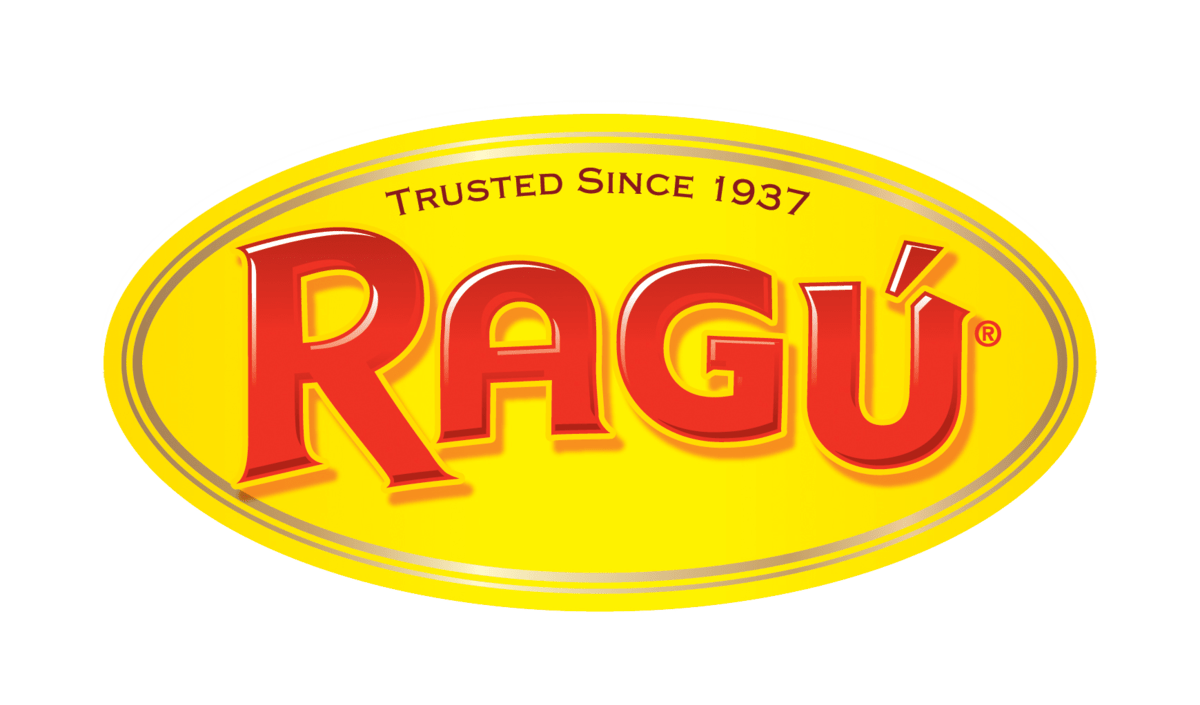 For even more delicious Ragú recipes be sure to check out their Saucesome Pinterest Board. You can also find them on Facebook, Pinterest and Twitter.
For all recipes on the site go HERE. ENJOY!