I'm still sharing some easy and delicious APPETIZERS over the next few days (I hope you don't mind). We are HUGE fans of appetizers, and that's probably because we have lots of parties and get togethers where we believe appetizers are a MUST! 😉 This next appetizer happens to fall under this category and is one we enjoy at home or when we are out eating, which is why we are so excited to share this Mozzarella Sticks recipe (a family favorite!) Even our kids love them so you better believe that on the special occasion of going out to eat, we usually order these (we may order them at Sonic every once in a while too). 😉
Since learning how to make them, we've had mozzarella sticks often at family functions. I'm so glad we know how because they are quick and always so delicious. I also love that they taste just like the ones from the restaurants. I admit I may have bought frozen Mozzarella Sticks a time or two, and if you've had them as well you'd know they're just not that great. Using this recipe, you'll be able to have these super Cheesy and Crunchy appetizers that are hits at all the parties or get togethers. We usually serve them up with Marinara Sauce or ranch and they're usually gone in minutes!!
I would definitely make sure to serve these guys right after making them because that's when they taste the best, and that's when the cheese just strings all over the place (you know what I'm talking about, right?!) And in case you want to try our Fried Mozzarella Bites be sure to go HERE.
For more cheesy appetizer recipes, check out:
How to make Mozzarella Sticks:
Mozzarella Sticks
Easy and delicious Homemade Mozzarella Sticks - our favorite! A great appetizer made with panko crumbs, string cheese, parsley, and other seasonings.
Ingredients
12-16

String Cheese Sticks

1/2

cup

flour

1/8

tsp

paprika

1/8

tsp

Lawrys Seasoning Salt

2

eggs

1/4

cup

milk

1 1/2

cup

panko crumbs

1

tbsp

dried parsley

1

tsp

oregano

Vegetable Oil for frying
Instructions
Unwrap cheese sticks and cut them in half. (tip: unwrap while cheese stick wrappers are still connected and they will all come off at once).

Original recipe suggested using bowls for this next step, but I think using the plastic bags (without a zipper) are less messy and much quicker. (SUGGESTED TIP: I keep a box of these storage bags, without a zipper, on hand at all times. You can use them for so many things!!). In bag #1, toss the flour, paprika and salt. In bag #2, mix the panko, parsley and oregano. In a bowl, beat the eggs and milk together.

Now coat your cheese sticks by first tossing 5 or 6 in your milk bowl for a good soaking. Next, throw them in the flour bag and shake, shake, shake. Put them back in the milk bowl, making sure to coat every side. Finally, toss them around in the panko bag for your final coat.

Place them on a cookie sheet and freeze for 20-30 min.

Heat a few inches of your canola or vegetable oil in a large frying pan. Place sticks, in batches, in the oil and fry until golden brown on all sides. Drain on a plate lined with a paper towel. Serve immediately with your favorite tomato sauce.
Recipe adapted from: Noshing with the Nolands
For another favorite, check out: Mozzarella Bites: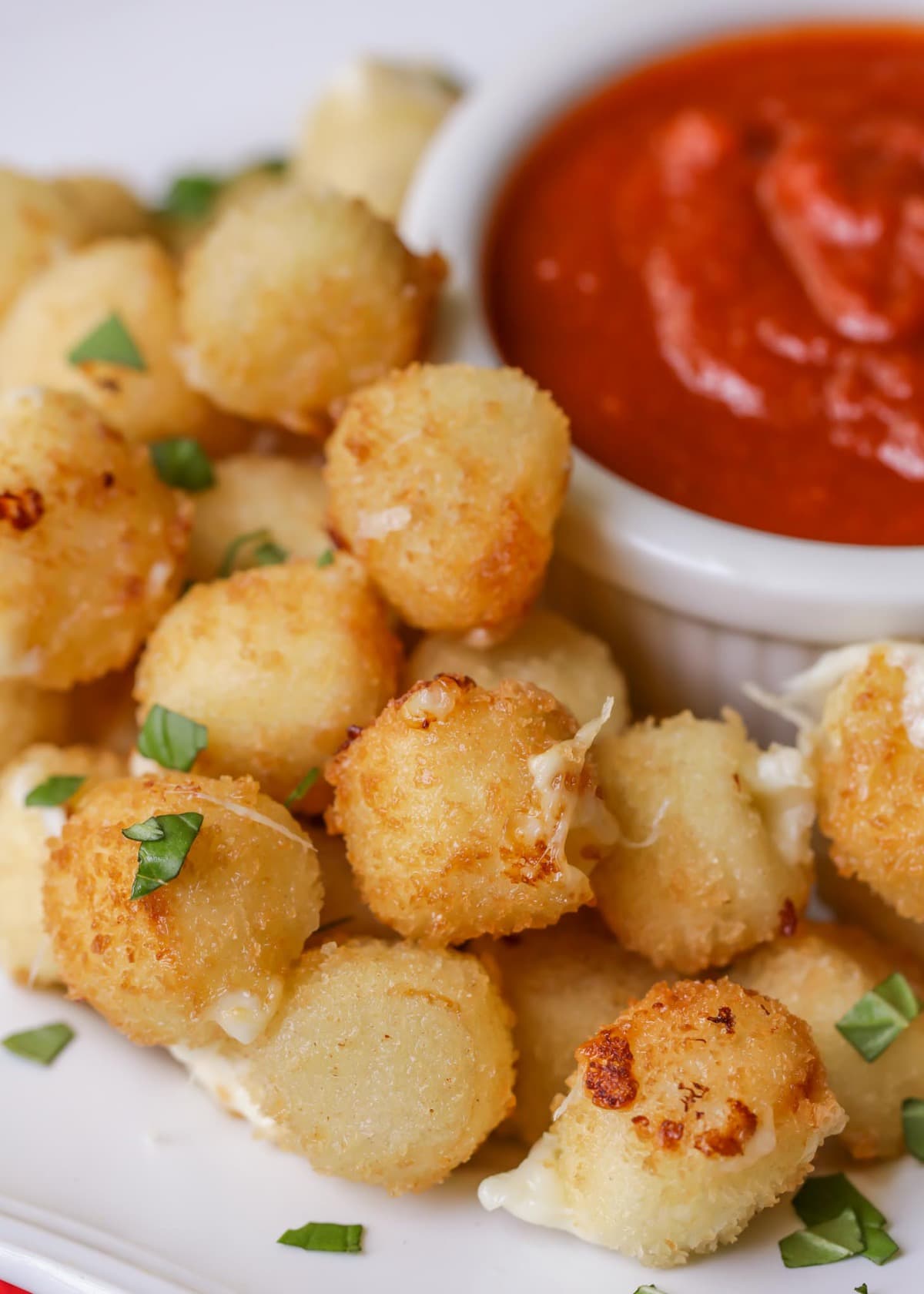 For all appetizers on the site go HERE.
ENJOY!