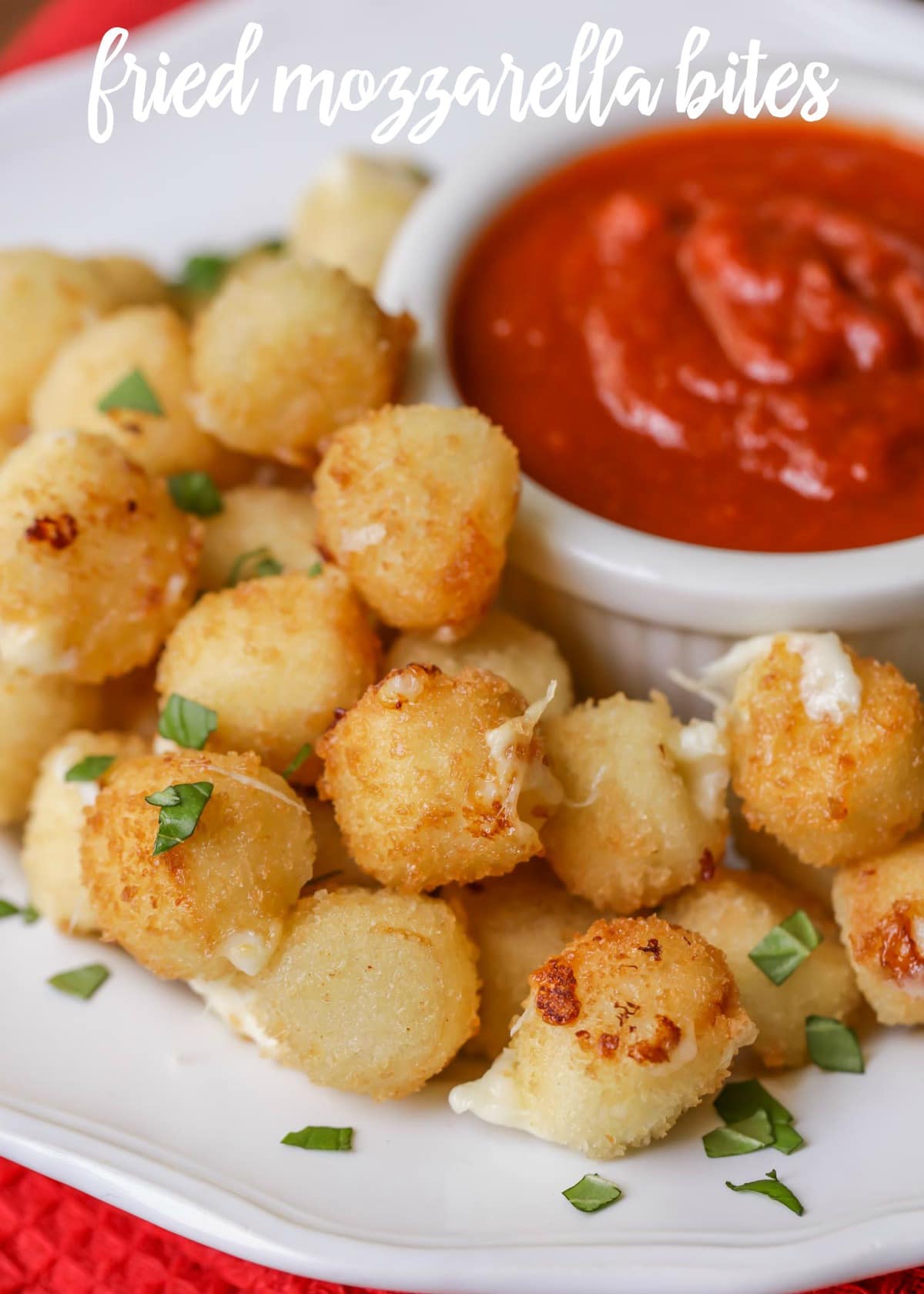 Have I mentioned how much we love appetizers in my family?? 😉 This next recipe is one my sister, Kellyn, tried out. For years she's always been the one to make Mozzarella Sticks (stay tuned for that recipe next week), but she wanted to change things up and decided to make some Fried Mozzarella Bites instead. Sticks? Bites? We weren't complaining. We're a family that loves cheese, so we knew they would be a hit! And they were!
Best of all, these fried Mozzarella bites were super easy to make. My sister made them just like we make our Fried Zucchini, but they can also be baked. You can use Marinated Mozzarella Balls or Mozzarella Pearls for the cheese. We used the latter since that is all we could find. They were small, but they turned out great and were so delicious.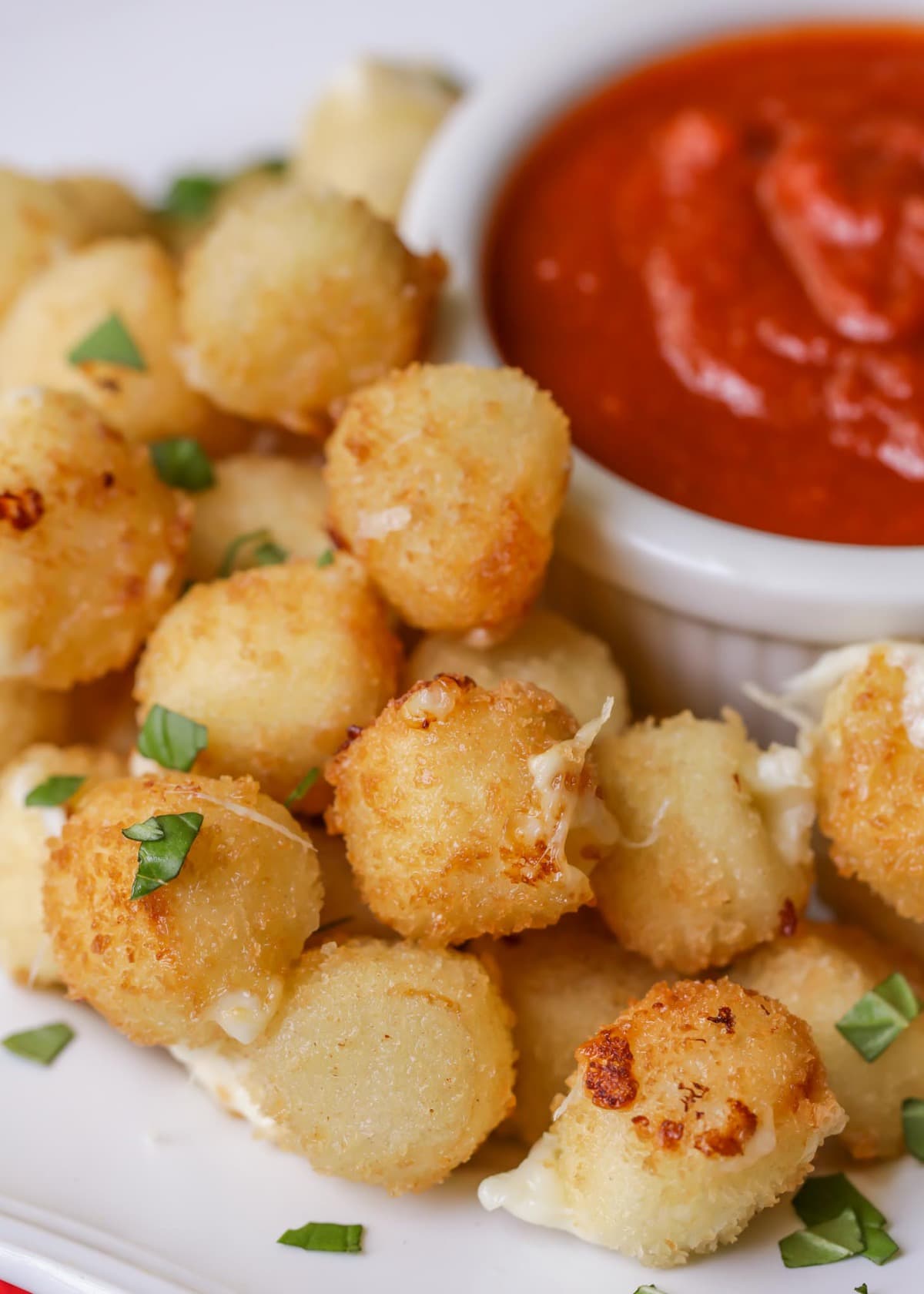 We, of course, served these with Marinara Sauce (our favorite mozzarella sticks dipping sauce) that we found from the store. The only problem we had with these Mozzarella Bites were that they were so perfectly "bite-size" that it was too easy to eat 20! LOL!
For more mozzarella recipes, check out: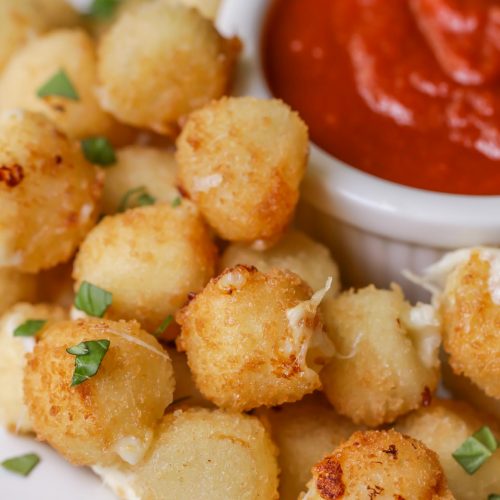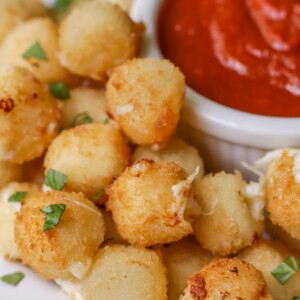 Mozzarella Bites Recipe
Fried Mozzarella Balls recipe - these bite-size snacks are delicious, easy and perfect for any party served with marinara.
Ingredients
1

package

package string cheese

2

cups

Panko Bread Crumbs

2

tsp

Italian seasoning

1

tsp

parsley

1

cup

milk

1

cup

flour

Marinara Sauce

(homemade or store bought)

Oil for frying
Instructions
Cut string cheese into 1" pieces

Prepare coating process by pouring milk in a bowl and setting aside. Put 1 cup flour in a plastic bag and in another bag add 2 cups panko, mixed with seasonings.

Place cheese in milk, one handful at a time.

Toss into your flour bag and shake well.

Put cheese back into your milk bowl and coat completely.

Toss in panko bag and shake until evenly coated.

Place mozzarella bites on a plate or in a bag and freeze for at least 2 hours.

Heat up oil on medium heat. Fry in hot oil until golden brown. Be sure to take them out of the oil before they get too hot or cheese will ooze out of breading.

Serve warm with marinara sauce. ENJOY!